Spotify is one of the most popular and most used music-streaming services. Unfortunately, due to different restrictions, it's not available in all countries around the globe. Whether you live in those countries or are traveling to them, not being able to visit Spotify and enjoy your favorite music playlists while you work, study, or simply stroll around must feel frustrating.
No music-streaming service or music app has as reliable and intuitive an interface as Spotify, not to mention its extensive database of songs and artists. Those who've never used it before are more than tired of dull-looking interfaces and the lack of advanced options that mainstream music apps come with.
Unfortunately, Spotify is not available everywhere, for different reasons that we'll tackle below. The good news is that you can still use Spotify, with all the features and benefits that come with it – with the help of VPN software that you can trust.
In this article, we'll answer why Spotify restricts its application or some content inside of it in some countries and to some individual users. We'll also detail how you can overcome those restrictions with the use of VPN and give you a breakdown of the 5 best VPN software for Spotify.
1. Best VPN for Spotify 2023
We carefully searched, tested, and reviewed different VPN software, and are now sharing these results with you. Carefully consider the features and price of each of them and determine which option will work the best for you before purchasing.
1.1 NordVPN – Best Overall Spotify VPN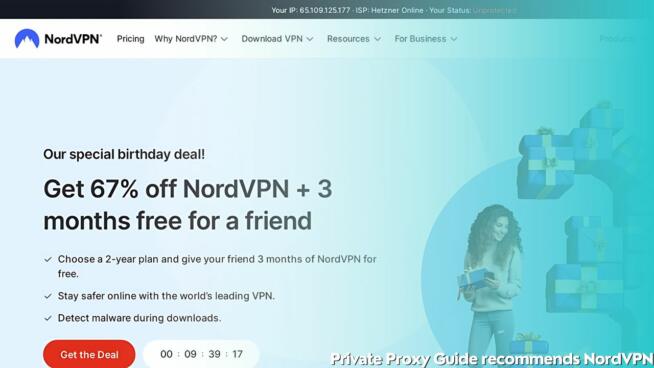 The Panama-based VPN provider is a well-known veteran when it comes to the most reliable and powerful VPN services that you can find. After proving its consistency and versatility by unlocking numerous other restricted websites and applications, Spotify proved to be a piece of cake.
NordVPN prides itself on sports connection to over 5,000 servers within 60 countries while maintaining high speed and caring about your privacy. As for Spotify, you'll be able to visit it from anywhere and enjoy endless music playlists and podcasts, free of tracking and annoying ads that play on repeat on YouTube.
Key Features:
5,000 available servers in 60 countries.
Available for multiple browsers and operating systems
Hides ads and trackers
Won't hinder your internet speed and will allow you to stream HD quality content
Doesn't keep track of logs
Impeccable customer service
Double encryption ensures your private data remains anonymous
1.2 ExpressVPN – Fastest VPN for Spotify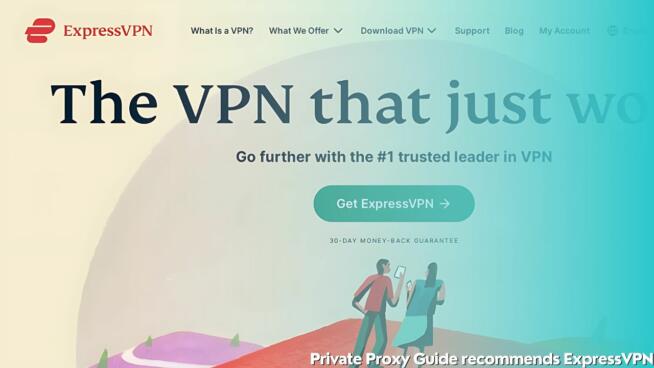 When it comes to choosing between NordVPN and ExpressVPN, it's a tough choice. ExpressVPN, like its name suggests, is a super-fast, secure, and dependable service. Although it's a bit pricier compared to its competition, it sports various features that also make it stand out from the competition.
If you're looking for a VPN that can allow you to use Spotify seamlessly, you'll be pleased to know that ExpressVPN opens the door to the best playlists and content that could normally be restricted in your country.
You can choose from 3,000 servers scattered across 94 countries. What's more, its smart AI system will suggest to you the best server based on where you're located. The advanced encryption features and SHA-512 algorithm will ensure that you're completely anonymous online and that you can seamlessly access Spotify, no matter where you're.
There's no tracing or logging, meaning that maximal privacy is ensured and you won't have to worry about any security issues considering that the DNS requests are also not recorded and the company provides a temporary "network lock" should you disconnect suddenly.
Key Features:
Outstanding speed and availability
Allows access to more than 3,000 servers in 94 countries
The smart location feature allows you to choose the best server according to your current location
Unlocks Spotify and all its potentially-locked content
Impeccable customer service and knowledgeable staff
No bandwidth restriction
Available on different platforms and operating systems
Top-notch military encryption for secure browsing
It can be used on multiple devices, up to 5
1.3 CyberGhost – Safe VPN for Spotify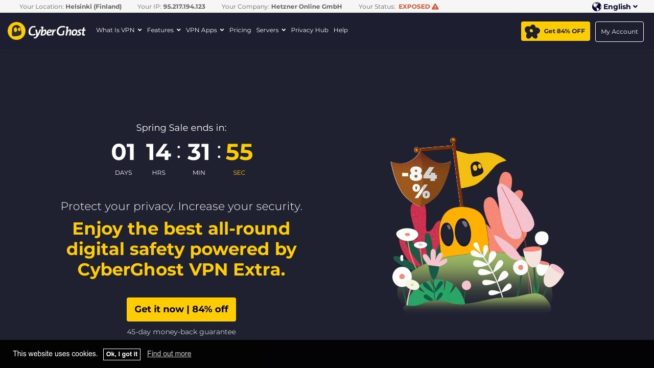 If you're restricted on budget, but need to bypass the geo-restrictions on Spotify, CyberGhost VPN is the best choice for you. It's confirmed to easily unlock Spotify's locked features while helping you browse securely, swiftly, and effortlessly.
The company is based in Romania and allows you to access Spotify from 5,700 servers scattered across 112 different locations and 90 countries. Unfortunately, due to strict policy and regulations, it can't be used in the UAE and China, which is its biggest drawback.
Thanks to the 256-bit encryption and SHA256 authentication, you're more than safe and secure to browse anonymously and unlock Spotify content without a hassle. It also comes with a swift "network lock" feature that works the same as the one on ExpressVPN.
Because it doesn't keep track of logs, you're guaranteed to stay anonymous on the internet. The military-grade encryption ensures that no traces of activity are detected.
Key Features:
Great value for the price
Competent and experienced customer service agents.
Up to 45-days money-back-guarantee
Fast and reliable connection
No tracks of logs or activity on the internet
Secure "network lock" switch in case of a sudden connection disruption
Beginner-friendly interface for those who haven't used VPN before
Extremely reliable
1.4 Surfshark VPN – Best Budget VPN for Spotify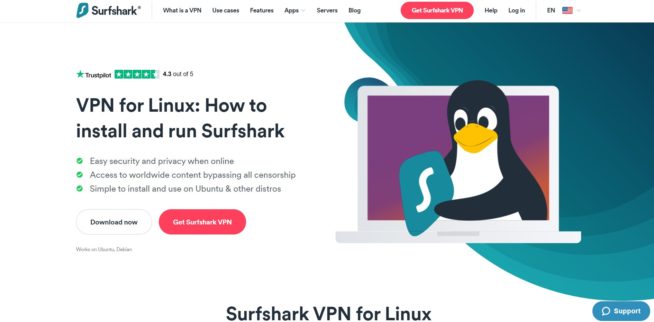 Surfshark is another reliable VPN service that is a great bang for the money, just as CyberGhost VPN. It's a more established name, among VPNs, so people may likely go for it as the most affordable option than CyberGhost VPN.
SurfShark offers a reliable network consisting of over 3,200 servers spread across 60 countries. This amazing availability allows you to seamlessly unlock Spotify and browse through different playlists and artists when you're on vacation or simply can't access Spotify in your native country.
If versatility is your concern, rest assured that Surfshark can access other online platforms that may be forbidden in your countries such as Netflix and others. Additionally, Surfshark doesn't come with a connection or data limit for its users. It is also equipped with 256-bit data encryption so you can browse securely and 100% anonymously.
Surfshark also comes with its native malware scanner as well as ad-blocker which means you no longer have to worry about annoying ads. Additionally, it doesn't keep track of the logs or activity so you are safe and secure away from prying eyes. Crypto-enthusiasts will also be happy to know that there's a crypto-payment system for those who'd like to purchase the subscription.
Key Features:
Another affordable option and great value for the price.
Servers spread out across 60 countries
Seamlessly fast, secure, and reliable connection
Kill switch and split-tunneling in case of threats
Comes with an ad-blocker and malware-scanner
Allows you to pay in cryptocurrency
No data-logging
Great customer service
1.5 IPVanish – Spotify

VPN With Many Locations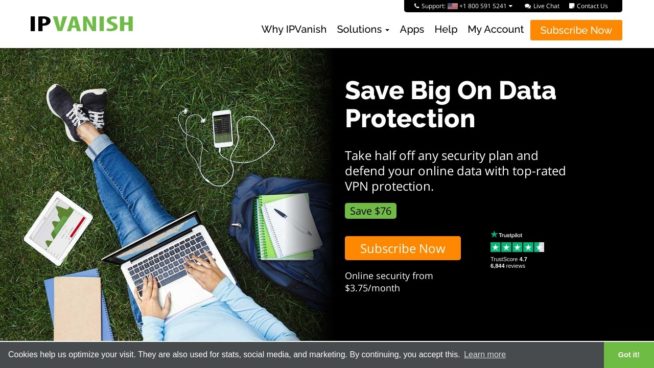 Our final option for the best VPN for Spotify is IPVanish, which is a well-established name in the VPN market. It has an approachable price and a bunch of bells and whistles that will exceed your expectations, not just with Spotify, but also many apps and websites.
Using robust technology and reliable encryption standards, you'll be able to remain anonymous and protected while browsing and enjoying your favorite songs and artists on Spotify. The connection is swift, so you don't have to worry about stuttering or lag while listening to music.
There is support for 1,300 servers in 75 spots, which is significantly less than other VPN services we reviewed, but still a great number if you're looking for an easy way to unlock Spotify when you're on the go and can't access it from your home country.
There's no data-log policy. Your privacy is guaranteed as well as your anonymity. Thanks to the military-grade 256-bit encryption and SHA512 authentication, you don't have to worry about your personal information being traded.
There's a kill switch that blocks the connection to the internet in case the VPN disconnects. It's worth noting that the service is available on all platforms and operating systems and supports an unlimited number of devices.
Key Features:
Log-less VPN with high data standards and protocols
Great internet speeds and no lag
Seamless access to Spotify and other restricted platforms
High-end encryption and priority data protection
An unlimited number of devices are supported
Not crazy expensive
2. Best VPN For Spotify FAQ
With so many VPN services being available, it's extremely challenging to choose the right one, especially when you're looking to get one for the particular app – Spotify. That's why we compiled a list of the most commonly asked questions when choosing the best VPN for Spotify.
2.1 Why Do You Need a VPN for Spotify?
Even though Spotify expanded its availability across many countries around the globe, there are still some countries where Spotify remained inaccessible. Using reliable VPN software will allow you to easily download the Spotify app and use it to your heart's content.
Here's why Spotify might be blocked in your country:
Geographical Location
This is the most common cause of why you can't access Spotify from your location. If Spotify isn't available in your country, you are geographically blocked from accessing it. This is exactly why VPN needs to be used. You'll be able to connect to the network from virtually different locations where Spotify isn't geo-restricted.
Copyright
Even when Spotify is available in your country, there are instances where you won't have access to all of its content. Some songs, libraries, or even artists' content are protected by copyright rules and policies. That leads to some tracks and playlists not being available in your country, similar to how some YouTube videos aren't available everywhere.
Your System Is Blocking Spotify
Some software on your system such as firewall and antivirus software may be the culprit of why you can't access Spotify. However, that should apply only to the device where that software is installed. Usually, such software mistakenly labels Spotify as a potential threat to your security and data.
This is easy to overcome by adding Spotify to the list of exclusions and allowing it to bypass your firewall protection. If it's not possible to do that, you can easily access Spotify with VPN software.
Spotify is Blocked By Some Organization
To keep the level of distractions low, some schools, universities, and companies will block access to social media and apps like Netflix, Spotify, and Amazon Prime Video to make their employees and students focus without distractions. Oftentimes, this practice is counterproductive.
2.2 Should You Use a Free VPN for Spotify?
Using a free VPN service to access paid content on Spotify may look attractive, but it's far from effective, and oftentimes deemed dangerous. Free VPN services sustain themselves through aggressive ads that often aren't indexed and sometimes use adware to track your cookies and mine your browsing data which they could later sell.
Additionally, free VPN services come with fewer features compared to the paid options we mentioned earlier, not to mention that they're slower and have fewer servers. That could lead to stuttering and network lag which feels frustrating when you're trying to stream high-quality music.
The good news is that many of the VPNs we reviewed have approachable pricing plans and either come with a free trial or 30-day money-back guarantee and more.
2.3 Is It Legal To Use a VPN For Spotify In Countries Where It's Blocked?
There is no global law that goes against using Spotify in countries where it's not supported. However, using Spotify with VPN is considered to be against Spotify's user guidelines. The good news is that it's unlikely for Spotify to find out you're accessing it from a virtually different location. If the company does find out, you'll either get a warning or get your account banned.
2.4 Will Using a VPN Affect The Streaming Speed On Spotify?
If you subscribe to one of the premium VPN providers we reviewed above, you shouldn't have any problems streaming content on Spotify. There will be no lag or stuttering, especially if you use ExpressVPN, which is the fastest VPN provider in our humble opinion.
2.5 How to Use Spotify With a VPN?
The process is pretty easy and straightforward. Here's what you should do to start streaming music from Spotify seamlessly:
Pick your VPN provider of choice and subscribe to their service.
Download their desktop or mobile application on your device
Launch VPN and select the region you want to access Spotify from
Search for Spotify and download the application
If you already have a Spotify account log in from the browser and change location to the country you're virtually connected from. If you're paying for a subscription using a payment method that is supported in the country you're logged from.
Here you can check the list of countries where Spotify is available per continent. Happy streaming!
VPN Service


www.nordvpn.com
NordVPN
Review
Price: $11.95 $3.71/month
Servers: 5500+ in 59 countries
Simultaneous connections: 6
Jurisdiction: Panama
Payment: PayPal, AmazonPay, Crypto, Google Pay, Klarna
Torrenting: OK
Unblocks US Netflix: Yes
Dedicated IP: $70/yr
TrustPilot Score: 4,7/5
Money-back: 30 days
Extra: Double VPN, Obfuscated servers
Visit NordVPN »


www.expressvpn.com
ExpressVPN
Review
Price: $12.95 $8.32/month
Servers: 3300+ in 94 countries
Simultaneous connections: 5
Jurisdiction: British Virgin Islands
Payment: PayPal, Crypto, AliPay, Klarna,
Torrenting: OK
Unblocks US Netflix: Yes
Dedicated IP: Not provided
TrustPilot Score: 4,7/5
Money-back: 30 days
Visit ExpressVPN »


www.cyberghostvpn.com
CyberGhost
Review
Price: $11.99 $2.25/month
Servers: 6600+ in 89 coutrines
Simultaneous connections: 7
Jurisdiction: Romania
Payment: PayPal, Crypto
Torrenting: OK
Unblocks US Netflix: Yes
Dedicated IP: $51/yr
TrustPilot Score: 4,8/5
Money-back: 45 days
Visit CyberGhost »


www.surfshark.com
Surfshark
Price: $11.95 $2.49/month
Servers: 3200+ in 65 coutrines
Simultaneous connections: Unlimited
Jurisdiction: British Virgin Islands
Payment: PayPal, Crypto, Google Pay, Amazon Pay
Torrenting: OK
Unblocks US Netflix: Yes
Dedicated IP: Not provided
TrustPilot Score: 4,3/5
Money-back: 30 days
Visit Surfshark »


www.purevpn.com
PureVPN
Review
Price: $9.60 $3.33/month
Servers: 6500+ in 140 coutrines
Simultaneous connections: 10
Jurisdiction: Hong Kong
Payment: PayPal, Credit Cards
Torrenting: OK
Unblocks US Netflix: Yes
Dedicated IP: $35.88/yr
TrustPilot Score: 4,7/5
Money-back: 31 days
Visit PureVPN »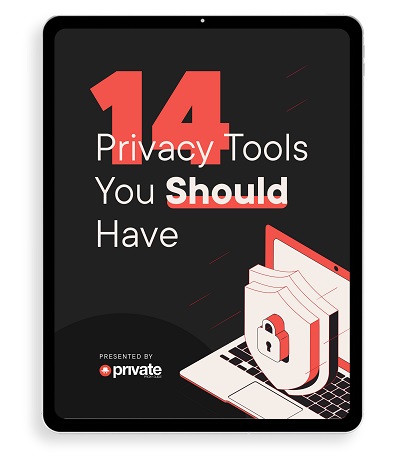 Learn how to stay safe online in this free 34-page eBook.