Your online privacy and independence are at risk regardless of the method you use to access the internet, be it cable, fiber optic, Wi-Fi, or satellite (such as SpaceX Starlink, Amazon Kuiper, or OneWeb. That's why it's critical to constantly employ Private Internet Access's security features. The SpaceX Starlink VPN is a virtual private network that encrypts your connection to the internet using the SpaceX Starlink satellite service.
Keep reading if you want to know more about Starlink and the best VPNs you can get for it.
1. What Is Starlink?
There's a good reason why SpaceX's Starlink Internet Service has swept the satellite internet market by storm. Instead of the geostationary satellites that provide regular satellite internet access, Starlink's LEO satellites are just 340 miles above the planet. Therefore, the main problem with satellite internet is now resolved mainly by this.
Starlink's latency is slightly greater than other conventional broadband connections, clocking in at 60 ms to 80 ms. In comparison, traditional service providers typically give a latency of 800 milliseconds or more. Starlink Internet Service's decreased latency allows VPN connections to function smoothly and without lag.
2. Why Should You Use a VPN with Starlink?
Using a virtual private network (VPN) in conjunction with Starlink Internet Service is encouraged for various reasons. Starlink makes it easy and economical for anyone to use a virtual private network.
2.1 To Protect One's Personal Information and Safety
Protecting one's personal information is the primary motivation. No matter how private you think you are online, ISPs will still capture much data about you. The terms of service for many ISPs explicitly say that the company may share or sell customer information to outside parties.
To comply with legal obligations, all ISPs (including Starlink) must keep detailed records of their customers' online activities and provide those records to law authorities upon request. Moreover, many sites use IP addresses to keep tabs on your online movements everywhere you go.
Fortunately, utilizing a virtual private network (VPN) is a simple and highly economical technique of shielding your personal information, including your browsing behavior, from being monitored by your internet service provider (ISP) or the websites you visit. While a virtual private network (VPN) by itself won't guarantee your safety, it will go a long way in that direction. However, even using a VPN, other precautions like blocking tracking cookies and avoiding viruses are necessary.
2.2 Online Gaming
Using a Virtual Private Network (VPN) with the Starlink Internet Service could benefit gaming, among other activities. Starlink employs carrier-grade NAT (CGNAT) technology as with cellular phone companies. Due to CGNAT, Starlink can serve thousands of consumers from a single public IP address.
Given the scarcity of IPv4 addresses and the slow rollout of IPv6, this is a boon for Starlink. You will be given a private, non-routable IP address and then connected to the Internet via NAT with the help of CGNAT. While CGNAT isn't an issue when just surfing the web, it can be when playing games online. You will not be able to host online games if you connect a gaming console or computer to an ISP that employs CGNAT. Since you cannot accept incoming connections, the NAT type displayed for you will be strict.
By connecting to a public IP address directly, a VPN protects you from CGNAT and its effects. Therefore, one of the few solutions to gaming troubles caused by CGNAT is to connect to a virtual private network (VPN).
If you are concerned about your IP address being revealed to other players, you should consider using a virtual private network (VPN) service while you game. Some websites allow you to look up someone's IP address based on their gamer tag. A virtual private network (VPN) masks your IP address and replaces it with that of the VPN's server.
2.3 Unlocking Regionally-restricted Media
Did you know that certain websites change their behavior depending on the user's location? This could involve providing a different price, displaying location-specific content, or even completely blocking access. Streaming platforms are a typical case in point; certain services are restricted to users in only a few countries, and some content may be region locked.
To overcome these limitations, you can subscribe to a VPN service and surf the web from any country in the globe. Even regional blackouts, like the ones utilized by many live sports streaming providers, can be gotten around.
3. Best VPN for Starlink 2022
3.1 ExpressVPN – Best VPN for Starlink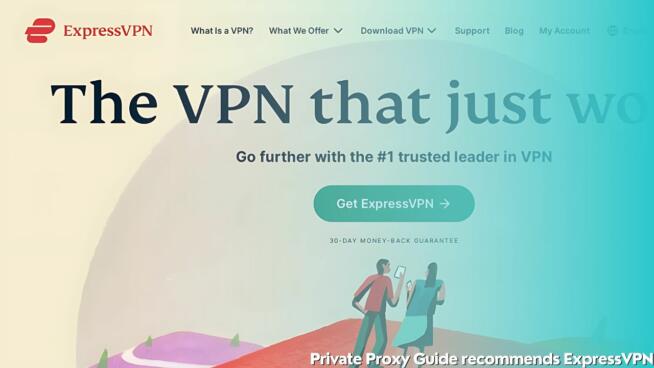 ExpressVPN, which has recently undergone major network upgrades (from 1Gbps servers to 10Gbps, and from 4-core to 20/32), has all it needs to lead and stay ahead of an unbelievably powerful pack of top VPN providers. A solid set of fundamental features offers all the control and anonymity the average user may want. In addition, it has servers in 160 locations across 94 countries and can unblock practically everything most customers need.
Its apps are well-designed and easy to use, and its customer service is unparalleled. ExpressVPN's 3,000+ server count isn't the highest around, but it's spread across 160 sites in 94 countries (compared to Nord's 80 or Surfshark's 65), so it's more spread out and accessible.
3.2 NordVPN – Fastest VPN for Starlink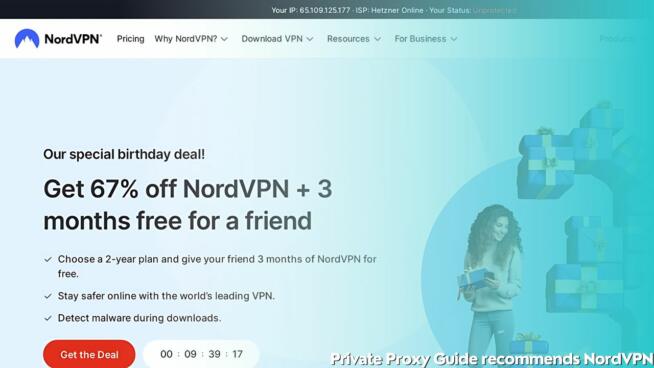 Regarding VPN speed, NordVPN is now the finest option, and it's also one of the most widely used VPNs in the world. Compared to ExpressVPN, NordVPN is virtually as reliable but costs far less. It encrypts all your web traffic and allows access to geo-blocked content providers. The whole 5,613-server global network of NordVPN has the highest VPN speeds ever measured.
Recent VPN performance testing revealed losses in short-distance internet connectivity of about 1%. When compared to ExpressVPN and Private Internet Access, both experienced a loss of 8% and 6%, respectively, across the same distance.
3.3 ProtonVPN – Best Free Starlink VPN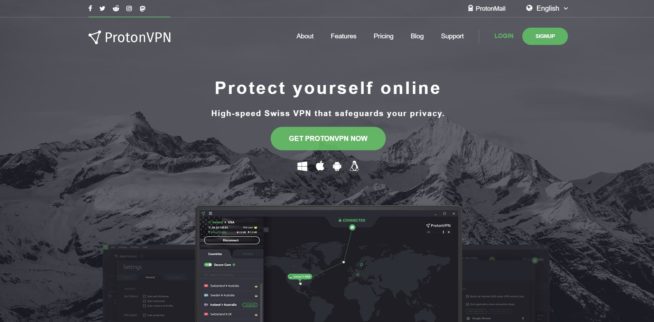 Proton VPN continues to excel in rigorous testing, with notable improvements across the board. This includes the service's network, apps, streaming scores, performance, support, and more. It remains among the best VPN services because of its excellent free plan, open-source software, and extensive network coverage.
Data centers, networks, and software: Only a few years ago, Proton VPN's network consisted of a few hundred servers in 14 countries; today, it has 1,750+ servers in 63 countries, making it one of the most extensive in the industry. Proton VPN employs the quick WireGuard protocol and some nifty low-level technologies, such as the VPN accelerator, which applies several innovative changes to optimize your connection to achieve its performance goals.
3.4 StrongVPN – Best Starlink VPN for Online Security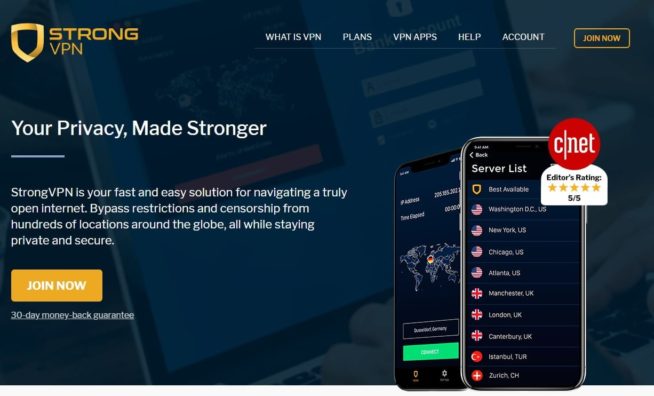 When it comes to private VPN services, StrongVPN has been around for a while. This VPN operates outside the United States, a jurisdiction notoriously bad for protecting user privacy. The governments of the United States, the United Kingdom, Australia, and Canada are all part of the Five Eyes intelligence partnership. Thus, your VPN activity logs may be maintained and made available to them.
The United States, where StrongVPN is based, is not known for being privacy friendly. However, StrongVPN does not keep records of what its users do online so that no personal information can be gleaned from their behavior. If the data has been removed, it cannot be submitted. When using a local connection, StrongVPN is incredibly quick, slowing download rates by only 8%.
3.5 CyberGhost – Safe VPN for Starlink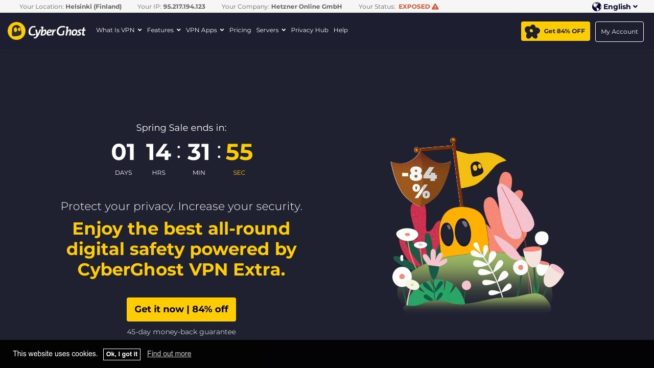 CyberGhost is well-liked among VPN users for its intuitive interface. It provides 256-bit encryption and a kill switch, which may be further tailored with other security features. If you need to unblock content outside of your country while streaming, CyberGhost is an excellent virtual private network (VPN) option. It is easy to watch videos, play games, and download torrents with CyberGhost's lightning-fast speeds.
You can use this VPN with complete peace of mind if you have Starlink as your ISP. It's reliable, reasonably priced, and easy to use, so it's an excellent all-around option. That level of safety is more than adequate for typical use. CyberGhost's global server network and compatibility with popular streaming platforms are further selling points.
3.6 Ivacy VPN – Best Budget VPN for Starlink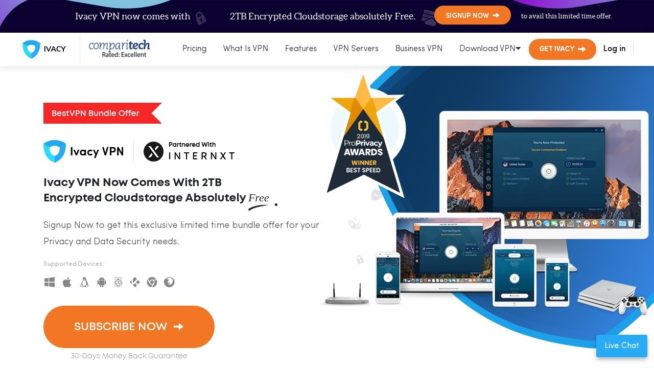 Ivacy is a VPN service based in Singapore that boasts an extensive feature set, some of the lowest costs in the industry, and more than 15 years of experience in the privacy industry. As an example, a 'Secure Download' option supposedly checks downloaded files for malware or viruses and deletes them on the server side. According to the feature's page, it detects and deletes viruses and other dangerous files before they can infect your devices.
You can decide how you want the app to launch with the settings. Moreover, it includes split tunneling, a multiport configuration, and a kill switch that scans for open ports to help you get around. VPN blocks are all supported.
4. Conclusion
VPNs are useful for protecting your privacy on the internet but only if you use a trusted service and make sure your connection is fast and stable. A connection made using a VPN can increase data costs by up to 20% because of the time and resources required to decrypt transmitted information. Pick a VPN that uses the WireGuard protocol if you want to use satellite internet.
Using a virtual private network (VPN) on Starlink saves time and effort. This is especially critical for satellite internet users, which typically have very low bandwidth caps.
5. Starlink VPN FAQ
5.1 Is a VPN Compatible with Starlink?
Starlink is an excellent platform for utilizing VPN services. IPsec, IKEv2, WireGuard, and OpenVPN are just some VPN protocols that Starlink's VPN clients are equipped to support. This means that most people won't have any trouble finding common ground. Unfortunately, Starlink's home plans do not currently include a publicly routable IP address.
5.2 Does Starlink Have an IP Address?
An IP address is required to access the internet with Starlink. In Internet Protocol addresses, you can either have a permanent one or one that changes frequently. Each Starlink subscriber is given a unique dynamic IP address that changes according to the user's preferences. Static IP addresses are needed for hosting services or data transfer over a network. Unfortunately, this is not included in the regular Starlink home package.
5.3 Why Does Starlink Work Well with a VPN?
Low Earth Orbit, or around 500 miles above earth's surface, is where Starlink plans to station its satellites. This results in far less lag time than conventional satellites but significantly less coverage from any given satellite. Because of its compatibility with virtual private networks, Starlink is still in restricted supply. The current number of Starlink satellites in orbit is around 1800 out of a planned 42,000. Therefore, it reduces latency and improves VPN compatibility, but it will be some time before its broad adoption can compensate for the limitations of the earth's orbit.
VPN Service


www.nordvpn.com
NordVPN
Review
Price: $11.95 $3.71/month
Servers: 5500+ in 59 countries
Simultaneous connections: 6
Jurisdiction: Panama
Payment: PayPal, AmazonPay, Crypto, Google Pay, Klarna
Torrenting: OK
Unblocks US Netflix: Yes
Dedicated IP: $70/yr
TrustPilot Score: 4,7/5
Money-back: 30 days
Extra: Double VPN, Obfuscated servers
Visit NordVPN »


www.expressvpn.com
ExpressVPN
Review
Price: $12.95 $8.32/month
Servers: 3300+ in 94 countries
Simultaneous connections: 5
Jurisdiction: British Virgin Islands
Payment: PayPal, Crypto, AliPay, Klarna,
Torrenting: OK
Unblocks US Netflix: Yes
Dedicated IP: Not provided
TrustPilot Score: 4,7/5
Money-back: 30 days
Visit ExpressVPN »


www.cyberghostvpn.com
CyberGhost
Review
Price: $11.99 $2.25/month
Servers: 6600+ in 89 coutrines
Simultaneous connections: 7
Jurisdiction: Romania
Payment: PayPal, Crypto
Torrenting: OK
Unblocks US Netflix: Yes
Dedicated IP: $51/yr
TrustPilot Score: 4,8/5
Money-back: 45 days
Visit CyberGhost »


www.surfshark.com
Surfshark
Price: $11.95 $2.49/month
Servers: 3200+ in 65 coutrines
Simultaneous connections: Unlimited
Jurisdiction: British Virgin Islands
Payment: PayPal, Crypto, Google Pay, Amazon Pay
Torrenting: OK
Unblocks US Netflix: Yes
Dedicated IP: Not provided
TrustPilot Score: 4,3/5
Money-back: 30 days
Visit Surfshark »


www.purevpn.com
PureVPN
Review
Price: $9.60 $3.33/month
Servers: 6500+ in 140 coutrines
Simultaneous connections: 10
Jurisdiction: Hong Kong
Payment: PayPal, Credit Cards
Torrenting: OK
Unblocks US Netflix: Yes
Dedicated IP: $35.88/yr
TrustPilot Score: 4,7/5
Money-back: 31 days
Visit PureVPN »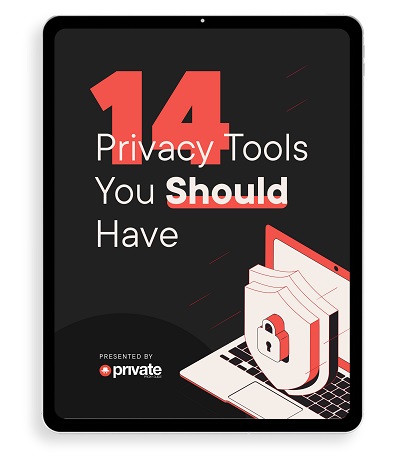 Learn how to stay safe online in this free 34-page eBook.