TikTok is a popular social media platform that allows users to share and view short videos. It was created by a Chinese company called ByteDance Ltd and currently has over 1 billion users worldwide.
The platform has become popular since it offers fun filters, stickers, and background music to help users produce unique content. While the app has made waves globally, it has been banned for suspicion of privacy violations in certain countries.
Suppose you're in a country where TikTok is inaccessible or intend to travel to one of these countries. In that case, you'll need a VPN service to help you bypass censorship and enjoy content on this popular social media platform.
A VPN can also help keep you safe online, preventing ISPs, government agencies, and other third parties from spying on you. It also protects you from hacking attempts and allows you to access other blocked social media platforms, online casinos, and streaming sites.
1. Best VPN for TikTok 2022
Here are our top VPN recommendations for TikTok:
1.1 NordVPN – Best Overall TikTok VPN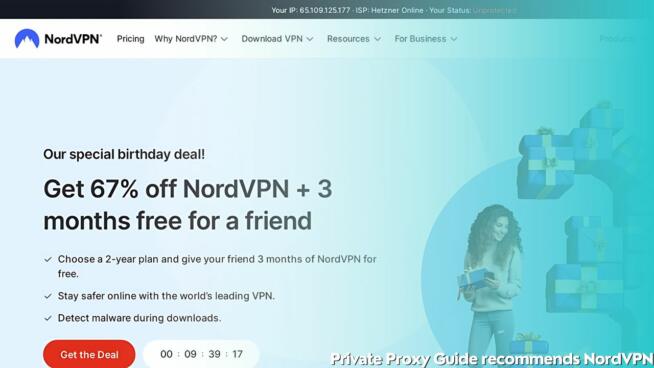 NordVPN is another reliable VPN service that you can use to access TikTok. Like ExpressVPN, it is one of the most well-known and much-loved VPNs in the industry, making it an excellent choice for anyone looking to access TikTok from virtually anywhere.
You can geo-hop from one geographical location to another easily and unlock content with only a few clicks, thanks to its massive server network in 60+ countries worldwide.
Its servers are lightning fast, which comes in very handy if you plan on watching TV series and movies on streaming platforms such as HBO, Netflix, or BBC iPlayer.
When it comes to your online safety, NordVPN doesn't take any chances. Because no one wants third parties following their everyday online activities or banning them from using platforms like TikTok, NordVPN has OpenVPN encryption to prevent this.
You also get a 30-day money-back guarantee, so you can try the service out for yourself!
1.2 ExpressVPN – Fastest VPN for TikTok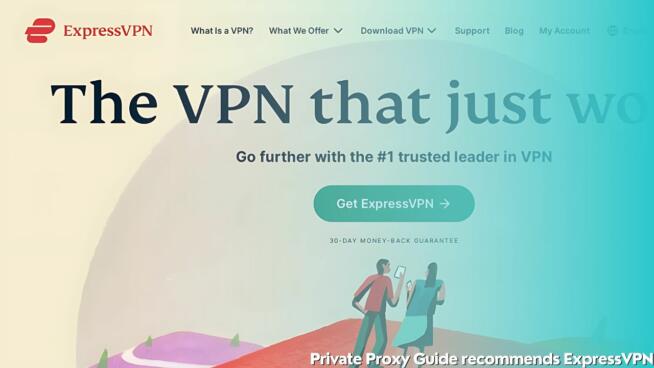 ExpressVPN is situated in the British Virgin Islands, which is outside the Five Eyes and 14 Eyes alliances. It provides a variety of useful features for accessing TikTok. The company has adapted its service for a variety of platforms to cater to a broader audience.
Many people prefer ExpressVPN due to its dependable obfuscated servers, kill switch, OpenVPN protection, and DNS leak protection.
This VPN service also claims the title of the fastest VPN for TikTok in 2022, thanks to 3,000+ global servers. You can use ExpressVPN to keep up to five mobile or desktop devices.
In addition to the standard services that most VPNs offer, ExpressVPN assures the highest levels of security and privacy for any customer who uses public Wi-Fi or is vulnerable to hacking attempts.
The VPN can help you access TikTok and other streaming services and websites that may be restricted in your country with ease.
1.3 CyberGhost – Safe VPN for TikTok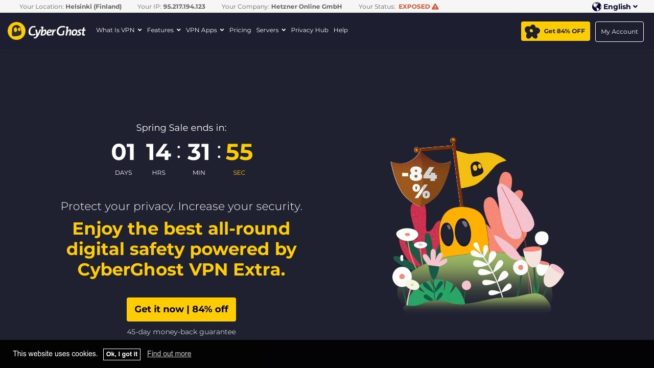 CyberGhost is a great VPN to use if you have an iPad, and it includes everything you need to access prohibited TikTok content. It is a Romanian-based VPN company that can protect consumers concerned about cybercriminals.
You can view TikTok videos and shows on other platforms because of CyberGhost's fast servers. Its network of servers is spread out across 90 countries and enables reliable access to even the most remote locations.
CyberGhost's most prominent features include a no-logging policy, many user applications for various platforms, DNS leak protection, OpenVPN, and an internet kill switch. It's useful both at home and when connected to public Wi-Fi while on the go.
The VPN comes with an impressive 45-day money-back guarantee and lets you secure up to seven devices using a single subscription, which is great for keeping the whole family protected online.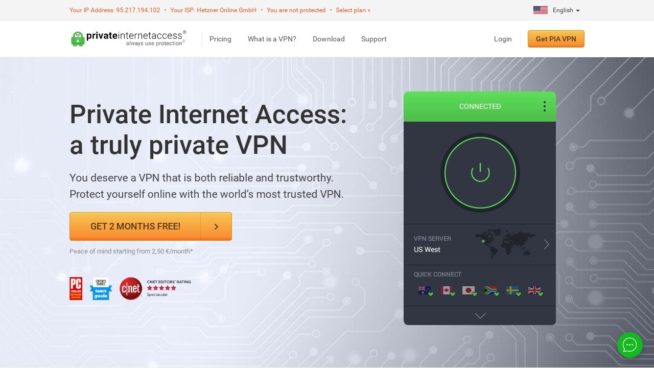 Private Internet Access (PIA) is a well-known VPN service established in the United States. It's a fully customizable TikTok solution with functional, user-friendly apps that provide a variety of sophisticated options. The VPN has validated its no-logs promises on multiple occasions, so you can rely on it to keep your data private while unblocking TikTok.
You can play TikTok videos without worrying about lag, thanks to PIA's reliable servers that can be found in 74 countries. Furthermore, it has been around for 13 years, so it is no stranger to the industry.
You can expect a kill switch, OpenVPN, DNS leak protection, and a long list of other additional features.
The service also includes a SOCKS5 proxy, which is handy for torrenting and allows users to anonymously access prohibited material or platforms, such as WeChat or TikTok. Private Internet Access can also unblock streaming services like Hulu and Netflix US.
Private Internet Access Review
1.5 Surfshark VPN – Best Budget VPN for TikTok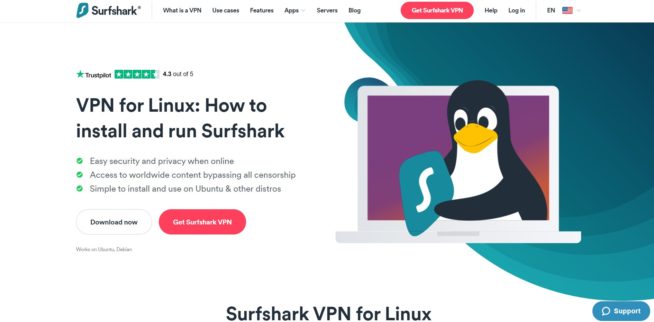 Surfshark may just be the best VPN for you if you want multiple concurrent connections since it lets its users link and unlimited number of devices. It allows you to access TikTok and streaming sites while also providing you with surprisingly fast speeds.
Robust security measures and encryption using cutting-edge technology are some of the notable features of this VPN. Should your VPN connection be lost, you won't risk revealing your sensitive information, thanks to an internet kill switch feature.
When it comes to bypassing censorships and browsing TikTok content, SurfShark also offers advanced features like OpenVPN protection, obfuscated servers, and DNS leak protection to keep your information secure.
Additionally, it unblocks more Netflix collections than any other provider, as well as BBC iPlayer, HBO GO, and a slew of other services.
With impressive security features, a 30-day money-back guarantee, a no-logs policy, and an unlimited number of simultaneous connections, SurfShark offers serious value for money!
2. Final Thoughts
TikTok is a popular social media platform that lets you share and enjoy short videos on one innovative platform. However, this platform has been banned due to censorship in certain countries. To get past this, you will need to connect to a reliable VPN from our list!
Need to access another social media platform with a VPN service? You can browse more recommendations on our website!
3. Tiktok VPN Frequently Asked Questions
Do you have more questions? You can find the answers to common VPN-related questions in the section below.
3.1 What Is a VPN Service?
The term "virtual private network" or VPN refers to a service that allows you to remain anonymous online. When using public networks, VPNs create a secure connection between your device and the internet using encryption.
It essentially offers a hidden tunnel for your data and online activities so that it cannot be accessed by third parties. In addition to keeping you safe, VPNs can also help you bypass censorships by rerouting your traffic to a server in a location where that site or service is unrestricted.
3.2 TikTok Isn't Banned in My Country. Do I Still Need a VPN?
There are a number of reasons to use a VPN for TikTok besides bypassing geo-restrictions. Perhaps the most important is data protection. Your ISP keeps track of all your online activity, including the websites you visit, the content you watch on TikTok, and your location.
To prevent your ISP from spying on you, you will need to connect to a VPN. Moreover, if your country is part of the Five Eyes or 14 Eyes Alliance, your government will also spy on you and share your information, which you can prevent with a VPN.
Public Wi-Fi is also prone to cyberattacks, so if you connect to a public Wi-Fi for TikTok, you could be putting your sensitive information at risk. When you connect to a VPN, your internet traffic is encrypted, so a cybercriminal won't be able to hack it via public Wi-Fi.
3.3 Which TikTok VPN Is the Fastest?
As mentioned already, VPNs reroute your internet traffic through their servers. Because there is an additional route that the traffic must take, it will take longer. However, these delays will be barely noticeable if you use a VPN like ExpressVPN, which offers high speeds.
While you'll have no trouble with TikTok when connecting to any of the VPNs on this list, we found that the fastest VPN for TikTok is ExpressVPN.
Since VPNs slow your connection down by default, even the most reliable VPN service will add a few seconds to your upload time. TikTok videos are often around 100MB to 300MB in size, and uploading videos to TikTok will take you about two or three minutes at most with the VPNs on our list.
3.4 Is It Safe to Use a VPN for TikTok?
Yes, using a VPN with TikTok is indeed safe. Because TikTok cannot detect the use of a VPN, you will not be barred from using the application.
It's safer to browse TikTok feeds with a VPN because it hides information such as your actual location and your IP address. You can have the assurance that no one is spying on you while you watch TikTok videos.
However, it is essential to keep in mind that all VPNs are not created equal. Some VPNs cannot unblock TikTok, while others are just unsafe to use. We've done the research for you to filter out the VPNs that fall into these two categories, so you can choose an option from our list without hesitation.
VPN Service

www.nordvpn.com
NordVPN
Review
Price: $11.95 $3.71/month Servers: 5500+ in 59 countries Simultaneous connections: 6 Jurisdiction: Panama Payment: PayPal, AmazonPay, Crypto, Google Pay, Klarna Torrenting: OK Unblocks US Netflix: Yes Dedicated IP: $70/yr TrustPilot Score: 4,7/5 Money-back: 30 days Extra: Double VPN, Obfuscated servers Visit NordVPN »

www.expressvpn.com
ExpressVPN
Review
Price: $12.95 $8.32/month Servers: 3300+ in 94 countries Simultaneous connections: 5 Jurisdiction: British Virgin Islands Payment: PayPal, Crypto, AliPay, Klarna, Torrenting: OK Unblocks US Netflix: Yes Dedicated IP: Not provided TrustPilot Score: 4,7/5 Money-back: 30 days Visit ExpressVPN »

www.cyberghostvpn.com
CyberGhost
Review
Price: $11.99 $2.25/month Servers: 6600+ in 89 coutrines Simultaneous connections: 7 Jurisdiction: Romania Payment: PayPal, Crypto Torrenting: OK Unblocks US Netflix: Yes Dedicated IP: $51/yr TrustPilot Score: 4,8/5 Money-back: 45 days Visit CyberGhost »

www.surfshark.com
Surfshark
Price: $11.95 $2.49/month Servers: 3200+ in 65 coutrines Simultaneous connections: Unlimited Jurisdiction: British Virgin Islands Payment: PayPal, Crypto, Google Pay, Amazon Pay Torrenting: OK Unblocks US Netflix: Yes Dedicated IP: Not provided TrustPilot Score: 4,3/5 Money-back: 30 days Visit Surfshark »

www.purevpn.com
PureVPN
Review
Price: $9.60 $3.33/month Servers: 6500+ in 140 coutrines Simultaneous connections: 10 Jurisdiction: Hong Kong Payment: PayPal, Credit Cards Torrenting: OK Unblocks US Netflix: Yes Dedicated IP: $35.88/yr TrustPilot Score: 4,7/5 Money-back: 31 days Visit PureVPN »