Torrenting-related hazards and laws have increased in recent years. Your IP address and P2P activity can be easily detected while accessing torrents, allowing online lawbreakers and other relevant individuals to target you and your data.
If the ISP detects that you are downloading P2P files, they may slow down your link or prevent you from utilizing P2P sharing at all.
As a result, using a VPN to download torrents is now required. Finding the finest torrenting VPN can keep your information private and your internet activity safe while still allowing you to download quickly and reliably.
1. Best VPN for Torrenting & P2P in October 2023
Although all VPNs offer to protect your privacy, not all of them operate with peer-to-peer (P2P) networks. Finding a decent VPN for torrenting becomes a challenge as a result.
Then there's the balance of speeds, security, and server selection — only combining all of these factors will you get a high level of online privacy and user experience.
We've hand-picked the VPNs that work best with torrenting clients, providing all of the essential features as well as unmetered bandwidth for your downloads. You can download torrents swiftly and safely using them, regardless of your primary platform.
1.1 NordVPN – Best Overall VPN for Torrenting
| | |
| --- | --- |
| Based in | Panama |
| Split tunneling | Yes |
| SOCKS5 proxy | Yes |
NordVPN's dedicated servers support peer-to-peer (P2P) traffic. They're designed for high-bandwidth downloads, so you'll receive the finest performance and security. It's an excellent torrent VPN.
To avoid undesired IP leaks, all of their clients contain a safety mechanism that will turn off your Internet connection. A single blunder could expose your identity and land you on the ISP's blacklist. You'll have enough countries to select from, with over 5100 servers in 60 countries. Whatever country you're from, you'll be able to connect to a fast server nearby.
There's no need to encrypt your entire connection if you simply require a VPN for torrenting. Only your P2P traffic will be encrypted if you add your torrenting client to a split tunneling list. For individuals who don't care about encryption and prefer faster speeds, there's also a SOCKS5 proxy.
This VPN provider also adheres to a strict no-logs policy, ensuring that whatever you do with your VPN remains private. Even though other providers claim the same, most of NordVPN's servers are RAM-only and do not have mechanical hard drives.
Furthermore, PwC audited its privacy policy twice (one of the largest accounting agencies). As a result, you don't have to take the provider's word for granted. The outcomes are self-evident.
All this makes NordVPN an excellent torrent VPN. Not only will robust encryption protect your identity, but you won't be sacrificing performance, thanks to innovations like the next-generation NordLynx tunneling protocol. It was one of the quickest in our tests.
Pros
No DNS leaks
Audited no-logs policy
SOCKS5 proxy
Split tunneling for webpages/ apps
Specialized P2P servers
Cons
Deals are available only on long-term subscriptions.
1.2 PrivateVPN – Fastest VPN for Torrenting

| | |
| --- | --- |
| Based in | Sweden |
| Split tunneling | No |
| SOCKS5 proxy | Yes |
When evaluating the Windows application of PrivateVPN, for example, we were able to achieve a download speed of 15MB/s, which is rather excellent. If you wish to utilize the VPN with a torrenting client, keep in mind that you'll need to use a specialist P2P server. PrivateVPN offers 200 servers spread across 63 countries. Furthermore, PrivateVPN supports port forwarding (which not many VPNs offer! ), useful for P2P connections. The service, by the way, provides HTTP and SOCKS5 proxies. Its price starts at two dollars per month.
Private VPN provides the quickest speeds and unlimited bandwidth so you can watch videos without interruption. It secures all your personal information, and you are free from surveillance and logging—the power to circumvent censorship and unrestricted access to your favorite content from anywhere in the world. Installation and use are simple; no technical knowledge is necessary — a user-friendly interface and a wide range of VPN protocols are available to fulfill your requirements.
Pros
Customizable encryption
Port forwarding
Supports torrenting
HTTP and SOCKS5 proxies
Cons
Limited tunneling protocol selection
1.3 Atlas VPN – Torrenting VPN With Unlimited Connections

| | |
| --- | --- |
| Based in | USA |
| Split tunneling | No |
| SOCKS5 proxy | No |
Atlas VPN does not offer dedicated P2P servers; however, that does not mean it is unsuitable for torrenting. Quite the opposite is true. The truth is that many of Atlas VPN's servers enable torrenting. The internet speed was adequate but not exceptional during our tests, averaging 4-6MB/s. As a result, downloading a 2.7 GB file took roughly seven minutes.
One feature distinguishes Atlas VPN from the rest of the best VPNs for torrenting. It's the fact that its free version can be used for P2P connections, which is unusual in the VPN business. Torrenting is usually only supported by commercial VPN versions.
Atlas VPN has 700 servers in 31 nations, which is fewer than you'd expect from a standard VPN service. Despite this, the application tool is compatible with a wide range of streaming services, including Netflix, BBC iPlayer, and YouTube.
A malware filter, a data breach detector, and a kill switch are among the VPN's many functions. It even enables IP address randomization in its Windows and Android apps. If you're concerned about data security, Atlas VPN features a stringent and verified no-log policy.
The most excellent part about Atlas VPN right now is the pricing. With limitless bandwidth and fascinating features, you may spend as little as $1.39 per month if you sign up for a three-year membership.
Pros
Affordable pricing
Unblocks streaming sites
Malicious page blocker
Unlimited simultaneous connections
Free version supports torrenting
Cons
Does not have many servers
Based in a Five-Eyes country
1.4 Surfshark VPN – Best Budget VPN for Torrenting

| | |
| --- | --- |
| Based in | The Netherlands |
| Split tunneling | Yes, Android and Windows |
| SOCKS5 proxy | No |
Torrenting is allowed on any of Surfshark's servers, and the ports will not be blocked. They also offer dedicated P2P servers optimized for usage with torrent clients. If your downloads are taking forever, a solution could provide fast connection speeds. However, speed shouldn't be an issue because this Vpn is one of the quickest we've tested. They've also added the WireGuard tunneling technique, which means you won't even notice you're using a VPN.
Safety precautions are also taken into account by the provider. When the connection between your devices and VPN servers is disrupted, Surfshark's kill switch cuts off your connection. They even allow for switching between the Chacha20Poly1305 and AES-256-GCM encryption ciphers, which are unbreakable even with the most potent hardware.
They apply the same quality standards to their server fleet; hence there are no hard drives. No logs can be saved and viewed later since all systems use RAM-only memory.
Additionally, increased DNS leak protection has been implemented. Consequently, your private details are safeguarded to the greatest extent feasible.
You can pick from a fleet of over 3200 servers in 65 countries. It gives enough variation for a range of applications. A Whitelist function is available if you only need a VPN for torrenting. You can only utilize a VPN connection for torrenting sites and applications. As a result, the majority of your traffic is unaffected. Surfshark also offers a certified no-logs policy, making torrenting even more secure. Finally, it's among the most cost-effective solutions, with significant reductions for extended subscriptions. Its value is unrivaled, as it allows for unlimited simultaneous connections.
Pros
Price is affordable
30-day money-back guarantee
Customizable encryption methods
Dedicated P2P servers
Split tunneling
Cons
Does not have SOCKS5 proxy
1.5 Mullvad VPN – Best For Anonymous Torrenting
| | |
| --- | --- |
| Based in | Sweden |
| Split tunneling | Yes |
| SOCKS5 proxy | Yes |
Mullvad VPN may not be as well-known as some of the other alternatives on this list, but that should not deter you. It's a private VPN service, which is precisely what torrenters need.
For starters, even when making an account, they use an unusual approach: you'll be given a 16-digit code generated at random. There are no trails back to you because you can not provide an email address.
P2P traffic is allowed on all of the service's servers to choose the one nearest to you for the best speeds. We saw no speed throttling; therefore, it should be suitable even for massive downloads. SOCKS5 was included in your membership so that you may set it up on any torrent client right away.
If you only use another VPN for torrenting, Mullvad's Android and Linux apps offer split tunneling. Their server selection, on the other hand, is a little light. As a result, depending on the area, finding a fast server may be more difficult. Mullvad's pricing is also non-flexible. It will always cost $6.00 per month, regardless of the time you choose, which isn't affordable. This is a no-brainer: see what privacy protections you get for your money.
Pros
Open-sourced service
SOCKS5 proxy
30-day money-back guarantee
DNS leak protection
Anonymous account
Split tunneling
Cons
Only have few countries to choose from
2. How do VPN connections help?
Everyone's priorities are different, and not everyone utilizes the web similarly. VPN services provide a way to anonymously connect to The Internet through a "tunnel" service if you wish to improve your online anonymity. When you link to a website, this form of access covers your interaction and displays the VPN's IP address instead of your own.
It implies that your private residence IP address is masked when browsing different websites. Using a VPN provider will almost certainly slow down your machine. If you want a high-performance VPN, ensure it also protects your privacy by encrypting data between your device and the destination server. You can strengthen the security of your data and remain anonymous online with ExpressVPN, all while surfing at top speeds.
3. How necessary Is It To Use a VPN for torrenting?
Torrenting without the need for a VPN carries several risks. Here are a few examples that may persuade you to reconsider using torrent clients without a VPN.
Connection – When you use a torrent client to download files, you're doing so from another user's computer. Your true IP address is visible to anyone who looks at the seeders list. It's almost as if you're revealing your residential address in public.
Copyright Material – Even if you don't want to steal, files on torrent services aren't usually properly labeled. Copyright owners and your ISP are likely to disregard your situation and treat you as if you were just another pirate.
Attacks on social engineering – Scammers may impersonate copyright holders to earn a profit. Because your P2P connection provides a lot of information, this could be a good place to start gathering information on you in preparation for an assault.
4. How To Choose A VPN For Torrenting?
The first two are self-evident, namely privacy and security. Torrenting is inherently dangerous, and while peer-to-peer file sharing is unquestionably beneficial, you may expose yourself to threats from criminal actors. So you're looking for a VPN that uses robust encryption techniques and has a lot of security features. A transparent no-logs policy also is essential; the largest VPN companies even have their policies evaluated independently.
Download speeds are also important; there's no sense in selecting a VPN that dynamically adjusts your connections to the point where downloads are slowed to a crawl. We also advise only using torrenting VPNs that are DNS leak-proof and feature a VPN kill switch. If the VPN stops operating, the latter turns down the network connection, protecting your genuine IP from being revealed.
To assist you, we've compiled a list of the best VPNs for torrenting. They're all great P2P download companions because they're fast, safe, and simple to use.
5. How The Torrenting VPNs Were Selected And Tested
Position on torrenting – P2P connections is designed to require a lot of bandwidth, which might be difficult to keep up with if you have a high number of users. If they all wanted to download anything simultaneously, the infrastructure would be brought to its knees in no time. As a result, many service providers do not allow torrent traffic. Only providers that do not prohibit P2P traffic were considered.
Security – When you download torrents, you're exposing your IP address to the public. This makes it available to fraudsters or the government who want to test the strength of your home network. The more secure service is, the more likely you are to remain anonymous.
Logging – Although all VPN network operators claim to be private, you must usually trust their judgment for it. It's far easier to trust a service that has been "in the wild" or has undergone a third-party audit. It also implies that your information will be protected at all times.
Performance – The capacity to exchange files quickly is at the heart of torrenting. As a result, the quicker your VPN is, the faster your download rates will be. Services that perform better are given a higher ranking.
Value – The majority of top-tier VPNs provide a similar degree of service. I'll pass if a product charges more than the usual price yet doesn't provide enough value. Always lookout for a good mix between pricing and features.
6. What Is Torrenting?
The act of uploading and downloading files using the BitTorrent network is known as torrenting. Torrenting includes downloading files from other users' devices on the network rather than from a central server. For a variety of devices, such software is available for free download.
BitTorrent (the technology that enables "torrenting") has a shady reputation, both unjust and well-deserved. BitTorrent, at its finest, solves the problem of too many people trying to download enormous items from a single source at the same time—whether it's popular music songs, illegal TV episodes, DRM-free books, or gigabytes of cat images.
By transmitting bits of the file to every other downloader, BitTorrent converts a file's popularity into a benefit rather than a bottleneck. The whole system is meant to be decentralized, with no single point of failure in the event of a traffic spike. It's a fantastic concept, but because of its decentralized structure, it's also ideal for illegally spreading copyrighted information online.
Some ISPs and network administrators restrict BitTorrent traffic entirely because of its bad reputation. Using a VPN to get over these barriers and preserve your privacy when torrenting is a good idea. All your internet data is encrypted with a virtual private network or VPN, so no one can see what you're doing—even when torrenting. The issue is that not all VPN services support BitTorrent on their servers.
7. Can Free VPN Be Used For Torrenting?
Many free VPNs that are safe enough for everyday use do not allow torrenting. As previously stated, P2P connections can eat up a great deal of bandwidth, degrading the experience of other users. As a result, it's frequently considered a premium feature only available to paid users.
However, finding a free VPN that functions with torrenting connections is not unheard of. In such instances, you should proceed with caution. Torrenting consumes many resources, especially when it's supplied for free. As a result, it's conceivable that your information is logged and sold. Always double-check that the software you're installing is secure before proceeding.
Is it legal to torrent with VPN?
Yes, using a VPN to torrent is completely legal. The problem isn't with the torrenting technique but with downloading content. It's perfectly fine to use open-source technology or a public-domain film. However, it's very illegal to share or download a video of the latest film you shot on your phone. Also, certain acts that appear to be lawful are ambiguous, and various government agencies or courts are compelled to approach each case differently.
8. What Are The Risks Associated With Torrenting?
A VPN shields you from the perils of a public internet connection. You must, however, ensure that each element of your system is secure. It covers the torrent trackers you're using as well as the torrent app you're using.
For example, uTorrent 3.4.2, among the most popular torrent applications, significantly slowed users' computers. Later, this app version deployed a Bitcoin mining application without the user's permission. Even the most recent version of uTorrent encourages you to install many adware.
Deluge and qBittorrent are two safer alternatives to BitTorrent. Both are open-source and far more secure alternatives. This, when combined with a reliable VPN, ensures that there are no technological gaps. You should be safe if you think twice before clicking on links.
9. Countries With The Best VPNs For Torrenting And P2P Traffic
Some countries have more lenient regulations regarding Internet downloading. Those are, of course, the nations that are ideal for torrenting.
Poland: It is neither lawful nor criminal in Poland to download copyrighted materials. You can't use copyrighted materials without authorization in most cases. However, there are several exceptions to copyright law, such as personal usage circumstances. You can dismiss this as a flaw in Poland's legal system, but this doesn't make the country a new Tortuga for copyright thieves.
Spain: Spain is a torrent's paradise because its law prioritizes financial motives over copyright violations. You can share any data you want there as long as you don't aim to benefit from it. It indicates that torrenting for personal use is legal. It is still unlawful to share copyrighted content, just as it is in Switzerland; therefore, you are breaking the law if you post.
Switzerland: Switzerland is one of the most confidential countries in the world. Your right to privacy is safeguarded, and your Internet Service Provider's ability to monitor you is limited. Furthermore, as far as you don't plan to sell the materials, downloading copyrighted content for personal use is permitted. It is, however, illegal to release content if you do not own the copyright to it. So far as you've been downloading, you're safe, but seeding is a different matter.
10. Torrenting P2P VPN FAQ
10.1 Is it safe to torrent with VPN?
Yes, torrenting while using a VPN keeps you much safer. Because your identity is disguised and untraceable, you're considerably less likely to be fined or have someone try to hack your computer.
10.2 Can a person be jailed for torrenting?
It depends on your country as well as other factors. You will not be going to jail if you download music. However, if you're in charge of one of the most popular public torrent trackers, you're breaking the law.
10.3 Does torrenting speed increase if VPN is used?
If you have poor Internet access, it's unlikely that using a VPN will make things faster. A VPN adds an extra stop to the bus route of your connection, and encryption and decryption require time. If your ISP uses speed restrictions to limit you, you may use a VPN to boost your torrenting speed.
11. Conclusion
Whatever you're going to download using torrents, remember to be cautious. Although it appears to be innocent, you could find yourself in a far more complex situation than you ever anticipated if you're not careful. It includes everything from legal scrutiny to the files itself, which are frequently the source of infection. Not to add that your true IP address is revealed, making you a more attractive target.
A VPN can reduce the number of potential threats to your online activities, but it must be a provider you can trust. Otherwise, you're just throwing yourself into the fire from the frying pan. So do your homework and choose a provider that will keep you safe even when you're on a P2P network.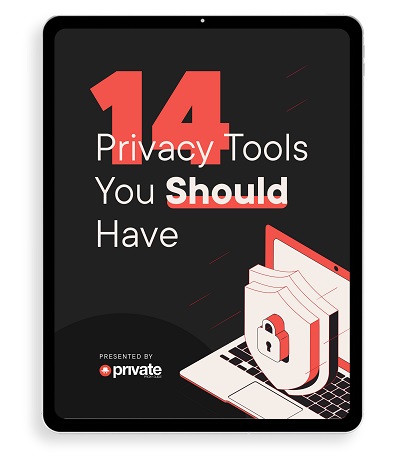 Learn how to stay safe online in this free 34-page eBook.