As a Windows 10 user, you probably like the fact that you have access to thousands of apps and pieces of software in different categories. That said, with such great power comes great responsibility, and your responsibility as a Windows user is to keep your device safe and private all the time. But how can you do that?
By getting the best VPN for Windows 10, of course!
Whether you want to access region-restricted content from Netflix, keep your browsing data safe from your ISP, or torrent without being tracked, a VPN app is the perfect tool to use.
The problem is, there are thousands of VPN apps for Windows 10, and most of them are, for the lack of a better word, trash. Fret not, though, as we've done the heavy lifting and tested plenty of them to curate this list of the best VPN for Windows 10.
1. Best VPN for Windows 10 2022
1.1 NordVPN – Best Overall Windows 10 VPN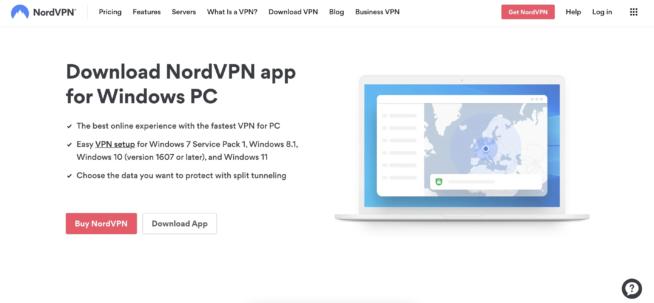 It's no surprise that you've seen people talk about NordVPN all over the internet. After all, it offers a plethora of features at some of the most reasonable prices you can find.
Pros
Double encryption
Affordable multi-year plans
Vast network with plenty of severs
Excellent performance
Cons
The interface isn't as intuitive as some other apps on our list
Network
For starters, NordVPN boasts a huge network that includes over 5,000 servers for you to choose from. In other words, no matter whether you're trying to access Hollywood's latest hits or Bollywood's most recent masterpieces, you'll always find the right server.
Security
Let's be honest, though, when you're searching for the best VPN for Windows 10, you're not just looking for the sheer number of servers; you're also seeking tight security. Well, that's exactly what NordVPN offers.
The app not only has the usual kill switch (actually, it has two of them), but it also offers several Double VPN servers that pass your data through two servers instead of one, thus making things even more secure. Other security features offered by NordVPN include Onion over VPN and strong DNS leak protection.
Privacy
NordVPN has a zero-logging policy. The company underwent several independent audits to prove that, and it continues to do so today. So, if you're the privacy-conscious kind, worry not, as you're in safe hands.
Interface
NordVPN's Windows 10 app is easy to set up and use, as it has a compact interface where all of the essential features are effortless to find and use.
With NordVPN, securing your internet traffic is as easy as firing up the app, picking your preferred server, and clicking on "connect."
The app even has the split tunneling feature that was only available on the Android version before.
Speed
Now, you might be wondering, "will all of those features come at the expanse of speed?"
Fortunately, the answer here is no. All of what we've mentioned is bolstered further by NordVPN's NordLynx protocol, which allowed the app to be one of the fastest VPNs you can use at the moment, hitting speeds of up to 880 Mbps.
As for the number of connections, you can use NordVPN on up to six devices at once.
Pricing
As we've mentioned above, NordVPN's prices are pretty competitive. They have three pricing plans for you to choose from:
1-month plan, which costs $11.95 per month.
1-year plan, which costs $4.92 per month for a total of $59.
2-year plan, which costs $3.29 per month for a total of $79. This plan offers the best value.
On top of that, there's a handy 30-day money-back guarantee, which means that you can try the app without worrying about losing a penny if you don't like it.
NordVPN tops our list of the best VPNs for Windows 10 because it delivers everything you'd want in a Virtual Private Network service without being too expensive, so if you're looking for the best value for your money, this is the service to choose.
1.2 ExpressVPN – Fastest VPN for Windows 10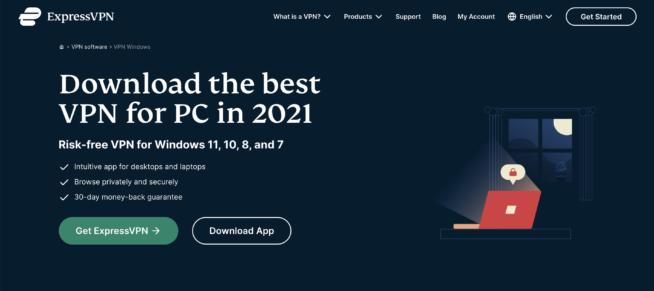 The runner-up on our list is ExpressVPN, which is another big name in the privacy world. ExpressVPN's Windows 10 app is not only easy to use but it's also packed with extra features that appeal to the tech-savvy.
Pros
Clean, intuitive Windows app
Handy Windows-dedicated features
Impressive connection speeds
24/7 support across different channels
Cons
The connection is limited to five simultaneous devices
Security
No one can deny that ExpressVPN is one of the safest Windows 10 VPN apps to use. At its core, the service uses AES-256 encryption, which is the gold standard when it comes to security in this field. Moreover, ExpressVPN offers several protocols for you to choose from, depending on whether you're leaning towards performance or security.
Privacy
Just like NordVPN, ExpressVPN has a zero-logging policy in place, which has been independently audited to prove that the app doesn't gather or log any of your traffic data, online activities, or connection IPs.
Interface
ExpressVPN houses all of its features in a clean app with an excellent UI that's super intuitive to navigate and use. Fire up the app, and you'll be greeted with a list of servers along with a quick-connect button and a brief history of your recently used locations. You can even change the server without disconnecting, something that most other VPN apps lack.
Network
Take a look at the sever list, and you'll find that ExpressVPN has servers in over 94 countries. Just like NordVPN, ExpressVPN offers you the ability to access the Netflix library of any country. Not only that, but it can also access pretty much any streaming service out there, from Crunchyroll to iPlayer, all without sacrificing speed and performance.
Pricing
ExpressVPN's plans are a bit pricier than those of NordVPN:
1-month plan, which costs $12.95 per month.
6-month plan, which costs $9.99 per month for a total of $59.95.
12-month plan, which costs $8.32 per month for a total of $99.95.
There's also a 30-day money-back guarantee in place, and you can pay for ExpressVPN with pretty much any payment method, from PayPal to Bitcoin.
1.3 PureVPN – Windows 10 VPN With Many Extensions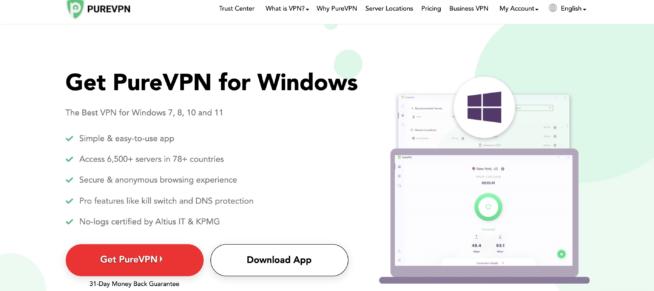 Although not as well known as the aforementioned apps, PureVPN has been around since 2007, and it has managed to make a name for itself as a feature-packed VPN service with excellent bang for your buck.
Pros
Up to ten simultaneous connections
Over 6,500 servers in 78 countries
Affordable
Cons
Network
PureVPN has over 6,500 servers in 78 countries, providing an excellent selection of IPs to choose from.
Want even more good news?
You can use PureVPN on up to ten devices at the same time.
Interface
PureVPN's Windows app's interface is as simple as they get. When you open the app, all you see is the on/off switch, but you can easily access the server list with a single click, and extra features can be accessed through the icons on the side.
Security
PureVPN offers all of the security features you'd expect in such an app, including DNS and IPv6 leak protection, split tunneling, a kill switch, as well as OpenVPN and IKEv2.
Privacy
PureVPN claims to offer a zero-logging privacy policy, which has been audited and verified by independent audits.
That said, if you look deeper into their privacy policy, you'll find that it does register the day you connected to a specific location, your ISP, the internet speed, and how many connections you used. Sure, none of that can be used to identify you, but it can be a deal-breaker for some users.
Speed
When it comes to speed, PureVPN isn't really among the fastest VPN providers out there. Here are the results of our tests:
US connections over OpenVPN can reach 220 Mbps.
UK connections over OpenVPN can reach around 270 Mbps.
IKEv2 speeds can reach 110 Mbps.
Of course, your mileage may vary, and you can test PureVPN yourself without losing a penny by taking advantage of their 31-day money-back guarantee.
Pricing
The pricing structure is where PureVPN shines, as the prices of its multi-year plans are pretty affordable, especially since you can split the bill with up to nine other users. PureVPN offers three plans:
1-month plan, which costs $10.95 per month.
12-month plan, which costs $2.99 per month.
24-month plan, which costs $1.99 per month for a total of $47.76.
You can also purchase some extra add-ons, like a dedicated IP or DDoS protection, separately.
As with the other Windows 10 VPN apps on our list, PureVPN has a 31-day money-back guarantee.
1.4 CyberGhost – Safe VPN for Windows 10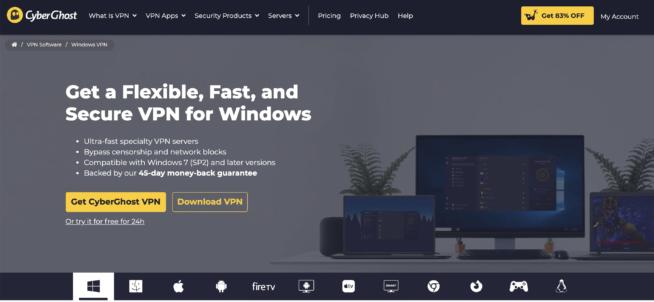 If what you value most in a VPN app are speed and performance, then look no further than CyberGhost.
Pros
Great for streaming
Plenty of fast servers to choose from
45-day money-back guarantee
Cons
The Windows app can be a bit clunky
Interface
CyberGhost's Windows app matches the look and feel of Windows 10, making it quite aesthetically pleasing. Once you open it, you'll find a large connection button in the center along with an arrow on the left that reveals an extensive server list along with the app's features and settings.
Speed
When using WireGuard, CyberGhost reached impressive speeds of over 800 Mbps, making it one of the fastest VPN apps for Windows 10.
Network
CyberGhost has over 6,000 servers across 88 countries, and you can use the same account to browse the net privately on up to ten devices simultaneously.
Security
Unlike NordVPN, CyberGhost cannot route your internet traffic through the Tor network, but it still offers a plethora of other security features. For instance, you get split tunneling, which allows you to exempt specific URLs from going through the VPN connection.
The app also offers dedicated IP addresses (for an extra monthly fee), as well as ID Guard, random port connection, and several VPN protocols, including IKEv2, OpenVPN, and WireGuard.
Privacy
CyberGhost has a no-logging policy. It doesn't log IP addresses, browsing history, DNS queries, session duration, bandwidth, or the VPN server you've used. It does, however, collect information regarding connection attempts and successes, but only in aggregate form.
CyberGhost hasn't undergone any independent audit yet, but the company is planning to complete one soon.
Pricing
CyberGhost's prices go as follows:
1-month plan, which costs $12.99 per month.
1-year plan, which costs $3.95 per month for a total of $47.40.
2-year plan, which costs $3.15 per month for a total of $75.60.
The monthly plan comes with a 14-day money-back guarantee, whereas the yearly and biannually plans are covered with a 45-day money-back guarantee. There's also a 24-hour free trial if you want to take CyberGhost for a quick test ride without spending a penny.
Some extra features that you can purchase separately include a dedicated IP address and CyberGhost's password manager.
Granted, CyberGhost isn't on the cheap side of the spectrum, but considering the features it offers and the speeds it can reach, it can still be the right choice for those who value performance over everything else.
1.5 Surfshark VPN – Best Budget Windows 10 VPN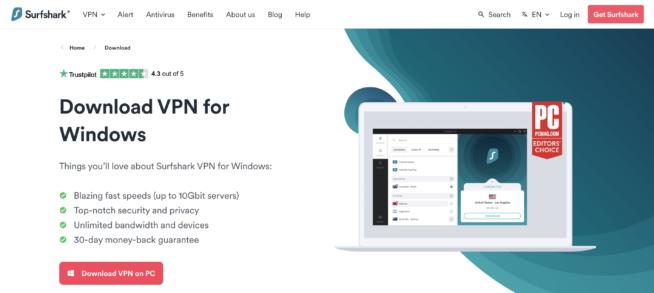 Surfshark is a service that values quality over quantity. What we mean by that is that although the company's network is smaller than others on our list, it's one of the best Windows 10 VPNs, thanks to its features and connection speed.
Pros
Unlimited simultaneous connections
Excellent value for the money
Impressive speeds
Super easy to use
Cons
It might seem a bit basic feature-wise to power users
Interface
The first thing you'll notice when using Surfshark's Windows 10 app is the simplicity of it all. Everything is easy to access and use. Granted, the app doesn't offer as many options and configurations as other VPN apps, like NordVPN and ExpressVPN, but it's by no means underpowered, and it still offers all the features you'd need when using a VPN.
Network
Surfshark has over 3,200 servers in 65 countries. Despite having a relatively small number of servers, Surfshark is still one of the fastest VPNs for Windows 10, even faster than ExpressVPN.
Privacy
Just like the rest of our recommendations, Surfshark doesn't log IP addresses, bandwidth data, browsing history, network traffic, or connection stamps. The company's policy has been verified by two commissioned audits done by German security firm Cure53, one in 2018 and one in 2021.
Not only that, but the company cares about privacy so much that they've included several privacy-oriented tools along with the main VPN app. Those tools include Smart DNS, CleanWeb (which is an ad-blocker), Surfshark Alert (which is similar to HaveIBeenPwned), and the company's own search tool called – hey, surprise! – Surfshark Search.
Pricing
Despite being feature-packed, Surfshark is still relatively affordable if you get a biannual subscription. It's worth noting that, unlike most other VPN providers, Surfshark doesn't have a year plan. Here's the app's pricing structure:
1-month plan, which costs $12.95 per month.
6-month plan, which costs $6.49 per month for a total of $38.94.
24-month plan, which costs $2.49 per month for a total of $59.76.
A 30-day money-back guarantee covers all the plans, and the site offers several payment options to choose from (including Bitcoin and PayPal).
2. How to Install a VPN on Windows 10
All of the VPN services reviewed above offer optimized apps for Windows 10, which you can easily download and install from each's service's respective website.
However, if you find yourself needing to configure a VPN manually on Windows 10, which is the case if you're using safe mode or trying to use a VPN that doesn't offer a client, here are the steps that you need to follow:
Depending on your VPN provider, you should get access to a list of servers that includes each server's location, address, and current load. Your VPN provider should also provide manual sign-in credentials that include, depending on the provider, a username, password, or certificate. Search on Google how to get that information from your preferred VPN service, then move to the next step.
Fire up your computer, then right-click on the Start button and choose Settings.
Go to Network & Internet.

Click on VPN, then on "Add a VPN connection."
From the VPN provider dropdown menu, choose Windows (built-in).

Choose a name for your connection, such as the name of the service and the server's location.
Fill in the missing info (server's location, connection protocol, type of sign-in info, sign-in method), which you should find in your VPN account.

Click on Save.
Choose the VPN you've just created and click on Connect. You might need to enter your username and password depending on which sign-in method you've chosen.
If you've entered the required info correctly, you should be connected and ready to go in no time. To test it out, fire up your search engine and enter "what's my IP." If you don't get your home address, you're ready to start browsing privately.
VPN Service

www.nordvpn.com
NordVPN
Review
Price: $11.95 $3.71/month Servers: 5500+ in 59 countries Simultaneous connections: 6 Jurisdiction: Panama Payment: PayPal, AmazonPay, Crypto, Google Pay, Klarna Torrenting: OK Unblocks US Netflix: Yes Dedicated IP: $70/yr TrustPilot Score: 4,7/5 Money-back: 30 days Extra: Double VPN, Obfuscated servers Visit NordVPN »

www.expressvpn.com
ExpressVPN
Review
Price: $12.95 $8.32/month Servers: 3300+ in 94 countries Simultaneous connections: 5 Jurisdiction: British Virgin Islands Payment: PayPal, Crypto, AliPay, Klarna, Torrenting: OK Unblocks US Netflix: Yes Dedicated IP: Not provided TrustPilot Score: 4,7/5 Money-back: 30 days Visit ExpressVPN »

www.cyberghostvpn.com
CyberGhost
Review
Price: $11.99 $2.25/month Servers: 6600+ in 89 coutrines Simultaneous connections: 7 Jurisdiction: Romania Payment: PayPal, Crypto Torrenting: OK Unblocks US Netflix: Yes Dedicated IP: $51/yr TrustPilot Score: 4,8/5 Money-back: 45 days Visit CyberGhost »

www.surfshark.com
Surfshark
Price: $11.95 $2.49/month Servers: 3200+ in 65 coutrines Simultaneous connections: Unlimited Jurisdiction: British Virgin Islands Payment: PayPal, Crypto, Google Pay, Amazon Pay Torrenting: OK Unblocks US Netflix: Yes Dedicated IP: Not provided TrustPilot Score: 4,3/5 Money-back: 30 days Visit Surfshark »

www.purevpn.com
PureVPN
Review
Price: $9.60 $3.33/month Servers: 6500+ in 140 coutrines Simultaneous connections: 10 Jurisdiction: Hong Kong Payment: PayPal, Credit Cards Torrenting: OK Unblocks US Netflix: Yes Dedicated IP: $35.88/yr TrustPilot Score: 4,7/5 Money-back: 31 days Visit PureVPN »