Online gaming was a revolutionary step into the world of gaming. The ability to play and communicate with several players worldwide is an experience that everyone must try at least once. The Xbox One online gaming community is as active as ever, and it's waiting for you to join and play your favorite games while meeting other people.
However, the Xbox One servers aren't 100% safe against DDoS attacks or SWATTING. Even if you connect through your private router, you may be exposed to hackers who want to steal your information and sell it to someone else. In those cases, using a VPN can be the best thing you can do.
Considering that we're talking about online gaming, you must look for a VPN provider that provides you with the fastest connection speeds possible and lowest latency rates. Remember that slow connections can lead to lag, glitches, and other game-related problems that can harm your experience.
To make things easier for you, we compiled a list of the best VPNs you can currently get for Xbox One live gaming. After reading this list, you're going to be able to choose a provider based on your needs or goals.
1. What Is a VPN?
Also known as a "Virtual Private Network," a VPN can be used to create safer network connections through particular servers based on different places worldwide. Whenever you use a VPN, you're masking your current location and using another.
In gaming, a VPN can help you get faster connection speeds on certain servers, lower latency, or even play with people from another region. Some games are region-locked, meaning you cannot play there unless you use a VPN.
On the other hand, some VPN providers offer optimized servers for gaming, which can enhance your experience even more. Overall, using a VPN can help you game online without having to worry about any cyberattack that may jeopardize your safety or information.
2. Can You Use Free VPNs?
All of the VPN providers on this list work with paid memberships. While there are many free VPN providers on the market today, it's not advisable to use them. Some of these free VPN providers do the job they promise to do, which is connecting you to a server through a different location.
Keep in mind that running VPN services can be highly expensive since you need to pay for servers. In that sense, free VPNs gain revenue through ads, which can be overwhelming while you're browsing.
Additionally, there's no safety guarantee for free VPNs. All paid VPNs have strict safety policies where they state your information is safe from any third party. However, the same can't be said for free VPNs. In essence, you're continually exposed to identity theft if you use free VPNs for your browsing, especially when it comes to gaming on Xbox One.
Using a free VPN can cost you even more in the long run than paying for a VPN membership. Considering that this is your safety and personal information we're talking about, it's not a bad idea to invest in it through a good VPN.
3. Is Using a VPN for Xbox One Safe?
While VPNs are excellent for protecting your identity, bypassing geographical blocks, or browsing faster, the story is a bit different when it comes to gaming.
Some games have strict policies when it comes to using VPNs to access their servers. In essence, you may be exposed to getting your account banned if you use this service while playing.
Many people have successfully used VPNs to play on Xbox One and haven't got banned. However, there's no guarantee that your account is going to be 100% safe from bans at all times.
4. How to Set Up a VPN for Xbox One
Typically, setting up a VPN is easy since the provider has native apps that work for laptops, computers, or smartphones. However, the process is a bit more different for gaming consoles since they don't have native support for VPNs.
In the case of Xbox One, the best way to set up your VPN is through your router. You must find your router's IP address, log into your router, and put all the required details into your VPN service provider app.
Once you've connected your router to the VPN provider, you can go into your Xbox One, go into its network settings, and connect the console to the network without any problems.
5. Best VPN for Xbox One 2021
5.1 NordVPN – Best Overall Xbox One VPN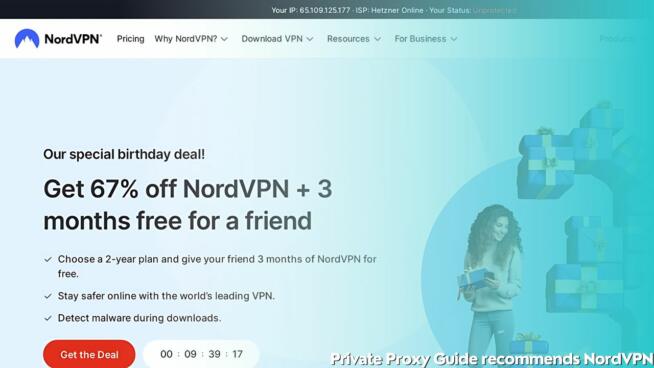 NordVPN is also a strong option for gamers worldwide. In essence, this VPN service provides the user with install instructions for over 29 router types, ensuring your safety while you set up everything.
In this case, you're going to get access to over 5,400 servers across 60 countries. Additionally, you're going to get a server list in the app that tells you which server can give you the fastest connection based on what you want to do.
To protect you even further, NordVPN offers DDoS protection and dedicated IP addresses in case you want to host a game server without any potential problems. Finally, NordVPN offers excellent connection speeds for gaming, so you shouldn't have any issues with your ping.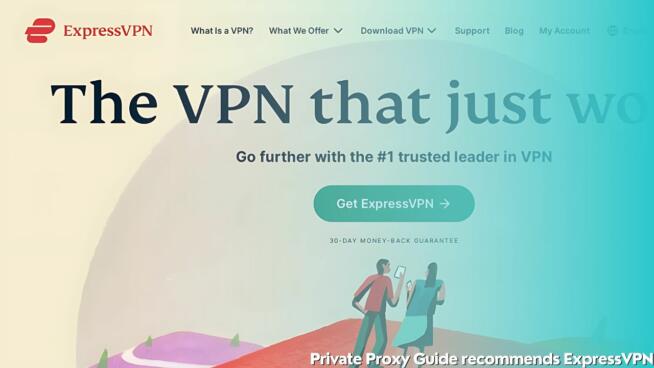 ExpressVPN goes to the top of our list because it's one of the fastest providers on the market today. While it's a bit more expensive than the competition, you're going to get reliable and fast connection speeds, which is vital for online gaming.
This VPN provider doesn't have any data caps and allows you to change the server location as much as you want. If you want to test which server location fits your needs the best, you're free to do it.
On the other hand, you can enjoy up to five simultaneous connections on the internet; this means you can use the VPN on your Xbox One and also use the VPN on other devices nearby, such as your smartphone or laptop.
In essence, ExpressVPN has over 3,000 servers in total spread across 94 countries, covering most gaming servers worldwide. As for privacy, ExpressVPN doesn't log any of your browsing or gaming information into its servers, ensuring your experience is as safe as it can be.
Another great thing about ExpressVPN is that it provides excellent coverage in areas where other VPNs fail, such as Africa or South America. If you want to expand your gaming horizons as much as possible, this is excellent news for you. Overall, ExpressVPN is our top pick for gaming VPN; if you're eager to play more safely on your Xbox One, this is a great choice to consider.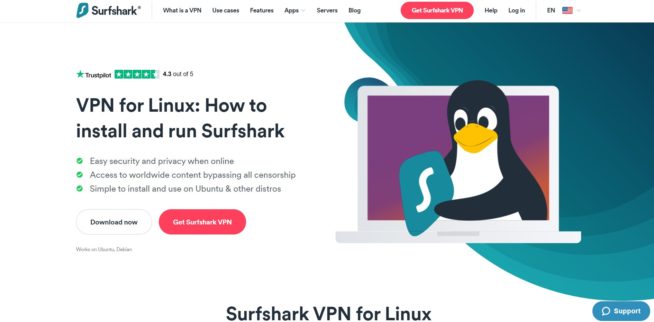 While SurfShark doesn't have as many servers as the others mentioned above, it still offers great stability and connection speeds for gamers. A remarkable thing about SurfShark is that it has no connection limit, meaning you can play as much as you want without experiencing any sudden disconnections.
Generally speaking, SurfShark features up to 1,700 servers spread across more than 60 countries, which is great for most gamers worldwide. Some other features include 256-bit AES encryption, protection against DNS leaks, ad blockers, split tunneling, and a kill switch in case your connection fails.
If you want a more affordable VPN that does the job every time, SurfShark may be the best option for you.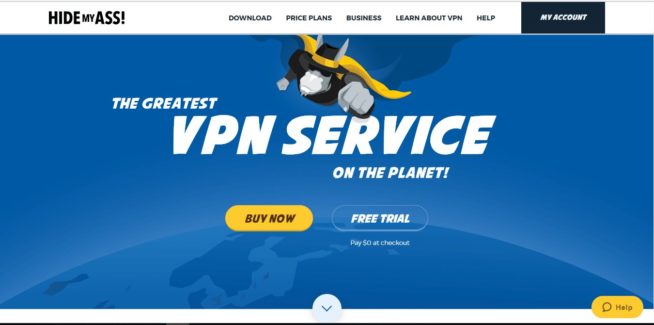 Despite having some problems with its launch, HMA! has become one of the most reliable VPN providers on the market. This provider works with OpenVPN, L2TP, PPTP, and IPSec VPN protocols, which are decent for gaming. Unfortunately, HMA! doesn't work with WireGuard, which is one of the fastest protocols on the market.
HMA! provides 256-bit AES encryption, kill switch, up to 20 Gbps connection speeds, and more. While HMA! has the smallest network of servers (1,000 servers), it covers more than 190 countries, which is perfect for all gamers.
It's important to note that not all of HMA!'s servers are equally fast. If you want to game without any interruptions, you must ensure you're choosing the correct server location to enjoy faster connection speeds. In the case of Asian servers, we saw some poor performance, so keep that in mind.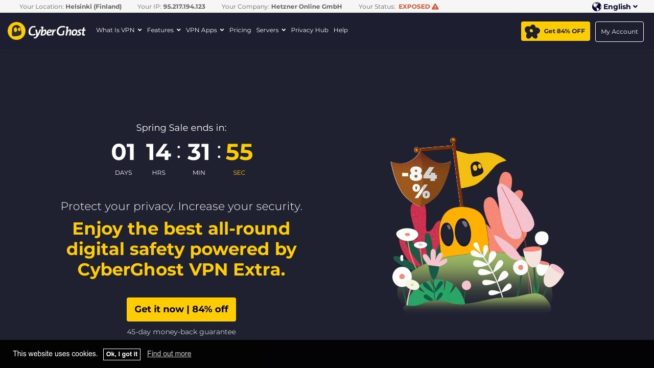 One of the greatest things about CyberGhost is that it offers optimized servers for gaming. If you want to make things even faster, you can use CyberGhost's optimized server list and reorder it so that it shows the most stable or fastest server based on where you are.
In essence, CyberGhost works with over 5,700 servers spread across 90 countries, making it one of the largest VPN providers on this list. Even if you may not need such a considerable server number, it can still come in handy sometimes.
As opposed to its competition, CyberGhost allows you to work with up to seven simultaneous connections. Overall, CyberGhost offers some of the fastest connections we've seen for Xbox One gaming, and thanks to its simple user interface, you're going to be able to set up everything without any problems.
If you want to get a great balance between value and price, CyberGhost is an option you should consider for your online gaming VPN.
6. Bottom Line
Getting a VPN for your Xbox One live gaming is the right step to protecting your identity. However, you must ensure you're getting fast enough servers so they don't affect your overall gaming experience.
Remember that using a VPN for gaming comes with potential banning risks, so use these VPNs with caution.
VPN Service


www.nordvpn.com
NordVPN
Review
Price: $11.95 $3.71/month
Servers: 5500+ in 59 countries
Simultaneous connections: 6
Jurisdiction: Panama
Payment: PayPal, AmazonPay, Crypto, Google Pay, Klarna
Torrenting: OK
Unblocks US Netflix: Yes
Dedicated IP: $70/yr
TrustPilot Score: 4,7/5
Money-back: 30 days
Extra: Double VPN, Obfuscated servers
Visit NordVPN »


www.expressvpn.com
ExpressVPN
Review
Price: $12.95 $8.32/month
Servers: 3300+ in 94 countries
Simultaneous connections: 5
Jurisdiction: British Virgin Islands
Payment: PayPal, Crypto, AliPay, Klarna,
Torrenting: OK
Unblocks US Netflix: Yes
Dedicated IP: Not provided
TrustPilot Score: 4,7/5
Money-back: 30 days
Visit ExpressVPN »


www.cyberghostvpn.com
CyberGhost
Review
Price: $11.99 $2.25/month
Servers: 6600+ in 89 coutrines
Simultaneous connections: 7
Jurisdiction: Romania
Payment: PayPal, Crypto
Torrenting: OK
Unblocks US Netflix: Yes
Dedicated IP: $51/yr
TrustPilot Score: 4,8/5
Money-back: 45 days
Visit CyberGhost »


www.surfshark.com
Surfshark
Price: $11.95 $2.49/month
Servers: 3200+ in 65 coutrines
Simultaneous connections: Unlimited
Jurisdiction: British Virgin Islands
Payment: PayPal, Crypto, Google Pay, Amazon Pay
Torrenting: OK
Unblocks US Netflix: Yes
Dedicated IP: Not provided
TrustPilot Score: 4,3/5
Money-back: 30 days
Visit Surfshark »


www.purevpn.com
PureVPN
Review
Price: $9.60 $3.33/month
Servers: 6500+ in 140 coutrines
Simultaneous connections: 10
Jurisdiction: Hong Kong
Payment: PayPal, Credit Cards
Torrenting: OK
Unblocks US Netflix: Yes
Dedicated IP: $35.88/yr
TrustPilot Score: 4,7/5
Money-back: 31 days
Visit PureVPN »