In 2023, starting your website is no big deal. You just need to get a reliable hosting solution, deploy your website, and start working on it. However, not all people buy a hosting solution to launch their site and earn from it.
Some people are interested in reseller hosting, in which case, they buy hosting resources and sell them to other people. As a result, you can start a web hosting company and resell the hosting resources you just bought to interested people.
To do this, you obviously need to be able to buy hosting plans with lots of resources and computing power, which is why not many providers are suitable for reseller hosting. Today, we're talking about the best VPS reseller hosting – the most popular option for users looking to get into this niche.
1. Best VPS Reseller Hosting in September 2023
As said, to start a hosting reselling business, you first need to get your hands on a hosting subscription. For this list, we included the providers that offer VPS reseller hosting that'll provide you with tons of computing resources that you can distribute to your potential customers.
This list will consist of several choices, all ranging in price, features, and even security. VPS reseller hosting surely isn't the cheapest of them all but with these providers, you'll be able to get into this industry and start your hosting company in no time.
Let's check them out, shall we? Here's the list of my favorite, tried-and-tested VPS reseller hosting solutions in 2023:

InMotion Hosting is a well-known company that boasts many hosting solutions. From shared and dedicated hosting to reseller VPS hosting, standard VPS, and WordPress hosting. While not among the most affordable choices out there, the provider surely gives you a lot of resources.
Plus, its flexible subscription plans offer crucial features, such as the inclusion of cPanel, 99.99% uptime, a free dedicated IP, and advanced DDoS protection. Not to mention that you get all of its marketing tools in each reseller plan, plus free SSL and a 90-day money-back guarantee for 6-plus-month plans.
Now, InMotion Hosting offers a total of 3 VPS reseller hosting plans but the most interesting one is called Reseller VPS 4GB. This plan will cost you $48.99 a month for the first 2 years and you can get up to 4 GB of RAM, 75 GB of SSD storage, and unlimited bandwidth.
This ensures that your hosting services are stable, reliable, and always ready to provide the best possible performance. Moreover, this Reseller VPS plan includes 3 dedicated IP addresses and you get 5 cPanel licenses with no need to pay additionally.
Unlike some of its alternatives, Reseller VPS has root access, which gives you total control over your hosting. The server setup and website transfers are also free, and InMotion Hosting offers 24/7/365 customer support if you need urgent help.
I like that all of its reseller hosting plans give you a free white label, which means you can use your brand logo right off the bat. There's free WHMCS too, which helps you with the billing process when your business starts kicking off.
InMotion Hosing's cheapest VPS reseller hosting plan starts at $35.99/mo, though, so feel free to check all of its plans. Yes, the provider has a bit complex pricing structure, but if you're into reseller hosting, it won't get as confusing as it is with dedicated hosting on this site.
Pros
90-day money-back guarantee for all plans longer than 6 months
Unlimited bandwidth for VPS reseller hosting
5 cPanel licenses
Root access for total control over your websites
Free WHMCS support
The cheapest reseller plan starts at $16.99/mo
Cons
Its pricing structure can be confusing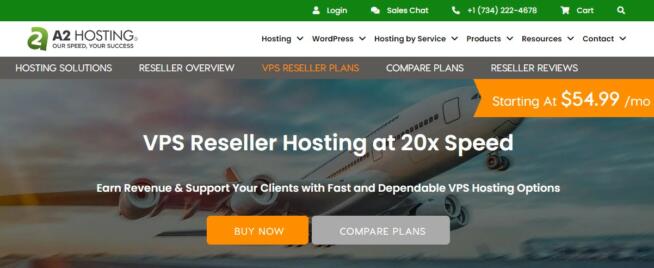 If you're even a tiny bit into web hosting, chances are that A2 Hosting didn't slip under your radar. This provider offers a myriad of hosting solutions and plans for every user, which includes the best VPS reseller hosting solution akin to the one from InMotion Hosting.
A2 Hosting is undoubtedly more expensive but you should keep in mind that the company provides fully-managed VPS reseller hosting. This makes the setup process much easier and you don't have to mess around with technical stuff, as the company's team will do everything for you.
That said, A2 Hosting's cheapest VPS reseller plan starts at $54.99 a month for the 3-year plan. This plan has 8 GB of RAM, 250 GB SSD storage, 3 TB transfer speeds, and a blazing-fast 6-core processor. Even better, cPanel is included for free and there's an SSL certificate you immediately get.
Since we're talking about managed hosting, the company ensures 99.99% uptime, security patches, DDoS protection, and 24/7 live chat, phone, and email support. When it comes to server locations, the provider has 2 of them in the US and one in Europe and Asia.
This lets you resell VPS hosting easily and quickly no matter your location. In addition, A2 Hosting offers so-called Turbo plans called Mach 16 and Mach 32 for more serious users. Mach 32 is its most expensive plan at $99.99 a month with lots of features and improvements.
It's up to 20 times faster than standard plans and you get 32 GB of RAM, 450 GB NVMe SSD storage, 4 TB transfer speeds, and an 8-core CPU. Turbo servers can handle up to 9 times more traffic, offers lower bounce rates, and ensures higher SEO rankings.
Also, daily automatic updates are done to keep the servers working well. All in all, A2 Hosting isn't cheap by any means but it has everything you need to become a great VPS hosting reseller, including a 30-day money-back guarantee, just in case you're dissatisfied.
Pros
Fully-managed VPS reseller hosting
3 TB transfer speeds in the cheapest plan
Free SSL certificate
Servers in the US, Europe, and Asia
NVMe SSD storage in Mach 16/32 plans
Daily automatic updates
Cons
It's not very affordable
Faster storage is available only in Turbo plans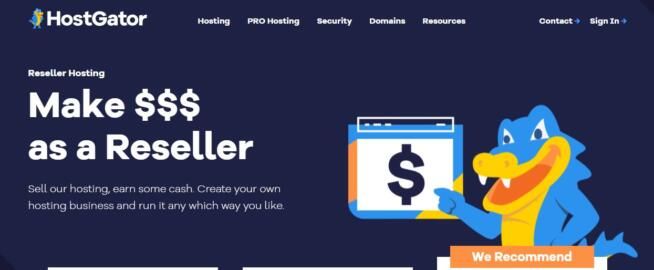 Hostgator offers a straightforward pricing structure that aims to attract you with a set of robust features, security, and computing resources. Aside from its cheap shared hosting that starts at just a few dollars a month, its VPS reseller hosting isn't very expensive compared to previous choices.
For example, its starting plan called Aluminum Plan comes with a great introductory offer of $19.95 a month. At this price, HostGator provides you with 60 GB of disk space, 600 GB bandwidth, and the ability to host unlimited websites, which resellers will most likely value.
Important to mention is that all plans offer both WHM and cPanel options, so you have plenty to pick from in terms of the way you'll manage your sites. HostGator has a 99.9% uptime guarantee too and you get private name servers based on your domain.
No doubt, HostGator isn't going to provide you with the strongest CPU or the most RAM you've seen. However, its more expensive plans called Copper and Silver are very affordable, both costing $24.95 a month at the time of writing this guide.
The Silver plan is the best one, offering 140 GB of disk space, 1.4 TB bandwidth, and the other aforementioned features. Unlike some options on the market, HostGatorh has a 30-day money-back guarantee for all subscription plans.
And, to be honest, it's one of the most reliable hosting solutions I've ever used. I never had any issues with stability, slowdowns, and other annoyances. Its 24/7 support through phone and live chat is dependable as well, so it'll help you in no time, should you encounter any issues.
My complaints have to do with the fact that you can't get more RAM and disk space in the reseller subscription plans, but at least the prices are cheap. If you want more, you should opt for InMotion or A2 Hosting, alas, you'll need to spend more money.
Pros
The cheapest plan starts at $19.95/mo
9% uptime guarantee
cPanel and WHM options are available
Very affordable in the long run
24/7 support through phone, chat, and email
Cons
Not the most resource-generous option in terms of VPS hosting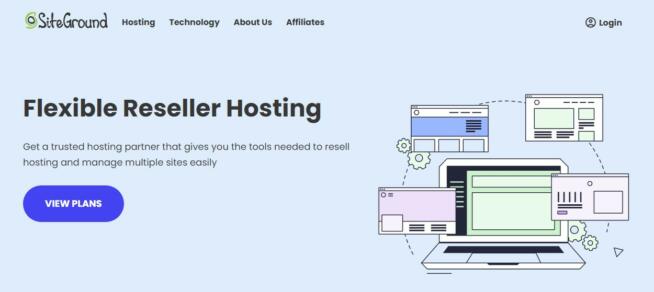 SiteGround offers an easy-to-use eco-system thanks to the SiteGround Client Area that lets you manage all your sites using a single dashboard. Its ease of use is one of the best out there, which is especially handy when talking about VPS reseller hosting.
While not the most popular option compared to HostGator or InMotion Hosting, I find this provider very reliable and somewhat affordable if your budget isn't too strict. Each reseller plan offers unlimited websites, free CDN, SSL, and email, as well as enhanced security.
With enhanced security, SiteGround means DDoS protection, an anti-bot system, and a custom web application firewall to keep all hazards away from your site. The starting plan is called GrowBig, and at the time of writing, it costs a measly $6.69 a month.
This plan offers just 20 GB of web space but you get unlimited databases, free WP installation, and SSD storage with 30% faster PHGP and HTTP/2. To be honest, this plan isn't very interesting, and instead, I recommend the plan called GoGeek.
At under $10.7 a month, SiteGround offers all of these features but with 40 GB of web space coupled with white-label clients, a free private DNS, and priority support. This elevates the entire experience and gives you plenty of room to control and maintain your websites.
The most expensive plan called just Cloud is around $100 a month and it's for more demanding and budget-rich resellers. It allows you to create custom hosting plans for each site, letting you further tailor each plan to your potential customers.
On the flip side, SiteGround doesn't offer a free domain, and if you go for this GoGeek plan, for example, you'll need to pay around $20 for the domain each year, depending on which one you choose. This further raises the price and makes SiteGround much less affordable.
Pros
It's very easy to set up and use
DDoS protection with a custom WAF
The SSD storage in every plan
The ability to host unlimited websites
Cons
The domain isn't free and costs around $20 each year
The cheapest plan could be more feature-rich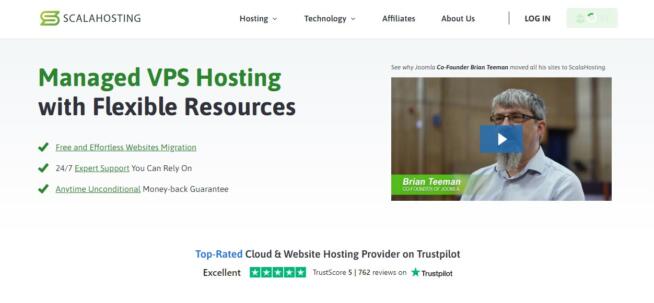 When it comes to offering affordable and reliable VPS reseller hosting plans, Scala Hosting is surely among the best options on the market. This company promises virtually no downtime thanks to off-site daily backups that drastically increase overall reliability.
As a great addition, the provider offers SPanel support in all VPS plans, with cPanel being offered as an alternative. This, in conjunction with 256-bit encryption and Let's Encrypt SSL Certificates, ensures that your site is functioning smoothly and is always secure.
Scala Hosting's VPS reseller hosting starts at around $29.95 a month for the 3-year plan. It boasts a 2-core CPU, 4 GB of RAM, and 50 GB of NVMe SSD storage with unmetered bandwidth. The great thing for me is that each plan is fully customizable!
You can take this cheapest plan, edit the number of CPU cores, RAM, and storage space, and Scala Hosting will automatically calculate the price. There are 4 plans in total and the most expensive one is a whopping $179.95 a month.
This one has 12 CPU cores, 24 GB of RAM, and 200 GB NVMe SSD storage. Furthermore, this plan can also be customized to offer up to 24 CPU cores, 10 GB of RAM, and 2 TB of NVMe SSD storage, which will cost you nearly $850 a month – quite expensive.
Scala Hosting is a great provider overall and its reseller-friendly VPS hosting is more than reliable even for the most demanding users. I don't like its more expensive pricing and the fact that cPanel is paid an extra $19.95 to $200+ a month depending on the number of cPanel licenses.
Pros
Extremely customizable subscription plans
NVMe SSD storage drastically improves the performance
Unmetered bandwidth
Cons
It can get very expensive
cPanel is optional and costs from $19.95 to $200+ a month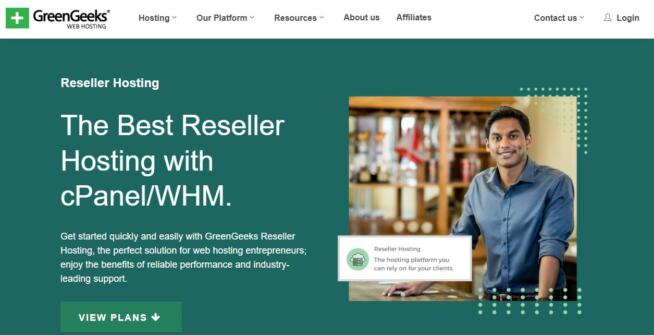 GreenGeeks claims that the internet pollutes the environment, most likely not knowing that the production of electric car batteries does the same – but much more. Well, I won't fire any shots, as I'm glad that GreenGeeks is one of the most eco-friendly hosting providers.
It's based in Amsterdam with servers in Montreal, Toronto, Chicago, Phoenix, and its mother city – Amsterdam. With a 99.9% uptime guarantee, it's also incredibly reliable. Plus, each subscription guarantees that the company will maintain its renewable energy grid!
Each subscription allows GreenGeeks to plant one tree, making this world a better and greener place. The reseller hosting plans all offer cPanel and WHM and the starting plan, RH-25, costs just $19.95 a month, with 60 GB of SSD disk space and 600 GB transfer speeds.
This VPS reseller hosting plan boasts 25 cPanel accounts with free cPanel migrations and fully-managed support from GreenGeeks. The white-label control panel makes its return here and thanks to WHMCS, client billing will be much easier.
Furthermore, GreenGeeks offers two more plans, such as RH-50 and RH-80. RH-80 is especially interesting and at the price of $34.95/mo, it's definitely not too expensive. The plan offers 80 cPanel accounts, 1.6 TB transfers, and 160 GB of fast SSD disk space.
In terms of security, you won't have to worry too much as GreenGeeks monitors and maintains your servers 24/7. The company scans for malware and deploys several automated systems to detect and eliminate any vulnerability swiftly.
Overall, it's a great VPS reseller hosting provider for the price. It's not as fast as InMotion Hosting and it doesn't offer that many resources to work with. On the other hand, you're planting trees by using it and you get cPanel and WHM in all plans, so I guess it's something you'll value as well.
Pros
Servers in Amsterdam, Montreal, Chicago, Toronto, and Phoenix
25 cPanel accounts in the cheapest plan
24/7 Server maintenance and monitoring
Up to 1.6 TB transfers
Cons
It isn't as fast as InMotion or A2 Hosting
Not many resources compared to more expensive providers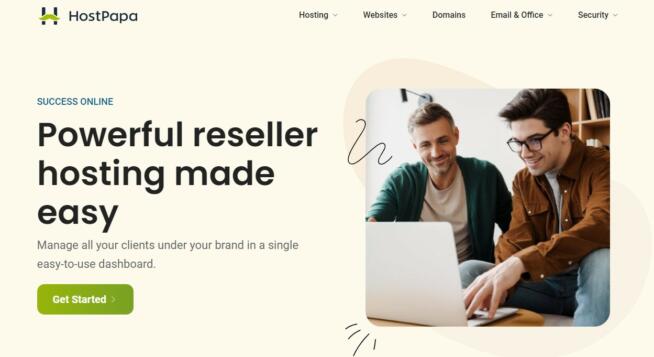 HostPapa promises incredible performance thanks to SSD and RAID-level storage and a robust, well-managed network. It's also pretty secure, offering features like FTPS, RAID redundancy, brute force detection, and network monitoring.
Another great thing that HostPapa offers is a website builder and a huge array of website domains. However, for this guide, we want to focus on its VPS reseller hosting plans because there's plenty to look at. The Bronze plan, the cheapest one, starts at $30.99.
Once again, not too affordable, but more than feature-rich. A 4-core CPU is the beating heart of this plan, coupled with 2 GB of RAM, 50 GB SSD storage, 500 GB bandwidth, and 20 cPanel accounts. This plan along with all the others offers many more features.
At this price, you get unlimited emails, CDN, Softaculous script installer, cPanel/WHM, and unlimited domains. In total, HostPapa has 5 subscription plans for VPS reseller hosting, which go up to $120.99 for the Titanium plan.
Here, you'll get some extremely useful features and resources. For one, there's WHMCS and Client Exec for billing, as well as an 8-core CPU, 32 GB RAM, and 250 GB SSD storage. You even get 2.5 TB bandwidth and 150 cPanel accounts if you're working in a large team.
Important to mention is that Bronze and Silver plans don't offer a billing system, so you have to get it separately. The Gold plan at $65.99 offers it, but its price might not suit your budget well. All other features can be found, however, regardless of the plan you choose.
This includes even 24/7 live chat support, which is one of the best I've used. By far my biggest gripe with HostPapa is that it offers only on-demand backups that cost extra. And due to this feature alone, I couldn't place it higher on this list.
Pros
Softaculous script installer
RAID redundancy and FTPS security measures
You can get up to 2.5 TB bandwidth and 32 GB of RAM
One of the best customer support teams
Cons
On-demand backups that will cost you extra
The Titanium plan is very expensive
2. FAQ
2.1 Affiliate vs reseller hosting, which is better?
These are two different things. Affiliate hosting is a business model in which the hosting provider pays you a commission for each sale it makes through your platform or site. Reseller hosting means buying hosting resources from the company and selling them on your site under your brand.
Reseller hosting is more profitable overall but it also requires more work and technical prowess. Affiliate hosting is, generally speaking, less profitable, but doesn't require initial investments, as you don't have to purchase any hosting resources – you're just an affiliate instead.
2.2 Is VPS reseller hosting profitable?
Yes, it can be very profitable but it also needs lots of work regarding marketing and investing in a quality hosting provider. Users who do VPS reseller hosting or reseller hosting, in general, are making enough money to live comfortably.
That's because reseller hosting is flexible and allows you to buy more resources as your customers' needs expand. As said, though, it takes quite a bit of time to get going and you need to make initial investments into your platform and hosting resources.
2.3 What is the cheapest VPS reseller hosting?
Some of the cheapest VPS reseller hosting providers include HostGator and SiteGround. However, providers like InMotion Hosting and A2 Hosting, while being less affordable, still aren't very expensive and they represent a good value for the money.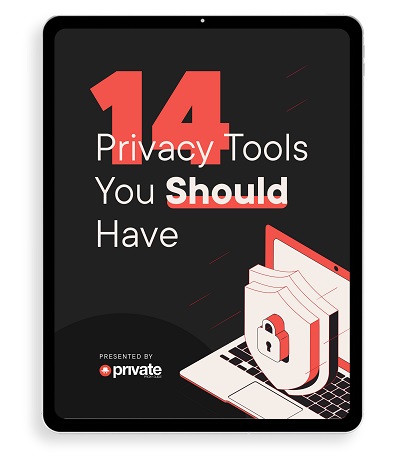 Learn how to stay safe online in this free 34-page eBook.