The world has been talking about Virtual Reality for almost a decade! It was labeled the future of gaming and entertainment, to name a few examples. VR was also expected to become so familiar and accessible by the start of the 2020s.
Unfortunately, it is not the case. We are not at a place where everyone can afford an actual VR setup. But if you want to experience Virtual Reality, you have some excellent VR headsets available on the market. Finding the best one can be confusing, though.
Even though there are so many options, there is not a universal VR headset that we can recommend. As with many other technologies, Virtual Reality is also personal to an extent. You may have different needs for a VR headset compared to another person. You may also prioritize certain aspects over others.
For instance, some do not mind a wired VR headset as long as it provides high-quality audio and video. Some, on the other hand, are ready to compromise visual/audio quality for a better wireless experience. There are also concerns regarding the overall comfort and additional features.
In addition, you have to take care of technical aspects like display quality, refresh rate, performance, control options, and connectivity. Anyway, we have done something that may help you get things in order. We have compiled a list of the best VR headsets you can get today.
Verdict
As you have seen, these superb VR headsets are designed to offer a balanced VR experience on their own or when connected to a PC. Either way, you do not have to worry about the immersive nature of things. In fact, you can explore some special models if you are strict about the immersive effect of the VR experience.
On the other hand, if you want maximum comfort, even if it means cutting down the playtime, you will have an option for that as well.
You should also keep in mind that the VR content library is expanding faster than ever. Therefore, you won't have to waste the capability of your VR headset in the near future. It also means you may have to reconsider your budget before making an investment.
Trust us! It pays to have a future-proof VR headset that you can use for years.
1. Best VR Headsets 2023
We have included products from different categories, of course. We have also tried to recommend products suitable for specific needs, such as comfort or content quality. Last but not least, we have included headsets from high-end brands like Valve and HTC but also upcoming ones that are more affordable.
Shall we jump into the list, then?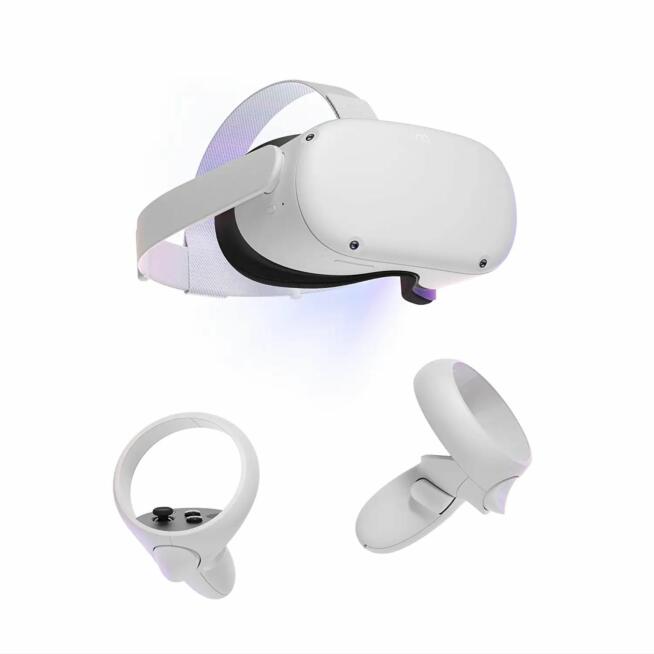 You should check out the Meta Quest 2 if you need the best overall VR experience from a headset. Because it is a wireless, all-in-one headset, you can enjoy VR content without connecting the headset to a console or PC. In case you did not know, Meta Quest 2 is the Oculus Quest 2 but with the Meta branding. This happened after Meta acquired Oculus.
It also means the VR headset is well-integrated with the Meta ecosystem. As a result, you will quickly access the immense variety of content on Facebook and elsewhere. Unfortunately, it also means that a Facebook login is required when you get started. Considering how the privacy concerns regarding Facebook have been problematic recently, it could be a problem for some users.
But if you need advanced performance and speed, you can always connect your Meta Quest 2 to a console or PC using the Oculus Link feature. You may need some additional purchases in this case, though. You may have to get the official USB-C cable from Oculus if you need maximum quality while beaming content from your PC.
We must also appreciate the simple setup of the Meta Quest 2 All-In-One VR Headset. You might have to remove and reconnect the headset a couple of times, but it won't take more than a few minutes. So, as long as you can tolerate Meta's stand on user privacy, you can get started with Meta Quest 2 almost instantly. It promises excellent hardware too.
In terms of hardware, the Meta Quest 2 All-In-One VR Headset is equipped with a Snapdragon SOC from QC. Combined with up to 256GB of storage, you would never have to look back. In addition, the LCD panels with a whopping resolution of 3664 x 1920 and a 120Hz refresh rate give an impressive visual experience on most days. Lastly, you can stay confident about the overall experience of the Oculus Touch controllers.
We recommend getting the 256GB variant because you won't like to see a 'Storage Full' notification anytime soon. You can also get the Pro, Starter, and Streamer bundles of the product if you need more accessories.
Pros
Meta Quest 2 offers incredible performance
You can use it standalone or connected to a PC
The pricing is affordable when compared to new features
Cons
You must log in to your Facebook account to use the VR headset
Meta Quest 2 All-In-One VR Headset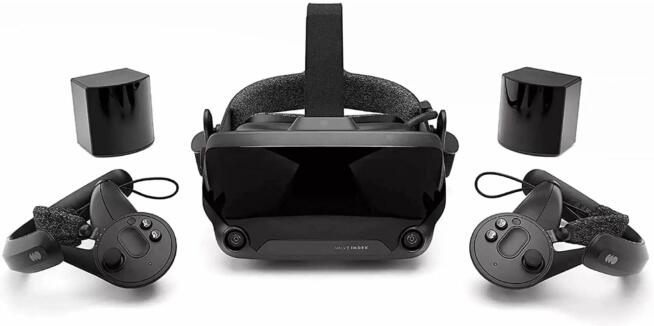 You should consider getting the Valve Index VR Full Kit if you need a VR headset that you can connect to your high-end gaming PC. Because the product comes from Valve, the company behind Steam, you can expect an impressive performance on any day. However, you should remember that the kit is a little more expensive than a standalone VR headset like Meta Quest 2.
You do not have to worry about the experience, though. First, you will have access to the rich collection of VR content on Steam, including games. There is also a great level of optimization that you can count on. We also love how integrated the Valve hardware, and software systems are. Though they require minimal setup from your side, everything works super-fine.
Even though the Valve Index VR Full Kit packs every piece of hardware you need, it will not let you play VR games in standalone mode. It is a reason people find this package quite expensive in the first place. But, if you do not mind spending a little extra on additional FPS and reliability, this VR headset kit will be a worthy investment.
Though the product ships with high-quality hardware, these technologies are not as modern as expected. For instance, to get the whole VR experience in a room, you must place the base stations, which capture signals. Modern VR headsets like the Meta Quest 2 come with sensors attached to the headset. So, with the VR kit from Valve, you may need more space for the entire setup.
On the bright side, the Valve Index VR Full Kit can be more responsive with some games. It is partly due to the rich hardware specifications that we hinted at. For instance, the LCD panel on this VR headset has a total resolution of 4896 x 2448, and you can count on the 120Hz refresh rate and 120 degrees field of view. In addition, you get a DisplayPort and a USB 3.0 port for connectivity.
If you already have a gaming rig with VR support, the Valve Index VR Full Kit is an easy choice. Otherwise, it may be sensible to check out some alternatives.
Pros
It is optimized for rugged gaming PCs with VR support
The complete kit helps you get started in minutes
It offers ample connectivity and compatibility options
Cons
The package is quite expensive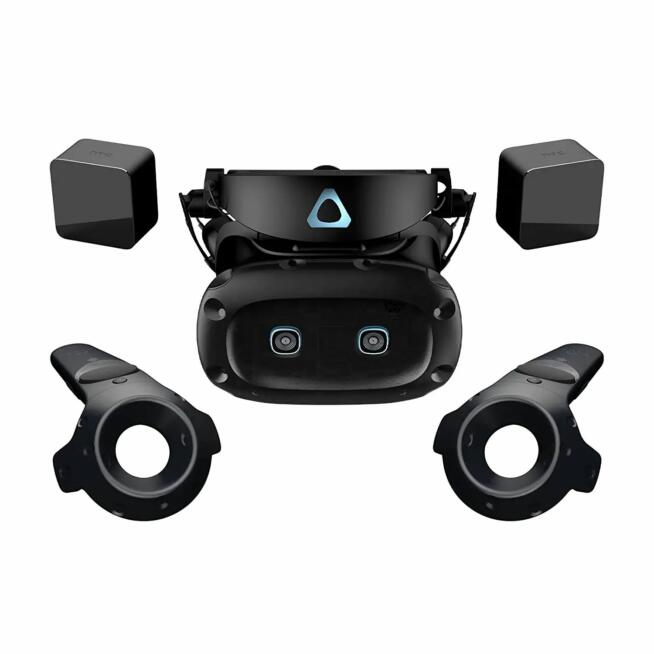 The HTC Vive Cosmos Elite Virtual Reality System is another option if you want a robust VR headset that you can connect to a PC. Unfortunately, even though the product does not cost as much as the one from Valve, you still have to spend almost double what Meta Quest 2 costs. However, because it is an elite package, HTC has added all the accessories you need to get started.
As a result, this VR headset can easily connect to a compatible gaming PC and offer the best results. We must also talk about the Vive port, which provides you access to several VR games and content. While they may not be as quality-rich as AAA titles from the market, you can get the basic idea of VR. Of course, when you want to step up the game, you can plug the headset into a powerful machine.
Compared to our top picks, the HTC Vive Cosmos Elite Virtual Reality System does not have the best screen resolution. However, with a resolution of 2880 x 1700 pixels combined, you can enjoy a good VR experience. We also need to appreciate the sound quality of the headset. Even though the headset uses some old forms of connectivity, everything can be managed.
Of course, you may miss some smart features that you may have seen on Meta Quest 2 or others. However, on the bright side, you do not have to worry about performance and quality. Even though you spend a lot, this VR headset will remain a great asset for years. It's also great that you have access to the Vive Reality System, which works great for content discovery.
We also loved the overall design of the HTC Vive Cosmos Elite Virtual Reality System. All parts of the headset feel premium, and you do not have to worry about durability. As we said earlier, the system comes with two base stations, which track your movement across the room. Compared to newer technologies embedded in headsets, these base stations offer advanced precision.
Altogether, you cannot go wrong with this VR headset from HTC if you are looking for maximum performance and build quality.
Pros
It's a fully-fledged VR system with controllers
Lighthouse tracking works great for a single room
Additional content access options including Vive Reality
Cons
It is on the expensive side of things
HTC Vive Cosmos Elite Virtual Reality System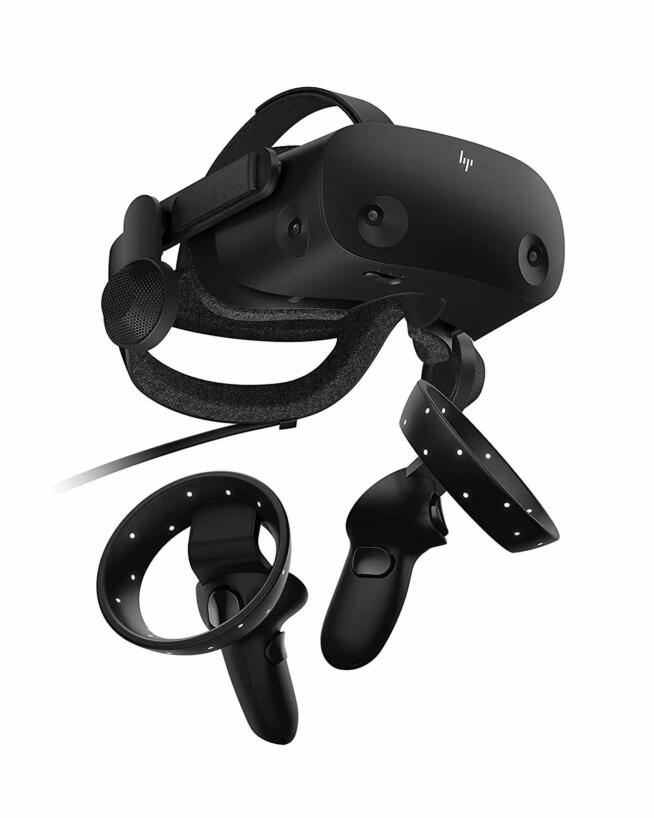 HP may not be the go-to brand when you need a VR headset, but this tech giant has done something superb with the HP Reverb G2 Virtual Reality Headset. It has been designed to be a no-compromise VR headset in that it can provide realistic visuals, soundscapes, and top-notch performance. The company also stresses the ability of the headset to provide a more immersive experience.
In more ways than one, the HP Reverb G2 Virtual Reality Headset delivers this promise. First and foremost, the system has what it takes to deliver compelling performance with different types of VR content. We are talking about a whopping resolution of 2160 x 2160 per eye, which can be one of the highest. When spatial audio is added to the equation, the experience gets as immersive as it can.
We should also appreciate the care HP has given to the comfort aspect of the headset. Instead of focusing on specifications alone, HP has made the headset comfortable to wear. For instance, its increased cushion sizes make sure that your eyes won't be tired after a few minutes. Similarly, the lenses used in the headset can adjust to different eye sizes that people have.
The HP Reverb G2 Virtual Reality Headset makes a fair promise in terms of compatibility. You can expect the device to work with SteamVR and Windows Mixed Reality, both of which offer great potential. Because you can use multiple ways to connect to the device, both mobile devices and PCs work fine. You get all the basic cables in the package.
Unlike the previous product on the list, tracking is integrated into the HP Reverb G2 Virtual Reality Headset. It means you do not have to worry about base stations or clumsy cables. On the other hand, four cameras outside the sensor will keep your VR experience as seamless as possible. Last but not least, the motion controller devices in the package are equally impressive.
The only caveat with this VR headset is the time it takes for setup. It does not work plug-and-play, and you should spend a few minutes getting the hang of it.
Pros
Incredible performance and display resolution
Top-notch compatibility with SteamVR and Windows MR
No need to worry about external base stations for tracking
Cons
The setup process may take more time than you expect
HP Reverb G2 Virtual Reality Headset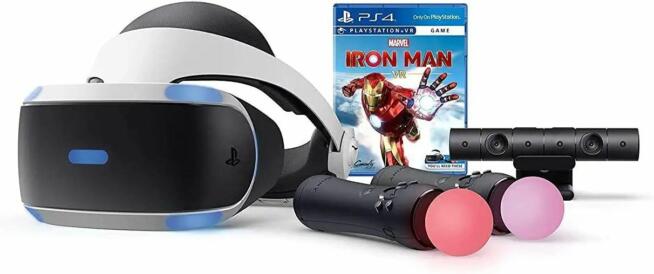 If you already have a PS4 or PS5 at your disposal, you can consider getting the PlayStation VR Marvel's Iron Man VR Bundle as well. This bundle consists of the VR headset, PlayStation Camera, adaptor, PlayStation Move Motion controllers, and exclusive content access. In short, the package has everything you need to get started with the PS VR journey.
Like other products from the PlayStation lineup, the VR headset also works perfectly in sync with the system. You do not have to worry about hefty setup processes or installation guides. On the other hand, you can get started in a few seconds. Because the system uses built-in sensors and PS Camera for tracking, the overall VR experience is immersive as well.
We should also appreciate the audio quality of the PlayStation VR Marvel's Iron Man VR Bundle. Even though the drivers may not be the best, the package delivers an overall impressive system. Because it comes with a built-in mic and controller options, you can get so immersed in the game. And Iron Man would be one of the best titles you can get started with.
If you have already been in the PlayStation ecosystem and want to get started with VR, this VR kit will be a great choice. In that case, you do not even have to worry about compatibility. On the brighter side, it does not cost too much. By the way, if you want to save more money, you can look for individual headset deals as well.
Pros
Easy setup and it does not require cables
Multiple tracking options for precision
Quite an affordable package
Cons
Your options are limited to PlayStation
PlayStation VR Marvel's Iron Man VR Bundle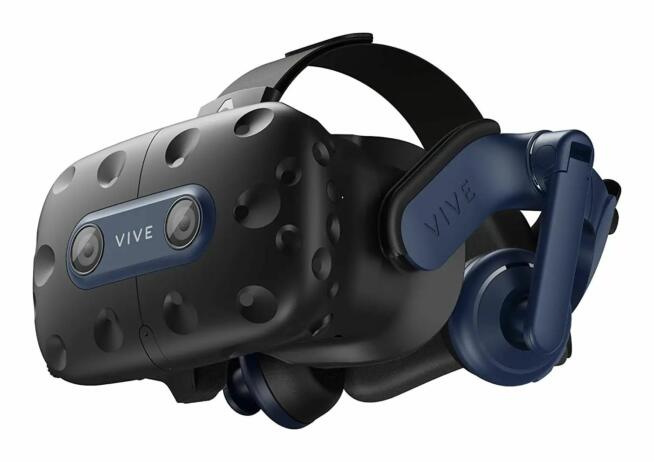 If you need one of the most powerful VR headsets on the market, the HTC Vive Pro 2 VR Headset will be an incredible choice. The product delivers such an impressive experience in terms of snappiness and comfort. You would not mind wearing this headset for hours and engaging with your favorite titles. HTC has done an exemplary job in the compatibility aspect as well.
First things first, we have to talk about the 5K resolution visual component of the headset. Of course, it is all subject to the processing capability of the system. But if your system can handle that much power, you will love the 120-degree field of view and 120Hz refresh rate of the headset. Because of the adjustable design, wearing the headset for a long period does not cause problems, either.
As you can guess, the HTC Vive Pro 2 VR Headset is packed with sensors and cameras. Therefore, it enables high-quality tracking even when the environment is busy. For instance, the SteamVR support of the headset is a great thing, indeed. You can connect the headset to multiple base stations if you want to step up the VR gaming environment for multiple users.
Lastly, despite all the features it packs, the HTC Vive Pro 2 VR Headset does not cost a lot. You should keep in mind that, unlike Meta Quest 2, you are not restricted to any platform. So, as long as you have a PC or console powerful enough to handle 5K VR content, this headset from HTC will be a great companion for your gaming and media consumption needs.
Pros
A reasonable price tag for its specifications
5K resolution display with incredible performance
Customizable and upgradable as per requirements
Cons
Some features need additional purchases
2. FAQ
2.1 What is the best brand for VR headsets?
You can find that different brands are the best choices when it comes to different VR headsets. For instance, let's say that you want a near-plug-and-play experience. In that case, the Meta Quest VR headsets are nice options, and you can count on Meta. On the other hand, if you need an independent VR headset that you can hook up to your PC or console, you should look at brands like Valve, HTC, and PlayStation.
2.2 Which VR headset is the most powerful?
You can determine the power of a VR headset in different ways. For instance, if we look at a standalone VR headset, we may have to consider the processor, RAM, and related performance aspects. However, if you get a headset that you connect to a PC or console, you may have to prioritize screen resolution and tracking options. In the latter scenario, HTC Vive Pro 2 is probably the most powerful VR headset on the market.
2.3 Does Oculus Quest 2 need a PC?
No, it does not. The Oculus Quest 2, now known as Meta Quest 2, is a standalone VR headset that can stay connected to the internet on its own and stream VR content. However, there is always the option of enjoying better content through a wired connection to your PC. Even though this process involves a setup and some cables, you can enjoy your PC library of VR content through your headset.
2.4 Is PlayStation VR worth getting?
It has been shown that the PlayStation VR system depends heavily on the console to which you connect the VR headset. For instance, if you have a PS5 at your disposal, the VR headset can do a commendable job. You can enjoy high-quality VR games and viewable content without worrying about performance. Because these VR headsets come from Sony, you can expect incredible quality as well.
2.5 Is a VR headset worth it in 2023?
You will have to trust us when we say the future of pervasive VR is bright. Over the past years, we have seen the rise of affordable VR systems and applications of technology. Going by this trend, a VR headset is indeed a worthy investment in 2023. You can continue enjoying the content as you have it right now, but upgrades will be easier when they become available.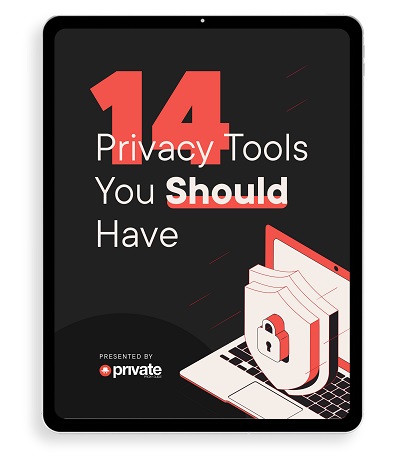 Learn how to stay safe online in this free 34-page eBook.