Nowadays, it is particularly important to protect your digital data. At the same time, as there are hundreds of antivirus products on the market, a typical user finds it difficult to select the most appropriate solution.
In this review, we compared two of the most popular antivirus software suits discussed on Reddit and Quora: Bitdefender vs ESET Nod 32. You'll see how these applications work when it comes to several parameters: available features, pricing, performance, as well as user experience.
In our comparison, Bitdefender won by one point. In most parameters, both antiviruses are identical. However, Bitdefender is a bit better when it comes to minor components. Despite our result, ESET Nod32 is exceptionally reliable and demonstrates good results.
1. Antivirus options
1.1 Bitdefender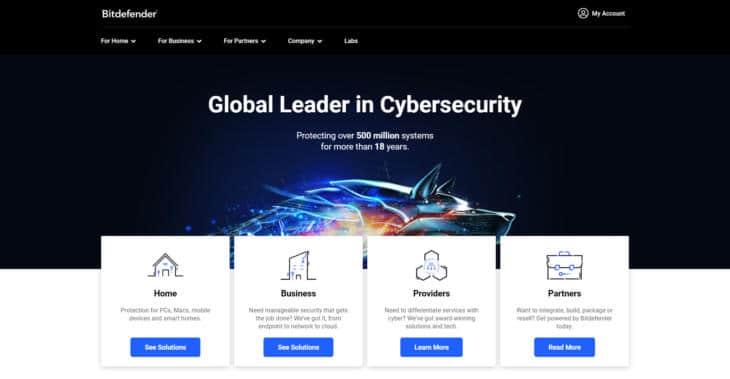 All Bitdefender antivirus products use a single highly effective and reliable technology. This means that no matter what plan you choose, you get the same level of basic protection. Besides, Bitdefender has a huge base of all newly detected viruses and malware.
Key features:
Behavior control and protection against spyware and ransomware. Behavior control prevents your files from encryption. This feature runs with the ransomware protection function which backs up the attacked files when ransomware-like apps are detected.
Webcam filter. It protects your camera from being hacked and unauthorized access. It also protects against programs that have access to your camera and you can select the programs that you want to give access to your camera and block others.
Secure files. The option is extremely useful to hide sensitive files in secure storage. The antivirus creates a special folder and you can add the files that need protection there. After that, no program can change or read them without your consent. The module also allows deleting the files permanently.
Anti-theft tools. These detect, block, and erase data from lost or stolen devices and are compatible with Windows, Mac, and Android devices, as well as smartwatches on Wear OS.
Webcam and Microphone Locker. This feature helps prevent unauthorized access to your webcam and microphone to protect you from being tracked by hackers.
Game Mode, Work Mode, and Movie Mode. They reduce the drop in computer performance by limiting the background processes during gaming, watching movies, and working.
1.2 ESET Nod 32
This is one of the most effective antivirus solutions that offer an improved heuristic analysis of unknown threats, ESET Live Grid cloud-based file reputation technologies and an intuitive user-friendly interface. The product includes an automatic scan of your computer during downtime, file scanning during downloads, and the ability to undo installed updates.
Key features:
This is powerful antivirus protection that deeply checks the state of the operating system to ensure that critical system components such as the file registry are not damaged by dangerous software. HIPS also includes built-in self-protection technology to protect against malicious code that targets the program itself.
Exploit Blocker. This is an additional level of protection for vulnerable applications (e.g. browsers, email clients, PDF viewers). It supports Java and helps improve detection and protection against this type of vulnerability.
Additional memory scanning module. The HIPS module includes an optional memory scanning module that scans running applications to detect possible suspicious or malicious activity. It works with the Exploit Blocker to enhance anti-malware protection to bypass the detection of antivirus products by using obfuscation and/or encryption.
Smart mode for HIPS. The mode can detect suspicious activity and malicious processes in the system.
ESET SysRescue Live. The utility allows you to create a bootable disk like a USB flash drive or CD/DVD with the ability to scan and clean the system from threats even if Windows cannot boot.
Vulnerability protection. This feature offers additional advanced filtering capabilities to detect various types of attacks and vulnerabilities that can be targeted at your computer.
Device control. This allows you to scan, block, or configure advanced filters and permissions, as well as choose how you access and use the device.
UEFI Scanner. The module detects threats before booting the system. There is a chance that malware may reach your system and damage the UEFI code. Knowing that your operating system and the firmware are clean of malware, you can be absolutely safe and your system will run smoothly.
Game mode. This mode allows gamers to continue playing without being interrupted by notifications. The feature is also useful for all those who use their computers as media hubs or just for watching movies.
Photo encryption. This feature allows you to hide your photos in the protected folder so that no one could access them.
Bitdefender vs ESET Nod 32 – Winner: tie. Both products have a great set of available features. They can reliably protect your system and important files.
Score: 1:1.
2.1 Bitdefender
Phishing protection. The program uses the Internet Shield — a tool to protect against phishing attacks. It also blocks all malware and dangerous sites. But more importantly, the Internet Shield provides complete protection for network activity. For example, it can detect dangerous links in documents.
SafePay browser. An additional tool that allows you to visit your favorite banking sites and online stores without the risk of being hacked. SafePay also blocks suspicious browser extensions. Mostly, such potentially malicious apps are installed invisibly and affect a PC's performance. In addition, this feature prevents you from visiting unsafe sites (which do not start with HTTPS) and alerts you when you try to access such sites.
The password manager allows you to store all your account data in one place. It also protects your payment card data and other personal information. You can create multiple password databases and synchronize them between all your connected devices.
Anti-tracking. When you visit websites, many of them collect information about you. For example, they can ask you to allow cookies. Some use this information to show you more relevant advertising, while others pass this information to other companies. The Bitdefender Anti-Tracking extension detects and blocks such web trackers to protect your online activity.
Bitdefender VPN. You can use the free version with some limitations, as well as the full-featured premium version. However, the premium version is quite expensive compared to other products on the market.
Parental control. This feature gives you the ability to block unwanted content. You can also track your child's location and receive notifications when your child leaves or enters a certain area.
An email spam filter compatible with Microsoft and Mozilla Thunderbird email applications.
Built-in firewall with the ability to create a white list of IP addresses and ports, monitor connected applications and block unwanted connections.
2.2 ESET Nod 32
Full online protection prevents all types of threats, including viruses, rootkits, and spyware. Also, it offers cloud scanning capabilities for fast PC scans, high levels of protection and USB sticks, CDs, and DVDs scanning.
Improved phishing protection engine that automatically intercepts and blocks web pages with suspicious content. It can work in real-time and has a scheduled scanning option as well as the ability to scan executable downloads.
Email filtering allows you to manage all email protocols (including POP3, MAPI, IMAP, and HTTP). The module can also integrate with Microsoft Outlook, Outlook Express, Windows Mail, and Windows Live Mail.
Bitdefender vs ESET Nod 32 – Winner: Bitdefender. The antivirus has much more advanced features than its competitor.
Score: 2:1.
3.1 Bitdefender
When we talk about reliability, Bitdefender is among the market leaders. It permanently scans your system for suspicious files and compares them to the huge databases that include all known threats. When the antivirus detects suspicious activity, it momentarily blocks it. We tried to open a folder with a collection of malware. Bitdefender immediately detected and blocked most of the samples. It deleted a great percentage of the known virus threats. Most importantly, the result is not very different in the premium and free versions.
Also, Bitdefender detects and blocks suspicious links before your browser opens them. So, you don't have to install additional extensions. In this test, the free version blocked 76% of the links. The scan after access killed another 8% of online threats. The total result is 84% which is pretty high. However, the premium version reached 92%.
3.2 ESET Nod 32
When trying to extract test threats from the archive, Nod32 blocked the entire process. The system could not unzip the archive. To be able to open the archive, we had to temporarily disable the protection, unzip the files, and enable the antivirus again.
Initially, Nod32 detected only a few samples. The product did not react even when copying the collection to another folder. The remaining samples were launched, and Nod32 immediately took effect and blocked them. Some infected files were successfully cured. In most cases, the samples were processed after launch. When blocking objects identified as potentially dangerous files, ESET showed a pop-up message with detailed information about the problem. Overall, Nod32 detected 93% of the samples and earned 8.9 out of 10 possible points. When malicious sites are blocked, the web protection component not only replaces the dangerous page with a browser notification but also shows a pop-up alert. In the malicious download blocking test, Nod32 prevented 90% of online threats.
Bitdefender vs ESET Nod 32 – Winner: tie. Both Bitdefender and ESET Nod32 demonstrated identical reliability so we could not choose one over the other.
Score: 3:2.
4.1 Bitdefender
Free and premium versions of the product demonstrate great results in independent tests from popular labs. Keep in mind, we check a premium version when it comes to testing results. At the same time, the free version results are almost identical.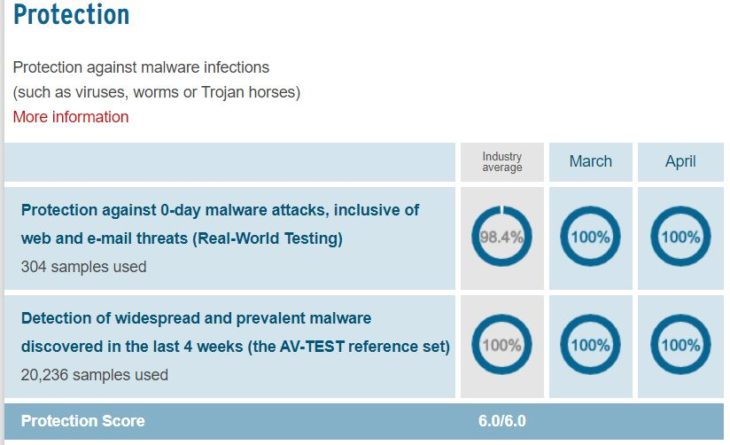 AV-Tests tested the product looking at three parameters: protection, performance, and usability. In the tests for March-April 2020, Bitdefender reached superior results: 6.0, 6.0, and 5.5 out of six points, respectively. These are among the best results on the market. Very few competitors can reach better results.
AV-Comparatives included Bitdefender in four tests — Malware Protection Test, False Alarm Test, Real-World Protection Test, and Malware Removal Test. The antivirus took the highest positions in all of them with the Advanced+ award. So, if you need the best product, Bitdefender is your choice.
4.2 ESET Nod 32
The antivirus demonstrates comparable results. It is one of the best according to the results of all popular independent labs.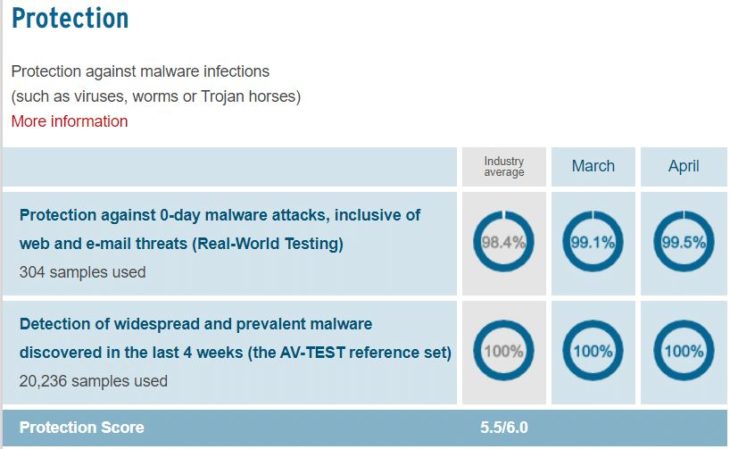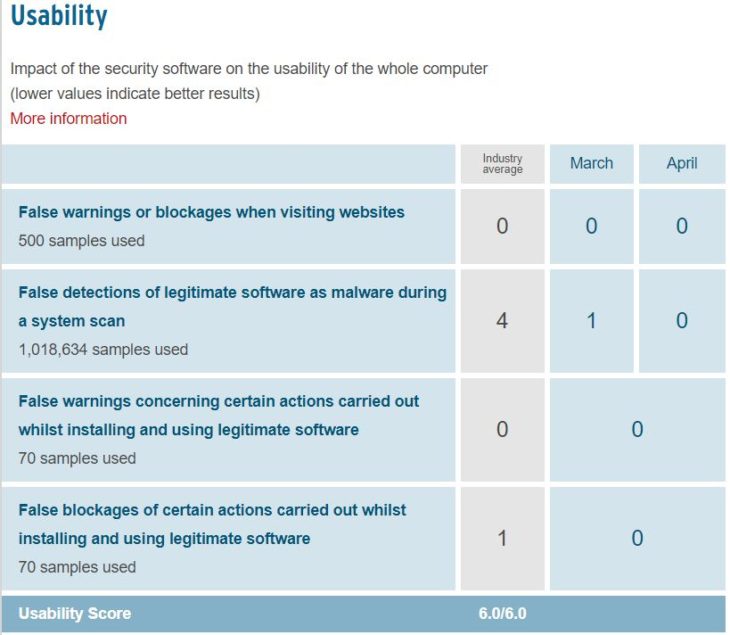 AV-Tests tested the product looking at three parameters: protection, performance, and usability. In the tests for March-April 2020, Bitdefender reached superior results: 5.5, 5.5, and 6.0 out of six points, respectively. It is a bit lower than Bitdefender but still among the market leaders. AV-Comparatives included Bitdefender in four tests — Malware Protection Test, False Alarm Test, Real-World Protection Test, and Malware Removal Test. The antivirus took the highest positions in all of them with the Advanced+ award.
Bitdefender vs ESET Nod 32 – Winner: tie. Both antiviruses demonstrate identical results in independent tests.
Score: 4:3.
The best antivirus is the one that minimally impacts the system performance. How do both antiviruses cope when it comes to this parameter?
5.1 Bitdefender
Visually, the software works smoothly on all modern computers. It does not freeze the system and does not overload the processor or take a lot of RAM. What about test results?
In the performance test by AV-Test, Bitdefender got 6.0 points out of 6. When launching popular websites, it slowed down the system by up to 18%. It is a bit more than the industry average and much better than in previous tests. In other parameters, it impacted the system performance on the industry average level or lower. In the AV-Comparative performance tests, the product got 88 points in the AVC Score, 97.1 in the PC Mark Score, which resulted in a final Impact Score of 4.9. It is the 5th result out of 16.
5.2 ESET Nod 32
Like Bitdefender, ESET Nod32 also works smoothly on modern devices. It does not overload the processor and system and doesn't take a lot of RAM. What about test results?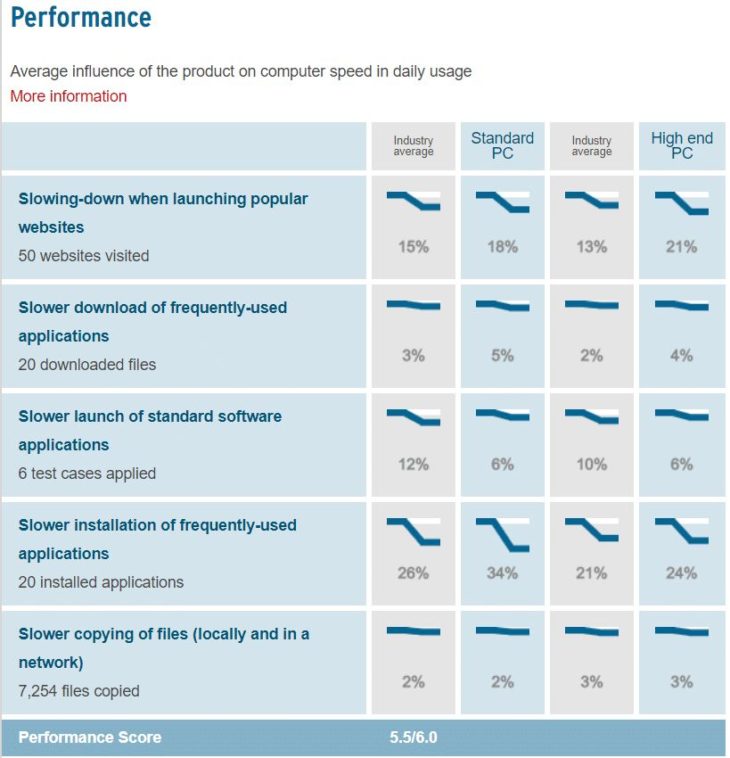 In the performance test by AV-Test, Bitdefender got 5.5 points out of 6. It slowed down the system when launching popular websites (by up to 21%), downloading frequently used applications (by up to 5%), and installing the frequently used applications (by up to 34%). In the AV-Comparative performance tests, the product got 88 points in the AVC Score, 98.5 in the PC Mark Score, which resulted in a final Impact Score of 3.5. It is 4th result out of 16.
Bitdefender vs ESET Nod 32 – Winner: tie. Bitdefender is better in AV-Tests tests, while Nod32 is better in the AV-Comparative test.
Score: 5:4.
6.1 Bitdefender
Before downloading Bitdefender, you must create a Bitdefender Central account. The installation process is quick and easy and takes several minutes. However, don't forget to uninstall the previous antivirus first. The interface is amazingly simple with a lot of options and settings. The control panel has links to the quick scan, SafePay browser, and VPN. You can customize the central panel by setting up the frequently used functions instead of the default ones.
On the left, on the Protection tab, you will see the Full Scan, Firewall, Antispam, and Safe Files functions while on the Privacy tab, you'll find Password Manager, Parental Control and Anti-Tracker. Use the features on the utility tab to optimize your device. Advanced settings are available on the Settings tab.
6.2 ESET Nod 32
The app has a simple and visually attractive interface. It easily and quickly displays all connected drives, making it easy to set up scanning only certain parts of the system. It can be, for example, a USB stick you temporarily work with.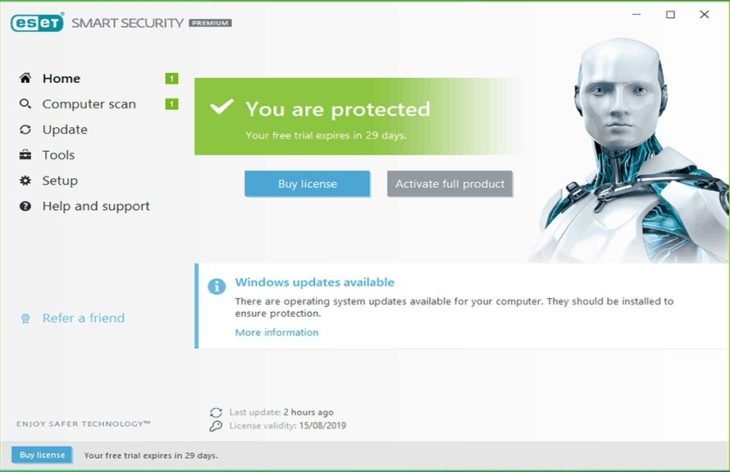 The detected threats are marked with a red warning symbol and the Action after Scan button that allows you to quickly decide what you want the system to do after all the directories are scanned. For those who want to dive deeper into the settings, there are many detailed features. The development team has done a really good job of dividing up the basic set of features that most users will want access to and more advanced settings for more advanced users. The main window includes a lot of free space. To start a scan or update, you can use either the left navigation menu or the large blue bars at the bottom of the main window Nod32 has a lot of available configurations. However, if you know the name of the parameter, you can just enter it in the search box. At the same time, the product is configured to provide optimal security right out of the box.
Bitdefender vs ESET Nod 32 – Winner: tie. Both apps have an attractive interface and are very user-friendly.
Score: 6:5.
7.1 Bitdefender
The company offers three plans: Bitdefender Internet Security 2021, Bitdefender Total Security 2021, Bitdefender Family Pack 2021. The more expensive the plan, the more features you get. The prices range from $39.98 to $59.99 for the first year. Here is the full list: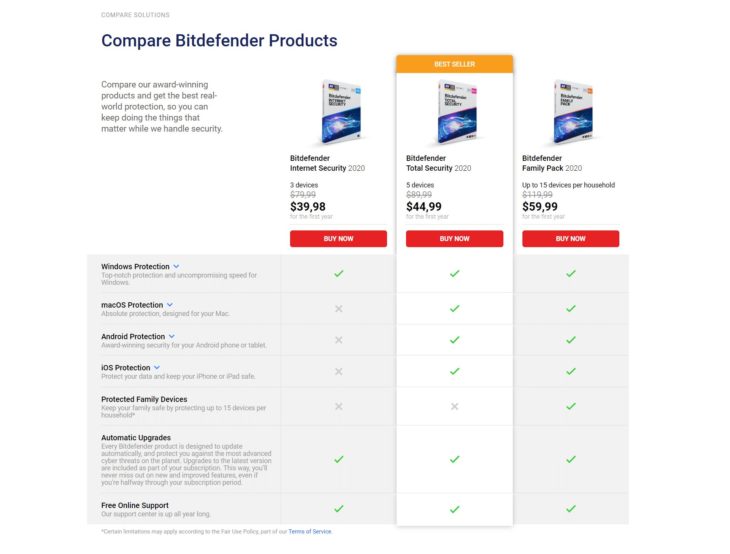 7.2 ESET Nod 32
ESET also offers three plans: ESET Smart Security Premium, ESET Internet Security, ESET NOD32 Antivirus. Nod32 is an essential antivirus and its price is $39.99 per year. However, keep in mind that prices are given for one device and that they may vary depending on where you live. Here is the full list of pricing:
Bitdefender vs ESET Nod 32 – Winner: Bitdefender. Despite prices being identical, Bitdefender includes more devices, between 3 and 15. With ESET, you get the prices for one device and you must pay more for any additional ones.
Score: 7:5.
8.1 Bitdefender
The antivirus is compatible with all popular devices and operating systems. You can install it on Windows, Mac, Android, and iOS. However, the basic solution will work only on Windows.
8.2 ESET Nod 32
The ESET antivirus supports Windows, Mac, Linux, Android, and iOS devices. Nod32 will support only desktop computers.
Bitdefender vs ESET Nod 32 – Winner: ESET Nod32. It is one of the few antiviruses that work on Linux. Also, the basic version works on all desktop systems, unlike Bitdefender which works exclusively on Windows.
Score: 7:6.
9.1 Bitdefender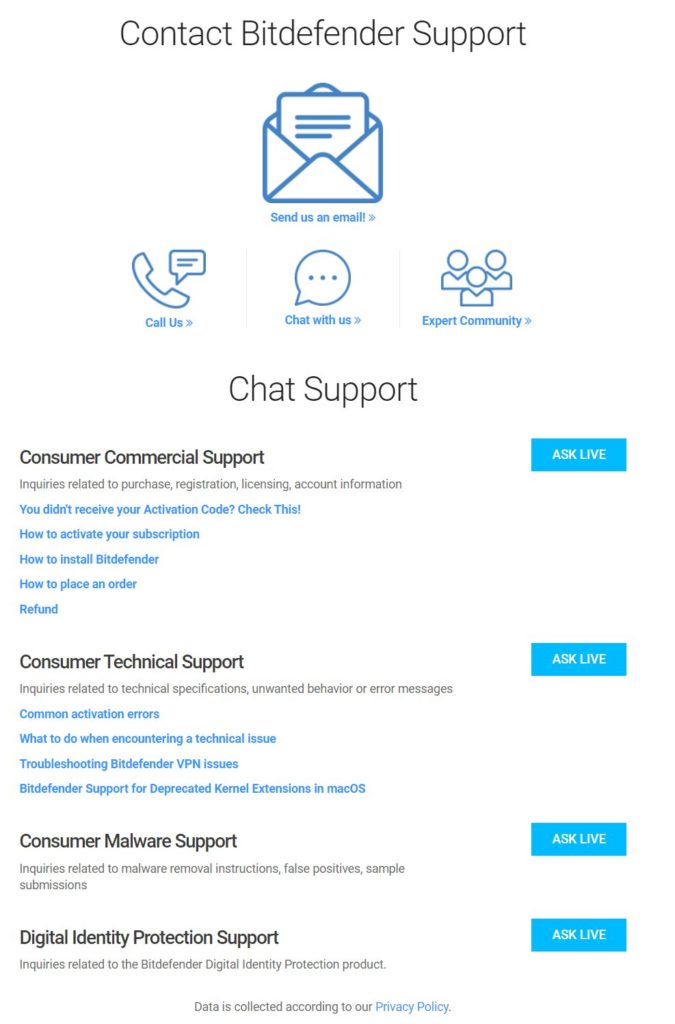 You may have questions and difficulties using Bitdefender. To solve them, contact the support team. You can reach them via email, over the phone, and via online chat. Also, there is a huge knowledge database made of a lot of articles, tutorials, and other information. It covers almost all the general questions about the product.
The human support is very quick and helpful. After you send a request, they automatically send a confirmation. We got a reply within hours to the question we sent so, we can say that technical support is good here.
9.2 ESET Nod 32
When it comes to providing technical support, ESET makes everything possible to help their users. They provide a knowledge base that is translated into many languages, including some less common languages like Slovenian and Portuguese. This is not the most complete documentation, but it is more than enough to help users solve most problems.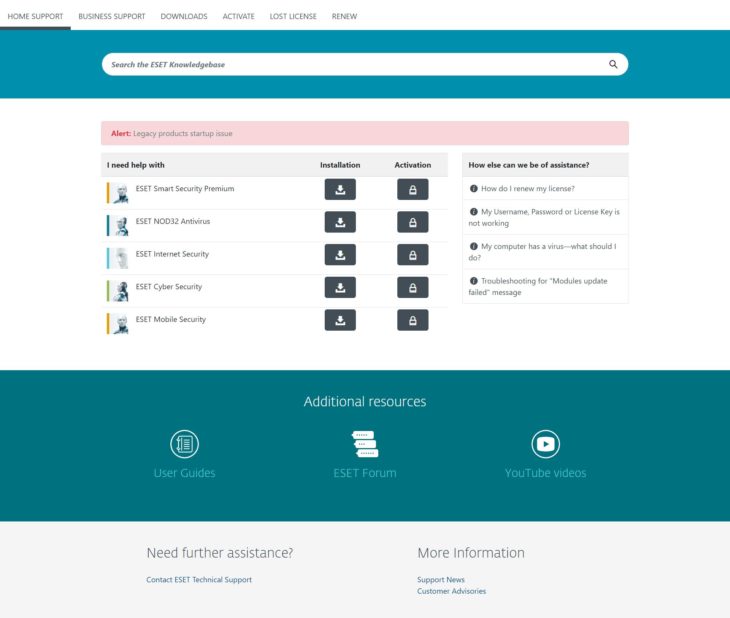 In the knowledge base, you can also find a link to create a ticket and access online chat. Also, the FAQ section handles the most common customer problems. If that information is not enough to fix the problem, you can open a ticket and contact human support.
Moreover, you can communicate with the support team via online chat and on the phone. However, they are available only in the midweek within business hours.
Bitdefender vs ESET Nod 32 – Winner: Bitdefender. Despite the knowledge database being comparable between the two, the real-time support is better for this one. You can easily find the Live Chat and Call Us buttons and contact the human support 24/7.
Score: 8:6.
According to the OPSWAT Windows Anti-Malware Market Share Report, May 2020 edition, Bitdefender takes 4.27% of the market share, while ESET takes 11.45%.
Bitdefender vs ESET Nod 32 – Winner: ESET Nod32. It is almost three times more popular than Bitdefender.
Score: 8:7.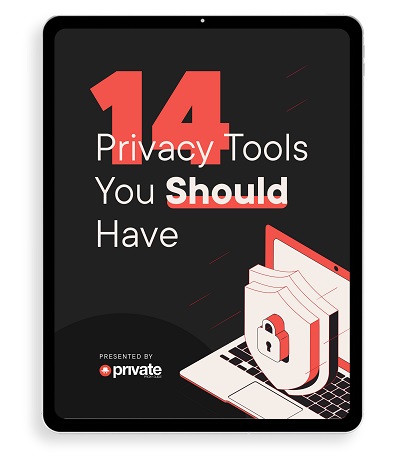 Learn how to stay safe online in this free 34-page eBook.