When it comes to choosing the right antivirus for your devices, you hear a lot of popular names, including Bitdefender and Malwarebytes. How to select the best one?
It is especially important to be able to get the fullest information about each product. That is why we created this detailed Bitdefender vs Malwarebytes comparison.
In this guide, we will provide all the necessary information about their features, use of system resources, full version pricing, as well as user experience.
1. Malwarebytes vs Bitdefender: Summary
In our comparison, Bitdefender showed better results in most of the comparisons. It has more antivirus options, demonstrates better reliability and results in tests, consumes fewer system resources, and has better customer support.
Is Malwarebytes so bad? Not at all. Its free antivirus scanner is still one of the best on the market. We strongly recommend using it with the main antivirus software. However, it is not the best option for real-time protection. If you need a complex solution, we recommend choosing Bitdefender.
Get more details about the comparison below.
2. Bitdefender vs. Malwarebytes: Antivirus Options
2.1 Bitdefender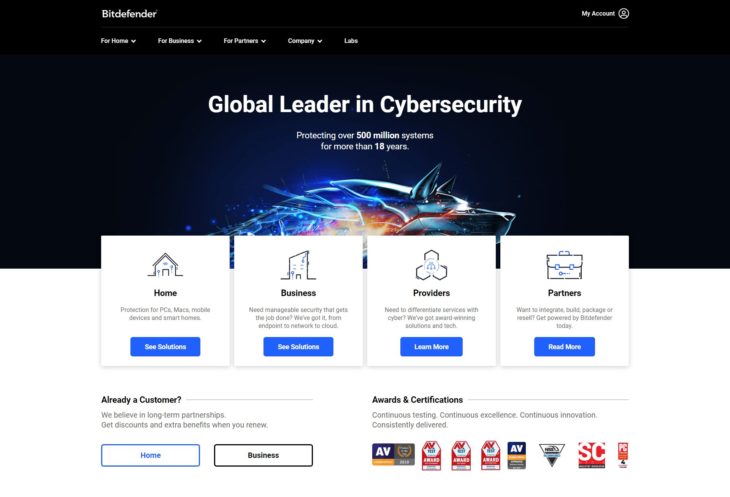 Bitdefender Internet Security is a comprehensive antivirus software with a firewall and enhanced privacy protection. Antivirus and antispyware with a highly efficient engine provide reliable protection against malware, encryptors, and other threats. New adaptive scanning technology increases the speed and performance of your antivirus solution and the system in general.
The two-way firewall allows controlling all Internet connections on your computer and ensures secure Wi-Fi connections. Multi-level web protection includes anti-phishing, anti-malware, secure search, an isolated web browser, and an e-wallet for secure online banking and online shopping.
The web-based parental controls allow you to block unwanted content and monitor your children's online activity, as well as manage the protection of your devices.
Key features:
Advanced data protection. The app will protect your devices from any kind of threats: viruses, Internet worms, trojans, encryptors, zero-day exploits, rootkits, and spyware.
Active Threat Control. The module uses the enhanced behavioral engine to monitor all the apps and block any suspicious activity.
Webcam Security. The feature detects and blocks attempts to hack your camera. The antivirus will immediately notify you when the app or process will try to access the camera and block the attempt.
Protect important and confidential documents against encryptors. They are stored in a special encrypted directory where the malware cannot access it.
Safe Files. The module does not allow making changes to important files. Just add them to the list of protected files and only trusted applications will be able to access them.
Rescue Mode. Some viruses can break your system files and block the normal work of the operating system. Bitdefender reboots the system in a special environment to clean the system and delete all the threats.
Parental control. With Bitdefender, you can control the child's online activity, limit the sessions, as well as create the lists of allowed or forbidden resources.
Password manager. To keep all the logins and passwords safe, Bitdefender Password Manager saves them in a password-protected secure repository. The password generator option allows for creating strong passwords for different platforms and websites.
2.2 Malwarebytes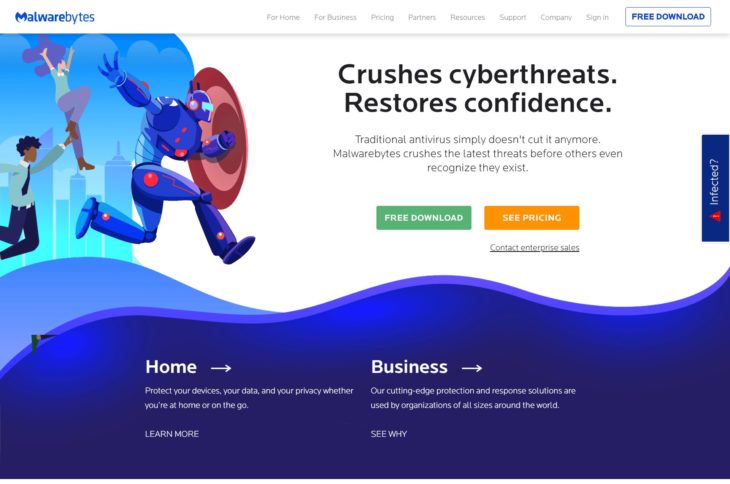 Malwarebytes Premium includes four components for protection against malicious programs. The latest version combines Anti-Malware, Anti-Exploit, Anti-Ransomware, Web Protection, and Cleaning and Recovery tool in one product. The solution offers intelligent threat detection and specialized protection against trojans and exploits using proactive technologies.
Key features:
Real-time protection. The product detects and removes malware in real-time using advanced virus, spyware, and rootkit protection technologies. The latest and most dangerous threats are automatically scanned, so you do not have to worry about protection. Antivirus blocks the malware even before it can infect the computer.
Protection against encryptors. The tool detects and blocks ransomware before it can block personal data. Malwarebytes works with all unknown and well-known ransomware using its new generation technology, which provides proactive protection of personal files. Your data will be protected even from the latest versions of encryptors.
Protection against rootkits. Cleans the system from rootkits and recovering damaged files.
Protection against exploits. The module protects vulnerable systems and applications from exploits.
Preventing unauthorized use of programs. Your browser and applications will be protected by four layers of protection, and all attacks that attempt to exploit vulnerabilities will be stopped before the PC is infected.
Fast and intelligent scanning. The Quick Check mode aims to detect only active malware. The scanner performs a quick system analysis and immediately displays the scan results. You can start the scanner in the background and play your favorite game. The scan will be completed before you even get ready for the game.
Bitdefender vs Malwarebytes – Winner: Bitdefender. Despite the fact that both products are well-equipped with different tools, Bitdefender offers some more advanced features like camera protection or a web portal for remote control. However, Malwarebytes is not extremely far behind.
Score: 1:0.
3. Bitdefender vs Malwarebytes: Online Protection
3.1 Bitdefender
Built-in firewall. The component can control all the connections on your PC. There are options to block connections for specific apps and games. Also, the app will protect your files and documents from data interception and hacker attacks.
Protection against fraudulent websites. When you visit such resources as porn sites, financial pyramids, online casinos, etc., the antivirus will notify you that the site is fraudulent and, in some cases, even block it.
Phishing protection. Bitdefender will block all the websites that mask themselves as safe and reliable but are created to steal the personal information of the visitors.
Safe browsing. Use the special safe browser to visit platforms such as online banking and shops. The app will protect all your transactions.
Social network protection. If you are an active user of social network websites, you risk opening some malicious links. The tool will block any suspicious links on many popular platforms including Facebook, Twitter, and Pinterest.
3.2 Malwarebytes
Web protection. The app checks the link you are going to visit in the huge database and will block all known malicious resources.
Protection against phishing sites. The product detects and prevents access to phishing sites. Also, it provides proactive protection against any suspicious links, hacking attacks on your accounts, as well as infection via adware modules.
Bitdefender vs Malwarebytes – Winner: Bitdefender. Online protection is not the strongest point of Malwarebytes. And the strangest thing is that it does not include a firewall — most respected apps include a firewall as one of the most needed components.
Score: 2:0
4. Bitdefender vs Malwarebytes: Reliability
4.1 Bitdefender
When it comes to product reliability, Bitdefender demonstrates one of the best results on the market. Once installed, it continuously scans your computer for suspicious files that are compared to a daily updated threat database. These scans are available on all Bitdefender products — even in the free version.
Another useful feature is behavior analysis, which allows you to detect suspicious files on your computer. When Bitdefender detects suspicious activity, it immediately blocks such files, thus protecting you from even the latest ransomware.
If you often connect external hard drives, USB sticks, and other devices to your computer, you can use the hardware scanning feature. At the same time, antivirus scans and checks the security of all the connected devices.
If you do not have time for a full scan, you can run a quick one. This small, useful utility runs a super-fast scan to check files, Internet connections, and other items that usually cause problems. The scan takes very few times, but it can take longer the first time.
The antivirus also has a vulnerability scan function that checks the device for vulnerabilities in the operating system and network connections. To find those vulnerabilities, you use the Bitdefender Wi-Fi Security Advisor feature, which provides you with a security report on all wireless networks.
4.2 Malwarebytes
Some time ago, most independent laboratories did not advise using Malwarebytes as it did not provide a sufficient level of antivirus protection, but all this is not true now.
The company is working hard and offers a high-quality product, and the developers have put a lot of effort to raise an average product to a prominent level in a few years.
In all recent tests, this program has shown results comparable to those of the industry leaders such as Bitdefender and Kaspersky. Malwarebytes has close to perfect detection rates and is constantly updated to provide reliable protection against all kinds of new threats. At the same time, none of the Malwarebytes versions have additional features such as file shredder, spyware protection, and parental control. If these features are important to you, try another solution.
Malwarebytes also uses current virus signatures and advanced heuristic behavior analysis to detect potential threats. Signature-based detection, which uses unique data sets and code snippets to find viruses that have infected other devices, takes only about 5% of all vulnerabilities detected by Malwarebytes.
Therefore, in addition to the four layers of real-time protection, Malwarebytes relies heavily on heuristic analysis —examining relevant program parameters, such as structure and behavior, to detect and eliminate previously unknown malware and viruses. This unique system allows Malwarebytes to stay ahead of the competition.
Bitdefender vs Malwarebytes – Winner: tie. We cannot prefer either of the products — both demonstrate good reliability of all components.
Score: 3:1.
5. Bitdefender vs Malwarebytes: Test Results
5.1 Bitdefender
Both free and premium versions demonstrate impressive results in the tests of all the popular labs. However, we mean a premium app when talking about test results. At the same time, the free version stands almost at the same level.
AV-Tests tested the product in three parameters: protection, performance, and usability. In the February 2020 tests, Bitdefender reached superior results: 6, 5.5, and 5.5 out of six points, respectively. It is among the market leaders. Very few competitors can achieve comparable results.
AV-Comparatives included Bitdefender in four tests — Malware Protection Test March 2020, False Alarm Test March 2020, Real-World Protection Test Feb-Mar 2020, and Summary Report 2019. Antivirus took the highest positions in all of them and was even named the Product of the Year 2019. So, if you need the best product, Bitdefender is your choice.
5.2 Malwarebytes
This software is considered rather as an antivirus scanner than a full-featured all-in-one solution. That is the reason why it is not so popular among test labs. For example, extremely popular AV-Comparatives did not include the product in any of their tests.
In its turn, AV-Test regularly checks Malwarebytes. However, the results are far from being perfect. In protection, performance, and usability tests it took 4.5, 4, and 6 points out of six, respectively. So, we cannot consider it to be a reliable product for everyone.
Bitdefender vs Malwarebytes – Winner: Bitdefender. No doubts, it is much better in all the tests except usability.
Score: 4:1.
6. Bitdefender vs Malwarebytes: Use of System Resources
The best antivirus is the one that works without impacting system performance. How do these products cope with this parameter?
6.1 Bitdefender
Visually, the app works rapidly on all modern computers: it does not freeze the system and does not overload the processor and RAM. What results does Bitdefender show in tests?
In the AV-Comparative performance tests, the product got 88 points in the AVC Score, 98.5 in the PC Mark Score, which resulted in a final Impact Score of 3.5. It is better than many other solutions.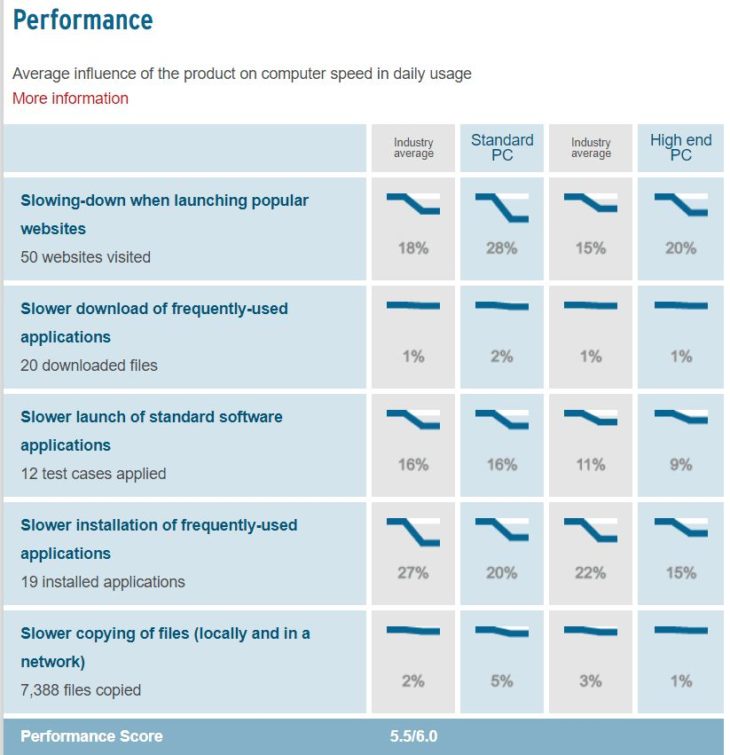 In the performance test by AV-Test, Bitdefender got 5.5 points out of 6. When launching popular websites, it slowed down the system up to 26% — it is a bit more than the industry average. In other components, it impacted the system performance on the industry average level.
6.2 Malwarebytes
Although most users will visually not see any performance drop while using their PC with Malwarebytes, some tests prove the opposite. Thus, performance tests by AV-Test showed a significant drop while launching the standard software applications — up to 38%, and terrible results in the installation of frequently-used applications — it slowed down the system up to 110%.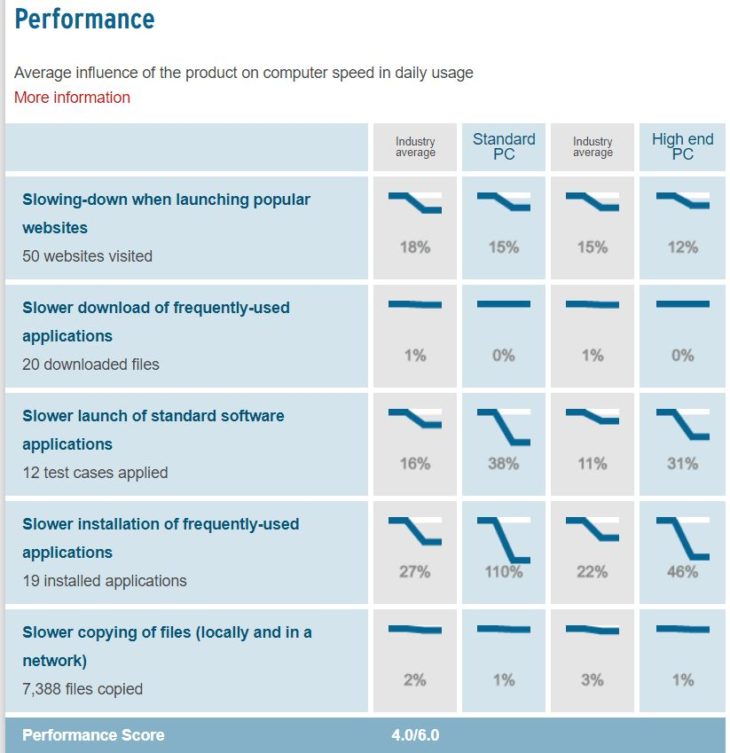 Of course, most users will not notice the difference. However, it is not normal at all — the industry average level is 16% and 27% respectively.
Bitdefender vs Malwarebytes – Winner: Bitdefender. It almost does not impact system performance, unlike Malwarebytes.
Score: 5:1.
7. Bitdefender vs Malwarebytes: Interface and User Experience
7.1 Bitdefender
The app has an amazingly simple interface that has a lot of options and settings. However, the application is convenient and informative and you can also configure and use it in many languages.
The home screen includes all the basic features for quick access: automatic recommendations on how to better optimize your device, quick scan, your subscription, Safepay browser, and VPN. Also, you can customize the buttons by setting up frequently used options instead of the default ones.
On the left, on the Protection tab, you will see the Full Scan, Firewall, Antispam, and Safe Files functions. On the Privacy tab, you will find Password Manager, Parental Control, and Anti-Tracker. The Utilities tab includes the features to optimize your device, and the Advanced settings are available on the Settings tab.
In general, the interface is very user-friendly. Even a complete beginner can easily understand how to use the program.
7.2 Malwarebytes
At first glimpse, the control panel is difficult, but it is actually quite simple and easy to use. After the first launch, the app will offer to scan the entire file system.
The dashboard allows controlling all the features. On the left side, you can access five basic tabs: Dashboard, Scan, Quarantine, Reports, and Settings.
The Scan section allows running and scheduling checks. When potential threats are detected, Malwarebytes sends them to Quarantine. From here, you can delete or restore these files. The Reports tab shows a list of all the scans that were performed.
The Settings section consists of six tabs: Application, Protection, Scan Schedule, Exclusions, Account Details, and About. They let you configure the app according to your needs and check the information about your account and subscription.
Bitdefender vs Malwarebytes – Winner: tie. Both antivirus products have a clear interface and are quite easy to use.
Score: 6:2.
8. Bitdefender vs Malwarebytes: Full Version Pricing
8.1 Bitdefender
The company offers three pricing plans, the pricing starts from $40 for the first year. Here is the full table.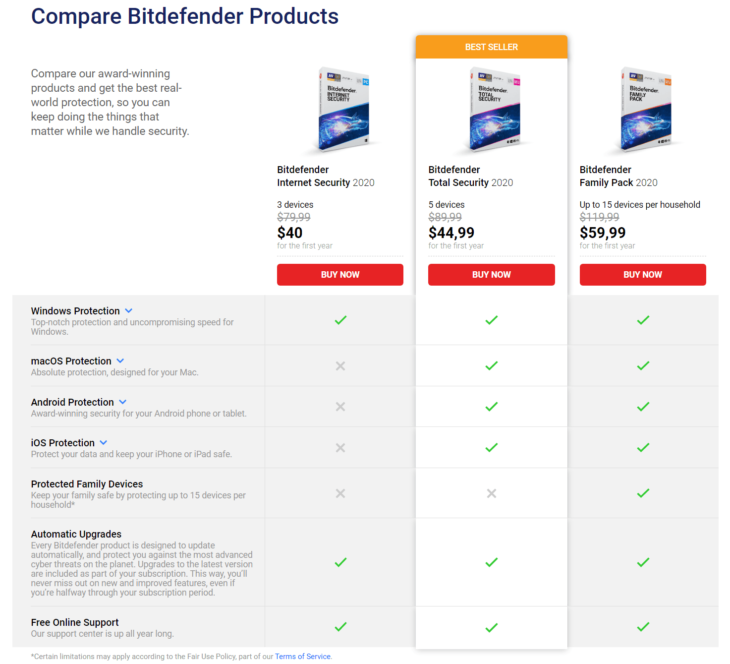 The more expensive is the plan, the more additional features you get. What is the difference between plans?
8.2 Malwarebytes
The company also offers three plans: Premium, Privacy, and the Premium + Privacy bundle which combines both plans and guarantees full protection for 5 devices. Here is the full table:
Bitdefender vs Malwarebytes – Winner: Bitdefender. While it is more expensive in absolute amounts, you can install it on more devices. Malwarebytes Premium is cheaper, but you can use it only on one device.
Score: 7:2.
9. Bitdefender vs Malwarebytes: Supported Devices
9.1 Bitdefender
The antivirus is available for Windows, macOS, Android, iOS. Keep in mind that Mac and mobile devices are available in the Bitdefender Total Security package — if you purchase Bitdefender Internet Security 2020, you will be able to use the app only on Windows computers.
9.2 Malwarebytes
There are antivirus applications for all popular operating systems: Windows, macOS, Android, and iOS. However, Malwarebytes Privacy, which is a secure VPN, is available only for Windows.
Bitdefender vs Malwarebytes – Winner: tie. Both antivirus solutions can protect devices working on all popular operating systems: Windows, macOS, Android, and iOS.
Score: 8:3.
10. Bitdefender vs Malwarebytes: Support
10.1 Bitdefender
If you have any questions and troubles with Bitdefender, you have several options on how to get support. There are a lot of articles, tutorials, and other information on the company's website on almost all the frequent questions that can arise.
Also, you can contact the support team if there is an issue you cannot solve using the articles. The team can be reached by email, phone, and online chat. Remember that phone support is not available for the users of the free antivirus version.
We liked how their customer service works. They answered the questions quickly and competently and proved themselves to be good experts.
10.2 Malwarebytes
The support portal also contains a lot of informative articles and guides with detailed illustrated instructions. Technically, if you are not a complete beginner, you will find them very useful.
When it comes to human support, their customer service is a bit disappointing. The company claims to be available by email and in the online chat. However, online chat did not seem to work during the working hours (Monday to Friday 8 am to 11 pm UTC). We tried it several times and every time we received a message that specialists were not available.
Email support is also far from being perfect. If you are lucky, you will get a reply in a day or two. However, a lot of users complain that the requests are responded to for up to a week. Thus, it would be nice if Malwarebytes were more responsive to customer requests.
Bitdefender vs Malwarebytes – Winner: Bitdefender. Their customer support is available on more channels and worked as claimed.
Score: 9:3.
11. Bitdefender vs Malwarebytes: Popularity
According to the OPSWAT Windows Anti-Malware Market Share Report, April 2020 edition, Bitdefender takes 8.76% of the market share, while Malwarebytes just 4.64%.
Bitdefender vs Malwarebytes – Winner: Bitdefender. It is almost twice more popular as its competitor.
Score: 10:3.
Get 38% discount on Bitdefender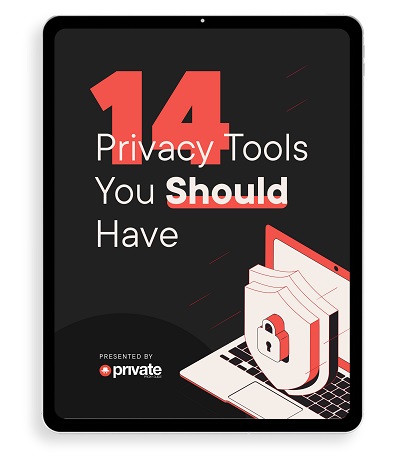 Learn how to stay safe online in this free 34-page eBook.