On the surface, Bitdefender and McAfee appear to be very similar, making it challenging to select between them. That's why these applications were tested and evaluated in 15 categories to see which one is truly the best.
In a nutshell, McAfee won — by only a slim margin. Even when executing high-intensity scans, its low-impact anti-malware software won't slow down your devices. It includes many useful features that improve performance, keep your entire family safe on the internet, and safeguard your entire network. Even better, McAfee offers a 60-day risk-free trial with a money-back guarantee.
On the other hand, Bitdefender is a robust antivirus with certain drawbacks (for example, few plans can function only on Windows). Its fast VPN, specialized Gametype, and password safe, on the other hand, wowed me. Bitdefender offers a 30-day money-back guarantee for anyone who wants to try the service out for themselves.
Parameters on which the comparison was made:
1. Bitdefender vs. McAfee: Real-time protection 2023
1.1 McAfee
McAfee's technology is based on Global Threat Intelligence. McAfee is continually upgrading to defend customers from the latest dangers owing to the cloud-based aspect of this technology.
Global Threat Intelligence: This cloud-based software analyses malware behavior to correctly forecast how threats will behave in the future.
Advanced monitoring: McAfee detects suspicious behavior in strange things and prevents them from infecting your device.
1.2 Bitdefender
Bitdefender uses similar technology to protect your devices from real-time malware attacks effectively.
Behavioral Detection: Using a technique called "Behavioral Detection," it closely monitors apps, software, and network connections for any suspicious behaviors. If these are detected, the items are immediately quarantined for you to look at so you can determine whether they're safe or malicious.
Overall, there isn't much of a distinction between these antivirus programs; both Bitdefender and McAfee can guard you against zero-day malware attacks.
Bitdefender vs. McAfee winner: McAfee
2. Bitdefender vs. McAfee: Virus Scanner
When it comes to scanning, McAfee is ahead of the competition. The Quick Scan took less than five minutes to check risky areas, while the Full Scan took less than an hour to look over my entire device (268 GB). Bitdefender's Quick Scan took seven minutes, slightly longer than the others. It took somewhat under an hour to complete the full scan.
2.1 Bitdefender
Quick scan
Full scan
Vulnerability scan: This checks the device for any out-of-date apps or software.
Custom scan
Rescue Environment scan: This scan does a "Safe Mode" check on your devices and eliminates any hazards it can't reach in regular mode.
2.2 McAfee
McAfee Total Protection: McAfee Total Protection is McAfee's flagship product, and it protects all of your devices, including computers, tablets, and smartphones. The genuinely unlimited plan assures that you have to pay once to safeguard all of your family members' devices. The standard price for one device starts at $59.99 per year.
McAfee Gamer Security: Speed and performance are two things that gamers are obsessed with. McAfee Gamer Security ensures complete security without slowing down the device's functionality.
McAfee Identity Protection Service: Protects personal information and online connections from unwanted access and hackers.
McAfee WebAdvisor: McAfee WebAdvisor is a free Windows-only solution that stops phishing sites, exploits assaults, and browser-based crypto hackers.
McAfee Virus Removal Service: Signing up for this service allows you to talk to security specialists over the phone or online and have infections removed remotely from your Windows machine.
Bitdefender vs. McAfee winner: McAfee
3. Bitdefender vs. McAfee: VPN
McAfee wants you to sign up for auto-renewal to use the VPN, and Bitdefender only offers the VPN with its Premium subscription. Bitdefender is my favorite of the two VPNs. Bitdefender's VPN not only protects your online activity but also allows you to view Netflix and other online streaming.
Unfortunately, McAfee's VPN was unable to connect to Netflix. McAfee also has lesser servers (only 23 as opposed to Bitdefender's 27) and poorer performance. Both VPNs have excellent encryption levels that mask your online activities and prevent data breaches in terms of security.
Bitdefender vs. McAfee winner: Bitdefender
4. Bitdefender vs. McAfee: Firewall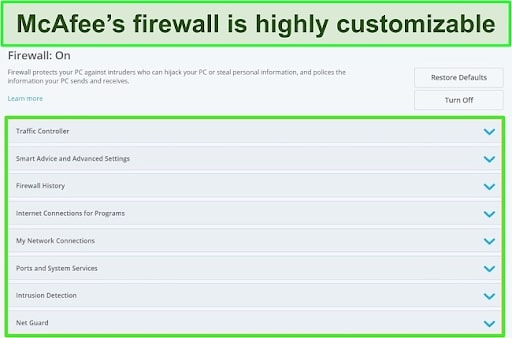 Both McAfee and Bitdefender firewalls offer the highest data security, but McAfee includes it with its antivirus programs. Bitdefender's Antivirus Plus bundle does not have a firewall. Because a good firewall is critical to preserving security, the fact that Bitdefender removes it from its plans puts McAfee ahead in this category.
McAfee's firewall has a lot of adjustable features so that you can tailor network security to your preferences. You don't have to touch any options if you find them overwhelming; the firewall is adjusted automatically to provide top-tier protection.
McAfee's Net Guard and Intrusion Detection and features are unique. Net Guard flags undesired or questionable network connections, while Intrusion Detection notifies you to suspected hackers attempting to get access to your system.
Bitdefender's firewall intelligently adapts to the network you're connected to, whether you're at home, at business, or in public. You may utilize its Stealth Mode to add an added level of security, effectively making you invisible – especially beneficial if you're using public WiFi. Unfortunately, because Bitdefender doesn't include its firewall in its most basic plans, you won't be protected provided you upgrade to a more expensive plan.
Bitdefender vs. McAfee winner: McAfee
5. Bitdefender vs. McAfee: Parental Controls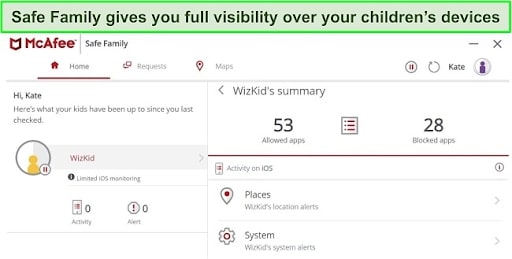 Both McAfee and Bitdefender have parental controls as part of their antivirus programs, but McAfee is superior due to its sophisticated features and ease of use.
One can access all the settings from the dashboard in much less than three minutes after downloading and setting up McAfee's Safe Family feature. You may then use the app to track your child's whereabouts, arrange a screen-free time, and block harmful or unsuitable web content.
Bitdefender features a geofencing function and good online filtering, but the applications are cumbersome to set up. Because the settings were difficult to browse, It took more than 10 minutes to download and customize the apps.
Bitdefender vs. McAfee winner: McAfee
6. Bitdefender vs. McAfee: Password Manager
While McAfee's True Key function is useful, Bitdefender's password manager is among the finest I've seen in an antivirus package. I'm delighted that Bitdefender allows you to store an infinite number of passwords – McAfee only allows you to store 15 passwords, which isn't nearly enough for most of my accounts.
Transferring my passwords from my old password manager to Bitdefender was a breeze. I also discovered no delays when Bitdefender immediately filled in my login credentials. Many password managers take a long time to autofill the information; however, Bitdefender did so in under a second.
Personal information such as SSN, credit card details, and sensitive documents can be stored indefinitely by Bitdefender and McAfee. All data entered into any password manager is heavily secured using the AES-256-bit standard used by military and government operatives.
McAfee's True Key is a safe alternative if you don't have many passwords. Most people, however, have more than 15 passwords considerably; thus, Bitdefender's password manager is the better overall option.
Bitdefender vs. McAfee winner: Bitdefender
7. Bitdefender vs. McAfee: Optimization Tools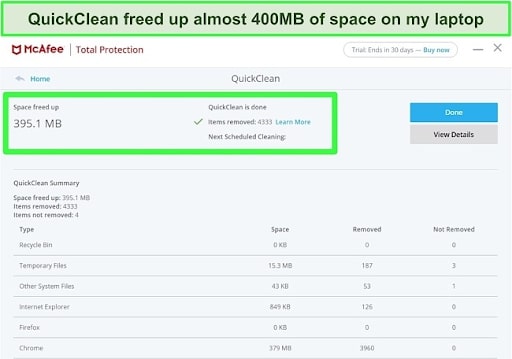 McAfee is a leader in this field, with a suite of products aimed at improving the quality of your devices. Bitdefender provides some performance-enhancing capabilities, but I didn't find them as effective as McAfee's.
App Boost, QuickClean, and Web Boost are three excellent McAfee optimization solutions. To clear up space on your device, use the QuickClean program to delete cookies, garbage files, and browsing history. It took just under 20 seconds to complete the tests, and it detected over 4,000 objects that could be securely erased. On the Windows laptop, this saved up about 400MB of space.
The App and Web Booster feature functions similarly to boost your device's performance while you're using it. The App Boost detects which applications are open and directs CPU resources to them, ensuring that speeds are maintained and seamless performance. It also remembers which applications you use the most, allowing you to access and load them faster. Web Boost significantly enhanced my browsing experience by removing auto-play movies and advertising, as well as extending the life of my battery. However, this feature is available for Windows users as a Chrome browser extension.
The optimization technologies in Bitdefender work diligently to boost speed. It offers a Battery Mode for tablets and laptops that saves battery life, and its OneClick Enhancer is meant to increase performance and speed with a single click.
Bitdefender vs. McAfee winner: McAfee
8. Bitdefender vs. McAfee: Gaming
Bitdefender features a Game Mode that optimizes the performance of your machine when you're gaming. It redirects CPU power from background programs and into your game, allowing it to run faster. Best of all, Game Mode activates automatically when it recognizes that you are playing, so you don't have to do anything manually. Bitdefender also features an Autopilot Mode that analyzes how you use your gadget and makes recommendations for improvements. If you play games frequently, Bitdefender will automatically alter settings for optimal performance.
McAfee's antivirus plans don't have a game mode unless you choose the Gamer Security package. However, when it came to blocking harmful websites and phishing scams, I found McAfee's Gamer Security to be worthless. As a result, while it's excellent for gaming, you're sacrificing overall security. Even if Bitdefender isn't specifically designed for gamers, it's safer to stay with the antivirus's full coverage.
Bitdefender vs. McAfee winner: Bitdefender
9. Bitdefender vs. McAfee: System Performance
It's tough to tell how much an antivirus slows down a computer, especially with low-impact programs like McAfee and Bitdefender. McAfee defeats Bitdefender after extensive testing.
The system was barely slowed when McAfee was operating in the background. I could work, check my emails, watch HD-quality videos, and install the software without any lag or disruptions. It seemed as though McAfee wasn't protecting my gadget at all! McAfee outperformed other industry leaders in similar testing, which I found very impressive.
Bitdefender is also limited, so you're unlikely to notice a change when it's guarding you against online attacks. It does, however, slow down your gadgets. Web pages opened 17 percent slower than usual during testing, and installations delayed the computer by up to 28 percent. This means you'll have to wait a few seconds longer for a page to load and several minutes for an operation to finish. This wait time is virtually non-existent with McAfee, making it the superior option for system performance.
Bitdefender vs. McAfee winner: McAfee
10. Bitdefender vs. McAfee: Device Compatibility
The apps for Windows, Mac, Android, and iOS are available from McAfee and Bitdefender. They're both fast to download and install, but Bitdefender wins out due to its user-friendly programs for all platforms.
Bitdefender's apps are pretty user-friendly, making it simple to switch among settings, implement adjustments, and conduct scans.
Despite having a colorful and attractive design, McAfee is more difficult to understand. Its windows and Mac apps are named confusingly, making it more challenging to discover your settings. The QuickClean function, for example, has a button labeled "Remove cookies and trackers." It takes some time to figure out McAfee's features and settings.
While McAfee's mobile apps are more user-friendly, Bitdefender is the superior option if you want a user-friendly antivirus app.
Bitdefender vs. McAfee winner: Bitdefender
11. Bitdefender vs. McAfee: Free Version
Bitdefender wins this category since McAfee does not provide a free plan.
Bitdefender's sophisticated detection of threat and real-time virus prevention are included in the free edition. I'm pleased to discover that you get internet protection, which blocks potentially malicious websites, as well as optimization tools that boost device speed. Because of its cloud-based scanning, Bitdefender's free plan has minimal impact. You'll also get anti-phishing and anti-fraud security if you're using a Windows device.
You won't receive full-coverage security with this free plan because it lacks advanced ransomware protection; nonetheless, it's typical for virus protection packages to reserve advanced capabilities for premium users. If you only need minimal protection on a machine that isn't utilized for sensitive data.
Bitdefender vs. McAfee winner: Bitdefender
12. Bitdefender vs. McAfee: Price
While Bitdefender is generally less expensive, McAfee's premium features are included in all subscriptions. For more premium plans, Bitdefender limits some functionality. It implies that even the cheapest McAfee Total Protection plans are of excellent value.
The cheapest Bitdefender subscriptions (Free and Antivirus Plus) function solely on Windows and don't include a firewall, device optimizing features, or parental controls. These features are only available if you subscribe to the Premium plan.
I believe McAfee's higher pricing is justified for numerous device compatibility and thorough coverage. McAfee and Bitdefender both accept credit/debit cards and PayPal payments.
Bitdefender vs. McAfee winner: McAfee
13. Bitdefender vs. McAfee: Customer support
Bitdefender succeeds in this area, with chat sessions, email ticketing, and a help desk available 24 hours a day, seven days a week. If your questions aren't time-sensitive, Bitdefender's community forum is suitable.
The live chat option was the most effective of Bitdefender's customer care options. A technician will be assigned to provide detailed answers to the queries in less than a minute. The email ticket was equally remarkable; a response will be received in less than an hour! You'll undoubtedly spend some time on hold if you reach Bitdefender via phone, but it's a good choice if you do have more complicated questions.
It was simple to acquire answers from McAfee's phone service and community forums. The customer service representatives are competent and friendly, but McAfee's live chat was the opposite. It took longer to get a simple answer to a question that I had to repeat multiple times since the agent didn't grasp what I was asking. The easiest way to receive immediate help is usually through live chat; however, McAfee's service was underwhelming.
Bitdefender vs. McAfee winner: Bitdefender
14. Bitdefender vs. McAfee: Money Back Policy
Both antiviruses have a 60-day money-back guarantee, but McAfee's is the longest. Bitdefender's money-back guarantee is only for 30 days.
Both McAfee and Bitdefender make it simple to seek a refund; however, McAfee's swift response time was impressive. McAfee processed the request swiftly, and the refund was received in seven working days.
Bitdefender's procedure is more straightforward, but it takes longer. One had to write an email to customer care to request a refund. However, it took five days to receive an email answer. In another five days, Bitdefender refunded the money.
Bitdefender vs. McAfee winner: McAfee
15. Conclusion
McAfee and Bitdefender are outstanding antivirus programs that offer top-notch malware protection and help safeguard your devices.
McAfee is a better option if you're more concerned with security software. McAfee consistently delivers high-level security, with 100% anti-malware rates for existing and new threats.
While McAfee is slightly more expensive, it offers better value because you can use all its features regardless of which plan you choose.
Bitdefender has additional configuration options, making it a good choice for expert users. That isn't to say it isn't suitable for beginners; it has a simple interface and intuitive features that simplify selecting appropriate settings. If you have any problems, Bitdefender offers exceptional customer care 24 hours a day, seven days a week.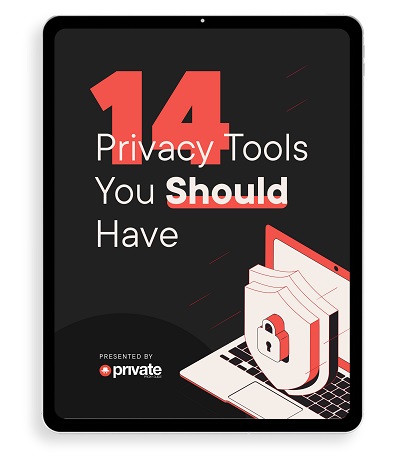 Learn how to stay safe online in this free 34-page eBook.