Unfortunately, many people treat security as an afterthought in the world of Information Technology.
Unless there's an incident that highlights the need for it, many people are unable to see the value of investing in a stellar security package for their devices. This applies at a private level, as well as a corporate one.
The value of data is the highest it has ever been, and cybersecurity threats are becoming more advanced as time passes. The world is way past the day of simple viruses. Today, more comprehensive threats, such as ransomware, are very real. One doesn't need to look any further than huge threats, such as Teslacrypt or Wannacry, to solidify this argument.
Hackers simply encrypt precious data and charge the owners a "ransom" to decrypt the said data for it to become usable again. The worst part is that even if this ransom is paid, the hackers are likely to take off with the money and neglect to provide the required decryption key. This is just one of many threat categories that pose a huge security risk, which is the reason that getting your hands on comprehensive malware protection is an essential task. Of course, there are many alternatives in this regard, and making a choice can be a daunting task. To lighten your burden, we've decided to provide you with a comprehensive review of both Bitdefender and Norton Security, which are two of the top malware protection options available. Also, note that there is no consensus on what's best between these two on Reddit.
Bitdefender vs Norton: Verdict
Both these programs are amazing anti-malware options that come with numerous additional features that contribute to a safe user experience. While there is no winner in the performance and feature category, Bitdefender gets a slight edge because of the more intuitive user interface and the better prices. However, if you want all those identity theft prevention features, then you're better off with Norton.
You can read about the details further down in this comparison.
Bitdefender vs Norton: Interface
The layout of the Bitdefender interface has seen a lot of changes over the years, and we must say that the current one shows a level of research and development that spans many years. We love how intuitive and aesthetically pleasing the interface is, above all else.
Upon launching Bitdefender, you are presented with a dashboard that is well put together. It's very important for an anti-malware program to communicate your security status and provide you with access to its central features from a single page. Whatever page you see when you open the program should do this effectively.
We believe that Bitdefender achieves this, as the dashboard page that you are presented with has all the fundamentals and more. Your security status is indicated at the top of the window. Underneath that, there are clear and well-placed options to start a quick scan, turn on your VPN (if you purchased a plan), and open Bitdefender Safepay (a secure browser for the completion of financial) tasks. You can also easily see how many of your allocated installs you've used. All these are your "Quick Actions," and there's even an empty space for you to add a custom one, just in case there's something else you may want to use frequently.
On the left is a menu, which consists of several options that correspond to various settings and controls. These are:
Dashboard
Protection
Privacy
Utilities
Notifications
My Account
Settings
Support
There is no clutter, and you never feel lost when using the interface, which is a sign of great design.
Norton Security also has a user-friendly home page layout when compared to that of Bitdefender. Upon launching the program, you are presented with Norton's "Security" window. The first thing you see is your protection status, which is accompanied by your last update and scan time. Under that information, there's a button for running scans, one for updating, one for viewing your program history, and one for accessing advanced options. The traditional menu on the left is not present here, as Norton opts for one at the program's base. The options here are:
Security
Internet Security
Backup
Performance
My Norton
While many similar options are offered across both platforms, Norton's options leave much to be desired. There are fewer of them with fewer controls under each. Also, the names used for the options aren't the clearest indicators of what to expect under each. So, while the home page layout is amazing, the rest of the Norton Security window falls short when compared to Bitdefender.
Bitdefender vs Norton – Winner: Bitdefender
Bitdefender vs Norton: Features
The biggest determining factor of how feasible a malware protection program is would be the features that it brings to the table. Therefore, we've decided to offer you a comprehensive breakdown of what to expect with both, after which we decide which program wins.
Bitdefender Features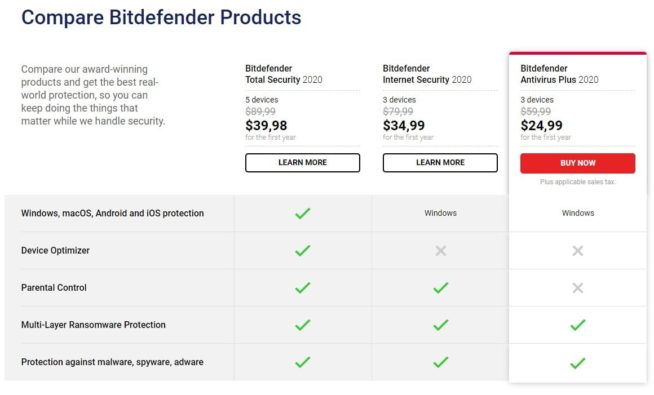 Bitdefender has three tier types, which are Bitdefender Antivirus Plus 2021, Bitdefender Internet Security 2021, and Bitdefender Total Security 2021. Each subsequent one offers more features. Let's start with the features that are available across all three platforms.
First, there is the intelligent antivirus, which is responsible for scanning and detection of threats. Bitdefender's servers have a record of potential and confirmed threats that are updated consistently. The program uses the information available on these servers along with its scanner, which has the support of a heuristic monitor, to identify signs of an infection. Potentially Unwanted Applications (PUAs), threats to your UEFI, file, and file-less attacks are also covered.
There is advanced threat defense that helps you to deal with threats that won't go away by offering you a rescue boot option that boots from a disk sector, which is hidden to thoroughly address your troublesome partition. Next, there is ransomware protection, which is responsible for using known indicators to identify and mitigate potential exposure to ransomware before your data becomes compromised, encrypted, and unusable.
Free online support is the next available feature, which provides you with all the information and assistance you could ever need as you use the program. You also get web attack prevention that assesses webpages and helps to keep you safe as you browse. Websites that show concerning signs, such as expired SSL security certificates, are prefaced with a warning. Note that there is also protection from unwanted cookies and trackers.
There's a Wi-Fi security advisor for devices that can connect wirelessly, which assesses the properties of a network to indicate how safe it is for you to connect. Online banking protection is provided via Bitdefender Safepay's secure browser connection. Bitdefender VPN is also offered, which provides you with a secure channel for browsing the internet. Note that while do you get to use it freely, there is a limit to the amount of data you can use it for before you need to purchase a plan.
A password vault is also provided, which allows you to securely store and fill your passwords as you work, and it allows you to create more secure passwords than you normally might. Next is the search advisor, which inspects and rates the results provided by your search engine, so you can tell which pages are safe to browse.
Phishing attempts and other such scams are identified and mitigated by the built-in anti-phishing and anti-fraud modules. The vulnerability scan module scans your device against a database of known exploits so that any actions needed to cover your bases can be taken. The final offering across all tiers is a file shredder, which destroys deleted data and prevents recovery. Starting with Bitdefender Internet Security 2021, you get webcam protection, which prevents unwanted activation or viewing of your camera's feed. A firewall feature is provided, which allows you to customize the traffic that can go to and from your PC over various ports. There is also a "safe files" feature that prevents the modification and deletion of certain files and folders upon request. You can also use password-protected parental controls to manage access to Bitdefender's various features.
Finally, there is file encryption that uses a private key accessible by you to provide an additional layer of security for files. The final two features are only accessible under Bitdefender Total Security 2021, and these are anti-theft and "Speed up your devices." The first offers tracking and remote wiping, while the second offers performance optimization.
Norton Security Features
Norton has four regular tiers, which are Norton Antivirus Plus, Norton 360 Standard, Norton 360 Deluxe, and Norton 360 with LifeLock. Each offers more than the one(s) before it. Let's again begin by looking at the features that are available across all offerings. The first feature bundles antivirus, malware, and ransomware protection. Anti-spyware protection is also offered, which prevents the installation of unwanted spyware programs and removes those that may be installed.
Next, there is online threat protection that monitors browser traffic for unsafe page elements, trackers, unwanted cookies, etc. There is also a smart firewall that comes with policy customization that allows you to easily manipulate the kind of inbound and outbound traffic that you allow. Cloud backup storage is provided at 2 GB, 10 GB, 50 GB, and 100 GB levels based on the tier subscription.
A password manager is provided that allows you to securely store and fill in your login information at will. The Norton Protection Promise is the final universal offering. It allows you to work directly with Norton experts, who assist in the diagnosis and resolution of your virus issues if you run into trouble while subscribed. Starting with Norton 360 Standard, you get access to a secure VPN channel, which you can use to securely access the internet.
SafeCam protects your webcam feed from being exposed to malicious entities, and it also prevents unauthorized activation of your camera. Dark web monitoring is also provided, which searches for your personal information on the dark web and notifies you if the same is found, so you can take the necessary action. This is the final feature available at this tier. Starting with Norton 360 Deluxe, you get access to parental controls, which help to regulate the features that are accessible via password protection.
The final features are only available on the Norton 360 with LifeLock. LifeLock is a platform that is integrated into Norton Security that provides comprehensive monitoring for your personal information. The monitoring tool reduces exposure of the said information to the public, and there's an alert system that clues you into cases of information misuse. You also get access to Identity Restoration Specialists when needed. There is also credit monitoring with LifeLock and a million-dollar protection package that reimburses you up to $1 million for stolen funds. Note that there is a bonus tier under Norton's umbrella that has all discussed features plus court records scanning, along with 401(K) and investment alerts. It can be installed on an infinite number of PCs and is called Norton 360 with Ultimate Plus.
Bitdefender vs Norton – Winner: Draw
Bitdefender vs Norton: Malware Protection
While all the additional bells and whistles are great, the true test of your anti-malware protection system is how well it does in the face of viruses and other malware, right? The concept of malware is a very broad one that blankets all forms of malicious entities in the electronic world, such as viruses, worms, trojans, etc. Additionally, different people have different encounters with these entities.
Therefore, a balanced measure is needed, which puts both systems to the test under similar circumstances. For this, we have AV-Test and AV-Comparatives. These companies put various malware protection programs to the test under matching circumstances. AV-Test and AV-Comparatives have no allegiances to any security company, which means that balanced and fair reviews are offered. The most recent round of testing for AV-Test took place from November to December 2019. The anti-malware products were under consistent evaluation with default settings, and updates were allowed where applicable.
Both Bitdefender and Norton Security scored six out of six for the protection metric. AV-Comparatives did its evaluation in November 2019. Here, Bitdefender and Norton Security received the ADVANCED+ award, which is the top available protection-based distinction. The experts tested, and both platforms seem to offer similar, high-quality levels of protection.
Bitdefender vs Norton – Winner: Draw
Bitdefender vs Norton: System Performance Impact
Every program has system requirements, and anti-malware programs are no different. Additionally, there is an impact on your system performance that can pose a problem if it gets too overbearing. It's always recommended to collect and review performance information before choosing one of these platforms. You can breathe a sigh of relief though, as neither Bitdefender nor Norton security is likely to consume your CPU, memory, or other resources in an extreme manner. AV-Test and AV-Comparatives also test system performance, and these were the results:
The AV-Test evaluations resulted in a 5.5 of six for Bitdefender, and a six of six for Norton Security
The AV-Comparatives evaluations performance test saw Bitdefender get the ADVANCED+ protection award, while Norton Security only managed the ADVANCED award.
Since both platforms got a win here, it's another draw.
Bitdefender vs Norton – Winner: Draw
Bitdefender vs Norton: Pricing
As stated before, both platforms have various tiers.
Bitdefender has three such tiers, which are as follows:
Bitdefender Antivirus Plus 2021, which costs $59.99 annually
Bitdefender Internet Security 2021, which costs $79.99 annually
Bitdefender Total Security 2021, which costs $89.99 annually
Norton Security has four regular tiers, which are as follows:
Norton Antivirus Plus, which costs $24.99 annually (1 device only)
Norton 360 Standard, which costs $79.99 annually
Norton 360 Deluxe, which costs $99.99 annually
Norton 360 with LifeLock, which costs $149.99 annually
The bonus tier, Norton 360 with Ultimate Plus, costs $349.99 annually.
Bitdefender vs Norton – Winner: Bitdefender, but Norton has the cheapest option for 1 device.
Bitdefender vs Norton Comparison Table
| Feature | Bitdefender | Norton |
| --- | --- | --- |
| Interface | Clean and intuitive | A bit unclear with the options available |
| Malware Protection | ADVANCED+ award on AV-Comparatives Six out of six on AV-Test | ADVANCED+ award on AV-Comparatives Six out of six on AV-Test |
| Features | Intelligent antivirus Advanced threat defense Ransomware protection Free online support Web attack prevention Wi-Fi security advisor Online banking protection Bitdefender VPN Password vault Search advisor Anti-phishing and anti-fraud modules Vulnerability scan File shredder Webcam protection Firewall "Safe files" protection Parental control File encryption Anti-theft "Speed up your devices" | Antivirus, malware, and ransomware protection Online threat protection Smart firewall Cloud backup Password manager Norton protection promise Secure VPN SafeCam Dark web monitoring Parental controls LifeLock information protection LifeLock credit monitoring Million-dollar protection Court record's scanning 401(k) and investment alerts |
| Impact on System Resources | 5.5 out of six on AV-Test ADVANCED+ award on AV-Comparatives | Six out of six on AV-Test ADVANCED award on AV-Comparatives |
| Pricing | Antivirus Plus: $59.99 (three devices) Internet Security: $79.99 (three devices) Total Security: $89.99 (five devices) | Antivirus Plus: $24.99 (one device) 360 Standard: $79.99 (one device) 360 Deluxe: $99.99 (five devices) 360 with LifeLock: $149.99 (five devices) 360 with Ultimate Plus: $349.99 (unlimited devices) |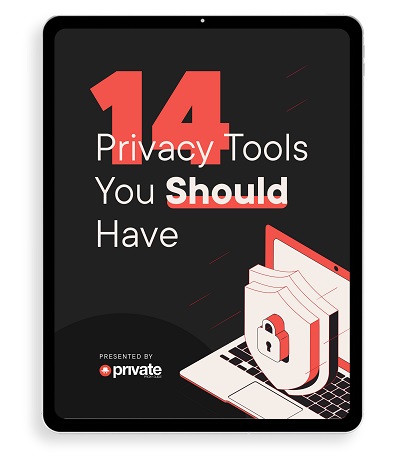 Learn how to stay safe online in this free 34-page eBook.