Today, it is vitally important to protect all the digital data you consume on the computer. For that, there are a lot of antivirus apps that saturated the market to the extent that the typical user finds it hard to select a good solution.
At the same time, all Windows 10 computers already include the built-in antivirus called Windows Defender. But is it enough for reliable protection? We compared Windows Defender with one of the market leaders – Bitdefender Antivirus – in several different areas. Let's see who wins in this Bitdefender vs Windows Defender battle. On Reddit, there is no real consensus on what to pick since Windows Defender comes preinstalled with Windows 10, but most people are positive about using both of these two options.
Bitdefender vs Windows Defender: Summary
The final score is 9:6 to Bitdefender. But does it mean it is better than Windows Defender? No. If you are not ready to pay for additional security or if you are an experienced and attentive user, Windows Defender will also be a good solution for you.
You can read about the details further below.
1. Antivirus Options
Bitdefender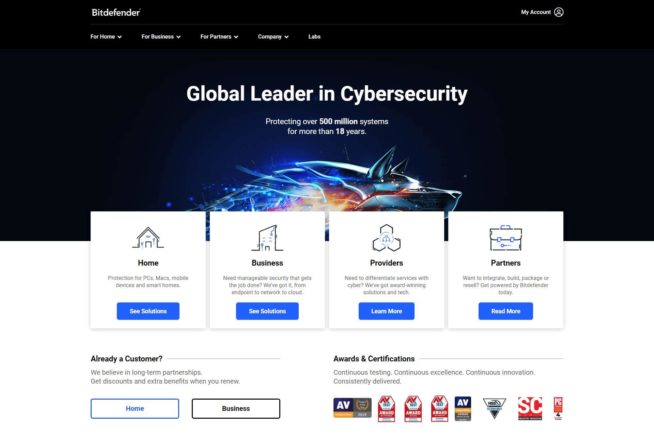 Comprehensive data protection. Bitdefender protects against all modern threats: viruses, Internet worms, trojans, encryptors, zero-day exploits, rootkits, and spyware. Both your data and your privacy are protected.
Active Threat Control. Innovative behavioral detection technology is used to monitor applications. If Bitdefender detects any suspicious activity, it immediately takes strong security measures.
Webcam Security. Protect personal information and prevent surveillance attempts on your webcam. The new webcam security component will warn you when the application tries to access the camera and allows you to block this attempt.
Multi-layer protection against encryptors. Important documents should be placed in special directories, which have several levels of protection against malicious change by encryption trojans.
Effective fraud protection. The advanced filtering system notifies you when you try to visit fraudulent sites, such as online casinos, pornographic sites, financial pyramid sites, etc.
Safe Files. The new Bitdefender Safe Files component prevents unwanted changes to important files. The user simply adds the folders to the list of protected objects, and Bitdefender protects files from encryptors and other types of threats. Only trusted applications can access important files.
Rescue Mode. Some complex threats, such as rootkits, should be removed before you boot Windows. When Bitdefender detects such threats, it reboots your computer into the recovery environment to clean up and roll back malicious changes.
Parental control. The built-in parental control allows you to analyze your children's network activity to make sure they are safe. Block inappropriate content and monitor your child's time on the computer remotely with a Bitdefender Central account.
Password manager. Store passwords, credit card numbers, and other sensitive data in a secure repository with quick access. The password manager can automatically fill out forms and generate strong passwords.
Windows Defender
Real-time protection. The app helps detect malicious programs and prevent them from being installed or running on your computer. The protection system monitors the list of programs that automatically start at the operating system startup; controls Windows installations that are related to system security; monitors services and drivers that interact with the operating system and running programs; monitors updates for Windows components; controls program autoruns and all their processes; monitors tools and files that are used to register and autorun software.
Cloud protection. It allows you to send data about potential security threats to Microsoft Corporation in real-time. Before sending, the app asks for user permission.
Upload samples automatically. The data is sent automatically, without notifying the user.
The user can specify the file or folder he wants to add to the exceptions list. Please keep in mind that Windows Defender will not check the excluded files and it will make your system vulnerable to potentially dangerous software. This means that you make exceptions at your own risk.
Advanced notifications. The Defender sends automatic notifications so that the user will automatically receive alerts about the system security. If the feature is disabled, the antivirus will send only critical notifications.
Standalone Defender. The function helps to delete the extremely strong malware from an infected computer. Once the function is enabled, your computer will restart, and it will take about 15 minutes to fix the problem.
Bitdefender vs Windows Defender – Winner: Bitdefender. Despite both solutions offering a good set of basic features, Bitdefender provides more specific ones that make it a more powerful solution.
Score: 1:0.
2. Bitdefender vs Windows Defender: Online Protection
Bitdefender
Strong phishing protection. The antivirus solution finds and blocks websites that are masked as safe to steal personal payment information, account passwords and credit card numbers.
Safe and fast surfing. Visit online banking and e-shops in a separate secure browser that protects online transactions from fraudulent threats. Bitdefender Safepay can now automatically fill in credit card details in the appropriate fields.
Two-way firewall. Bitdefender provides an additional level of protection for personal information against hackers and data interceptors.
Social network protection. Protect yourself from malicious links and threats on Facebook, Twitter, Pinterest, and other social networks.
Windows Defender
Firewall and Network Security — this section provides information about the Windows Firewall configuration and offers links for troubleshooting network connectivity issues.
Application and Browser Management — in this section, users can configure the SmartScreen filter for applications and browsers to protect against malicious sites and downloads.
Bitdefender vs Windows Defender – Winner: Bitdefender. Again, this program has a lot more features to protect your online activity. Windows Defender can just monitor the traffic and manage the application rights for incoming and outgoing connections.
Score: 2:0.
3. Bitdefender vs Windows Defender: Reliability
Bitdefender
When it comes to reliability, Bitdefender is among the doubtless leaders. When opening the malware folder, Bitdefender immediately starts blocking any detected malware. Also, it only takes a few moments to delete all known virus threats, and the final results are almost identical both for a free and premium version of the program: most of them were blocked and deleted. The free version of Bitdefender received 7.7 points, while its paid version got 8 points — it is a pretty good result.
Also, Bitdefender blocks malicious links before your browser can download them, so you don't need to install additional extensions. In the malicious URL blocking test, the antivirus blocked 76% of links and the scan during access destroyed another 8% of online threats.
Windows Defender
Microsoft highly improved its product over the past several years. Now, it is one of the most reliable free antiviruses.
Windows Defender Security Center offers basic protection against viruses, trojans, extortion programs, and other malicious software. It is installed on a Windows system by default, so even if you don't want to install a third-party solution, your system already has a certain level of protection against these threats. It also automatically detects other anti-virus systems that you have installed. This makes it easy to remove any old scanners if you want to protect your system using only Windows Defender.
Different tests proved its reliability. For example, the Windows SmartScreen Protector blocked 98% to 100% threats, with the industry average detection rate being 99.5%. In terms of identifying known malware, Microsoft blocked 100% and 99.9% of the test collection samples, while the industry average was 99.9%.
The Windows defender also received a high score in the usability test because it produced almost no false positives. The average number of false positives among all tested products was 10, while Windows Defender was wrong only 4 times in two tests.
Bitdefender vs Windows Defender – Winner: tie. Both products are very reliable. You can fully rely on either one.
Score: 3:1.
4. Bitdefender vs Windows Defender: Test Results
Bitdefender
Although Bitdefender Free does not have many additional features, its antivirus engine is no different from the premium version of the software. Nevertheless, when we talk about tests, we mean the paid program. Most labs include Bitdefender in their testing program. In the comprehensive test from AV-Test, Bitdefender earned a maximum of 6 points in all three evaluation categories. F-Secure, Kaspersky, McAfee, and Norton were able to repeat this result.
In all four AV-Comparatives tests, Bitdefender received the highest rating Advanced+. This is the best result; the closest competitor was Kaspersky Lab product with three Advanced+ and one Advanced. Bitdefender confidently coped with the tests for protection against bank trojans conducted by MRG-Effitas. The product was tested against a wide range of malicious programs in the same lab and received Level 1 certification, as well as Kaspersky Anti-Virus, Windows Defender and seven other products.
The SE Labs attempts to simulate malware attacks in conditions as close to real as possible. Bitdefender received an AA rating that is one step below the maximum possible AAA. Thus, the total testing result of Bitdefender is 10 points out of 10 possible.
Windows Defender
Some time ago, Windows Defender offered was very average protection, which was worse than many other free solutions, not to mention the monsters of the market. However, over the years Microsoft has managed to improve its software so much that now Windows Defender is one of the best options on the market.
All leading test laboratories award Windows Defenders very high ratings. Thus, in Real-World Protection Test by AV-Comparatives Windows Defender received the Advanced rating (compared to Bitdefender's Advanced+).
As for the AV-Test results, it awarded 5.5 of 6 in the protection test and 6 of 6 in the performance and usability score.
Bitdefender vs Windows Defender – Winner: Bitdefender. While Windows Defender provides good protection enough for most users, Bitdefender scored better in most tests.
Score: 4:1.
5. Bitdefender vs Windows Defender: Use of System Resources
As an antivirus protects your system in real-time, it must consume as few resources as possible. How do both products use the resources of your computer?
Bitdefender
Visually, it works fast on any modern computer: nothing freezes, the RAM and CPU resources are not overloaded. However, tests showed different results. The AV-Comparative rated Bitdefender with 88 points in the AVC Score and 98.5 in the PC Mark Score, which gave the final Impact Score of 3.5. This is much better than many other antiviruses.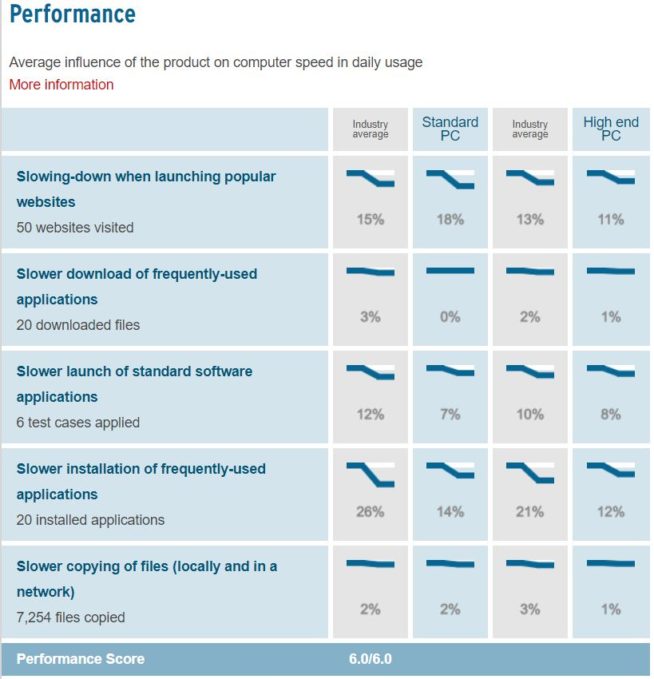 The AV-Test rated Bitdefender with 5.5 out of 6 points in the performance test. It impacted the computer resources by launching popular websites more than the industry average, while in other cases the results were better than the industry average.
Windows Defender
As Windows Defender is a native solution, it almost does not impact the system performance even on weak computers. At the same time, the results differ significantly in different test laboratories. Thus, the AV-Comparative rated Bitdefender with 75 points in the AVC Score and 98.0 in the PC Mark Score, which gave the final Impact Score of 17. This is the worst result among all the participants.
However, the AV-Test rated Bitdefender with 6 out of 6 points in the performance test. It impacted the computer resources in many parameters less than the industry average and in some cases, not at all.
Bitdefender vs Windows Defender – Winner: tie. Both antiviruses demonstrate minimal impact on system performance.
Score: 5:2.
6. Bitdefender vs Windows Defender: Interface and User Experience
Bitdefender
One of the best things about Bitdefender is that it's easy to use and quick to learn. The functions of the antivirus are clear and easy to find, and you can configure several settings for maximum security. You can also add safe programs and websites to your white list, change scanning settings and much more. All the necessary tools are on the home screen, and the additional ones — in the sidebar. While some sections are a bit complicated, it isn't a serious problem, just a bit annoying. If you use several Bitdefender tools, you may find that your desktop is a little overloaded.
Windows Defender
Windows Defender is already installed on every Windows 10 PC and if no other antivirus is installed, it automatically turns on. This means that it is not required to be installed. The program offers protection right out of the box. You can manage your settings in two areas: the Windows Defender Security Center, which includes anti-virus scanning, parental controls, the main firewall, and system status alerts, and the Windows Defender Firewall with Advanced Security. The latter is more intended for expert use, but the Security Center itself is incredibly fast and easy to use.
You can access Windows Defender in two ways — via Parameters or Start menu. All the settings are divided into tabs and are quite intuitive. They are accompanied by clear explanations. So, you can understand how to use the tool even if you never used it.
Bitdefender vs Windows Defender – Winner: tie. Both programs are very easy to use even if you are not an experienced user.
Score: 6:3.
7. Bitdefender vs Windows Defender: Full Version Pricing
Bitdefender
The company offers three packages. They differ in the number of protected devices and available features:
 
Bitdefender Internet Security 2021
Bitdefender Total Security 2021
Bitdefender Family Pack 2021.
Number of devices
3 devices

5 devices   

 

Up to 15 devices per household
First-year price
$40
$44.99
$59.99
Regular price
$79,99
$89.99
$119.99
What features are available in each package?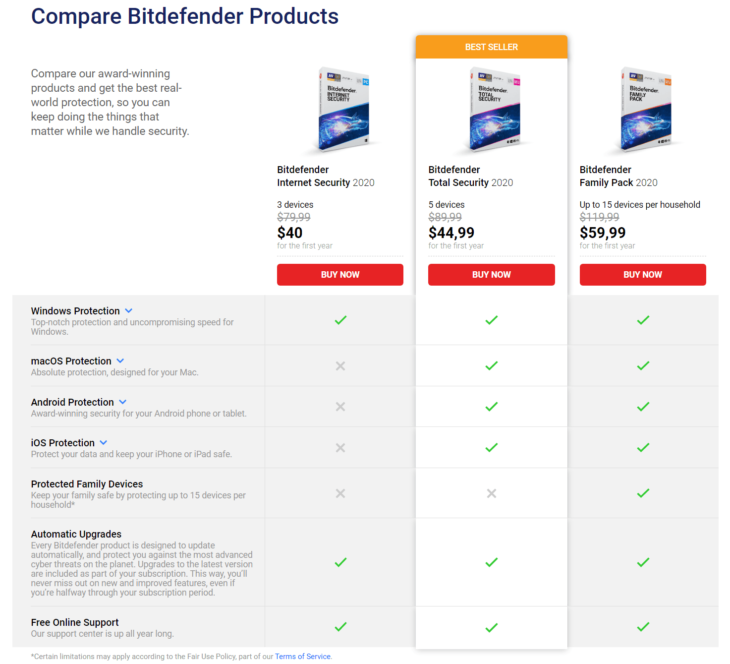 Windows Defender
This solution is free of charge. You do not have to pay anything for modern and reliable antivirus protection.
Bitdefender vs Windows Defender – Winner: Windows Defender. There are no additional payments needed — everything works for free out of the box. Yes, Bitdefender also offers a free antivirus but its' quite limited compared to the full version.
Score: 6:4.
8. Bitdefender vs Windows Defender: Supported Devices
Bitdefender
This solution is multiplatform —there are standalone applications for Windows, Mac, Android, and iOS. So, you will be able to protect all your devices.
Windows Defender
The app is available only on Windows 10 computers. Consider another solution if you need to protect your Mac or mobile devices.
Bitdefender vs Windows Defender – Winner: Bitdefender. It provides the software for all popular operating systems and devices.
Score: 7:4
9. Bitdefender vs Windows Defender: Support
Bitdefender
The company website has a large collection of articles, tutorials, and other information on common user issues. After reading this, you likely solve most problems. Also, the support team is available both by email and phone and even online chat. However, the phone support is not available for the users of the free version of the antivirus. The support team is helpful and fast. The technical service representatives are excellent professionals and provide quick and effective answers to all the questions asked.
Windows Defender
As this is a built-in component by default, Microsoft can solve any problem you may face. Online support and the FAQ block contain guides on how to set up a scan and fix common problems. If this can't solve the problem, users can talk to Microsoft's virtual agent which is quite smart and can understand the question at the first attempt and direct to the specific support resource.
Finally, users have access to Microsoft's global support network, which includes both phone and ticket-based support. It is fair to say that if you have any issues with Windows Defender, Microsoft has more than enough resources to help you.
Bitdefender vs Windows Defender – Winner: tie. Both companies are ready to help and do it via multiple channels.
Score: 8:5.
10. Bitdefender vs Windows Defender: Popularity
According to many ratings, Bitdefender takes about 10% of the Windows antivirus market. As estimated, it's about 500 million computers. And we do not count mobile and Mac devices. At the same time, Microsoft says that Windows 10 installed on more than 900 million computers. Thus, Windows Defender is installed on all of them. In absolute figures, Windows Defender is supposed to be more popular. However, not every user trusts the security of this free solution.
Bitdefender vs Windows Defender – Winner: tie. Both antiviruses quite popular and are used by millions of customers.
Score: 9:6.
Get 38% discount on Bitdefender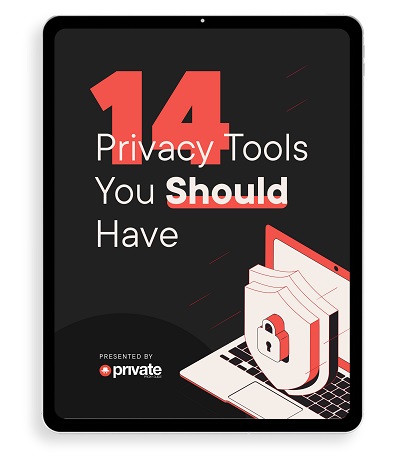 Learn how to stay safe online in this free 34-page eBook.