Managing projects and workloads, especially in a big company, can be excruciatingly hard. Without a solid project management tool, you're probably not going to do it efficiently, which will, inevitably, result in lower revenue and overall success.
Choosing a good project management tool is not the easiest job to do. With dozens of them on the market, however, ClickUp and Monday.com seem to be among the best ones. And if you're wondering which one is a better option, I think that this article will be of great help to you.
1. ClickUp vs Monday – A Brief Overview
So, before I start my ClickUp vs Monday comparison, I first need to properly introduce these two project management tools. I believe that you already heard a lot about them. However, we need to clarify what both of these tools are and who are they meant to satisfy.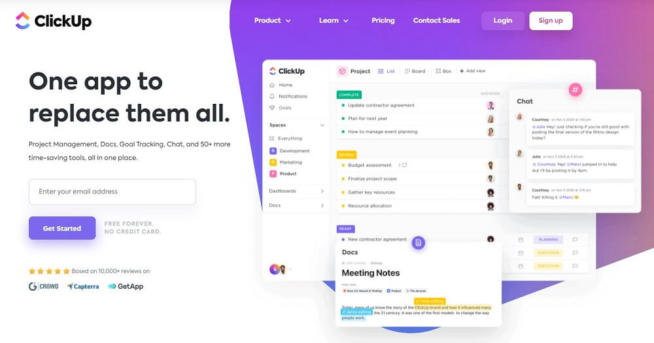 ClickUp's motto is very simple – one app to replace them all. This means that the developers behind this tool focused their efforts on making a tool that will let you efficiently manage your business, without wandering around and using 5, 10, or 15 different apps.
As a result, ClickUp's focus is mainly on ease of use, simplicity, and straightforwardness. Interestingly, some of the largest companies use ClickUp in their businesses. Samsung, IBM, Booking.com, and WebFlow are just a part of 800,000 successful businesses that enjoy ClickUp.
How would I describe ClickUp in one sentence? Well, I would say that this is a versatile tool with dozens of features that include reminders, time tracking, file-sharing, integrations, calendars, goals, and many other functionalities that make business management a lot less tedious and time-consuming.
ClickUp is suitable for all business sizes, and even those on an enterprise level.
Monday.com or Monday started in 2010. Actually, it was a part of Wix at the time, but as we speak, the tool became a standalone product, counting more than 127,000 businesses around the globe. Indeed, Monday's verbatim is work without limits and I can say that their effort reflects that.
Much like ClickUp, Monday is used by some of the largest businesses globally. They include Hulu, Coca-Cola, EA, and NBC Universal. Monday is also known for its ease of use, but also scalability and adaptation. It's code-free and you can use it to quickly adapt to new conditions of your business.
Moreover, it's very intuitive and has nice visuals that add a sense of premiumness. Not only does it include calendars and to-do lists, but also Gantt charts, time tracking, options for automation, and dozens of other functionalities that make it a valuable asset to any company.
Monday.com, on the other hand, finds its common ground in small to medium-sized businesses.
2. The Main Features of ClickUp and Monday
When choosing a project management tool, it's all about features and functionalities you can get for the money. Therefore, I will compare ClickUp and Monday's main features and see how they stack against each other.
2.1 Project and Process Management
Project management is very different in the two tools and there's a simple reason for that. Monday is a bit more visual-oriented, while ClickUp is pragmatic and less visual.
This doesn't mean that ClickUp is any worse. In fact, it has more features and functionalities, which is why it's a great tool for larger businesses, as well. I like ClickUp's customization that comes to mind when we talk about custom statuses.
By having this possibility, your employees can mark task completion or the level of completion by utilizing checklists and different colors. Furthermore, I like that ClickUp lets you assign tasks to multiple persons or even one task to multiple employees.
And if you want a certain task to be completed after the first one is finished, you can mark it, so that people in your team avoid it until it's time to be done. As said, custom checklists are here and you can even create templates that you can use later on for future tasks.
Plus, thanks to an intuitive interface, you will know which task your employees are doing at any moment. This will prevent multiple employees from working on a task that requires a single person. I also like that ClickUp lets you add comments on tasks and projects.
So, if something is done correctly, you can commend, and if something needs improvement, you'll be there to point it out. An integral part of ClickUp are milestones and goals. By setting up goals, your team will know in which direction to go to fulfill them, maximizing its efficiency.
Lastly, ClickUp supports full-on file sharing. Therefore, you'll be able to share different types of documents and files, greatly enhancing your communication.
Monday offers fewer features than ClickUp, which makes it more intuitive. To be honest, I prefer Monday's interface a bit more, given its cleanliness and amazing-looking charts. For project management, you'll be able to create boards – one board equals one project.
Inside these boards, you'll create tasks and milestones that need to be completed in a certain period. Colors play an important role here, as well. So, you can color the one that needs to be done urgently in red, and one that's finished in green.
Labeling each task is supported, too, and you can add different items to your board. For instance, you can include automation, time tracking, and even customize each dashboard with stunning templates. Once again, I appreciate Monday's focus on graphs and visuals.
They make tracking your progress SO much easier. Not only that but each graph can be shared with your team so that you can all have information on how well you're doing. Needless to say, Monday.com also supports file sharing and you can still share business-relevant data easily.
2.2 Dashboard
When it comes to the dashboard, both tools offer plenty of options and customization quirks.
ClickUp does offer more options, generally speaking. Here, we need to mention a well-known list view that will show all your tasks clearly, with the ability to color-code each task to accentuate importance and urgency.
Furthermore, the tool offers several views to choose from. There's a Calendar view, Kanban board, Gantt view, and a box view. I, for example, like the last one, as it shows each of your team members in a tiny box, with their assigned tasks right under it.
Arguably, ClickUp's dashboard is extremely customizable and feature-rich, but also a bit more complex when compared to Monday's dashboard.
Speaking of which, Monday, in my opinion, looks a bit better and more streamlined. This comes at a cost of fewer features. However, one thing to point out is how intuitive and natural it feels.
For one, there are boards that you can choose from the left-hand side menu. Once you click on the board, it appears on the right side, taking 90% of your screen space. From here, you can drag and drop the widgets you like and customize each board completely.
In terms of widgets, you get a boatload of them. There's a small calendar, time tracking, and charts in several shapes. Besides, Monday offers a Calendar view, Gantt chart, and Kanban board, so you lose on nothing compared to ClickUp.
2.3 Time Management
What about time management? As you know, time is money, so you must maximize your workload during working hours.
Both ClickUp and Monday.com offer time-tracking tools, which is, for me, a mandatory feature. ClickUp comes with a few calendar tools and even the aforementioned calendar view. It will let you assign tasks and their deadlines efficiently, thus, tracking the progress from one single page is possible.
This tool supports third-party time-trackers, such as Google Calendar or calendars from Outlook. Here, you can add start and finish dates, but also track how much time is spent on a particular task.
Monday, on the other hand, has a Calendar view, too. It's, without a doubt, an excellent time-management tool. Albeit, it's much less extensive than the one in ClickUp. Still, you can use it to integrate Google Calendar and import everything from Monday directly to it.
Visuals are Monday's forte, hence, you get a great timeline functionality. By using it, you can quickly check all the deadlines and see how well the project or a particular task is progressing.
2.4 Collaboration Tools
Collaboration is a crucial part of every project management tool and both ClickUp and Monday fulfill my expectations.
ClickUp, once again, goes a step further, introducing live editing. It allows you to edit documents in real-time after they're uploaded. The live chat feature is here as well, letting you communicate directly with your team members, apart from sharing files.
A useful feature in ClickUp is tagging. Much like on social media, by typing '@', you can tag the user you want and mention him/her regarding projects and tasks. What I really like is the ability to archive past conversations in a menu called Relevant Task.
In this case, if you forget about something, you can go back and check it out in a minute. Moreover, ClickUp lets you see which users are currently online and which task or project they're working on. Once again, this is useful for preventing tampering with the same task as other users.
On the other side, we have Monday.com that's all about simplicity. That's not to say that its collaboration capabilities are bad, but are surely inferior to ClickUp. Advanced tools are few and far in-between, but the good news is that you can share boards and tasks between team members.
File sharing isn't as extensive and there's no real-time editing. Conversely, you can share basic files, give feedback, chat with the other users, and disapprove or approve certain actions. Everything is done in real-time, by the way, so you'll always keep up with your tasks and projects as they evolve.
2.5 Analytics and Reports
Analytics and reports are something you must have at your hand's reach. This guarantees that you'll be able to spread the workload evenly and pay your employees accordingly.
I like ClickUp's reporting feature a lot. For one, it looks simplistic. I mean, there are a few menus that let you get a report on time, the number of tasks each user worked on, and completed tasks. Furthermore, you can check the team table and see who's behind.
Once the reports pop up, you can take this information into account when finalizing each task and putting things into perspective. Filters make their presence visible in ClickUp. So, you can filter which information you want a report on, after which, ClickUp will generate reports as per your wish.
Monday does basically the same. Its reports, however, are more graphical, including pie charts and lots of beautiful colors. But, with not many advanced features found in ClickUp, more demanding users might not be satisfied.
2.6 Automation
Automation isn't always a thing in low-cost project management tools, but some degree is indeed required.
When it comes to ClickUp, it has a great automation system that includes triggers, conditions, and actions. The first one includes an event that sets up automation in motion, while conditions and actions correspond to criteria and changes.
This is very useful for automating repetitive tasks. If, for example, one task needs to be completed once a week, you can automatically remind your employees about it. Or perhaps, you can automatically change the priority of a task when another task is completed or halted.
ClickUp really nailed it in terms of automation and lets you almost entirely automate the project management process. That is if you're skilled enough because getting into automation takes a bit of time and effort.
Monday's automation is here as well. Surprisingly, they work reliably and offer triggers, conditions, actions, or combinations of these parameters. Adding automation in Monday.com is a bit easier, albeit, with fewer possibilities overall.
In Monday, you choose triggers from a drop-down menu. There are usually three menus, where the first sets the condition and the last one commands the app to perform a certain action based on that condition.
The level of automation you can achieve in both tools is impressive. Thanks to their robust CRM systems, you can utilize automation not only for project management but also email marketing or online marketing in general.
2.7 Device Support
Device support in both tools is rather impressive, as both of them work on a huge array of platforms and devices. Granted, both ClickUp and Monday have apps for iOS and Android, with the ability to use them on Windows and Mac computers.
3. Ease of Use & User Experience
Throughout this ClickUp vs Monday.com analysis, you probably have an idea of which tool is easier to use. Therefore, I will just explain the reasons behind my opinion.
ClickUp is a tool that you'll get into pretty much in an hour. It's easy to use, and although less graphical and colorful, offers an interface that won't confuse you. Performance-wise, it's fast and smooth, which is really important.
Given that ClickUp replaces dozens of platforms, some degree of complexity is expected. Don't fret, though. Its tools are laid out beautifully and the entire software is flexible to accommodate bigger workloads and more users.
I personally prefer Monday's interface over ClickUp. It's clean-looking, which applies to both mobile and desktop versions. The learning curve is non-existent and before the first setup, Monday actually guides you through the whole process, making sure that no mistakes are made.
Customization is simple, too. Monday.com offers a drag-and-drop menu, letting you add widgets and elements code-free. This makes Monday a versatile, yet simple tool for those less experienced that aren't going to indulge in heavy workloads and a lot of projects.
4. Third-Party Integrations
Third-party integrations are supported on both tools and they're vital for expanding your possibilities. ClickUp surely works well in replacing some third-party apps, but even then, it's not magical.
So, when using ClickUp, you'll be able to enjoy more than 1,000 third-party tools and their native integrations. Some of them include GitHub, OneDrive, Slack, Chrome, Zendesk, Miro, Discord, and Calendly.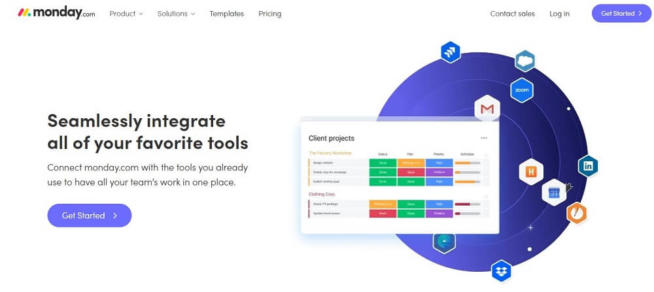 Monday.com does well in terms of integrations, as well. While it doesn't state the total number of third-party integrations, I can assure you that you'll be spoilt for choice.
Monday.com works with Dropbox, Excel, Zoom, Gmail, Zapier, Salesforce, Shopify, and hundreds more tools. This will grant you additional functionality and let you expand your business to more platforms efficiently.
5. Customer Support
If any issue appears, you don't want to be left hanging for days. It will affect your business and prevent you from keeping track of your projects and tasks.
Here, I think that ClickUp does a significantly better job, and here's why.
Monday offers 24/7 customer support, FAQ sections, and an extensive knowledge base. Alas, getting in touch is done via sending a support ticket and not live chat, which increases waiting time further.
ClickUp's customer support is state-of-the-art. Apart from email support and knowledge base, you can get direct help via live chat. Furthermore, it has a large community where you can also seek help with unresolved problems.
Simply put, if fast and helpful customer support means a lot to you, ClickUp is a better choice.
Monday vs ClickUp – Pricing Comparison
Let's take a look at the pricing of both project management tools.
Here's how much ClickUp will cost you:
And now, let's check out Monday.com:
We can see that neither of the solutions will cost you a hard-earned fortune. The truth be told, Monday.com is a bit cheaper, but not in every scenario. The Basic plan in Monday, which is the equivalent of the Unlimited plan in ClickUp, costs $3 more, yet, gives you less.
This plan in Monday is limited to 5 GB of file storage, whereas, for just $5 a month, you get unlimited storage, integrations, and dashboards in ClickUp. The most expensive plans are Business Plus and Pro in ClickUp and Monday respectively.
However, here, ClickUp is cheaper, and once again, gives you more features. Enterprise plans in both tools offer the best features you can get, albeit, their price depends on numerous variables, so you must get in touch to get more info.
Overall, both ClickUp and Monday are affordable, with ClickUp offering more for the price. I must say that I'm impressed with what ClickUp managed to stuff in for as little as $5 a month per user. Hence, it once again proves why it's among the best project management tools you can currently get.
6. Pros & Cons
Before we summarize this ClickUp vs Monday.com comparison, we will quickly glance over the pros and cons of each of them.
ClickUp
Monday.com
Pros
Cons
Pros
Cons
Lots of features and functionalities
The interface can be confusing for inexperienced users
Extremely intuitive and easy to use
Not many advanced features
Advanced automation
Setting up automation is complicated
Graphics-focused interface
Customer support is average
Free plan with 100 MB of free space
Mobile applications look and function well
Weak security in the free plan
Customizable dashboard with several views (Gantt, Kanban, Calendar, …)
Cheap prices
Not many third-party integrations when compared to Monday
Extensive collaboration tools
Time-tracking functionality
Reliable 24/7 support through live chat
Automation is easy to set up
7. ClickUp vs Monday Summary – Which One is Better?
Okay, so after an extensive analysis, I think it's time to conclude this battle. ClickUp and Monday.com are two very popular products management tools. They're, in some cases, similar, yet, so different in what they're able to provide.
While ClickUp is more advanced and has many features for the money, Monday.com takes a different approach. It's more simplistic and isn't the best option for enterprise-level businesses, although it has a subscription plan for that.
So, in the end, which one is better? For me, ClickUp is a much better option, giving you a lot more features and functionalities, better customer support, and more third-party integrations.
Monday is surely beginner-friendly, and although it comes with an impressive set of features, ClickUp simply edges it out in the end.
Given its price which isn't drastically different when compared to Monday, I would say that ClickUp represents a more rational choice if you don't mind a slight learning curve.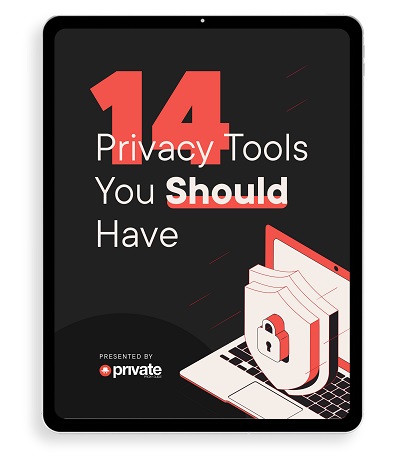 Learn how to stay safe online in this free 34-page eBook.