Are you having trouble deciding between ConvertKit and ActiveCampaign? In this post, we'll go through each service in detail to help you decide which is best for you.
Both these platforms are well-known email marketing platforms. They assist you in building an email list, creating and sending messages, and automating various campaign-related tasks.
Choosing amongst the two necessitates a thorough examination of what both ConvertKit and ActiveCampaign have to offer and consideration of your specific requirements.
We'll evaluate both of them based on features, cost, simplicity of use, and possibilities for WordPress integration to help you decide. Let's have a peek, shall we?
1. Convertkit vs ActiveCampaign
Email marketing is a fantastic approach to grow and nurture your blog's readership. However, you'll need a specific email marketing platform before starting.
There are other choices, but we'll concentrate on two. ConvertKit is a specialized email marketing tool catering to busy creatives. It is an app-based platform with many automated tools that takes a lot of work from operating your email campaigns.
Then there's ActiveCampaign. It is a much more complete solution that includes email marketing capabilities and many other options. What you gain is determined by the plan you choose. It's a versatile platform that allows you great control over your campaigns.
1.1 Features
It's critical to double-check that the service you're signing up for has all the features you'll require. Let's look at what ConvertKit and ActiveCampaign offer to their users.
ConvertKit: ConvertKit offers a wide variety of possibilities. Following are the main features along with many other features:
Aids in the creation and growth of a mailing list for your promotions.
Allows you to use taxonomies like tags and categories to arrange your email list.
Provides customizable sign-up forms that you can embed on the website.
Allows you to design custom sequences and rules for email automation.
Provides tools for keeping track of your subscribers' and conversions' information.
Many e-commerce systems and other technologies are compatible.
ActiveCampaign has much to offer as well. This platform has the following features:
Aids in the creation and management of an email list.
A drag-and-drop email builder is included, allowing you to customize your communications completely.
Provides a plethora of templates to assist you in quickly constructing your emails.
Split testing is made simple, allowing you to optimize your campaigns and enhance conversions.
It will enable you to tailor material depending on the specifics and history of each contact.
Eases gathering and organizing data about your email list's leads.
Provides capabilities that allow you to automate and arrange your campaigns in advance.
While both systems have addressed all of the essentials, their feature sets are somewhat different. When it concerns email creation and tracking data, ActiveCampaign offers much more.
1.2 Reporting
ConvertKit's reporting is simple, displaying the open, click-through, and unsubscribe rates. Conversions from social media, e-commerce, and the bounce rate are what I'd like to see!
With ActiveCampaign, you'll have access to any data, including opens, click-maps, page views, geo-tracking, and more. Reports are also accessible on the Plus pricing plan and above if you have an online marketplace built on a platform like Shopify, BigCommerce, or WooCommerce. ActiveCampaign also includes a CRM, so you'll get access to deal reporting, sales success data, predictions, and mail and automation reporting.
1.3 Segmentation
Segmentation helps divide your email list into smaller groups and personalize campaigns to their requirements. This type of personalized approach has a substantially higher conversion rate. Here's how you can segment your audience with ConvertKit and ActiveCampaign.
ConvertKit gives you total control over how you segment and tag your email list. For example, for more precise control of your email segmentation, you may create and allocate custom tags to subscribers.
You may also automate the assignment of tags depending on a trigger occurrence of your choice, such as buying a product or opening an email. You may use the tag system to combine multiple tags or criteria for more detailed segmentation. You may select consumers based on customized form fields, location, previous transactions, tags, etc.
When it comes to segmentation, ActiveCampaign goes beyond the fundamentals. You may construct highly targeted audience groups by combining lists, tags, and customized data. It includes categorizing subscribers depending on their actions– who read your emails or clicked on your discounts. You may also segment customers based on customer data like product kinds they've looked at previously, geography, demographics, and more.
Each segment can have up to 20 criteria. You may also use numeric values to qualify segments. It allows you to target clients within a customer term or total sales range. Your workflow editor has full access to segmentation.
Overall, the custom tagging function in ConvertKit is quite great. ActiveCampaign, on the other hand, takes a step further by allowing you to construct particular audience groups based on value range and up to 20 parameters per segment.
1.4 Analytics
You can equip yourself better to understand what consumers want from your mails and tailor the experience to promote higher conversions if you have powerful analytics at your fingertips.
You may create several reports using ConvertKit, including:
Bounce rates, Click and open rates, unsubscribes, and other information are included in sequence reporting. It also displays how many members are in a pathway and how many manage to make it all the way through.
Reporting on the overall number of receivers and unsubscribes for every email campaign, known as broadcast reporting.
Deliverability reporting is a premium service that reveals how many emails make it to their intended recipients. You'll also get comprehensive deliverability information sorted by mail service providers.
Basic A/B testing is also included with ConvertKit. This, however, just allows you to modify the title tag of your emails, which means you won't be able to quickly assess the impact of textual content or other campaign elements. You may pick the winning variation and deliver it to the rest recipients once the split test results are in. You may base the A/B testing only on 15% of the subscriber base to optimize for the majority.
ActiveCampaign, like other email marketing systems, makes it simple to evaluate basic analytics like click, view, and unsubscribe rates. However, it emphasizes on the client's journey. You can better optimize the user experience and focus your cash and attention on the platforms that convert the fastest if you trace these routes at scale.
You can produce reports on your site, attributions, automation, campaigns, contacts, and eCommerce using ActiveCampaign. You can also use metrics from all of the above to generate bespoke reports to examine the most critical data for campaigns.
ActiveCampaign also has powerful A/B split testing capabilities. You may separate processes and test customer journeys in addition to separating emails by header, subject line, message content, and text message. Set a deadline for whenever you want the test to end or an objective to meet before the processes come back together, such as a specific amount of product sales.
It nearly comes as no surprise that ActiveCampaign is the winner. With its in-depth user journey data, A/B split testing for automation and emails, goal tracking, and much more, it blows ConvertKit outside the park.
Experienced users will be pleased with the metrics that are available to them. In comparison, they may perceive ConvertKit to be restricting.
1.5 WordPress Integration
A WordPress blog is an excellent tool when designing a mailing list and operating successful campaigns. While neither ConvertKit nor ActiveCampaign are specifically designed for WordPress, they offer dedicated integration plugins.
The plugin for ConvertKit is appropriately titled after the platform. It allows you to insert a sign-up form below each webpage on your site or embed one on specific posts or pages. Although there are few user evaluations, it is kept up to date regularly.
The plugin for ActiveCampaign is likewise called after the company, and it allows you to add your subscription template on all of your articles, pages, or widgets you choose. However, there aren't many reviews for this plugin.
Finally, when it comes to ConvertKit versus ActiveCampaign WordPress integration, your mileage may vary. ConvertKit gets the nod here since its extension is much more versatile, but you should extensively test both options on a test environment before using them.
However, you are not confined to utilizing the official ConvertKit and ActiveCampaign plugins; there are many high-quality third-party mail opt-in plugins available.
1.6 Ease of Use
Finally, let's compare and contrast how easy it is to get work started with ActiveCampaign and ConvertKit.They both offer a free trial, so you can try them out before committing to one.
You'll gain quick access to your primary dashboard after registering for an ActiveCampaign account: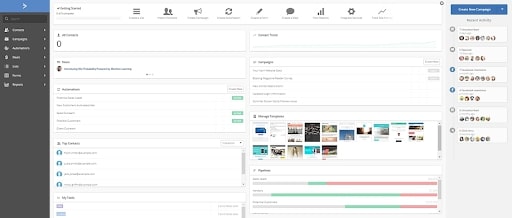 Although there is plenty to do here, it is all neatly structured. At the top of the window, you may utilize the Getting Started button to cross off each item on your to-do list, such as adding emails to your list, generating your first campaign, etc.
This dashboard also includes several handy widgets that allow you to check the status of your campaigns at a glance. It shows your most current data, activities, and any tasks you've set for yourself, among other things.
Let's have a look at ConvertKit now. It's also an easy procedure to sign up, and you'll be given a centralized dashboard to function from:
To be fair, this dashboard isn't nearly as valuable as the previous one. A handy checklist tool displays everything you'll want to do first and allows you to mark them as you go. Apart from that, there isn't much to see.
On the other hand, the fundamental operations are grouped through the main navigation at the top of the screen. Each section will lead you through the job at hand — for example, setting up automation or developing an opt-in form – and will include instructional tutorials to get you started.
The custom tagging function in ConvertKit is quite significant. ActiveCampaign, on the other hand, takes a step further by allowing you to construct particular audience groups based on value range and up to 20 parameters per segment.
1.7 Landing Pages
For new subscriber conversion, firms rely heavily on landing pages. This is where you will frequently post subscription forms to encourage new readers or promote a new product to a targeted demographic.
The free plan of ConvertKit includes the construction of landing pages. With 35 designs to select from, you can create many landing pages covering topics like sales, coming soon page, book launches, lead magnets, etc.
The color picker is a useful feature of ConvertKit. This helps you choose the perfect accent color for your typefaces by identifying the specific colors used in your pictures and backgrounds. This is an excellent design component for achieving a pleasing and consistent color palette.
ConvertKit also interacts with Unsplash, giving you access to a large collection of high-quality stock photos that you can easily incorporate into your landing pages.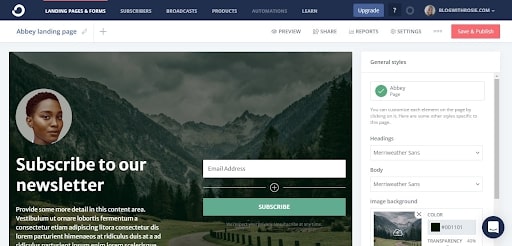 Landing page creation is available to ActiveCampaign customers starting with the Plus plan. The landing page designer is similar to the email editor in that it allows for a lot of customization. You can arrange objects in a matrix and modify them using the powerful drag-and-drop feature.
You may use advanced modification options for each design element, including corner radius, inner spacing, borders, opacity, drop shadows, etc. Your landing pages can also include countdown clocks, Shopify and PayPal sales buttons, columns, lists, etc.
Choose from more than 50 landing page layouts that you may customize to fit your needs. Alternatively, you can also create your template and reuse it according to your needs.
For this round, ActiveCampaign comes out on top by a slim margin. While access to landing page design capabilities requires a more costly subscription, the editor is simple to use and powerful. Plus, you'll have more customization possibilities and a larger selection of layouts.
1.8 Pricing
ConvertKit offers three basic plans, based on different amount of subscribers and other features:
Free Plan: Free for 300 subscribers; limitless landing pages and forms, email broadcasts, digital goods, subscription sales, and community support
Creator: starting at $9.00 per month for 300 subscribers; all of it is included for free, including email support and live chat, free migration from any other platform, and automated funnels and sequences.
Creator Pro: From $25 per month, Creator Pro includes everything in Creator plus Facebook custom audiences, subscriber scoring, a newsletter referral system, and comprehensive reporting.
As you'll see, the lowest package for 300 users is $9.00 each month (paid yearly). You may also increase this plan to send your mails to a larger number of subscribers.
For example, on the Creator plan, mailing to 1,000 individuals costs $25 per month, while sending to 5,000 people costs $66 per month. On the brighter side, you may input whatever size lists you require in the list box, and it will automatically generate pricing.
Aside from that, ConvertKit's plans are almost comparable. Every vital aspect is incorporated in every strategy. The only variation is the top-tier option, which includes a free transfer of your current email list from some other service.
ActiveCampaign has four options, although they're more configurable than ConvertKit's.
You may pick how many subscribers your plan will include in the box on the left, which ranges from 500 to 100,000+. The costs for the four packages will alter dynamically due to this. Depending on your demands, you may spend anything from $9 to hundreds of dollars every month.
The four packages also varied significantly in terms of the number of features. However, at the lowest rate, you'll get all of the essentials for email marketing.
Overall, ActiveCampaign is less expensive than ConvertKit if you don't need anything too complicated.
2. Conclusion: How should you select between ConvertKit and ActiveCampaign?
Both ConvertKit and ActiveCampaign have a lot of helpful features, are competitively priced, and are simple to use. Each, however, has its own set of advantages and disadvantages:
This service provides a little more when it concerns automating your emails and structuring them in response to certain triggers. Furthermore, even the most basic package has all of its features. On the other hand, its price choices are less flexible, and the interface is relatively simple.
You may fully personalize your plan with this service, ensuring that you don't pay for more than you require. It comes with a comprehensive dashboard and many choices for personalizing and tracking your emails' performance. In general, ActiveCampaign has the upper hand. It's a little less expensive, versatile, and provides a better user experience. ActiveCampaign seems to be the email marketing solution for most WordPress site owners, especially if you're prepared to manually integrate a sign-up form via code or utilize third-party mail opt-in extensions.
ConvertKit, on the other hand, should not be neglected. It's also a good choice if you want total control over your email automation and enjoys the dashboard's clean look.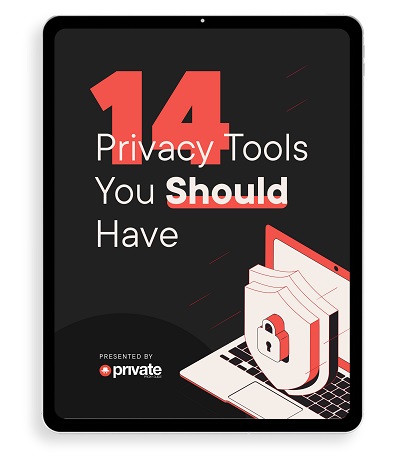 Learn how to stay safe online in this free 34-page eBook.