The right sneakers can make or break any good outfit and new sneakers are seemingly constantly being released (especially from the Air Jordan series).
To get a picture of the way releases are handled, consider the fact that there were 11 sneaker releases just two days before the production of this piece.
Compiling the right outfit and keeping up with the frequent releases as they occur can be quite the tasks. To make these processes simpler, you may review this list of the top 10 limited edition sneaker releases expected this year, when they are expected, and where they can be purchased.
The shoes mentioned are all fantastic, however, limited and specific editions of sneakers are highly sought after. This means that persons wishing to grab a pair must deal with the harsh reality that getting them may not be possible as they seemingly go out of stock as soon as they are released.
Sneaker bots exist as a means of solving this problem, and though they add a layer of complexity to the process, they are known to be effective in the pursuit of sneakers.
Below is our list of the hottest limited-edition sneaker releases for 2019:
1. Aleali May X Air Jordan 6 WMNS Millennial Pink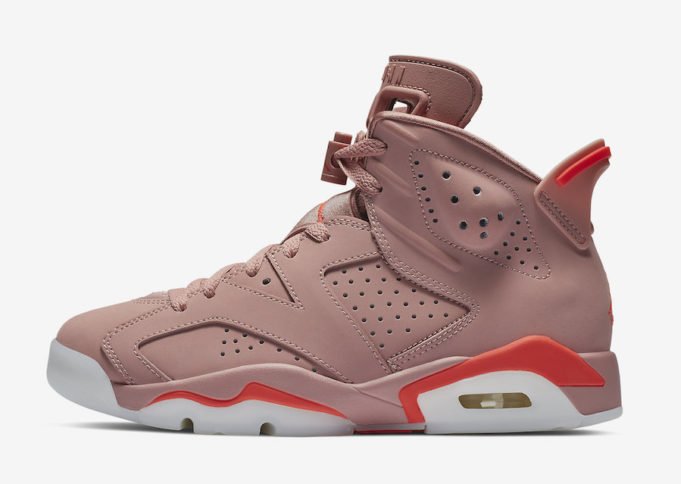 Aleali May cemented her legacy in history by being the first female collaborator with the Jordan brand. A designer of a custom Air Jordan 1, she has been committed to changing the sneaker game for women, and with this design, she continues to do so.
Set to be released on March 15, the upper-style sneaker is made with nubuck leather and has a rust pink color scheme, along with crimson lining along the heel. It comes in at a retail price point of $190.00 and its women sizes can be purchased at Nike.com and at select retailers.
2. Adidas Yeezy Boost 350 V2 Hyperspace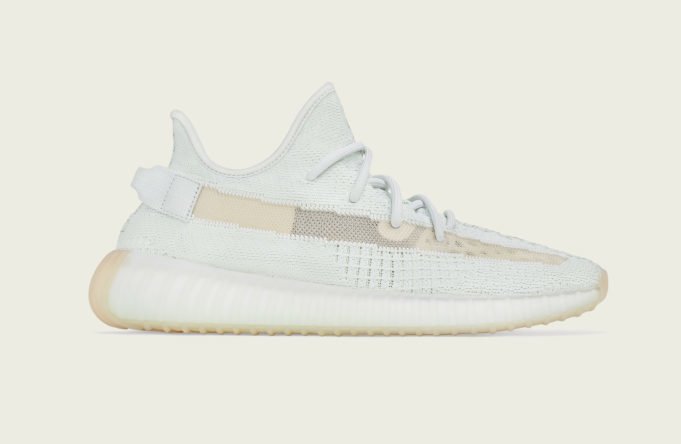 Kanye West's Adidas Yeezy Boost 350 V2 Hyperspace boasts a semi-translucent upper with a see-through side stripe. Adidas' polyurethane based Boost technology is used in the midsole for compression under pressure and shock absorption. This sneaker is the definition of exclusivity as it is set to be available only in select cities of India, the Middle East, Asia Pacific, and Africa.
The sneakers come in at a price-point of $220 on March 16, and can be purchased from Yeezy Supply, adidas.com/yeezy, and various retailers in the listed territories.
3. Adidas LXCON "Triple White"
The innovative design with the retro throwback of the Adidas LXCON is set for a new release on March 23rd and is available at adidas.com, and at select retailers. This design is known for sticking to the brand's roots. The unique upper has 2000-era look and its monochrome color scheme gives it a look of subtlety. The mesh and stripes are well placed giving that classic Adidas look.
On release date, these are set to be available at a price point of $120.
4. Adidas WMNS Ultra Boost 4.0 Orchid Tint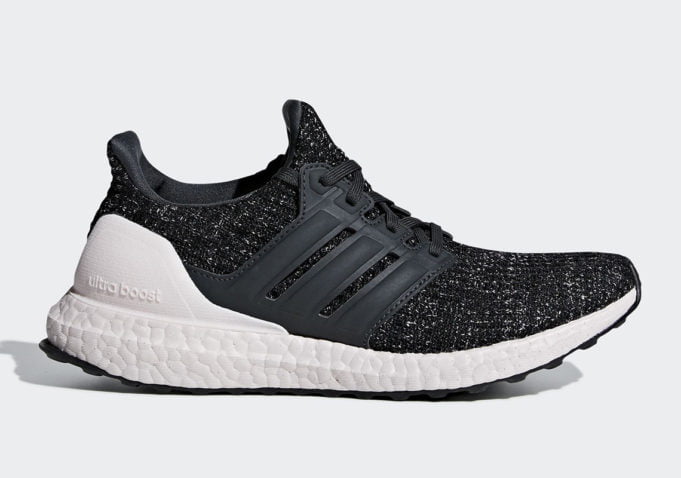 The second women's only and boost powered shoe on the list is sprinkled with white across the entire knitted area. The shoe also has an upper style (black) with leather side panel cages which give a luxury feel as opposed to the usual plastic version. The top sits on a white heel, which delivers a smooth contrast.
The Adidas WMNS Ultra Boost 4.0 becomes available on the 5th of April at a price point of $180.00. Purchases can be made at Foot District or on the official website of Adidas.
5. Travis Scott x Air Jordan 1 Retro High OG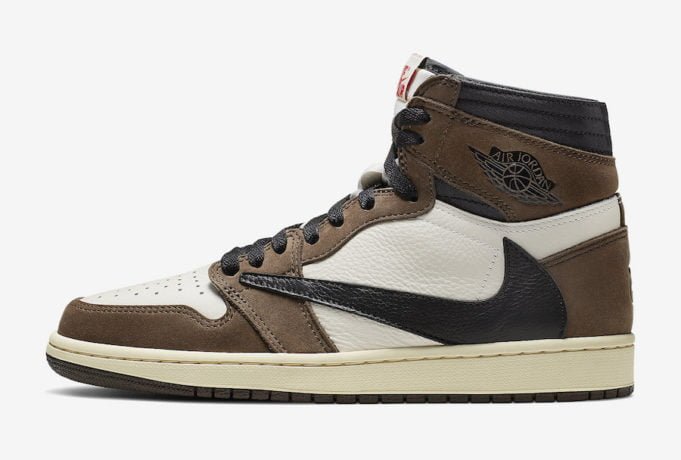 Travis Scott managed to make his mark on both the worlds of hip-hop and fashion. This collaboration with Nike is just another step in the right direction. Talks have already surfaced about the possibility of nomination for shoe of the year and there is no mystery why. The upper-style shoe features an impressive black, dark mocha, and white blend. Additionally, it boasts a couple of unique features such as Scott's Cactus Jack detailing on the heel and insole, a reverse swoosh logo, and a stow pocket at the ankle collar.
Look out for these in just over a month as they are set to drop on April 26 at a retail price-point of $160.00. Nike.com and select Jordan brand stores have promised to carry the shoe upon release.
6. Air Jordan 1 Retro High OG Crimson Tint
The Air Jordan 1 Retro OG has seen numerous colorways released on a frequent basis and this is one of the coolest looking mixes to date. The "Crimson Tint" iteration brings another unique color combo as the icon's overlays are done in a soft pink shade with tumbled black leather beneath it. The attractive contrast is further pronounced with the use of white for the heel.
These sneakers come in at a price-point of $160.00 and can be purchased on April 27 at Kixify, Nike.com, and select retailers.
7. Air Jordan 11 Low WMNS Pink Snakeskin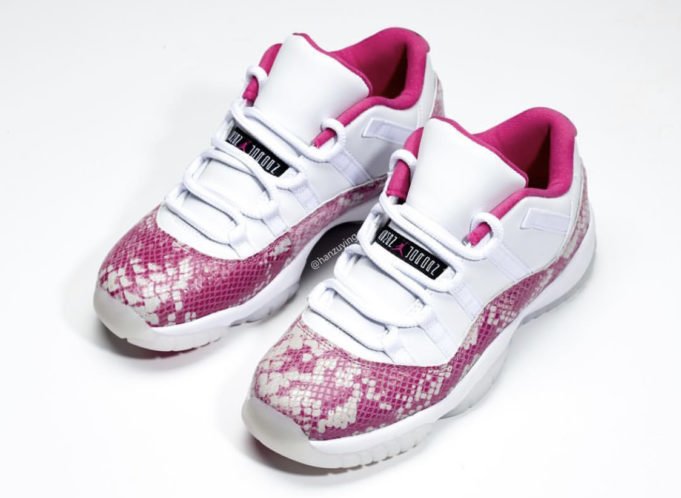 Here's another one for the ladies. Set to drop May 4, Nike adds a new piece to the current lineup of Air Jordan 11's. The standout here is the pink snakeskin leather which wraps the shoe's mudguard and contrasts nicely against the white leather used for the shoe's upper. The pink snakeskin leather is complimented by the magenta colored inner lining of the shoe.
These may be purchased at Nike.com or at select retailers upon release at a price-point of $185.00.
8. Air Jordan 4 Bred
The Air Jordan 4 is hitting its 30th anniversary in the year 2019 and so the Air Jordan 4 Bred is seeing a new release. The design pays homage to the original color scheme as it is comprised of black, gray, white, and fire red, with the easily recognizable Jordan logo placed on the tongues.
The shoe, which has not seen a release with Nike Air since 1999, makes its return on May 11 at an expected price point of $200.00. Purchases can be made at select Jordan retailers and at Nike.com.
9. Air Jordan 12 FIBA
The 2019 FIBA Basketball World Cup begins August 31 this year, and what better way is there to gear up for it than with a custom edition pair of Air Jordan 12s? The FIBA color scheme is done with the intention of celebrating the World Cup which is being held in China and boasts an enchanting combination of white and (University) red on the upper with (University) gold accents.
The release date for these is August 24 and they can be obtained from Nike.com, as well as from select Jordan retailers at a price-point of $190.00.
10. Air Jordan 3 'Knicks Rivals'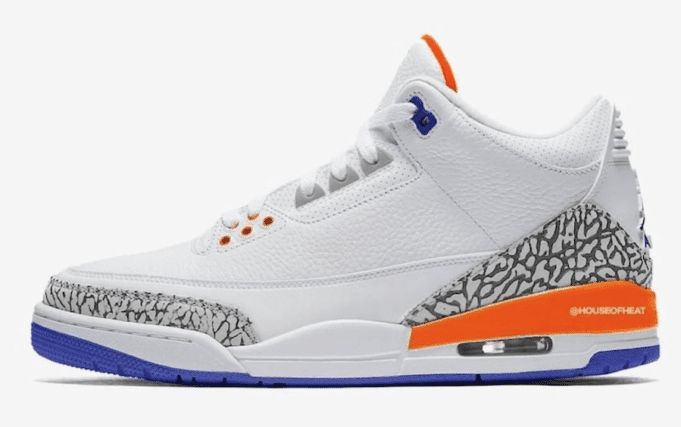 The Air Jordan 3 is set to see the unveiling of a new color scheme in the second half of the year. The New York Nicks, rivals of the great Michael Jordan, are the inspiration for this color scheme which features orange (University), blue (Old Royal), and grey (Tech); a combination which is synonymous with the Knicks's kit. White tumbled leather makes up the upper which rounds out the desired look.
The Air Jordan 3 Knicks Rivals are set to be released on September 7 and is available at Nike.com and at select Jordan retailers. The price point for this design stands at $190.00.
A comprehensive overview of sneaker bots is available for review at https://www.privateproxyguide.com/best-sneaker-bots/.
Securing limited edition sneakers can be just as difficult as it is fun, which can make it an arduous process. Hopefully, with the information provided here, the process can be a little easier in the near and far future.