Many people will tell you that, as soon as you visit the internet, you can completely forget about being anonymous. This is, to an extent true, as advertisers and big corporations tend to collect your personal data for various purposes, which your ISP is guilty of as well.
For that reason, people are turning to VPNs in a bid to preserve their privacy and make sure their browsing activities aren't tracked. But what if you don't have a VPN and you want to purchase it anonymously for whatever reason?
Can you somehow pay for a VPN completely anonymously without your ISP or bank knowing about the purchase? Well, there are a few ways, of course, and today, I'll talk you through the steps that are required to get your VPN subscription privately and anonymously.
1. Pay for a VPN Anonymously With Crypto
The most common way of subscribing to a VPN anonymously is by using cryptocurrencies like Bitcoin. Many providers will accept other forms of crypto but at the moment, Bitcoin is the most popular option. For me, this is the best-case scenario as you can make a purchase that can't be traced by your bank or ISP.
However, when talking about crypto, there are usually some problems and questions that come into play:
Many people don't have crypto, so how to pay for a VPN using it?
What if a VPN doesn't support crypto? Can I buy it anonymously?
How can I buy crypto anonymously if I don't have it?
These questions are quite common and, might I add, pretty sensible for someone wanting to protect his/her privacy. Let me guide you through the process of buying a VPN with crypto where I'll answer all of these questions.
1.1 Using an Anonymous Browser (Tor)
First, you want to make sure you're using an anonymous browser. Forget about Chrome or Edge – they're a far cry from the anonymity you want. Instead, download and install Tor. It's free and it encrypts your connection, which prevents your ISP from tracking your activities.
1.2 Getting a Bitcoin Wallet: Physical or Digital
While using Tor, you'll need to get a Bitcoin wallet where you'll be able to store your Bitcoin or crypto, in general. Here, I'm talking about a digital wallet that is much easier to acquire and you have a lot of choices like Bitcoin.org or Coinbase.
The issue with these wallets is that they require your personal information, which eliminates the "anonymity" factor. An alternative to this is getting a physical Bitcoin wallet, something like Ledger or Trezor, but they cost more than $150.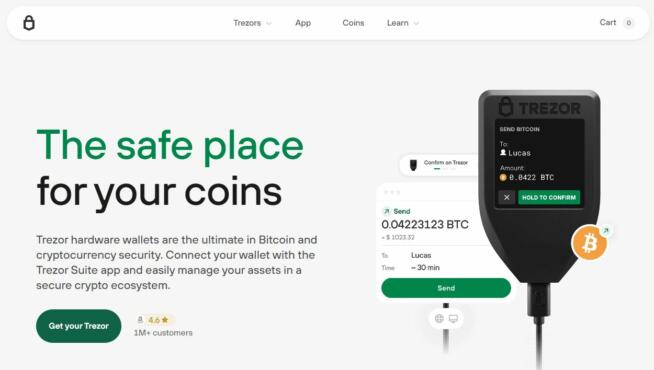 Instead, you can try a Bitcoin wallet that respects your anonymity and doesn't require any personal information. You can try ArcBit or Samourai Wallet in this case. They both offer apps for Windows, Linux, and Android, providing multi-platform support as a result.
Also, if you need to create an account on any wallet, make sure you create a new email with a fake name for that purpose. You can do it by using ProtonMail – an anonymous email service that stores no logs of your personal data.
1.3 Buying Crypto (Bitcoin) for Your Wallet
Buying crypto for your wallet is pretty easy but if you want to do it anonymously without tracing, you need to take a few things into account. First, buying crypto online isn't anonymous as you still need to provide your payment methods like credit card or PayPal.
Second, you should know that Bitcoin can be purchased physically without using the internet. In many countries, you'll find ATMs that let you exchange physical money for Bitcoin, which you can then transfer to your Bitcoin wallet.
Simply go to the ATM, get your money ready, and place it in the ATM to buy a particular amount of Bitcoin. The process may differ from ATM to ATM or country to country, but in every case, you'll have to provide the address of your wallet where Bitcoin will be sent.
The process might need to be verified via SMS, in which case, you'll have to give out your phone number. Just in case, buy a new SIM card that you'll use for this purpose. Once you verify your purchase, Bitcoin will be in your wallet pretty much immediately.
1.4 Purchasing a Crypto-Friendly VPN
And now, with everything in place, you managed to get some crypto anonymously, without your bank, ISP, or anyone else having a clue – congrats! It's time to finally pay for a VPN completely anonymously, but the trick is to find a VPN service that supports Bitcoin.
To make sure you're anonymous online, use Tor Browser again. I recommend these 3 VPNs:
ExpressVPN – Overall Best Anonymous VPN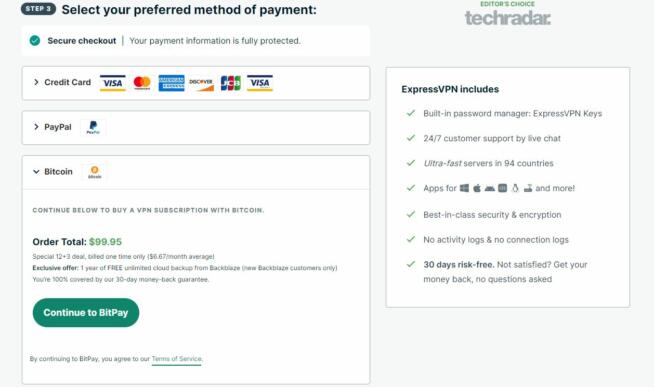 ExpressVPN is one of the first providers to support crypto payments, although it supports only Bitcoin. However, this is among the best VPN services currently available having in mind its overall quality. To get this VPN anonymously, simply visit the site and choose the subscription plan.
Then, enter your email address and when it comes to paying for a subscription, choose the option called Bitcoin. ExpressVPN will then transfer you to BitPay where you can complete the process by providing your Bitcoin wallet address which can be used for charging you for a subscription.
The only downside is that auto-renewal isn't supported when using Bitcoin. However, renewing your subscription takes merely a few minutes, so you can do that yourself. Other than that, ExpressVPN has servers in 160 locations, blazing-fast speeds, a no-logs policy, and great streaming capabilities.
If you're going to get a VPN completely anonymously, this is the one I recommend first and foremost.
NordVPN – Anonymous VPN That Supports Many Cryptocurrencies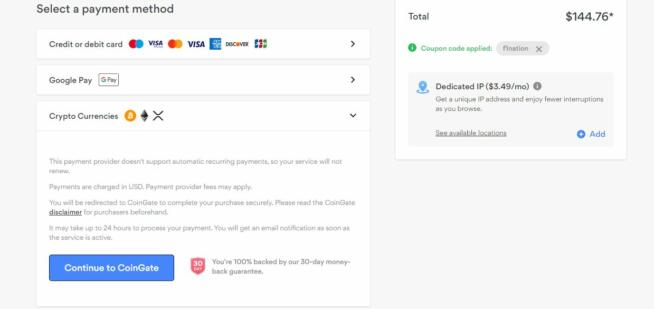 Unlike ExpressVPN, NordVPN supports other cryptocurrencies aside from Bitcoin. Once you visit NordVPN and choose a plan, the choice of payment methods is better when it comes to crypto. Every payment goes through CoinGate where you can buy it using Bitcoin, Ethereum, and Ripple.
The entire process, however, is the same, and once you choose the payment method, you'll need to follow the steps to complete the payment. Usually, you'll provide your wallet address, NordVPN will charge you, and you're good to go.
CyberGhost – Secure Anonymous VPN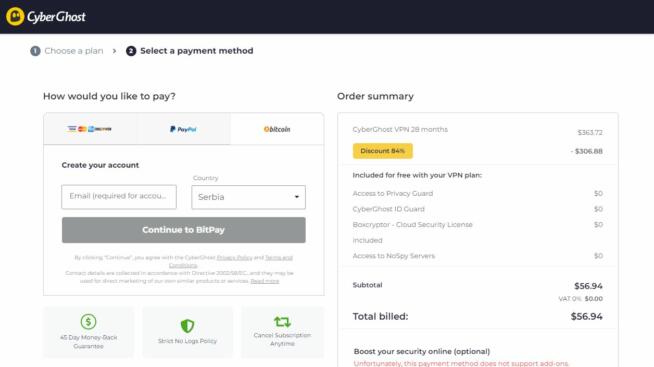 Much like ExpressVPN, CyberGhost supports Bitcoin payments only, which should be a problem if you did all the previous steps. To buy it, select a plan, choose "Bitcoin" under the payment methods, and enter your email.
If you want, you can use an email address you made with ProtonMail early and choose your country. In doing so, you'll be transferred to BitPay where you can buy this VPN completely anonymously using Bitcoin and providing your crypto wallet address.
1.5 What if BitPay Doesn't Support My Wallet?
Some users reported that BitPay used in ExpressVPN and CyberGhost doesn't detect their Bitcoin wallets. Indeed, BitPay doesn't work with all wallets and if that's the case with the one you have, you can still solve this issue.
Simply sign up for a BitPay Bitcoin wallet through Tor by using the email you made with ProtonMail. After that, transfer your Bitcoin from your third-party wallet to BitPay and use it to make a purchase.
2. Using Gift Cards to Pay for a VPN Completely Anonymously
The second method of buying a VPN anonymously is using a gift card. Now, gift cards can be bought online through Google Play, Apple Store, Amazon, or any similar provider. The trick here is – as you can guess – that payments won't be anonymous as Google, Apple, and Amazon will store your data.
If you're hell-bent on staying anonymous online, you'll have to get a physical gift card in your retail store. And here's the thing – physical stores that sell gift cards are mostly located in the US, Canada, and the UK, which makes this trick usable only for people in these countries.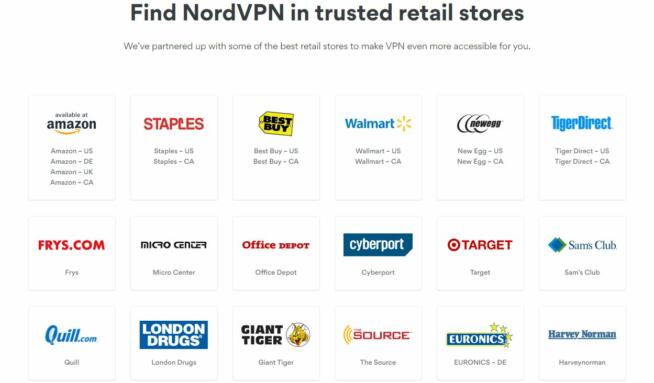 Additionally, not every provider supports gift card payments, so even in this case, your options are limited. If you're still interested, you can get gift cards from providers like:
In the physical gift card, you can find an activation code as well as instructions on how to activate your VPN subscription.
Although, you should keep in mind that getting a VPN this way can be slightly more expensive, but you do get anonymity as a benefit, as long as you buy it with physical money and not using your credit/debit card.
3. Summary: Is Buying a VPN Completely Anonymously Worth It?
After reading all of this, the lingering question is if buying a VPN anonymously is worth the hassle. I mean, if you don't have Bitcoin and you can't buy a physical gift card, should you even spend time making sure you've bought the VPN without anyone knowing about it?
As always, it depends.
Some people live in censored countries with a high degree of censorship and surveillance. If this is the case with you, I think it's worth taking some time to make sure you're buying your VPN anonymously. Some countries are in the "grey area" when it comes to VPN usage.
Thus, it's always better to stay out of trouble and get a VPN privately. Not to mention that VPNs use third-party payment processors that are most likely storing your data with each purchase.
This means that you can share your personal data, including your IP and full name with a payment processor without knowing about it. Giving out this information isn't necessary and you have no benefits from doing so – only privacy violation.
If you already have an anonymous crypto wallet with Bitcoin, you can pay for a VPN completely anonymously and hassle-free. But if you're like most people, going through all the aforementioned steps seems like a bit of an overstatement.
3.1 Buying a VPN Anonymously: Downsides
And that's when we come to the downsides. For most people, everything I said will be too much of a hassle. You need to make sure you're anonymous on every step, including making a wallet, purchasing Bitcoin, visiting the VPN's site, purchasing a VPN, etc, etc.
If you don't have Bitcoin, you'll need to get a secure wallet as well, find an ATM that supports Bitcoin payments, and purchase Bitcoin using your physical money. Another issue is that refunds are rarely supported when using Bitcoin as your payment method.
So if you're not satisfied, you'll have to go an extra step to request a refund and potentially reveal your personal information for easier identification. The same applies to buying physical cards which most people on this planet can't do as they're available only in a few selected countries.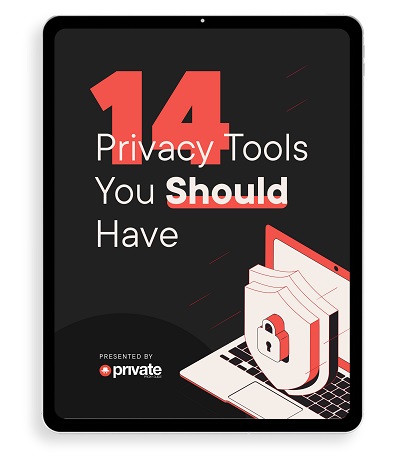 Learn how to stay safe online in this free 34-page eBook.