Premier League is one of the biggest, most popular, and best soccer leagues in the world and, perhaps, the most exciting one to watch. The league features the most popular soccer clubs such as Manchester United, Liverpool, Arsenal, Chelsea, and others fighting to become English champions. Players like Mohammed Salah, Sadio Mane, Kevin De Bruyne, Harry Kane, N'Golo Kante, Virgil van Dijk, Cristiano Ronaldo, and many others play in the Premier League week after week and give fans countless soccer moments and dramas that will be remembered forever.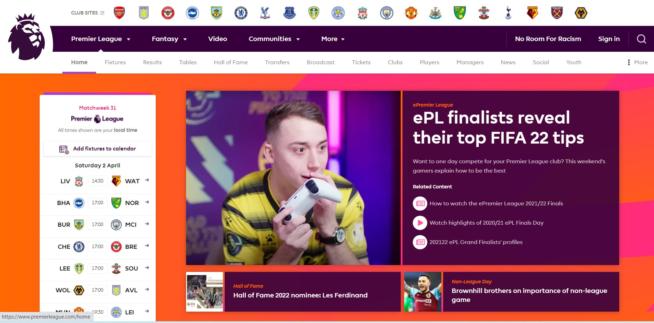 The English Premier League is one of the best, if not the best, championships in Europe, as well as one of the most prestigious and popular among fans and viewers. This is because, on the one hand, Premier League is known to have high physical requirements for players and, on the other hand, there is often a beautiful game that fans from all over the world watched with enthusiasm.
As the Premier League games are broadcasted all over the world, billions of viewers watch them every year. What is the best way to see Premier League online, no matter where you live and where you are staying? This article provides you with all details.
1. How to watch Premier League in different countries
1.1 United States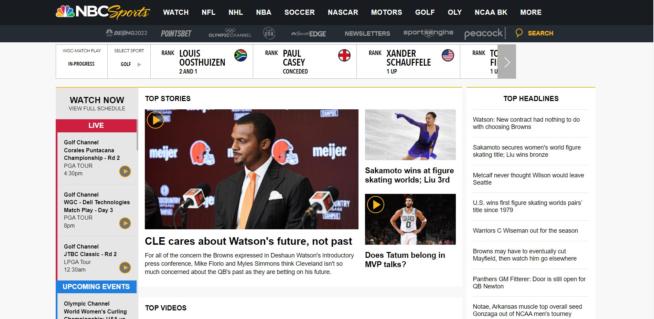 There are two Premier League broadcasters in the United States: NBC Sports for English-language coverage and Telemundo for Spanish-speaking audiences. If your cable subscription includes one of these networks, you can log on to the respective website and watch every EPL match at no extra cost. If not, don't get upset — there are many ways to stream EPL online without cable.
The easiest way is to subscribe to a streaming service like Hulu, with Live TV, PlayStation Vue, fuboTV, YouTube TV, or DirecTV Now. They cost about $40 a month and allow you to watch NBC Sports and Telemundo online. As a bonus, each of these services includes a free trial, so you can try them out and see what works for you.
You can also buy a Premier League pass on NBC Sports Gold, but we don't recommend it. The cheapest pass costs about the same as the mentioned streaming services, and only allows you to watch 140 live games of the 380 games this season. To stream every EPL game, you'll have to pay $64.99 per month. It doesn't make sense since there are cheaper alternatives that allow you to watch a wider range of content.
Another good option is the Peacock streaming platform. To watch the games here, you'll need either the Peacock Premium service ($4.99/month) or an ad-free Premium Plus ($9.99/month) account.
All the above services are regionally blocked, which means you must physically be in the United States or use a VPN with a US server.
1.2 United Kingdom
Ironically, British fans get to watch fewer Premier League games than people in other countries. How so? The British TV companies have a strange rule not to broadcast games from 2:45 to 5:15 p.m. on Saturdays. Thus, only about 200 games are available to watch online in the United Kingdom this season.
Three companies have the right to broadcast Premier League matches in the country: Sky Sports, BT Sports, and Amazon Prime Video. They broadcast 128, 52, and 20 games respectively.
If you have a Sky Sports or BT Sports subscription, you can log on to their official website and start watching immediately at no extra cost. If not, things get a little more complicated.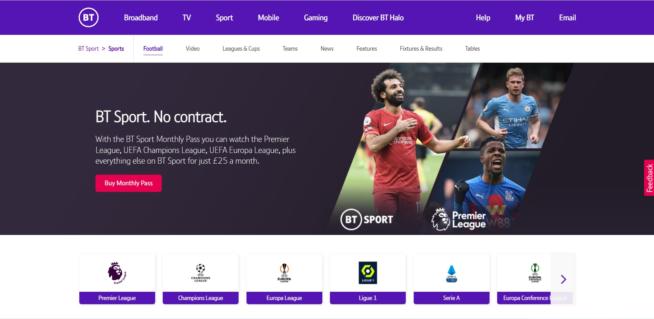 BT Sports does not offer any online-only pass, so if you don't have a BT Sports subscription, you won't be able to watch. Also, this service is quite expensive (prices start at £25 a month if you don't already have BT TV), given that it only shows one game a week.
In contrast, Sky Sports will show 128 matches and allows you to watch without a TV subscription by buying an online-only pass. Apart from the 128 live games, you will additionally get a huge amount of supporting coverage including highlights and analysis packages. If you already have a Sky subscription without Sports content, you'll need to pay £22 per month to add those channels. You'll also gain access to coverage in 4K and HDR, so long as you also have an HDR-ready Sky Q box and HLG-compatible TV.
If you don't want to pay for a full set of Sky channels, you could also consider its Now Sports streaming service. It gives you 24-hour access for £9.99 or month-long access for £33.99. Currently, Sky offers a great deal. You can pay for six months in advance for just £25 per month. Now Sports is available on virtually every streaming device and is a great option if you don't have a Sky subscription yet.
In addition, Premier League fans will be able to watch certain matches live on Amazon Prime Video. However, this platform costs £7.99 a month and broadcasts only midweek games in early December and on Christmas holidays. It's worthless in any other month.
BT Sports, Sky Sports, Now Sports, and Amazon Prime Video UK are only available in the UK. Existing subscribers can use these services normally overseas by connecting to a UK VPN server.
1.3 Australia
The soccer fans in Australia have a great chance to watch all 380 games online. Optus Sports has exclusive broadcast rights to Premier League this season. However, it is worth noting that EPL matches will be broadcast late at night in Australia, usually from midnight to 5 a.m.
If you already have a TV, phone, or broadband subscription with Optus, Optus Sports is probably already on. This means that you can watch Premier League matches online without additional payment. If not, or if you're with another cable TV provider, you can sign up with an iOS or Android app for AUD 14.99 a month. Keep in mind, that the app is only required to sign up. After that, you can watch through the Optus website if you prefer.
Optus Sports is blocked by region. So, if you're outside of Australia, you need a VPN with an Australian server to watch.
1.4 Canada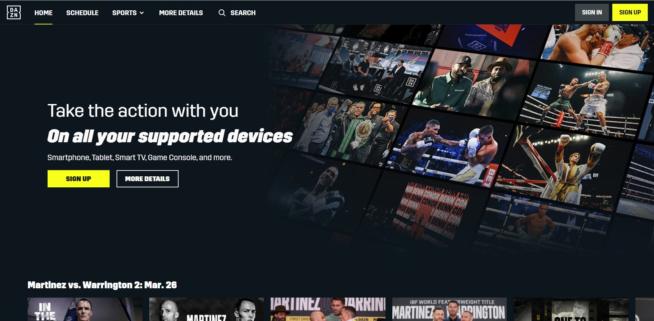 Compared to the British ones, Canadian soccer fans can watch every Premier League match on DAZN. This service costs C$20 a month or $150. Currently, the service does not offer a one-month free trial. So, you will have to pay for at least one month.
How can you watch your games on DAZN? You can use a web browser however, this service provides standalone applications for all the platforms, including Smart TVs.
It's worth noting that DAZN has extremely strict geo-restriction features, so most VPNs won't be able to unblock it from overseas. In addition, you will need a payment method associated with a Canadian address to register.
1.5 New Zealand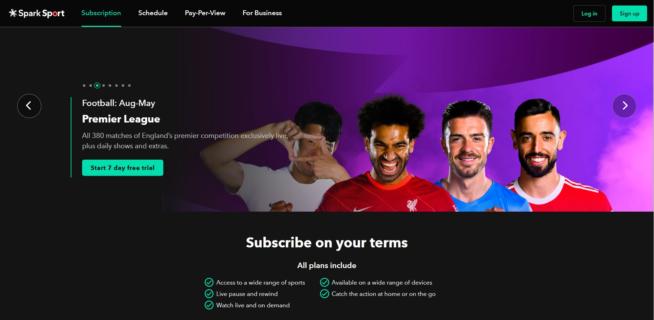 New Zealand soccer fans get access to all 380 Premier League live games this season. In this country, you will need a single subscription from Spark Sport. It costs NZD 24.99 per month. Moreover, there is currently a seven-day free trial which means you can check how the service works and decide whether you would like to continue.
Spark is available via web browsers plus all possible streaming devices including Chromecast and Apple TV. You are not limited in possible ways to watch the games. In addition to Premier League, you also get cricket, NBA basketball, F1 racing, and more.
Not at home in New Zealand right now? Follow every game by using one of the best VPN services.
2. How can you watch Premier League abroad?
If you stay in your country, it is not a problem to watch the Premier League online. But what if you go to another country, let's say, on vacation or a business trip?
The fact is that most services are restricted to watching abroad. There is a solution. A quick, convenient, and, most importantly, reliable way, is using a VPN service.
It will take only a few minutes to sign up and install a VPN on your device. This will help you to hide your traffic, bypass any geo-restrictions, and provide access to various geo-blocked services. It is much better than looking for local services — you can use your VPN with any other services just to protect your data.
2.1 Benefits of using a VPN service
Access to limited content, such as Premier League streaming, is the most popular VPN feature, but VPNs also increase your security and protect your privacy. As a result, no one can intercept and decrypt your data.
What do you get with the premium VPN service?
The best connection for each client with the best combo of speed, security, and stability.
24/7 customer support is ready to solve all your questions through online chat or email.
Strong AES-256 encryption of all your web traffic.
Huge geography of servers that counts thousands of locations in dozens of countries.
Stable and constantly improving service
You can easily use your VPN on all your devices: Mac, Windows, Android, iOS, Linux, routers, etc.
2.2 How to get access to watch Premier League via VPN
Choose your VPN service. We will provide you with the list of the most suitable services below.
Get a VPN client for your device and sign up for the service following the on-screen instructions.
Once you sign up and install the application, run it, and select the server in the location you need. For example, you would use a UK server to unlock Sky Sports or an American server to watch Premier League on NBC Sports.
Connect to the server. Welcome to the live broadcast!
3. Best VPN services to watch Premier League
Maybe you're on vacation or a business trip and don't want to pay too expensive rates. No problem! Almost all VPN services are quite affordable. Indeed, you can easily find a cheap VPN, from $2 to $5 a month. In any case, the Premier League season usually lasts from August to May, so we recommend getting an annual subscription instead of a monthly one. That way, you can take advantage of the best rates with discounts of over 50%!
Below, we offer the best VPNs to watch your favorite soccer games online. You can trust every single one on the list.
3.1 NordVPN – Overall Best VPN for Premier League
The best price and the best choice for those who need a good VPN for streaming. The service offers extremely fast servers located all over the world. NordVPN also has a strict no-logging policy and is, therefore, ideal for maintaining anonymity. This service is good for people who want to protect their privacy across multiple devices and are looking for complete control over their information with unlimited Internet access.
Pros
Over 5,300 servers in more than 60 countries.
Exclusive private static IP address
Internet anonymity based on encryption using The Onion Router
Zero DNS leaks
Suspend VPN connection for a defined period and then automatically resume
Dual VPN provides two levels of encryption
Cons
Speed is not the same on servers in the same country
OpenVPN configuration is not available for everyone
VPN servers cannot be marked as favorites
3.2 ExpressVPN – Fastest VPN for Premier League
Perfect for anyone who wants to watch Premier League abroad.
This provider is among the best for the wide variety of offered features, as well as for its high connection speed. ExpressVPN has servers in 94 countries, and it uses 256-bit SSL encryption to give users absolute security. This is a particularly great choice if you are the kind of person who streams a lot of videos or uses services like Netflix. If you are not satisfied with ExpressVPN, the company even has a 30-day money-back guarantee. They also have a strict no-logs policy.
Pros
Unlimited bandwidth with no restrictions
Split-tunneling on Windows and macOS
Supports a wide range of platforms and devices
Six different VPN protocols supported
Robust encryption for data transmission and secure server authentication
Trusted Server technology ensuring no data is left on the servers
Cons
Servers are not marked for different OTTs and services
The desktop app needed to log in to the browser extension
3.3 IPVanish – Premier League VPN With Many Locations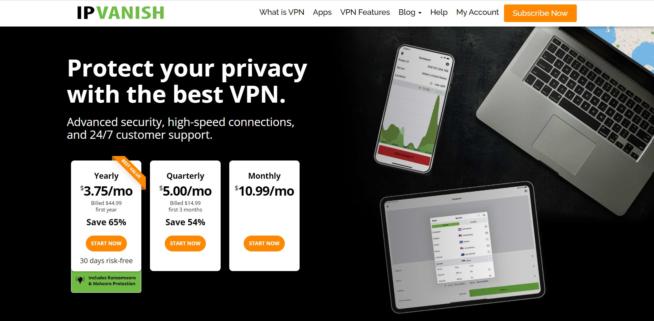 A good and secure VPN with affordable pricing.
IPVanish certainly stands out as one of the most affordable options. With a service price of just $2.87 per month, you just can't go wrong. Don't be fooled by the cheap rates: IPVanish is as reliable as any of the most reputable VPN providers. It also offers many great services, including 24/7 customer support, as well as offering apps for many different devices, from laptops and computers to smartphones and tablets. IPVanish is a great way to increase connection security and increase your freedom to navigate the Internet.
Pros
Fast connection speeds
Great protection
No DNS leaks
7-day money-back guarantee
Attractive apps for most existing platforms
Affordable prices
Cons
If you want to use this VPN to watch content on other geo-restricted platforms, IPVanish does not unblock all streaming platforms
4. Why are free VPN services dangerous?
Many users are not ready to pay additionally for a good and reliable VPN. In that case, they are looking for free platforms. Why isn't that the best idea?
According to research, free services benefit from selling user data for commercial purposes. In addition, the quality of browsing will be very low. The speed will be too slow, and the content will not always be available to unlock. That's why we strongly advise you to avoid free VPN services at all costs.
We highly recommend watching Premier League online with a quality service for a reasonable fee. In addition, if you doubt the quality and necessity of a paid service, you can subscribe for a month or even a day! Moreover, all the VPNs offer a moneyback guarantee of up to a month. If you don't like how a service works, just cancel your subscription, and don't spend any money.
5. Frequently asked questions
5.1 Where can I watch Premier League?
As we mentioned above, you can watch the Premier League on services from many countries. Although free legal broadcasts are impossible to find as all the rights are bought out by local representatives, you can still find more affordable options.
The list of available broadcasters and the number of broadcast games differ depending on the country. For example, in the UK, you can watch it on Sky Sports, BT Sports, and Amazon Prime Video. Fans can watch just 200 live games. With a VPN connection to the English server, you can subscribe to their services and watch all these matches live!
5.2 Can I watch the Premier League for free?
Not live if you are in the UK. In the last two seasons affected by the pandemic, the BBC had 4 and then 8 live broadcasts, but for the 2021-22 season, fans returned to the stadiums, and you are not able to watch games for free anymore.
That means you'll have to settle for highlights, but there are plenty of places to watch the matches. The most obvious is Match of the Day, the BBC's highlights program. It usually airs on Saturday and Sunday evenings and in the middle of the week when there is a full cycle of matches. It can be watched live on BBC One or via the BBC iPlayer, although you will need a TV license.
However, if you'd rather not watch the managers' and experts' interviews, Sky Sports upload highlights for each match (including the ones they don't show) to their Football YouTube channel.
6. Conclusion
That was our guide on how to watch Premier League online. We hope it's now straightforward for you to watch English soccer live from around the world by using a VPN. All you need is a fast service that unblocks streaming. Then you pick a server in the country you've chosen, and when you get back to the streaming platform, you will be able to watch your chosen soccer match.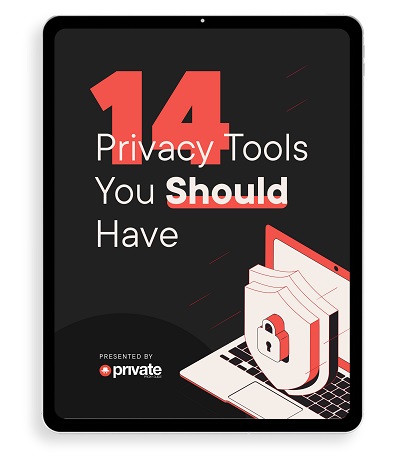 Learn how to stay safe online in this free 34-page eBook.