Marketing automation tools have become a necessity for many companies. Apart from helping your company enhance its marketing capabilities, they allow you to build your brand faster and drive more sales.
Just a few years ago, these tools were rarely used. However, as they continued improving, we can say that pretty much every big corporation uses one, two, or more marketing automation tools. On the market, there are thousands of them, so people are spoilt for choice.
But, I honestly think that having too many choices leads to having no choices.
So, today, we decided to compare 3 very popular marketing automation tools, that we think are great options. If you narrowed down your selection to HubSpot, Marketo, and Pardot, which one should you go for?
Well, stay with us to find out, as we go through an in-depth comparison and highlight every good and bad thing about each of them.
1. HubSpot vs Marketo vs Pardot – Overview
So, let's start this comparison by clarifying what exactly is HubSpot, Marketo, and Pardot, and who should use them.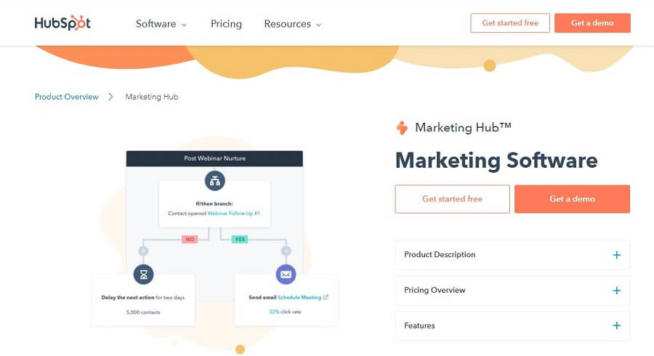 HubSpot is a nice choice for growing, smaller and medium-sized businesses. It's a versatile tool that lets you implement several types of online marketing. With great automation features, marketing with HubSpot will be more efficient, letting you enjoy more sales and revenue over time.
Just to make it clear, this is not the absolute best option on the market. However, it's worth mentioning that it's one of the most flexible tools. It gives you a little bit of everything, to make your marketing automation a lot more efficient.
As they say, this is a jack of all trades. HubSpot focuses on a CRM-driven experience, with dozens of integrated tools for seamless marketing automation. As such, it's very attractive, although not the cheapest option.
Marketo is a common rival of HubSpot. These two platforms are cloud-based, and while HubSpot is a bit more trimmed-down, Marketo comes with powerful CRM integrations across the board. This means that marketing automation is more robust, with more advanced features.
Furthermore, Marketo is perhaps the most flexible choice. It's REALLY expensive but also gives you all the advanced features, so you can go beyond basic possibilities. As a result, Marketo is suited for large companies and enterprise-level businesses.
Needless to say, it will let you implement campaigns, email marketing, and enjoy a boatload of integrations. Being the most popular marketing automation tool, Marketo surely has a lot going for it. But, we'll examine its true possibilities in just a minute.
Pardot is Salesforce's flagship product, aimed at medium-sized and large businesses. This platform is one of the oldest solutions, with the initial release in 2007. Salesforce did make sure that Pardot is a powerful CRM-based solution with extensive marketing automation functionalities.
Apart from email marketing and numerous social media integrations, Pardot is a functional, yet versatile tool. Granted, coming from Salesforce, it's not going to be wallet-friendly. Also, being feature-rich, Pardot isn't going to be that great for beginners, due to lots of, possibly unknown features.
Nevertheless, Pardot is, along with HubSpot and Marketo, one of the largest marketing automation tools. It has everything you need in this area, with a few minor differences compared to its two rivals. These differences are going to be examined now.
2. The Main Features of HubSpot, Marketo, and Pardot
With the introductory words out of the way, let's move on to the nitty-gritty of the topic. Below are the main features of each tool, which, I think, are the most important for quality marketing automation software.
Let's talk about them and see which solution is the best for your business.
2.1 CRM Integration
CRM stands for Customer Relationship Management and it's easy to see why it's so important. A quality marketing automation tool must support CRM integrations, to begin with.
HubSpot supports both integrations and its native CRM which is integrated into the application. If a proprietary CRM solution isn't your cup of tea, third-party options are ubiquitous. HubSpot works with Zoho, Salesforce, Zapier, and many more solutions.
Data transfer between HubSpot and these CRM platforms is easy, as well. Albeit, it can have some minor issues with Salesforce, which are easily remedied.
Marketo, despite being more expensive, won't give you a built-in CRM solution. That's a shame. On a good note, Marketo works way better with Salesforce integrations. While HubSpot had some issues regarding integration with Salesforce, Marketo is built on this platform, hence, it works flawlessly.
Should you want more options, you can avoid Salesforce and use Oracle or Microsoft Dynamics with Marketo, with no bigger issues.
Pardot, as said, is Salesforce's product and as such, its integration with Salesforce comes naturally. Logically, it supports other CRM software as well, but, to be honest, you'll get the best experience while using it with Salesforce, whether you like it or not.
In this case, Pardot will be much easier to use, letting you create comprehensive lists and gain more control over data. Alas, its integrations with third-party CRMs won't be as robust as they are in Marketo and HubSpot.
2.2 Email Marketing
Email marketing is crucial for spiking the interest of potential customers. Hence, all of the tools offer some great tools, permeated with automation tools.
HubSpot lets you create engaging and nice-looking emails in a matter of minutes. It offers a traditional drag-and-drop menu and a minimalistic interface. Thus, you can use numerous widgets and templates to create an email exactly as you want it.
HubSpot's templates look great and are fully customizable. HTML and custom codes are available, too, so you can make your emails more sophisticated and professional.
Then, thanks to automation, you can send thousands of emails a month (or day) up to a limit depending on your subscription plan.
Marketo's email creation tool wasn't its forte. However, with the most recent iteration, Marketo is much more intuitive and easier to use. Fo one, it has drag-and-drop functions that let you add widgets and variables to your emails.
It's worth mentioning that you can create custom HTML codes, as well. This is accompanied by several pre-built email templates, as well as the ability to make templates from scratch through coding.
Of course, the number of emails you can send in a month depends on your subscription plan. For this info, you'll have to contact Marketo directly.
Pardot isn't lacking behind in terms of email marketing capabilities. Once again, you get a plethora of pre-built email templates that you can customize or use right from the get-go. Moreover, you can create custom sections that you can reuse in different emails.
We also like Pardot's spam analysis, which lets you see how many of your emails end up in spam folders. Email templates from Pardot are mobile-friendly, too, and there's special Litmus testing where you can see how they look on different platforms.
Lastly, Pardot doesn't limit the number of emails that you can send. Therefore, your subscription plan has you covered, regardless of how big your email marketing needs are.
2.3 Social Media Integration
What about social media integration? As you already know, social media is a crucial part of marketing, especially since the early 2010s. Social interactions are here to boost your popularity and make your engagement and bond with potential customers that much stronger.
HubSpot dedicates a huge portion of its efforts to social media marketing. As such, this software is easily integrated with social networks like Twitter, Facebook, and even Instagram. Through HubSpot, you'll be able to schedule automatic posts, but also get various analytics regarding your social media profile.
Marketo offers a seamless social media integration experience. Much like HubSpot or even Pardot, connecting with Facebook or Twitter takes a few minutes. From there, you can enjoy personalized advertisements, social media analytics, and scheduled posts for maximum engagement.
Pardot follows in the footsteps of Marketo and HubSpot. Needless to say, integrations with the likes of LinkedIn or Facebook are possible, with native support from the start. Pardot lets you check different reports and analytics, where you'll be able to see how many people engaged with your social media posts.
Therefore, you'll have full insight into how well your business does on social media outlets, and from there, either improve your marketing or continue what you're doing.
2.4 Lead Nurturing
Lead nurturing is yet another important aspect. Strengthening your relationship with customers is crucial for success and lead nurturing is just that.
With HubSpot, it's easy to find your targeted audience and satisfy it. Thanks to great lead scoring features, including predictive lead scoring, HubSpot will connect you with the audience much quicker. Albeit, the tool doesn't have lead grading, so you'll have to do it by yourself, which makes things a bit more complicated.
Marketo repeats what HubSpot has. Once again, lead scoring is available, but you'll have to create your grading model. If you're not an experienced user, this might be more tedious and complicated.
Pardot is the best solution in terms of lead nurturing. I mean, you get both lead scoring (with predictive scoring) plus lead grading. I like their so-called AI-based Einstein Behaviour Scoring, which lets you filter out target audience from those not interested or irrelevant.
2.5 Landing Page Building
Landing pages are here to entice new and existing customers into checking out your website further. They need to be attractive, to have the necessary information, and most of all, be functional.
HubSpot gives you exactly that – and more. Thanks to its drag-and-drop menu, making your dream landing page is easy. This means that you can choose the modules you want, drag them to the page, and customize them further.
Making landing pages through coding is also here, but it requires additional knowledge. Most importantly, A/B testing is an integral part of HubSpot, so you can test out your landing page before publishing it.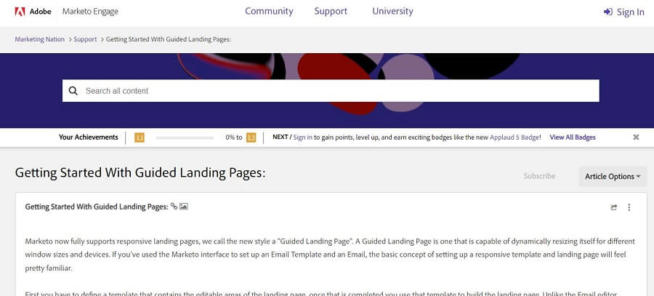 Marketo's landing page building is phenomenal. You can make a landing page starting with the blank or free-form page and work your way further. Alternatively, Marketo has a few templates that you can customize, albeit, not as efficiently as with HubSpot.
After all, its interface is a bit more complex, and more advanced options require coding. That's a double-edged sword, though. Because, through coding, you can create more streamlined landing pages, which, once again, is in direct correlation with your coding knowledge.
Pardot lets you build impressive-looking landing pages with an intuitive drag-and-drop menu. Furthermore, there are pre-built templates that you can edit without coding, or perhaps, if you're skillful enough, you can write your custom HTML code.
This tool doesn't have A/B testing, but it does come with a Multivariate Testing feature. It's a bit more advanced than A/B testing and lets you thoroughly analyze your landing page, and see how well it looks and works on different systems.
2.6 Webinar Integration
Business meetings sometimes must be held remotely, especially in recent lockdowns. That's why every marketing automation tool must be able to work in conjunction with different webinar providers.
HubSpot does a great job in this regard. Pretty much every webinar provider will work with this tool. Plus, on HubSpot's store, you can find the majority of them, which you can download and start using immediately.
Some of the supported providers include Zoom, which is very popular, but also GoToMeeting and ClickMeetin, in case Zoom isn't available in your country.
Marketo works with all types of webinar providers. Apart from Zoom, using all the aforementioned providers is possible, and Marketo lets you track and schedule webinars in its application.
Pardot's webinar integration is on the top level, too. Besides, it supports all popular webinar providers like GoToWebinar, GoToMeeting, and Zoom. This will let you stay in touch with your team, as well as schedule and track webinars, leaving no room for others to miss important meetings.
2.7 Analytics
Monitoring your process is crucial for preserving your business in the long run. Marketing surely attributes to that, but to see if your marketing methods are effective, you'll need detailed reports and analytics.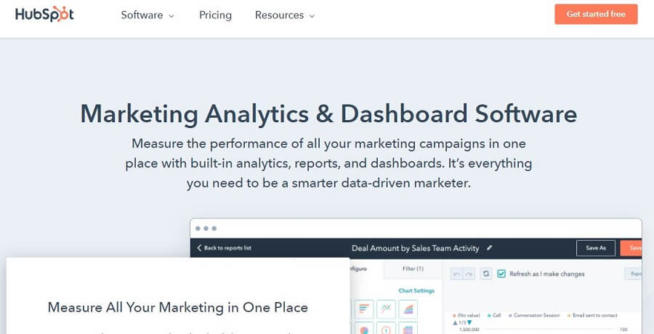 HubSpot is equipped with this knowledge, giving you a set of useful analytics features. With HubSpot, tracking your emails and campaigns is simple. Not to mention its ability to track earned revenue and potential revenue variations that can have a potentially big impact on your business.
Marketo is the same as HubSpot in this regard. Analyzing customer data comes as standard, and I especially like its so-called predictive analysis that lets you predict audience-related behavior and different CRM-related information.
Analytics and reports in Pardot are par excellence. These tools are available in more expensive plans and they let you monitor information in real-time. Moreover, Pardot can track pipeline and ROI, but also user-related data and performance of your campaigns and social media posts.
2.8 Mobile Support
Last but not least, I must address mobile support, which is important for those who often travel. You see, marketing automation tools are complex applications and usually, their mobile support is lackluster.
Surprisingly, HubSpot has native apps for iOS and Android phones. While the application is inferior to its desktop counterpart, it's easy to set up, as you just need to visit either Apple or Google Store, download, and install it.
Marketo, on the other hand, can be set up on Android. But, as you can guess, it requires a LOT more effort to set it up since it doesn't offer native apps. Not only that, but it's also not the most intuitive, leaving a lot of room for improvement.
Pardot's mobile support is unimpressive, to say the least. Once again, no native apps are present, and despite being cloud-based, using it on a mobile device is tedious and complicated. In this case, HubSpot easily takes the win.
3. Ease of Use
Having a marketing automation tool that's simple to use is a huge relief. First, you won't have to waste too much time getting into it, and second, all important processes will be simplified, thus, your team won't have to accommodate and spend days learning it.
HubSpot is, for me, among the easiest-to-use marketing automation tools. Despite offering an array of functionalities, they're all easy to access and use, even if you're a total newbie. I especially like its drag-and-drop menus for building landing pages and email templates.
Therefore, if email marketing is your priority, HubSpot will bring its A-game. Moreover, its integrations with other apps are seamless and the interface good-looking, all while performance is buttery-smooth. I would venture to say that its reviews online say the same story.
Users are overwhelmingly satisfied with HubSpot's interface and ease of use, making it a great pick for both inexperienced and experienced users.
Marketo, on the other hand, has a learning curve. Is it steep? I'm afraid it is. With a bit of technical knowledge required, Marketo won't be as welcoming as HubSpot. If this is the case, you'll need to pay someone to operate it or give you some lessons on how to use it in the future.
This will consume more time and resources. On the flip side, Marketo has more features than HubSpot and its depth can be appreciated once you get used to it.
So, do you want more features and a more complex interface, or you would rather settle with a bit fewer functionalities and a super-easy-to-use interface?
Salesforce did a solid job with Pardot. Although extensive and feature-rich, I find it a bit easier to use than Marketo. As said, drag-and-drop menus for building landing pages and email templates as here, and its Lightning App Builder is easy to set up.
Once again, Pardot's integrations are seamless, and this contributes to the ease of use greatly. Apart from its Lightning App Builder, Pardot gives you a so-called 'classic' interface. It's a bit less intuitive, though, so you might want to stick with Lightning.
4. Customer Support and Training
Customer support is important for getting the required help quickly, while training is here to teach you how to use the platform successfully.
HubSpot does a great job at providing necessary support and training. Its community is available on all subscription plans, while 24/7 phone and chat support can be found on more expensive plans.
Another great point is the customer blog that covers important topics, accompanied by video training in the Academy section.
Marketo's support portal is filled to the brim with useful information. Support bot is available as well, and there's 24/7 support in the form of live chat, email, and phone support.
I like Marketo's blog, too. But, in my opinion, it's not as readable and extensive as the one on HubSpot. Official documentation on Marketo is available on the site, albeit, you won't find that much useful info there.
Finally, we have Pardot that does the same. Salesforce's community is ever-present and you'll quickly solve any issues with the app. Moreover, 24/7 customer service is here, albeit, it varies from plan to plan.
Namely, if you go for cheaper plans, the level of support is lower. Conversely, more expensive plans give you phone support, and more ways to get help.
5. Pricing
Before we wrap up this comparison, let's check the prices of these 3 marketing automation tools.
Here's how much HubSpot will cost you:
The subscription plans of Marketo are shown below as well:
And finally, here's Pardot:
Marketo, as you can see, doesn't display its prices on the site. To be able to see how much it costs, you must request a personalized demo. Besides, its prices are very similar to Pardot, which is extremely expensive even for smaller companies.
For instance, the Premium plan on Pardot costs $15,000 a month, while the Growth plan is $1,250. Compare it to HubSpot and you'll see just how less expensive it is.
This is because HubSpot is aimed at smaller companies, and as such, its maximum price goes up to $3,200 a month for 10,000 contacts.
6. HubSpot vs Marketo vs Pardot Pros & Cons
Here's a quick rundown of HubSpot, Marketo, and Pardot pros and cons:
Pros
Dozens of CRM integrations, along with a proprietary CRM solution
Easy-to-use interface with drag-and-drop functionalities
Relatively affordable prices
Excellent social media integrations
Responsive 24/7 customer support.
Cons
Not great for enterprise-level businesses
No unlimited emails
Pros
One of the most feature-rich options
Detailed and in-depth reports.
Integrations with third-party CRM solutions and webinar providers.
24/7 customer support available on all plans.
Great for enterprises and very large businesses.
Cons
Extremely expensive prices.
Steep learning curve.
Pricing is not available on the website.
Pros
Lots of useful features for large companies.
Both lead nurturing and lead scoring are available.
Intuitive interface.
Landing page and email customization are seamless.
Native integration with Salesforce and many other CRM solutions.
Cons
Very expensive prices.
Poor mobile support.
7. Summary
So, let's summarize this HubSpot vs Marketo vs Pardot comparison. I think that, after this analysis, things are pretty clear. Each of these tools is great in its own leagues and choosing one over the other should be based on your preferences.
If your company is smaller and you have a growing business, HubSpot is a great choice. Might I add one of the best?
Users who're looking to market their enterprise-level or large businesses are much better off with Marketo or Pardot. Pardot is a bit easier to use than Marketo, while Marketo is the most feature-rich.
To be honest, Marketo is going to be an overkill for the majority of businesses, unless we're talking about almost enterprise levels. In that case, Pardot is a decent alternative and is similarly priced.
Overall, all 3 marketing automation tools are great. Therefore, choosing any of them will grant you a good experience, as long as you make a choice based on your business size and needs.