Inflact Review: Verdict
Overall, Inflact (www.Inflact.com) offers its users a variety of Instagram growth tools that are both simple and effective. The user experience is also straightforward, and you won't struggle to find your way around its interfaces.
If you need an affordable medium to boost your campaign and promote your brand, this bot can be the right solution for you.
Inflact Pros and Cons
Pros:
Feature-rich with regular updates
The website is secured
The payment gateways are verified
The team's email is available
Customer support always available
Overwhelmingly positive reviews
Clear, affordable pricing
Cons:
No trials
The app uses Instagram bots
It technically violates Instagram's terms of service
FAQ and help page aren't significant
After reading this Inflact review, you should grab one of the discounts offers below:
Get 12% off on the Direct Messages Module by using promo code – "DMPRIVATEPROXYGUIDE".
Get 15% off on the Hashtag Generator module by using promo code – "HGPRIVATEPROXYGUIDE".
Instagram, the popular social media platform where users from around the globe share photos and videos, is naturally one of the main targets for businesses and brands to promote their products and services. It's also fairly easy to use and quite convenient for advertising, but you need first to be aware of this network's rules.
Ignoring these said rules and engaging in activities against this platform's policies will normally get you banned. Using Instagram bots is strictly forbidden, so as any other form of fraud that will get you fake followers or any automated engagement.
Another fact worth noting is, the terms "Insta," "gram," and "IG" are all copyright protected. Instagram will charge any brand that uses these terms for naming its product without the company's authorization.
Having learned about the strict anti-fraud policy Instagram company is following. With the little tolerance it has for copycats, you must be asking yourself: is Inflact a legitimate promotion booster bot, or is it a mere scam?
You might also want to check out other Instagram bots and growth services.
1. What is Inflact?
Inflact (previously Ingramer), as it sells itself, is an Instagram growth booster service. The idea behind it lies in the automation of social media marketing to steadily grow your business on Instagram. Inflact also promises you free likes aside from its other services. But are their practices actually that transparent, or is there something else under the hood?
To begin with, "In gram er" has violated Instagram's copyright by using the term "gram," as stated before. That makes it a target to the company's legal prosecutions.
But that's not something for us to worry about, let's get into the different features provided by Inflact.
2. Dashboard for Inflact
Inflact's dashboard is pretty user-friendly, and it's easy to get used to. The interface is straightforward, and all the data and information you want to access are clearly laid out to you.
2.1 Dashboard Activities
Inflact's dashboard allows you to view the following activities:
Following: displays the number of followers on the business account.
Liking: Displays the number of likes your account got.
Unfollowing: Displays the number of people who unfollowed the account.
Liking Feed: Displays the number of likes on the feed.
Liking Comments: Displays the number of likes on comments.
Viewing stories: Displays the number of people watching the stories posted.
2.2 Other Dashboard Functions
You can view activities that took place last week, last month, or last year. You just have to set the period you want to check with the toggle up to the right on the dashboard screen.
Stories are what attract users' interest the most on Instagram, so you might want to focus on posting more of these and check how many views they get you. You can also add polls and quizzes to interact more with your followers.
Along with the dashboard comes other options featured on the toolbar menu, including Promo, Posting, Direct, VPN, and Tools. The Tools tab lists the current trending Hashtags that you can use in your posts to get more attention.
3. Features of Inflact
Inflact offers a variety of Instagram tools like auto likes, auto-follow or unfollow, direct messages, comments, scheduled posting, and more.
First, you need to sign up, set your Instagram account, and link your profile with Inflact's service. Then all that is left is for you to start up your new campaign and let Inflact take the wheel from that point on.
Setting up your campaign is quite simple. First, you pick your targeted audience. Then you set the limits on the daily activities. Finally, you enable the filters of your choice.
With Inflact, you don't have to download anything on your device. Since it is cloud-based, you can manage your account, adjust the settings, and view your activities using any device.
3.1 Auto Like
Auto Like is by far the most common feature used in Instagram bots. And that's because it's quite effective in bringing attention to your account. Naturally, the people you leave a like on their posts might get interested and come to check your page too.
This strategy is even more useful if you target relevant accounts. Inflact helps you with this by offering different options you can choose from to automate your likes on hashtags, locations, or usernames.
3.2 Auto Follow
Like the previous one, this feature enables you to target a certain audience using hashtags, usernames, locations, or follower count and fish for their attention through following their accounts. Users with a relatively small number of followers on Instagram are more likely to check who followed them. That's when they'll find your product or brand.
3.3 Automated Schedule Postings
This feature, as the name gives away, will automatically post on your account according to a predefined schedule. It will save you time and make life easier for you. You can plan for the whole week and systematically post pictures, videos, or any type of content.
3.4 Direct Messages
Inflact's Direct Messages feature is here to help you with sending personalized messages to your followers. This will get you to learn more about your brand's followers and enhance your network with your potential clients.
3.5 Advanced Filters
Profile filters let you view the number of followers you have, the number of users you are following, the number of posts on their profiles, and their last updates.
This feature will prove to be useful as a tool to precisely determine the right audience to target and reach them with your promotions.
3.6 Trending Hashtags
Trending hashtags feature finds for you the trendy hashtags in your niche. Unlike the Hashtag generator, this feature does not help you come up with new hashtags. It simply shows you what hashtags are popular on Instagram so that you can make use of them and reach a wider audience.
3.7 Smart Unfollow
The Smart unfollow feature allows you to set the conditions for which to unfollow accounts rather than going for a mass unfollow of every account Inflact has followed.
3.8 Clear Stats
The analytic aspect of a growth booster tool is of utmost importance. That being so, reviewing stats should be a regular activity to take actions accordingly and push your account's visibility further.
Inflact presents your data in an interface that's clear and easy to digest of all the generated stats (likes, followers, etc..).
3.9 Instagram Downloader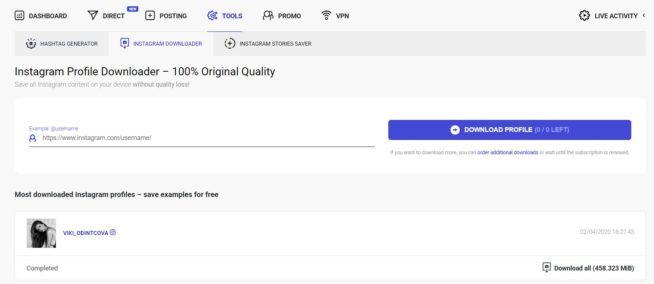 This tool is for downloading any media from Instagram. You can download photos, videos, stories, and even profiles and IGTV as long as they are available for public viewing. This feature is easy to use; all you have to do is copy the link of what you want to download and paste it in the dedicated text box and click Download. Instagram Downloader will download anything for you, all while keeping high quality.
3.10 Profile Analyzer
Profile Analyzer is a feature that helps collect data and analyze profiles in the prospect of gathering useful information for your campaign.
4. Inflact Modules
4.1 Promo Module

Promoting anything on Instagram, contrary to other social media platforms, calls for constant availability and quick action. This can be a pain in the neck and may turn to be too time-consuming. Inflact's Promotion module helps you save valuable time and automates all of your activities, from liking posts to following or unfollowing accounts under rules and conditions you set yourself.
Inflact limits itself to a maximum of 1250 actions per day so that it stays as close as possible to human-like activity, thus, avoiding violating Instagram's policies.
In case all this sounds confusing to you, you can simply ask for Inflact's team personalized assistance after subscription to help you out with your promotion.
4.2 Direct Messenger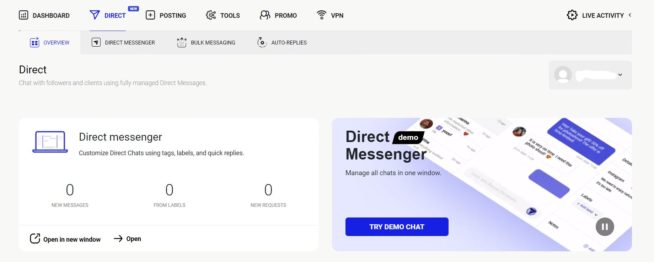 Direct Messenger is probably the most commendable module Inflact has. With this module, all your interactions with your followers are displayed on a single window, and you can respond to them with customizable replies using tags and labels.
The benefits of this module are numerous. From quickly responding to any potential client inquiry to sending bulk auto-messages to your followers and introduce them to your brand's latest offers, Direct Messenger makes the process easier and more productive.
These direct messages can be personalized for a specific group of followers as you might want to only target your new followers, for example.
The features this module includes are Instagram Direct Chat, Mass Messaging, Direct Autoreply, and Direct Search. There are also other options worth mentioning, like the creation of mailouts, setting up sales funnels, and performing direct searches using keywords.
4.3 Scheduled Posting Module

With Inflact's Scheduled Posting module, you can schedule posting photos, stories, videos, and carousels. The process is pretty simple: upload any type of media you want to post, choose a suitable hashtag using the hashtag generator, and don't forget to add the location. Finally, set the date of posting, and you are good to go!
Inflact not only helps you schedule multiple posts at a time, but it also helps you pick the right time and date for each post. This tool is perfect for saving time and driving your followers' engagement with content posting consistency.
4.4 Hashtag Generator

Hashtags can be a game maker or a game-breaker on Instagram. Using them wisely will drastically improve your popularity on this platform and get you more views on your posts.
The hashtag generator module in Inflact helps you pick the right hashtags among trendy ones to boost your upcoming posts. All you have to do is input seed keywords, and the hashtag generator will present you with several suggestions. Pick the one that goes best with your content and leave the rest to Inflact.
4.5 Comment Tracker (Under Development)
This module is responsible for keeping track of all the comments posted on your feed, and it will keep you notified. Managing comments is easier thanks to this module, and you can consistently reply to any of your customers' questions on time.
Comment Tracker is still under development, and we hope to see some new good additions.
5. Inflact Pricing

Although Inflact doesn't offer a free trial, the basic package is pretty accessible for purchase if you want to test the bot. You can later add the other different modules Inflact offers and make the best of the various features this bot provides you with.
Below is a quick list of the modules previously mentioned:
Basic or Promotion Module: Auto likes, auto follows, and auto unfollows
Scheduled Posting Module: Automated posting of your content following your schedule
Direct Messenger Module: Sends mass DMs to your targeted audience
With Inflact, you can automate up to ten accounts at once.
The prices for the basic package start at $37 for a couple of weeks, $57 for a month with a discount of 22 percent, and $144 for three months with a 35% discount.
These prices, compared to the cost of Instagram ads, are fairly low. Instagram ads cost at least $5 per day; in other words, at least $150 per month and $450 for three months. And the thing is, these ads might not reach as wide of an audience as you wish for it.
In that perspective, Inflact's bot is a more reliable tool for your promotion as it can reach hundreds of thousands of Instagram users.