The demand for high-performance project management tools has only increased during the pandemic era as more organizations shifted to remote or hybrid work cultures. Even otherwise, having a feature-rich, user-friendly, and easy-to-integrate project management platform can skyrocket the productivity of businesses. It just so happens that both Monday.com and Asana fit the description. So, you may likely have a slight mix-up about which one to pick. Do not worry, because we have done the tricky part so that you do not have to. In the guide below, you can find a comparison of project management tools from Monday.com and Asana.
1. The Verdict
As you can see, Monday.com and Asana are excellent options for project management, and they offer all the basic features you would need to manage your team. However, there are some areas where one platform has the edge over the other. For instance, if you want to connect the project management suite with CRM or a sales suite, you may have better luck with Monday.com. Otherwise, we would recommend Asana for its simple design and the right balance of features.
| | | |
| --- | --- | --- |
| | Monday.com | Asana |
| Pricing/per user(annually) | $12.50/month | $10.99/month |
| Free version | Yes | Yes |
| Trial period | 14 days | 30 days |
| In Person training | Yes | Yes |
| Head quarters | Tel Aviv, Israel | San Francisco, USA |
| Apps integration | 200+ | 240+ |
2. Monday.com vs Asana — The Basics
Monday.com is a one-stop solution for various work management solutions a business needs. It offers, among other things, a robust CRM, a comprehensive marketing suite, a dev teams management suite, and a tool for dedicated project management. The company has also designed something called the Work OS, a common ground for managing and tracking the changes and developments in your business. The suite on our focus, Monday Projects, is also built on the Work OS. In addition, the Project Management module offers plenty of features such as project dashboards, Gantt charts, and different workload views.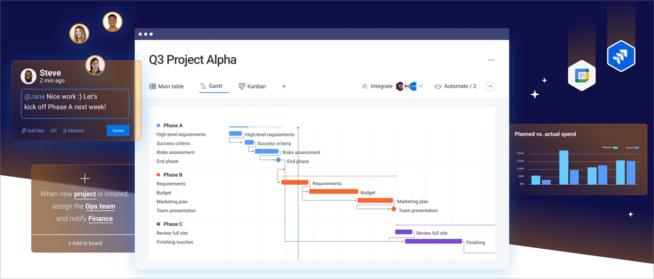 Asana, on the other hand, is a dedicated work management platform. It has been designed to assist organizations in automating workflows, managing projects, and tracking developments across teams. Unlike Monday.com, Asana does not offer options like CRM or marketing suites. On the other hand, most of Asana's features are geared towards productivity-boosting and workflow automation. Customizable workflows and incredible reporting tools are a great addition to this project management tool. Nonetheless, you can explore a variety of workflow templates and ready-to-use content.
Now that you know the basics about Monday.com and Asana, shall we see how they perform in essential functions?
3. Workflow Management
Monday.com and Asana offer multiple ways to manage the workflow within your organization.
You can choose between different viewing options for workflow management on Monday.com. For instance, Gantt charts and tables allow you to track different projects and tasks easily. At the same time, you can use Project Dashboards to see how your teams manage goals, schedules, and resources. There is even a Workload view that helps you understand how the work has been distributed within different teams. You can use this option to manage burnout and reschedule tasks based on priorities. Once you have set up these aspects, you can view them via intuitive dashboards. Last but not least, you can set up dependencies and milestones as you wish.
Since Asana is a more focused project management tool, it gives you access to a better set of tools. As far as workflow management is concerned, you have a few options to explore. First and foremost, Asana offers an automated workflow builder, which allows you to set up triggers and actions, thus automating many routine tasks in your organization. You can also bring in a lot of integrations into this department. When you want to view the developments, you can choose between the Timeline view, Boards, Calendar, and Lists. It uses Gantt charts, Kanban boards, and an all-in-one calendar view. By the way, you can explore workflow-specific features based on what you are looking for.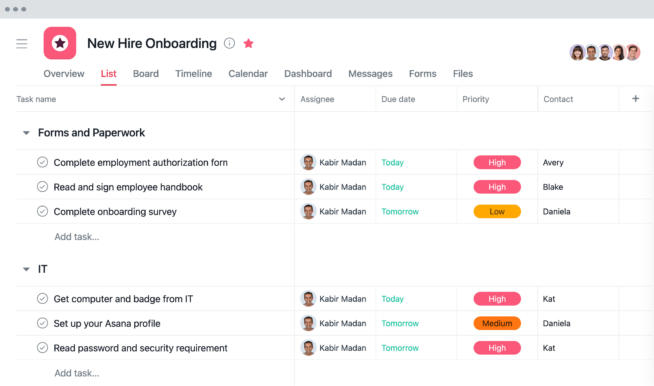 We believe it is a tie between Asana and Monday.com.
4. Ease of Use
It does not matter how many features you get; they should be easy to use, right? Both these tools seem to have nailed this aspect.
Monday.com and Asana are easy to set up and get started with. Even if you have not used any management tool in the past, you can breeze through the setup process. In addition, both platforms allow you to choose from one of the many workflow templates. For instance, if your business wants to manage marketing goals, you can find a suitable template from Asana or Monday.com. We cannot say the same about the UI, though. The UI can get a little complex based on the number of options you want to see, but it is part of the package.
On the bright side, both platforms offer abundant support options. If you come across issues, you can access the Knowledge Base or get real-time support from the team. Altogether, Asana and Monday.com are great choices if you are concerned about the usability aspect. Therefore, once again, we have a tie between these two platforms.
5. App Integration
Having intuitive apps that integrate well into the service is an essential aspect of any SaaS app, especially something like project management suites. As you can guess, Monday.com and Asana offer dedicated apps for Android and iOS platforms and their robust web apps.
In the case of both Monday.com and Asana, the dedicated apps are great. Asana's apps are available for Android, iOS, Windows, and macOS. However, you can enjoy most of these functionalities via web-based apps. However, on Android and iOS, you get a better set of notifications and alerts. These may come in handy if you use the project management tool for intra-organization communication. Similarly, Monday.com offers dedicated apps for Android, iOS, Mac, and Windows. Again, you can use the colorful UI and other features via the native apps or the web-based UI.
Altogether, both platforms perform excellently in the aspect of app integration. You can consider these apps as a polished version of the entire platform. Therefore, you do not have to worry about missing out on the core features.
6. Integrations
It's one thing that both Monday.com and Asana offer great apps. However, you should also check how these platforms work with other services and apps. In other words, there should be meaningful integrations with other apps. So, let's look at how these two platforms perform.
The availability of rich integration options is one of the reasons Monday.com has succeeded in the project management software market. As one would expect, Monday.com allows you to integrate apps and services like Jira, Slack, Dropbox, GitHub, MailChimp, Zapier, Zoom, Google Calendar, Google Drive, Excel, MS Teams, Gmail, and Adobe Creative Cloud. As it happens, the Project Management module from Monday.com even works with Asana. We should also mention that Monday.com makes it incredibly easy to set up automation within these integration triggers.
Asana does not hold back when it comes to integration options, either. You can explore an incredible set of apps that you can integrate with Asana. The list includes options like Google Drive, Zapier, Okta, MS Azure, MS Teams, Gmail, Clockwise, GitHub, Vimeo, Slack, Everhour, Zoom, and JotForm. The best part about these apps is that they can bring features that you cannot natively find on Asana. You can use the workflow builder tool to set up these integrations and automate different actions. By the way, if you want to take things to an additional level, you can use APIs from Asana to build custom apps.
Even though things seem somewhat similar between Monday.com and Asana, the latter seems to have the edge over the former. As you can see, Asana's integrations make it easy for customers to bring new features into the workspace. For instance, Asana does not come with built-in time tracking options. But one can add it by setting up the respective app/integration. Having said these, it is worth noting that you can set up an integration between Asana and Monday.com, thanks to the dedicated app from Monday.com. It will be a good option for those who need more than one project management app for their organizations.
7. Reporting
Reporting is also an essential aspect to consider while choosing a project management tool. You would need quantifiable data to help you make verdicts and prioritize activities. We will now see what Monday.com and Asana offer in this department.
You can track, report, and optimize different aspects of your organization's progress using Monday.com, and there are different viewing options to choose from. It also comes in handy that Monday.com can easily set up time tracking and activity analysis. As we said earlier, you can use various viewing modes to get clear ideas for decision-making. For instance, if you think your employees are facing burnout due to an overload of work, you can check and confirm the same using tables and charts. You can also set up the dashboard by adding various widgets and apps. You can also use Pivot Tables and Performance Insight View to take data reporting to the next level. Altogether, the reporting aspect of Monday.com will help you save a lot of time that you would otherwise spend tracking things. As it happens, all these excellent features are also available on mobile apps.
Asana also offers multiple ways to track and report data within your organization. As a result, you can get both types of data — real-time insights and recorded analytics — before you decide. First and foremost, you can set up many dashboards that help you view reporting data via simple methods. Then, you can use charts and graphs that offer valuable insights on the second level. And, bringing data from different projects to dashboards is an easy task. So, as you can see, even though Asana does not offer as many features as you could find on Monday.com, the options are easy to access. Needless to say, you will have access to these resources from the dedicated mobile apps. We should also mention that you can easily download and set up these charts and dashboards. So, if you want to take the data to another platform, you can easily do that.

As it is clear, Monday.com has the edge over Asana regarding reporting features. If you want to view data in more ways and manage it better, you can do it more effectively via Monday.com than in Asana. While Asana offers the basic features, it can improve in many aspects.
8. Dashboard
Dashboard is another respect in which Monday.com and Asana offer competitive options. As we have added in the previous sections, you can build and customize the dashboard as per your requirements. In addition, adding data to these dashboards is as easy as a piece of cake, and you can do it within a few clicks.
Of course, the thing we mentioned while talking about the UI applies to dashboards. If you want to show as much data as possible, the dashboards can become quite clumsy and confusing. In this respect alone, it makes sense to have a more colorful and distinctive UI like that of Monday.com. On the other hand, at times, the dashboards and charts from Asana may look a little too bleak.
Regardless of these slight differences, we believe you can get the most out of dashboards from both Asana and Monday.com. The result and decisions based on the represented data would depend on what you collect and how you choose to show it.
9. Milestones Management
Setting up milestones, tracking them, and achieving them is essential for any business, regardless of its size. Fortunately, you can explore these options on both Asana and Monday.com.
Milestones management is a crucial aspect of the project management module from Monday.com. You can set up and manage milestones based on data such as dates and important decisions for your organization. It can be done in a few ways, such as Gantt charts and tables. Altogether, you have plenty of options to set up and explore in the department.
Milestone management is integrated into the task management part of Asana in different ways. You have two options to go about this aspect. One, you can explore and choose one of the many templates available from the platform. You can track these goals from a single page, and monitoring multiple goals is easier than you imagine.
While Asana and Monday.com offer the basic features, Asana is the better option when you'd like to have advanced milestones management options.
10. Security
You can expect the essential security and privacy features from both project management suites.
For instance, both platforms are compliant with GDPR, EU-US Privacy Shield, SOC 1, SOC 2, SOC 3, and ISO. However, if you want some specific features like SSO Login, you may have to choose Monday.com instead of Asana. For instance, 2-factor authentication can help you keep things more secure within your business and teams.
If you are talking about intra-team security, different team roles and permission management can be pretty beneficial.
11. Support
Monday has an extensive library of support articles accessible from the dashboard itself. Once you hit a wall there, head to customer support and email them with your problem.
You will receive a reply within 20 mins at the top. We forgot to revert to their email, and they kept on following up for weeks to make sure that our problem was solved.
Asana has a knowledge base on the same deck that you can access from the help center or chat window. The live chat window offers you suggestions through support articles. You can get connected to a support agent only when logged in.
Otherwise, you will be routed to the email support method that has a quick follow-up, which is slower than Monday on most days.
12. Pricing
Monday has a free plan to get started with either of three plans available apart from Enterprise. Post that, they charge based on seats. Unlimited boards are available on all the plans, with time tracking available on the pro and above plans. You can take a premium plan for a test drive through the 14-day trial without a credit card.
Asana offers two premium plans apart from a free account with 100 MB storage. Premium and Business plans have workflow builders along with private teams and projects. The topmost plan has advanced integration with Salesforce, Tableau, Adobe Creative Cloud, etc. Like Monday, take your Asana premium account for a spin with the 30-day extended trial period that does not require a credit card.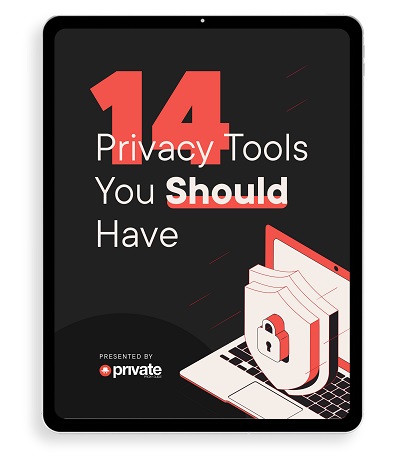 Learn how to stay safe online in this free 34-page eBook.