Email marketing tools saw a substantial rise in popularity in recent years. While Sendinblue and HubSpot are probably the best choices, Omnisend and Klaviyo are one of the most popular options. However, despite doing basically the same thing, they are still different.
In our Omnisend vs Klaviyo comparison, we will review both email marketing tools and talk in-depth about their features. Moreover, we're going to compare their interfaces and advanced features but also pricing, which plays a huge role for many potential users.
If you're really in doubt about which email marketing tool to choose, I recommend staying with us. By the end of this Omnisend vs Klaviyo duel, hopefully, you will know which one is a better choice for your needs.
1. Omnisend vs Klaviyo Overview
Omnisend and Klaviyo are, without a doubt, great choices for effective and hassle-free online marketing. However, before we delve deeper into our comparison, let's briefly see what is Omnisend, what is Klaviyo, and who are they meant to satisfy.
| | | |
| --- | --- | --- |
| Name | Omnisend | Klaviyo |
| Free plan included? | Yes | Yes |
| Starting price | $16 | $20 |
| Best for: | Smaller to mid-sized eCommerce businesses | Larger eCommerce businesses |
| Drag & Drop Email Editor | Yes | Yes |
| SMS Marketing | Yes | Yes |
| Unlimited segmentation | No | Yes |
| Customer support | Email & 24/7 live chat | Email + phone support (EMEA, US & North America) |
| Number of email sends/month: | 500 (free plan), unlimited (email & SMS plan) | 500 (free plan), unlimited (more expensive plans) |
| Number of SMS sends/month | 60 (free plan), 3933 (email & SMS plan) | 150 (free plan), 10,000+ (user-determinant) |
| Number of contacts: | 250 (free plan) to 500+ (paid plans) | 250 (free plan) to 500+ (paid plans) |
| Automation workflow | Yes | Yes |
In 2014, there was a severe lack of interesting and intuitive email marketing solutions on the market. As a result, Omnisend is formed exactly this year, to bring its reliable services to various eCommerce businesses.
This endeavor was indeed successful, as Omnisend counts dozens of worldwide offices with more than 50,000 users globally. In simple terms, this is a cloud-based service mainly aimed toward eCommerce businesses, with a relatively advanced set of tools.
Many say that Omnisend is great for beginners, which is somewhat true. And while not more advanced than Klaviyo, you'll get pretty much everything you need to kickstart and upgrade your business.
Its automation is one of the highlights and will help you drive more sales, resulting in more revenue over time.
Klaviyo started in 2012 and is also a cloud-based email marketing solution. However, it's a bit more advanced than Omnisend, all while remaining somewhat approachable for the newcomers. Much like Omnisend, though, its strength lies in eCommerce websites and stores.
With dozens of third-party integrations, like the one with WooCommerce, for example, it's a great companion if you're looking to drive more sales. Moreover, Klaviyo is suitable for both B2C and B2B corporations, making it usable for businesses of all sizes.
Speaking of which, Klaviyo's user base is similar to Omnisend. Roughly said, around 50,000 businesses worldwide use Klaviyo, some of which are Milk Bar, Citizen, and Living Proof.
How well does it compare to Omnisend, you may ask? Well, let's proceed with our Omnisend vs Klaviyo duel.
2. Templates and Editor
When looking to get in touch with your customers via email, you first must design your emails – right? A well-crafted and welcoming email never gets old and it's a testament to your company's credibility.
Let's start with Omnisend. This tool offers a super-intuitive drag-and-drop menu, letting you craft emails in a snap of a finger. While the template choice isn't the greatest, you will find a LOT of customization options to make them better.
Don't get me wrong. Omnisend offers amazing-looking templates but you get maybe a dozen of them. However, adding widgets and sections is easy, as you just need to choose one from the left-hand side menu, drag it to the template, and that's it.
Apart from basic text, fond, and images, you can add recommended products thanks to Product Picker, a feature built into Omnisend. Now that I mentioned it, Omnisend supports smart recommendations which are possible through the integration with Nostro.
To make your emails more enticing, you can ''gamify'' them. This means adding fun stuff like discount codes, gift cards/boxes, and scratch cards. Custom HTML is here as well, and if you're tech-savvy enough, you can have fun with videos in your emails and other advanced stuff.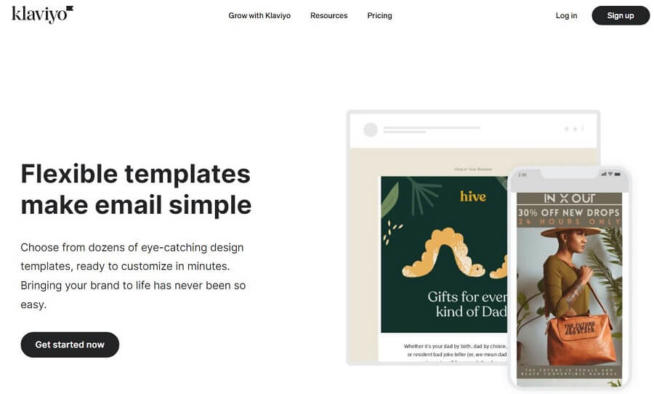 Being a bit more advanced solution, Klaviyo does some things a bit differently – not necessarily better. Indeed, it gives you more email templates that you can edit via a drag-and-drop editor. The editor, however, is a bit more limited than Omnisend, which is important to mention
You can still add and edit text, insert various buttons and images, and change fonts. On the other hand, Klaviyo doesn't let you insert flashy discount codes, albeit, that's not a big issue given that you can add the products directly from your eCommerce site.
And the best thing is that you don't have to do it manually. You can basically import a product from your site as it is, without the need to additionally set the price, availability, etc, etc. Much like Omnisend, Klaviyo lets you import custom HTML scripts.
In that case, you can get even more customization freedom. But, as you can guess, writing custom HTML codes takes a bit of knowledge, so if you're a beginner, you won't find much use for it.
3. Email Automation
Email automation is a crucial part of every email marketing service. Why? Well, because you expect this tool to work for you when you're busy with other stuff. That way, you can get in touch with your subscribers even when you're on a vacation, soaking in vitamin D on the beach of the Bahamas.
Omnisend does a phenomenal job when it comes to automation workflows. In fact, both of these tools are satisfying to use. Automation is all about triggers upon which the email or SMS will be sent to a particular subscriber or a group of them.
Recently, Omnisend upgraded its automation workflow with conditional and trigger splits. This makes it much more advanced, especially since you can apply them to multiple channels. For example, if your customer abandons a cart, you can send a notification via both email and SMS.
That way, you'll make sure that your notification actually gets to the potential customer. What I also like is the ability to include push notifications. You know, those notifications you get via your browser, that you can also use to inform your subscribers of an abandoned cart, for instance.
When it comes to tracking techniques, the two providers are different. In this case, you can rely on Omnisend's cookies that will effectively track which items are added or removed from the cart.
Klaviyo all but lacks behind. Thanks to its conditional and trigger splits, you can make Klaviyo work in your favor with complex, but precise automated workflows. By precise, we think about effectively targeting your subscribers and driving more sales to your eCommerce website.
In this regard, Omnisend and Klaviyo aren't drastically different. Klaviyo also supports multi-channeling, letting you send notifications via both SMS and email. However, when it comes to tracking, Klaviyo doesn't use cookies as Omnisend.
Instead, it simply identifies the carts that went to the checkout process and are abandoned thereafter. Furthermore, we said that Omnisend offers browser push notifications but Klaviyo went with app push notifications, which is as effective.
With that said, both Omnisend and Klaviyo are going to satisfy even more advanced users in terms of automation. As there are no big differences here, making your choice is based solely on your needs and preferences.
4. Segmentation
Precise audience targeting is impossible without personalized emails. And, sending out personalized emails is done through segmentation. As its name implies, the process of segmentation is here to categorize your subscribers by different categories that we're going to discuss.
Omnisend, while a simpler tool, still offers decent segmentation options with a few minor things we would like to improve. Needless to say, it's very effective in sending personalized notifications at the right time, to maximize your engagement with the subscribers.
However, unlike Klaviyo, which we'll talk about soon, Omnisend only has three types of segmentation. The first one is shopping behavior. Here, you can basically track your subscribers' purchases, abandoned carts, and general browsing patterns.
Then, we have a campaign activity, which is self-explanatory. In this case, you can check how well your subscribers are responding to your email campaigns. And finally, you can segment the customers by the profile data you gathered about them.
For example, if you have information about your subscribers' sex and age, you can use this to employ personalized emails along with the other two categories. With limited segmentation, Omnisend is much easier to use and has no learning curve – the downside of that is limited segmentation.
Klaviyo doesn't limit your segmentation possibilities in any way.
Moreover, your segmentations can be based on basically limitless criteria, which makes targeting your customers much more efficient. Apart from the categories we mentioned, you can, for example, segment your customers by geographical location, the time they spend on your site, and many more.
Newbies to this platform will most likely be overwhelmed by such a broad choice. However, if you're an experienced user and you know a thing or two about marketing, Klaviyo will fulfill and exceed your expectations.
If you want to sync your segmented lists, it is possible to do so on both platforms. In the case of Omnisend, you'll be using Google and in Klaviyo, that would be Facebook Custom Audiences that will aid your targeted ads.
All in all, Klaviyo is overall, a bit better than Omnisend segmentation-wise. If you're a beginner, Omnisend will do just fine but very advanced users will surely appreciate Klaviyo's unlimited segmentation options.
5. A/B Testing
Testing how your audience responds to your email campaigns is crucial for improving your marketing capabilities. In email marketing, we have something we call split testing or more popular A/B testing. Both tools support this option with a few minor differences.
A/B testing is essentially sending out emails with differences in the names of subjects. By doing so, you test how your subscribers will react to your emails and measure their response. It's a relatively simple but important feature that both Omnisend and Klaviyo have.
However, Omnisend lets you test only sender names and subjects, with no other aspects of your email. While it's not necessarily bad, you will have to rely more on conjecture rather than having a clear image of your campaign's performance.
On the flip side, Klaviyo goes a few steps further, giving you more testing parameters. To be precise, there aren't any limits when it comes to A/B testing and apart from subject lines and sender names, many other parameters can be tested.
This includes even the content of your email, which consists of buttons, links, colors, etc, etc. By having so much information at your disposal, with Klaviyo, it's much easier to see what works better and what kind of emails bring more customers to your doorstep.
6. Third-Party Integrations
For an email marketing tool, having plenty of third-party integrations helps you get additional possibilities. While these tools can work as a standalone product, aids from popular business-oriented applications are always welcome.
To be honest, both platforms offer an overwhelming number of applications that you can download mainly for free on their websites. Furthermore, all applications are split into many categories. They range from advertising and CRM to eCommerce, reviews, and social media.
Since both tools are focused on eCommerce businesses, you'll be happy to hear that they offer extensive choices of these apps. Admittedly, Omnisend offers fewer of them. However, it still supports Shopify, Magento, and BigCommerce, which is a super welcome addition!
Conversely, Klaviyo supports all of the 3 apps with the addition of Unstack, Volusion, WooCommerce, OpenCart, and at least 10 more. Overall, Klaviyo offers more third-party integrations, especially in categories like social media and customer support.
For me, that's not an issue, as Omnisend still has all the necessary additions that are more than useful.
7. Reports and Analytics
In this Omnisen vs Klaviyo review, we need to talk about analytics and reports as well. This is an important category if you want to quickly and effortlessly analyze your performance and improve upon it.
Omnisend does a good job at collecting various bits of information and converting them into in-depth reports. Even if you go for low-tier subscription plans, reports and analytics are going to be Omnisend's forte. But, we do need to address a few important things.
Namely, Omnisend's high-tier users will get the benefits that Klaviyo's basic users will have. Some of them include customizable reports as well as selecting the period for which you want the analysis. You'll agree that this sounds awesome but at the same time, Omnisend will charge you a bit more.
Low-tier users will have access to information not older than 18 months, for example. This isn't anything to be concerned about but you don't get the biggest picture of your performance.
Klaviyo improves upon Omnisend in a way that it puts no limits on analytics and reports. Offering you a 360-degree view of your business performance, it gives you a broader image of your overall performance.
Customizable reports are also here, so you can select the metrics that you find the most important and concentrate on them. Perhaps the best thing about Klaviyo's reporting is that every bit of information is available about your website, from the moment of its inception.
Even if your website is 5 years old, you'll have all information about its performance at your hand's reach. This, you'll agree, is much better for getting the overall image of your success – or lack thereof!
Okay, so before concluding this comparison, we obviously need to address the elephant in the room – pricing. Are Omnisend and Klaviyo expensive email marketing solutions?
Let's see. The first image shows how much Omnisend will cost you:
And now, here's how much Klaviyo will cost you:
The great thing about both email marketing tools is that they offer a free plan. Logically, both free plans are very limited and are here to give you a brief taste of both services. Since businesses will find no use in them, let's talk about paid plans.
Omnisend costs $16 a month if you're looking to send only emails, with the price of $59 a month for email + SMS. This price is for 500 contacts, by the way.
Klaviyo's pricing depends on the number of contact and SMS you want to send a month. To make it fair, I limited the contact number to 500 and the email-only plan was calculated at $20 a month.
Conversely, the plan with both email and SMS will cost you $25 a month for the given parameters. That said, Klaviyo's email-only plan will cost you more than Omnisend's email plan.
But, if you go for the highest-tier plan, Klaviyo turns out to be more expensive.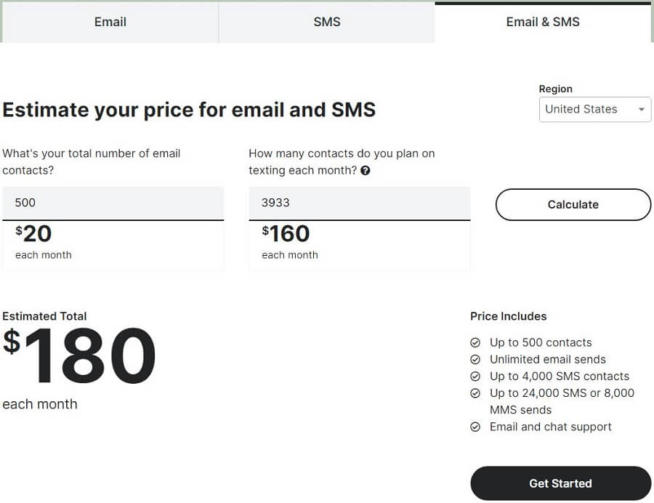 For instance, if you want an equivalent of Omnisend's email + SMS plan, you'll have to pay $180 each month, which is MUCH more expensive than Omnisend.
In the end, it's time to declare the winner of this duel, which, judging by everything we said, should be Klaviyo. Indeed, Klaviyo is overall a more feature-rich option with better segmentation, A/B testing, and in-depth reports.
On the other hand, we love Omnisend's email editor more and its automation works wonders even for more advanced users. Omnisend is also a cheaper option, making it more suitable for smaller businesses that don't have many subscribers and customers.
So, which one is a better option? It all boils down to your needs. Larger eCommerce businesses will benefit more from Klaviyo, while small to medium-sized businesses should be satisfied with Omnisend. Both platforms are great and offer free plans, so at least, you won't lose any money by testing them out.