Email marketing, while not as modern as social media marketing, remains a staple of advertisement. SendInBlue and MailChimp nearly perfected email marketing, and as such, they're among the most popular options on the market.
Many parallels are drawn between these two tools. Both of them offer exceptional features, yet, they both target different types of users.
While MailChimp is jam-packed with functionalities and satisfies more advanced users, SendInBlue is more intuitive and user-friendly, making it great for beginners. However, there's more to it when it comes to overall quality and performance.
For that reason, I decided to give you my full, in-depth SendInBlue vs MailChimp comparison. We will see which tool is a better choice for you, check the pricing, and other important aspects of both of them.
Needless to say, I suggest staying along for the ride – it's gonna be interesting!
1. SendInBlue vs MailChimp – Overview
Before delving deeper into our SendInBlue vs MailChimp comparison, we need to take a look afar at both of them.
Let's start with SendInBlue. SendInBlue was established back in 2012, with the main goal of bringing its customers' businesses to a whole new level. Of course, this was supposed to be done through digital marketing, one of which is email marketing.
Despite being feature-rich (to an extent), SendInBlue won't be the best choice for enterprise-level businesses. However, this company has a partnership with more than 50,000 businesses that are considered small to medium-sized.
Therefore, if you own a business smaller in size, SendInBlue will be a great companion. Not only does it let you fully embrace email marketing, but also enjoy automation, advanced analytics, and SMS marketing.
What's more, they offer their service in multiple languages, making the service great for international users.
MailChimp is an all-encompassing marketing service. Being on the market for more than two decades, MailChimp perfected its craft, becoming one of the most popular choices. Moreover, this service isn't focused only on email marketing.
Instead, you get a full suite of digital marketing tools to help you grow your business. Besides, MailChimp is also focused on helping new and freshly-baked companies.
The big difference, however, is that it has more advanced features, making it great for larger businesses that can take full advantage of it.
Much like SendInBlue, it offers various automation tools, in-depth analytics, and third-party integrations. All of that makes it a fierce contender in this duel, which should make things a lot more interesting.
2. Email Editor, Templates & Ease of Use
The email editor is a staple of every email marketing service. Not to mention templates that serve as a starting point, which you can later edit and customize to meet your needs and expectations.
If editing and crafting emails is easy, that's a huge plus. But, how do these two rivals fare when it comes to overall user experience? Let's see.
SendInBlue does a phenomenal job in terms of ease of use. For the start, there are more than 200 beautiful-looking templates that you can customize in a snap of a finger. As you might expect, there's an intuitive drag-and-drop menu that allows for seamless customization and editing.
For me, this makes things a lot easier. Arguably, the email editor is a tiny bit outdated. However, that's not an issue, as long as it offers all the necessary tools – and it sure does! Another huge plus is the ability to preview your email on mobile devices.
So, before you make it your choice, you can check if mobile users will be able to see what you wanted to express in an email properly. Surprisingly, though, background and fonts customization could be a little improved, as there aren't many options.
Still, I would say that SendInBlue is extremely easy to use even if you don't have any experience.
MailChimp goes guns-blazing with templates. I mean, there are hundreds of them available, although not every template looks stunning. Don't get me wrong – that's completely okay. It's not easy to make 300+ templates that are going to catch everyone's attention.
But, there's a good side. MailChimp offers tons of customization options thanks to a simple drag-and-drop builder. With it, you'll be able to make even ugly-looking templates splendid, simply because MailChimp is more flexible in terms of customization.
For example, you can add social media links, various buttons, images, and videos into your emails. Moreover, the email editor is optimized in a way that you don't have to tweak around alignment, fonts, and stuff like that.
Once you add the elements you want, everything will fit in like LEGO bricks, resulting in professional and classy-looking emails.
3. Email Automations
Email automation is crucial for effective marketing. Adding triggers and autoresponders leads to better and more cohesive interaction with your clients
In SendInBlue, automation is set up very easily, and despite looking simplistic, you can create some complex algorithms. There are triggers and events, upon which you can automatically send SMS or email campaigns or notifications.
Autoresponders are important, too. SendInBlue gives you several templates for autoresponder, which you can customize and create responses that align with your customers' questions. Perhaps the best feature here is the ability to track users' activities on your site and send automated emails accordingly.
For instance, one user might be interested in a particular product on your site. In that case, you can send him an email reminder with a purchase button to make it easier for him to buy it. Honestly, I'm surprised at how simple it is to perform these activities in SendInBlue.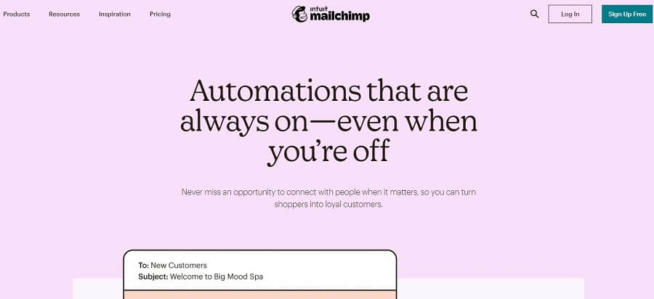 MailChimp follows the footsteps of SendInBlue – or vice versa. It gives you the ability to create custom triggers and events too, although not as complex as SendInBlue. However, I like its autoresponder that works well and offers lots of pre-built templates.
In my opinion, SendInBlue is a little better in this regard. Add to that the fact that autoresponder in MailChimp is placed in the most expensive plans. So, if you try to save money on MailChimp, know that you're also going to miss out on this important feature.
4. CRM
Both SendInBlue and MailChimp can be used as CRM tools. However, we think that SendInBlue has a slight edge over MailChimp in this regard.
As some of you know, SendInBlue has its own CRM. This makes it extremely easy to integrate it into email marketing software and enjoy all of the benefits. In this case, you can easily manage lists and contacts, see which pages your users visited, and so forth.
If we look at it strictly as CRM, it's surely not as advanced as HubSpot. However, compared to MailChimp, it does have the advantage of easier integration and more features.
MailChimp can be used as a CRM solution – or so it claims. While not as advanced as SendInBlue, it offers comprehensive eCommerce information. One of them is the ability to see how much revenue each of your customers brought in an online store.
Social Profiles is another great feature. You can use it to craft targeted campaigns aligned with the social media information of your customers. This feature, however, costs additionally and doesn't come as a default.
5. Landing Page Builder
Landing pages are crucial for attracting and keeping your customers around. Apart from designing attractive and professional emails, both tools are capable of transferring the same experience to landing pages.
To be honest, there's not much to talk about in SendInBlue or MailChimp. Both services come with an in-built landing page builder. They both offer several templates to choose from, that are, above all, fully customizable.
Once again, we're talking about a drag-and-drop menu in both tools. This makes creating landing pages a lot more easier and intuitive but also less time-consuming. Now, what can these landing pages do for you?
Glad you asked. In both cases, you'll be able to promote and display new products to the audience, even before they become available officially. Furthermore, through landing pages, you can conduct giveaways, thus, collecting emails of the contestants.
All in all, I would say that both MailChimp and SendInBlue do a good job here. Whatever your choice is, making engaging landing pages will be a breeze, so you don't have to worry in this regard.
6. Registration Forms
Registration forms should be all about simplicity and straightforwardness. Through them, users should be able to sign up to your email list and take advantage of it in merely a few minutes.
But, how easy it is to set up registration forms with SendInBlue and MailChimp?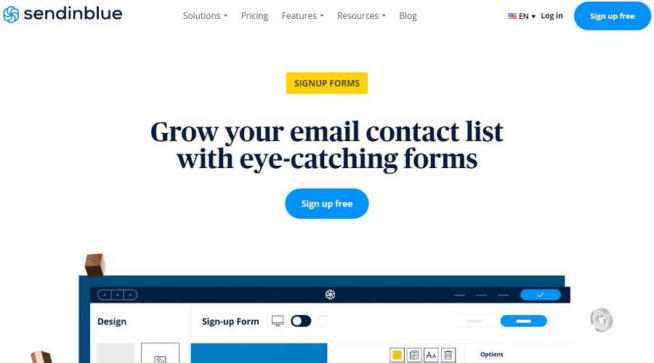 As always, SendInBlue keeps things simple. There's an easy-to-use editor that lets you build registration forms in the form of pop-ups, landing pages, etc, etc. Once you make a registration form, you can send it to the users, and from here, they can select which lists they want to opt for.
That way, they can receive notifications about certain things they find valuable, rather than being spammed with useless emails. I think that SendInBlue nailed it when it comes to registration forms, which could be somewhat said about MailChimp.
MailChimp is no slouch when it comes to overall quality. Its registration forms can look decent and professional, but only if you get over its slightly complicated registration form creation menu. Where do you start?
Well, you won't find the menu inside the Navigation pane. Instead, you'll have to find it under Embedded Forms, which is located inside the Audience panel. Once you figure that out, creating registration forms is quick and hassle-free.
7. Analytics & Reports
Analytics and reports are an integral part of your success. You must know how well your emails are resonating with customers, as well as the success of your campaigns. Once again, SendInBlue and MailChimp won't disappoint you.
Needless to say, SendInBlue offers all the standard features, including A/B testing. This way, you'll be able to gain insight into the success of your marketing campaigns, helping you reach your goal faster. Moreover, SendInBlue offers cutting-edge machine learning technology.
This is paid additionally, by the way, but gives you more edge over the competition. Namely, it will let you see the best time for sending emails and campaigns, to maximize engagement with your followers.
In terms of reports, SendInBlue ticks all the boxes. Once you visit My Campaigns, information like subscribes, unsubscribes, and deliverability percentages will open up like Pandora's box, giving you the required knowledge of your marketing efficiency.
MailChimp comes with A/B testing as standard, and here, it functions really well. Depending on the subscription plan, you can get several testing variants as well, which will improve effectiveness. Furthermore, its analysis and reports are second to none.
Thanks to information like ROI, revenue reports, and total engagement, you'll know where exactly to concentrate your efforts. Plus, I like that MailChimp has a dedicated mobile application made with tracking and analysis in mind.
So, if you're somewhere on a train or plane, you can use your phone and track the progress in real-time. Cool, isn't it? The only downside is that some of the most advanced, yet most useful features require you to pay additionally.
In that case, though, MailChimp flexes its muscles to the fullest and becomes slightly better than SendInBlue.
8. Design and Spam Testing
Sending thousands of emails just for them to end up in a spam folder feels devastating, and the same applies to poor email design. That's why design testing exists in both tools.
While SendInBlue offers free-of-charge design testing, unfortunately, spam testing isn't available. And before you ask, MailChimp also doesn't have it, which is a bit of a shame. Fortunately, SendInBlue's analytics let you get a good grip of how good your emails are doing.
I like the ability to track the geo-location of users but also how many people opened the email, which links they clicked on, and so forth. Automation reports are absent, albeit, you can still use Google Analytics to track your conversions.
MailChimp's design testing is more in-depth, but it's not free of charge. Namely, there are 25 tokens a month, which you can further increase by purchasing more. However, MailChimp gives you more email clients on which you can test your email design.
Also, detailed analytics and reports are here. So, apart from basic information, you can check info like bounces, the number of unsubscribers, and of course, integrate Google Analytics into the app. Automation reports are present here, which is a pleasant surprise.
9. Third-Party Integrations
Third-party integrations are mandatory for every marketing software. Thus, I don't think we need to devote too much talk about them.
Although, it's important to mention that MailChimp's integrations are larger in numbers and you can expect more supported platforms. For instance, MailChimp works with Shopify, Squarespace, and even WordPress, which is super convenient.
SendInBlue supports around 60 integrations – give or take. On the list, there's Google Analytics, PayPal, Wix, Magento, and Dozens more. Furthermore, I like the addition of Zapier, which should improve integrations thanks to its extensive library.
10. Customer Service
In email marketing services, customer support's expertise is of the utmost importance. While both tools will satisfy your needs, we need to mention some characteristics that you should be aware of.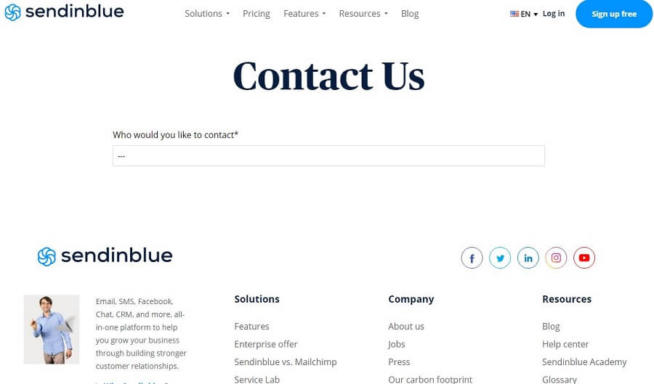 SendInBlue by default offers customer support via a ticketing system. It's available 24/7, and only if you go for more expensive plans, you can get email and live chat support. By the way, no phone support is available, which I'm not exactly a fan of.
In MailChimp, however, you do get email support, 24/7 chat support, and MailChimp Assistant on cheaper plans. The good thing is that phone support is here as well, but it's only available on the Market Premium plan, which costs a lot more.
Nevertheless, customer support is great in both SendInBlue and MailChimp. While not very responsive through the ticketing system and email, I found both of them to be exceptional in 24/7 live chat, where they can fix potential issues in a few minutes.
11. Pricing
Okay. Before we end this SendInBlue vs MailChimp comparison, let's quickly glance over pricing and see how much these services will cost you.
The prices of SendInBlue are displayed below:
And here's how much MailChimp will cost you:
Judging from the pricing, we can see that MailChimp will cost you way less for the starter plan. Its essential plan of $11 is equivalent to SendInBlue's Lite plan which costs $25 a month. But, as we move upward, things start to change.
In this case, MailChimp becomes a lot more expensive, costing $299 a month, whereas, the Enterprise plan depends on several factors. Beware that the good portion of crucial features in MailChimp is available only in the Premium Plan, thereby, forcing you to go for it in some instances.
SendInBlue, on the other hand, offers great features in its Premium plan at $65 a month. As you can see, you get phone support, Facebook ads, and landing pages here, making it, obviously, the best value for the money.
Needless to say, both SendInBlue and MailChimp offer free plans, just in case you want to test them out a bit.
12. SendInBlue vs MailChimp – Summary
In summary, both SendInBlue and MailChimp bring impressive performance to the table. SendInBlue, once again, represents a good option for smaller companies, while MailChimp is better suited for larger companies with more revenue.
Let's put it like this.
If you want an easy-to-use interface, beautiful templates, great analytics, and an intuitive CRM platform, go for SendInBlue. However, if you value more features, more integrations, solid automation, and cheaper low-tier plans, I would say that MailChimp is a better choice for you.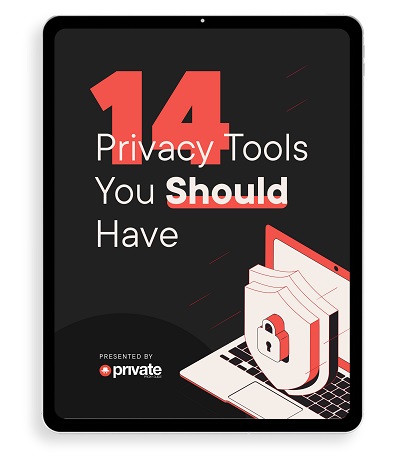 Learn how to stay safe online in this free 34-page eBook.