Shopify and Squarespace are popular e-commerce systems on the market today. They both make it simple for small company owners to construct online stores or websites without coding. But how do you determine which online shop platform is best for your company: Shopify or Squarespace?
Before you make a quantitative assessment, you'll need to look at what each platform has to offer qualitatively. You can better grasp which of these platforms' characteristics and price ranges will best serve your business's digital demands once you've made this side-by-side comparison.
1. Shopify vs Squarespace
1.1 Shopify – Overview
Shopify is a cloud-based e-commerce platform that makes it simple for entrepreneurs to set up and manage online stores. Shopify is most known for its comprehensive, expandable e-commerce store options. Still, retail enterprises can also take payments in person with Shopify POS and its choice of physical POS gear.
Shopify is without a doubt the market leader in the web builder space: the Ottawa, Canada-based platform has processed $100 billion in total sales through its hosted sites, and it presently powers 600,000 businesses globally, including major brands like Red Bull, Nestle, and Kylie Cosmetics.
Squarespace is another well-known e-commerce platform. It has a slew of celebrity clients: celebrities John Malkovich, Keanu Reeves, and Idris Elba, for example, all use Squarespace to run their websites.
Squarespace is best recognized as a simple website builder for small business owners, freelancers, and creatives in various industries that need a virtual landing pad but not always a fully equipped online store.
Squarespace might be a viable alternative for e-commerce enterprises that need to establish a small online store from the bottom up. However, its e-commerce site features aren't as extensive as Shopify's.
We have done a detailed comparison between Squarespace and Shopify to help you make a decision.
2. Ease of Use
Shopify offers a highly user-friendly dashboard. Due to Shopify's drag-and-drop interface, you can easily add, remove, or move components quite quickly with just a few clicks. The main website page also offers an easy-to-follow interface with shortcuts for adding products, customizing themes, and adding a domain, along with visual hints. As a result, you'll never be lost while you create your online business.
Shopify has had a good reputation for being simple to set up and operate day-to-day since its start. You can begin selling in minutes using Shopify, and you don't need to be an expert at developing stores to do so. If you don't know the process of setting up a Shopify store, watch our tutorial video to get started right now.
Although Squarespace, too, is a content management system, it is a bit more difficult to master than Shopify. Squarespace makes it simple for newcomers by using drag-and-drop sections with particular content blocks.
However, the editor's web page is difficult to browse due to the lack of visual signals. Squarespace's method will take some time to grasp for those new to constructing eCommerce websites.
3. Pricing
Shopify, Advanced Shopify, and Basic Shopify are the three available pricing options, each of them with a monthly fee as shown below:
You also can sign-up for their free 14-day Shopify trial using your e-mail ID. If you're thinking about expanding your business, check out our Shopify and Shopify Plus comparison.
Along with third-party apps, Shopify Payments is a separate payment gateway. You are required to pay credit card charges to pay transaction costs of third-party processors. However, you won't be required to pay any extra transaction fee, ranging from 0.5% to 2%, if you use Shopify Payments.
Furthermore, you may need to invest money in other aspects of your Shopify business, such as a domain name, template design, add-ons, and interfaces, among other things. As a result, we recommend looking into Shopify pricing estimates before starting a shop on this platform.
Squarespace has four monthly pricing options: Personal, Professional, Basic Ecommerce, and Advanced Commerce. The plans' pricing ranges between $16 to $54, and the more the price goes, the more features your store will have.
You also get a free 14-day trial to see if Squarespace satisfies your requirements before choosing perfect for you. Please keep in mind that the Personal plan does not contain eCommerce or Marketing. As a result, if you wish to use Squarespace to build a store, you must purchase one of the other three choices. However, keep in mind that the Business plan has a 3% additional transaction fee, while the other two don't. As a result, the price could skyrocket.
Final Verdict: Squarespace, as you can see, is considered cost-effective. With only $54 per month, you have access to Squarespace's advanced features. To derive the best use out of Shopify and other applications for growing your business, you'll need to pay around $299.
4. Themes
Shopify provides an excellent theme selection. There are thirteen free themes and 71 paid premium templates ranging from $140 to-180, which is pretty pricey. Shopify themes suit various industries, including clothes, electronics, cosmetics, and sports, among others.
Shopify's themes are appealing mobile-friendly, and Shopify guarantees the quality performance of whichever theme you choose. You can change the theme later if you don't find it satisfactory.
Since October 2020, the developers have already shown several advancements in the themes based on merchant feedback. Some modifications, such as updated colors, simpler graphics, and a clean appearance, may be noticeable. Another attempt by this platform to improve theme loading times is upgrading the Shopify theme editor.
Every Squarespace template is sleek, attractive, and modern. Above all, they've all been designed professionally to satisfy the best design, functionality, and efficiency standards.
Squarespace is one of the many blog-hosting services out there. Many Squarespace themes are personalized to users who want to write up or display their photography, art, or soundtrack portfolio.
Squarespace feels easier for e-merchants to customize their Squarespace stores artistically, although it isn't always fully optimized for eCommerce platforms. In addition, they are free to preview and alter based on your selling objective, as this is included in your monthly subscription charge.
You can utilize code to create specific adjustments to your online store to personalize it even more. You can edit Hypertext Markup Language (HTML) and Cascading Style Sheets(CSS) on the Shopify Admin panel. Squarespace allows you to use a Code Block to add HTML and a CSS Editor to add CSS.
Final Verdict: This round is a draw. Squarespace and Shopify both have an appealing template selection. The former is a more apparent alternative for creating an online store. For content-driven website creators, Squarespace is a better fit.
5. Payment Options
Shopify supports significant online payments like PayPal, Square, Amazon Pay, or even cryptos and more than 100 other options. To help store owners increase the exchange rate, Shopify keeps giving more payment alternatives, especially local providers.
Users using Shopify Payments won't be billed with any extra transaction fees, which fall in the region of 0.5% to two percent per sale for all the other payment options. Shopify Payments, in addition, is available exclusively in around 17 countries, including Australia, Belgium, and others. If you live in these countries, do ensure to take the edge of Shopify payment to avert this extra cost.
Squarespace Payment Options: Squarespace only accepts Stripe, PayPal, and Square, as methods of payment. Take a look briefly at the table below for a summary of each payment processor's features:
| | | |
| --- | --- | --- |
| Stripe | PayPal | Square |
| Payment methods are through Visa, American Express, MasterCard, Diners Club, Apple Pay, and JCB | Supports multiple countries | Payments can be made through UnionPay, MasterCard, Visa, American Express, and so on |
| The processing fee varies from country to country | The processing fee varies depending on the business location | Square accepts cash payment transactions and the monies to the store owner's Square-linked bank account |
| The countries supported are Australia, the USA, Ireland, and the UK | Concepts all credit and debit cards along with Apple Pay | It is available only in the United States |
| The test mode option is available | Test mode is not available | Test mode is not available |
6. Offline Selling
Shopify created its point-of-sale system (Shopify POS Lite) for mobile and brick-and-mortar transactions (Shopify POS Pro). It's included with every Shopify package and works in tandem with your online shops.
To get started, you'll need to download the Shopify app and purchase hardware such as Shopify Chip and Swipe Reader or Tap and Chip Card Reader. In addition, for each offline sale, you must pay a transaction fee of 2.7% for the Basic plan, 2.5% for the Shopify plan, and 2.4% for the Advanced plan.
Squarespace teamed up with Square to create Point of Sale. To get started, you'll need the Squarespace eCommerce app and $49. Square card reader. Keep in mind that POS is only possible if you have a Commerce Basic or Advanced package. Squarespace, in contrast, does not charge you any extra processing fees.
Final Verdict: Shopify simply wins because it is designed specifically for eCommerce store owners when it comes to Squarespace versus Shopify for eCommerce. Nonetheless, integrating POS functions into Shopify stores is very pricey, making it unsuitable for businesses on a tight budget.
7. Search Engine Optimization (SEO)
Using Shopify's built-in SEO tools, you can efficiently customize your eCommerce website. First and foremost, Shopify will produce descriptions and titles for all goods and pages, semantic tags, and your sitemap, based on the content on your website. Furthermore, when referencing the score SEO aspects, such as page titles, meta descriptors, and picture alt text, Shopify utilizes the proper name. Shopify, in particular, will save you time by automatically generating permalinks when you modify your site's URLs.
Similarly, Squarespace also offers tools to assist users in improving their websites concerning search engines. These tools also help SEO by automatically generating meta tags, sitemaps, and title tags. You'll handle things like "descriptions" and "captions" on Squarespace, unlike Shopify… Furthermore, you will have to manually construct the 301 redirects when changing the URL of your website, which is highly time-consuming.
Final Verdict: Basic SEO functions are available in Squarespace and Shopify to assist your online store rank higher in SERPs. Due to its excellent site performance and stability, Shopify appears to have better SEO features. Furthermore, this platform offers a diverse set of SEO-related applications.
8. Analytics
Analytics is a crucial component of running a successful internet business since it provides you with valuable statistics that you can use to evaluate your company's performance. You can construct an appropriate development strategy based on in-depth knowledge of your customers and business.
Both Squarespace and Shopify have powerful analytics tools. Shopify, although, is deserving of a victory. The platform provides users with various reports about 14 types, grouped into numerous areas, such as finances, products analytics, sales, and customers.
The features of Shopify Analytics are based on the paid subscription tiers. That is to say, the greater your subscription plan, the more comprehensive reports Shopify will provide. You can also use third-party report services, such as Google Analytics to generate reports.
Squarespace Analytics, in comparison to Shopify, only provides you with the most basic information and statistics about your store and customers. Business Analytics, Visitors, and Trends are two prominent reports.
9. Plugins and Apps
With over 2000 apps, Shopify has the best eCommerce apps accessible. It's like a featured buffet, in which you can select and choose amongst a variety of paid and free apps, with a monthly subscription costing $15. Even though some premium apps are pricey, they provide tremendous value.
Squarespace debuted its extensions marketplace only recently. There are now 24 extensions provided entirely by third-party extensions. However, only a few of them are accessible in a few countries, so check the extension's page before adding it to your website. Regardless of the restricted choices, all the extensions are meant to help you maintain, optimize and extend your site. Shipping and fulfillment, finance, stock and products, marketing, and sales are among the four divisions you might choose from.
Final Verdict: Shopify wins as it is the best website builder
10. Security
One of the most prominent reasons online shops choose Squarespace or Shopify over self-hosted alternatives is their high level of protection.
All data sent between the shop keepers of these sites and their customers is encrypted with SSL Certificates. It significantly improves the reliability of your internet business by protecting the security of essential data such as credit card numbers. Furthermore, both Shopify and Squarespace are PCI accommodate, ensuring they adhere to strict security standards while handling credit card information.
Final Verdict: Both Squarespace and Shopify meet a minimum degree of security in this round, ensuring that your internet business data is appropriately protected from leakage or data loss risk.
11. Support
Both Squarespace Shopify provides excellent customer care due to their hosted nature. You can contact them for assistance via email, telephone, live chat, or their public forum whenever you have a problem. You can also look for information in their paperwork. Additionally, if you purchase the Shopify Plus package, you will receive a dedicated service representative.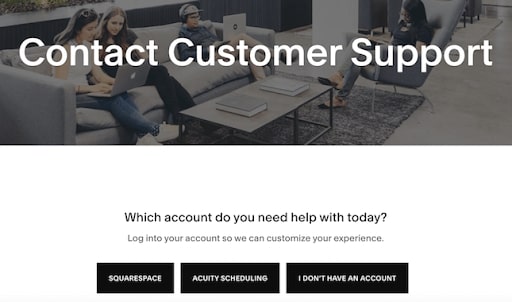 While Squarespace users may only get help through live chat or email, Shopify has taken one step further by offering 24/7 phone support.
Final Verdict: Shopify has a slight advantage over Squarespace in terms of support channels.
12. Conclusion
Squarespace is the best pick out of the two packages here if your primary goal is to create an appealing website to exhibit content. I'd argue that this is especially true if you're working with photographs – Squarespace is especially well-suited to building online photography portfolios. Squarespace is also a terrific choice for anyone in the creative business.
Squarespace is still your best pick if you'd like to create a content-focused blog or website. You can even sell a few things on the side, as long as you're okay to sell in only one currency and don't have to deal with a lot of various tax rates.
Although both systems could do a lot better in terms of GDPR compliance, it's safe to say that merchants that want a high degree of compliance on their website will find it easier to do with Shopify, particularly when it comes to cookie consent.
Suppose you want to build a professional online store with automatic tax calculation. In that case, point of sale, detailed reporting, and an extensive product inventory, Shopify is unquestionably the better option— its feature set and payment gateway options are significantly more extensive, and its SEO features are slightly better as well.
Choose your pick and let us know in the comments!