SiteGround and Bluehost are two shoulder-to-shoulder competitors and Pioneers in the world of web hosting. What we're going to do today is a comparison between their most important features. If you're someone looking to choose between the two, this may be quite helpful. Scratch that – it's GOING TO BE quite helpful.
1. SiteGround vs Bluehost: Verdict
Overall, SiteGround seems to be the better option. You get to better support, more advanced features, and higher performance. If you're looking for the bang for your buck, SiteGround is the way to go. 
On the other hand, if you're looking for an affordable solution for your small sites, then Bluehost is an excellent option to consider. In threads about SiteGround vs Bluehost on Reddit and Quora, most are in favor of SiteGround.
SiteGround vs Bluehost


www.siteground.com
SiteGround
Pricing: from $3.95/month
Payment options: PayPal, Cards
Money-back: 30 days
Free domain: No
Space: 10 GB
Control panel: cPanel + SSH access
Migration: Using their WordPress plugin
Bandwidth: 10 000 visitors/month
MySQL Databases: Unlimited
Websites: 1
Server: Nginx + Apache
Email accounts: Unlimited
Subdomains: Unlimited
Server locations: Iowa USA, London UK, Netherlands, Frankfurt Germany, Sydney Australia, Singapore
Trustpilot score: 4,7/5
Support: Tickets
Visit SiteGround »


www.bluehost.com
BlueHost
Pricing: from $3.95/month
Payment options: PayPal, Cards, Checks (US) Money orders
Money-back: 30 days
Free domain: Yes (1 year)
Space: 50 GB
Control panel: cPanel
Migration: Using their WordPress plugin
Bandwidth: Unlimited
MySQL Databases: 20
Websites: 1
Server: Nginx
Email accounts: 5
Subdomains: 25
Server locations: Utah USA
Trustpilot score: 2,5/5
Support: Live chat, phone & tickets
Visit Bluehost »
2. SiteGround vs Bluehost: Interface and ease of use
Both SiteGround and Bluehost provide cPanel base Solutions with several known features (PHPMyAdmin, email aliases, a file manager, FTP accounts, etc.). Bluehost also offers the ability to enable Cloudflare directly from the dashboard. If you're familiar with web hosting, you should know that using a CDN, such as Cloudflare, is becoming more of a necessity rather than a luxury.
Through our experience, SiteGround's layout seems to be superior as it looks cleaner and easier to navigate. Furthermore, SiteGround is currently rolling out a new dashboard design that should replace cPanel altogether. The backend of Bluehost is somewhat cluttered with Non-Stop promotions, paid tools, and upsell pitches that you won't really need (ConstantContact, Weebly, AppMachine, etc.), which can make using it a little bit overwhelming. In addition to that, the prices set by Bluehost seem to be a little bit shady. They seem to be continually trying to push you to sign up for longer and longer periods of use (3 years).
SiteGround vs Bluehost – Winner: SiteGround
3. SiteGround vs Bluehost: Features
There are several features that you have to keep in mind when you're going to choose a host, but from the knowledge that we have acquired over the years, these are the most important ones:
3.1 Bandwidth
Bandwidth is all about the amount of traffic that you can handle on your website. In many cases hosting providers will limit the maximum amount of visitors allowed in a way to force you to upgrade. Thankfully, Bluehost and SiteGround do not do that, as both offer unlimited bandwidth (within reason, of course).
3.2 Backups
You need to be prepared for any error that might happen. And, whether we like it or not, errors WILL occur, and something WILL go south eventually. So in cases of misfortune, having backups can save your life (well, your work is your life, right?). SiteGround provides daily backups of the content of your website from the previous 30 days. Restoring previous backup versions is easy and fast. It also provides a cPanel tool that enables you to download secure copies of the content of the website.
We have to mention that we are very pleased with their backup on-demand system, which is only available on the GoGeek and GrowBig plans. You'll be just one click away from backing up your whole data. Want even more good news? Restoring any backup version is just as easy. The approach provided by Bluehost isn't as convenient. Although they provide backups that you can be saved and restored on a daily, weekly, and monthly basis, the free version comes with restrictions (like no individual file restoration). That said, they do offer more functionality if you're willing to pay for an expensive upgrade (Prime plan).
3.3 Domains, subdomains, and parked domains
If you're going with SiteGround, you'll be able to create as many subdomains as you want. It also allows you to park as many domains as you please. On the flip side, you don't get to have a free domain name when you sign up. You will have to pay for it or buy it from somewhere else. (".com" domains start at 16$/year).
On the other hand, Bluehost gives you the ability to have a free domain name with whichever plan you choose. Keep in mind that the subdomains and parked domains are limited to only 5 and 25 in the entry plan, which also doesn't include domain privacy. If you get the higher plans, you have no limitations.
3.4 Receiving and sending emails
SiteGround gives you unlimited email accounts, but it does not give you unlimited storage space. Depending on the plan you choose, you either get 10GB, 20GB or 30GB. You're allowed to set up aliases and forwarders for your accounts through cPanel, which allows you to manage the accounts: SquirrelMail, RoundCube, and Horde.
On the other hand, Bluehost is not far from what SiteGround provides. It even offers the same Webmail clients through cPanel. The distinction between the two is that Bluehost sets limits on the entry-level plan to only 5 email accounts and 100MB of storage space. As for the other plans, you get unlimited space and number of accounts.
3.5 FTP and SFTP accounts
Both hosting providers offer the ability to create as many active FTP and SFTP accounts as you want. SFTP comes with no issues when using SiteGround, but with Bluehost, it's only allowed for the main FTP account.
3.6 SSL & HTTP/2
Having an enable SSL (https) and using HTTP/2 to run your site allows you to improve your SEO rankings and enhance security. This would mean that any host that provides these two features right away is ahead of the game. That said, SSL certificates are becoming more of a standard in the hosting world. This is yet another tie as both Bluehost and SiteGround offer free SSL (through Let's Encrypt) and HTTP/2.
3.7 Git and SSH access
For deploying and keeping track of changes, these services get the job done, especially if you're working in a team. SiteGround offer their own SSH access system. This provides you with admin access to the account, making it very useful for big-file management. Add to that that you can set up a Git repository allowing version control over your projects. Unfortunately, Bluehost does not offer a Git repository with their shared hosting, even though they provide SSH, which is why we're marking SiteGround as the winner here.
4. SiteGround vs Bluehost: WordPress hosting
When it comes to WordPress hosting, Bluehost and SiteGround are most definitely your best choices. Both can be excellent hosting providers, but we recommend different picks depending on your level of experience. For beginners, it seems that Bluehost is the better option. You'll find WordPress to be pre-installed, the user is guided in creating the website and selecting the theme. The whole process of building the site becomes much simpler, thanks to the Bluehost customer dashboard.
If you are more experienced than most users, then you should probably go with SiteGround. SiteGround offers the same great features as Bluehost but with the addition of a backup and restore system. There's also the added performance when the SuperCacher technology.
SiteGround vs Bluehost – Winner: SiteGround
5. Bluehost vs. SiteGround – Performance and speed
You don't have to explain why speed and performance are critical factors in hosting a site. Loading speed affects user experience, conversion rate, SEO ranking, and more. The loading time for just one visit isn't the only thing to worry about. As your website grows, you get more and more frequent visitors. You want to provide a short loading time for tens if not hundreds of visitors at the same time. If you can't, the traffic you want will be gone.
Besides that, you're looking for reliability. You lose Revenue and opportunities every minute your site remains down if it crashes. The ideal host will try to prevent that from happening. All in all, we can't stress enough how vital the web hosting provider's performance is for the success of your website. And in this case, SiteGround is definitely the winner.
Now let's talk about speed. For this, we're going to look at Review Signal's 2018 performance benchmarks. What's great about Review Signal's insight is the fact that it's consistent and objective at all times. The comparison that Review Signal has made was between SiteGround's GrowBig plan and Bluehost's Plus plan (both middle-tier plans). Here are the results:
Simulating up to 1,000 concurrent visitors:
Bluehost's hosting faced some issues during this test with an increase in the response time, whereas SiteGround's hosting handled the simulation like a boss.
Simulating up to 2,000 concurrent visitors:
When going through this test, Bluehost run into some security bumps that the testers couldn't bypass, whereas SiteGround's hosting ran smoothly throughout the simulation.
We should also mention that side ground also be plugged in Review Signal's one-off WebPageTest speed tests except in the Denver test. But that's understandable since Denver is very close to Bluehost's Utah data center.
SiteGround vs Bluehost – Winner: SiteGround.
6. SiteGround vs Bluehost: Uptime
While loading speed is one of the important factors, uptime is the most crucial of them all. The more you can reduce the downtime, the better is the user experience. Downtimes are also a disliked aspect for search engines. The minimum bar that you want to be at is 99.95% of uptime. Checking the stats, you'll find that SiteGround provides an impressive service. Through our experience, we found that they provide the best results in the whole industry.
We ran into several issues with Bluehost's uptime, it wasn't an enjoyable experience, but we must mention that the service has undergone a significant Improvement.
SiteGround vs Bluehost – Winner: SiteGround
7. SiteGround vs Bluehost: Server locations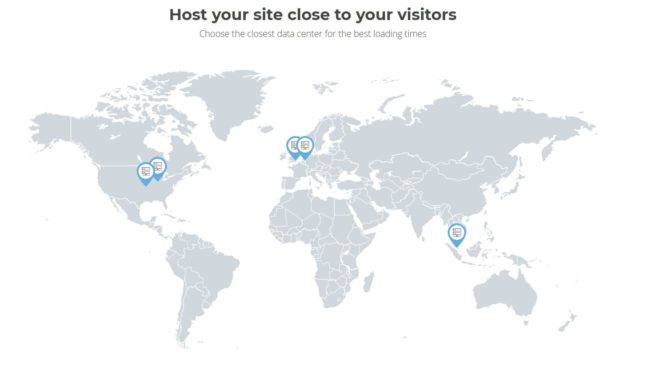 A great aspect of the service provided by SiteGround is the fact that they have more than just one data center. You'll find servers in the US, Singapore, Netherlands, and the UK. Unfortunately, there isn't much data available online regarding Bluehost's datacenters, but putting more effort into the search, you'll find out that the servers are in Utah.
SiteGround vs Bluehost – Winner: SiteGround
8. SiteGround vs Bluehost: Site migration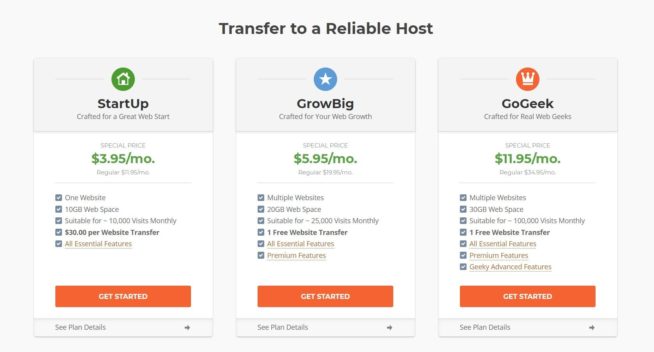 Migrating a site from one hosting account to the other is no small feat, especially if you've never done it before. That's why how each provider handles website migrations is yet another essential factor to consider when comparing SiteGround vs Bluehost.
SiteGround offers one website migration for free as part of the GoGeek and GrowBig plans. Getting your site migration handled by an expert in the StartUp plan will cost you $30. The same goes for any additional migration as part of any plan. SiteGround also has a WordPress migration plugin called "WordPress Automatic Migrator", which can come in handy if you have several sites that you need to move.
When it comes to Bluehost, the expert migration service costs $150 (well, $149.99 to be exact). This will allow you to migrate 5 sites and 20 email accounts.
SiteGround vs Bluehost – Winner: SiteGround
9. SiteGround vs Bluehost: Security
SSH, SFTP, and SSL are what you get with SiteGround, and they are all very important when it comes to security. PHP 7 is used by default (apparently the most secure PHP). SiteGround also monitors the traffic to prevent any Booth Force attacks and also update their security rules weekly. They also offer, for $1.5 a month, SG site scanner, which is an add-on that scans your website for malware.
What Bluehost offers is very different. You get SSH, SFTP, and SSL access. Unfortunately, they don't reveal much data about their security protocols. What they do offer is SiteLock for $30/year, which an external security solution. A quick search online will let you know that there have been presumably several website hacks on Bluehost, but that's understandable, considering that there are more webmasters using Bluehost.
SiteGround vs Bluehost – Winner: Draw
10. SiteGround vs Bluehost: Support
This is definitely one of the most important aspects to keep in mind when choosing a hosting provider. You get 24-hour support through live chat, email, and phone if you use SiteGround. They are always friendly and fast, and they always give you the solution you need. Basically, they provide the best client support that you can get from any hosting company. That's a big statement but a true one.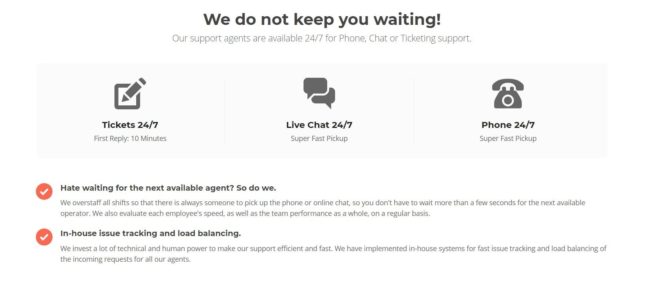 On the other hand, Bluehost's support isn't that great. From what we have experienced, they're not as useful, they are slower, and they always try to persuade you into upgrading. They can be contacted all day through live chat or the phone.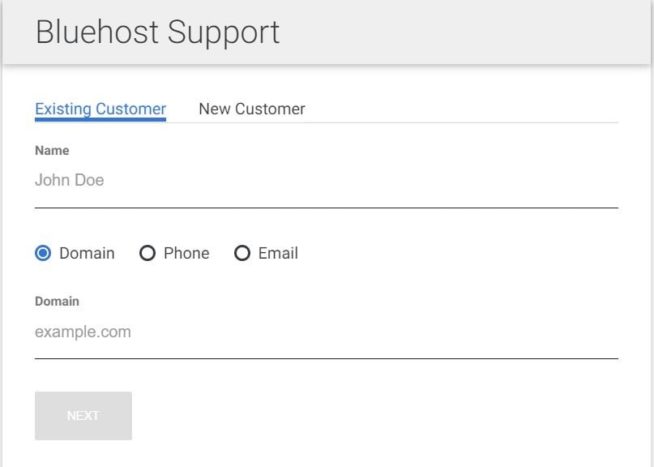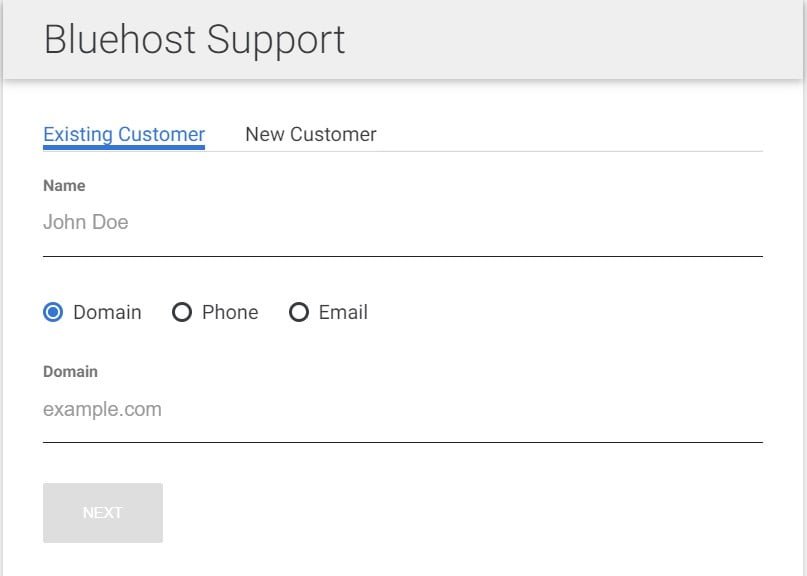 SiteGround vs Bluehost – Winner: SiteGround
11. SiteGround vs Bluehost: Plans and price
This is a very subjective matter. While some might be comfortable with paying a little extra for better features, others may find cheaper options more appealing. Our advice for you is to try not to go cheap with your hosting.
SiteGround's Pricing:
StartUp ($11.95/month): One website, 10 GB of storage, unlimited bandwidth, in-house sync system, and 24-hour client support.
GrowBig ($19.95/month): Unlimited number of websites, 20GB of storage, unlimited bandwidth, on-demand backups, staging, and an Advanced cashing system.
GoGeek ($34.95/month): Adds priority support and Git repository (pre-installed) on top of the features provided by the other plans.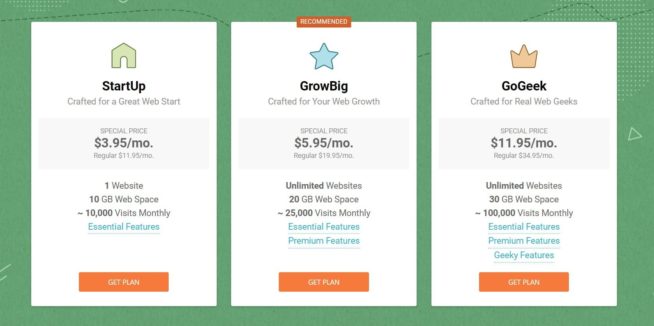 Bluehost's Pricing:
Basic ($7.99/month): 1 website, 50GB storage, unlimited bandwidth.
Plus ($10.99/month): Unlimited websites to host, unlimited storage and unlimited bandwidth.
Choice Plus ($14.99/month): Advanced backup solution added to the Plus plan features.
Pro ($23.99/month): Adds a dedicated IP on top of the aforementioned features.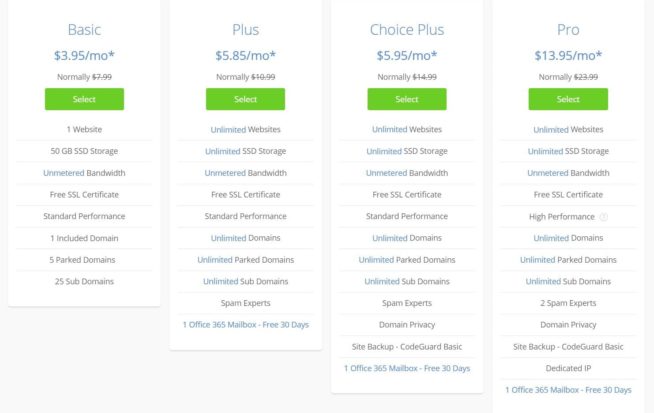 It's worth noting that both providers offer introductory discounts.
SiteGround vs Bluehost – Winner: This is a difficult one to judge. All in all, Bluehost plans are cheaper, but it would still depend on your requirements. Maybe what you need can be fulfilled with an affordable plan provided by SiteGround. In any case, we're giving this one for Bluehost .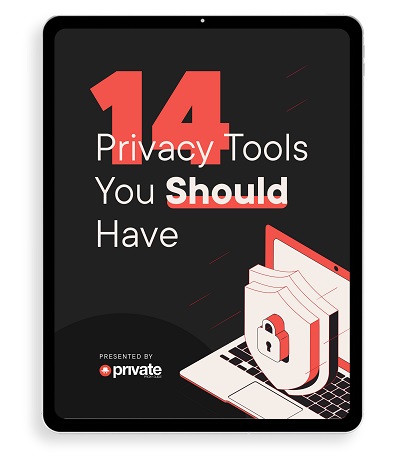 Learn how to stay safe online in this free 34-page eBook.