With so many privacy and security threats dominating the web in 2023, having an antivirus is considered mandatory. Many people don't understand the confidentiality of data, until it, unfortunately, gets compromised. Having reliable antivirus software can take away all the headaches you may have about how you handle your data, but finding a reliable one can be difficult.
In this article, we put a Sophos Vs Bitdefender comparison side by side to determine which one is better. Given that they were both two popular options throughout this year, a lot of people will find this comparison valuable. If you're also among the people who can't decide between them, we hope that this article will find you useful.
There are thousands of antivirus and malware protection software on the market. Some of them are free, some of them come with an affordable price tag, while some are quite expensive. Which option you'll choose depends on what kind of data you're generating online. For some users, even the free version may work, while some people who work with confidential information could use the help of premium software.
Whatever the case may be for you, Sophos and Bitdefender come with advanced security and privacy features. Continue reading with us to learn more about the features they offer.
1. Sophos Vs. Bitdefender – Verdict
Comparing two feature-rich and respected antivirus software can be quite difficult, especially when both offer so much value at a relatively affordable price. When it comes to interface, feature, and impact on system resources, Bitdefender is a clear winner.
Both software performs great when it comes to real-time protection, layered ransomware protection, and effective protection of rootkits. Bitdefender also includes a reliable VPN service at an affordable price, so people who want to make their web activity more private will more likely investigate it. However, AI features, as well as the free version that is offered with Sophos are also great for students and those who don't visit fishy websites frequently.
2. Sophos Vs Bitdefender – Interface
When it comes to the user interface of these two antivirus applications, both have an extremely sleek and clean interface. We'll first detail the Sophos interface. It's designed in a way that once you start it, even the beginner won't face any difficulties of navigating through different tabs and features that it offers.
On the starting screen, you'll have more information about your protection status, highlighted in a nice blend of blue, white, and grey colors in combination with a sweet gradient. It's worth mentioning that Sophos Home has a basic free version that is rich in different features. However, once you download it, you'll be able to test its premium features for 30 days as part of a trial.
Once you open the program, you'll be greeted with the following tabs:
Status – gives information about the real-time protection
Dashboard – Opens a web page with more information about the protection
Add Device – Opens a page where you can add multiple devices to Sophos program
Buy Premium – For buying the full version
Create Account – This allows you to create an account, although the program requires you to do so once you install the software
Help – For getting help regarding the use of the application.
On the status page, you'll be able to see whether you're protected in real-time or not. In some cases, you will need to manually activate the real-time protection. Once you do, you'll be able to see whether you're protected from malware, on the web, whether the ransomware protection is activated and whether there's been an activity of malicious traffic online.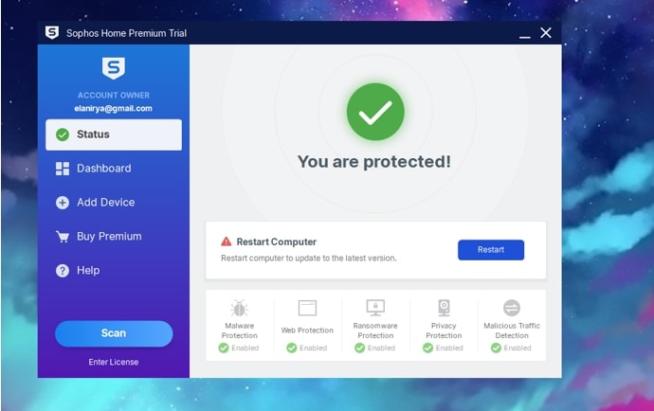 As you navigate on the dashboard, you'll see a web page open from where you can see more insights. You can see the view of your computer's protection and choose what type of protection you're looking for. You can also filter what kind of things you don't want to be able to search, which is ideal for parental control in case you don't want your child to view certain things.
You can also see the history of threats and choose different types of protection for the PC that is registered with the antivirus software.
All in all, the interface is quite intuitive and allows you to view sleek features and settings that you can use with ease. The only downfall is that not everyone will always have the internet connection to view the threat history and change their interests at all times. It'd be better if this dashboard was available from within the desktop application.
With Bitdefender, it's a bit different, you'll be greeted with a more cluttered interface, although it still feels clean and sleek. It resembles more of traditional antivirus software compared to Sophos in the sense that the dashboard can show the options for scanning, VPN, vulnerability scan, optimizations, and more.
Here are the tabs that can be found once you open the Bitdefender software:
Dashboard – This shows the settings that are available for you to try out
Protection – Kind of protection you can get with Bitdefender
Privacy – Privacy protection and settings
Utilities – Extras that can improve your security as well as performance
Notifications – Gives information about new threats or updates.
Settings – Enabling or disabling real-time protection, exceptions, and other settings.
Even though the features are kind of cluttered in the design of Bitdefender, the navigation is much easier and features are nicely designed so that the beginner has an easier time navigating and exploring different settings. Also, most features are located inside the app, whereas with Sophos, you have to use a web-based dashboard as it's a cloud-based solution.
Sophos Vs. Bitdefender Winner: Bitdefender
3. Sophos Vs. Bitdefender – Features
Both antivirus software is equipped with great security and privacy features that you must use in 2023. Let's take a look at them and see which one is better.
3.1 Sophos Features
It's no secret that Sophos offers a plethora of features. Whether you're a beginner and not so tech-savvy or a computer whiz, you can rest assured that Sophos' real-time protection will keep your data safe and sound.
It comes with advanced, real-time malware protection. It'll help you take care of the hidden threats on your computer, but you need to make sure that the real-time protection is turned on. It can successfully detect viruses, trojans, rootkits, spyware, and other threats that can compromise your security.
It comes with other powerful features that can include:
AI Threat Detection – Thanks to powerful machine learning algorithms, Sophos can successfully recognize potential threats and remove them from your system.
Ransomware Security – Prevents your files and your other belongings from being encrypted and used against you for ransom.
Security Management – This allows you to secure up to 10 devices using Sophos protection. Keep in mind those devices need to run Windows or Mac operating systems.
Privacy Protection – This feature is all about your protection. It will block malicious websites and other threats from accessing your webcam. It also successfully encrypts your keystrokes so your online and offline activity can't be tracked.
Web Protection – This feature helps you protect yourself from phishing emails while blocking URLs that can compromise your security online.
Parental Web Filtering – Ideal for parents who are conscious of the dangers that the web poses for their children. It allows you to filter out bad content that your children may have access to over the internet.
Although all the features we filtered above are quite futureproofed, one of the features we liked the most is the AI Threat Detection. A lot of cybersecurity and protection companies are recognizing AI as their rightful ally in protecting our data and online presence.
Still, there's a lot of work to be done in that regard, but AI is making great progress in this field. It's also worth noting that not all of these features are available with the free version. For example, Ransomware Security only lasts during free trial time. Later on, it's supported with the full version.
Nevertheless, a lot of features are still available within the free version. These features are great and show that Sophos is reliable antivirus software that won't break your bank. We'll discuss more its price below.
3.2 Bitdefender Features
Bitdefender is a more established antivirus software when it comes to the features it offers. Unlike Sophos, it doesn't offer a free version, other than the free trial that includes all the features that come with the full version.
It's a feature-rich software, that meets all the requirements that a day-to-day PC user would have, as well as someone who's savvier with computers and uses them to surf the web and visit websites that could potentially be packed with malicious software.
The key feature that Bitdefender offers is malware protection. That means that it can effectively recognize malicious software and other threats that can destabilize your system and potentially expose your data to hackers.
Using its malware protection features, you can easily have a quick scan of your system that takes a look at potential threats that are nested in your computer. Advanced system scanning offers more robust scanning features which can uncover all the lurking threats in your system.
Other features include:
Complete Real-Time Data Protection – Effectively detects all the potential threats in real-time. That way, your data on the computer cannot be compromised, as all incoming downloads and website access are being assessed for viruses, trojans, rootkits, and other malware.
Anti-Theft – In case of a theft, you'll be able to locate your device remotely and send it a message. It's great in case your laptop or some other device gets stolen.
Antispam – The web protection filters out potential spam messages out of your inbox in order to eliminate the risk of phishing.
Advanced Threat Defense – In order to protect your system and files from ransomware, Bitdefender developed an advanced threat defense feature to protect you from unwanted behavior that could hint at ransomware.
Web attack prevention – Helpful in blocking out potentially harmful websites that could force multiple downloads on your device and sneak in a potential threat for your system.
Anti-fraud – Ideal for online shopping, this feature intelligently recognizes if you're visiting a website that could try to scam you and take your data from you.
Rescue Environment – This feature will protect you from rootkit threats. If rootkit or some other advanced threat was detected, Bitdefender will reboot your computer in Rescue Mode which is used to clean your PC out from the threat before it causes damage.
Every user wants their computer files to be protected and uncompromised. Bitdefender is equipped with all the necessary features to keep it that way. Starting from intuitive malware protection and system scans to advanced ransomware layered protection and anti-fraud features.
It's also worth noting that in the free trial option, you'll get to test Bitdefender VPN for 7 days. All you have to do is turn it on and let it automatically pick the server for you. You can also set it manually.
Bitdefender is the clear winner in this comparison. It comes with so many features, for both its desktop application and its web-based counterpart. Still, the Sophos features are not lacking much behind.
Sophos Vs. Bitdefender Winner: Bitdefender
4. Sophos Vs. Bitdefender – Malware Protection
Both Sophos and Bitdefender are equipped with extensive databases that are updated in real-time to discover new more or less dangerous threats. They're both doing a great job in protecting your system from viruses, trojans, rootkits, ransomware, spyware, and other threats. But, which one does it better?
Both software run advanced scanning settings that can successfully detect incoming threats by comparing the files on your computer to the virus definition written in the database. Sometimes it can pick up some other type of file like an automated script that is not dangerous to your system but it exhibited the behavior of those dangerous scripts that are defined in the databases.
Just like most other antivirus software, there are two actions that the antivirus will take. One is to quarantine the threat and let you decide what you'll do with it. The other action includes deleting the file or script from your system.
AV-Test, a popular website for testing the performance of antivirus programs and other software that works to prevent malware, evaluated Sophos for its performance in September and October. When it comes to its protection score, it scored 6 out of 6, which is an excellent score.
Bitdefender scored the same result. The website evaluated that Bitdefender is fast and effective in preventing malicious files from being downloaded to your computer, as well as blocking various web threats.
Sophos Vs. Bitdefender Winner: Draw
5. Sophos Vs. Bitdefender: Performance And Impact on System Resources
We saw that both Sophos and Bitdefender score great when it comes to malware protection and privacy settings. But, that all comes with a cost. Add a sleek interface and multiple options and features to the bunch and antivirus software can feel quite hefty on our system.
In this section, we tested and evaluated the impact on system resources that these two programs have. For a day-to-day computer user, that impact won't feel too overwhelming. Still, for someone who's an avid web user, opens numerous Chrome tabs, and uses VPN on daily basis, it might be noticeable.
When it comes to Sophos, there's a little lag when opening the web browser, as well as when there are multiple tabs open. You might also notice slower download times of used applications, as well as the delayed launching process of the desktop apps you use regularly. That's what was evaluated using AV-Test's evaluation of Sophos, which gave it a solid 5.5 out of 6 scores.
That lag is nearly forgotten about when it comes to Bitdefender that doesn't impact other apps too much and rather feels lightweight on your system. You may notice that the performance of your PC has slowed down when you're launching more popular websites.
Additionally, there's a small lag when launching standard desktop apps. Occasionally, also, the file transfer speed drops, but not significantly. According to AV-Test, these minor system impacts didn't stop Bitdefender from scoring 6.0 out of 6.
Sophos Vs. Bitdefender Winner: Bitdefender
6. Sophos Vs. Bitdefender – Price
Both antivirus software come with flexible and versatile pricing models. However, it's worth noting that Sophos has a free version that covers a decent protection plan.
Sophos' yearly subscription is $59. 99. However, if you subscribe to a two or three-year plan, you'll get to pay $99.99 and $139.99 respectively.
This screenshot covers what's included in the free version and what the full version entails. It's worth noting that you can try the antivirus for 30 days during which you'll have all the features enabled. Also, you don't have to include your credit card, which is great.
With Bitdefender, it's a bit different. While it does come with a free trial, you can't choose the free version for basic features, anymore. It used to be free, but as the company stated, they are retiring the free version to focus on advanced security features. Instead, it consists out of three plans:
Antivirus Plus – You can subscribe for $59.99 per year and enjoy the protection of your Windows-running computer.
Internet Security – With a yearly subscription of $79.99 for protection and privacy on the internet.
Total Security – Includes the former two plans and comes with the subscription of $89.99.
It won't hurt to mention that Bitdefender often comes with great deals and sales. With that in mind, you may even be able to subscribe to it with a decent discount.
Bitdefender may be more expensive but it often hosts sales and great deals. Additionally, it protects Mac, Android, and iOS devices. However, Sophos has a free version that comes with respectable protection features. This one is a draw.
Sophos Vs. Bitdefender Winner: Draw
Antivirus
Sophos
Bitdefender
Interface
Clean
Clean & Intuitive
Malware Protection
Advanced protection against viruses, trojans, rootkits, and other threats
Advanced protection against all sorts of viruses, trojans, rootkits, ransomware, and other
Features
AI threat detection, ransomware protection, parental protection, web protection, parental web filtering, privacy protection
Real-time protection, anti-theft, anti-spam, web-attack prevention, anti-fraud, rescue environment, advanced threat detection
Impact on System Resources
5.5 on AV-Test
6.0 on AV-Test
Price
One-year subscription $59.99
Two-year subscription $99.99
Three-year subscription $139.99
Antivirus Plus $59.99
Internet Security $79.99
Total Security $89.99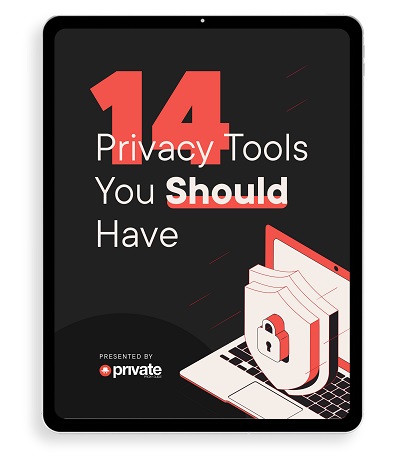 Learn how to stay safe online in this free 34-page eBook.