Marketing today is much different than it was 10 or even 20 years ago. With email marketing being among the primary means, we must not forget social media marketing. As some people say, if you don't have at least one social media account, you don't exist.
Well, it's the same when it comes to businesses – be it land-based or online corporations. Now, when talking about social media marketing tools, the two services that spring to mind are often Sprout Social and Hootsuite.
Make no mistake – both of them are some of the best solutions on the market. However, if you're wondering which one will scratch your itch the best, you're in the right place, and hopefully, at the right time.
Today, my task is to give you a full, in-depth Sprout Social vs Hootsuite analysis and see how the two fierce rivals compare. So, I suggest you stay along for the ride!
1. Sprout Social vs Hootsuite – Overview
Sprout Social and Hootsuite are, without a doubt, resounding names in the business. In this part of the comparison, we'll briefly touch on what both of these companies do and what they represent.
| | | |
| --- | --- | --- |
| Product name | Sprout Social | Hootsuite |
| Starting price | $89 per user/mo | $49/mo |
| Free plan included? | No | Yes |
| Unlimited posting | Yes | Yes |
| Scheduling | Yes | Yes |
| Social CRM Function | Yes | No |
| Social accounts: | 5 to 10 | 10 to 50+ |
| Supported social media platforms | Facebook, Twitter, Google+, LinkedIn, plus other third-party platforms | Google, Instagram, Twitter, Facebook, LinkedIn, and other third-party platforms |
| Customer support | 24/7 live chat + phone support | Ticket support + 24/7 live chat support on social media platforms |
| Money-back guarantee | 30 days | 30 days |
| Visit | Sprout Social | Hootsuite |
Sprout Social started back in 2010 with the main goal of enhancing communication capabilities between businesses and their customers. Needless to say, the platform achieved high success and quickly became among the best social media management tools.
Although the company went public in 2019, it managed to amass a huge user base and quickly take over the big portion of the market. Some of the companies that use Sprout Social include Unicef, Shopify, Subaru, and IHG, which speaks volumes about this service.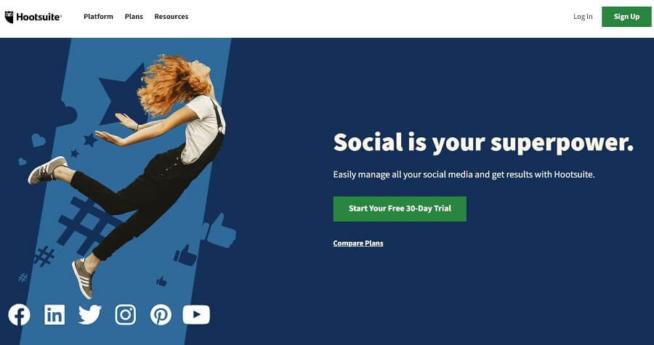 Hootsuite is a bit older company than Sprout Social. To be precise, it saw its inception in 2008 and from the start, its focus was social media management and marketing, despite social media's low level of popularity back then.
However, Hootsuite remained consistent and now serves more than 15 million users, having offices in multiple locations around the globe. Some of the companies that use Hootsuite include Marketo and SXSW, with multiple multi-billion corporations on the list.
2. Dashboard and Ease of Use
Organization and ease of use are very important for a social media marketing tool. So, in this part of the Sprout Social vs Hootsuite comparison, we will take a look at their dashboard, user interface, and see how easy (or complex) they are to use.
Sprout Social, for me, is an intuitive and easy-to-use social media management tool. Instead of bombarding you with dozens of menus, it focuses on making everything available on a single screen.
On the right, you can check social media websites like Twitter, Facebook, and Instagram, and on the left, you can check advanced topics and add tags. Perhaps the most important information is in the middle, where you can see your traffic, engagement, and total volume.
Moreover, I like the ability to engage with your customers directly from the software. If you open Messages, you'll be able to respond directly. Conversely, you can take advantage of its feature called Viral Post.
It lets you know when is the best time to publish a post for maximum engagement. I especially like that Sprout Social marks the messages you have or haven't responded to. For instance, responded messages are marked with a green icon, so you'll never respond twice to one question.
All in all, Sprout Social is extremely easy to use. It's surprisingly jam-packed with features while keeping things as simple as possible.
Hootsuite looks a LOT different but saying that it's hard to use would be a complete lie. Besides, this platform utilizes a multi-column interface, where each column represents one social media website. What does this mean?
Well, it means that you can manage several social media outlets from one screen in real-time. Furthermore, your feed is customizable, so you can customize which social media websites you want to look at. Filters are also available.
In this case, you can filter the information you want to see, and respond accordingly. Speaking of which, responding to messages and posts is easy. You just click on the post that appeared in the column and start typing.
All other options are available on the left-hand side of the screen, by the way. So, if you need additional information, this is where you need to look for. Hootsuite is responsive, too, and despite numerous columns and tabs on the screen, it works smoothly.
In the end, both services are a pleasant surprise in terms of ease of use. And while they're drastically different, you'll get accustomed to them in no time.
3. Scheduling and Publishing
Where Sprout Social and Hootsuite are almost the same is publishing and scheduling.
Sprout Social lets you publish and schedule your posts according to several filters. Before publishing it, obviously, you need to write a post or compose a message. Optional extras include attaching files, links, and choosing your audience.
Saving your posts as a draft is also a possibility. By doing so, you open up a possibility to schedule a post, in case you want to publish it on a certain occasion or event. Sprout Social lets you schedule posts in advance by using a calendar.
However, I like the ability to automate your posts, which makes your job a lot easier. To that, we need to add the possibility to publish posts in the best possible time. In fact, Sprout Social has this algorithm built-in, so if you decide to automate publishing, you can expect this to spring into action.
Finally, I need to mention its function for discovering the audience. It basically points out relevant people and accounts and detects bots and spam accounts that you should delete from your follow list. This way, you'll reach exactly the people you want.
Let's not repeat myself – at least not too much. So, Hootsuite offers the same stuff as Sprout Social. You can write a post, add images, videos, or links, and choose the audience you want to reach. However, Hootsuite offers you the ability to upload these CSV files.
And this is how you schedule posts in Hootsuite. By using a CSV file with your posts, you can schedule up to 50 of them and publish them at the time or a day you want. Furthermore, scheduling is easy in Hootsuite thanks to a calendar that lets you pick the exact time and date.
Much like Sprout Social, Hootsuite supports publishing automation. Therefore, if you have posts that you periodically publish, you can leave that to Hootsuite and it will publish them in the best possible time. Logically, it has the same algorithm as Sprout Social, hence, this feature is enabled.
In this department, I find Sprout Social a bit better, though. That is mainly because of its aid from its CRM platform but also this audience discovering feature that Hootsuite doesn't have.
4. Collaboration Tools
Collaboration is yet another important aspect of both of these tools. Here, we don't talk about collaboration traditionally. Instead, it has to do with permissions and publishing.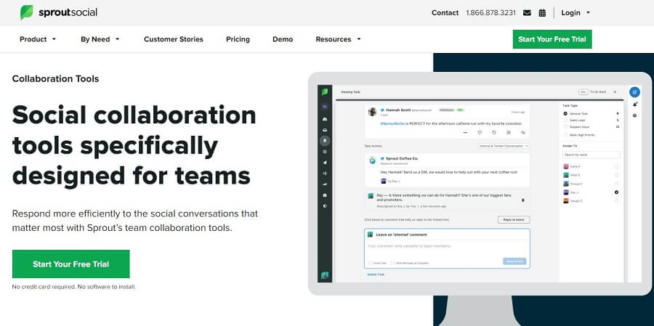 Sprout Social lets you work with a team in the same dashboard, with different levels of permissions. Permissions depend on your role in the team, and if you're a head admin, you can choose which people are going to be admins or so-called default team members.
Logically, admins will have more permissions. However, I like the ability to add tasks in the form of post tags. For example, if you see a post that needs a response, you can make it a task for one of your team members.
Furthermore, each task can have its category and Sprout Social gives you 3 of them – support, sales, and general. So, depending on the question, you can employ different members of your team to give a proper response in line with the customer's expectations.
And, to prevent you from responding to the same post multiple times, Sprout Social lets you see when your team member is typing a response. Pretty neat, huh?
Hootsuite functions the same in this regard. You, as an admin (super admin, as they call it), can assign roles to your team. You can also have admins that are below you, and then, default users that won't have as many permissions as you.
That way, collaboration is simple, and managing your team takes much less time. Perhaps the best thing about it is the ability to assign certain social media outlets to particular team members. For instance, one team or team member will respond to Twitter posts.
Conversely, another team will respond to Instagram or Facebook, and so on. Much like in Sprout Social, this functionality will prevent you from responding to the same posts multiple times. And, for added functionality, you can also make social media posts tasks for your team.
5. Reports and Analytics
To be able to keep in line with your results, you must perform analytics and get in-depth reports. Thankfully, Sprout Social and Hootsuite don't disappoint here.
Let's start with Sprout Social. Once you access the Reports tab in the interface, you open up a new menu where you can see all your analytics. The screen is occupied by your analytics, and on the left, you have reports for all your social media accounts.
Here, you'll get information about impressions, engagements, and clicks. Tag reports are also available, along with Google Analytics which will give you more important information. Furthermore, you can add filters to get customized reports and receive information valuable to you.
Sprout Social can even follow your mentions on the internet, which is later shown on your dashboard for further analysis. Last but not least, you can also track your team performance and get reports. This is great for building a bigger and better team for boosting your social media performance.
Hootsuite comes with an amazing suite of analytics features. You can divide your reports based on your social media accounts and get a separate report for each of them. It is also possible to get different reports per each social media account in metrics, posts, engagement, and followers views.
Furthermore, Hootsuite offers a set of filters that you can apply to analytics and receive customized reports. Unlike Sprout Social, in Hootsuite, you can export your reports in the form of CSV, PDF, or Excel files – for me, this is super useful.
We also need to address more analytics parameters. For example, you can monitor your ROI and see at which time your posts got the most engagement and impressions. That way, you can align your posting time accordingly and get the most out of your posts.
6. Third-Party Integrations
Okay, so what about third-party integrations? As much as we're talking about two capable solutions, they still need integrations with other apps to further increase their possibilities.
Sprout Social supports dozens of integrations with some of the most popular platforms and applications. Some of them include ZenDesk, Instagram, LinkedIn, YouTube, Pinterest, and many more. On its website, you'll find that all apps are divided into several categories.
Thus, you can choose integration with the apps from social listening, help desk, messaging, and social commerce among the others. Globally, Sprout Social has fewer integrations than Hootsuite, although its Social CRM kind of negates this downside.
Social CRM is here for gathering additional info about contacts and customers, which you'll find useful for marketing in general.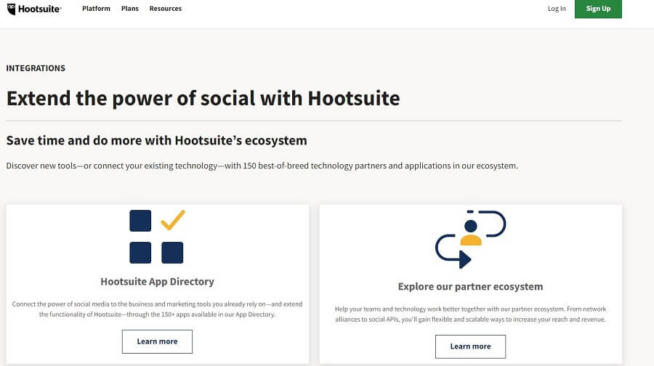 As said, Hootsuite does a bit better job in terms of integrations. At the time of writing this Sprout Social vs Hootsuite analysis, we're looking at around 150 apps – give or take. There are just 10 or 20 paid apps, with all others being completely free.
Needless to say, Hootsuite will support apps like ZenDesk, Facebook, Instagram, Google Analytics, and some additions like LinkedIn and Twitter. Surprisingly, integrations with Shopify and Magento are also here, which will be great for eCommerce businesses.
Hootsuite doesn't have a CRM platform like Sprout Social. But, with so many applications at your disposal, I don't think it's necessary.
7. Support
Being the backbone of every reliable service, customer support should always be ready to tackle your issues.
If you have any issues or questions about Sprout Social, how can you get a response? Well, I'm happy to say that it offers phone assistance, live chat support, and an in-depth learning portal. Its learning portal has crucial information that will, in many cases, help you solve the issue on your own.
In case that doesn't work, you can always chat with the support team or make a call. Either way, its customer support team is responsive enough, so if you don't have an issue and you just want to schedule a demo, they'll arrange it in no time.
Hootsuite took the social media business seriously and it can be seen in its customer support. Sure, you can fill out a ticket on the website or take advantage of its help center, which is, by the way, excellent. However, Hootsuite is available on every social media site you can think of – almost.
24/7 live chat support is available on Facebook, Twitter, Instagram, and LinkedIn. Plus, you can check out their YouTube channel or dedicated Pinterest page. Moreover, support is available in several languages, such as English, Spanish, French, German, and Italian.
So if you're not an English speaker, you can now seek (and get) help in more popular languages.
8. Pricing
In the end, some of you will worry the most about the pricing and total costs of each service. So, how expensive or cheap Sprout Social and Hootsuite are?
First, let's take a look at Sprout Social and its subscription plans: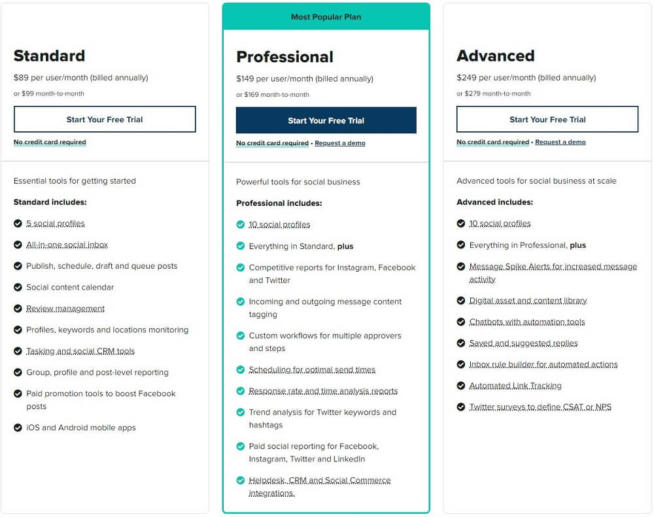 And now, let's see how much Hootsuite will cost you:
At the first glance, Hootsuite seems a lot more expensive than Sprout Social. But, in reality, it's not exactly like that. As you can see, Sprout Social charges you per user. For instance, the cheapest price per user on Sprout Social is $89, while Hootsuite will charge you $49 a month.
Conversely, their most expensive plans are quite different. At most, Sprout Social will cost $249 per user and Hootsuite will make it $739 a month for 5 users, which is equal to around $148 per user.
That being said, if you have a large team, Sprout Social will yield much more costs. If we compare that to Hootsuite, we can see that Hootsuite is more cost-friendly toward larger and enterprise-level companies.
9. Sprout Social vs Hootsuite Conclusion – Which One Is Better?
The question that remains is which platform you should choose. If I'm being honest, I think that both of them are great and your choice should depend solely on your needs.
In my opinion, Sprout Social is a bit easier to use, offering great collaboration, scheduling, and publishing tools. Granted, Hootsuite is also easy to use, although its interface might be everyone's bag of onions.
However, Hootsuite offers more integrations and is a bit cheaper for larger teams. Therefore, if you don't plan on expanding your team to more than 5 members, I would say that Sprout Social is a great choice.
But, if you plan on having more team members onboard, Hootsuite will provide you with almost the same level of performance at a significantly cheaper price.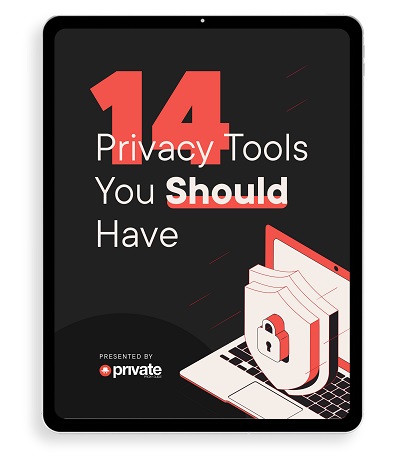 Learn how to stay safe online in this free 34-page eBook.