What do you need to improve your business? In most cases, your own website is the best deal, particularly for small companies.
How much do you need to run your website? When you hire a software company, it can cost you thousands of dollars for design, software, SEO, hosting, etc. Are you ready for that? There is a more affordable solution: website builders. They allow creating a well-developed online resource to tell the world about your company. There are dozens of such services but which one is the best?
We compared the three most popular platforms: Wix, Squarespace, and Weebly. You will find out about their strong and weak points, user experience, features and tools, available templates, pricing, as well as technical support. It is also worth mentioning that most people on Reddit and Quora recommend Squarespace.
Verdict
Wix is, no doubt, the best offer in all aspects. It offers the widest range of features, the most extensive knowledge database, and a smooth user experience. However, the other two other products, Squarespace and Weebly, are also not bad — you can give them a try as well. Have you tried any of these three website builders? What do you think?
1. Squarespace vs Weebly vs Wix – Comparison
Website builder

www.wix.com
Pros
Highly customizable online editor.
Powerful apps.
More than 500 available templates.
Variety of available features for any kind of website.
Cons
You cannot change a template after your website is live.
Lack of storage space in most plans — there are no plans with unlimited storage at all.
Technical support is not helpful.
Visit Wix »

www.squarespace.com
Pros
Extensive analytics tool.
Variety of available templates.
The best option for an online store.
You can contact technical support without an account.
You can change templates
Cons
Visit Squarespace »
www.weebly.com
Pros
Free plan, cheap starting plan, affording pricing in general.
You can switch templates at any time.
Cons
Not available in some countries and regions.
Slow and unhelpful support.
Visit Weebly »
2. Advantages of website builders
Before we start, let's see why using website builders is a good thing in itself. Such services significantly simplified the process of building the website. A lot of beginning bloggers, entrepreneurs, and businessmen actively use this opportunity. They are the services that allow users to create a blog, business card website, online store, landing page, etc., within a few minutes. In this case, you do not have to be a highly skilled developer — simple basic things are enough, no programming skills are required.
Website builders have several undeniable benefits:
you don't have to pay for hosting or buy a domain name — all you need is an account on the platform;
it is much more affordable, so you do not have to worry about initial capital and large investments;
creating a site through the service will not take long and after an hour or two, you can get the first version of your site;
if you have any questions while working with the constructor, you can ask for help from the technical support team — the service is already included in the subscription;
a wide variety of templates, so you can get a stylish website with a harmonious structure and attractive interface;
many constructors include additional tools like an online store, SEO, own templates, etc.;
you don't depend on third-party developers — you can control your website yourself using an extensive knowledge base.
3. General information
3.1 Wix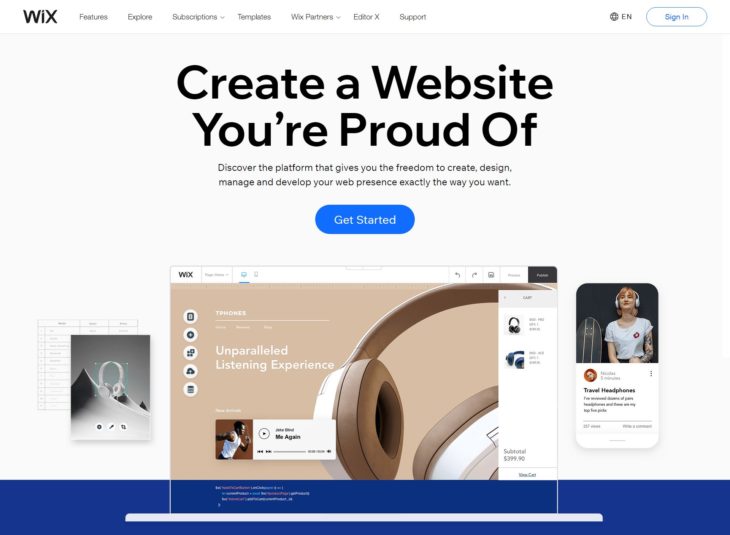 This is an extremely popular constructor, which is best suited for creating several types of business-card sites with complex design and functionality: portfolio, business site, promotional page, or landing. Blogs are remarkably successful — they are easy to create and convenient to maintain.
When Wix is the best to use? Consider three factors:
Websites with a small number of pages, as each one must be designed manually.
The need for deep and fine-tuned design, as well as adding many small functional elements.
The Wix app store contains a variety of additional features (in fact, modules, if compared to other systems). Several categories of useful apps (over 500 in total) will help you to achieve almost any goal.
The constructor is ideal for creating small and medium-size sites with complex design and functionality. It can be amazingly simple, if necessary: just take a ready-made template, replace the demo content, customize the colors — your website is ready. At the same time, you can build complex resources with animations, effects, forms, interactive elements, pop-ups, tabs, columns, and many more. Wix is a workable solution to create your first website or train your skills, or as a commercial tool to develop complex and beautiful resources. It is incredibly good for everyone if you are not a complete rookie.
Who can be interested in Wix?
small and medium business entrepreneurs;
artists, designers, makeup artists, musicians, stylists;
writers, journalists, bloggers, fashion designers.
You can master Wix in two days and find out its basics just in 20 minutes. This is candidate #1 to start getting acquainted with website builders. However, keep in mind that your website will belong to the Wix platform. You cannot transfer it to your hosting server or another website builder. If you want to leave Wix in the future, you will have to build the website from scratch.
3.2 Squarespace
The website is an amazingly well-designed and yet simple website builder with features and capabilities targeted to the widest audience. However, this service is best suited to those who want to create an online store. In this regard, Squarespace is the absolute leader. The available Squarespace features in terms of creating online stores are impressive. Another outstanding option is the integration with third-party platforms.
Partnership and integration seem to be a key feature of the service: from the image gallery (hello, Getty Images) to the integration with Xero (online accounting software). Despite Squarespace's rich arsenal of features, the service remains very accessible and user-friendly. It provides a simple and intuitive editor with a drag-and-drop interface and clear menus. You don't have to be a skilled developer to build a high-quality website. A rich online store of templates allows you to create a service for any purpose.
3.3 Weebly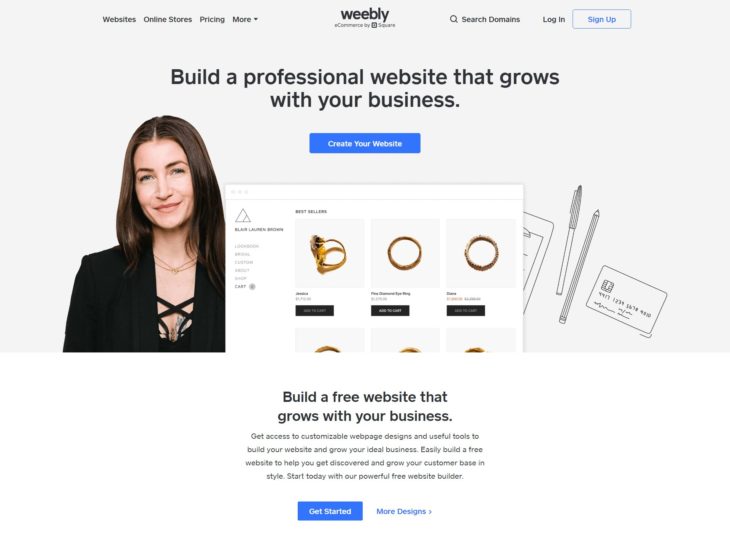 This is another website builder that takes leading positions on the market. It is a multi-lingual SaaS platform that does not require special knowledge or being an IT guy to build a website. It is easy to learn and intuitive and uses the Drag & Drop interface. You can add additional features using the Application Center.
Since Weebly provides a wide range of functionality for creating and managing online stores and landings, the platform is suitable for small and medium-sized businesses, individual entrepreneurs, freelancers, and those who do business in the field of trade and services. All the design templates can be changed with HTML and CSS codes, which will be interesting for webmasters and people of creative professions who want to create individual projects.
You can also create business cards, portfolios, blogs, forums, and slideshows, which will be appreciated by journalists, bloggers, and anyone who wants to create a personal website and share their works.
4. Weebly vs Wix vs Squarespace – Pricing
4.1 Wix
Website
Combo
Unlimited
Pro
VIP
$13/mo
$17/mo
$22/mo
$39/mo
Business and Commerce
Business Basic
Business Unlimited
Business VIP
Enterprise
$23/mo
$27/mo
$49/mo
$500/mo
You can use Wix for free but with some limitations. It's a workable solution to test how the service works. The platform limits the bandwidth and storage capacity. However, it is enough if you do not plan to make your site extremely popular or upload a lot of media files. Also, you are not able to use your domain — the website address will look like website.wix.com – and the service will display ads.
Premium plans are reasonable and include many other additional benefits — a free domain, more storage space, up to unlimited bandwidth, etc. With higher-level plans, you get a set of premium applications, such as Site Booster to increase traffic to your website and Visitor Analytics. When you are ready to switch to a paid plan, you can pay using any credit or debit card. Wix does not accept payment by PayPal, cryptocurrency, or any other payment method.
We advise paying in advance for one or two years —monthly plans are much more expensive and do not include a free domain, premium apps, or promotional vouchers. If you don't like how the service works, you have 14 days to request a refund. You will get your money back within 20 working days.
4.2 Squarespace
| | | | |
| --- | --- | --- | --- |
| Personal | Business | Basic Commerce | Advanced Commerce |
| $12/mo | $18/mo | $26/mo | $40/mo |
Despite the fact that the platform doesn't provide a free plan, you get a free 14-days trial for each created site — if you don't purchase it, your website is hidden and is not available online. To make it work again, you will have to switch to a paid plan. Squarespace services are more expensive than those of competitors, but the price is fully worth it. They provide four plans, each for a specific audience. Each plan gives you unlimited bandwidth and unlimited disk space for your files. Besides, your site is fully optimized for mobile devices, you will have access to web analytics and be able to use the free domain, and get 24/7 support. Generally, the more you pay, the more useful features you get.
4.3 Weebly
| | | | |
| --- | --- | --- | --- |
| Free | Personal | Professional | Performance |
| $0/mo | $6/mo | $12/mo | $26/mo |
The company also offers four paid plans as well as a free option, although the price will depend on the country you live in. After a recent update, the service is not available in some regions. A free plan is a great option for a basic website as well as the best way to get an idea of how the platform works before using a paid plan. It offers 500 MB of storage and access to all Weebly themes, but your site will have the Weebly logo in the footer. Of course, this is not attractive if you develop your business.
Premium plans are quite affordable, especially if you're talking about an annual or two-year subscription rather than a monthly one. You will receive unlimited storage and a custom domain, as well as phone support. Keep in mind that some options are not available at all in some countries. For example, you can use the free plan to build a store only in the USA — you must purchase a subscription for that outside this country.
5. Available templates
5.1 Wix
To create a terrific website, you can use one of more than 500 free templates —no other drag and drop website builder will offer you more. Your standard Wix template is clean and has nothing extra, with full-sized photos and clear typography — everything you need to make your website look impressive on a widescreen. Some templates offer more complex layouts or even popular effects like parallax scrolling. Before using any template, you can preview it to see how it looks live.
Templates are sorted into categories and subcategories. Use the keywords to search for the necessary one. You will find special templates for landing pages, online stores, portfolios, and almost any type of site. All Wix templates are fully customizable — you can easily change almost anything, from colors and fonts to the entire structure of the site.
If you do not like ready-made templates, you can also choose one of the several empty templates and construct the site from scratch. Before using the template, keep in mind that you can't change it once you created the website and made it live. If you decide to change the template, you lose your content and you will have to start from the very beginning. Also, Wix templates are compatible with mobile devices, but not adapted to them. This means that if you decide to make significant changes to the original template, you will need to use another mobile editor to make your website look good on a small screen.
5.2 Squarespace
The Squarespace template library is one of the most extensive among other constructors, however, it is far behind the one of Wix. It offers dozens of individual templates, each one with its features and target audience. All the templates are divided into 14 categories, each with their options and available features. You can also preview the template before using it. In preview mode, you can go to any part of the site and see what it will look like.
It seems to be a small but very convenient detail, which gives you more control over your site. Many online constructors only show the home page in this mode. Having selected the template, you can change almost any element on it. The platform does not limit the website designers in this area.
5.3 Weebly
The selection of templates (Weebly calls them themes) is the smallest compared to the other two platforms in this review. There are a total of just over 40 of them, and you can preview all of them in the Gallery. Each theme looks professional — clear lines, parallax scrolling, clever use of white space, and full-width banners. Using the drag-and-drop editor, you can customize the template in a way you like. All themes are mobile-friendly, and you do not have to make extra efforts to edit the mobile version of your site.
Unlike Wix, Weebly allows changing the theme at any time, even after you make the website live. All the themes are grouped into seven categories. Some themes may appear in several categories, and it is quite difficult to understand which of them you have already viewed. Also, not each category includes a similarly extensive number of available items. For example, the widest selection is available for a business website or online store, but for personal pages, it is much less extensive.
If you need a more exclusive design, there are many premium Weebly themes available on third-party platforms such as ThemeForest. However, you will have to pay extra for each template.
6. Features
6.1 Wix
When it comes to the number of available features, Wix is no doubt number one. Here are some tools you can use:
Pixel-perfect drag-and-drop editor. Even if you are a complete beginner, applying changes to the template will require just a few clicks. You can move the items and place them on a page anywhere you want. As you drag and drop, useful tutorials help you correlate some items with others. This keeps your design nice and tidy. Fonts, colors, media files, new pages, page sections — everything is easy and intuitive.
Wix App Market with hundreds of applications, both free and paid, to improve your website. They include the mailing list, contact form, social media integration, image galleries, business tools, and even a special application to include HTML code on your website. All the apps are fully customizable.
Online store. It is quite easy to create an online store with Wix. Specify your business information and payment methods, set shipping fees, and add products. There is no limit to the number of products you can sell. You can sell both physical and virtual products with up to 300 options for each product. You can also offer exclusive discounts and coupon codes.
Wix SEO Wiz. The tool will ask you a few questions about your website and develop a personalized search engine optimization plan, providing step-by-step instructions. You can get recommendations on keywords and track your website's position in search engines using the SEO Wiz toolbar. If you upgrade to a paid version, you can connect your website to Google Analytics for detailed information about your website traffic.
Wix ADI (Artificial Design Intelligence) is a system for creating websites based on information provided by the user. To create the website, just answer a few questions: what niche the business belongs to, its name, the needed functionality, and the geographical location of the company. The tool will offer you the most suitable template.
Wix Corvid. This is a comprehensive platform to develop web applications and interact with databases. You can create the functionality individually for your needs. We are talking about the interface to build a logic of behavior and a set of components of the future application.
Custom domain name – this feature is not available in a free plan.
Wix Chat to keep in touch with the visitors.
Free hosting.
SSL Certified to make sure your website is safe and secure.
Wix Bookings — get booked for the goods and services you offer.
Audio, video, and photo galleries.
6.2 Squarespace
Web analytics. The tool will show how the visitors access your site, how they interact with it, the total number of visits, the number of unique visitors, and the geography of visits. The set of tools and data depends on the plan you select.
Built-in SEO features. So, at the template generation stage, your website will get a fully formatted site map. It includes clean HTML markup without unnecessary tags and elements. You can read the detailed tutorial on how to use the feature in the support section.
Image Gallery. Squarespace partners with Getty Images, so you can use thousands of stock images.
Free SSL Certificates. Squarespace offers free SSL certificates for all their domains as well as all third-party domains. They help to promote your website in search engines — with SSLs, the website is ranked higher in Google.
Flexible payments, checkout, and taxes — use multiple payment methods for your business.
Manage the website on the go with a mobile app available for both Android and iOS.
Professional email.
Logo maker.
Custom CSS.
Chart blocks.
Video background.
Content delivery network.
Image focal point control.
Hundreds of extensions.
Social media integration.
Email campaigns.
Powerful developer platform.
6.3 Weebly
Domain transfer. Use your existing domain or create a custom domain on any of the premium plans. With a free plan, you are limited to the Weebly.com subdomain and the Weebly branding in the footer.
The drag-and-drop editor lets you create pages from scratch or customize a theme. There are over 25 elements you can use on the site, including text boxes, images and galleries, maps, custom forms, audio and video, and social media icons.
A code editor that allows changing the source code of a template. You can edit HTML and CSS, add custom JavaScript, and see how each change applies in real-time in an automatic preview window.
E-commerce. It is one of the best website builders if you need an online store. Building a store requires a top-level plan that includes a shopping cart, shipping options, product reviews, and more. There is a large set of ready-made templates, as well as the Weebly control panel.
App Center. There are over 350 free and paid apps from Weebly and third-party companies. With the apps, you can create price tables, add a special Frequently Asked Questions page, display an event calendar, accept donates, send automatic thank you letters, and add pop-ups.
SEO. You can optimize every page with SEO settings: change the meta title and description, URL, footer and footer code, keyword meta tags, and alt text of images, as well as automatically generate a sitemap.xml file.
Mobile apps.
Media files and galleries.
Free hosting.
Forms.
Detailed statistics.
7. User experience
All three website builders are aimed at complete beginners who have no experience in website building. So, they all are extremely easy to use.
Quick setup. To start the website, just select the template, create an account, and change its basic components — it will take less than 5 minutes. Each platform offers a drag-and-drop editor which allows placing the webpage elements without efforts. You do not need to code anything.
Step-by-step configuration. The wizard will lead you through the process step-by-step, from signing up to going live.
User-friendly interface. In all cases, the constructors are very well designed and have an excellent drag-and-drop interface. No complicated formatting and precise cursor movement — when you move an item, it automatically moves to the right position.
8. Technical support
8.1 Wix
Support is available via email, on the phone, and social media (Facebook, Twitter, and LinkedIn). Also, their Support Center is huge and covers almost any topic that can come to mind. Finding the information you need is easy. However, if you have a problem that is not described in the database, contacting support on the Wix website is not easy, if you are not logged yet. For example, if you have an issue with creating an account, you cannot contact human support.
How about the quality of human support? We tried to ask several simple questions. We got a reply in about half an hour via email. The reply was very general and just included a link to the article in their database. The same happened on social media. We could finally get adequate support on the phone. However, if English is not your first language, the support in French, Russian, Portuguese, Italian, and Spanish is not so helpful. So, they have a lot to improve.
8.2 Squarespace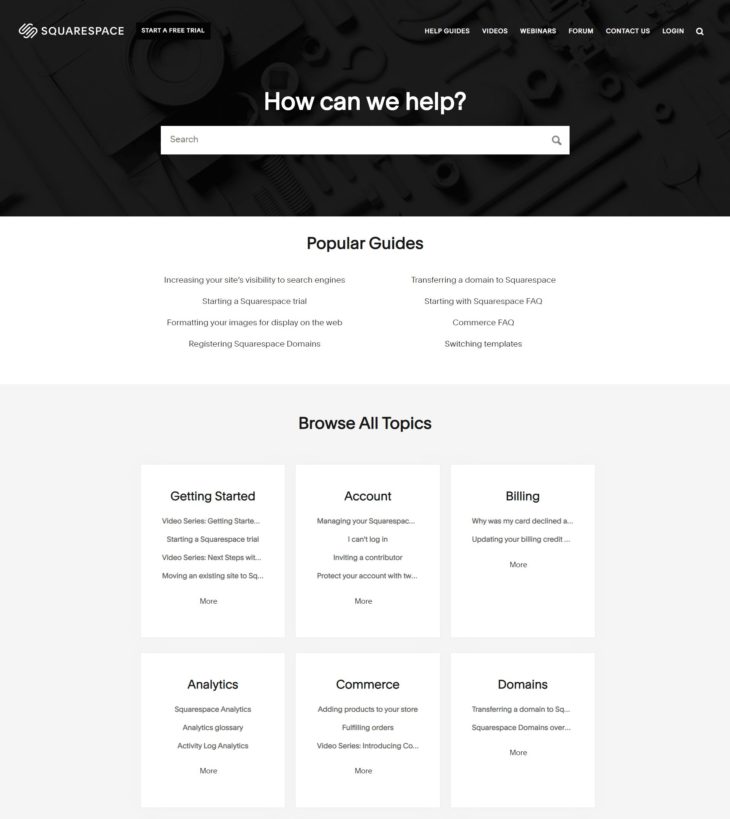 When it comes to customer support, Squarespace takes things seriously: there's an extensive section with lots of articles and tutorials on how to solve various problems, a forum, 24/7 email support, and even the ability to talk to a live tech support specialist via live chat (US working hours only).
We checked both options. Via email, we got a well-detailed reply within an hour and a half. It is a great result. As for the online chat, we had to wait about 10 minutes for a specialist. However, he was helpful enough. Mostly, the users will not have to contact technical support, as the help center collected a lot of useful information. All the articles are divided into several categories so you will be able to find the information easily. Squarespace is the only service of three that allows getting live support as a non-subscriber. Both Wix and Weebly require logging in for a live chat.
8.3 Weebly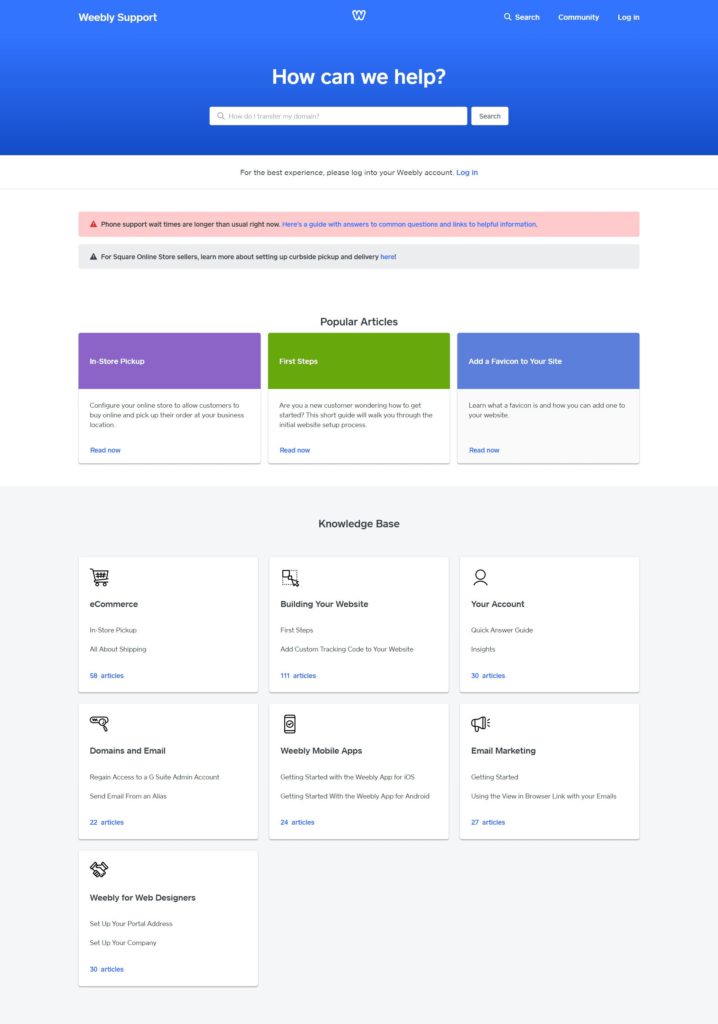 Unfortunately, technical support is not the strongest point of Weebly's service. Moreover, they suspended support in some regions and languages — it is now available only in the US and some other countries. Despite the fact that they wrote that the support works 24/7, technically they reply during the US working hours — they are far away from being 24/7.
Also, the replies are not always helpful. They often just give a link to an article. You also must be logged in to get human support. It is quite hard to understand as you will be left without help if you cannot sign up for some reason, for example. Like Wix, Weebly has a lot to do to improve the quality and availability of technical support.
We are sorry that this post was not useful for you!
Let us improve this post!
Tell us how we can improve this post?