From the moment you install the operating system on your PC, you're more or less careless. You're installing tons of apps and games you don't interact with, you browse the web frivolously, and most likely, you're not treating your PC as intended.
However, in today's day and age, you can be forgiven for forgetting to defragment your drives or clean your computer from malware and viruses. With the best PC cleaning software, all the heavy lifting is done by the software itself so that you don't have to move a finger.
A good PC cleaning suite will help you clean out malicious software, optimize your PC, and mitigate privacy risks, giving you a safe, secure, and fast working environment. But what exactly is the best PC cleaning software in 2022?
Let me tell you that there are LOTS of them on the market, but I narrowed down my list to give you the best possible choices. Needless to say, I think you'll want to stay with me from now on.
1. Best PC Cleaning Software & Tools for Windows in 2022
Optimizing your computer sounds like doing a lot of work. And if you do it manually, you'll find yourself yearning for additional help. The good news is that the best PC optimizers will do just that, and on my list, you'll find a lot of FREE choices as well.
These free options have their paid options in addition, just in case you want to maximize their PC cleaning capabilities – which I recommend doing. Without further ado, the list is below, so make yourself comfortable and check it out: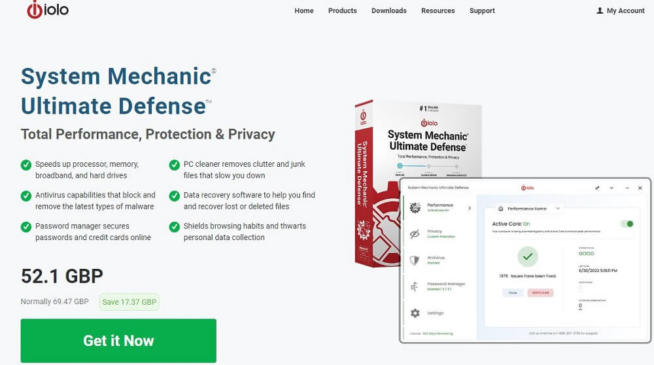 Iolo System Mechanic is, by far, THE best PC cleaning software I've ever used. It offers both free and paid plans, although you get the most out of it by opting for the latter. Iolo System Mechanic is very easy to set up and its beautiful app does wonders for its ease of use.
I mean, with a single mouse click, you can scan the entire PC and get rid of any errors. By that, I mean scanning for malware, shutting down startup processes, and cleaning up your memory. What's more, Iolo System Mechanic is beneficial for making your PC run like a well-oiled machine.
In my experience, I managed to significantly shorten my startup time. Plus, with an SSD in place, my PC boots in merely a few seconds, being ready to use instantly. Iolo System Mechanic includes bonus features, such as ByePass for keeping your sensitive passwords safe and secure.
In addition, you have reliable antivirus and malware protection which works well in conjunction with Privacy Guardian. This feature will hide online website logging, enable a privacy shield, and keep hackers, snoopers, and malware away from your computer.
Needless to say, Iolo System Mechanic works actively on cleaning and protecting your PC as well. Thus, while you enjoy gaming, watching movies, or listening to music, it'll maintain your PC's wellbeing effortlessly.
It's not too taxing on resources either, so if you have a weaker machine, you don't need to worry. As said, System Mechanic can be free but it's MUCH more efficient in its ultimate form, where you get tons of bonus features. This, unfortunately, has to be paid for, which is the only downside.
Pros
Malware protection with antivirus
Very easy to set up and use
Significantly speeds up the startup process
Scans are pretty quick and efficient
ByePass is great for storing passwords securely
Rock-solid online security with Privacy Guardian
Several scan types
The free version is available
Cons
The best features are available only in the "Ultimate" version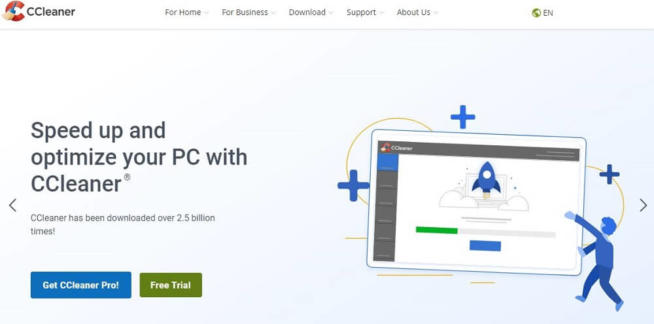 When talking about old PC cleaners, CCleaner might be older than the fire itself. All jokes aside, this software has been around the block for a long time and it perfected its formula long ago. CCleaner is known for its comprehensive interface and lots of great features.
Its main purpose is to free up your HDD space and make sure your computer's performance is at its peak. However, much like System Mechanic, it can work in real-time, performing its so-called Health Check. This way, it'll clean malicious registry entries, unnecessary startup files, and junk files.
CCleaner also has one useful feature called Driver Updater. It will automatically update all your drivers, and with a software updater included, you'll never miss on a single improvement. Not to mention that CCleaner has a free, cut-down version in addition to paid plans.
Its paid plans aren't very expensive either and they offer bonus features like file recovery and hardware inventory. Moreover, CCleaner is available on Android, too, so you can clean your phone in an instant. The bad thing about CCleaner is that many of its features can already be found on Windows.
Thus, it'll need to do something to modernize its features and apps.
Pros
Proven and tested PC cleaning solution
Real-time Health Check
It can delete corrupted registry entries
Driver Updater is useful for updating outdated drivers
Affordable pricing
Cons
Could be more modernized with new features
Restoro has a pretty self-explanatory name but it's not what you think. Namely, it's a free-to-download PC cleaner that also has a few premium plans. However, I strongly advise against using its free plan simply because it's so limited that it's barely usable.
Still, Restoro's premium plan gives you exactly what you need, with no unnecessary bloat. You get a reliable scanner that can work in real-time and detect things that are slowing down your PC. What's more, Restoro improves hardware performance for an even better experience.
During my time with it, I found that it's very fast and you don't have to wait an hour for your computer to be turned upside down. Instead, everything's done in merely a few minutes, after which, you can clean up trash files and startup clutter with a single click of a mouse.
Restoro is fairly simple to use as well and I like how efficient its repairs are. Besides, malware protection comes as standard here, and while its antivirus isn't the best, Restoro is extremely good at wiping out annoying malware that often infects our computers.
Finally, I should mention its ability to restore and replace DLL files, which is useful for annoying DLL errors. Its price isn't expensive either if we're talking about 1 license and the annual plan. For me, this is the best way to enjoy Restoro.
Pros
Fast and reliable scanner
Won't slow down your PC
Malware protection is included
DLL files restoring and replacing
Cons
The free plan is barely usable
Not the best antivirus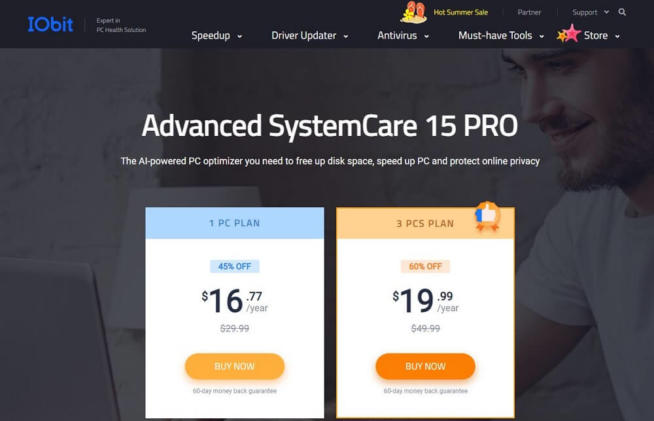 IOBit is a company known for producing among the most popular PC security programs. Its Advanced SystemCare will surely scratch that itch with tons of useful functionalities and a VERY cheap premium plan at just about $17 a year.
Even better – there's a completely free plan that offers limited cleaning and security capabilities. The star of the show is its Advanced System Care Pro which features AI-powered scanning and deep PC cleaning, making sure nothing goes under the radar.
Furthermore, upon cleaning up your PC with Advanced SystemCare, you'll benefit from better performance and faster internet speeds. Registry cleaning is here, too, so if any faulty entries plague your computer, they'll be a thing of the past.
Much like CCleaner, this software includes real-time protection plus the ability to update your software with a single click. Its most expensive version will stop online tracking, all while giving you premium 24/7 live chat support that not many services on this list offer.
If you want cheap, yet dependable PC cleaning software, Advanced SystemCare is an interesting choice. That is if you don't mind it shoving up its additional software when installing it and the lack of customization that Iolo System Mechanic has.
Pros
Cheap premium plans
AI-powered scanning
Registry cleaning
24/7 live chat support
Cons
Not the most customizable
Offers bloatware in the installation process (optional)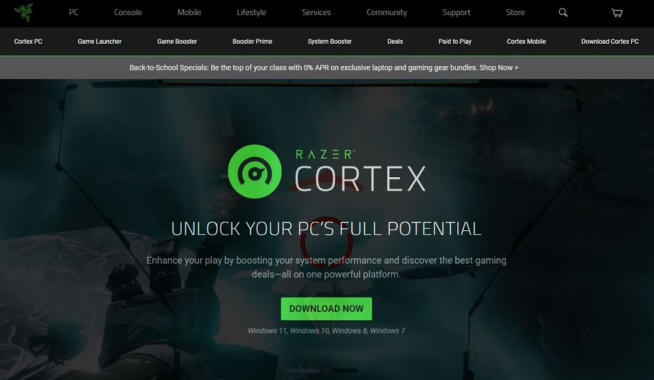 If you know Razer as a premium gaming brand, you should know about its other endeavors. Namely, it built a fresh Cortex PC cleaning solution that will help gamers boost their PC performance and get the best possible FPS in games.
Razer Cortex is available only for Windows and Android and on both platforms, the app is streamlined and easy to use. In fact, I'd venture to say that it's the best-looking cleaner on this list, on top of which, it offers useful features like Game Launcher, Game Booster, and System Booster.
I found it useful in freeing my RAM and making sure I don't experience stuttering when gaming. In addition, Cortex is great at eliminating junk files and ensuring you get the highest level of privacy while browsing. It does that by clearing your browser's cookies and trackers.
Razer Cortex will work even on Windows 7, so it's compatible with older systems. And while it does its job perfectly well, have in mind that this is a gaming-oriented PC cleaner. Thus, some features from Iolo System Mechanic or CCleaner will not be here, so don't expect miracles.
At least, Razer Cortex is 100% free and it doesn't have a premium plan. As such, you can test it out right away if you're a gamer or you're looking to become one.
Pros
The best gaming PC cleaner
Boosts FPS and removes stuttering in games
Cleans browser cookies and trackers
Works even with Windows 7
Totally free
Cons
Lacks some advanced features of premium PC cleaners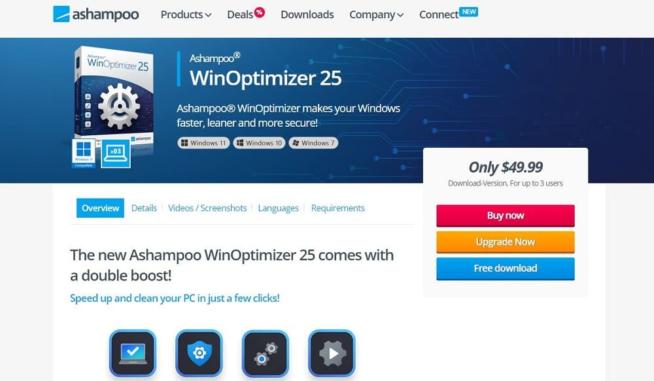 Ashampoo offers a wide array of software, one of which is its WinOptimizer. As its name suggests, it's available for Windows and features a suite of functionalities for real-time PC cleaning, optimization, and acceleration.
WinOptimizer 25 is currently the newest iteration of this software and its futuristic-looking app is a good indicator of its performance. WinOptimizer 25 is pretty fast and cleaning and scanning the entire computer can be done in merely a few minutes.
Also, I like the addition of fixing registry entries, defragmenting your hard drive, and making sure the unwanted startup apps are disabled. By doing so, WinOptimizer 25 will maximize the performance you get all while keeping your computer safe.
Despite looking futuristic, WinOptimizer 25 is surprisingly easy to use and offers every bit of information you need. The scans are particularly deep, with each threat explained thoroughly, allowing you to see what you're dealing with.
WinOptimizer 25 supports one-click repairs, as well as additional modules for monitoring your CPU performance and other factors of your computer's performance. Finally, it offers a free version, too, although this one isn't very impressive in terms of features.
However, its price of around $55 for 3 computers is great, especially considering that it's a one-time payment. This makes WinOptimizer 25 extremely valuable for the money.
Pros
Great-looking, informative application
Hard drive defragmenting
Surprisingly fast
One-click repairs
Additional modules for PC monitoring
Cons
The free version could benefit from more features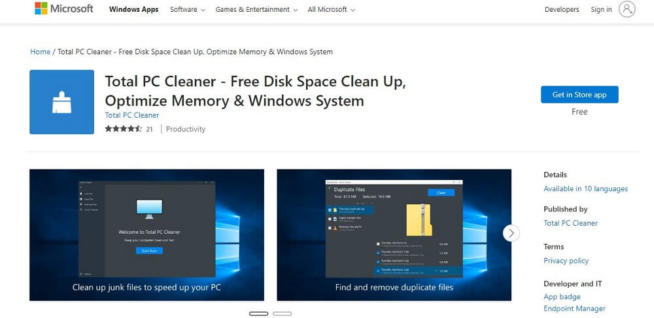 If you want a totally free PC cleaning tool, you might want to check out Microsoft Total PC Cleaner. Its free version is nothing to write home about, and despite being shallow, it's still somewhat helpful for getting rid of unnecessary and trash files.
However, Total PC Cleaner has a premium version that I think hits the mark. For the start, it offers an intuitive interface and it's easy to set up, as it requires a simple download from Microsoft Store. Second, it's a simple-to-use PC cleaner with a clear purpose – getting rid of unwanted files!
As such, Microsoft Total PC Cleaner won't be on the level of, let's say, Iolo System Mechanic. Instead, it's here to delete duplicate files and sort the files for deletion by size. The paid version is relatively cheap and unlike the free one, it gives you more information.
For example, it can automatically clean your PC of duplicates, while the free version "forces" you to search for them manually. The good thing about both versions is that they're pretty quick, so getting rid of the files won't take more than half a minute.
With that said, Total PC Cleaner is a good choice for those wanting not only to clean their computer but also to add a pinch of performance. However, keep in mind that its free version is poorly received by users so don't expect any miracles.
Pros
Free to download
Great for cleaning duplicate files
Quick scans
Cons
Users aren't very satisfied with its free version
Very limited features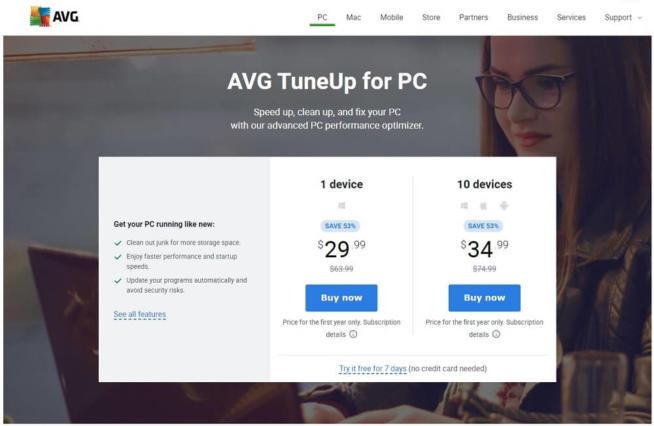 AVG is a well-known name in the cybersecurity world. This company has an excellent antivirus solution with TuneUp being a perfect addition. To make it clear, AVG PC TuneUp isn't free but it offers a convenient 7-day free trial for testing purposes.
Since we're talking about a premium solution, AVG PC TuneUp offers some great functionalities. I like its Maintenance feature that automatically scans your computer and fixes the issues that appear. Scanning is also possible in real-time, so you'll barely use the app yourself.
AVG PC TuneUp can optimize the processes in your computer, resulting in greater performance. Additionally, it can clean your browsers and hard drives, making sure you have no duplicate files or corrupted registry entries.
I especially like its Software Uninstaller, though. With it, you can get rid of annoying bloatware, which will further impact the performance positively. As such, it'll speed up the boot process, fix in-game stuttering, and improve your internet speed.
Best of all is that AVG PC TuneUp isn't very expensive either. At around $30 a year, you can get a license for one device, and 10 devices can be protected for just $35 a year. This makes AVG PC TuneUp VERY affordable even for smaller businesses.
Pros
7-day free trial
Cleans browsers and hard drives
Software Uninstaller removes bloatware
Not very expensive
Cons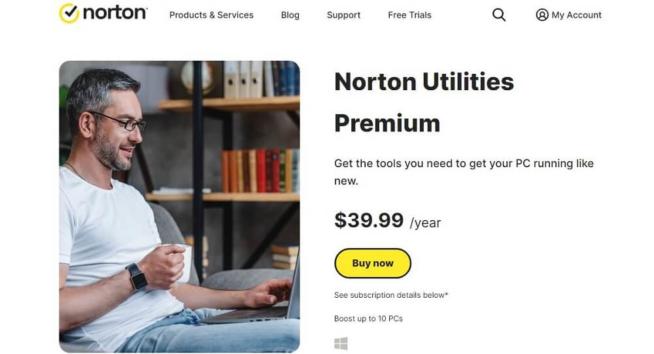 Another best PC cleaning software is Norton Utilities. Coming from Norton, you know it's going to be good, especially taking into consideration its relatively affordable price and decent performance. Norton Utilities is fast and has a great-looking interface akin to Iolo System Mechanic.
This means it's very easy to clean up your PC either by scanning manually or using Automatic Care. In this case, Norton Utilities will take care of your computer without you doing anything, which will ensure your PC is running smoothly with no slowdowns.
Needless to say, it can also clean and defragment your hard drive, restoring its performance fully. Norton Utilities will preserve your digital privacy too since it lets you clean your browser and dispose of personal documents safely.
As expected, Norton Utilities is available only for Windows, so don't expect extraordinary compatibility. Also, for its price, Norton Utilities could be a bit more feature-rich, making it not the best overall choice. However, you should know it's very reliable and non-resource-taxing.
Plus, it works when your computer is idle, so all garbage is cleaned without interrupting your hard day's work.
Pros
Clean and easy-to-use interface
Real-time scanning and problem fixing
Automatic Care
Hard drive cleaning and defragmenting
Cons
Could be more feature-rich for the price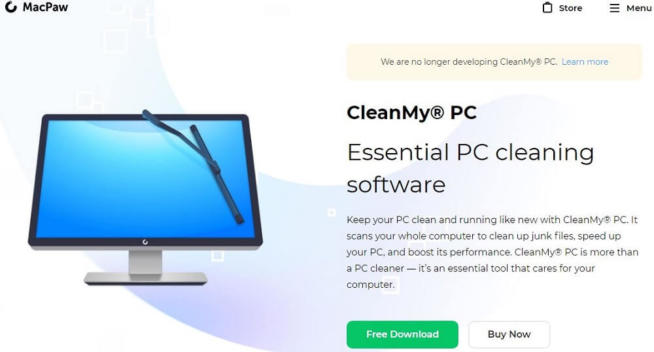 CleanMyPC is the last PC cleaning software on this list – and it's far from the worst. This one is pretty simple to use, it has a free plan, and it's here to clean and bring your computer's performance to the highest possible level.
CleanMyPC offers an interface that resembles Windows Explorer, with all options on the left-hand side for easier access. Through the app, you can clean corrupted registry entries or use its Multi Uninstaller to clean up multiple unnecessary programs simultaneously.
This software can also fix startup issues. By shutting down annoying startup programs, you'll PC will boot faster, giving you a work-ready environment from the moment of pressing the power button. In terms of online security, CleanMyPC does a wonderful job.
It scans your browsers and lets you wipe clean all cookies and the entire browsing history with a single mouse click. As you can expect, CleanMyPC can also work in real-time, in which case, you'll get the most efficient experience with minimal interactions with the app.
My only complaint is that CleanMyPC is a bit expensive if for multiple licenses. The good thing is that it offers a 30-day money-back guarantee for all plans, so if you're dissatisfied, you can get a refund through its 24/7 live chat support.
Pros
The free version is available
Multi Uninstaller
Ability to clean browser history/cookies
30-day money-back guarantee
Cons
Expensive plans for multiple devices
2. FAQ
2.1 Do I really need the best PC cleaner?
We'd say you need it if you don't maintain your machine manually. After a while, your computer gets infected with malware, broken registry entries, and duplicate files which tend to slow down your computer.
A quality PC cleaning tool will fix these problems, speeding up the startup process and making your computer snappier. PC cleaning software isn't expensive either, so it's handy to have one at your disposal.
2.2 Are PC cleaners free?
Yes and no. PC cleaners usually offer free and paid plans, where paid plans are significantly better and offer more features. Therefore, if you can afford a paid option, it's better to get it to maximize your performance and get the most efficient cleaning.
2.3 What is PC cleaning software?
PC cleaning software is a suite of tools designed to optimize your computer through a series of tasks, such as deleting malware/viruses, getting rid of duplicate files, fixing registry entries, and removing startup processes that slow down your computer.
In doing so, it keeps your computer clean and preserves performance.