If you'd ask any torrent about which torrent clients they prefer, you'll get one of two answers; either uTorrent or BitTorrent.
However, if you ask them what distinguishes the two pieces of software is, you'll find that most of the users can't tell the difference. Some might even confuse the two together. For those who still don't know what torrenting, or peer to peer connection, is, it's one of the ways through which you can gain access to data stored on other computers rather than a server.
Although it's mainly used to get copyrighted data, such as movies and TV Shows, without having to pay for it, there's actually more to the matter, and the technology is currently being integrated into a wide array of applications. There is a multitude of software that can be used to achieve this. However, the most popular ones are BitTorrent and uTorrent.
These two pieces of software are way ahead of the other software to the point that the torrent race only involves both of these programs. While both programs might look very similar at first glance, there are a couple of different features that are enough to distinguish each one from the other.
NOTE: You should use a VPN to encrypt your traffic while using uTorrent or BitTorrent. See our recommended VPN services for torrenting.
1. The great torrent war
This is a guide for those who are struggling to tell the difference between uTorrent and BitTorrent or for those who are simply curious about it. We'll be talking about the different features, advantages, and disadvantages of each program. If you're interested in knowing more about these two giants of torrenting, keep on reading in order to discover the better one of the two.
With that said, it's always recommended to use a good Virtual Private Network (or VPN for short) in order to stay secure while using torrent. And now, without further ado, let us take a dive into the article
---
2. Apparent similarities of uTorrent and BitTorrent
BitTorrent and uTorrent have nearly identical user interfaces, with the same stats of downloads such us files, speed, peers, info, and trackers. The only difference you might be able to notice at first glance Is the name and color of the program. The rest, however, is pretty much the same between uTorrent and BitTorrent.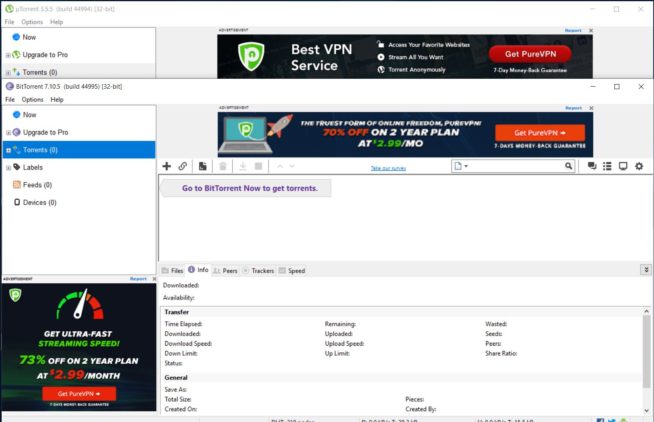 Even the installation windows look exactly the same.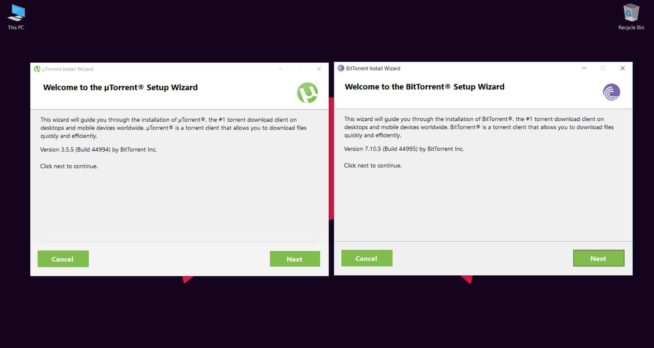 The main reason behind these striking similarities is the fact that both torrent programs are owned by BitTorrent Inc. Note that BitTorrent was developed in 2001 while uTorrent was released in 2005 and bought by Bittorrent, Inc in 2006. When it comes to source code availability, neither uTorrent nor BitTorrent provides their source code.
With that said, this makes it impossible to check the privacy and security features that are implemented in either program. Furthermore, the user can never be sure that they're safe from malicious software hidden inside these codes.
---
3. Core differences between BitTorrent and uTorrent
While the looks might be strikingly similar, this is not the only way to compare each program, and we can't simply deduce that they're practically the same judging only from appearance.
3.1 Basic differences
First of all, BitTorrent is P2P (Peer to Peer) software. This makes it an excellent option for uploading and downloading torrents. Keep in mind that BitTorrent is a rebranded version, while uTorrent was first released as an open-source torrenting platform prior to being acquired by BitTorrent, Inc. Regarding uTorrent, it has a feature where you can run it even when it's put in external storage like a USB drive.
BitTorrent, on the other hand, does not have this feature. Another advantage that uTorrent has over BitTorrent is that it supports 67 languages as opposed to the latter's 66. Truly a game-changing feature!
3.2 Advertisements
Ads are every torrenter's nightmare. However, they're the necessary price everyone has to pay when using these programs. They're just inescapable. With that said, while all ads are obnoxious and can slow download speed, some of them are even dangerous. When it comes to the race between uTorrent and BitTorrent, neither is king, both of them barraging the user with ads that put them in danger of having their information exposed.
With that said, uTorrent is more notorious when it comes to risky ads. BitTorrent, on the other hand, is better at managing ads which leaves less risk for the users of the program.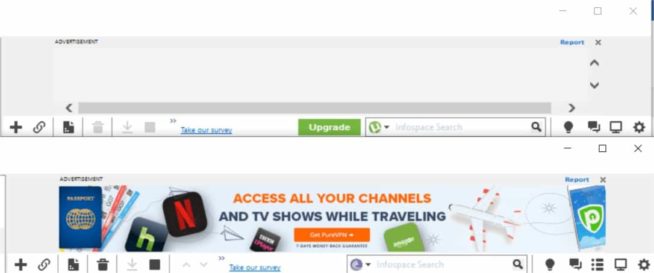 3.3 Pricing plans
The pricing is another difference between uTorrent and BitTorrent. Both torrent clients have a basic and a Pro plan, but BitTorrent offers two extra subscriptions to suit more people. Firstly, there's the free Basic plan that allows the user to download files but displays ads on the interface. Secondly, you can opt for the Pro Package which is expensive but more secure and will allow you to play files in HD and also convert them without having to see any ads. The Pro plan is priced at $19.95 per year.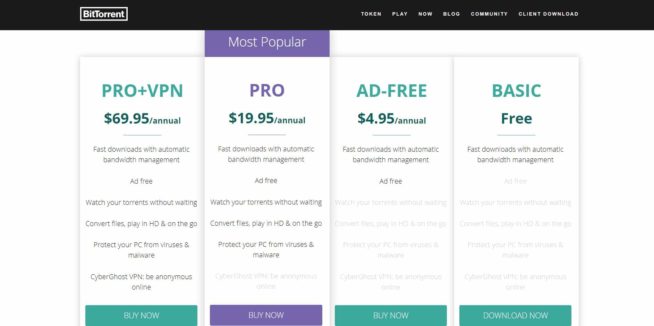 These are not your only options in BitTorrent though, as there are two additional plans that you can opt for. The first is the Ad-Free plan, which allows the user to use BitTorrent ad-free (duh!) for $4.95 per year, and the second is the Pro+VPN plan, which you can use to opt for a good, reliable VPN that will ensure your anonymity when you're torrenting.
The Pro+VPN plan is pricier than the other subscriptions, as it costs $69.95 per year. A good VPN might cost you more than what you've bargained for, but it will ensure your anonymity when you're browsing the web and not just torrenting.
3.4 Download speed
We can't talk about which torrent client is better without addressing the elephant in the room, and that is the download speed. Being a determining factor when it comes to which program to opt for, let us compare the two clients. When multiple users are downloading the same torrent file, some users might begin to experience some drop in download speed. However, both uTorrent and BitTorrent feature a built-in bandwidth in order to maximize download speed.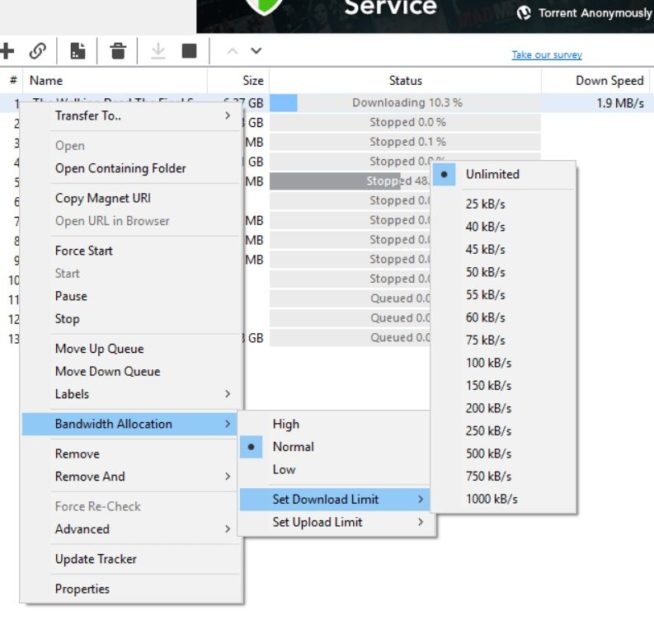 You might remember us mentioning the effect of ads on download speed and be asking yourself how it affects the performance of each torrent client. Well, since BitTorrent is better at managing ads than uTorrent, it shouldn't come as a surprise when we tell you that BitTorrent is the faster client as it has a superior average speed of 1.5Mb/s as opposed to uTorrent's 1.4Mb/s.
uTorrent download speed:

BitTorrent download speed:

Having said all that, BitTorrent's victory here is only marginal as it won't boost your download speeds to enormous levels when comparing it to uTorrent. Besides, other factors come into play, such as the number of seeders/leechers, the trackers, etc., so take our word with a grain of salt and test both clients to find out which one works best for you.
3.5 Torrents and operating systems
Some people might think that, by using one operating system over another, they'll be boosting their download speed. However, this is mostly untrue as the OS does not have any impact on how fast your download speed is. It is mostly about your internet connection. Nevertheless, there is a secret recipe that not a lot of people know of, which is using a VPN with BitTorrent or uTorrent, something that can have a significant impact on your download speed. We'll talk about that later on in this article.
3.6 Mobile torrenting
As we've mentioned previously, there's no real difference in speed when it comes to operating systems, especially if we're talking about BitTorrent and uTorrent. If you're still not convinced, just go and check the ratings of both applications in Google Play (Spoiler Alert, both are four and a half stars) With that said, uTorrent has roughly five times the number of reviews as BitTorrent, so if your instinct is to follow the crowd, then yeah, uTorrent is the better choice here, but any difference is really marginal.
If you're an iPhone user, then you're out of luck as there's no support for torrent clients on iOS. The only way you can circumvent this is by jailbreaking your device, which we don't recommend since it's very risky. However, this will grant you access to apps that are otherwise unavailable on the Apple App Store.
3.7 Client size
This is another draw between the P2P giants. Torrent clients are generally pretty lightweight, which is the case here for both uTorrent and BitTorrent, which take around 4 MB of storage each, something that can be very useful as you'll have more space for other things, and it will also save you the trouble of cleaning cache so frequently.
3.8 Simultaneous downloads
This is yet another essential feature that might favor one torrent client over the other. How a client handles simultaneous downloads (and whether or not it supports it) goes hand in hand with speed. In an era where time is of the utmost essence, it's easy to see why we can be a bit impatient by downloading many files simultaneously.
There isn't a big difference between uTorrent and BitTorrent here though, as both of them completely skip the wait and allow multiple files to be simultaneously downloaded each time you open a torrent link in them; along with the option of pausing the current file or putting in the queue.
---
4. How to use BitTorrent or uTorrent safely in a fast manner
With torrenting being such a common way of downloading and sharing data on the internet, which both uTorrent and BitTorrent can achieve admirably and effortlessly, download speeds seem to be an issue when it comes to P2P connections. There is, however, a workaround to this problem and that is by using a secure VPN. You see, in most cases, if you don't use a VPN, your ISP will catch you, and you can get into trouble.
With that said, along with significantly boosting download speed, using a VPN also ensures your security while torrenting.
Here are the best five VPN clients that you can choose to give your download speeds the boost they so desperately need.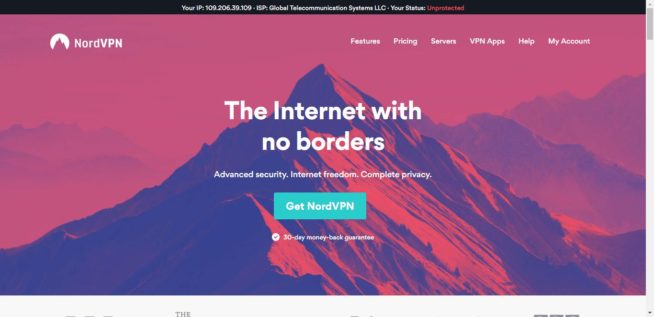 When it comes to security, NordVPN is unrivaled. Be it protecting your identity or data integrity, NordVPN has you covered. Additionally, it offers a double VPN feature that further improves the user's security. Being based in Panama, NordVPN has a very strict no-logging policy. It also has different P2P servers that are in surveillance-free areas, which makes this client perfect for torrenting.
You've surely stumbled upon NordVPN before, as it's recommended by some of the biggest tech giants around the world, so maybe it's time to give it the shot it deserves.
---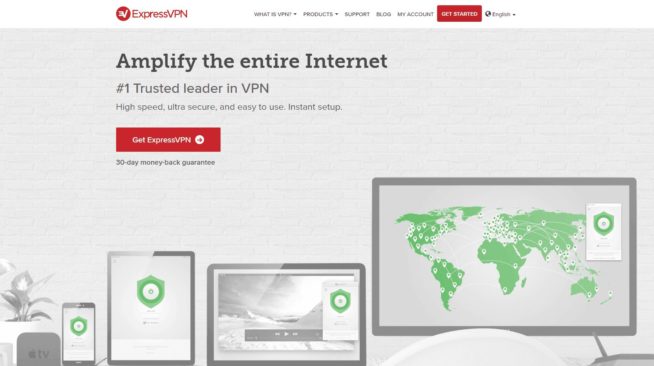 ExpressVPN is one of the most commonly used VPN clients for torrenting, and for good reason. It offers P2P servers that are specifically optimized to offer unlimited bandwidth and therefore speed. This, in turn, will prevent any potential throttling that might happen. ExpressVPN, being among the top-notch VPNs for torrenting, makes use of 256-bit OpenVPN encryption in order to ensure your anonymity and security when browsing the web.
It also has a no-log policy, which should give you some ever-needed peace of mind when using torrents. Furthermore, ExpressVPN is compatible with different operating systems, including Windows, iOS, and Android, making it one of the go-to solutions for those seeking speed and security across all of their devices.
---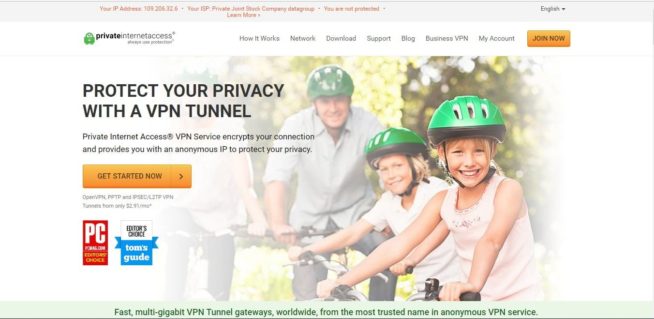 One of, if not THE, most popular VPNs in the world for torrenting, Private Internet Access is one of the fastest VPN providers on the market. When using this VPN, your IP address is masked. This ensures your anonymity when browsing the web. This VPN is also considered top of the line when it comes to speed and stability.
The fact that Private Internet Access is based in the United States may make some people skeptical towards using it, but it offers a no-log policy, just like NordVPN and ExpressVPN, which means that your data is completely safe with them.
Private Internet Access review
---
5. Final verdict
If you want to torrent anything, there are really two choices; you go with either uTorrent or BitTorrent. These two fantastic torrent clients offer pretty much anything you'd expect from a program In this category and more. Each of these P2P Clients has its own flaws, with a couple of shared ones. And while they might seem very similar at first glance, there are some differences that eventually make them stand out from each other, so make sure to try both to determine what suits your needs.