Are you looking for Instagram proxies to unblock Instagram for "normal" surfing? Then I suggest that you look for a good VPN instead. These proxies are for people doing Instagram automation in various ways for their business needs.
NOTE: Be responsible when using proxies and remember that no proxy can help you if your Instagram account is getting shadowbans. Let your Instagram accounts age for at least a week before posting. Start slowly. Remember to use good emails for your accounts!
SSL Private Proxy (datacenter) as mentioned in our article about Instagram bots and SmartProxy (residential) are the top choices right now.
1. Best Instagram proxy providers in December 2023
1.1 Smartproxy – Overall best residential proxies for Instagram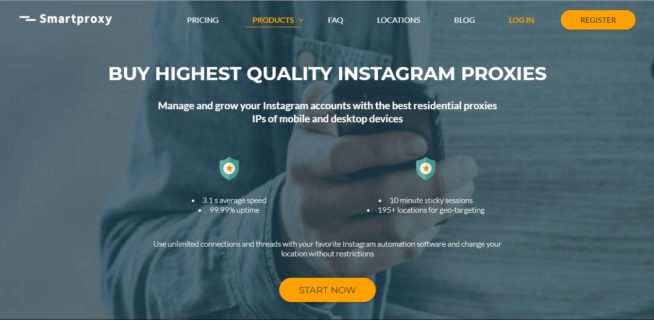 Smartproxy has one of the largest residential proxy networks on the market, it is represented in more than 195 countries. They are great to use together with your Instagram bots and they even have guides on how to use your proxies with your bots. Their support is friendly and I like everything about them. This should be one of your first choices when it comes to Instagram proxies.
Pros
More than 10,000,000 proxies.
Supports any Instagram automation software and an unlimited number of accounts. So, you are able to use the proxies with Jarvee, Gramdominator, Gramista, Follow Liker, Instmacro.
Each IP address is unique.
Great performance and unlimited connections and threats.
The proxies will surely not be banned or added to the suspicious lists.
Moneyback guarantee within 3 days without any restrictions.
Round the day technical support.
Cons
The only provider in the list where you pay by GB used.
Get a 20% discount on initial payment by using promo code "PPG20OFF".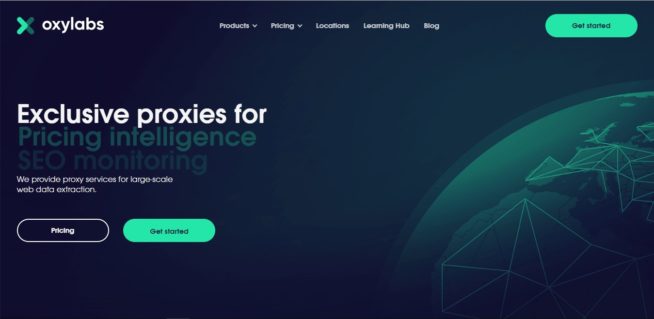 Oxylabs has the highest quality residential Instagram proxies with the ability to target by city. Their Trustpilot score is currently at 4.8 which indicates that the company is serious. They are a bit on the expensive side.
Pros
A variety of pricing options: you can select from Entry, Advanced, Pro, Enterprise, and Corporate plans.
Free trial for each product and plan. You will pay only after you like the service.
More than 30 million IP proxies are owned by real Internet service providers in almost every country in the world.
All the addresses are white and clear, so they will never be banned or blocked.
Absolute anonymity and session control.
The residential proxies are compatible with any scraping bots.
Cons
All the plans are based on traffic usage.
No unlimited plans.
1.3 Storm Proxies – Cheapest residential Instagram proxies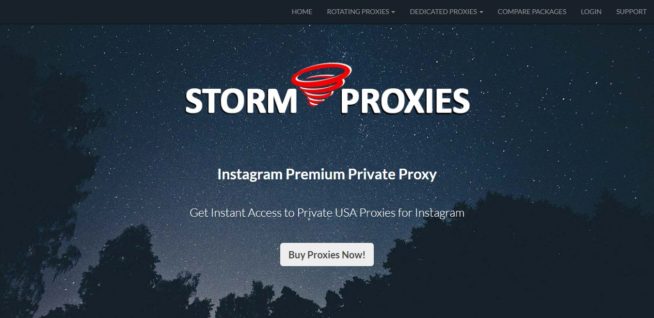 Storm Proxies offers a bunch of great features for Instagram users. All the servers are powerful and the connection is very fast and reliable. In most cases, it will not limit your connection. Their technical support is ready to help you around the clock.
Pros
Great performance. The Internet channel is 1 Gbps. Each proxy supports up to 100 threads.
Immediate and automatic delivery. All your servers are available right after the purchase.
Completely unlimited bandwidth without any hidden costs and limitations.
Try the service 100% risk-free. If you do not like the service, you can contact support and ask for a refund. The option is available within 48 hours after the purchase.
Around the day premium support. They are ready to help in any situation and with any issue.
Complete anonymity. Your real IP address is always hidden so you will never be detected and banned.
Cons
Get a 15% recurring discount on your purchase by using the promo code "PRIVATEPROXYGUIDE15OFF".
1.4 SSL Private Proxy – Best datacenter Instagram proxies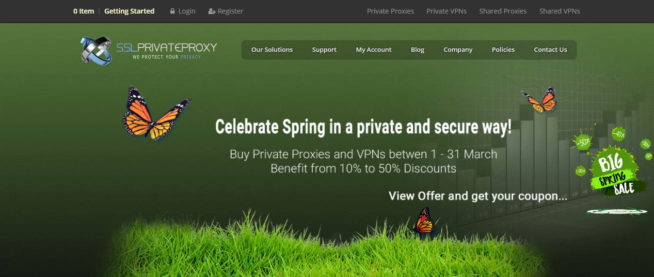 SSL Private Proxy has a good reputation when it comes to datacenter Instagram proxies. You should try these first for your social media automation. They are also advertised as virgin proxies which is important. Their IPs are also non-sequential which means that it will look more natural if you plan to use multiple accounts.
Pros
Dedicated IP addresses exclusively for one user. You are the sole owner.
All proxies are anonymous and support HTTP and HTTPS protocols.
Friendly and fast support. Fast response time, extensive knowledge base. Support is available around the clock.
High security and reliability. The latest firewall technology ensures the privacy and security of a personal proxy server.
Green energy. Many servers around the world run on wind power. The company is working on adding servers running on solar energy.
Cons
SSL Private Proxy Promo Code – "PRIVATEPROXYGUIDE30OFF"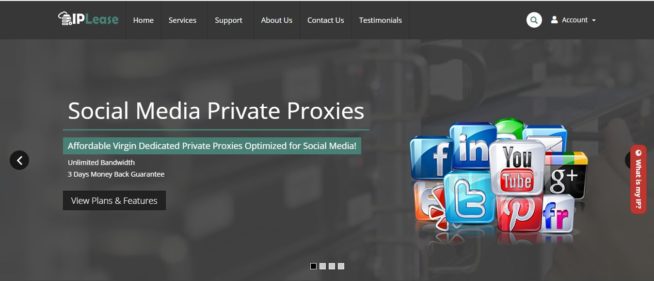 IPLease is a newcomer in the Instagram proxy market. Their proxies are advertised as virgin which is important to make sure that you don't get shadowbanned proxies. This means that you should expect them to work.
Pros
Virgin IP addresses have not been used by anyone before.
No need for contracts and complete refunds within 3 days.
Flexible user-friendly control panel.
Locations around the world.
Authentication both with username/password and IP whitelist.
Great and reliable connection with up to 1 Gbps.
Proxy change in every moment.
Apart from Instagram, you can use the proxies for Facebook, Twitter, Pinterest, Tumblr, VK, YouTube, Google+, Flickr, MySpace, Reddit, and Meetup.
Live human support via live chat, email, and over the phone. They reply very fast and the support service is available 24/7/365.
Many servers work on green energy.
Almost immediate activation after the purchase.
Cons
Few available countries.
Technical Support is not always fast but the live chat is not always available.
Use this promo code in the checkout and you will get a 15% recurring discount on your purchase – "PRIVATEPROXYGUIDEXOFF15"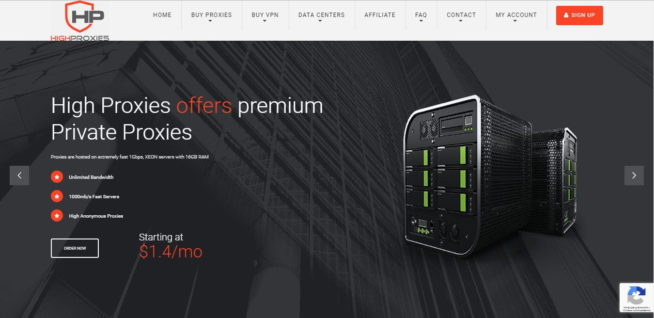 High Proxies' Instagram proxies are fast, reliable, and not expensive. The company offers several locations and subnets. They also offer a monthly randomizer so that you can avoid some problems with the IP addresses.
Pros
All the servers run on SSD drives which are much faster than traditional HDDs.
Linux is the best way to ensure security, performance, stability, and power.
Intelligent network routing.
The servers are equipped with powerful XEON processors for performance and speed.
The fastest experience in a duplex gigabit network.
Latest firewall technologies to provide the highest security and privacy.
Cons
A limited number of locations.
High Proxies Promo Code – "PRIVATEPROXYGUIDEXOFF10"
1.7 Sweet Proxy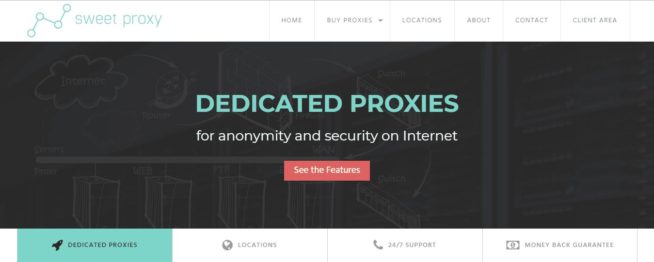 This proxy service provider offers highly reliable servers for Instagram users. The pricing is affordable and you get all the necessary features for your money.
Pros
Fast working and great performance. All the servers are designed to provide the greatest results so you will be able to efficiently reach your goals.
Greatest availability. The company focuses on the perfect uptime to provide the best results for your business. The reliability of this service is one of the best on the market.
Unlimited bandwidth and high connection speed. You are allowed to use all the available resources of your proxy and computer.
Proxies are located around the world.
Cons
1.8 Mexela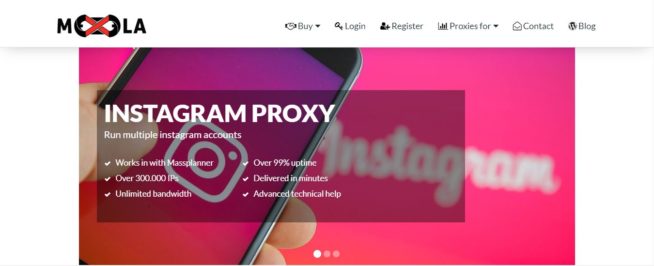 Mexela is another great provider with a wide network and a great number of proxies for Instagram.
Pros
Supports working with multiple accounts at the same time.
More than 300,000 IP addresses are due to the servers around the world.
Unlimited bandwidth on all plans.
The proxies are delivered within minutes after the purchase.
Advanced Technical Support will help in every problem situation. The support team is in-house and never outsourced.
All the proxies work with Massplanner and similar software.
Ability to select between dedicated or shared servers.
Cons
A limited number of countries.
Refunds are possible only within 24 hours.
1.9 Mass Proxy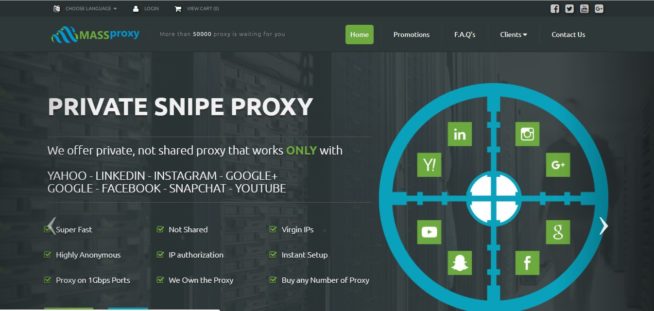 This is a proxy provider with a powerful network and a flexible number of proxies. The servers are located in the US and several countries of the European Union. Their "Private Snipe Proxy"-package is where you can find proxies specific for Instagram. They are also advertised as virgin IPs.
Pros
Superfast connection with the channel of 1 Gbps.
Virgin IP addresses have not been used by anyone before.
Authorization via IP.
Very flexible packages. You are able to get any number between 15 to 1000. You are not limited by standard packages.
All the proxies are ready to work within not more than 10 minutes after the purchase.
Spam-free servers. They support only several websites, so, it's almost impossible to make them get on the blacklist.
The highest uptime rate. All the servers are trouble-free and work without any limits.
Full anonymity. Nobody will see your real IP or any other data.
Cons
No refund. If you do not request a trial, you are not able to get your money back if something is not as good as you expected.
1.10 PrivateNetKey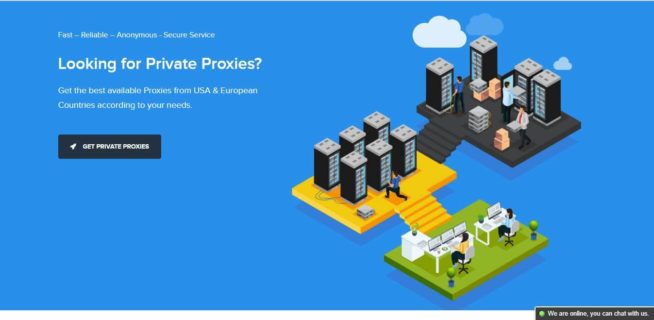 PrivateNetKey is an excellent proxy server provider offering powerful proxies for Instagram and other social media sites. Despite the fact it does not provide any specific options, it guarantees reliable work and a fast connection.
Pros
Ability to use the proxies on other sites and platforms besides Instagram. This may be a very useful option for some users.
API gives an opportunity to use the proxy with any compatible software and devices. Just download the list in JSON format and use it everywhere.
Dead IP Replacement. If any IP does not work, they are ready to replace it without any additional charges.
Unlimited Bandwidth. Each server has an Internet channel of 1 Gbps which is enough even for multiple simultaneous connections.
Friendly support working around the clock and ready to help with any issue.
Moneyback guarantee without any questions. The option is available within the first 3 days.
Ability to use in data scraping software.
Cons
1.11 Proxiesforrent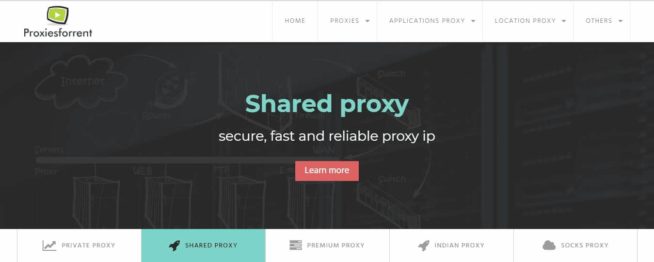 This service is a good and quite reliable proxy provider, giving users the opportunity to use the infrastructure to work with their Instagram account professionally. If you do not need a bunch of features, it would be a good choice.
Pros
Absolute anonymity. No one will ever know your real data which is reliably protected.
Unlimited bandwidth and number of threads.
All the servers support the HTTP/HTTPS/SOCKS protocols.
Proxy replacement. If some servers do not work properly, they are replaced for free.
Intuitive control panel. It allows controlling every aspect of the proxy servers you use.
The highest quality proxies.
Cons
The bandwidth is only 100 Mbps. 1 Gbps is available only upon request.
Only 3 countries are available: the US, Russia, and India. Not the best locations.
After the purchase, the order is processed within 24 hours. Not instant.
1.12 BuyProxies
Do you have problems with Instagram on your computer? Time is a costly resource, so stop wasting it on free proxy lists and bad proxies, which are painfully slow and always fail after a few minutes. BuyProxies provides tons of anonymous proxies in Europe and the USA that are good to work with Instagram. They check the list of their proxies every day.
Pros
If you place an order on the website, you will get the purchased proxies directly to your email within 3 minutes and you can immediately start working with Instagram.
Fast support. If you still have any questions about Instagram proxies, feel free to email the support. They are ready to help you around the clock and you will receive a quick response.
24 hours refund. If you are not 100% satisfied with the proxies, they are ready to refund your money within the first 24 hours.
Own server infrastructure. This means that they do not resell proxies from other providers and you will not get a proxy from hacked computers.
Cons
Limited money-back period.
Not specified connection speed.
1.13 Proxy6

This is another interesting proxy provider based in Russia. The biggest benefit is the ability to use any number of proxies, from 1 to infinity.
Pros
Extremely attractive prices. There are no packages — you pay for each proxy. Of course, the more proxies you get, the less expensive they are. Theoretically, you are able to buy all their proxies at once.
Automated proxy delivery. You do not have to wait for manual processing and approval — you get the purchased servers immediately.
Easy to switch proxies from HTTPS to SOCKS5 in the dashboard.
Flexible payment period. You can get the proxy for 3 days, 1 week, 2 weeks or 1 month.
API allows using your proxies with any compatible software.
Cons
Port 25 is closed so it is not available to use with emails.
Very slow connection – not more than 30 Mbps. This is enough for most users but it's too slow in comparison with other competitors.

This is the only provider on the list that offers a free plan. It also has one of the most widespread networks: the proxies are located in more than 50 countries.
Pros
The free plan includes 1GB of free traffic per month. You do not have to add credit card details or enter any other financial information.
More than 5000 proxies. They are all available in the free plan.
Complete anonymity. Your real IP address is hidden — you will never be blocked.
Complete privacy. The company does not store any logs and does not track your activity. Your privacy is completely respected.
Unlimited devices. You can use any number of devices with your account.
Integrate proxies into all your software.
Great connection speed.
Cons
1.15 ProxyRack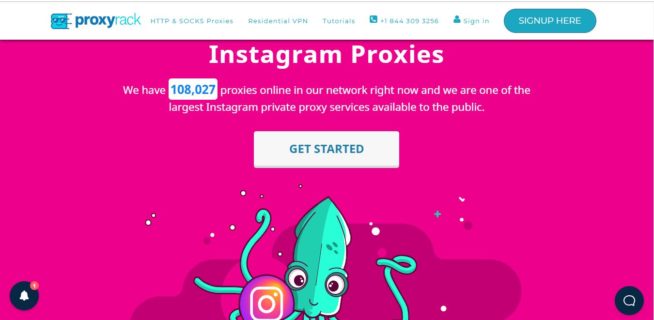 With more than 108,000 proxies on the network, ProxyRack is one of the largest private proxy Instagram services available.
Pros
All proxies support both users: pass and IP white list authorization.
Real dedicated support team.
Automatic proxy replacement. The system will automatically replace any dead proxies.
IP addresses are available worldwide.
14-day money-back guarantee.
Rotating Instagram proxies. These packages are perfect if you need a large number of non-exclusive Instagram IP addresses.
Dedicated Instagram proxies. These proxies are exclusively owned by you and their speed is the highest available.
Cons
Technical support is available only 5 days a week.
Quite expensive minimal plan.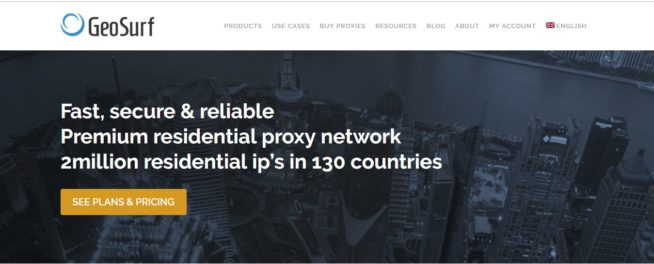 GeoSurf is one of the best proxy services providing high-quality Instagram proxies.
Pros
The IP addresses are never defined as proxies. The combination of proxy masking and IP addresses goes unnoticed.
Coder friendly. They provide API with the programming code in all common languages.
More than 130 locations around the globe.
Premium support. Corporate clients receive fast and friendly premium support by phone/email or Skype.
Dashboard to monitor and control the proxy usage.
Cons
Very expensive.
Unclear trial options, no refund policy.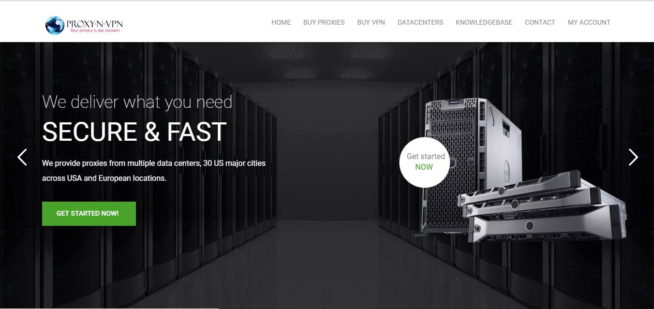 This is an interesting company providing proxies for Instagram of the highest quality.
Pros
The servers pack X3440 Quad Core XEON Processors for performance and speed.
They have the fastest server swap and performance provided by RAID SATA hard drive.
Also, this company provides the fastest private proxy experience through its full-duplex Gigabit network.
Linux is the best way for security, power, performance, and stability.
All servers have 16 GB of fast RAM available seamless 100 Threads per proxy operation. No expenses are spared for speeds and performance.
Smart routing network that exceeds performance over traditional networks.
Cons
No trial period.
Limited support channels.
1.18 Proxyseller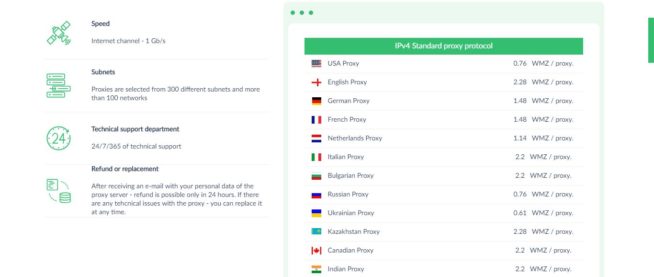 The company provides proxies that are compatible with any automation software and support multiple accounts and a lot of other important things for online businesses.
Pros
Purchase any number of proxies.
Round the day Technical Support ready to help in any case.
Very easy to use and informative dashboard.
Flexible payment options.
Proxies are delivered within 5 minutes.
International support team.
A lot of ways to contact the support team.
Cons
Unclear trial and refund options.
Don't forget to use coupon code "ppguide20" – 20% off for any proxy order!
1.19 Proxy-store

This is another great proxy provider based in Russia.
Pros
High-quality support.
Complete refund within 24 hours after the purchase.
Unlimited bandwidth.
Ability to rent the server for up to 5 days.
Ability to get any number of proxies, from 1 to infinity.
Attractive affiliate program.
Cons
Port 25 and 465 are closed — you will not be able to send an email.
Only 100 Mbps bandwidth.
Locations in only 3 countries: US, Russia, and Ukraine.
2. Instagram Proxy FAQ
1. What are Instagram proxies?
Answer: Instagram proxies are residential or datacenter IPs that are virgin (never used before on Instagram) and private.
2. Why do you need Instagram proxies?
Answer: If you want to manage more than five Instagram account using bots such as Followadder or Jarvee, then you need to create and manage all additional accounts through a proxy IP to reduce the risk of getting action blocks or banned. Never run several accounts with only 1 IP.
3. What type of Instagram proxy should you use?
Answer: Static residential proxies are your best bet because they show up as real IPs from private consumers. If you plan to use rotating residential proxies, then make sure that they rotate IPs from the same city/location. Datacenter proxies are also fine, but there is a higher chance of getting blocked. Datacenter proxy providers can turn "bad" by reselling the same proxies again or have a whole IP range banned by Instagram due to abuse from previous customers.
4. Are there any advantages of using datacenter proxies for Instagram?
Answer: Yes. They are usually cheaper and faster compared to residential IPs. You just need a reliable provider.
5. Are LTE/4G mobile proxies for Instagram any good?
Answer: This kind of proxy is currently the safest to use since Instagram traffic is mostly mobile and thus looks most natural.
6. What type of Instagram proxy should you NOT use?
Answer: Never use shared or public proxies for your Instagram accounts.
7. How often should you change proxies?
Answer: Only change datacenter proxies if you experience blocks. Don't change proxies more than after a few months preferably. Refreshing proxies after this time can help your account in staying healthy.
8. How many proxies should you use?
Answer: A good rule of thumb is to use 1 IP proxy per account.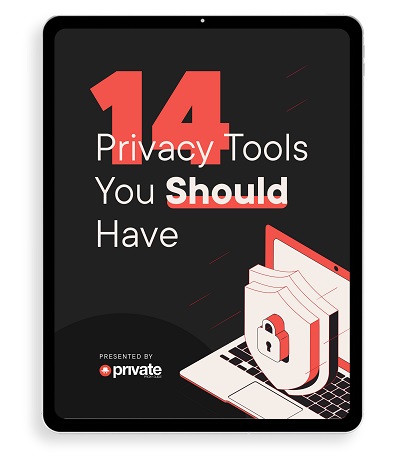 Learn how to stay safe online in this free 34-page eBook.