RoboForm (www.roboform.com) is a popular password manager providing a lot of additional options. With it, you will not have to remember all your complex passwords for different online services and applications — the app will do everything for you.
The service is a great solution for everyone — it has attractive prices and a bunch of great features. It will reliably keep all your passwords secure. The developer team did a lot of work to improve the software. Now, it's much more convenient, user-friendly, and easy-to-use. They also highly improved the quality of their technical support — it is better than that of its most competitors. Now, it's time to dive into the service review. We'll start with the list of supported features.
Roboform review verdict
RoboForm is a great password manager with attractive and affordable prices, a great set of features, and the ability to be used on multiple devices. Moreover, you don't have to necessarily pay for it as the basic features are available for free. If you are a common user, it will be a great solution for your needs.
RoboForm pros and cons
Pros
Great automatic filling in all the apps.
Attractive prices.
Supports all the popular platforms and devices.
A wonderful set of features.
Local storage without having to send the data to the RoboForm servers.
Synchronization between multiple devices.
Emergency contacts.
Cons
The web interface is accessible only in read-only mode.
Some features are located un-intuitively and in a confusing manner.
Not the best functionality when compared to other competitors.
1. Features of Roboform
RoboForm provides all the basic features to become a good password manager. Apart from passwords, it also stores notes, contact information, browser bookmarks, personal documents, and IDs, as well as credit card information. In other words, it stores anything that can be considered sensitive data. Of course, some competitors can provide more features but this is absolutely enough for 99% of average users. The synchronization of browser bookmarks is quite a unique feature for this kind of apps. All modern browsers synchronize themselves.
However, in some cases, a third-party solution can be more convenient, especially if you're going to buy a premium subscription and use it on several devices. Why is it better? Not everyone uses the same browser both on desktop and mobile. In that case, it's impossible to synchronize the bookmarks. RoboForm will solve the issue effectively. Another great option is the emergency contacts. If something goes wrong with your account, they will be notified. In addition, they will be able to access your account in a set time frame. Furthermore, the service provides a bunch of other features. Let's take a closer look at them.
Log in with one click. Forget about manual typing in passwords on websites and in apps. Log in to your accounts with a single click. The automatic fill feature will insert the necessary data in seconds.
Automatic password capturing while browsing. You do not have to save the passwords manually — RoboForm will do it automatically. Just click on the save button — and nothing more is required.
Access from any device and platform. RoboForm supports all the popular platforms both on desktop and mobile.
Synchronization between devices. With a premium subscription, you can sync all your passwords and upload data between all the devices you use. It's really a great option if you need your passwords everywhere.
Access without an Internet connection. On desktop and mobile apps, you are able to save the database locally. This allows saving the passwords and accessing them without an Internet connection. Remember that this option is not available for Business customers.
Easy and convenient organization. You are able to Categorize all the data by folders. If you need to use some passwords more often, add them to the favorites list for easy access.
Powerful search. If you need to find a password or any other data, use the search feature. This will save you a lot of time and effort and help find everything with a few clicks.
Easy and intuitive setup and installation. You will not have to read long guidelines — everything is fast and clear.
Extensions for all major browsers. If using a separate application is not convenient for you, just install the browser extension. You are able to use RoboForm in Google Chrome, Mozilla Firefox, Opera, and Microsoft Edge.
Import and export. You can transfer the database from or to other password managers and browsers.
Strong password generator. You don't know how to create a reliable unique password? Use the password generation feature to create them in one click. There will never be two similar ones.
Security center. This feature will help to analyze the password strength or detect any security issues. Use it regularly to avoid bad consequences.
Powerful encryption. With reliable and strong encryption, the RoboForm data are considered unbreakable and completely protected from brute force and other types of attacks. All data are decrypted on the device and are never stored on the servers.
Two-factor authentication to make unauthorized access to the accounts impossible. RoboForm supports Google Authenticator, Microsoft Authenticator, and Authy.
Share the folder or a separate password. You are able to share the passwords or the folder containing them with any person. The sensitive data will not be exposed or intercepted as it is absolutely secure.
Emergency access. There is a number of reasons you may require emergency access to your account. You can create a list of trusted contacts.
Family plan. Control the expenses in one place — no more separate accounts and overpricing.
Round-the-day technical support. Customers with a paid subscription get permanent customer support and online chat within limited hours. Furthermore, the reach knowledge database will provide answers to almost any question.
Although the service does not provide any unique features, the list of them is quite impressive. On the other hand, it is good that the platform is not highly complicated. All the options are useful and convenient for most customers and typical for any password manager.
2. Paid and free plan
RoboForm provides two categories of plans for its customers: personal and business. It is obvious that the personal plan is for those who use the service privately, and the business one is for companies. They are almost identical, but the business plan has some specific features aimed at and useful for business. In turn, the personal plan is divided into individual and family.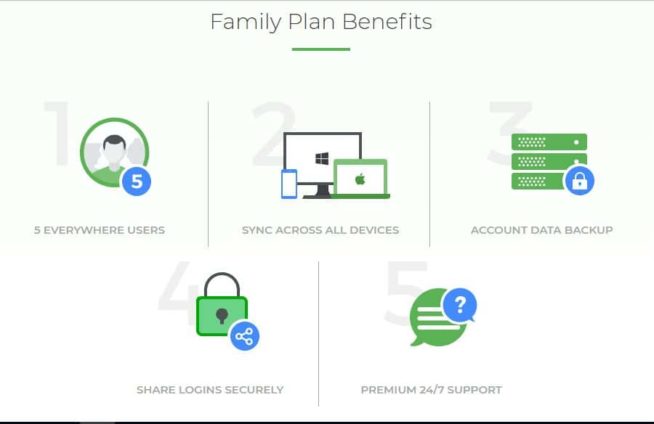 The individual plan has the Free and paid Everywhere options. In any case, you get a free month when you sign up for a free account with all the benefits of the Everywhere plan.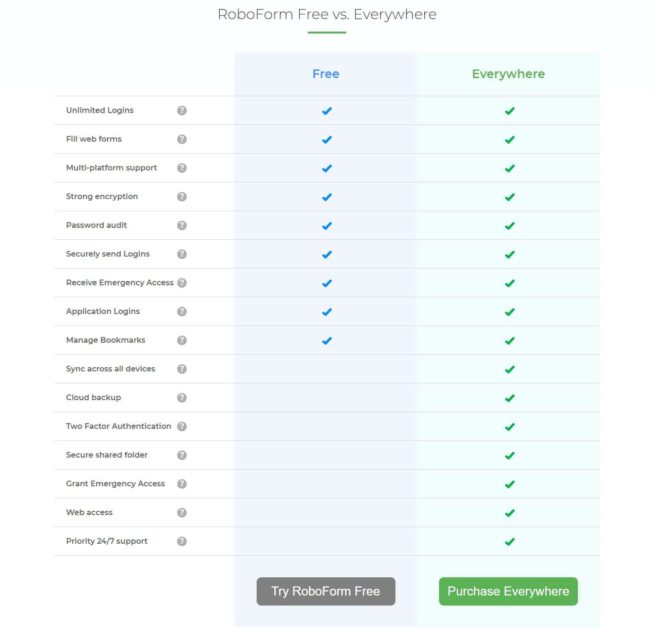 How much does it cost? The price depends on the subscription period:
1 year — $23.88.
3 years — $64.44 instead of $71.64.
5 years — $99.50 instead of $119.40.
As you can see, the longer the subscription period is, the cheaper it is. Anyways, even if you are not ready to get a 5-year subscription, less than $24 a year is not a lot at all and the price is affordable to most people.
3. Registration
To test the service, we will not buy a premium subscription. The free version is quite self-sufficient and provides all the basic features to understand how the software works. So, let's start. On the homepage, click on the Get RoboForm Free button and download the installation file for your desktop PC. In our case, this is Windows 10.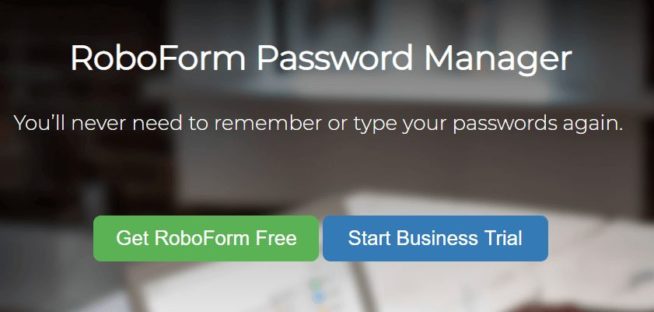 Next, run the installation file and install the application on your computer. The installation wizard will offer several languages to choose from. So, you will be able to select one of several dozen languages if your native one is not English.
Then, select the browsers where you would like to integrate the service. The software will automatically detect all installed browsers. In addition, you may choose whether you want to automatically fill the data in Windows apps.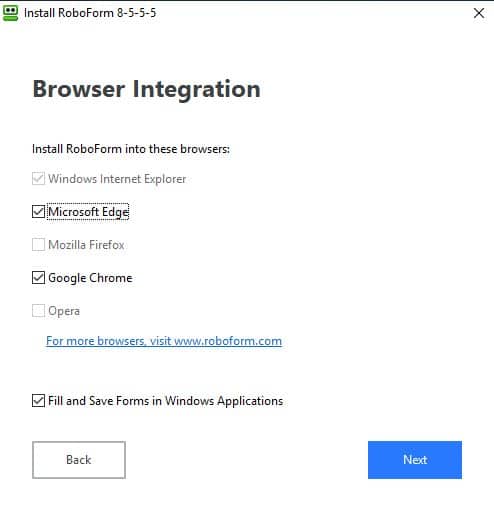 After that, the installer will offer you to create a new account or log in using an existing one. As we do not have any, we're going to create a new account.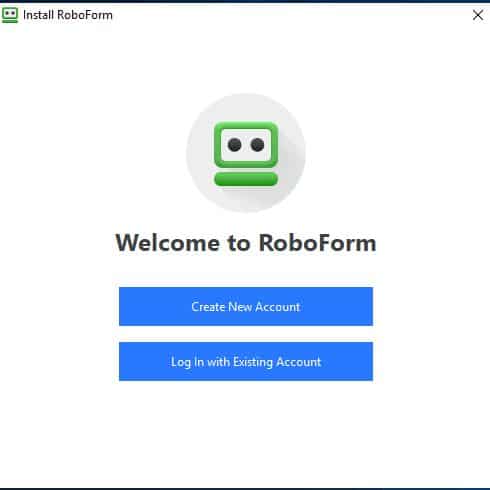 Type in your email address and create the master password. The app will immediately show how strong this is.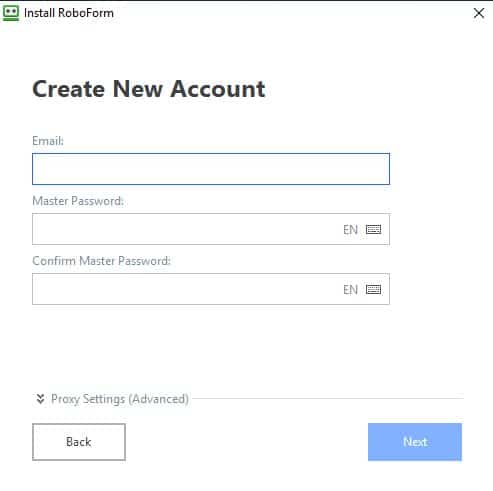 Now the app is ready to work. It will work in the background. You will also get a welcome email message.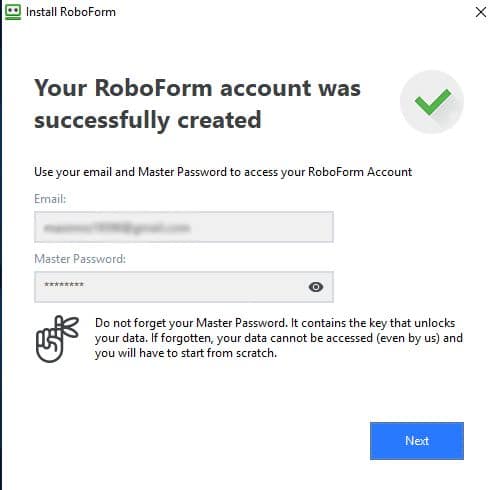 The registration procedure is very similar on any supported platform. Now, it's time to take a closer look at what platforms are supported.
4. Install RoboForm on iPhone, Android & Desktop
You are able to use RoboForm on all the popular platforms and devices. It includes separate applications for Windows and macOS for desktop and Android and iOS for mobile. Furthermore, there are extensions for Microsoft Edge, Mozilla Firefox, Opera, Google Chrome, as well as for Apple Safari. The browser extensions are not limited to Windows and Mac OS — you are also able to use them on Linux and Chrome OS. In addition, with a premium subscription, you will be able to access all your passwords online.
4.1 Desktop app
For both Windows and Mac, RoboForm provides standalone applications along with browser extensions that complement each other. You can access it via the context menu or open the app window. Through the context menu in the taskbar or the menu bar, all the basic features are available with a few clicks. Also, the application supports built-in or external fingerprint readers.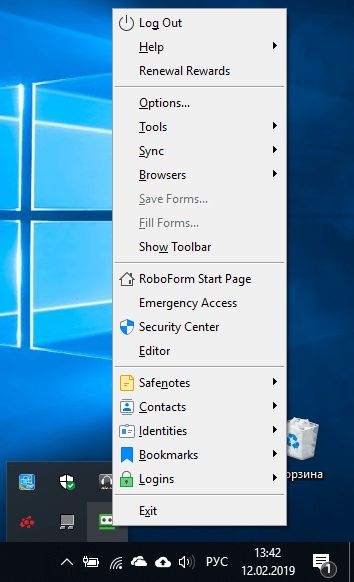 The op interface is a light, clear, and quite user-friendly. The passwords and other data are available in the left column, while the data itself is displayed in the right part of the window. In most cases, you will easily find what you are looking for very quickly.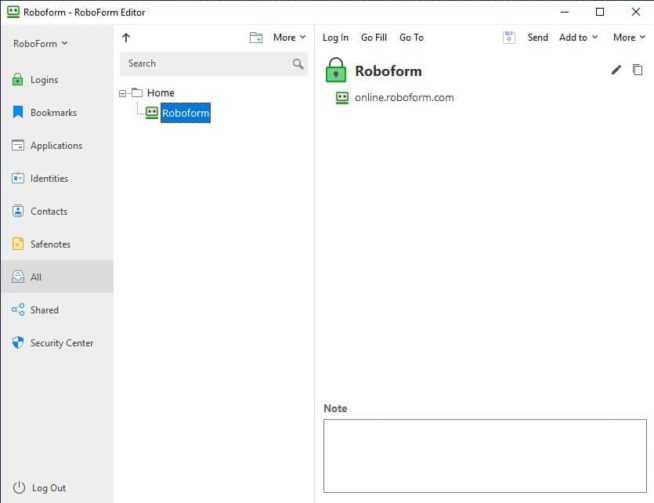 However, even with such an attractive interface, there are some oddities. For example, some features cannot be accessed intuitively: some of them are very hidden while others are not available at all. How so, you will ask. Nobody knows for sure. One of the strangest things is that you will not find the password generator in the desktop app. We assumed it would have been a basic, core feature of any password manager especially since they announced the ability to use it with all desktop apps, not only in the browser. Nevertheless, this option is still available only in the browser extension.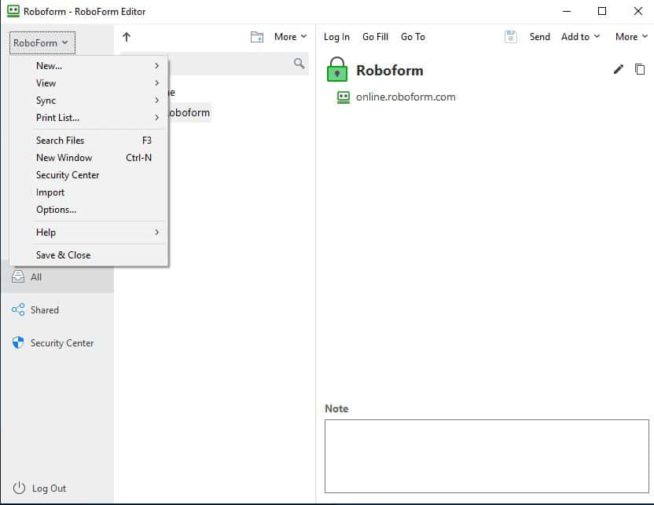 The Settings tab provides full app configuration. You can make fine-tuning quickly and conveniently, changing practically anything within your account and app.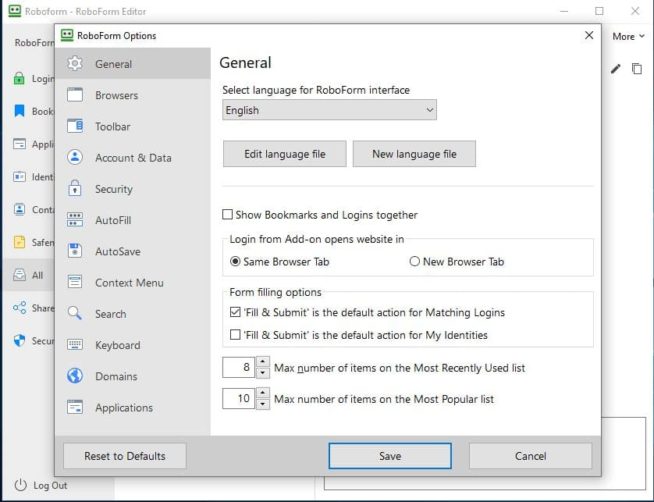 The Security Center will analyze the strength of all your passwords. Furthermore, it will help to avoid data leaks and prevent some bad consequences by making good suggestions to improve the security of the account and device.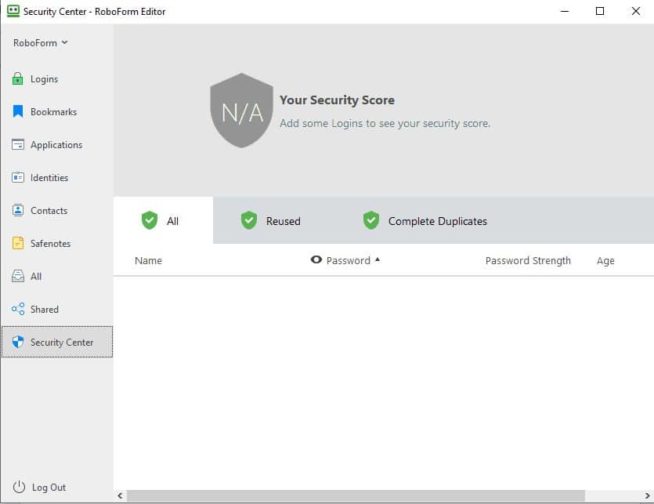 4.2 Mobile apps
RoboForm has separate apps for Android and iOS. It doesn't support other mobile operating systems as they are considered outdated. The apps are available in their respective app stores, the Apple AppStore and Google Play Store. They are lightweight and do not take a lot of device resources. Having installed the one suitable for your mobile device, create an account or log in with an existing one.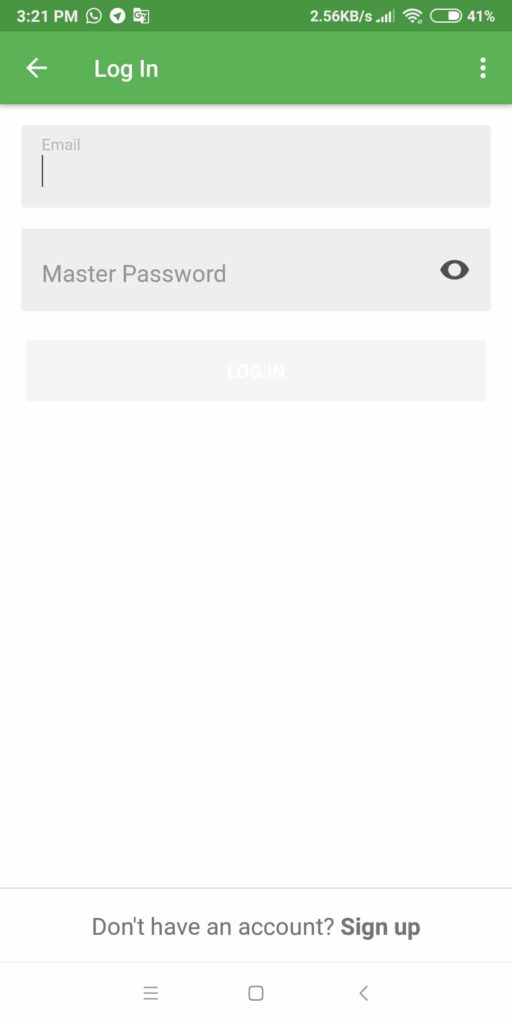 If your device has biometrical logins like face ID or fingerprint scanner, the app will support them all. Moreover, it will ask you to create a PIN code consisting of 4 digits. This way, your app will be absolutely protected from unauthorized access.
The interface is quite attractive, but it can seem a bit outdated for some users. Similar to the desktop app, some features are not quite intuitive to access. However, the developers are working hard on improving the design and accessibility. The Settings tab gives access to all the configurations, both for the app and the account. Unlike the desktop app, the mobile apps have the password generation feature.
4.3 Browser extensions
There are extensions available for Google Chrome, Mozilla Firefox, Opera, Microsoft Edge, and other browsers based on them. They can be installed separately or automatically with the main desktop app. The extensions give you access to all your saved logins and basic features like password generation or password audit. It's notable that the extension does not have its own settings — it opens the settings menu of the installed desktop app.
4.4 Online access
If you are a premium subscription user, you are able to access all your passwords and basic account settings on the website.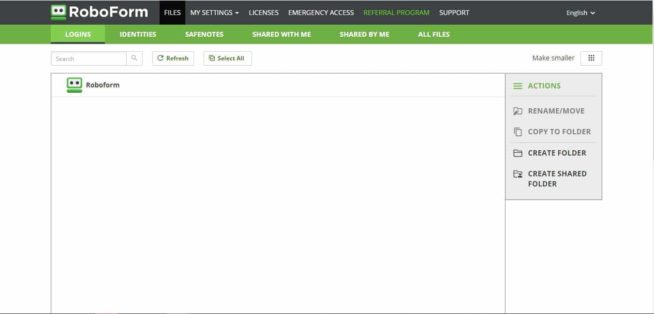 Please remember that you are not able to add a new login or password manually. All the data are accessible in read-only mode.
5. Is RoboForm safe and secure?
It is one thing to store and sync your passwords and a completely different one to do it securely. This app uses AES256-bit encryption with PBKDF2 SHA256, 4096 iterations. As a key stretching algorithm, the company uses PBKDF2. RoboForm is a zero-knowledge company. The applications encrypt your data locally and only then transfer it to the remote servers. Thus, no one else would be able to read the logins, bank card numbers, and any other sensitive information you store. So, try not to forget the master password, as no one will be able to help you if you lose the access information for your account. Another great option is storing the database on your device locally, without sending it to the RoboForm servers. In some cases, it is an even better option than storing it online.
6. Technical support
RoboForm made a lot of work to improve the quality of their technical support. Now it is much easier to access than some time ago. If you have any questions or issues, you can get help by reading the rich knowledge database, as well as by contacting the support team via email or online chat. We tried to contact them via email. We logged in on the website using our email and password. Then, we clicked on the Support button at the top. We saw the following page: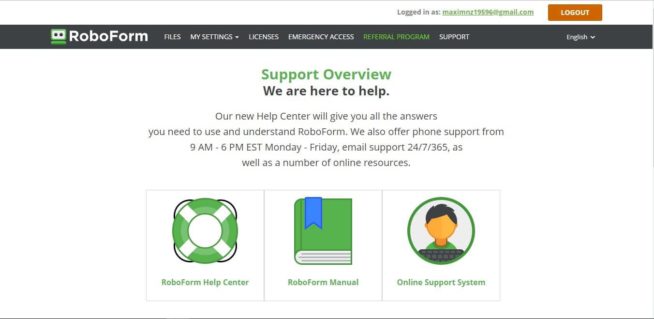 Next, we selected the Online Support System to contact the technical team by email. In order to be able to contact them, we had to verify our email. We received a verification message, entered the digital code, and clicked Submit.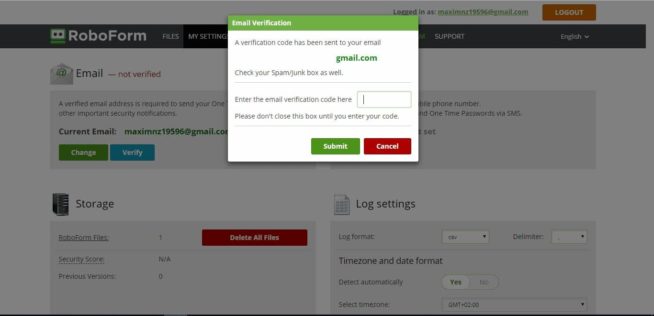 Next, we had to select a topic. In the web form, we entered the subject and the message itself, and then we clicked Submit.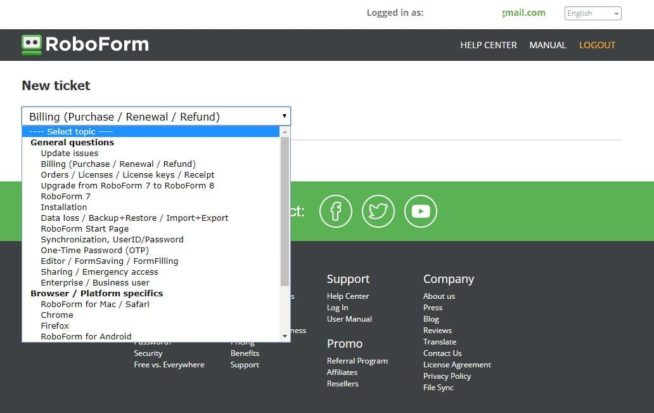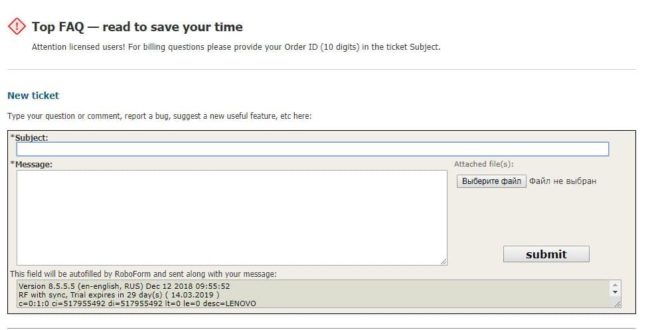 We asked the following question:
With the free plan, I cannot sync my logins between devices. Does it mean I can use my account only on one device, or I can use it on several devices like my smartphone and laptop but without being able to sync the logins between them?
After we submitted the request, we got the following message: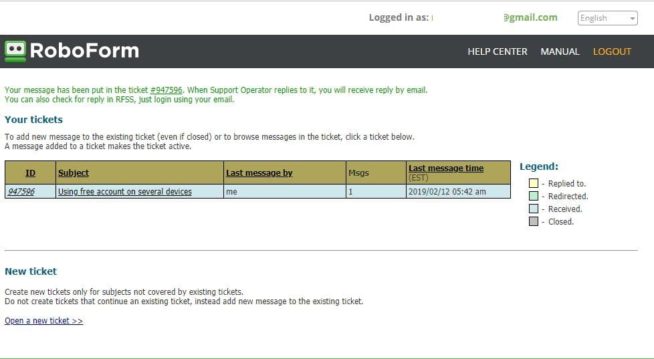 In a bit more than one hour, we received a reply in our email. They told us that it is impossible to use several devices with only one account on the free version. The answer was quite understandable, and we did not have any additional questions.
8. RoboForm vs LastPass
RoboForm is not the only password manager on the market, there are a lot of competitors. Some of them are more popular and developed, while others are less. LastPass is one of the most popular and the best password managers available at the moment. While they both have a similar set of features and limited free access, many users ask which one of them is better. Let's glimpse on these two password managers.
8.1 LastPass vs RoboForm – Similarities
Both managers have built-in password generators to create strong, unique passwords for any website or app.
Both apps are protected by a master
Both provide one side encryption.
Both support two-factor
Both platforms have business and family plans.
8.2 RoboForm vs. LastPass – Differences
LastPass is considered to be more secure than RoboForm.
You are able to manually add the password in the LastPass app.
The RoboForm features are accessed in a less intuitive manner than the ones in LastPass.
LastPass is significantly more expensive.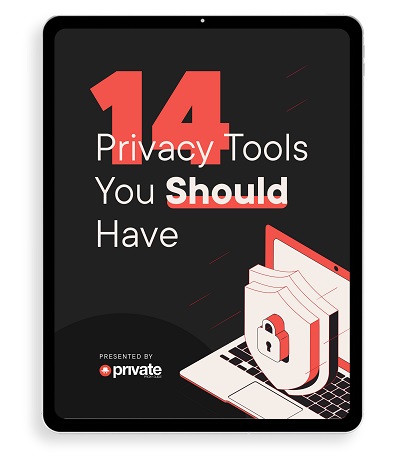 Learn how to stay safe online in this free 34-page eBook.