Gleb Budman and Brian Wilson spent a good number of years pioneering the idea of the perfect backup solution by crafting their service to cater to consumer needs and armed with a clear vision, they launched their company in 2007 – Backblaze, Inc.
Today, Backblaze ranks as one of the best backup solutions available on the market, with reasonable prices, a plethora of intuitive features, and most importantly, the ability to create unlimited backups of your data, both on your computer and external drives. Thanks to those features, Backblaze easily wins the bragging rights for several metrics in this category, with 600 petabytes stored and around 35 billion files recovered.
Now, behind all that sweet talk and fancy numbers, how well does Backblaze perform? Short answer? It performs pretty well, giving it the crown as one of the elite choices when it comes to cloud storage suppliers. Ready to delve into more details? Here's our Backblaze review.
User Interface
One of the biggest strengths of Backblaze is the simple, minimalist user interface of the desktop software which makes the whole experience seamless and smooth. Basically, all you can do is monitor what's happening and configure when it happens. To download the desktop client, simply create an account on Backblaze's website and the download will initiate automatically. As soon as the file is ready, run the installation. All you have to do here is click Install. The fact that you don't have to retype your email and password again is quite convenient, especially if you're one to dread doing so with every program.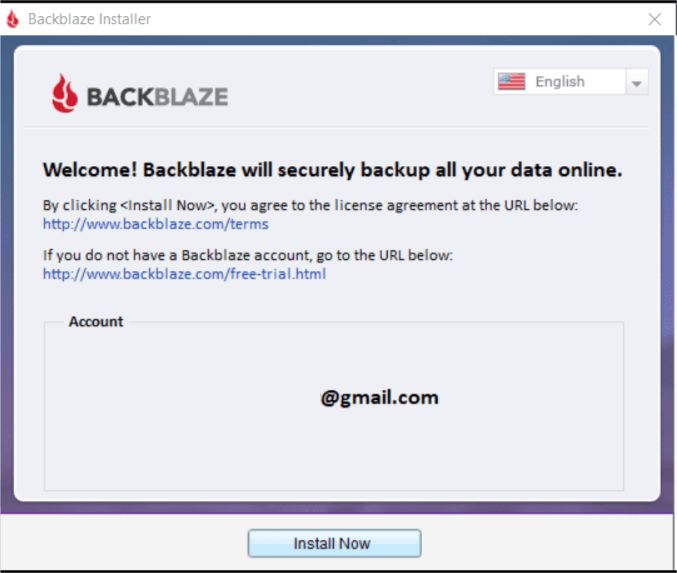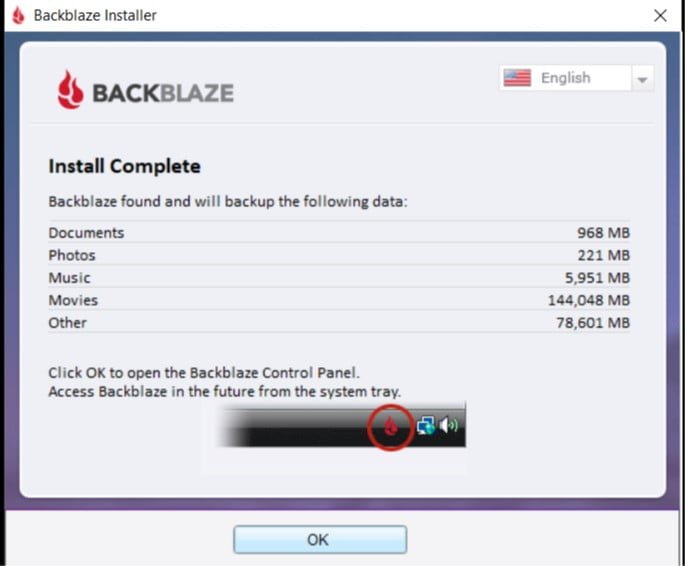 As soon as the installation is complete, the desktop software will start uploading your files immediately. It uploads everything that doesn't fall into the service's built-in file exclusions, which primarily include applications and system files. That's because Backblaze offers unlimited storage, which means that there's little reason to be selective when backing up your data with this service. If you wish to wait until you're familiar with everything before starting the backup process, you can simply click on Pause Backup.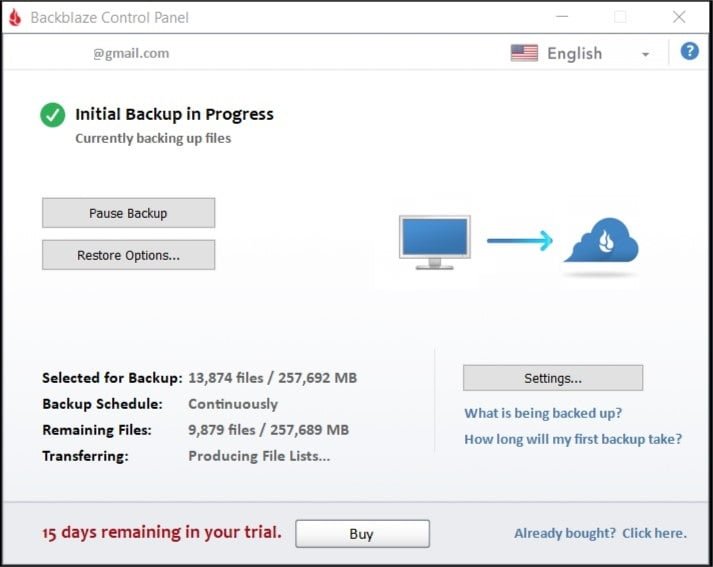 The no-frills control panel shows the status of your backup along with a link to the web page through which you can restore your data and a few buttons that control freaks can use to tweak the program to their liking. Should you click on the Settings button, you'll get a new window with eight tabs: Settings, performance, Schedule, Exclusions, Security, Files Scheduled for Backup, Reports, and Issues.
Settings
The settings tab offers a few parameters that you can tweak to your preference, including the online name for your device, the temporary data drive, and which hard drives you want to backup.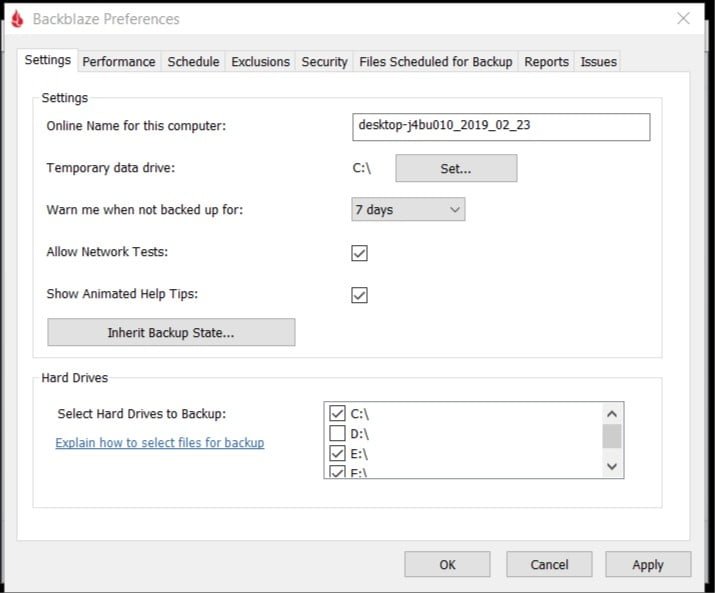 Performance
This is where you can check the status of the upload process. You can either go with automatic threading/throttle for the program to take care of that according to your network and device or set the number of threads yourself. There's also a neat power option here, where you can set whether you want the Backblaze program to perform backups when the device is running on battery or not. Furthermore, it's possible to add a Wi-Fi network block list. That would come in handy if you just want to perform backups when you're at home and stop doing so when you're connected to Starbuck's Wi-Fi, a mobile hotspot with a data cap, or your workplace network, just to name a few.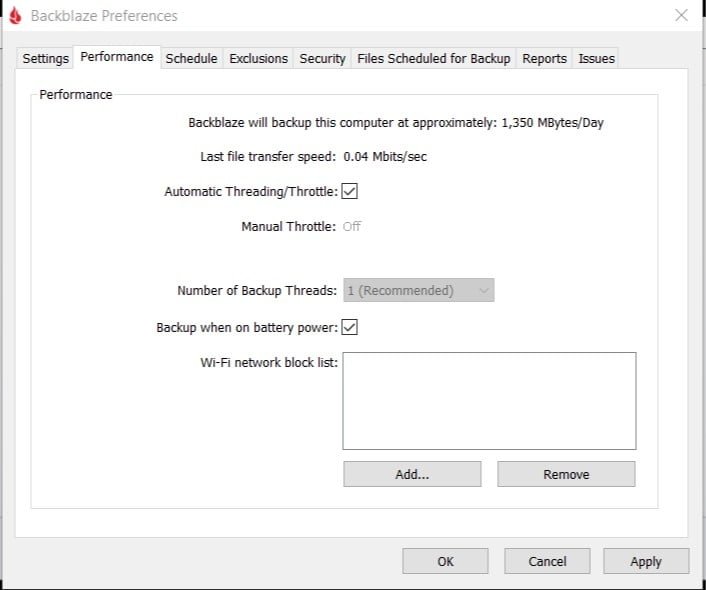 Schedule
For scheduling, the Backblaze client offers you three options; you can either back up your files continuously, do it once per day, or just when you click on Backup Now. If you've ever used IDrive before, you'll certainly notice how different the scheduling options are between the two.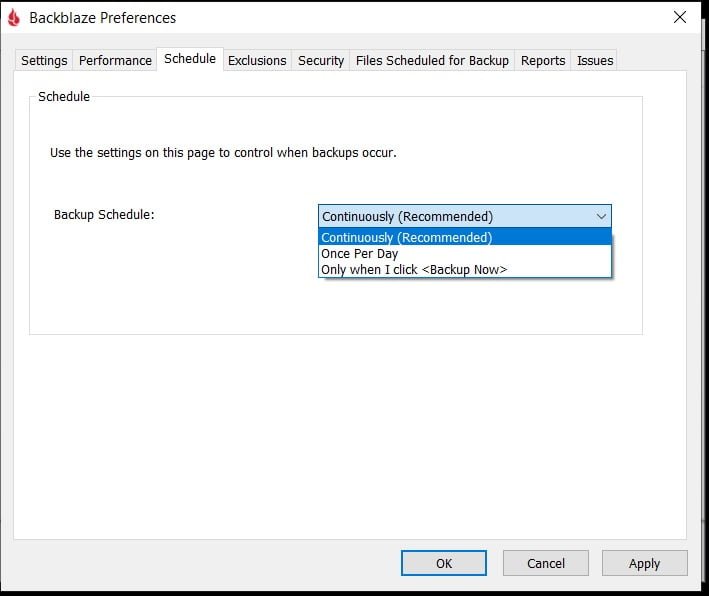 Exclusions
Although you can't choose which folders and files you want to backup through Backblaze, the app gives you the option to exclude specific files, folders, and extensions. You can also limit the backup for files that are larger than a certain limit.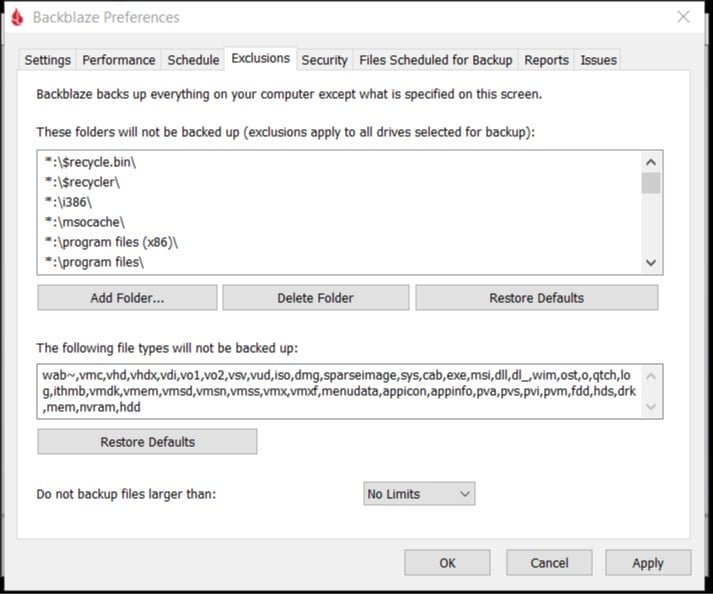 Security
When you create a new account on Backblaze, you can add a private encryption key so that no one can decrypt your data. Keep in mind that if you lose the key, your data is as good as lost, as even Backblaze can't decrypt it. Once added, you'll need your email, password, and private encryption key every time you need to restore your files and folders.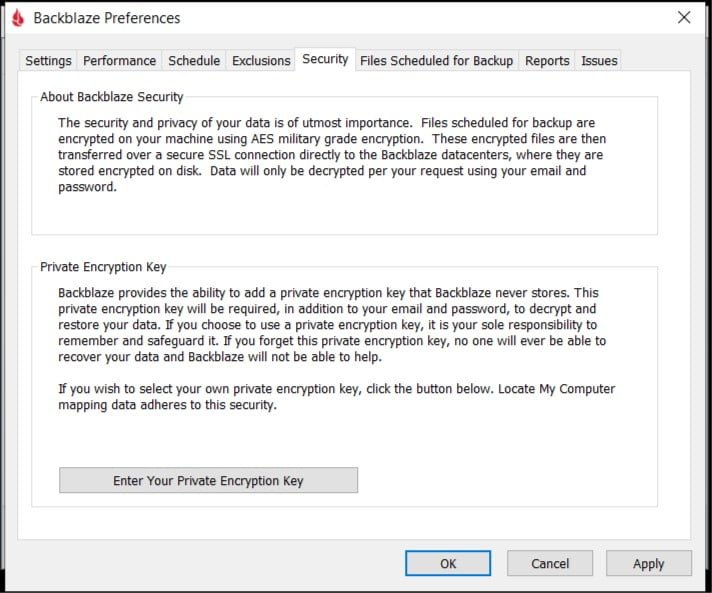 Files Scheduled for Backups, Reports, and Issues
These tabs are used to check what's happening, what's going to happen, and any issue the program is facing with the upload. If you need to restore your data, you'll have to sign in through the web app, as you can't do it from the desktop program.
Ease of Use
With a simple user interface and a set of straightforward settings, this backup solution is simplicity itself to use, and certainly, all the reviews can attest to the nice and easy operational aspect to the Backblaze backup service. That very simplicity and minimalism are what gives this solution the edge over its competitors, as you don't need to keep tackling the settings to get the experience that you need. Add that to the fact that Backblaze offers unlimited cloud storage, and you've got yourself the epitome of ease of use.
The only thing with which you'd ever need to tinker are the system files, apps, and temporary files, just because they're not backed up automatically. That's a well-thought restriction though, as restoring operating system files can cause unwanted issues for your device. As far as the web interface goes, it couldn't be easier to navigate either, with an elegant design that makes it extremely easy to use. The navigation tabs sit at the side of the panel, just where you'd want them to be. You get the usual Overview tab, where you can check the status of your backup, along with other essential tabs that we'll get to in a minute.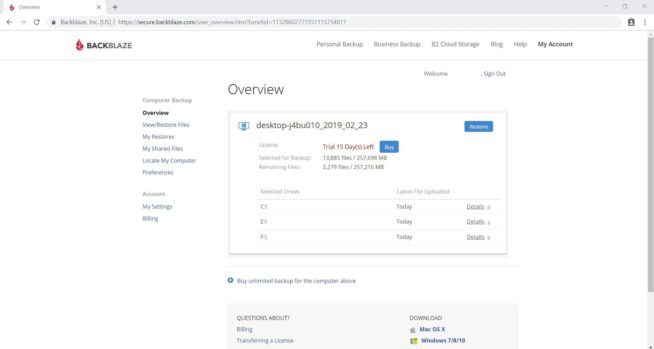 Restoration
To restore your files, you'll have to access the web app, and head to the View/Restore Files tab. There, you'll see four options. You can either:
Download Your Files
This is by far the most-commonly used restoration method, as it's free and simple. All you have to do is select the files that you want to restore and proceed with the download. There's a catch here though, as zip restores are limited to 500GB, and they can certainly take quite some time depending on your network connection. If you don't mind the wait, you can start the archive process, and you'll get an email once your files are ready to be downloaded. If your files are over 500GB in size, you can submit up to five requests at any given time.
Save Files to B2
If you don't need your files on your computer right away but still need to keep a second backup, you can save a snapshot of your data to one of the B2 Cloud Storage solutions provided by Backblaze, which are Backblaze itself, AWS S3, Microsoft Azure, and Google Cloud. Although this is indeed a viable option, you'd still need to cover the B2 Cloud Storage fees.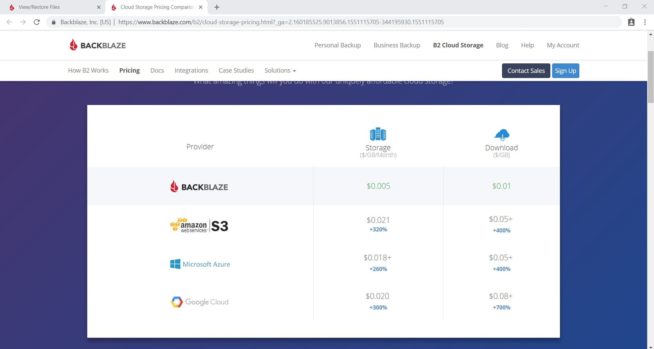 Backblaze Courier Service
If the above options aren't good enough for you, you can go with the Backblaze courier recovery service, which is the best solution for substantial recoveries. As part of Backblaze's Courier Service, you can either get a USB flash drive for up to 128GB or a hard-drive for up to 8TB FedEx to you for fast restoration.
This service costs 99 bucks for the flash drive and 189 dollars for the hard drive, though it's more of a deposit, as Backblaze does refund the money once you send the storage device back within 30 days, so the whole process will only cost you the shipping fees. The courier service can be used up to five times per year. If you need to benefit from it for more than that, you'll have to pay for the drive for good. Although the courier service can be pretty useful, other providers do it better. IDrive, for once, gives you the option to get an external hard drive shipped to you for both the initial backup and the files restoration.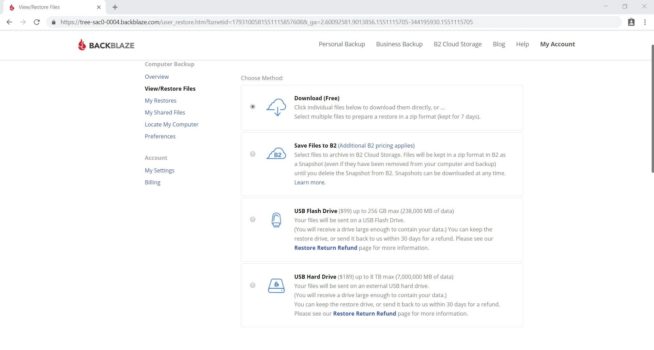 According to your network and how fast you need your data, you can go with any of the options detailed above then scroll down to select the files that you want to restore and proceed accordingly.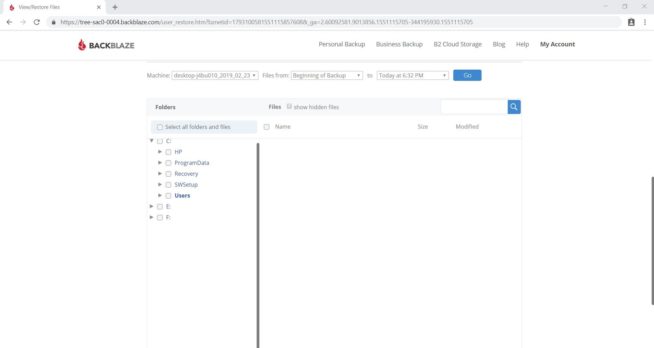 Speed and Performance
After security, speed and performance are probably the most critical factors when choosing a backup solution provider. We all know those initial backups can take ages, especially if you have a significant amount of data on your device, and since Backblaze doesn't offer the option to send you a hard drive for the initial backup, it's essential to understand what kind of performance and speed you should expect before going with this service.
Rest assured, as our tests showed that Backblaze does live up to its reputation and handles uploading and downloading better than other providers. As we couldn't choose specific files for the test when trying out Backblaze's speed, we had to go with what was stored on the test PC, which is around 257,704 MB of data.
The test computer was connected to a Wi-Fi network for which the speeds were clocked at 280 Mbps for the download and 120 Mbps for the upload. The initial 257-GB upload took around 47 hours, with an average upload speed of 15 Mbps, making Backblaze one of the fastest services we've ever come across.
As for the restore, it only took the app around 10 minutes to restore 1.1 GB of docs, photos, and videos. That's another record for Backblaze. If you want to boost the speed even further, Backblaze lets you increase the number of threads you have running and adjust the throttle settings manually, a feature that you rarely find in backup solutions. To do that, simply head to the Performance tab in the settings. Just like IDrive, once the initial backup is complete, the Backblaze app keeps uploading files incrementally by processing them at the block level, which means that it doesn't back up the entire file every time it gets modified, but only the changed parts.
Security and Privacy
Backblaze, like other major backup solutions, takes all the necessary steps to protect your data and privacy. First, you have the option to set a private encryption key instead of letting the app take care of the encryption/decryption process. However, there are a few niggles with Backblaze's implementation of this feature.
Since the restores are performed through the service's web app, you'll need to hand the passphrase to Backblaze to get your files decrypted before receiving them. This issue is avoided by other backup service providers, such as IDrive and Acronis True Image, by performing the decryption locally through the desktop client. Keep in mind that Backblaze states that your key isn't recorded and is deleted as soon as your files get decrypted.
What does that mean for you, the user? It means that you'll have to take the company's word for this, thus defeating the whole purpose of a private encryption key. Another disadvantage of this feature, which applies to all backup providers, is that if you forget the key, your data is as good as lost, and even Backblaze can't restore it for you, so make sure to save and secure several copies of it for your own safety. To set your private encryption key, simply head to the security tab in the settings and click on "Set Your Encryption Key." Unlike IDrive, Backblaze allows you to use two-factor authentication, which would come in handy if you don't want to go with the encryption key option.
If you enable this option, you'll have to type in a security code that gets sent to your phone number whenever you login on an unrecognized device. Alternatively, you can use the Google Authenticator app to authenticate the new computer. If you're too paranoid, you can even require a security code every time you log in. While 2FA and private keys can render your data pretty secure, it's critical to make sure your password is equally strong as that's the first vulnerability a hacker would try to exploit. As for the encryption itself, Backblaze uses the AES 128-bit encryption level, which is uncrackable, even by the most super of computers.
When you initiate a backup, the desktop app encrypts your files locally and sends them to the cloud using an SSL connection to avoid any kind of interception during the transmission. Once your files reach the data center, several copies get created and stored on different servers as part of the RAID data protection method, which ensures a failproof saving of your files and folders. Along with all the virtual security measures, Backblaze also protects your data against physical intrusions thanks to its well-secured climate-controlled data centers that are designed to withstand natural disasters.
Features
Backblaze is designed to offer the smoothest and simplest backup experience out there, which explains why it's not as feature-rich as other competitions such as IDrive and Cloudberry. No syncing, no complicated scheduling options, and no support for mobile devices. Is that simplicity a bad thing, though? Not really, as for the average consumer looking to back up their data as easy as possible, Backblaze is more than enough. Nevertheless, this service does come with pretty neat features that we like, including:
Unlimited Backup
Unlike other providers that limit how much data you can backup and how many files you can upload, Backblaze allows you to back up anything and everything on your PC, no matter the total size. The only catch with this is that you can use Backblaze for a single computer, as opposed to IDrive, for example, which allows you to backup all of your devices (including mobiles ones) but limits the total size that you can upload.
30- Day Versioning
Backblaze backs up previous versions of any given file, but it only keeps them for up to 30 days. Unfortunately, despite offering unlimited storage, there's no way to change the versioning policy, which makes Backblaze vulnerable against ransomware attacks.
Computer Location Option
Although not in the backup scope, the Computer Location Option offered by Backblaze can be pretty useful to have. Using this feature, you can easily locate your device if it gets lost or stolen, which makes your device somehow disaster-proof.
How Much Does Backblaze Cost?
The pricing structure of the Backblaze backup service is as simple as the service itself. For personal use, a single plan is available, which offers unlimited backup for one device. The plan costs 5 USD per month, 50 USD per year, or 95 USD per 2 years (that's 2 months free of charge for the yearly plan and 5 months for the biannually plan if you're too lazy to do the math).
So, not only is Backblaze one the best backup providers out there, but it's also among the cheapest. Knowing that switching this type of service can be a real pain in the neck if you find Backblaze suitable for your backup needs, the long-term plans become a no-brainer. Business users follow the same structure as well, as the business plan costs 50 USD per computer per year. Unfortunately, there are no other billing cycle options for this plan.
What's unique about the business plan is that you get admin controls and the ability to secure NAS servers, making it ideal for both small and big corporations and companies. To test out the waters, you can use any of the above plans free of charge for 15 days, which is more than enough to fall in love with the simplicity and high performance of the Backblaze backup service. Furthermore, if you'd like to keep more copies of your data, you can get B2 Cloud Storage from Backblaze, for which the cost is calculated depending on how much you need to store on the server. In certain situations, this option can be more affordable than other cloud storage solutions, such as AWS, Microsoft Azure, and Google Cloud.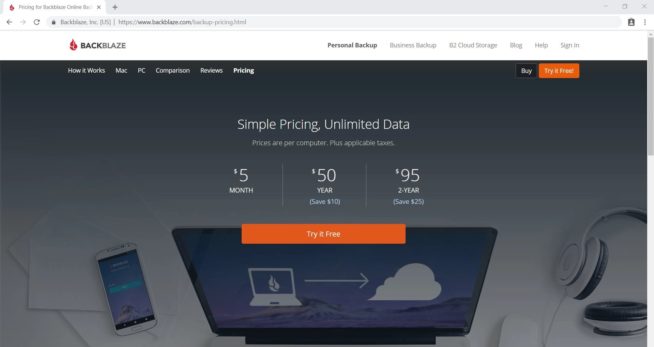 Support
If you face any issue or need help with anything regarding the Backblaze, you can go with one of three options; the knowledge base, the email support, or the live chat. Backblaze offers a really impressive and extensive knowledge base that covers almost anything you may think of in different departments, such as the backup, restore, account, and licensing, among many others. If you need a quick fix for a small problem or have any questions that you want to ask, use the search bar and you might find your answer waiting for you. If you can't find what you're looking for in the knowledge base, you can chat with a real person over email or the live chat provided on the site.
For the email support, Backblaze has support technicians answering client emails 24/7 and guarantees a response within 24 hours. You can submit your request either through the contact form on the site or by directly sending them an email. When testing out this service, we sent an email on Friday morning and got a response within three hours. For a service provider of this scale, that's pretty darn fast. As for the live chat, although it's faster compared to email support, you have to contact Backblaze on their working hours, which are Monday through Friday between 9 a.m. and 5 p.m. PST.
Keep in mind that if the issue requires escalation, you'll have to wait sometime before getting a definitive response. We tried the live chat twice on Friday, and we found both support agents to be really polite and helpful, which proves that Backblaze recruits only the best of the best in each department.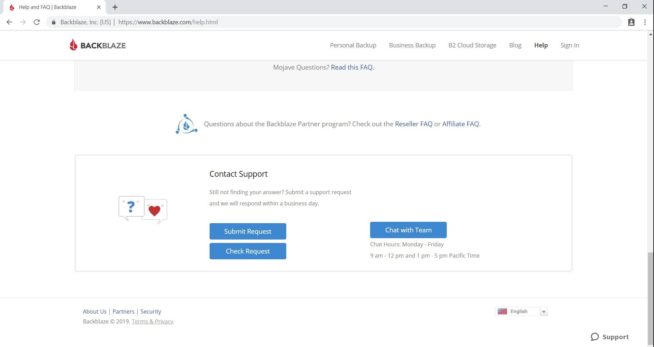 Pros
Unlimited backup
Affordable price
Simple and clean user interface
Easy to set up and use
Two-factor authentication
Well-secured data centers
AES 128-bit encryption
Fast support, both through email and live chat
Free courier service
Several restore options
Cons
No mobile support
30-day versioning
There's only a single-device plan
You have to hand over the encryption key
Verdict: Is Backblaze the Ultimate One-Fits-All Backup Solution?
Offering a backup solution is one thing, but making it accessible and easy to use by anyone is a different ballgame – and one that Backblaze plays well. Although not as feature-packed as other backup providers, this service is still pretty neat and offers everything you need to back up your data is an easy, smooth, fast, and secure way. Sure, having to give up your private key in order to decrypt your data isn't the best of options, and the lack of support for mobile devices may seem like a turnoff for smartphone enthusiasts, but for an average or business user looking for a no-frills backup solution for their files and folders, Backblaze is definitely the way to go.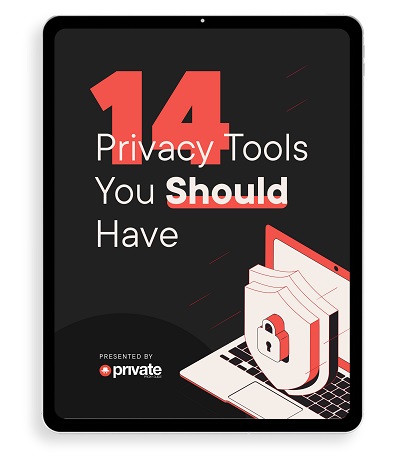 Learn how to stay safe online in this free 34-page eBook.