IPVanish (www.ipvanish.com) is a VPN service based in the United States that offers its customers secure web navigation on a paid basis. The company has been on the market since 2012 and did a very good job in developing and improving its product.
IPVanish offers a great level of service and different pricing options depending on the subscription period. You can choose from the following subscription packages: one month, three months, and one year. There are more things to find out in this updated IPVanish review.
At the moment, IPVanish does not have a free VPN, but they offer a 7-day money-back guarantee, so, you can test the product and decide whether you like it and want to keep your subscription or cancel it. IPVanish offers very high technical efficiency, reliability, and high connection speed. They have one of the longest lists of countries compared to all VPN services (more than 60), and they offer one of the best privacy policies despite the fact that they are based in the US, where the government wants to control your every step. IPVanish does not log or store your internet activity.
IPVanish is also one of the few companies in the world that offers a Tier 1 network — that is the first level provider. It owns and manages its own servers, infrastructure, and software. This means that the performance is much faster and more reliable than the one of most of the other VPN services.
Regarding security, IPVanish supports all modern protocols, including OpenVPN, PPTP, and L2TP, as well as the AES 256 encryption. That means that your traffic will not be intercepted and you can have peace of mind about your security. We were unable to unblock Netflix at the time of testing. This may have changed, but beware of that. IPVanish currently has a TrustPilot Score of 4,7 which is very good.
IPVanish Pros and cons
Pros
Fast connection speed.
Great protection.
No DNS leaks.
7-days money-back guarantee.
Attractive apps for most existing platforms.
Affordable prices.
Cons
IPVanish does not unblock all streaming platforms including Netflix, BBC iPlayer, and CBC Canada.
No trial period.
Here is a brief overview of IPVanish:
| | |
| --- | --- |
| Jurisdiction: | United States |
| Simultaneous connections: | 10 |
| Supported VPN protocols: | IKEv2, OpenVPN, and L2TP/IPsec VPN protocols |
| Logs policy: | Zero traffic logs |
| Price: | from $6.49 per month |
| Money-back guarantee: | 7-day money-back guarantee |
| Customer support: | Email & chat |
| Works with Netflix? | No |
| Allows torrenting: | Yes |
| Servers: | 1,200+ VPN servers in 60+ countries |
Find our top VPN-provider alternatives to IPVanish below.
VPN Service


www.nordvpn.com
NordVPN
Review
Price: $11.95 $3.71/month
Servers: 5500+ in 59 countries
Simultaneous connections: 6
Jurisdiction: Panama
Payment: PayPal, AmazonPay, Crypto, Google Pay, Klarna
Torrenting: OK
Unblocks US Netflix: Yes
Dedicated IP: $70/yr
TrustPilot Score: 4,7/5
Money-back: 30 days
Extra: Double VPN, Obfuscated servers
Visit NordVPN »


www.expressvpn.com
ExpressVPN
Review
Price: $12.95 $8.32/month
Servers: 3300+ in 94 countries
Simultaneous connections: 5
Jurisdiction: British Virgin Islands
Payment: PayPal, Crypto, AliPay, Klarna,
Torrenting: OK
Unblocks US Netflix: Yes
Dedicated IP: Not provided
TrustPilot Score: 4,7/5
Money-back: 30 days
Visit ExpressVPN »


www.cyberghostvpn.com
CyberGhost
Review
Price: $11.99 $2.25/month
Servers: 6600+ in 89 coutrines
Simultaneous connections: 7
Jurisdiction: Romania
Payment: PayPal, Crypto
Torrenting: OK
Unblocks US Netflix: Yes
Dedicated IP: $51/yr
TrustPilot Score: 4,8/5
Money-back: 45 days
Visit CyberGhost »


www.surfshark.com
Surfshark
Price: $11.95 $2.49/month
Servers: 3200+ in 65 coutrines
Simultaneous connections: Unlimited
Jurisdiction: British Virgin Islands
Payment: PayPal, Crypto, Google Pay, Amazon Pay
Torrenting: OK
Unblocks US Netflix: Yes
Dedicated IP: Not provided
TrustPilot Score: 4,3/5
Money-back: 30 days
Visit Surfshark »


www.purevpn.com
PureVPN
Review
Price: $9.60 $3.33/month
Servers: 6500+ in 140 coutrines
Simultaneous connections: 10
Jurisdiction: Hong Kong
Payment: PayPal, Credit Cards
Torrenting: OK
Unblocks US Netflix: Yes
Dedicated IP: $35.88/yr
TrustPilot Score: 4,7/5
Money-back: 31 days
Visit PureVPN »
1. What is the IPVanish logs policy?
Despite being located in the USA, IPVanish is one of the best companies in terms of the privacy policy. IPVanish does not track or log your online activities. They even changed their non-registration policy (in April 2014), and do not save information about the user's session. This is one of the reasons why we advise using IPVanish. Few other companies show such a high level when it comes to protecting the users' privacy.
At the same time, some people will disregard IPVanish due to the fact that it is based in the USA. Yes, the company does its best to protect the data, but do not forget about the governmental policies. In some cases, they will not be able to oppose that machine. Therefore, if you are anxious about the US-based location, IPVanish is not your solution.
2. Monthly price for IPVanish
IPVanish offers three affordable plans, all with a 7-day money-back guarantee: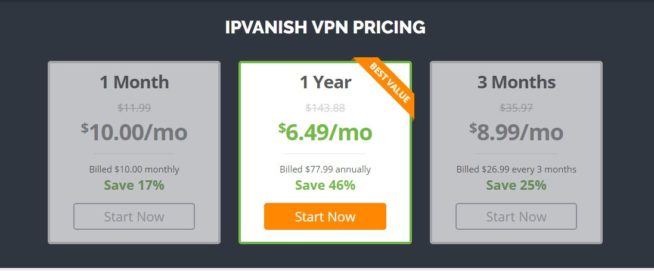 Even if you choose the monthly payment plan, $10 per month is not that much. There are many more expensive solutions. The best way to save money is to choose an annual subscription — it will cost you only $6.49 per month. It is not the lowest price on the market, but it is also not the highest. We can say it is average.
The subscription procedure is quite easy and requires three simple steps:
Go to the home page and open the Pricing page, choose the plan, and click Start Now. You will see the following: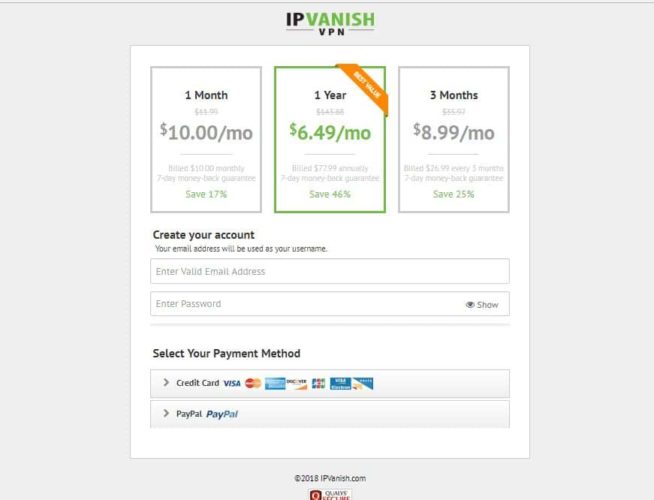 Enter your email and create a password.
Choose a payment method.
The bad thing is that there are limited payment methods available: only cards and PayPal are accepted. You will not be able to use any other payment platforms or Bitcoin. It is not that bad, but for some users, it will be crucial because the methods offered do not allow you to keep full privacy. The company at least will know your name. Having filled in all the information, you will get a confirmation email. Click on the link sent to you there to confirm the account.
Be prepared for the fact that a certain amount of money can be blocked on your card to check whether you are real. You will be redirected to your account's dashboard where you can manage the account and subscription, get the list of available servers, and get SOCKS5 proxy credentials. All instructions are intuitive and you most probably will not have any problems while subscribing. The next step is to get the application for your device. Go to the Apps page and get the app for your platform.
3. How to install and setup IPVanish
There are apps for almost all popular operating systems and platforms. You can choose an app for Windows, Mac, Android, iOS, and Fire TV. In addition, there are guides on how to set up and configure the IPVanish for Linux, Chromebook, Windows Phone, and routers. In the review, we will see how the apps for Windows and Android work. To get the app for Windows, download the installation file, run it and follow the setup wizard commands. You will actually need to click several times to complete the installation.
Here are some screenshots:
For Android, you can get the app in the Play Store or download the apk file. We recommend the first option because it will be updated regularly.
After installing the app, run it. All apps have an attractive, clear, user-friendly interface in black and green colors.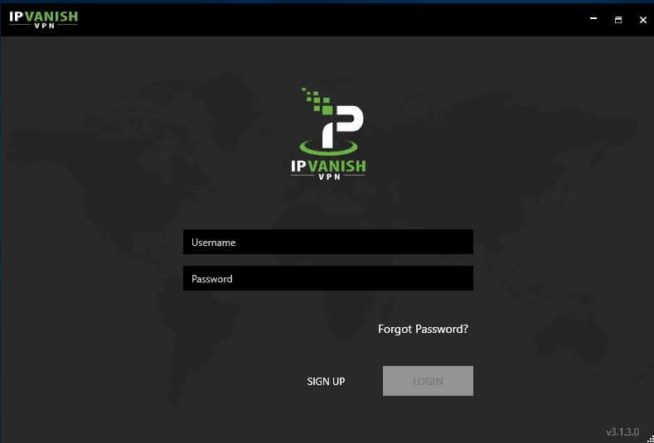 On the main screen, you will see the basic info about your connection status and you can select the country, city, and server you want to connect to.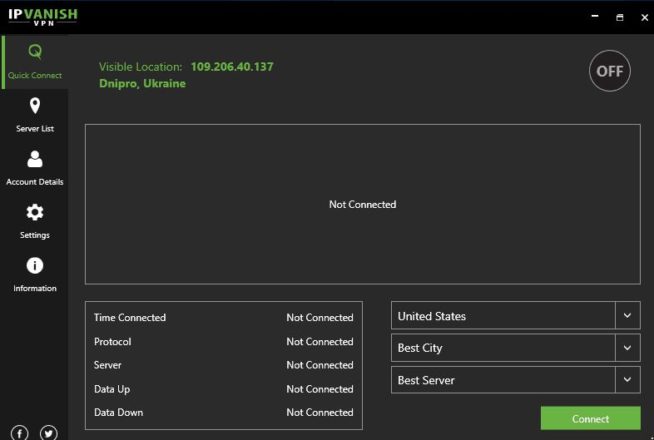 This information can also be seen in the mobile app.
In the side menu, you can see the server list, settings, and account info.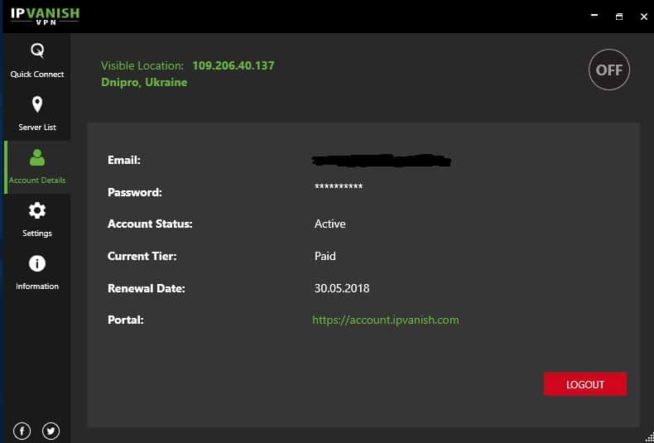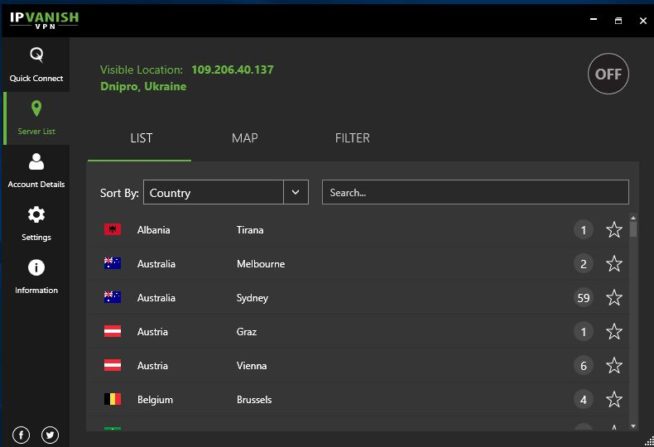 The Windows app offers far more settings than the Android one. However, you can configure the app according to your needs.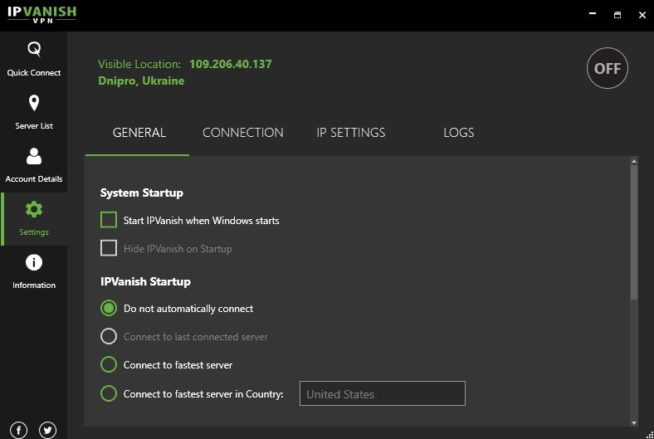 We are sure you will like the application. It works really fast and provides even more features than many competitors do.
4. Features of IPVanish
IPVanish provides a lot of great features that can attract many potential users. Let's review some of them.
Access geo-restricted services. The VPN provider will hide your IP address and services that are available in certain countries will think that you are a local resident. So, you will be able to access almost any service that is not available in your country or territory.
VoIP. Many VoIP services provide cheap calls within a certain territory, and when you use the service in any other place, you have to pay much more. With IPVanish, you can hide your real location and save money for online calls.
Bypass censorship. If you live in a country where the government controls and censors the internet, IPVanish will let you bypass all restrictions and feel free when using the internet.
The highest security. IPVanish provides the highest level of security and protection with its reliable protocols and encryption. You will never lose your data.
Wi-Fi protection. Due to the IPVanish high-security standards, you can even use it on unprotected public networks. If you use the VPN on your home connection, this will be more protected than ever before.
Prevent deep packet inspection. Some internet providers use deep packet inspection to control your traffic and limit the connection speed when using certain services. IPVanish helps to bypass all those limitations — your connection speed will always be high.
Kill Switch. When something goes wrong with the VPN, your traffic is again visible to your service provider and not secure. With its Kill Switch feature, the app will block the connection until you reconnect to the VPN.
5. IPVanish server locations
At the moment, IPVanish offers more than 1000 servers in 60+ countries around the globe. Additionally, it provides more than 40,000 addresses. So, you will be able to hide your own address and use services with no restrictions. On your account page, you can see the full list of available servers and information about their capacity. In the Windows app, you can even see the map with the locations. In most countries, the servers are located in several cities. In some cities, in turn, there can be several servers.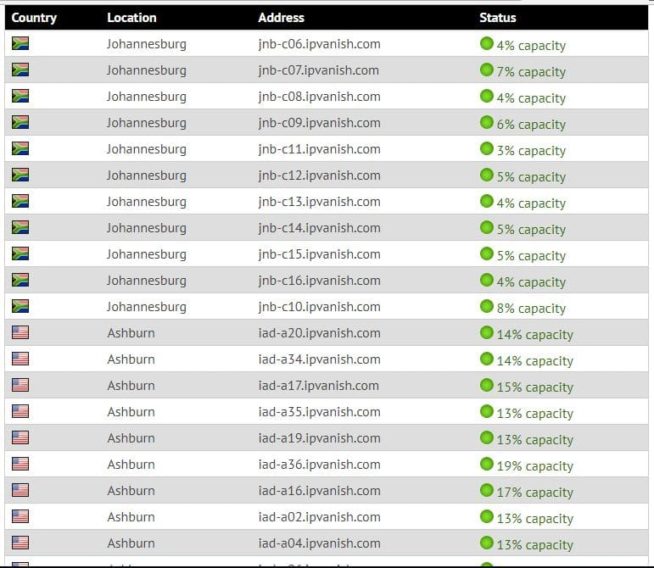 6. Is IPVanish fast?
During the test, we were physically located in Ukraine.
Find out more about how to check your VPN connection in this article.
| Location | Download (Mbps) | Upload (Mbps) | Ping (ms) |
| --- | --- | --- | --- |
| Without VPN | 76.44 | 69,98 | 29 |
| Austria — Vienna | 37,36 | 59,05 | 56 |
| Belgium — Brussels | 21,91 | 60,75 | 56 |
| Estonia — Tallinn | 31,56 | 46,53 | 53 |
| France — Paris | 40,86 | 56,00 | 61 |
| Germany — Frankfurt | 27,84 | 63,31 | 47 |
| Iceland — Reykjavik | 56,93 | 45,26 | 105 |
| Greece — Athens | 2,49 | 3,93 | 94 |
| Ireland — Dublin | 27,65 | 54,76 | 75 |
| Italy — Milan | 39,49 | 54,95 | 60 |
| Norway — Oslo | 36,54 | 52,05 | 76 |
| Netherlands — Amsterdam | 23,29 | 46,81 | 69 |
| Spain — Madrid | 26,30 | 53,27 | 77 |
| The United Kingdom — London | 26,05 | 45,64 | 61 |
| United States — Atlanta | 19,20 | 25,87 | 202 |
| United States — Boston | 20,66 | 45,28 | 135 |
| United States — Cleveland | 31,58 | 10,66 | 181 |
| United States — Los Angeles | 16,80 | 20,97 | 209 |
| United States — Salt Lake City | 1,17 | 1,19 | 203 |
| Canada — Toronto | 12,12 | 33,54 | 161 |
| Brazil — Rio de Janeiro | 0,05 | 1,44 | 283 |
| South Africa — Johannesburg | 31,76 | 4,00 | 246 |
| India — New Delhi | 8,37 | 10,95 | 255 |
| South Korea — Seoul | 6,14 | 1,81 | 455 |
| Japan — Tokyo | 4,47 | 3,84 | 307 |
| The Philippines — Manila | 7,20 | 1,41 | 539 |
| Australia — Sydney | 8,26 | 2,58 | 384 |
| United Arab Emirates — Dubai | 23,88 | 37,88 | 179 |
In most cases, IPVanish provided really high speeds, with only a few servers being quite slow. The server in Rio de Janeiro was the slowest. We tried to reconnect to it but we were not successful.
7. DNS-leak test
IPVanish offers the three most famous protocols: PPTP, L2TP, and OpenVPN. IPVanish uses a 256-bit AES encryption.
OpenVPN is the most advanced open-source protocol available for Mac OS X, Windows, and Linux desktop users, as well as for iOS and Android mobile devices.
PPTP is a basic protocol that is supported by all Windows operating systems, and most of the others. It is easy to configure and gives the fastest performance. However, PPTP is somewhat vulnerable to certain types of attacks and is not as reliable as the other two options. If your main target is security, then we do not recommend PPTP.
L2TP is an advanced protocol that is compatible with almost all desktop computers and mobile devices. Its performance is not as high as that of OpenVPN, but it is secure.
Additionally, IPVanish offers the DNS leak feature and lets you hide your IP address. Is your VPN connection really so secure? Let's do some tests.
First, we checked the connection without the VPN:

After that, we checked all the servers we used in our speed test. Here is the result from one of the tests:
Austria — Vienna

You can see that the connection is secure and there are no DNS leaks. The only thing we were worried about was that when we connected to servers in Korea and the Philippines, the system showed that we were from the USA.
8. Does IPVanish work with Netflix, BBC iPlayer, and Torrents?
We tried to download the Linux Mint distributive via torrents. Now, what we got with IPVanish connected to a Frankfurt server: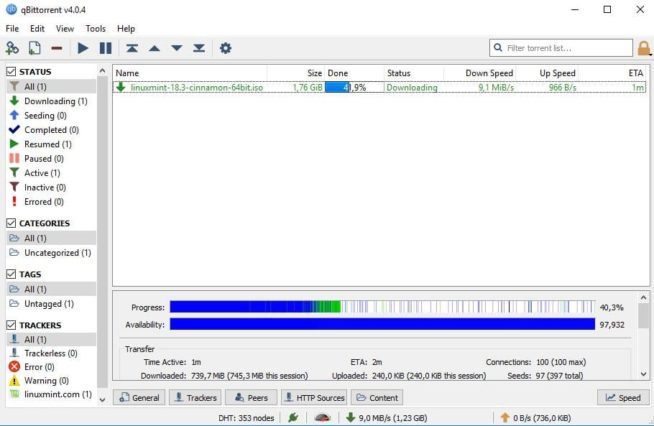 The speed is even faster than without a VPN! Great result! After that, we tested some streaming platforms that are available in certain areas.
We checked BBC iPlayer, CBC, ABS Australia, Fox, ZDF, ESPN, and Canal+ France.
Here are the results.
BBC iPlayer – Not working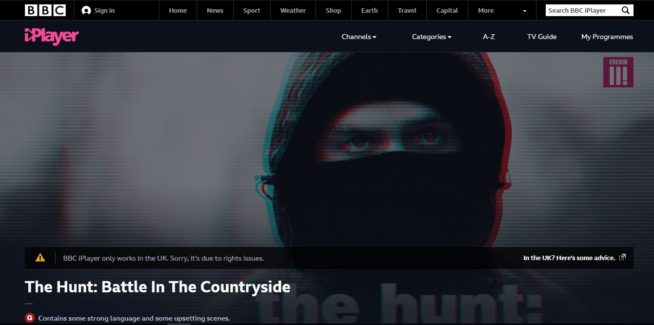 CBC – Not working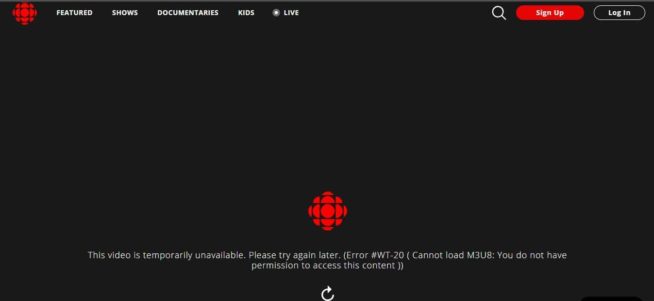 ABS Australia – Working
Fox – Working
ZDF – Working
ESPN – Working
Canal+ France – Working
Not all services are available. Also, we tried to use American Netflix, but unfortunately, we could not connect to it. IPVanish does not unblock US Netflix.
9. How to access IPVanish in countries with strong censorship
We asked that question to the support service and got the answer that the best way to ensure availability is to install the app at home or in a place where there are no restrictions. However, they do not guarantee the fact that it will work in censored countries.
10. Support
Perhaps you are also interested in how the IPVanish user support works. Like many other similar services, there are many options available – you can ask for help in different ways. For example, you can use the user support center where you can search for queries on different topics, as well as read answers to common questions that other users asked before you.
In addition, IPVanish has a user support service running 24/7/365. You can contact it by e-mail or by posting a question on public resources. The IPVanish team informs that requests to the support service are processed on a first-come-first-serve basis. In other words, if something happens, you will get help — you will just have to wait a bit.
We asked the support service how we can access the site in censored areas and got an answer by email within a couple of hours. However, many users say that the answers are often quite general and do not always help to solve the problem addressed. Accordingly, you may need to spend extra time trying to solve the problem.
Also, the support service may be available on online chat. Unfortunately, we could not find that option when we tried to contact them. This may be because it is not available at all times, but only within certain hours.
*** Update May 29th ***
We just got an email from IPVanish telling us that they are now offering live chat 24/7.
11. Refund
The company does not provide a free trial period but has a money-back guarantee within a week. How to unsubscribe? In your account dashboard, go to the Subscription tab and click I wish to cancel my subscription. You will get your money back within a few days. It really works.
I'm very interested in hearing about your experience with IPVanish. Don't hesitate to leave an IPVanish review in the comment section!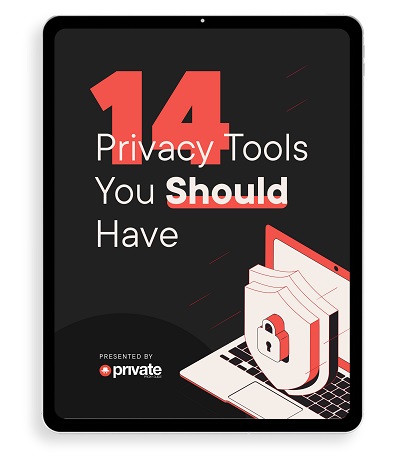 Learn how to stay safe online in this free 34-page eBook.