After looking around the market into various options, you have short-listed many VPN services that come close to what you need. The final decision to select the one to subscribe to is still a difficult one to make because the services are neck-to-neck in terms of features and other utilities offered. It's a tough call to make with the worry of choosing the less ideal service, even when backed by a money-back guarantee.
You don't want to go through the painstaking process of refunds and installing apps again on other services. Let us help you decide on the best VPN between Surfshark and ExpressVPN, both pioneers of the VPN segment. But who comes as the better value for the customers? That will be interesting to see how things unfold.
| | | |
| --- | --- | --- |
| | Surfshark | ExpressVPN |
| Maximum Devices | Unlimited | 5 |
| Bandwidth | Unlimited | Unlimited |
| Netflix Libraries | 8+ | 10+ |
| Total Servers | 3,200+ | 3,000+ |
| Kill Switch | All platforms | Desktop and Router only |
| Bypass China restrictions | Yes | Yes |
| Multihop | Yes | No |
| Pricing(annual) | $6.49 | $8.32 |
1. Surfshark vs ExpressVPN: Verdict
Both the VPN providers perform exceptionally in different aspects while sharing some common base of useability and speeds. Surfshark excels in providing more value for money by allowing unlimited connections. You can split the cost with several people on that. On the contrary, ExpressVPN allows five connections or devices, which come packed with a tad faster customer support along with a skillful browser extension.
In a nutshell, while being a little expensive, ExpressVPN has a superior user interface on all the devices providing a better overall experience. Surfshark may lag in the UI but pips ahead with its plethora of features on the mobile app.
2. Surfshark & ExpressVPN in a Nutshell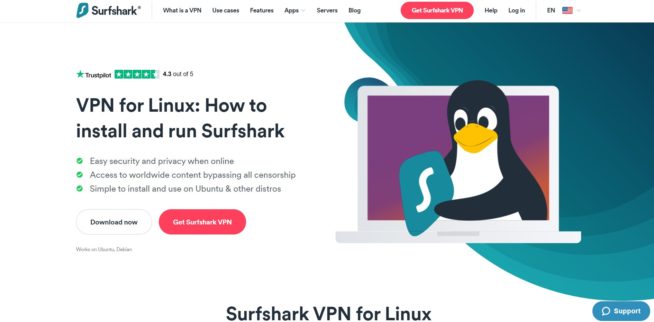 Surfshark has made a name for itself by being value for money while providing all the features you want in a VPN. The unlimited bandwidth and blazing fast servers do make it a service that is difficult to ignore.
Pros
Unlimited bandwidth on all the servers
Special servers optimized for streaming, gaming, and torrenting
Unlimited number of devices on every subscription
Decent money-back period guarantee of 30 days
Advanced app and network smart rules for ease of use
The servers work in China as well
Seven-day trial without requiring a credit card
Cons
Lack of city-based servers
The browser extension needs polish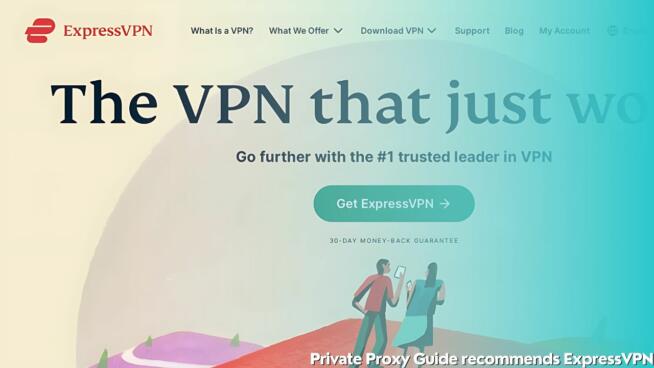 ExpressVPN is heavily marketed across the Internet, with it being on the lips of every tech influencer and blog. Their service matches the hype while being on the expensive side of things.
Pros
Offers custom router firmware to setup VPNs
A wide variety of VPN protocols
Robust Android app with a plethora of features
Military-grade encryption for higher security
Works pretty well in China
Blazing fast server speed
Consistent speed across servers in the same region
Cons
More expensive than the competitors
Lacks settings for specific common models of routers
3. Free Trials
Surfshark offers a week-long trial with all their premium features with nothing to hold you back. There is a credit-card requirement. The trial is available through the Surfshark mobile app.
Similarly, ExpressVPN does not offer a trial without requiring you to put down your payment information. Register from the mobile app and select a plan, which is free for the first seven days. Make sure to stop the trial on the last day to avoid getting charged for the month. There is a money-back back guarantee for cases when you forget to stop the trial, and the amount gets deducted from your account.
4. Speed Comparison
Even with a cloak of anonymity and bypassing the restrictions, the speed offered by the VPNs is of extreme importance. Gone are the days of premium VPN providers offering slogging speeds while charging enormous fees.
We put both the VPNs to test on our fiber-based broadband with 500 Download and 450 Mbps upload speed on a constant speed.
The test consists of 7 significant countries from across the world, situated geographically far away from each other. Tests for each city were conducted thrice for coming to a reliable average.
Here are the download and upload speeds across different cities on both VPN services.
| | | |
| --- | --- | --- |
| City | Surfshark | ExpressVPN |
| India (Host region) | 486 Mbps(Down), 442 Mbps(Up) | 424 Mbps(Down), 391 Mbps(Up) |
| USA(NYC) | 312 Mbps(Down), 278 Mbps(Up) | 345 Mbps(Down), 313 Mbps(Up) |
| Germany | 312 Mbps(Down), 311 Mbps(Up) | 258 Mbps(Down), 326 Mbps(Up) |
| China | 276 Mbps(Down), 219 Mbps(Up) | 276 Mbps(Down), 219 Mbps(Up) |
| United Kingdom | 288 Mbps(Down), 278 Mbps(Up) | 219 Mbps(Down), 245 Mbps(Up) |
| Japan | 210 Mbps(Down), 266 Mbps(Up) | 214 Mbps(Down), 234 Mbps(Up) |
| Australia | 182 Mbps(Down), 211 Mbps(Up) | 144 Mbps(Down), 198 Mbps(Up) |
5. Mobile App
Surfshark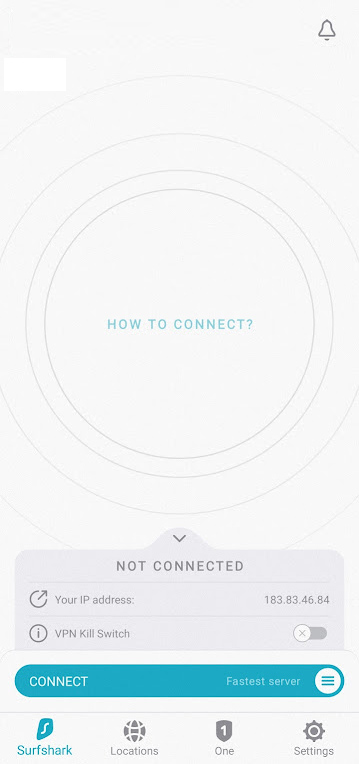 Beginning with Surfshark, the mobile app feels well-placed and in line with the user interface offered on desktop, amongst other platforms. After logging in, connect straight to a VPN by tapping on the giant button, which connects you to the closest available server. It is generally within your country if available.
You can set it up for connecting to a server of a specific country from the settings. The app remembers the server location of your last session, which can also be disabled if you want a complete cloak of privacy.
Moving to the features, the app has a split tunnel for selected apps that won't be connected through the VPN server.
The content blocker is enabled by default, keeping trackers, ads, and malware at bay. We tested the ad blocker on a couple of websites and apps, where it worked nine out of ten times effortlessly.
After launching the app, you get a sticky notification that stays there, showing the connection status – Surfshark VPN is connected/disconnected. A little more information regarding the server location without opening the app would have made everything easier.
Wait a minute, and there is more to explore on the Surfshark VPN app. There is the domain fronting feature that appears as a different domain than what you are actually visiting a third party. Even when you're on the move, the Wi-Fi protection has your back while connecting to public networks as it automatically connects to the VPN for securing your Internet traffic.
ExpressVPN
You will not find an ExpressVPN app on the Play store for Android in some regions of the east, while it is available for iOS on the Apple app store. If you have already signed up for the service, head to the Setup > Android/IOS page to scan the QR code. It will automatically download and install the ExpressVPN on your device (make sure your device allows installation from third-party sources outside of the app store).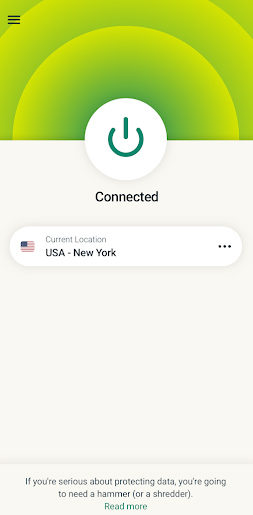 The user interface is tablet-friendly, also having room for devices with different display sizes. We get the standard split tunneling here, along with the auto VPN connector for untrusted Wi-Fi networks.
We also get a connection summary of the last/current session on the app that shows VPN location, IP Address, and the duration of how long you have used the app and service. This can be disabled from the settings.
What really stands out for the ExpressVPN app is the Apps and Websites shortcuts. It is a configurable window with shortcuts of your favorite apps and websites on the connection dashboard. Tap on them to launch the app or website with the VPN connection turning on along with it. It saves the time required to manually switch on the VPN connection and then head to the application.
Virtually all the features on iOS and Android apps are the same except for the choice of VPN protocols. ExpressVPN's own Lightyway is absent from the Apple OS platform-based application.
6. VPN Protocols
Look at VPN protocols as a set of rules and regulations of how the VPN will route your data through the connection server. Some protocols emphasize security, others on providing the best possible speeds. A few others offer a mix of security and speed, ensuring optimal experience.
Starting with Surfshark, they have three VPN protocols to offer the users – OpenVPN, IKEv2, and WireGuard. OpenVPN is available only for Windows, Linux, and Android, along with the FireTV app. Rest are available across all the supported platforms.
On the mobile app, you will be set with WireGuard, which works. Keep it that way unless you need to change for a specific reason and know what you are doing.
Swerving to ExpressVPN, it offers four different VPN protocols – Lightway, L2TPP/IPsec, OpenVPN(UDP and TCP), IKEv2, and PPTP.
Lightway is their in-house protocol, built from scratch, using wolfSSL, adhering to the FIPS 140-2 standard. It is regularly audited by independent researchers, and the code is open to scrutiny on their Github page.
7. Desktop App
Surfshark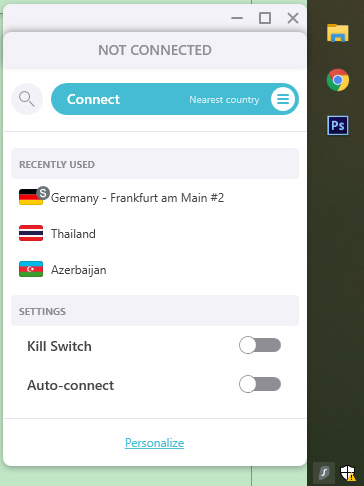 The Surfshark's desktop app is available for Windows, Mac, and a good number of Linux distros. After you are done installing, it's time to log in. First-timers can register for a new account from the app itself without heading to the webpage for the formalities. Select the plan, make the payment, and you are pretty much inside the VPN app. On the other hand, returning users can log in using code generated on the registered device.
They also offer a manual connection that directly connects to a VPN without requiring logging in and going through the whole nine yards for using the secured VPN connection. Get the hostname of your preferred Surfshark server, along with service credentials (ID and password). This feature comes in handy in places with restricted networks.
From the first impression, the desktop app's user interface feels refined and rounded, offering seamless integration with the operating system on your computer. At the center of attention is the giant search bar that can find anything present on the app – settings, servers, status IPs, and more.
We get antivirus on the app bundled with the utilities (currently available for Windows and Linux). The antivirus is disabled by default, which is capable of real-time protection against viruses, malware, and trackers. It can perform standalone files and folders scanning for threats.
The Windows app also features a speed test for testing your VPN connection speed from inside the app without going to the browser. Compare speeds of default and VPN connection to ascertain the performance.
A feature worth noting, which is not prominent in the segment, is the Multihop, which essentially doubles the privacy by providing you a cover of an additional server. You connect to a server, which in turn connects to the destination (destination country of your choice), providing an additional layer of security and anonymity.
For example, you live in Australia and want to connect to a server in Hungary using Multihop. It will first connect to an Austrian server(a nearby country), which will, in turn, connect to the Hungarian server. This way, even when the host service detects your connection, it finds the connection origin of Austria, instead of Australia, your actual location.
ExpressVPN
The app is available for all desktop platforms. Install it straight away, and you have a few easy sign-in options. After you are done registering for an account, you will get a sign-in link on the email. You can use it directly to log into your account on the PC. Just like Surfshark, there is a code that is sent on the email and registered device for signing into the desktop app.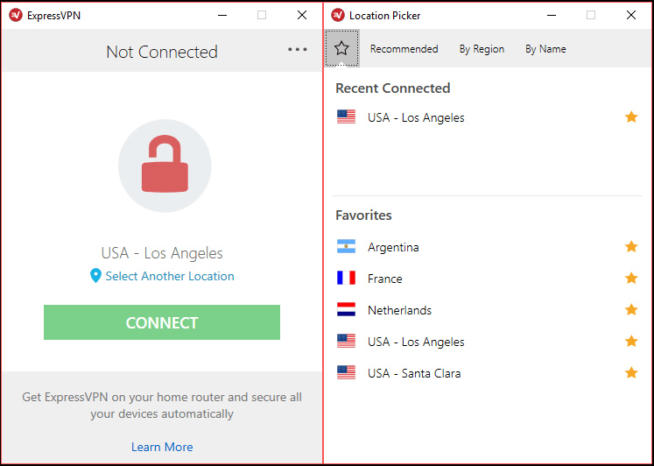 We also get an alternative way to log in using the 20-digit alpha-numeric code. Enter it on the app, and it will open the gates to your account. A prior one-time setup is necessary for enabling this method of signing in.
On the main screen, there is a ginormous IO button, which connects to the fastest available server by default. Below that, you will find a quick dashboard for keeping the websites and apps you frequently visit. They act as shortcuts that you can click to open the sites/apps using the secured VPN connection in place. Similar to what is offered on Surfshark's mobile app, you won't need to turn on the VPN before using the app.
Along with that, we have the Split-tunnel and a standard speed test, similar to what is offered on Surfshark.
8. Privacy and Security
The Internet legend is that Privacy is a myth. With the right encryption, tools, and measures in place, it can be a reality.
The RAM-only servers along no-logs policy is a dependable duo for taking it up a notch of security where no data is stored at all once the servers shut off. We get AES-256-CGM with the Galois/Counter mode for symmetric-key cryptographic block ciphers. Outside the bounds of GDPR and other data retention laws, Surfshark is based in the British Virgin Islands.
All the servers of ExpressVPN use the impenetrable AES-256-GCM encryption, which is authenticated using the HMAC during the transmission. They even use an asymmetric encryption scheme for encrypted key exchange. Just like Surfshark, it is also backed by a strong no-logs policy. The company is based in the British Virgin Islands, outside the scope of stringent data monitoring laws.
9. Browser Extensions
Web browsers have become a capable tool nowadays, allowing multiple utilities within its scope.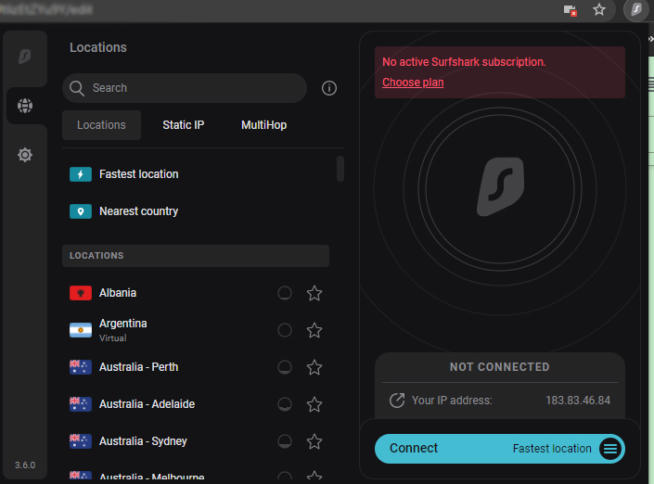 Surfshark browser extension is everything you would want in a VPN extension, offering a wide range of features. It is available for Firefox and Chrome; therefore, it can run on Chromium, Edge as well through a similar layout engine. All you need to do is log in and start using the VPN server of your choice. They have MultiHop available, along with bypasser, WebRTC, and CleanWeb(ad blocker).
When we look on the other side of the road, ExpressVPN goes all canons blazing with its versatile browser extension.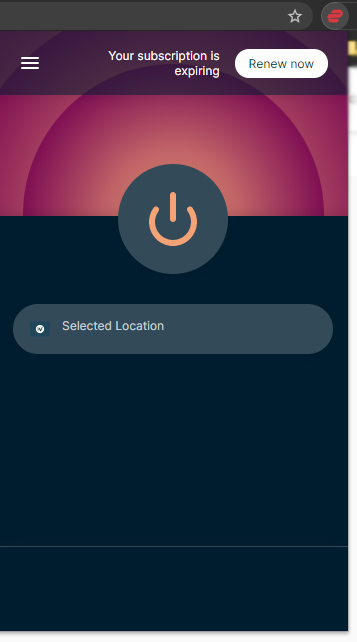 When you have the browser extension installed, the desktop application can take a backseat. Use the VPN through the browser on the entire computer. Configure it further to the auto-launch VPN server when the browser is opened up. You can also call up the extension anytime using a keyboard shortcut, which needs to be set up prior.
That is not all, and the extension also features such as location spoofing and HTTPS enforcer on all the websites.
10. Customer Support
Customer support is of umpteen importance when using a service that has varying performance. You need a good support mechanism in place for the paying customers who need urgent troubleshooting. Perusing through hundreds of support articles is not always the ideal solution.
We shot an email to Surfshark and then headed straight to the live chat support. With 2 people in the queue ahead of us, it barely took a minute or under to connect with the support staff. She helped us in enabling a feature that was becoming overwhelming at the beginning.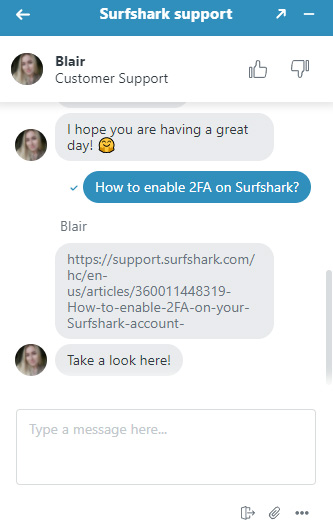 Then when we came across a problem with the ExpressVPN browser extension, the drill was the same. We dropped an email to the support and headed straight to the live chat, which was a tad bit faster, with no queue in front of us. The customer support agent was swift and assured us of sticking through the entire process, even instructing us how to connect back if the chat connection drops. It took 7-10 minutes of troubleshooting to find the cause, and the issue was resolved quickly.