Today, we are going to review another VPN with a sensational name — FastestVPN. And yes, this is not a statement, but only the name of the provider. However, the company itself, located in the Cayman Islands, says: "We don't just call ourselves 'Fastest VPN', we mean it."
So far, we tested other VPN services with similar statements but many of them failed the test in at least one aspect, such as connection speed or security.
Will FastestVPN join them? We tested every parameter and here is what we liked and what we didn't like.
1. What we liked about FastestVPN
1.1 Great privacy and a no-logs policy
What we liked most is the FastestVPN privacy policy which is extremely easy to understand and does not contain any ambiguous statements. What did we learn when reading the Privacy Policy?
Like many other respected platforms, FastestVPN does not store any information or logs related to your browsing history. The company does not store the websites you visit, the content you stream or download, your traffic destinations, VPN locations used, or your DNS queries. That's really great — this way, they just have nothing to share.
Does the service collect any data during registration? The only data they keep is the email address you use when signing up for the service. They use it for billing purposes and account registration and cannot match the address with the specific user.
When you deactivate your account, FastestVPN immediately removes it from their database. The company also uses Google Analytics, Hotjar, and Live Chat software to improve user experience and website performance.
As the company does not have any specific information about a particular user, they will not be able to share any information under government requests. Moreover, the company is in the Cayman Islands and is under this jurisdiction.
Why are the Cayman Islands so good for privacy lovers? The country does not belong to the Five Eyes group and is one of the few countries with "No Mandatory Data retention laws". The legislation does not oblige companies to store and share users' personal information in any way.
1.2 No-Log Audit
Another important thing is to mention a third-party audit that FastestVPN has. Its no-logging policy has been audited and verified by a company called Altius IT. This company conducted a full-on examination of FastestVPN.
It went through every aspect of this VPN, such as its security features and logging practices. As stated, the provider is based in the Cayman Islands, so its no-logs policy was pretty good already.

However, Altius IT just confirmed what we already know, proving that FastestVPN is indeed a quality no-log service. This way, it joined many great VPNs such as ExpressVPN and NordVPN, both of which have 3 audits under their belts.
In 2023, audits are pretty important for ensuring the safety and security of the VPN service. After all, pretty much all popular and trustworthy services have at least one audit, which just accentuates the importance of this aspect.
1.3 Affordable pricing and a variety of payment methods available
FastestVPN is one of the cheapest VPN services available on the market. You can choose between a 1-month, 1-year, and Lifetime plan. How much is it?
| | | |
| --- | --- | --- |
| 1 month | 1 year | Lifetime |
| $5 per month | $2.08 per month | $40 |
| Billed $5 monthly | Billed $24.95 annually | Billed $40 once |
Prices start from $5 per month for the 1-month plan and the lowest price is $2.08 per month for the 1-year plan. That's fantastic! You can hardly find something similar.
Of course, the cheapest is the Lifetime plan, which many users find incredibly attractive. It sounds exactly like what you have in your mind – you pay $40 ONCE and you can use the VPN forever – for as long as it exists!
Each of the plans has the same options. The only difference is the discount received. Speaking of the same options, each plan comes with a free password manager. To be precise, it's PassHulk Password Manager.
You'll get a 1-year subscription to this password manager, which, while not the best, is still decent for securely managing your passwords and keeping them secure. And since it's free, we'd gladly take it – it's free, boy and girls!
In each subscription, you can use up to 10 devices simultaneously. Do you need more? Buy the necessary additional number of devices. The price for each device will depend on the plan:
| | | |
| --- | --- | --- |
| 1 month | 1 year | Lifetime |
| $2 per device | $2 per device | $4 per device |
There are several payment methods available: bank cards (MasterCard, Discover, American Express, Visa, JCB, UnionPay,) PayPal, and cryptocurrency (Bitcoin, Ethereum, Litecoin, BitcoinCash). Unfortunately, you cannot use other payment systems and platforms. However, the available ones are enough for any user. Keep in mind that some of them are not refundable.
As for the refund policy, it is also very clear. If you are not satisfied with the service, you can ask for a refund within 15 days after the purchase. You need to send a request via e-mail. There are no specific conditions for the refund.
After your request is processed, your account will be blocked immediately. You will get your money back in several days.
To get a refund, we contacted support on the live chat. The specialist first asked about the reason and tried to help to solve it. But after that, he accepted the request.
1.4 A good set of security features
Security is the most important component of any VPN and we liked that FastestVPN supports all the modern protocols.
FastestVPN uses the 256-bit AES encryption as a default method. This method is so secure that it was approved by the US military. It would take you many years to successfully brute force the encrypted data on the fastest modern computers. It's really powerful!
When it comes to supported security protocols, FastestVPN provides PPTP, L2TP, Open VPN, as well as WireGuard, L2TP, Xsec, and IKev. What other features are there?
The AdBlocker will block all ads, popup windows, and other annoying ads in the browser and other apps.
The Anti-Malware module gives you another layer of protection when you connect to a server and protects your devices from software that can severely damage your device.
The Kill Switch breaks your Internet connection when your VPN connection drops. This helps to prevent the loss of important data in case of an unstable connection.
The NAT Firewall works on the server level, blocks unwanted traffic, and prevents online attacks.
Another feature is Smart Connect which means that the application will automatically connect to the best server.
The Wi-Fi Security will protect your online activity on any public Wi-Fi network.
The Smart Tunneling feature allows you to select which apps will use the VPN and which apps will use the direct connection.
The DNS Leak Protection feature allows the app to send your requests via the VPN tunnel. This helps not to expose your real IP.
The IPv6 Leak Protection. Aside from DNS leak prevention, FastestVPN will protect even your IPv6 if you have it. This is useful for people with a newer type of IP, which many VPNs fail to protect.
During our tests, we checked the connection security on browserleaks.com. No leaks were detected on all the tested servers.
Also, it's good to mention that the WireGuard implementation in FastestVPN is impeccable. This protocol vastly decreases connection times, making the VPN feel snappier and easier to use.
OpenVPN tends to have longer connection times and slower speeds. WireGuard is definitely faster, which brings about some great improvements. As you'll see later on, however, FastestVPN still isn't the fastest around.
NordVPN and even ExpressVPN are still faster if that's what you want.
1.5 Apps for most platforms and devices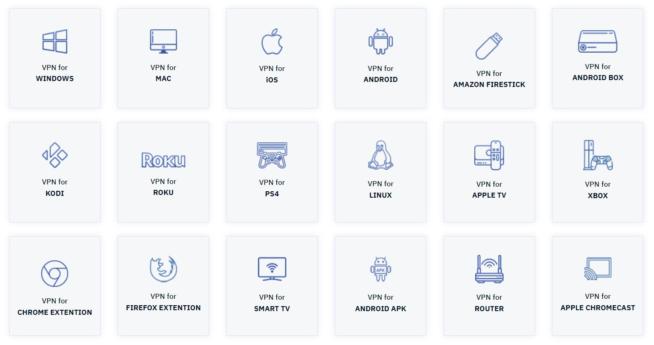 FastestVPN has dedicated apps for Windows, Mac OS, iOS, and Android. As you would expect, applications come pre-configured and do not require a complex setup process. Additionally, apps are also available for Fire Stick and Android Box.
What about other devices? There are detailed guides on how to set up the connection manually. For many platforms, you can use FastestVPN via a router. For Linux, you can additionally set up a manual connection via the terminal.
Using the VPN on your router, you will protect all connected devices. FastestVPN gets top marks when it comes to supported platforms.
There are also extensions for Google Chrome and Mozilla Firefox. The extensions are quite basic and do not have many advanced features like NAT firewall. However, they are equally good when it comes to unblocking websites and geo-restricted content. If you are using apps like Netflix outside the web browser, you need to use the dedicated FastestVPN app. Extensions are only built to be used in a web browser.
1.5 Torrent support
Using a VPN with torrents is a great way to hide your IP and protect your data. With FastestVPN, your internet service provider will not track and penalize you.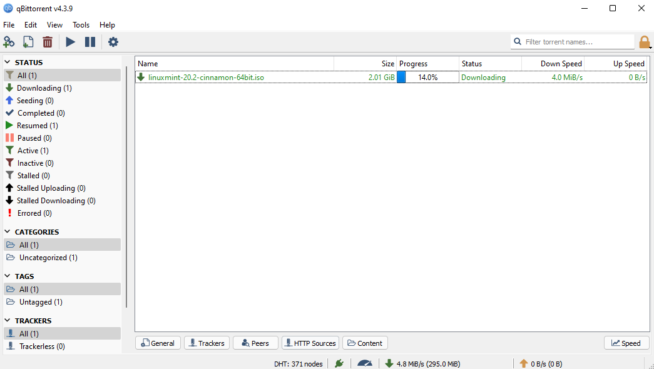 Traditionally, we downloaded the Linux Mint distributive via the qBittorrent client. At the very beginning, about 1 minute was spent collecting active seeds and the speed did not exceed 500 kbps. However, after a few minutes of waiting, the torrent program reached the maximum speed, so we were able to download the file in minutes.
Our overall experience with data rates has been excellent. There were no unexpected ups or downs, and no loss of stability.
1.6 Dedicated Servers
With the latest update, FastestVPN included some great overhauls in its Windows app. Namely, the provider now offers dedicated servers for different purposes, which we found extremely useful.
The screenshot above shows you some of the dedicated servers that FastestVPN offers. Essentially, they consist of streaming, D-VPN, and P2P servers.
Streaming servers are optimized for streaming on a variety of platforms. However, these servers aren't particularly numerous and you get them in countries like:
Canada
India
Italy
Japan
Korea
The UK
The US
Granted, people will be interested in the US-based streaming servers the most, as they allow access to Netflix, Hulu, HBO, and other services. Sadly, FastestVPN isn't the most reliable in terms of unblocking these platforms, as we mentioned further down the line in our review.
However, in some cases, you will be able to access geo-blocked TV channels and enjoy some sports streams, for instance. D-VPN stands for Double VPN. This feature effectively doubles your encryption by routing your traffic through two different servers.
In this case, the provider offers three variants:
France via the UK
Germany via Spain
The UK via the USA
In simple terms, your traffic will be encrypted by a server in France and then routed through the server in the UK if you choose the first option. This way, you have two layers of encryption, and thus, added security, at the cost of performance and speed.
Finally, there are P2P servers, which is to be expected from a P2P-friendly VPN. This VPN allows you to download torrents and its P2P servers are scattered across Finland, Germany, and Portugal.
We'd like to see more locations to support users in the US and Asia, for example. This way, they could connect to a nearby server and get faster speeds. If you're in Europe, though, you'll find these servers relatively fast – surely not the fastest as the VPN calls itself.
1.7 Very fast and informative support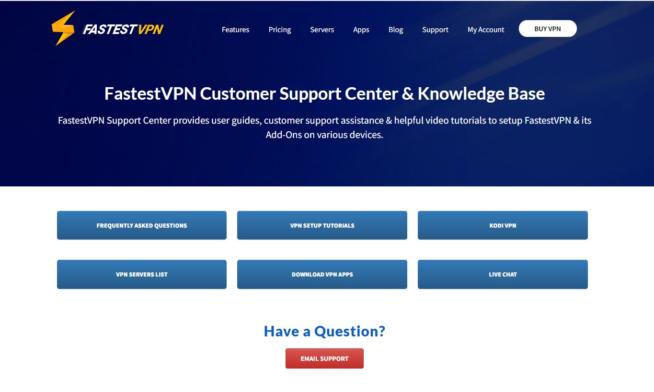 If you have any questions about the service, you can read the knowledge database, or directly contact the support team. The latter is available by email or via live chat. The best thing about the FastestVPN support is its availability 24 hours a day, effectiveness, and user-friendliness.
You can leave a request through their website or send an email to support@fastestvpn.com.
We asked some questions in the online chat and got a reply in seconds even though we sent the message outside of the traditional business hours. Also, the answer was informative and comprehensive.
1.8 Many streaming services are working
There are many websites that FastestVPN will help to access from abroad. But the most popular streaming service people use VPN to access is the American version of Netflix.
Fortunately, we tested each of the servers in the US, and we weren't detected by the Netflix servers. In fact, we used a streaming server in the US and it worked with American Netflix without errors.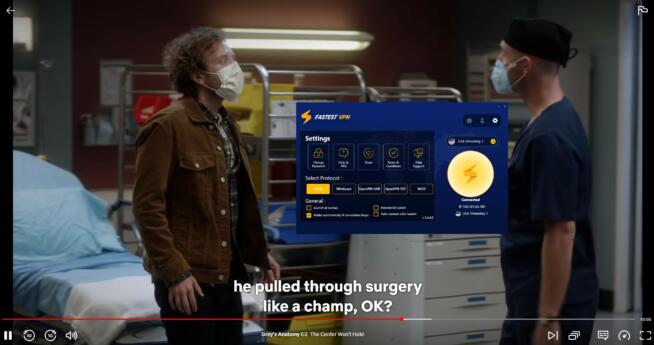 We simply connected to the server, went to Netflix, and searched for some popular Netflix-US-exclusive shows and movies. Surprisingly, they were all there and we could watch them without a single problem.
Another vital improvement is that platforms like Hotstar, Disney+, BBC iPlayer, Hulu, and Amazon Prime Video now all work. This especially rings true for BBC iPlayer, which we managed to watch even in Eastern Europe.
Hulu is an American platform and the US-located streaming server in the app helped us access it too. Hotstar worked while using the India Streaming server, while the Korean streaming server helped us unblock some of the country's local TV channels.
FastestVPN used to have a bit of a problem unblocking popular streaming services. However, it seems like these issues have been addressed and the VPN is now fully capable of delivering solid streaming performance.
1.9 Improved apps for all platforms
The FastestVPN Windows client looks good, with a bright and fun interface that works more or less as you expect. After setup, you have to agree with the terms of service and enter your email and password.
From here, it's a smooth sail. On the left, you'll see the available server locations, while the button on the right is here to connect you to the server of your choice. However, you don't even have to use the button.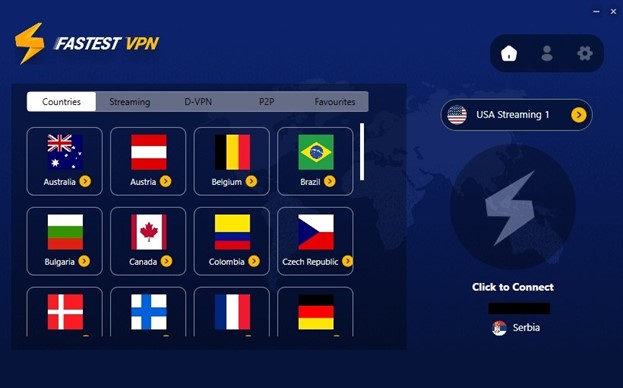 You can simply click once on the country and FastestVPN will connect in literally a second, especially if you use WireGuard. Under Countries, you'll find all locations but as said, there are different server tabs.
Under them, you'll find servers for streaming, Double VPN, and P2P. Also, long-pressing the left mouse button on the location adds it to Favorites, from where you can connect to it again using the same method – a single click.
Furthermore, there are 3 icons above the connection button. You'll find the Home button, which is your home screen, the Profile button, which is your profile, and the Gear button, which is Settings.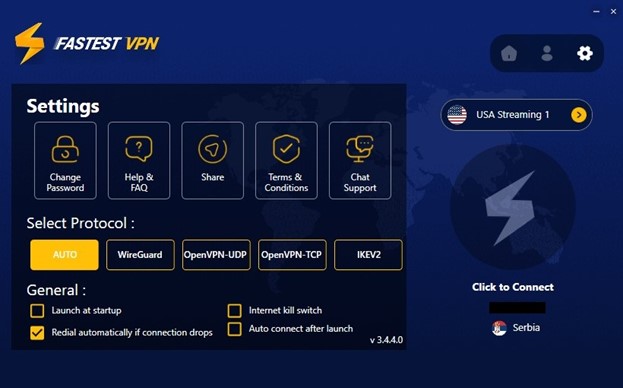 Clicking on it, you'll access many of FastestVPN's features. You can set the protocol to Auto and let it decide on the best protocol for your needs. If that sounds bad, you can always choose the protocol by clicking on it.
In Settings, there are also general options, such as the kill switch, auto-connecting after launch, and the option to reconnect automatically if your connection drops. All options work well, with no issues or glitches.
Finally, we should mention the live chat support option within the app. Once you click on it, you'll be transferred to the site where you can get support and solve a potential problem immediately.
All of this makes the app easy to use, and above all, enjoyable. It's a far cry from the buggy mess this app used to be last time we tested it.
These are all the things you can do in the app. Yes, you can use all the basic features like selecting a specific location or changing the protocol. But compared to many other VPNs, this is a very basic functionality.
What can we say about the app's stability? Compared to older reviews, it significantly improved. In most cases, it is stable. However, it can sometimes depend on the selected protocol.
If you prefer the IKEV2 protocol, the app can be unstable. In some cases, we had to relaunch the app to change the location. In many cases, it was hard to understand whether the connection was established or not. We could see just the black screen and the only indication was in the top bar. We also could not connect to some servers at all.
The technical support advised changing the protocol to UDP or TCP. It helped. And with the newest update in place, we can say the overall stability and usability of the app have improved massively.
Android
The Android application has a similar color scheme. Once you log in, you see the information about your current location and IP, Connect and Smart Connect buttons, a drop-down list of available locations, and three additional tabs: Profile, Favorites, and Settings.
The Profile tab provides basic information about your account, such as your email, plan, and expiration date. In the Favorites tab, you'll find all your preferred locations.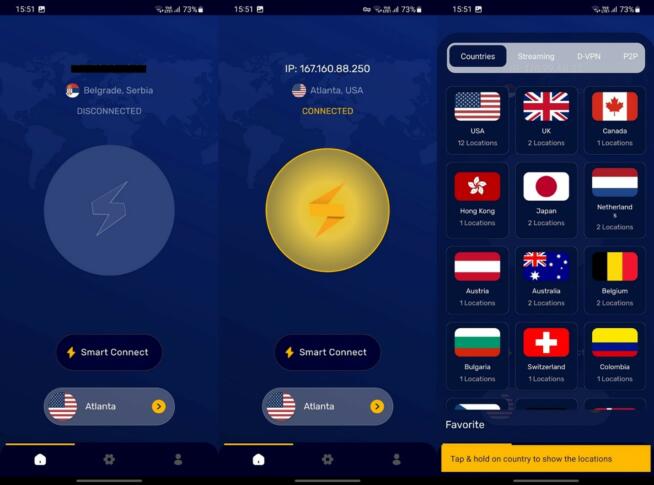 To establish a VPN connection, select the location in the dropdown menu and tap on the Connect button.
In Settings, the same as the Windows app, you cannot change many parameters. You can enable the kill switch and split tunneling, as well as change the security protocol and upgrade your plan. This is too little for a respected VPN, as they claim to be
When it comes to stability, it generally works well. The app is VERY similar to its Windows counterpart and even offers a nearly identical server list, with all types of servers included.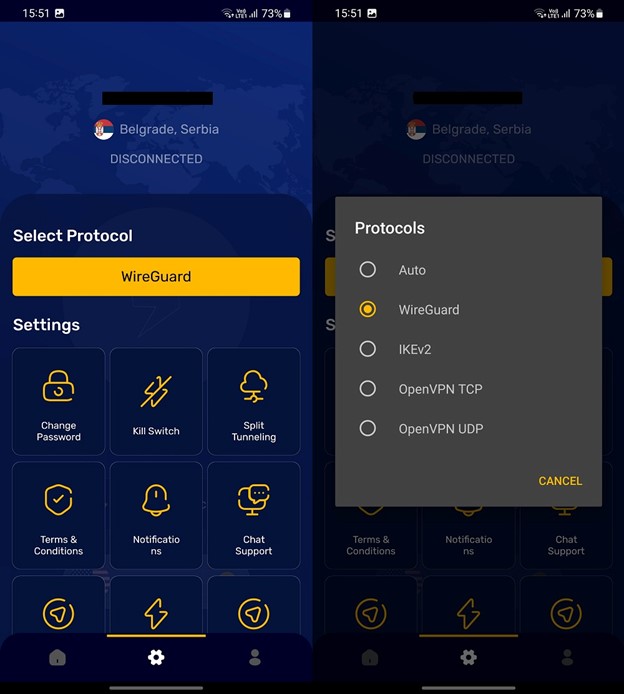 In the Settings menu, you'll also find IKEv2, WireGuard, and OpenVPN protocols, all of which are available on Windows. Even this app lets you use 24/7 live chat support from the interface, with the ability to read its privacy policy before using the VPN.
All in all, we're pretty satisfied with the mobile app and our tested Android version showed vastly improved workflow and stability.
2. What we didn't like about FastestVPN
2.1 Small server infrastructure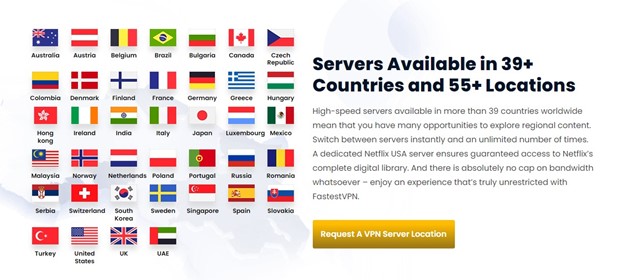 As of 2023, FastestVPN covers all continents except for some African countries. Currently, they have 55+ locations in 39+ countries. The USA is the country with the biggest number of servers. Unlike many other companies, FastestVPN did not ignore the Asian market and installed as many servers as possible in the region.
When it comes to the African servers, they're the least ubiquitous. The provider, for example, has servers in the UAE, which many premium services lack – ExpressVPN is one of them.
However, there aren't servers in Egypt, which is quite a popular location. Also, the service lacks servers in Nigeria and Algeria, both of which are available in some cheaper services. Middle Eastern coverage is, generally speaking, poor.
On the other hand, the provider recently updated its server infrastructure to 10+ Gbps. This means the VPN can now handle 10 Gbps speeds if your internet connection allows for it. Of course, not all servers are 10 Gbps – we're talking about some of the most popular ones.
And the fact that you can get fast speeds depends on many factors, such as encryption, your distance to the server, and so on. However, 10 Gbps servers are a hallmark of a quality premium service, so we're glad this update is here.
The FastestVPN infrastructure is quite good for a young company. It is enough for most users. At the same time, there are other cheap VPNs with better infrastructure. The full list of servers is on the dedicated page on the company website.
2.2 Slow upload speed for many locations
Being in Eastern Europe, we tested the connection speed on Windows using the home Wi-Fi network. The direct speed without using a VPN is about 300 Mbps (download) and 2 Mbps (upload). What about the VPN?
| | | | |
| --- | --- | --- | --- |
| Location | Download (Mbps) | Upload (Mbps) | Ping (ms) |
| Austria | 289.33 | 2.04 | 23 |
| Belgium | 272.99 | 1.94 | 36 |
| Germany | 250.78 | 2.23 | 42 |
| France | 261.13 | 1.32 | 44 |
| The UK | 215.60 | 1.27 | 65 |
| The US | 143.37 | 1.88 | 165 |
| Canada | 131.07 | 2.01 | 189 |
| Japan | 90.54 | 1.09 | 316 |
| Australia | 77.51 | 0.95 | 355 |
| Singapore | 126.63 | 2.32 | 292 |
It's not on the level of NordVPN, for example, but FastestVPN held its ground well. However, the US server showed surprisingly slow speeds, with more than a 50% reduction in download speed, with latency higher than 160 ms.
The worst server was the one in Australia, which reduced our download speed approximately by four times and dropped our upload speed to a measly 0.95 Mbps. The latency on this server was 365 ms, which made the whole experience much slower.
As you can see, FastestVPN isn't particularly fast at least when talking about upload speeds. European servers are close to us and their performance is justified. But when you're connecting to servers overseas, you can expect a decrease in upload speeds, while download speeds are actually decent.
All in all, that's how we would describe FastestVPN. It's great for downloading but we expected a bit more from its upload speeds. In the future, we hope to see this improved, which would be a giant leap in quality.
Is FastestVPN the slowest VPN we tested? Surely not – but it's not the fastest. It is, in fact, more than enough for the majority of people, even when streaming, torrenting, or just browsing the internet.
We were surprised that, in most cases, the Android app showed a higher connection speed, especially the upload one.
As for the general impression, well, the European servers are quite fast. But when it comes to servers outside Europe, it's a pity that FastestVPN loses to many competitors. Some of them are so slow that they are not comfortable to browse, let alone to stream. In some places, the servers should be optimized or even replaced.
3. Final Verdict
FastestVPN is an offshore company based in the Cayman Islands, offering a reliable VPN service with more than 60 different server locations. The company does not store logs and provides additional security measures such as NAT firewall, ad blocking, and antivirus.
In our tests, the software had some issues with slower upload speeds, but download speeds are good for servers close to our location. On the other hand, the Android/Windows apps are very stable but not rich in the number of options.
Can we call them the fastest? No, they still have a long way to go.
However, there is something to like here, especially the low prices, and the service is worth checking out for experienced users.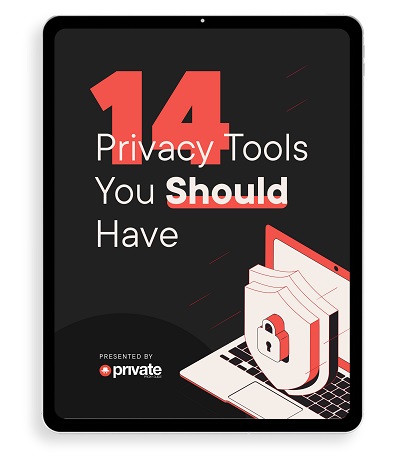 Learn how to stay safe online in this free 34-page eBook.