Finding a great data-gathering platform with the addition of proxies that's also affordable and reliable comes as a pretty hard task. Sure, you can always go for Bright Data, spend thousands of dollars, and get what you want. However, not all of us have thousands of dollars to spend.
That's where the platform called Nimbleway comes into play. This platform is a relatively new player in the market which promises effortless data gathering for any business need, at any scale. On top of that, the platform promises to be hassle-free and allow for easy data collection.
In addition to that, Nimbleway offers many rotating proxies, which allow you to bypass any potential blocks and access the sites you want. Today's Nimbleway review will tell you exactly how good this platform is and whether or not it's worth your time.
1. Nimble Proxy Review Verdict
In conclusion, Nimbleway is a top-notch data-gathering and proxy platform that you'll definitely find useful. It's intuitive, fast, and reliable in offering high-speed proxies and APIs that allow for effortless data scrapping for your company or website.
We found its affordable prices welcoming for beginners and users on a budget as well. While its customer support could be a tad better, in the grand scheme of things, Nimble Proxy is very good at what it does the best, and that's gathering online data and providing many types of proxies.
At this price, you won't get many better options, making it a recommended choice that we'll gladly use in the future.
Pros
Data center, ISP, and residential proxies
Web, SERP, and E-Commerce data scrapping
Incredibly reliable Nimble Browser with JS rendering
Intuitive web-based interface
Cheap subscription plans (from $255/mo for the annual plan)
Worldwide availability
Cons
Customer support could be a bit better
Expensive Enterprise plan ($3,400 a month for the annual plan)
2. Nimble Proxy Key Features
Let's begin this Nimbleway review by talking about its key features and see what the service has to offer.
2.1 Nimble IP
One of the best features of Nimbleway is called Nimble IP. As its name implies, it offers the ability to use proxies, or better said, several types of proxies, such as:
Data Center
ISP
Residential Proxies
What's more, Nimbleway allows you to use a rotating IP, which can be located in many countries worldwide. I love that the platform doesn't limit your choice, as you can get a rotating IP in Europe, Asia, the US, and pretty much any other country.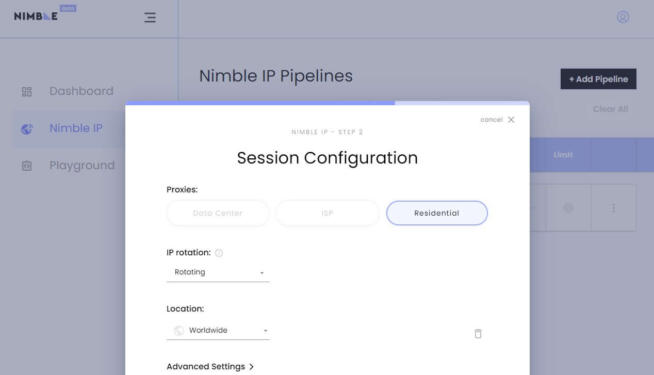 Nimbleway allows you to use advanced settings for each type of proxy. Authenticated IPs are here as well, and you can control the port range and manage account IPs easily. The real-world performance is great, as the provider promises no-downtime infrastructure.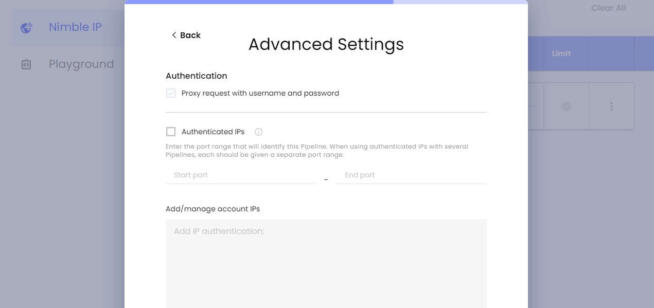 This means proxies are always available and ready to fulfill your needs in terms of unblocking online content or gathering additional data for your website or company.
2.2 Nimble API
Speaking of which, let's talk about an important part of the company's identity – Nimble API. This feature allows you to effortlessly scrape online data but not only that – it's also fully automated and requires zero maintenance on your side.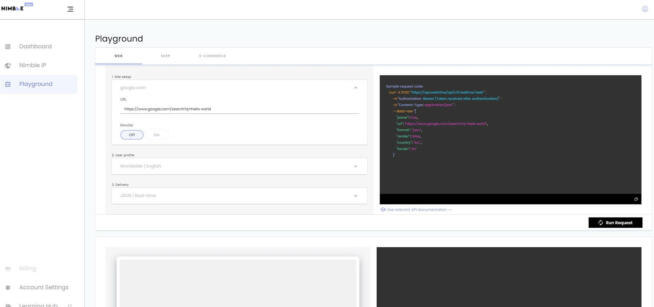 When you click on Playground in the web-based app, you can easily scrape data from any website. You can go for web, SERP, and E-commerce solutions depending on your needs. Web scraping is simple. You just type in the address, select the user profile, and choose the delivery method and time.
Needless to say, Nimbleway can deliver data in real-time and do it in JSON or HTML format for your convenience. In terms of E-Commerce scrapping, Nimbleway works with Walmart and Amazon, which is great given that these are the most popular online shopping sites in the US and worldwide.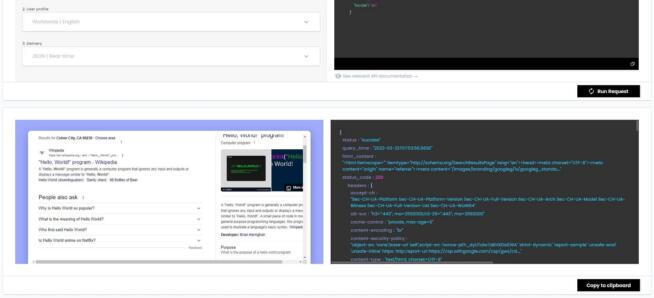 SERP scraping can be done using two search engines – Bing and Google. Once again, I had zero issues with it, as Nimbleway was pretty fast in delivering high-quality, accurate, and valuable web data in real-time, as expected.
2.3 Nimble Browser
One of the most impressive things in this Nimbleway review is the browser. Yes, Nimble Browser is the name of the game, and I found this browser to be blazing-fast, all while keeping the security tight. It's not your typical browser, however.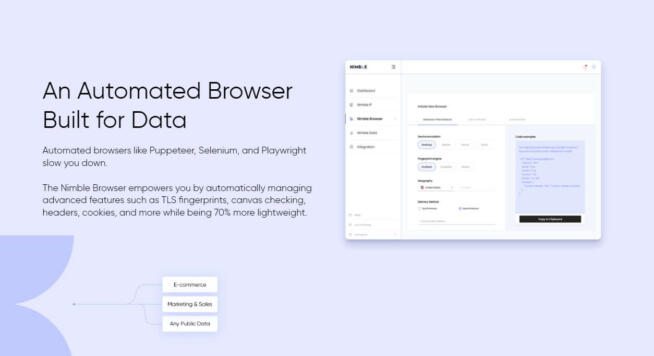 For example, it supports native integration with Nimble IP, which allows you to use it even for data gathering. Fingerprinting technology is also a part of it, which means hackers and snoopers will be kept out of harm's way.
I also like that this browser supports something called Device Emulation. This means, you can emulate desktop or mobile devices, but also servers, which will influence your search results. In addition, you can choose your country, which can help you gather relevant web data for a particular location.
All in all, the browser is very reliable but you should keep in mind it's not a separate app. Instead, it's integrated into Nimbleway's web app where you can use it as a part of your subscription.
3. Ease of Use
Nimbleway is extremely simple to use unlike some of its competitors. It sports a modern, sleek, and simplistic UI where you can find all of its features on the left-hand side. Do you want to use its proxy? Simply click on Nimble IP and configure the settings in the main window on the right.
If you want to gather online data, click on Playground and do the same. Everything is smooth and intuitive here and even if you're a total beginner, getting used to it isn't an issue. Nimbleway has no apps, so you'll have to rely on it using the web-based UI.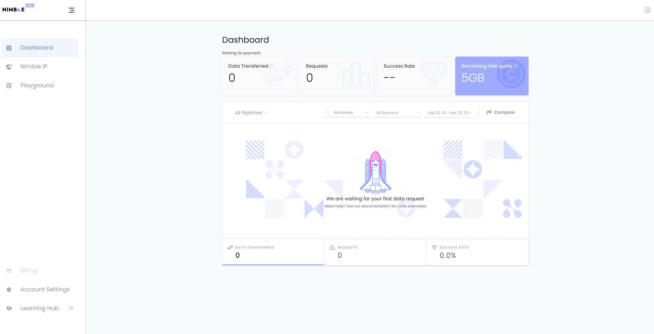 This isn't a problem, as it's properly optimized for both mobile and desktop platforms. I, for example, use Brave Browser but I tested it with Edge, Firefox, and Chrome, and neither of them produced any problems.
The main dashboard shows you account-related information, such as transferred data, requests, and success rate, while the Learning Hub lets you get help if you're stuck. Overall, Nimbleway is a pleasant surprise, especially if you're coming from more complicated solutions that aren't user-friendly.
This one won't shower you with features like more advanced tools, which is also one of the reasons behind its simplicity.
4. Nimble Proxy Pricing
Being simple and not having dozens of features and options doesn't make Nimbleway bad. In fact, as said, I'm impressed at the way it works, which translates to its affordable pricing that many people will find appealing.
In this part of the Nimble Proxy review, we'll analyze its subscription plans and see how much will it cost you. The cheapest plan called Essential starts at $300 a month. This is very affordable if you take a look at its competition which can sometimes charge you double the amount for similar benefits.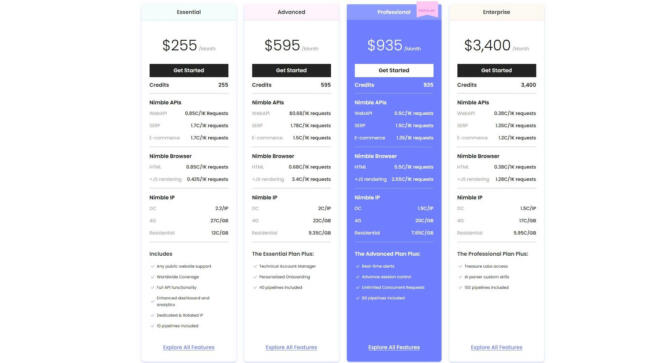 This plan offers all of the aforementioned features but the price per request varies. As you can see, 1,000 web API requests will cost you 0.85C while more expensive plans lower this price to up to 0.38C. You also get a different number of credits with each plan, symbolized by the price.
The Advanced plan gives you 700 credits, the Professional plan comes with 1,100 credits, and the Enterprise plan allows for 4,000 credits. The most popular choice is the Professional plan at $1,100 a month, or if you go for the annual plan, $935/mo.
If we compare this plan to others, we'll see that it's very rich in features. For example, it offers real-time alerts, whereas, Essential and Advanced plans omit this feature. You also have unlimited concurrent requests, which is very handy when looking to scrape data quickly.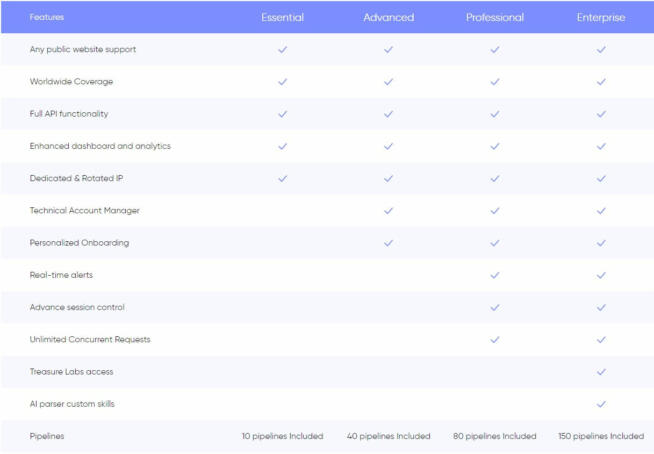 The Professional plan also lets you take advantage of up to 80 pipelines, with Advanced and Essential plans allowing for 40 and 10 respectively. I won't talk about the Enterprise plan that much because it's really expensive and if you have a small company or you're an individual, you won't use it.
But generally speaking, it packs even more features, such as AI parser custom skills and Treasure Labs access, along with 150 pipelines. However, it costs $4,000 a month or $3,400/mo for the annual plan.
5. Customer Support
In this Nimbleway review, I found its customer support to be solid, albeit not the best. The only way to contact the support team is by using the support form on the site. You enter your email, full name, and the topic of inquiry, and you send your request.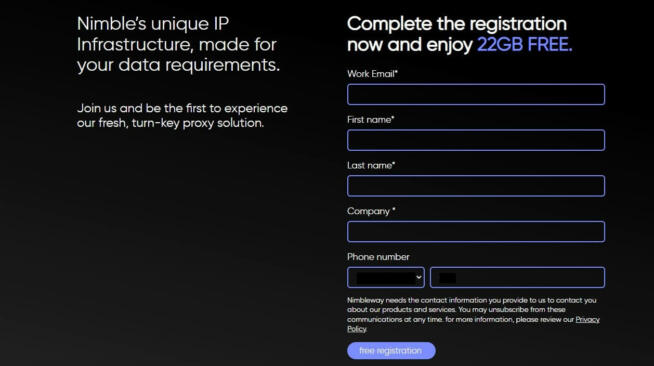 It's simple but not as simple as live chat support, especially if it would be available 24/7. Still, Nimbleway is relatively quick to respond and its support team is very helpful. You can also directly send an email to hello@nimbleway.com or support@nimbleway.com if you don't want to use the site.
In any case, you'll get a response within 24 hours but in most cases, you're looking at a few-hour period. Not bad for a data-gathering platform of this caliber.
6. FAQ
6.1 Is Nimbleway free?
No, it's not free, but it offers a 14-day free trial with 22 GB of bandwidth. Once that period is over, you'll need to buy one of its subscription plans to use it.
6.2 Does Nimbleway offer unlimited bandwidth?
No, it currently doesn't have a plan with unlimited bandwidth. Instead, the amount of bandwidth you get depends on the subscription plan, although the service allows you to get more bandwidth if you run out of it, so you don't have to stop everything you've been doing.
6.3 How many pipelines do I get in the Essential plan?
You get 10 pipelines in the Essential plan. The Professional plan offers 80 of them, which is why it's much better, although it costs about 3.5 times more.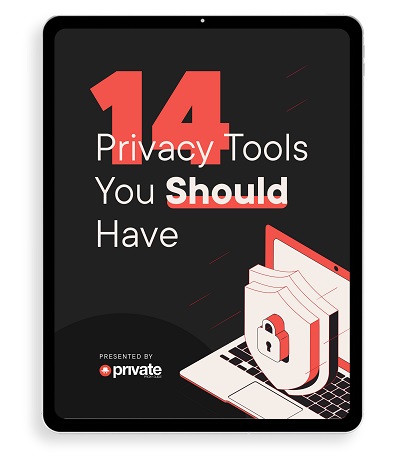 Learn how to stay safe online in this free 34-page eBook.