Most applications and websites are built upon a popular programming language called PHP. PHP is a staple of web development, with many frameworks such as Yii, CodeIgniter, Phalcon, and of course, Laravel, which is the most prevalent framework.
Despite its popularity, not all web hosting solutions are optimized for Laravel, which isn't great for people who want to take advantage of it. Besides, Laravel offers many tools, such as built-in authentication, object-relational mapping, and complex app development.
As a result, many people are looking for the best Laravel hosting in 2023 that would allow them to host and develop a website using this PHP framework. With some great options on the market, it's pretty hard to decide on a single choice, as many hosting services don't support it fully or at all.
But if you ask me, today's your lucky day. We tested dozens of Laravel hosting providers in 2023 for this list to be able to provide you with the most accurate information based on real-world performance testing. Without a doubt, I advise staying with me until the end of this guide.
1. Best Laravel Hosting in October 2023
When talking about an advanced PHP framework like Laravel, it's extremely important to seek maximum quality. The providers you see below are known for excellent performance, low latency, and tons of resources for hosting and maintaining your Laravel-based site.
They also differ in prices, and while some choices are very cheap, others might be more expensive, offering more features for the most demanding users. Either way, with the top 6 Laravel hosting providers, we covered everything you need to know, so let us present them to you.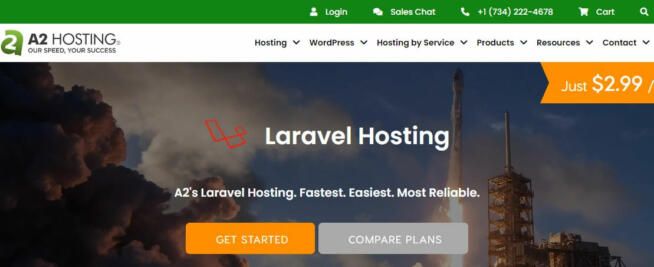 A2 Hosting is one of the most resounding names in the industry. This company has been offering many hosting solutions for years, and if you're looking for reliable Laravel hosting, this is the best choice. Known for excellent performance and Turbo servers, A2 Hosting shows outstanding speeds coupled with 99.9% uptime, which guarantees stability.
Moreover, A2 Hosting offers various security features, such as DDoS protection and free automatic backups, which should help keep your valuable data in check. A2 Hosting supports Laravel in all subscription plans, and if you visit its site, you'll see that its prices are fairly cheap.
I mean, the cheapest Laravel hosting plan starts at just $2.99 a month for the annual plan, offering a single-website capacity as well as 100 GB of SSD storage, free site migrations, and a 30-day money-back guarantee, which makes testing it out risk-free.
Moving on, A2 Hosting has Turbo Boost and Turbo Max plans which work well with Laravel and provide an optimized and fast experience. The Turbo Max plan at just $14.99 a month is very interesting because you can host unlimited sites and you get unlimited SSD NVMe storage as an addition.
Not to mention up to 20 times faster speeds, 5 times more resources, and a comprehensive cPanel interface, making it more approachable. You also get a free SSL certificate, which is quite important, and the provider allows you to install Laravel easily.
This is great because you won't have to do it manually, which often ends up being tedious, especially for non-experienced users. A2 Hosting has cheap shared hosting plans that support Laravel and we already discussed them. But if you need more resources, its VPS and dedicated hosting plans are also viable.
For example, fully-managed Laravel VPS hosting starts at $39.99 a month while managed dedicated hosting starts at $155.99 a month. If you don't mind slightly higher prices for these solutions and a bit outdated interface, A2 Hosting is one of the best Laravel hosting providers you can currently get.
Pros
DDoS protection
Cheap Laravel hosting at $2.99/mo
Turbo servers
Free SSL certificate
Laravel is supported on shared, VPS, and dedicated hosting plans
Cons
Dedicated hosting is expensive

Hostinger is among the oldest hosting providers, having a rich experience in all types of hosting solutions. Laravel hosting is one of its specialties, where Hostinger offers excellent performance, 99.9% server uptime, and one-click Laravel installation that saves you a lot of time.
I like that Hostinger is very customizable, which is crucial when deploying Laravel apps. For example, it lets you choose from various PHP versions, from 5.2 to 7.2, which allows you to tailor the experience to your needs and design choices.
Furthermore, we should mention its features like HTTP/2 which speeds up the request processing, coupled with Cache Manager that allows for faster page loading. Unlike many providers on the market, Hostinger comes with a 30-day refund period for all plans, as well.
Plus, it's even more affordable than A2 Hosting, with the cheapest, starting plan starting at just $1.99 a month. You do get "just" 50 GB of SSD storage but there's unlimited free SSL, GIT access, and up to 10,000 monthly visitors that your site will be able to handle.
While you get just 100 GB bandwidth in this plan, there's a plan called Premium Web Hosting which is a "dream come true" for Laravel-based apps and sites. It costs just $2.79 a month and gives you unlimited bandwidth, free email, free domain, SSH access, and up to 100 hosted websites.
For Laravel which requires more resources, I'd definitely go for this plan to maximize its potential. Another thing to mention is that Laravel VPS hosting is extremely cheap here and starts at just $3.99 a month where you get weekly backups, a dedicated IP, full root access, and 1 TB bandwdith.
All in all, Hostinger is highly optimized for Laravel-based sites and while I don't like weekly backups (I prefer daily), I'm glad that you get lots of customization options. Being a budget-oriented solution, you can set up a Laravel-based site with Hostinger for a price cheaper than a Starbucks coffee!
Pros
A 30-day money-back guarantee
HTTP/2-optimized websites
2 to 7.2 PHP versions
Full SSL and GIT access for easier Laravel deployment
Unlimited bandwidth
Cons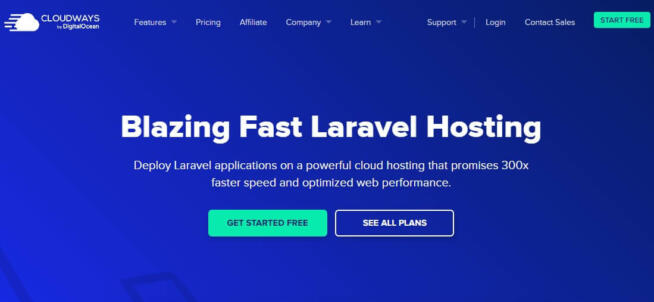 If you don't want to host Laravel apps and sites using shared or VPS hosting, you might be thinking about cloud hosting. Well, if that's the case, Cloudways is your best choice in 2023 if you want great performance, 24/7 support, and HTTP/2 support in all plans.
Being a cloud hosting provider, Cloudways relies on third-party providers for the service. There are LOTS of plans for Laravel users, with providers like DigitalOcean, AWS, Google Cloud, Linode, and Vultr. They vary in price but they also share some features.
Most notably, each plan has free SSL and migrations along with unlimited app installation, automated backups, Auto Healing, SSH/SFTP access, and many other features. However, the plans differ in terms of resources you get, which is, conversely, the most important thing.
Depending on the provider and plan you choose, Laravel hosting can cost you as low as $10 a month. For $12 a month, you can select from Premium plans where DigitalOcean gives you 1 GB of RAM, a single-core CPU, 25 GB of storage, and 1 TB of bandwidth.
The most expensive plans will give you up to 16 GB of RAM, 20 GB with up to quad-core CPUs, and things like a Cloudflare add-on, 5 TB bandwidth, and many others. Cloudways supports GIT access, meaning that installing Laravel is quite simple, regardless of the plan you choose.
On top of everything, Cloudways allows for a 3-day free trial, so when you choose a plan, you can use it for 3 whole days before getting charged. The only minor downside is that it offers a complex pricing structure but that's due to the nature of cloud hosting.
But, on the other hand, you can enjoy 59 data centers in 33 cities and 15 countries, making Cloudways among the largest hosting providers on the planet. Size does matter in this case, especially with the top-notch performance that Cloudways shows.
Pros
SSH/SFTP access
Cheap cloud hosting at $10/mo
Hosting from DigitalOcean, Google Cloud, and AWS
59 data centers in 15 countries
Cons
A small 3-day free trial
Complex pricing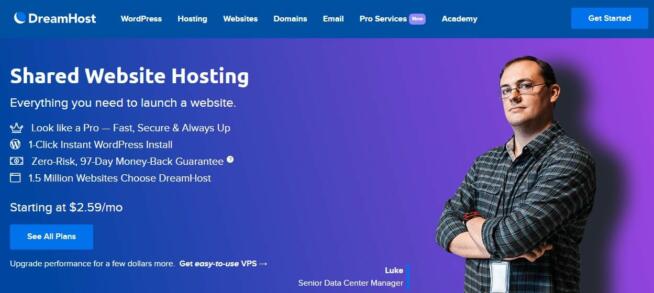 Dreamhost is an easy-to-use hosting provider that offers tons of subscription plans and options to choose from. Being among the best Laravel hosting providers, it'll allow you to deploy Laravel-based apps in no time, thanks to a simple installation process on all types of hosting.
While we don't prefer shared Laravel hosting, you can still go for this option if you don't mind sharing resources with other sites. Besides, you get a free domain, unlimited traffic, and unmetered bandwidth even in the cheapest shared hosting plan.
In addition, Dreamhost comes with fast SSD storage and gives you a free SSL certificate, which is a must for hosting a quality website. The most affordable Started plan is priced at $2.95 a month and everything I mentioned comes in this very plan, along with WP Website Builder and free migrations.
However, the VPS plan with 1 GB of RAM is extremely attractive for Laravel users, and might I add, a better option overall. At $13.75 a month, Dreamhost lets you host unlimited sites, giving you 30 GB of SSD storage, unlimited emails, and premium 24/7 support.
Dedicated hosting is also a great option for more ambitious Larvel users. However, it's priced at $149 a month in the cheapest plan, which isn't very affordable. On the other hand, you get full root access, DDoS protection, 4 GB of RAM, and a 4-core 8-thread Intel Xeon CPU with incredible performance.
Dreamhost guarantees 100% uptime as well, which is excellent for overall stability. Unlike Cloudways which offers data centers in 15 countries, Dreamhost, unfortunately, only has data centers in the US, in Virginia, Ashburn, California, and Irvine.
Thus, if you want to host a data server in Europe or Asia, you're better off with Cloudways. Finally, Dreamhost has a humongous 97-day money-back guarantee for all shared hosting plans paid via a credit/debit card, which is something we must point out.
Pros
Unlimited traffic & unmetered bandwidth
SSD storage
Starts at $2.95 a month
100% server uptime guarantee
Cons
No servers in Europe and Asia
Expensive dedicated hosting plans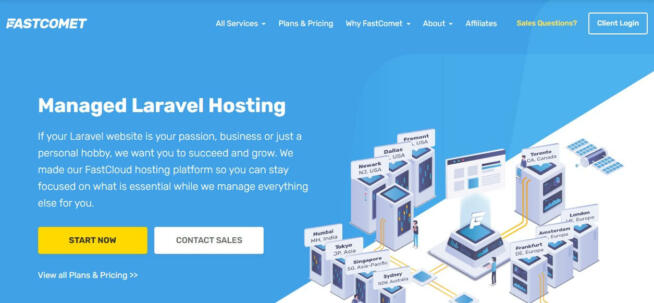 FastComet is yet another great Laravel hosting provider in 2023, offering lots of amazing features at fairly affordable prices. If you want to host a website and have Laravel-based apps, you're not going to have to put in too much work thanks to FastComet's native support for this PHP framework.
Important to mention is that Laravel is supported on all types of hosting, ranging from shared to dedicated hosting for more demanding users. For the start, FastComet has a 99.9% uptime commitment with a 100% network guarantee and 10,000+ daily server checks.
Furthermore, the provider has a HUGE data center database with centers across the US, Europe, Asia, Australia, India, and other locations. Each data center has the capacity for thousands of servers, allowing each site to perform well and without slowdowns.
FastComet's shared hosting plans start at $1.99 a month with features like free domain registration and transfers, cPanel with Softaculous, and a 45-day money-back guarantee. Keep in mind that Softaculous lets you deploy Laravel within minutes, so it's optimized for this framework from the get-go.
I like that FastComet lets you choose from managed cloud VPS hosting solutions too. They're very inexpensive and start at $41.96 a month where you get 2 GB of EEC RAM, a single-core 2.5 GHz CPU, unlimited websites, 50 GB of SSD space, and 2 TB transfer speeds.
Dedicated Laravel hosting starts at $97.3 a month, which is much cheaper than Dreamhost or A2 Hosting. Yet, you get 4 GB of RAM, 4T bandwidth, 80 GB of SSD space, and the ability to host unlimited sites. FastComet is extremely impressive and comes with tons of plans and features to pick from.
Coupled with a 45-day money-back guarantee for all shared plans, it's extremely easy to deploy Laravel, not spend much money, and still be able to get reimbursed if you're dissatisfied – splendid!
Pros
It supports Softaculous
Costs only $1.99 a month for the cheapest plan
VPS hosting is inexpensive
45-day money-back guarantee
Cons
It could benefit from more storage space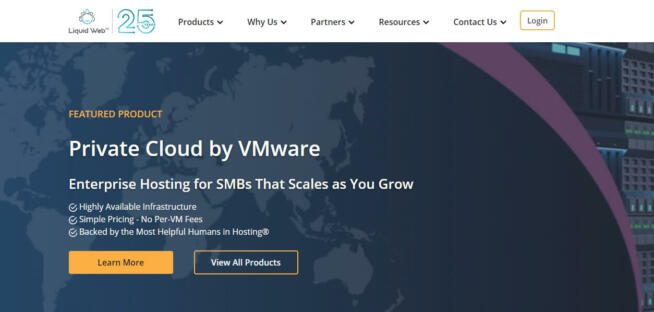 The final choice for today is LiquidWeb, another hosting provider with full support for Laravel apps and sites. This provider comes with data centers in the US and Europe, boasting more than 43,000 servers with excellent speeds and 99.9% uptime.
Needless to say, it fully supports Laravel in all hosting plans and there are quite a lot of them. Instead, of shared hosting, LiquidWeb focused mostly on VPS and dedicated server hosting, both of which are more suitable for deploying Laravel due to the ability to get more resources.
VPS hosting steals the show here, as it comes with the price of just $25 a month for the 2 GB RAM plan. This plan boasts 10 TB bandwdith, a 2-core CPU, and 40 GB of SSD storage, all of which is enough to power moderately-large Laravel websites.
In addition, the cPanel admin interface is here and each plan offers off-server backups for incredible reliability. We should also point out that you get multi-level DDoS protection and 24/7 on-site support via live chat, email, and phone.
Dedicated hosting is here for more demanding users with larger Laravel sites. Thus, it starts at $149 a month for the US (Michigan) servers. This cheapest plan packs a quad-core CPU, 16 GB of RAM, and 5 TB bandwidth for supreme performance across the board.
LiquidWeb lets you decide if you want a managed or unmanaged solution for your site, plus many other types of hosting, such as Magento cloud hosting, WP hosting, and many more. I recommend its VPS plan due to its affordability, as dedicated Laravel hosting plans aren't the most wallet-friendly.
Pros
Reliable VPS and dedicated Laravel hosting
VPS hosting is pretty affordable
Multi-level DDoS protection
Cons
No shared Laravel hosting
Dedicated hosting costs are very high
2. Best Laravel Hosting – FAQ
2.1 What is the best type of hosting for Laravel?
The best type of hosting for Laravel-based sites is either VPS or dedicated hosting. Shared hosting will limit your resources because you'll need to share them with other sites, which can result in poorer stability and weaker performance.
With VPS or dedicated hosting, you'll pay slightly more but it'll be a more robust base for deploying Laravel websites in the long run.
2.2 Are there good Laravel alternatives?
Yes, if you don't want to use Laravel anymore, you can go for other PHP frameworks such as CakePHP, Angular, Symfony, Yii, and many others.
2.3 How to install Laravel?
Installing Laravel can either be very simple or very complicated. There's something called Softaculous that allows you to install Laravel simply by visiting your cPanel, searching for it, and clicking on Install. However, if Softaculous isn't offered by the hosting provider, manual installation is needed.
Manual installation is inherently more complex and if you're not experienced, it's most likely best to leave that to a professional.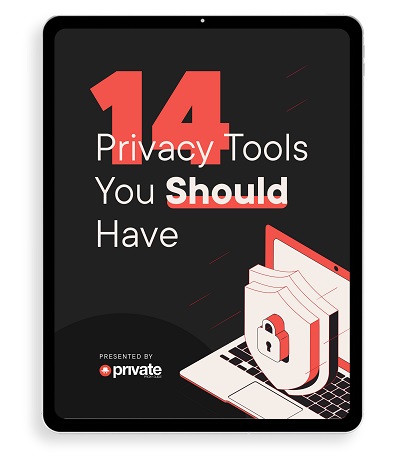 Learn how to stay safe online in this free 34-page eBook.