In recent years, cloud hosting drastically changed the industry. Compared to traditional hosting, it is a much more reliable solution that suits most businesses.
Let's review what cloud hosting is and what the best cloud hosting providers are. We have divided all companies into two categories – managed (server configuration and setup are done for you) and unmanaged (you have to configure the server yourself and do most of the troubleshooting yourself).
It is worth mentioning that there is no real consensus on what's the best cloud hosting on either Reddit or Quora, but the providers below are mostly the ones recommended.
1. Best managed cloud hosting in September 2023
Check the comparison below to find a cloud provider for your project.
| Cloud | Price/month | Server | Managed | Visit |
| --- | --- | --- | --- | --- |
| Cloudways | $10 | 1 GB RAM, 1 Core, 25 GB Storage & 1 TB Bandwidth | Yes | Visit » |
| Kinsta | $30 | 10 GB Storage, 25 000 visits | Yes | Visit » |
| A2 Hosting | $4.99 | 1 GB RAM,1 Core, 150 GB Storage & 2 TB Bandwidth | No | Visit » |
| InterServer | $6 | 2 GB RAM, 1 Core, 30 GB Storage & 2 TB Bandwidth | No (depends)* | Visit » |
| Liquid Web | $265 | Cloud Load Balancer + Cloud File server | Yes | Visit » |
| UpCloud | $5 | 1 GB RAM, 1 Core, 25 GB Storage & 1 TB Bandwidth | No | Visit » |
| Digital Ocean | $5 | 1 GB RAM, 1 Core, 25 GB Storage & 1 TB Bandwidth | No | Visit » |
* You can get managed cloud hosting if you buy 4 slices for $24/month.
1.1 Cloudways – Cheap managed cloud hosting with good support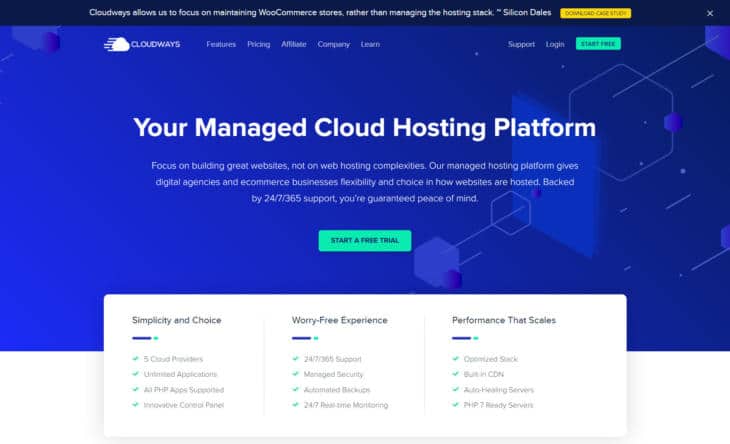 Pricing: Managed cloud from $10/month for 1 GB RAM, 1 Core, 25 GB Storage & 1 TB Bandwidth
Cloudways is a serious hosting company, focused on website owners who require the best experience for their projects. Established in 2011 and based in Malta, Cloudways specializes in managed cloud hosting and lets you deploy numerous services including WordPress, Magento, Laravel, Joomla, Drupal, and custom PHP applications.
Cloudways is known as a cloud integrator. What does it mean?
You can create a server and host it on one of the six major cloud hosting platforms — Google, Amazon, Digital Ocean, Linode, and Vultr — without creating an account anywhere besides Cloudways. Also, you will not have to care about technical things such as updating software.
The servers are located in more than 40 data centers in more than 25 locations worldwide. However, Cloudways is only available in English.
Key features
They have a fantastic migration plugin for WordPress that makes it very easy to copy your site to Cloudways.
Built-in firewall to protect your files against various threats.
Automatic backups to prevent data loss.
Convenient dashboard.
Professional support via live chat and on the phone, including follow up emails when you sign up.
Guaranteed high-speed performance from one of the cloud platforms and their unique server configuration.
Support of all modern technologies and standards including PHP 7, Redis, PHP-FPM, HTTP/2 servers, WordPress and Magento cache, etc.
Pay-as-you-go payment model — you can pay for the resources you use, without any contract.
Powerful integration with third-party services.
Website: Cloudways
1.2 Kinsta – Premium managed cloud hosting for WordPress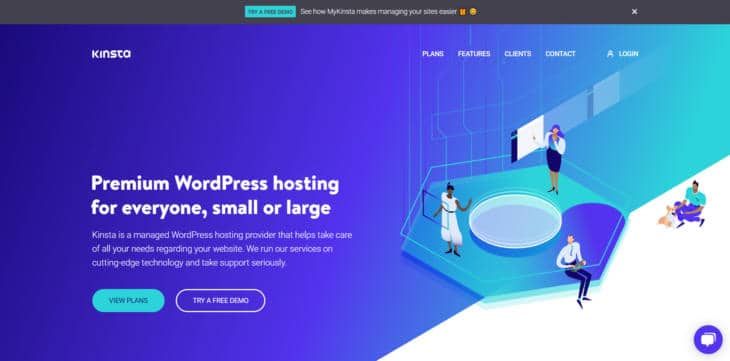 Pricing: Managed cloud from $30/month for 1 WordPress installation, 25 000 visits, 10 GB Storage & Free SSL & CDN.
Kinsta is one of the most famous WordPress-only hosting services. Working on the Google Cloud Platform infrastructure, it makes all your WordPress projects work smoothly and reliably. Kinsta counts 20 data center locations around the world and supports all modern web standards. This is the best solution for individuals and companies of any size. As they specialize in providing only one service, they provide expert support and optimal infrastructure. Their motto is 'WordPress for everyone'.
Key features
Powerful next-generation Google Cloud infrastructure, global server network. You will be able to host your website in the fastest location.
Own SSL certificate — you will not have to use any third-party services.
Manual and automatic backup with the ability to restore your data within up to 30 days.
Four types of caching for faster work.
Full website analytics.
Host an unlimited number of sites (depending on your plan)
Transfer your website from a previous platform.
99.9% uptime
The highest security including DDoS detection, hardware firewalls, and proactive prevention of hacking attacks.
Expert-level technical support.
MyKinsta dashboard to control everything in one place.
Developer-friendly platform — optimize every aspect of your work with programming code.
KeyCDN and Amazon Route 53 for free in all plans. KeyCDN is an HTTP/2 and IPv6-enabled CDN with 35 global locations. Amazon Route 53 is a global Anycast network that comes with a layer of geolocation routing.
Website: Kinsta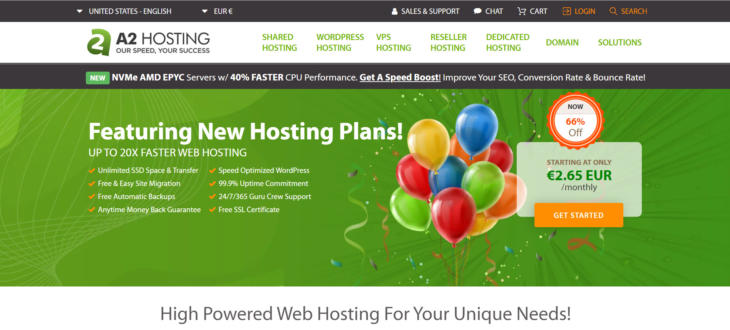 Pricing: Unmanaged cloud from $4.99/month for 1 GB RAM,  1 Core, 150 GB Storage, 2 TB Bandwidth with root access.
A2 Hosting is one of the few eco hosting companies that offer a full range of services. Since 2007, the company became 100% carbon neutral, long before it became fashionable. As for cloud hosting, the company guarantees 99.9% uptime and provides extremely fast servers. Customer support is available 24/7/365.
Key features
Free migration from other platforms.
Unlimited storage and data transfer.
Flexible scaling — you can change the necessary load at every moment.
Developer-oriented platform — the hosting supports all modern technologies including MySQL, PHP, ASP.NET, IonCube, Perl, Python, Ruby, Apache, Nginx, Zend, Git, Asterisk, Lighttpd, and dozens of others. You can use any website or web app in A2.
SSL certificates, domain names, and domain transfer.
The fastest web hosting with HTTP/2 servers, CloudLinux, and Cloudflare CDN support. NVMe SSD-based servers are up to 20-x faster than traditional hosting.
Guaranteed security to protect your projects against malware and hackers. The service supports all modern security tools like HackScan and Patchman.
Convenient cPanel control panel. You can control every aspect of your work in one place.
Website: A2 Hosting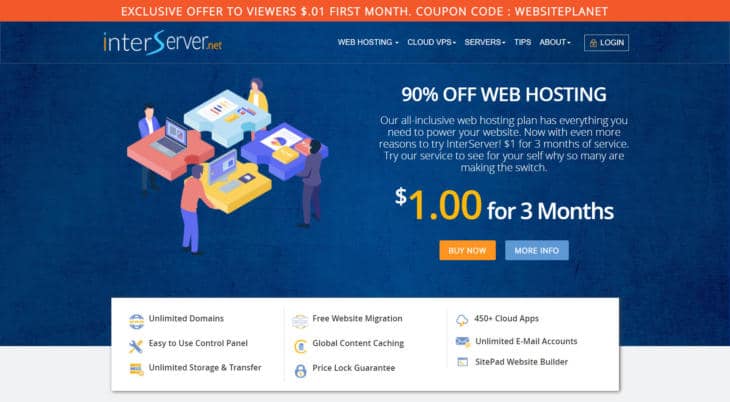 Pricing: Unmanaged cloud from $6/month for 1 Core, 2 GB RAM, 30 GB Storage, and 2 TB Bandwith with root. Managed from $24/month.
Although InterServer is not the best service on the market for online stores and corporate websites, it is probably the best solution for beginners wanting hosting for their test projects and small blogs. With unlimited hosting packages and very affordable pricing, InterServer provides everything necessary for a beginning webmaster.
Key features
All the necessary tools for beginners. With it, you can get started without any problems and without needing extensive technical knowledge.
Add-ons that you can use as your business grows and you need more features.
Free website migration and free website builder, as well as inexpensive domain registration, a simple control panel, and more than 450 cloud applications available with a one-click installer, including WordPress, Joomla! Drupal and Magento.
Guaranteed email delivery. The company not only offers an unlimited number of e-mail accounts but also guaranteed delivery of emails.
VPS Packages for WordPress.
Flexible resource scale, with offers from 30 GB SSDs with 2 TB of data transfer per month to 480 GB SSDs with 32 TB of data transfer per month, allowing you to choose a server with the right price and size for you.
99% uptime guarantee.
Free hosting for non-profit organizations.
Website: InterServer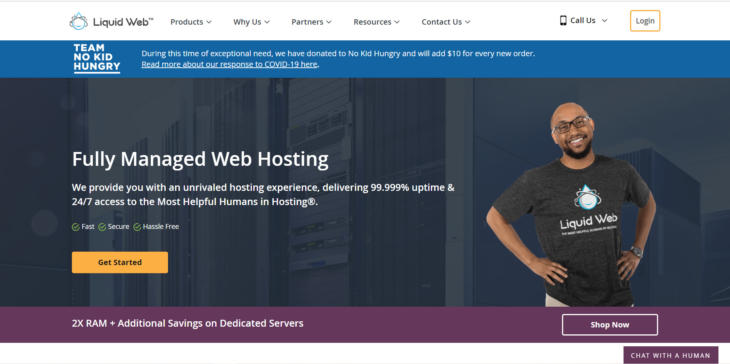 Pricing: from $265/month for Cloud Load Balancer + Cloud File server.
Liquid Web was created more than 20 years ago. Now, they host more than 500,000 websites and cooperate with more than 30,000 users in 130 countries, making them one of the biggest companies on the market. As the company works with big companies, you won't find budget prices — premium hosting means premium pricing. At the same time, it is flexible, and you can select the plan that suits your needs best.
Key features
Flexible solutions for companies of any size, from freelancers to huge international corporations. There is a set of features for every professional. Custom solutions are great for companies with special needs.
All you need to start the website on Liquid Web is domain registration, SSL certificates, managed security, and website migration.
Stencils — a copy of the website that allows working with it online without the risk to break something. The copy is made with one click, in seconds.
Full set of security tools that protect your site by default.
Powerful own data centers in several countries. They do not lease servers from other data centers like many other hosts. All the centers are SSAE-16, HIPAA, PCI-DSS, AMS-IX, and ISAE 3402 compliant as well as ISO9001, 14001, and 27001 certified.
Cloudflare CDN to increase the website performance for the visitors.
Developer tools that allow controlling every aspect of the server.
24/7/365 human support that solves any possible issue within minutes.
Pricing: from $5/month for 1 Core, 1 GB RAM, 25 GB Storage and 1 TB Bandwidth.
Upcloud offers the best solutions to companies and individuals that want to customize their online presence to fit their growing needs. Their servers are located in six countries. UpCloud guarantees 100% uptime with a generous moneyback guarantee for any downtime of more than 5 minutes. Also, you can test the service within a 3-days trial.
Key features
High, extreme performance with MaxIOPS. All servers are built on enterprise-level hardware. Using the MaxIOPS technology, you can deploy market-leading performance within seconds — the procedure will not take you longer than 45 seconds.
Scale your load easily and flexibly. You can do it using simple plans or configure CPU, RAM, storage, and IPs independently.
Floating IPs and private networks that are interconnected between all data centers of the company.
Easy automation with powerful and yet simple API. Using the code, you can configure every aspect of your experience with cloud hosting. Also, you can integrate the platform with all your apps on Go, PHP, JavaScript, Python, etc.
Linux and Windows support — run your product in the most convenient environment.
Native IPv6 support.
Extensive security parameters.
Simple, flexible pricing starting from $5/mo.
Kamatera is another world-class cloud hosting platform that has been on the market since 1995. The company is present in many countries and its server infrastructure is located in 13 data centers around the world. As an industry standard, the professional staff will support you 24/7/365.
Key features
Flexible transparent pricing — you pay only for the resources you need. You can also order and change a type of resource, the number of processors, the operating system, RAM, SSD storage, number of public IP addresses, Internet traffic, location of a data center, and other parameters.
SMTP, POP3, and IMAP services — you can run your own email server without limitations.
MySQL or MS SQL databases.
DNS management.
Reliable anti-spam protection.
Extensive performance. The servers run on Intel Xeon Platinum processors and high-speed SSDs, connected to 40 Gbps line, can use up to 104 processors and 512 GB of RAM per server. You can also deploy your own servers using the convenient cloud management console.
Guaranteed dedicated resources. No servers share the resources with someone else.
Convenient cPanel/WHM control panel allows importing files via FTP, configuring web servers, backing up the files, deploying SSL certificates, etc.
The Plesk control panel supports several operating systems.
Kamatera Management Console allows buying software products with exclusive discounts. All the applications are updated automatically.
2. Best cloud hosting for developers
2.1 Digital Ocean – Great unmanaged cloud hosting provider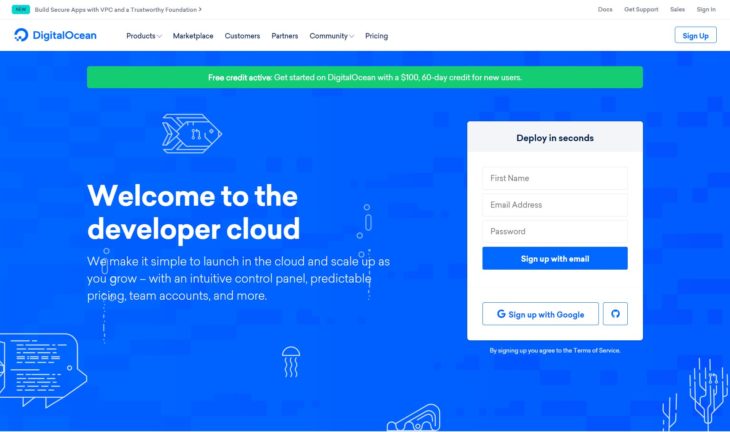 Pricing: from $5/month for 1 GB RAM, 1 Core, 1 TB Bandwidth and 25 GB Storage.
The platform is one of the best cloud hosting providers for web developers looking for a cheap hosting. If you are a complete beginner, Digital Ocean is not for you — whoever works with it should know what to do, especially if you keep in mind that their support is not very helpful — in many cases, you will have to solve the problems without them. However, the company provides solid-rock performance and 99.99% availability. You can also integrate it with many third-party services to fulfill any business need.
Key features
Deploy and scale the load without effort from the convenient control panel. You can run a data center cluster in a few clicks within minutes.
Global availability — the data centers are located around the globe, on different continents. It guarantees high speed and low ping while connecting to your resource.
Reliable protection from any kind of threat, be it hacker attack, malware, DDoS attack, data leak, and many others. The platform is certified on multiple international standards, including SOC 1 Type II, SOC 2 Type II, ISO/IEC 27001, and PCI-DSS.
Transparent pricing — you pay only for what you need and use.
Managed MySQL, Redis, and PostgreSQL databases.
Pricing: from $5/month for 1 GB RAM, 1 Core, 1 TB Bandwidth and 25 GB Storage.
Being founded in 2003, today Linode is one of the leading providers with more than 800,000 customers around the world and 9 distributed data centers. The company offers high-performance Linux servers that run on SSDs.
Key features
A good solution for websites, mobile apps​​​​​​​, ​​​​​​​hosted services, ​​​​​​​​​​​​​​big data, gaming, containers, e-commerce, and analytics.
Superfast 40 Gbps network.
Linode Manager to boot, deploy, clone, or resize the server with a few clicks.
Native IPv6 support.
99,9% network and hardware guarantee with money back for any downtime.
One-click managed cloud backups.
Powerful API for integration with third-party services.
Helpful human support.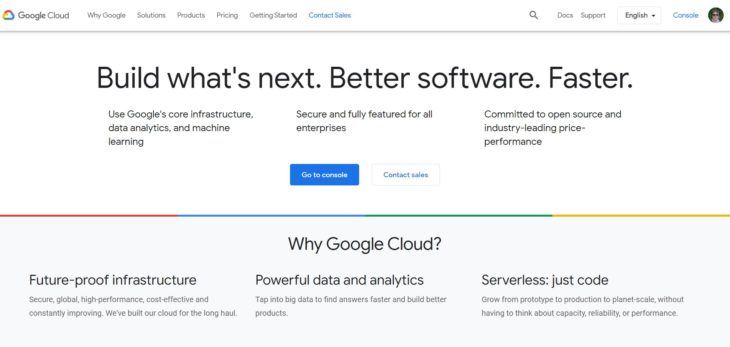 The Google Cloud Platform is a set of cloud services including computing, data storage, data analytics, and machine learning. Its services are used by many world corporations like Twitter, Coca-Cola, PayPal, or eBay, as well as Google Search and YouTube.
Key features
Huge infrastructure — 24 cloud regions, 73 zones, 144 network edge locations, meaning you can work with it everywhere.
Powerful cloud hosting for enterprise users. As Google Cloud Platform is not dedicated solely to cloud hosting, this is the best choice for companies that have fluctuating or growing demand. So, it's useless if you have a small website.
Absolute data safety. As one of the biggest companies in the world, Google can afford to invest in the latest security measures so they apply the latest international protocols including the EU's GDPR.
95% availability and no scheduled downtime.
Professional support is available via multiple channels.
Full support of modern protocols.
3. What is cloud hosting?
Cloud hosting is a type of web hosting that uses several different servers to distribute the load and maximize uptime. Instead of one server, your website can connect to a cluster that uses resources from a centralized pool. This means that even if one server fails, another server connects immediately and everything works smoothly.
Cloud hosting is a good solution for companies that vitally need their websites online all the time. The list includes e-commerce stores, lead generation sites, corporate platforms, and highly loaded projects. Also, cloud hosting is easily scalable if you need more power. This makes it attractive for news agencies and publishers who are expecting traffic jumps or a large number of clicks on their articles.
Advantages:
Data is stored on several servers at once. If one server fails, another server will take over.
Cloud hosting works on ultrafast SSD disks.
You can create a server from a ready-made operating system image or use your own operating system.
You can choose the necessary server parameters, such as RAM, disk space, number of processors, and increase them with increased traffic on the site without contacting support.
By using multiple servers in the cloud, you can set up a virtual network between them.
Each server in the cluster is isolated so it does not affect other websites on it.
4. What to keep in mind when choosing cloud hosting
The reliability of the data centers consists of several factors: geographic location, security level, physical security, availability of necessary communication sources (uninterruptible power supply, air conditioning, internet connection, etc.).
Legal security of cloud infrastructure. Select the location where the client's data is respected and protected by the local legislation.
Is your provider ready to work 24/7/365 as promised? Many players on the market say that they work around the clock and without weekends. Is this the case in reality? Try to check their support team — a good company will pay high attention even to potential clients.
Free trial to check how the cloud works. This is an ideal way to check how your provider works with the client, how the support team solves problems as well as their availability and how clear and transparent your communication is.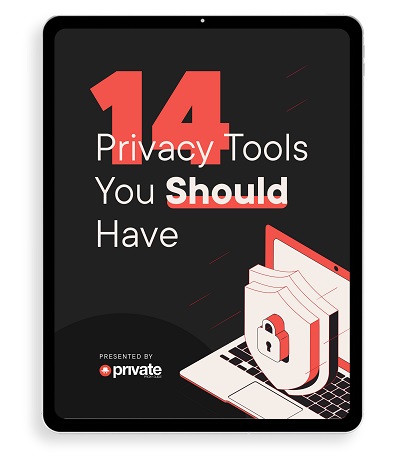 Learn how to stay safe online in this free 34-page eBook.