You come back home from college after a hectic day of classes. The homework and assignments can wait as the latest Matrix movie hits OTT platforms like Hulu and Netflix.
Unfortunately, it is not available in your area, and thus you need to access the global libraries. It is only possible by using a VPN that can help you access content from around the globe.
That is not all where a VPN comes in handy. It protects your privacy online when on the go and using public WIFI networks which can be infected with spyware and other snooping measures.
Today we shed light on NordVPN (www.nordvpn.com), which has been on everybody's tongue for a while, often considered amongst the best VPN to use for accessing the Internet.
1. NordVPN review conclusion
NordVPN starts strong with its mobile app, offering an intuitive interface, along with the notification button, which is not as common one would think.
The emphasis on security is prominent through the inclusion of Nordlynx, their protocol, which keeps security on a pedestal. The double VPN is a cherry on top, especially for those serious about keeping the integrity of their personal information when online.
NordVPN's browser extension is the one to impress with its swift connections and stays consistent across the board.
Here the customer support keeps holding your hand for every doubt or problem you have when using NordVPN, which is crucial for keeping customers happy and loyal to the service.
| | |
| --- | --- |
| Jurisdiction | Panama |
| Simultaneous connections | 6 |
| Supported VPN protocols | OpenVPN, IPsec/IKEv2, Nordlynx |
| Logs policy | No logs |
| Price | From $4.99 per month for the annual plan |
| Money-back guarantee | 30-day money-back guarantee |
| Customer support | Email and Live Chat |
| Works with Netflix? | Yes |
| Allows torrenting? | Yes |
| Servers | Over 5,300 servers in 60+ countries. |
Pros
Over 5,300 servers across 60+ countries around the world
One of the largest Netflix library access in the segment
The exclusive private static IP address assigned to you
Encryption based anonymity online using The Onion Router
Zero DNS leaks across the board
Pause VPN connection for a specific time period followed by auto-resume
Double VPN that provides two layers of encryption
Cons
The speed is not consistent across servers of the same country
Torrenting is not supported on all the servers
The OpenVPN configuration is not meant for everyone
VPN servers cannot be marked as favorite on the apps
2. What we liked about NordVPN
2.1 Mobile app
Get the NordVPN app for mobile from the respective app stores of Android and iOS. For any reason, if you are not able to access them there, then the direct app file is also available on the website.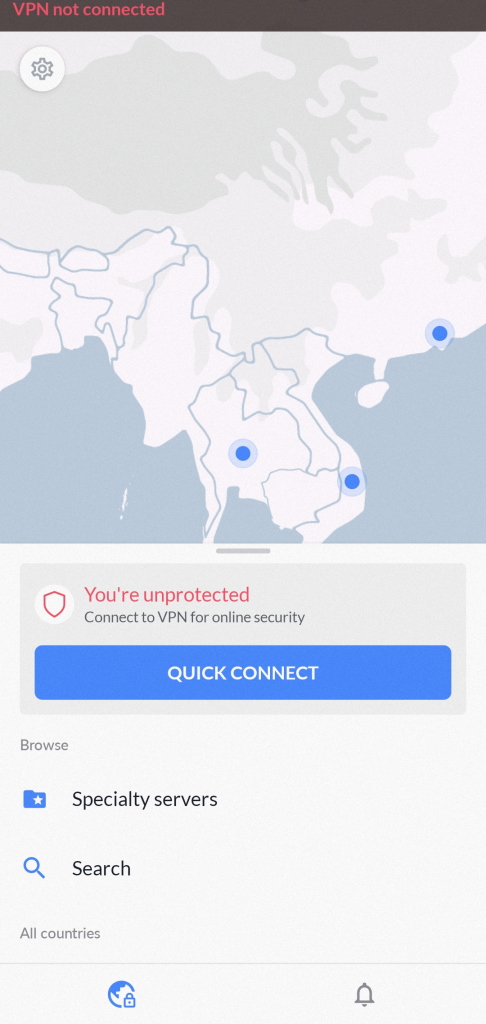 Launch the app, and the default browser will open up for logging into your account. You can either sign in using your registered credentials or go with Google Apple accounts. There is also an option to log in using a 6-digit code which you get by entering the email address.
The home screen has a quick connect button that will connect you to the nearest server, possibly in your country, if available. You will see a map with the server locations as blue dots. Tap on any of them for establishing a VPN connection.
Specialty Servers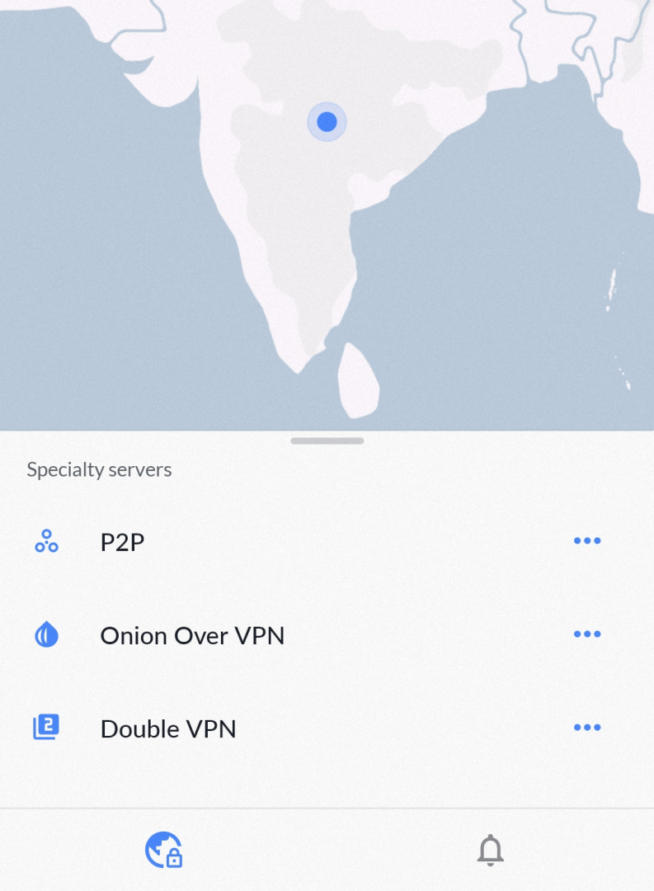 Look an inch down in the Browse section, and you will find the specialty servers. It has three kinds of servers – P2P, Onion Over VPN, and Double VPN. They offer a limited number of locations but do the job as advertised. P2P has the most to offer, followed by Double VPN, and then there are currently two provided in the Onion over VPN.
A quick-connect button is here, following the nearest and maximum performance principle during server selection.
P2P stands for Peer to Peer, a general term for torrenting. As the name suggests, P2P servers are designed to handle torrent downloading, ensuring optimal speeds.
Status Bar
Tap on the down arrow connected at the top to see the status of the VPN connection. It shows the VPN protocol, IP address, and connection time.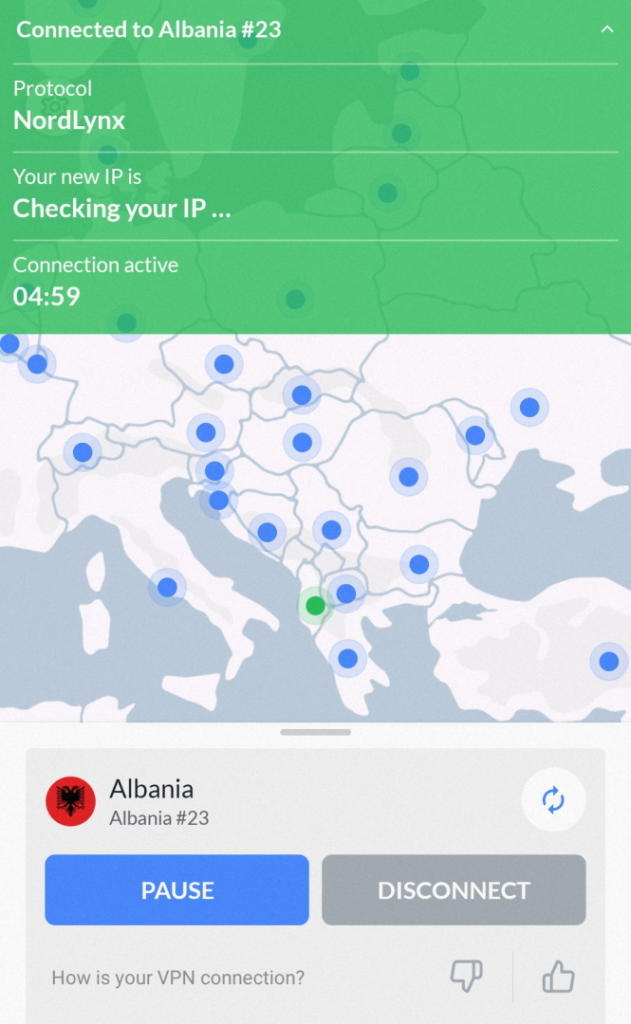 For countries with multiple servers, you can use the refresh server and connect to a different one in the same region.
Pause connection
You can also pause the VPN connection for a brief period by tapping on the pause button. The break period has – 5 minutes, 30 minutes, and an hour option before it resumes the connection automatically.
Notification Bar Button
Not many provide this option in the notification bar, which provides the much-needed utility. NordVPN offers the disconnect button in the notification bar, which can stop a VPN connection without switching to the app for it.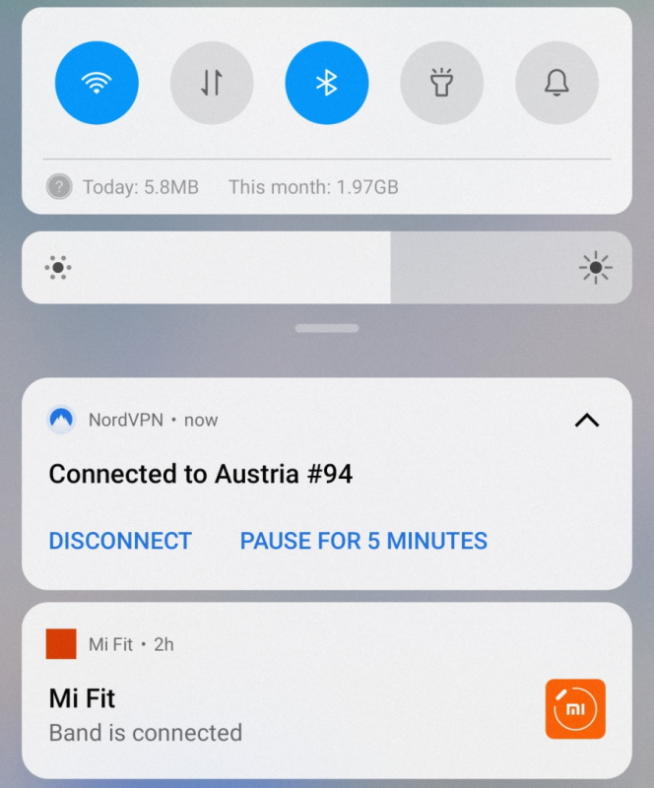 You can even pause a connection for 5 minutes then it will resume on its own.
The VPN connection can be resumed manually by tapping on the resume now button.
Settings
Let us swerve into the settings department, which packs a decent amount of utilities. Tap on the gear icon at the top-left corner of the home screen for accessing the settings section.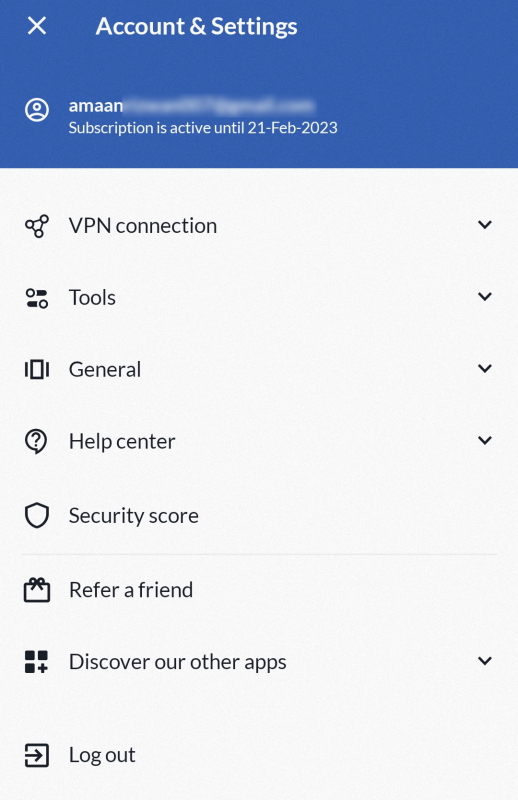 Auto-connect
Under the VPN connection, we use auto-connect, which is not another run-of-the-mill feature. You can make it auto-connect to a VPN on WiFi and Ethernet mobile networks or keep it on all the time to be covered in every situation.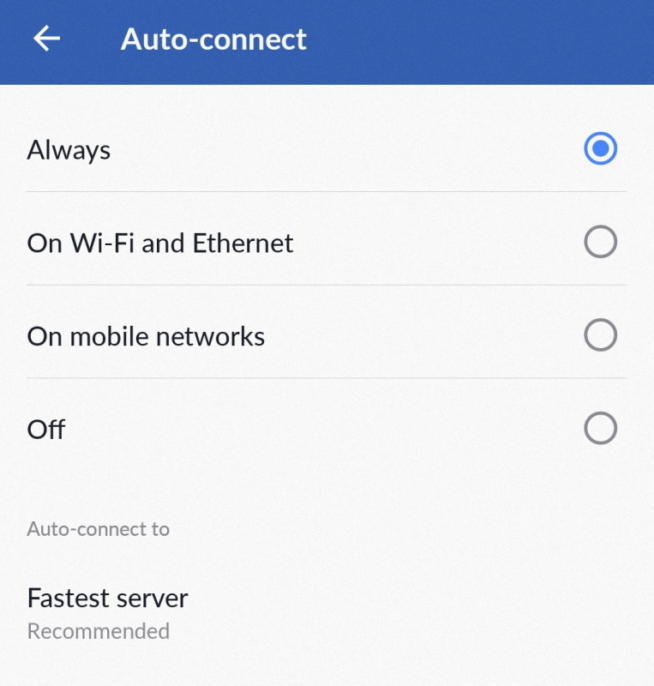 You can further set the server to which it will auto-connect every time you launch the app. It can be assigned to the fastest server available or manually select a location from the list, including the P2P, Onion Over VPN, and the Double VPN.
Split Tunneling
Split tunneling lets you exclude certain apps from the purview of the VPN connection. The selected apps will use the regular Internet sans the VPN connection layer. Search for your app and tap on the plus sign next to it for adding them to the trusted apps list. Later on, you can also remove them by tapping on the minus sign.
Custom DNS
DNS is like the phonebook of the Internet. We can also change the DNS here for squeezing the last droplets of performance from your connection. It is set as default, taking in the ISP provided or the one set on the router. You can tap on custom and add your own DNS server.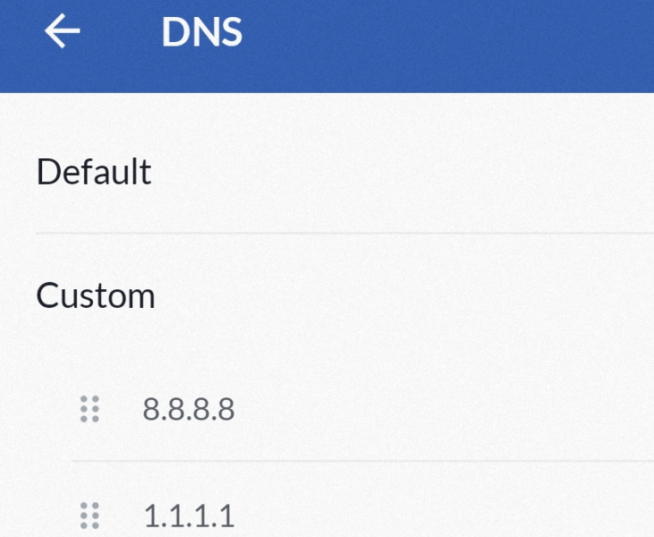 You can add multiple DNS servers and then arrange them to prioritize. The app takes DNS from top to bottom.
Threat protection
Find threat protection under the Tools section, which increases your security and privacy while using the VPN. It conceals the IP, cloaks the virtual location, and also prevents hackers from snooping.
Tapjacking protection
Tapjacking has been blocked at OS level since Android 4.0, but some still slip through apps. It is essentially the overlays of UI when you launch a newly installed app, the screen grays and permissions prompt appears. Sometimes they slip in nefarious permissions to install or modify settings, which can hamper your phone's integrity. Enabling tapjacking protection helps prevent that from happening.
Other Features
The other two features on the mobile app are Kill Switch and Dark web monitor. The former blocks your traffic when the VPN connection drops. It needs to be enabled by providing permission through the phone settings.
The latter, the Dark web monitor, monitors the dark web for your exposed credentials and notifies you so that immediate action can be taken before damage is done.
2.2 Desktop app
Feel at home with NordVPN's desktop app takes a page out of the mobile app's book for the user interface. You need the background process running on the computer to launch the app.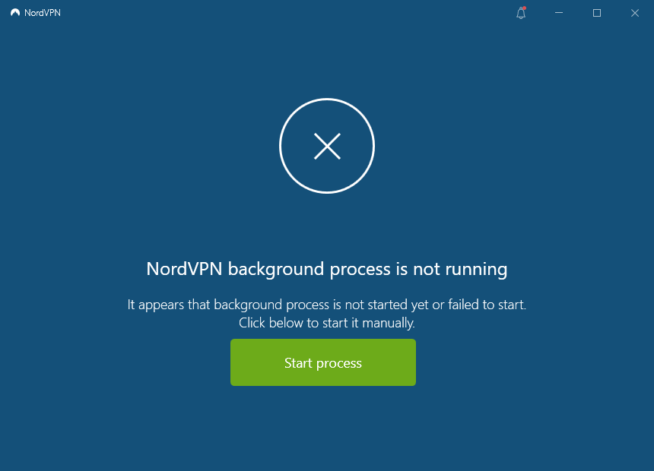 The first-time launch will take you to the default set web browser for logging in. There is no way to log in directly on the application like many of the segment competitors, which is an extra step that could have been avoided from a user's point of view.
Like the mobile app, we get a cartoon-esque map with the servers as blue dots, showing locations of servers across the world. Click on any of them to connect to a VPN server.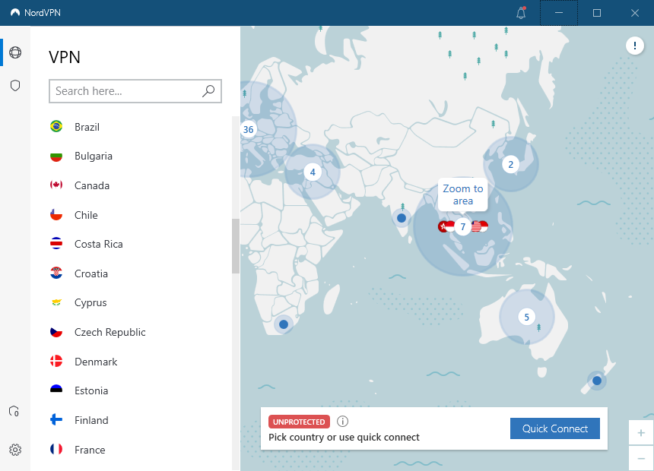 And when you want to search for a specific country, use the search bar to find the servers. Since NordVPN doesn't show city-wise servers but serial numbers for multiple locations in a country, you can search for them using the numbers. For instance, we want to connect to Brazil's #88 server, which delivered excellent performance earlier.
Search for it by typing "Brazil #88," and it will show you the exact same server for connection.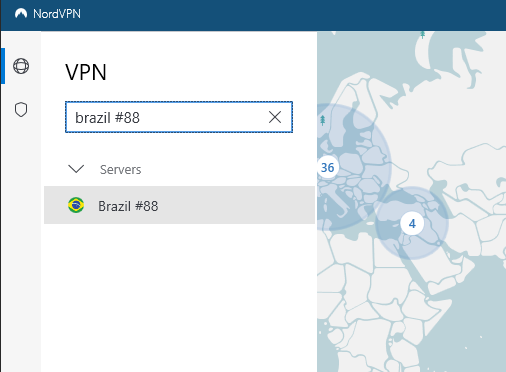 Threat Protection
NordVPN does not joke around with its commitment to security. They offer a comprehensive online cover coupled with decent malware security for your computer. The online cover includes an ad blocker, anti-tracker mechanism, and a tool that doesn't let you visit malware-ridden websites.
You can also conduct deep malware scans of the computer for finding hidden threats anytime, which feels feasible. A toned-down version of the feature is available on the smartphone app, which only monitors and blocks malicious websites.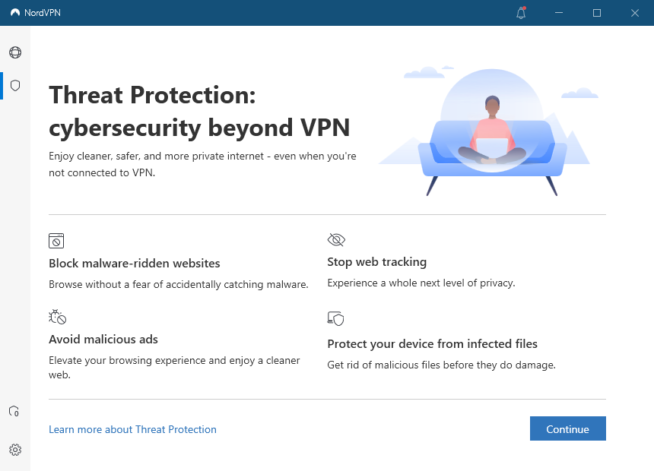 App and Internet Killswitch
Fundamentally a killswitch stops the Internet when the VPN connection drops due to some reason. Here the apps can also be added to the list, which will automatically be closed when the VPN or the Internet connection drops.
Other Features
NordVPN desktop has more to offer in terms of must-have features. The list includes split-tunneling, custom DNS, and Obfuscated servers, which only run on OpenVPN TCP protocol.
You can change the VPN protocol by going to auto-connect and then automatically turning off the Choose a VPN protocol and server. Then you have the choice between the three protocols.
2.3 NordVPN speeds
Speeds are crucial when using a VPN. Sure, it helps bypass restrictions and keeps your identity anonymous, but a lag, buffering stream is not what anyone wants. Users want consistent speeds depending on the server location.
Before moving forward, let us establish the test computer's configurations to keep out the question of device bottleneck.
| | |
| --- | --- |
| Internet Speed | 500 Mbps Downstream, 450 Mbps Upstream – Wired |
| LAN Chipset | Realtek® RTL8111HN Gigabit LAN |
| Processor | AMD Ryzen 5 5600x |
| Browser | Mozilla Firefox and Google Chrome |
We conducted the speed tests using speed.net, three times a day(morning, afternoon, and evening) to arrive at an average. The seven selected locations are geographically diverse, providing a better picture of the available speeds for the user.
| | |
| --- | --- |
| City | Speed |
| India (Host region) | 487 Mbps (Down), 412Mbps (Up) |
| Germany | 398 Mbps (Down), 267 Mbps (Up) |
| USA | 239 Mbps (Down), 325 Mbps (Up) |
| France | 349 Mbps (Down), 410 Mbps (Up) |
| United Kingdom | 239 Mbps (Down), 118 Mbps (Up) |
| Japan | 311 Mbps (Down), 218 Mbps (Up) |
| Brazil | 133 Mbps (Down), 156 Mbps (Up) |
After a few initial hiccups, NordVPN did not disappoint. The speeds were consistent for the most part. You can use it to download files and buffer in streaming on VPN will be a thing of the past.
VPN Protocol
A VPN protocol helps lay down the rules of how the VPN will work, concerns its security, traffic handling, and more. NordVPN technically supports four different protocols in total – Nordlynx, OpenVPN(TCP/UDP), and IKEv2/IPsec. The former three are available on the Windows Android ecosystem, while IKEv2 and Nordlynx are available on the Apple ecosystem.
Nordlynx is NordVPN's very own VPN protocol, built from scratch. Special care has been taken to ensure maximum security by taking inspiration from WireGuard and implementing double NAT (Network Address Translation). It helps in amping up the security by adding an additional layer of security.
2.4 No DNS leak – tested
Like we have said earlier, DNS is the phonebook of the web for your Internet. You enter a website name, say privateproxyguide.com, in the browser's URL bar. The DNS converts it into an IP address of the server which is hosting the website. This way, your device is connected to the server, and the website loads for you.
All the information from your end to the website's server is transmitted for thousands of miles, and there is a risk of intrusion and leakage of information, which is known as the DNS leak. This is where NordVPN's no DNS leak claim comes into play. We put their tall claims in the playing field by conducting our own extended DNS leak test for geographical places around the world.
Test 1: Without VPN – Default
We performed a DNS test without using the VPN to set a baseline for your forthcoming DNS tests. You can clearly see our default IP address, location, and ISP details. To sum it up, there is a DNS leak here.

Test 2: Buffalo, United States (With VPN)
NordVPN offers 16 different cities based servers for the US. We selected Buffalo and found no signs of any leak. All in all, there is NO DNS leak here.

Test 3: London, United Kingdom (With VPN)
Let us have a look at what Europe has to offer. We performed a test using a server from London, United Kingdom, and our details were not exposed. So, there is NO DNS leak here.

Test 4: Berlin, Germany(With VPN)
Germany has two city-based servers to offer – Frankfurt and Berlin. We went with the latter and performed the test where the result was favorable. Therefore, there is NO DNS leak here.

Test 5: Brazil (With VPN)
We move towards South America and take a closer look at Brazil, which has multiple servers, but none of them have a city tagged to them. You can easily find that through various online IP tools. Similar to earlier tests,  there was NO DNS LEAK here.

| | | | |
| --- | --- | --- | --- |
| IP Address | Location | ISP | DNS Leak |
| 49.207.xx.xxx (Without VPN) | Delhi, India | ACT Fibernet | YES |
| 45.14.195.69 | Buffalo, United States | DediPath | NO |
| 194.35.233.70 | London, United Kingdom | Clover Limited | NO |
| 178.239.198.140 | Berlin, Germany | Fiber grid | NO |
| 192.154.198.148 | São Paulo, Brazil | Vivid Hosting | NO |
2.5 Security and privacy
Coupled with the no-logs policy, a robust 256-bit AES encryption is in place for all the communication data transfer across the board. NordVPN has OpenVPN as a supported protocol, an open-source security protocol constantly vetted by security researchers worldwide. Every newly discovered flaw or loophole is patched quickly without any delay.
There was no DNS leak as per our extensive testing, which makes sure that your connection details and connection are not exposed online.
2.6 Browser extension
NordVPN's browser extension is available for all major browsers such as Firefox, Chrome, Edge, Opera, amongst others. Essentially all the major browser engines are supported. You will be logged in automatically on the extension if the browser is logged into a NordVPN account.
Talking about its performance, we are impressed by its straightforward approach. It does as advertised and, frankly, faster than its desktop counterpart. The VPN connection establishment time is quicker than its older sibling. The only downside is that not even recent connections are shown on the browser extension.
Unlike ExpressVPN, the VPN works only with the browser, not with a pan-computer network.
One extra feature, Adblocker, sporadically works only when the VPN is enabled.
2.7 Double VPN
NordVPN hit it out of the park with Double VPN. It is Multi-hop routing in fancy clothes. When you connect to a Double VPN server, it, in turn, connects to another VPN server and then connects to the destination server website. This way, the recipient or the network snoopers will never trace back to you, ensuring better security and privacy. Another VPN service offering the multi-hop feature is Surshark.
2.8 Customer support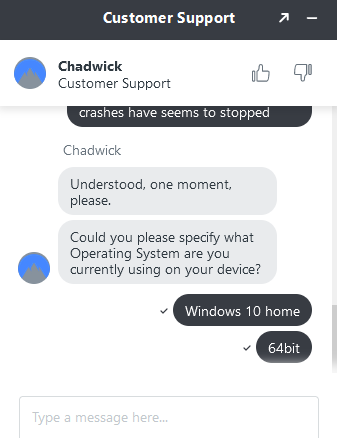 All is good and rosy when the service is working without hitting a roadblock because it does; everything feels weary. Troubleshooting a problem with a VPN on your own goes only a short distance. You need reliable customer support to solve the issue at hand.
Reach out to NordVPN support using email and live chat. We went ahead with chat since it's fast and, in our experience, helped solve all the issues at hand. Fill in your email and name to begin the session. The chat session generally starts instantly, but sometimes there is a wait of 30-seconds or less, which does not feel like a lot of time.
The support agents were polite, swift, and knew their stuff well, helping in every step along the way for significant issues such as crashes.
3. What we did not like about NordVPN
3.1 No favorite servers
In contrast to virtually every other VPN provider, NordVPN apps do not have the option to mark any server as a favorite. The mobile and desktop app gets the recent feature that sometimes feels inadequate.
Auto-connect lets you connect to a specific server, but that is not enough at times when you want to have a couple of options at your fingertips.
3.2 Lack of South Asian servers
Internet shutdowns and censorship have become rampant globally, especially in South Asia. A lack of servers there is a bummer and might not be ideal for users in the group. On the other hand, competitors like Cyberghost offer many servers in the area.
4. NordVPN FAQ
Does NordVPN keep logs? No. NordVPN does not keep logs of its users' information, under any circumstances. It maintains its strict No Logs policy. This means that NordVPN does not keep any of your private data. Also, it does not monitor any of your online activity or users' browsing history. NordVPN is based in Panama, a country without requirements for data reporting and storage.  Also, NordVPN can deny third parties requests.
Does NordVPN work in China? Yes, but conditionally. China blocks VPNs thanks to its strict censorship policies. The notoriety of the Great Firewall of China makes it hard to access Facebook and other popular sites, but you can still use NordVPN because of its Obfuscated Servers. These servers will camouflage traffic as normal HTTPS web traffic, allowing you to bypass the Chinese Firewalls.
Does NordVPN allow Torrenting? Yes, and NordVPN is touted as the best VPN for Torrenting. While several DNS servers, ISPs, and corporations have implemented measures to disallow torrent connections, NordVPN still lets you Torrent by allowing P2P connections via its network. It also has specific globally located VPN servers optimized just for P2P Torrent connections.
Does NordVPN work with Netflix? Yes, but only in the United States, the United Kingdom, and the Netherlands. It is blocked for Netflix in Canada. Even then, their customer support team will help you get the right connection to Netflix. While the announcement made by Netflix on its crusade against VPNs and the proxies was a huge success, NordVPN and a handful of VPN services still bypassed the firewall. NordVPN did this by playing it smart with its upgraded SmartPlay technology, allowing its users to access Netflix even with the restrictions. The best bit is that NordVPN updates its users on the regular through its support pages, keeping you informed of the secure access paths to Netflix.
Currently, NordVPN lets you stream Netflix from any server through #707-710, 722-725.
Does NordVPN encrypt data? Yes. Whenever you connect to NordVPN, a VPN tunnel is created. The tunnel is simply a connection between you and NordVPN servers. All data within that tunnel is highly encrypted, and you are the only one who knows about the contents of the information being sent. The encryption is done with a 256-Bit Key which offers an excellent level of protection while maintaining top performance even when using a phone or a netbook. For open connections, it uses AES 256 CBC algorithms. The IKEv2/IPSec ciphers are employed for the generation of the Phase1 keys which are AES-256-GCM and used for encryption. AES-256-GCM is coupled with the SHA2-384 to enhance the integrity of the connection. The latter is combined with Perfect Forward Secrecy (PFS) using the 3072-bit Diffie Hellmann Keys.
Is NordVPN good for gaming? NordVPN is the best VPN for gaming thanks to its DDoS protection, the worldwide access. Since online games get extremely competitive, players play dirty tricks on each other. Using NordVPN, you will be protected from DDoS attacks. The worldwide access ensures that you get access to new games as soon as they are released. NordVPN is also great for online gaming because it protects you from bandwidth throttling which could mess up your game. Your avatar's performance depends on your internet speed, and you don't want your ISP messing things up for you.
Does NordVPN block ads? Using DNS requests, NordVPN blocks ads. You could also use Perfect Privacy filters to remove ads and other unwanted domains.
Is NordVPN legal? Yes, the service itself is legal.
Does NordVPN charge monthly? The company offers a 3-year NordVPN package for $107.55 for a monthly fee of $2.99, but you will have to pay for the 3-year package once. You could, however, opt for the $11.95 monthly plan.
Does NordVPN have DNS leak protection? The NordVPN DNS servers ensure that there are no leaks. However, if you still experience leaks, always ensure that you are connected to the VPN and you might want to clear cookies and the cache from the browser.
Does NordVPN work in Australia? Yes.
Does NordVPN work on PS4? Yes, through your router.
Does NordVPN work in UAE? Yes.
Does NordVPN work with Apple TV? Yes.
Does NordVPN work on Firestick? Yes.
I'm very interested in hearing about your experience with NordVPN. Don't hesitate to leave a NordVPN review in the comment section!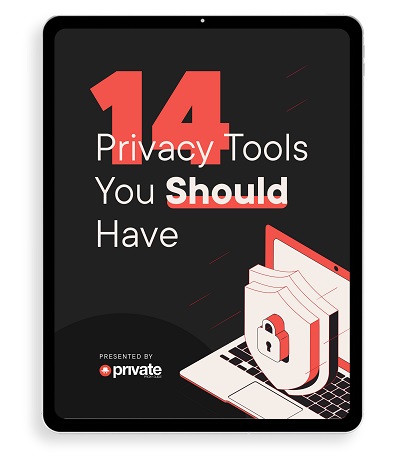 Learn how to stay safe online in this free 34-page eBook.