NordVPN has a huge network of specialized servers, Kill-Switch feature protecting the connection when it is broken, a double encryption option, and a DNS query leaks resolver. And, most importantly, NordVPN strictly follows the policy not to log any network activity. This is possible because the company works under the jurisdiction of Panama where the laws help to protect user anonymity.
NordVPN has had somewhat of a bad reputation in the past for having slow servers in some countries, but that's not something I've experienced. NordVPN is constantly among the top-recommended VPN services on many VPN-review sites and by Youtubers. This is not a coincidence. NordVPN is actually the biggest VPN-provider on the web and they let you stream Netflix and watch BBC iPlayer without any buffering issues. You can always ask their support for the best Netflix server to connect to. NordVPN is also excellent for torrenting.
Pros
No activity logs.
Jurisdiction of Panama.
Six simultaneous connections
Servers in 61 countries.
P2P support.
High performance and speed.
30-days money-back guarantee.
Accepts cryptocurrencies.
Reliable encryption.
Obfuscated servers.
Double VPN.
Onion Over VPN.
Automatic Kill Switch
Cons
Servers are offered only by country, not a city.
NordVPN is still the #1 recommended VPN-service by Private Proxy Guide and this is shared by many others.
Why not take a look at a few NordVPN reviews on Reddit? There are also a few good user reviews on Quora which are positive. I also like the professional review from CNET. NordVPN currently has a TrustPilot Score of 4,4 which is very good.
Here is a brief overview of NordVPN:
| | |
| --- | --- |
| Number of simultaneous connections | 6 |
| Number of servers | 3522 servers in 61 countries |
| Guarantee | 30-day money back guarantee |
| Payment methods | PayPal, Paysera, WebMoney, and Bitcoin |
| Price | From $2.99/month |
| Logs policy | No logs |
| Torrenting allowed | Yes |
| Works with Netflix | Yes |
| Supported protocols | OpenVPN, PPTP, L2TP, iKEv2 |
| Encryption | AES-256, AES-128 |
Find our top VPN-provider alternatives to NordVPN below.
Where is NordVPN based?
One of the most positive aspects we found out in our NordVPN review is that the company is based in Panama and promises not to store any logs or transfer them to third parties. It is important to know that the Internet in Panama is not censored and is not under state supervision. It will protect your online privacy! Of course, NordVPN does not physically have an office in Panama. Many VPN providers practice very interesting and old trick. To register their trademark, they choose a country that is not one of Fourteen Eyes countries. So, the headquarters of these companies are physically located in other countries but the companies are under the jurisdiction of one of the neutral country. In a case of NordVPN, this is Panama. How does it influence the privacy and security of every user? The fact is that officially no one can force the company to give the user activities logs to the local government of a country that requested them. That is why NordVPN can honestly state that they do not save any user logs. Some other VPN services must provide the private data as they are under the jurisdiction of the country where it is a direct responsibility and must obey the local laws. NordVPN uses CloudVPN to register its applications for Android and iOS, as well as for processing PayPal payments. So, NordVPN can safely deny thousands of requests to provide the user data. And this is good.
---
How much does NordVPN cost?
The process of registration is very simple. It can be conditionally divided into 3 steps:
---
How does NordVPN work?
Once you have created an account, your next step is to download and install the client application.
---
NordVPN Features
---
NordVPN Server Locations
3522 servers owned by NordVPN are located in 61 countries around the globe. They are located both in popular countries like USA, Canada, Brazil, Great Britain, France, Netherlands, Sweden, Switzerland, Lithuania, Russia, South Africa, Singapore, Australia, and quite exotic ones like Albania, Indonesia, Thailand or South Africa.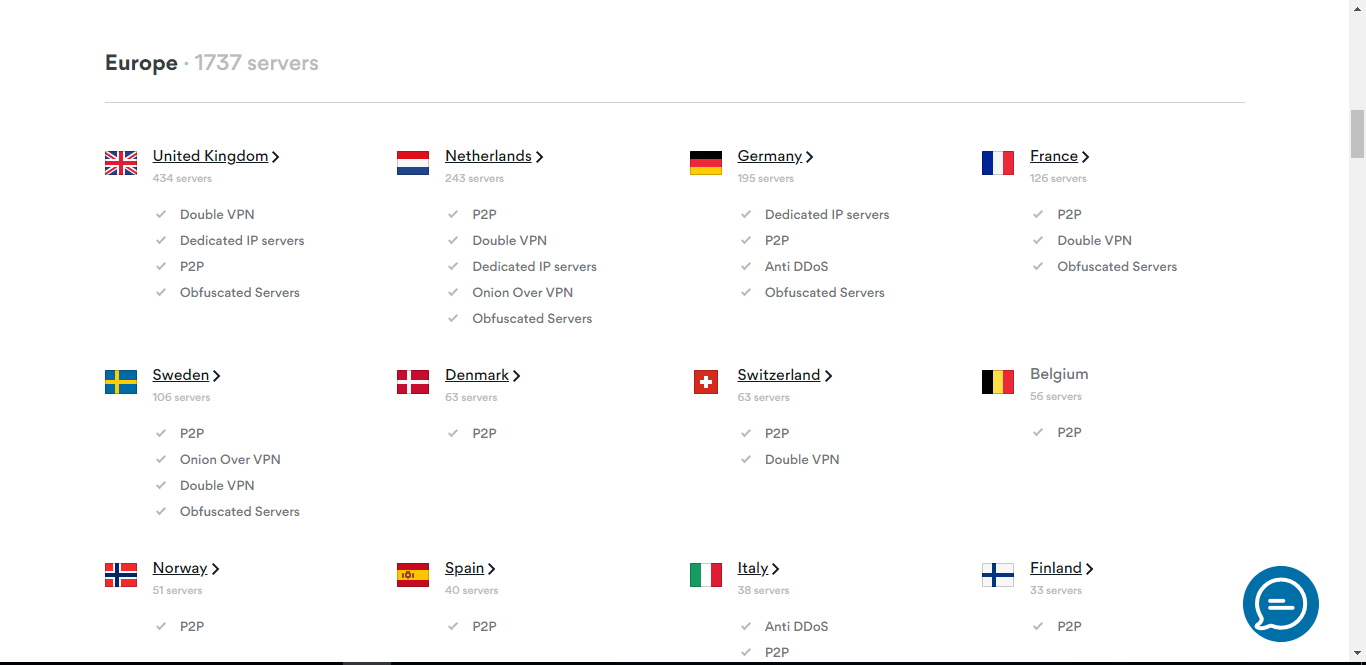 Depending on your needs, you can choose ultra-fast servers for viewing video content or using peer-to-peer networks, or a VPN with double encryption or access via Tor for increased anonymity, Anti DDoS servers that prevent denial of service attacks, or just plain servers to hide an IP address, encrypt the links and be protected against online activity tracking. On the official site, you can find the detailed information about all the servers. You will find the full list of them, and what security protocols they support.
---
NordVPN Speed Test
When choosing a VPN service, is it important to know how much it will affect the connection speed.
Find out more about how to check your VPN connection in this article.
To check how NordVPN is coping with that, we used the SpeedTest service by Ookla. Being physically located in Ukraine, we connected to several servers around the globe and checked the ping time, download and upload speed.
As expected, the download speed through the remote servers was significantly lower due to the physical distance. However, there is a choice of fast servers optimized for streaming, that provides a faster connection. If you just browse the pages, you will not probably even notice any speed drop. You can also try to connect to another server or use a wired connection instead of Wi-Fi. Why do the results differ?
While working through the VPN service, the Internet connection speed depends on several factors:
NordVPN invests much money in the server infrastructure development and the connection conditions improvement.
---
NordVPN DNS-Leak Test
NordVPN uses the following encryption sets: AES-256 for L2TP/IPSec, 256-bit SSL encryption for OpenVPN, and MPPE-128 encryption for PPTP. It means that the user gets the highest level of security. The NordVPN desktop client also has an App Kill Switch, which prevents IPv4 DNS leaking. NordVPN does not save service activity logs. The only user information the NordVPN collects and stores is email addresses, usernames, and payment information. Even the most security-crazy customers can feel fully protected by using anonymous email service and payment systems like Bitcoin, in combination with Tor-via-VPN and double encryption. For those who especially care for security, NordVPN recommends using the OpenVPN and IKEv2/IPsec encryption protocols.
The OpenVPN protocol, which uses 2048-bit SSL encryption of military class, is installed by default in the applications for Windows and Android. IKEv2/IPsec protocol which is considered even more secure is used in by default in iOS and Mac OS applications. It uses 3072-bit encryption and the Perfect Forward Secrecy system, which generates a unique secret encryption key for each session.
Windows users may consider SSTP protocol as the most stable, but it did not pass an independent audit, so, keeping that in mind, do not forget about the risks. Older PPTP and L2TP/IPsec protocols are far less secure, so they should be used only when the security is not a priority or old hardware does not support new protocols. NordVPN also does not allow DNS servers unencrypted requests using a special DNS address resolver that ensures the security of all requests.
We also checked how secure are all the servers we used in the previous heading.
The connection is secure and fully protected. There are no leaks.
---
NordVPN for Torrents and GEO-Blocked Services
With NordVPN SmartPlay (we mentioned it above), users can access more than 400 streaming services like Hulu, ABC Go, Zattoo, Slacker, Amazon Prime, Startrek, NBC Sports, Cartoon Network, Vevo, WeTV.com, Food Network, Crackle, VH1, Telemundo, TNT Drama, Sundance.tv, DramaFever, Spike, Discovery, PBS, and more.
NordVPN uses an encrypted proxy connection (encrypted smart DNS service), which does not require additional configuration. Smart Play automatically redirects requests to view streaming video on the server in the country where the service is allowed. Smart Play is enabled by default and works the same in all NordVPN applications: when connecting to a VPN server, the app determines whether a streaming service is required. In practice, this means that you can watch Netflix from the United States, even if connected to a server outside the United States. Unfortunately, NordVPN Smart Play does not work on devices that do not support the NordVPN client installation: smart TVs, game consoles, and a Roku streaming video player.
As you remember, we are physically located in Ukraine. We tried the following services:
BBC iPlayer: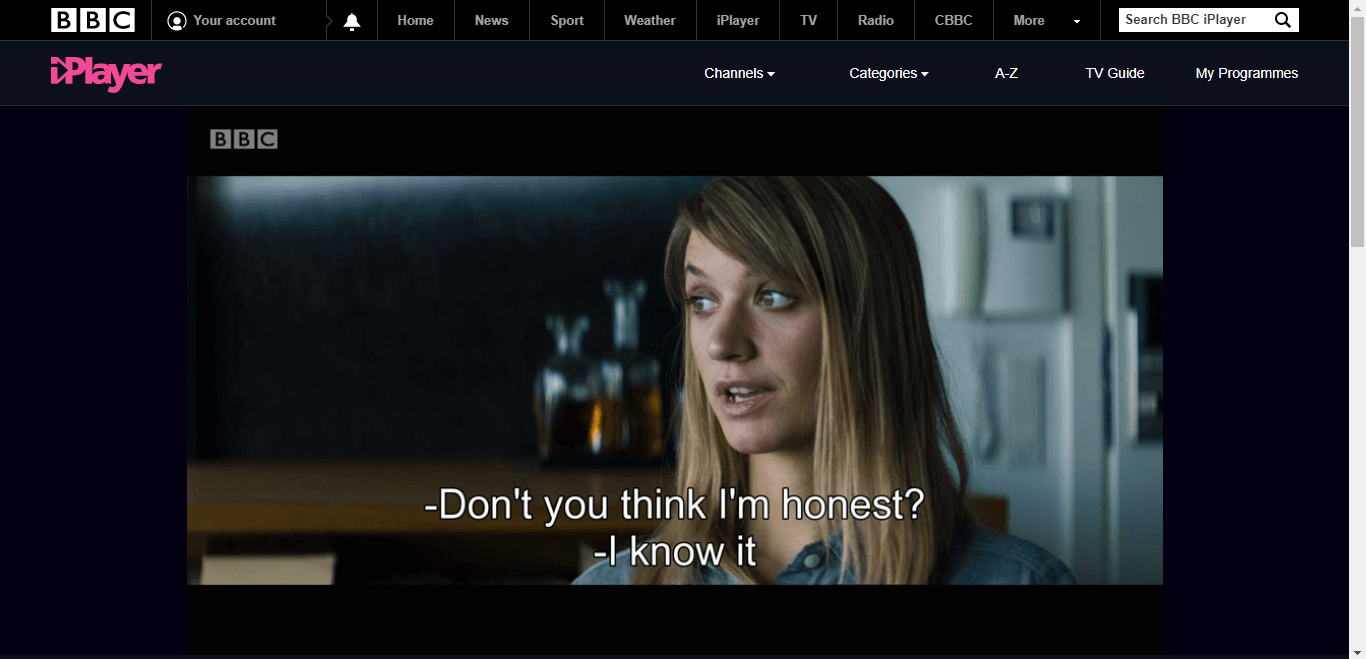 CBC TV: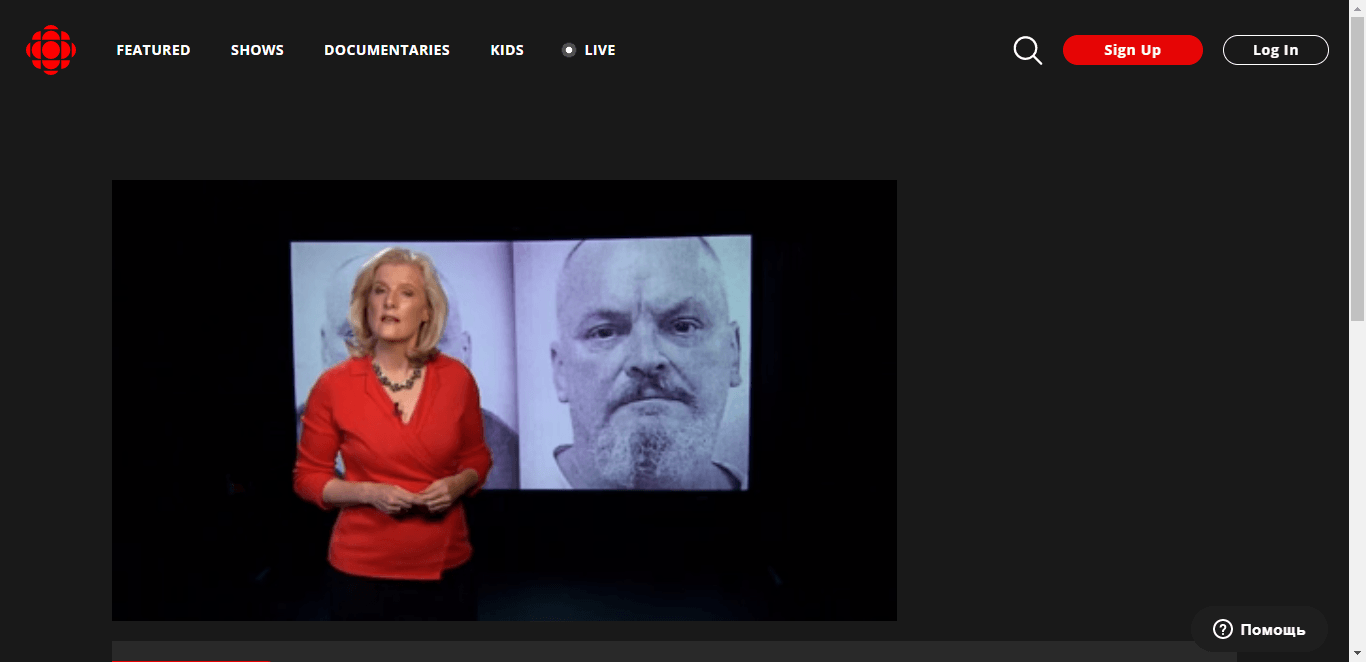 ABC iView:
As you can see, all of them can be easily accessed even from the countries where they are not available. But in some cases it's necessary to try several servers to watch something on these services. Also, we tried to download the torrent file via a Qbittorrent app for Windows. The results were satisfying. The connection is fast and with no speed limits.
---
NordVPN Website and its Availability in Censored Areas
NordVPN has a beautiful and well-organized website, where you can find a lot of information about the features, tariff plans, available servers, and get the technical support. The company provides online chat support for 24 hours a day, 7 days a week, as well as e-mail support and on-site applications. The site also offers a number of free tools, including a list of proxy servers, free proxy, and even a special proxy server for YouTube, which allows you to watch all the videos, regardless the geolocation restrictions.
---
NordVPN Support
Round a day customer support is available via the web form, online chat, Facebook, Twitter or by email. It usually takes about 5-10 minutes to get a reply, but quite often they react as fast as less than a minute.
---
How to cancel your NordVPN subscription
You have 30 days to stop the subscription and get your money back. In most cases, the users got their money in a couple of days.
---
NordVPN FAQ
I'm very interested in hearing about your experience with NordVPN. Don't hesitate to leave a NordVPN review in the comment section!