Building a successful online store takes patience, resources, and a quality eCommerce platform. One of them is Magento, which is characterized by a rich palette of templates, features, and functionalities that allow you to personalize your online store fully.
In addition, Magento is one of the oldest eCommerce platforms on the market, and with more than 14 years of existence, its formula is pretty much perfected. Magento is an open-source solution, which makes customizing your store and tailoring it to your needs that much simpler.
To run Magento, you need a quality Magento hosting solution that will be able to meet your demands. As a result, you can make the most out of your online store and maximize your business potential through the implementation of coupons, discounts, and quality landing pages.
The question now is – what is the best Magento hosting in 2023? Well, I aim to answer that question in today's article, as I go over the best hosting services that fully support Magento, review them, and point out their pros and cons.
1. Best Magento Hosting in October 2023
Finding a great Magento hosting service is time-consuming, especially when you're doing it on your own. With our help, the process will be simpler regardless of your needs and aspirations. Needless to say, our list will consist of hosting services varying in prices, features, and performance.
You will be able to find a pick that suits you well for small, medium-sized, and large businesses, so if you're ambitious, many of the services below will be suitable too. Without further ado, let me introduce you to my 6 favorite Magento hosting providers in 2023.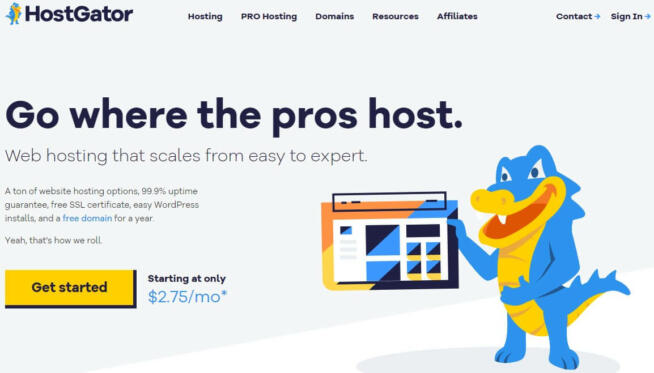 To start this list, let's talk about HostGator, one of the best hosting services around. HostGator, unlike many of its competitors, offers Magento on shared hosting plans, which makes it significantly more affordable, yet, equally reliable.
The setup process is simple too, and if you want to install Magento, it'll let you do that with a single click of a mouse. Moreover, HostGator offers a free website builder, meaning that you can start customizing your web store as soon as Magento is installed.
The greatest thing about Hostgator is that it supports Magento on all of its hosting plans. Shared hosting is for those with smaller online stores, while VPS and dedicated solutions are aimed at those with higher demands and serving more people.
Either way, HostGator offers free migrations, so if you were using another hosting service and you want to switch to HostGator, you can do it effortlessly. Also, shared plans come with unlimited bandwidth and disk space, so you can enjoy the best possible performance at any given moment.
When it comes to pricing, as said, Hostgator is pretty much the cheapest Magento hosting solution. If you're interested in shared hosting, it starts at a measly $2.75 a month where you get a free domain and SSL certificate, along with unlimited bandwidth, and of course – support for Magento.
VPS and dedicated hosting solutions are more expensive, though. The starting VPS hosting plan will cost you $23.95 a month and you'll get 2 GB RAM, 120 GB SSD, and a 2-core CPU. And if you want to use Magento with dedicated hosting solutions, you're looking at a price that starts at $89.98 a month.
This is practically the only downside of Hostgator – a bit more expensive VPS and dedicated plans, as well as weekly backups, which some users might find unforgiving. However, with all of these advantages, I don't know many people who don't admire Hostgator and its offerings.
Pros
Very affordable – starts at $2.75/mo
Unlimited bandwidth and storage
Excellent performance
One-click Magento installation
Includes a free website builder
Free SSL certificate
Cons
Expensive dedicated and VPS plans
Weekly backups
A2 Hosting is a service known for its focus on performance, speeds, and smoothness, thanks to fast storage with Turbo Servers. This is among the best Magento hosting solutions, offering flexible subscription plans and tons of security features.
Regardless of the plan you choose, you'll have the luxury of using its NVMe storage, which is, as you know, the fastest storage you can get. Moreover, A2 Hosting offers data centers worldwide, and before you subscribe, you can choose the location of your data center to maximize performance.
Unlike HostGator, A2 Hosting aims to be a bit more reliable thanks to daily backups. This ensures no data loss harms your site, because, if things go south, you can always get the backed-up data and continue going like nothing happened.
This is highly unlikely to happen, though, as A2 Hosting promises 99.99% uptime, which is essential for a fully-functioning Magento online store. Similarly to HostGator, A2 Hosting will cost you $2.99 a month for the Startup shared hosting plan.
Here, you get free site migration, unlimited transfer, email accounts, and even a free website builder that will help you set up your online store in a short period. As far as the choice of data centers goes, you can choose from Michigan, Arizona, Singapore, and Amsterdam.
A2 Hosting's shared hosting is very cheap and you can get its Turbo Max plan, the best one, at just $14.99 a month. You'll get unlimited NVMe SSD storage here, coupled with 20x faster speeds, higher SEO rankings, website stagging, and the cPanel Control Panel.
VPS and dedicated solutions are much more expensive but you do get the option to choose from managed and unmanaged hosting. I'd like to see unlimited storage on the cheapest plan, to be honest, because that's something I could enjoy on HostGator.
Pros
Very fast NVMe storage in all plans
99% uptime
Starts at just $2.99 a month
It offers daily backups
Data centers in Michigan, Arizona, and Singapore
Free migrations
Cons
Limited storage even in the most expensive plans
Only one data center in Europe

InMotion is yet another affordable Magento hosting solution that won't cost you a fortune. I like its flexible subscription plans that offer a lot of valuable features. This even applies to its cheapest plans, where users can still install Magento and take full advantage of it.
First, InMotion offers blazing-fast SSD storage in all plans, which guarantees great performance across the board. Then, you get a HUGE 90-day money-back guarantee, which basically lets you use InMotion for 3 months and get a refund if you decide you don't need it anymore or you don't like it.
But, to be frank, there's not much to dislike here, except for the fact that installing Magento will cost you $5. This is a one-time payment, so if you can get over it, that's a good way to go. InMotion suggests that its VPS plans are ideal for installing Magento.
Thus, the cheapest VPS plan starts at just $19.99 a month for the 3-year plan where you get 90 GB SSD, 2 TB bandwidth, and 2 dedicated IPs. This plan also packs 2 vCPU cores and 4 GB RAM, plus a free SSL certificate, cPanel Control Panel, and free website transfers.
Unfortunately, other VPS plans are a lot more expensive, so if you want the one with 8 GB of RAM, for example, you're looking at the price of $39.99 a month in a 3-year plan. If you need a dedicated Magento hosting option, its prices already go up.
The Aspire plan – the starting one – costs $89.99 a month for the annual plan, for example. However, you get an Intel Xeon E3-1246 processor with 16 GB of DDR RAM, 10 cPanel licenses, and 10TB/mo bandwidth, which should be more than enough.
I don't like that InMotion offers data centers just in Canada and Los Angeles and the fact that you don't get unlimited bandwidth isn't helping it either. Still, InMotion offers some of the cheapest VPS hosting plans for Magento, so it's worth looking at if you want a feature-rich and reliable option.
Pros
90-day money-back guarantee
VPS plans start at $19.99 a month
cPanel Control Panel in all plans
Fast Intel Xeon processors
Free website transfers
Fast SSD storage
Cons
Magento installation costs $5
Data centers only in LA and CA
It doesn't offer unmetered bandwidth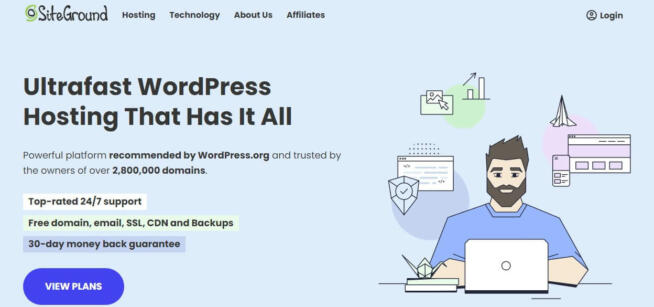 SiteGround is a great option if you're looking to install Magento quickly and effortlessly. This service offers tons of hosting solutions with solid performance, excellent security, and 24/7 phone support for helping you out with the setup process or potential issues.
However, issues are the last thing you'll experience with SiteGround, as it offers great stability with virtually no downtime. Contributing to that is a huge data center fleet scattered across Brazil, the UK, Spain, the Netherlands, Poland, Germany, Singapore, Tokyo, Australia, Finland, and six locations in the US.
SiteGround offers a solid array of subscription plans, all of which support the installation of Magento. However, you'll have to install it manually but given its simple installation, that shouldn't be a problem. Overall, it's not the cheapest option on the list, as its StartUp plan starts at $3.99 a month.
In this plan, you get unmetered traffic, free CDN, email, and email migrator, as well as 10 GB of web space. In addition, eCommerce features are enabled, which means that Magento will work well. SiteGround includes enhanced security in this plan, plus, you get daily backups for added reliability.
For me, the best-value plan is GrowBig at just $6.99 a month. This plan offers everything I mentioned plus website staging, 30% faster PHP, and on-demand backup copies. You also receive unlimited websites, 20 GB of web space, and the ability to handle 100,000 visits monthly.
Beware that SiteGround offers no VPS hosting and its storage isn't the largest. I'd also say that it's not the cheapest option on the list, although it offers plenty of features for the money you're paying.
Pros
Tons of data centers across the US, Europe, Australia, and Asia
Starts at $3.99 a month
Free CDN and unmetered traffic
24/7 phone support
Daily backups are available
Cons
No VPS hosting
Its storage could be larger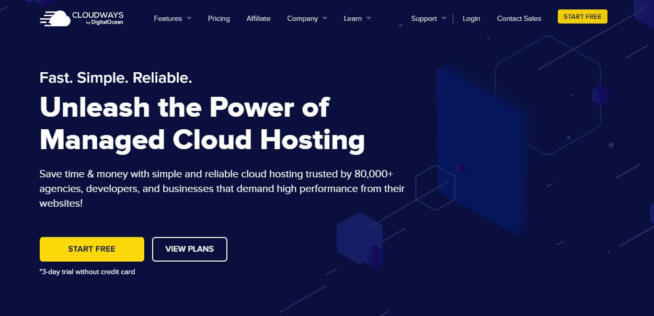 Cloudways doesn't offer shared, VPS, or dedicated hosting solutions. Instead, it focuses on cloud hosting, which you could already guess judging by its name. Is that a bad thing? Absolutely not! In fact, Cloudways is one of the best Magento hosting solutions based on the cloud.
The great thing about Cloudways is that it fully supports Magento in all hosting plans that range from $10 to $96 a month depending on many factors. Cloudways offers managed Magento hosting plans with providers like DigitalOcean, AWS, GCE, Linode, and Vultr.
This makes the pricing structure fairly complex, as it depends on the cloud provider, the amount of storage, and many other factors. Plus, you can choose from Premium and Standard plans, which brings about a new pricing structure that can make you confused.
But, if you ask me, its 12/mo Premium plan with DigitalOcean servers is great. You get 25 GB of storage, 1 TB of bandwidth, 1-core processor, and 1 GB of ram. In addition, this plan comes with 24/7 real-time monitoring, automated backups, auto-healing, and SSH/SFTP access.
Plus, you get unlimited app installation and free migration, and SSL, which makes this affordable plan very appealing. The most expensive solution is using a cloud server from AWS, in which case, the cheapest plan starts at $36.51 a month with a few more features sprinkled in.
Important to mention is that all providers on Cloudways' site offer 99.99% uptime and 24/7/365 support. However, as the choice of different parameters dictates what you'll get, it's better to visit Cloudways and see what you get for the money.
In the most expensive plan at $225.93 a month (GCE Data Centers), you'll get 15 GB of RAM, 4-core vCPU, 20 GB of storage, and 2 GB bandwidth. If you don't mind the complex pricing structure and bandwidth/storage limits, Cloudways has a lot to offer for small and medium-sized online stores.
Pros
Cloud hosting from DigitalOcean, AWS, GCE, Linode, and Vultr
It starts at $10 a month
SSH/SFTP access is included in all plans
Unlimited app installation
Cons
A very complex pricing structure
Storage and bandwidth limits
No VPS and dedicated hosting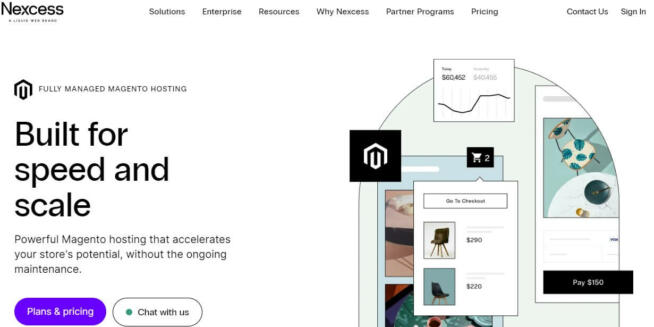 The final pick for today is Nexcess and I found this Magento hosting solution extremely handy in terms of scalability and performance. As such, Nexcess is great for all types and sizes of eCommerce sites that want great speeds, 99.99% uptime, and other advanced functionalities.
Just to make it clear, this isn't the most affordable pick on the list and with the starting price of $41.30 a month, you're not going to save tons of money. On the flip side, Nexcess offers fully-managed Magento hosting solutions with free SSL, PCI compliance, and even SSH access.
The starting plan comes with 1 TB bandwidth, 50 GB storage, and 25 PHP workers per plan. Even better is the fact that it can handle up to 11 sites, so if you're looking to expand your eCommerce business, even this plan will do its job perfectly fine.
Moreover, Nexcess has a built-in CDN, with the addition of 50 autoscaled PHP workers in the same plan. This plan is called XS but you get 5 more plans, with the most popular plan being L. It costs a whopping $216.30 a month and offers 5 TB bandwidth, 400 GB of storage, 20 VCPU, and 20 GB RAM.
In addition, this plan handles up to 31 sites, making it a great choice for extremely large businesses. The XXL plan is very expensive and with $601.30 a month, it's decent only for people with deeper pockets that need lots of RAM, more bandwidth, and 800 GB of storage that it offers.
Nexcess is surely among the best Magento hosting solutions on the list but if you're on a tight budget, you surely won't consider it. Is it worth the price, though? Well, considering everything I said, I think it's worth the cash as long as you can afford it without compromising on your quality of life.
Pros
Managed Magento hosting
PCI compliant
1 TB bandwidth in the starting plan
Built-in CDN
Cons
It could be more affordable
Cheaper plans are quite limited in storage
2. Best Magento Hosting FAQ
Yes, shared hosting fully supports Magento but you should keep in mind that this is ideal for smaller businesses. If you're looking for the best Magento hosting for larger businesses and online stores, more expensive VPS and dedicated hosting solutions are better.
2.2 Can I find a free hosting service for Magento?
Unfortunately, a free hosting service for Magento doesn't exist. You'll have to pay for this type of hosting, but the good thing is that you always get a money-back guarantee, so getting a refund is possible for whatever reason.
2.3 What is the cheapest Magento hosting solution?
The cheapest Magento hosting solution on this list is HostGator and it starts at just $2.75 a month at the time of writing. You can also try A2 Hosting at just below $3 a month, and another great choice is SiteGround at $3.99 a month for the StartUp plan.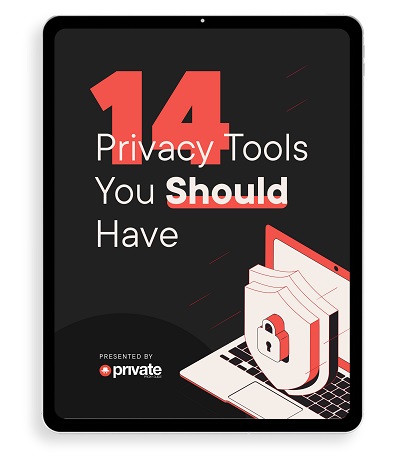 Learn how to stay safe online in this free 34-page eBook.