ExpressVPN is considered the bigwigs of the VPN industry for all the right reasons. With an unblemished past and squeaky-clean record, the VPN service outdoes itself on numerous fronts.
Focusing on the OTT streaming aspect would benefit a growing market. On the northern side of things, the prices are higher than their competitors, almost double in many cases.
They can work in the pricing department to be more competitive and help users in considerable savings.
| | |
| --- | --- |
| Jurisdiction | The British Virgin Islands |
| Simultaneous connections | 5 |
| Supported VPN protocols |  Lightway(UDP and TCP), OpenVPN(UDP and TCP), L2TP, and IKEv2 |
| Logs policy | No logs |
| Price | From $8.32 per month for the annual plan |
| Money-back guarantee | 30-day money-back guarantee |
| Customer support | Email and Live Chat |
| Works with Netflix? | Yes |
| Allows torrenting? | Yes |
| Servers | Over 3,000+ servers in 94+ countries. |
 Pros
Unlimited bandwidth with no restrictions of any kind
Split-tunneling on Windows and macOS
Supports a wide range of platforms and devices
Six different VPN protocols supported
Robust encryption for data transmission and secure server authentication
TrustedServer server technology ensuring no data is left behind on the servers
Versatile browser extension to fulfill VPN needs without requiring the desktop client
 Cons
More expensive than its competitors by a large margin
Servers are not marked for different OTTs and services
The desktop app needed for authenticating the browser extension
1. What We liked about ExpressVPN
1.1 Mobile App
It is only fitting to start with the smartphone app since it outnumbers desktop users by an incomparable margin. For our users in developing South-East Asian markets, you may not find ExpressVPN on the Google Play Store due to regional restrictions. There is no such problem for iOS users.
You will be greeted by consent for sharing your usage data with ExpressVPN for performance improvements. It's better to keep that door closed since we never know what's behind those doors and how your data may be used.
Before moving on to the app experience, we can avail of a 7-day free trial when you register through the smartphone app. The home screen exudes a minimalist feel with a connection button along with the location dialogue box.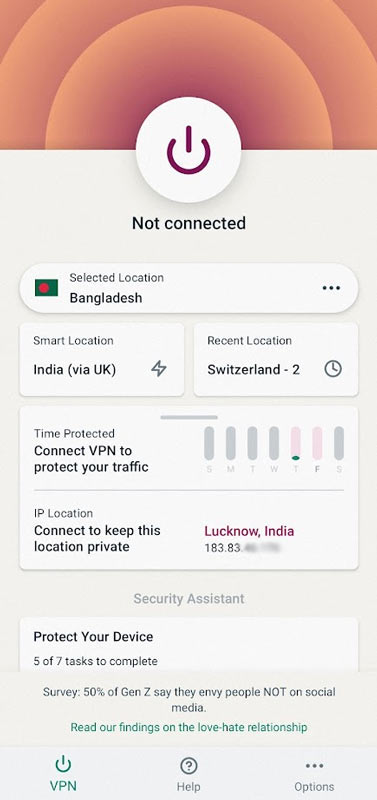 The Smart Location box appears below that, suggesting the best possible server location that offers the maximum speed with optimal performance.
Here the connection on tapping the button feels blazing fast with no delay at all whether the server is from 10,000 miles away or just an hour away from your location. It gets connected without any hiccup.
Move below the location box, and you will see the Security Assistant panel, which has certain measures to secure your device. You can go through it in your leisure time.
Notification Bar
We get a peppy notification bar. It does not show the speeds data like PureVPN, but you get a disconnect button. You can use it to disconnect the VPN connection, whereas it cannot be used for reconnection. For that, you will need to get back into the app for connecting to a VPN server.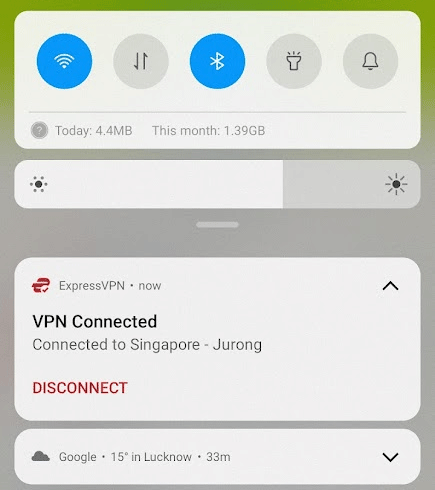 Privacy & Security Tools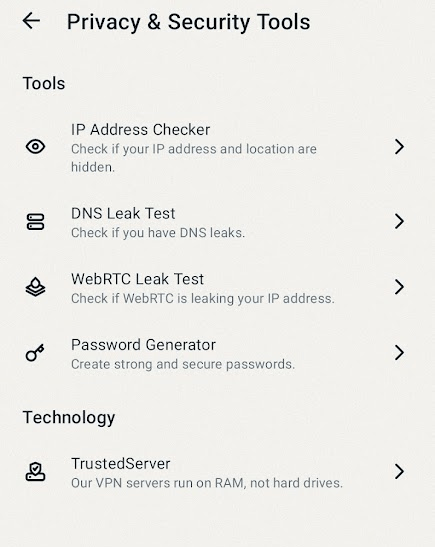 A handful of app-exclusive tools are offered, making it easy for users to keep tabs on the VPN connection. The first tool is the IP address checker, which helps determine whether you are connected to a VPN or not by seeing if it's showing your IP address or one of the VPN servers.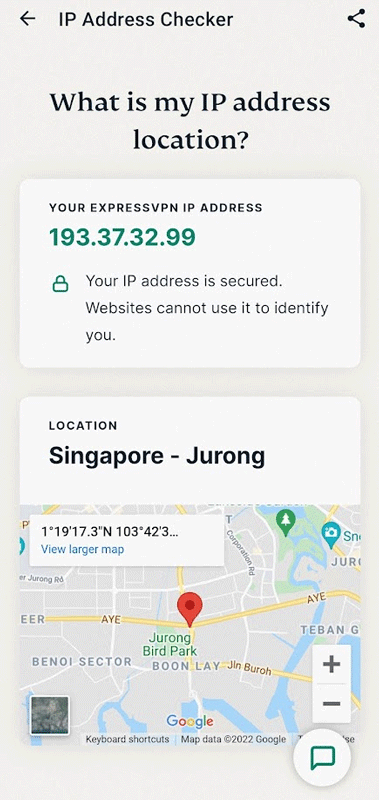 Next is the DNS leak test, which is very important for checking the reliability of a VPN server. Many DNS tools are online, but you get it on the app itself. We will do our extensive test later on, and for now, let's look at what ExpressVPN has loaded on the app. Irrespective of whether you are connected to a VPN server or not, it shows the DNS leak of your connection. Use it to compare the leak status with A/B testing.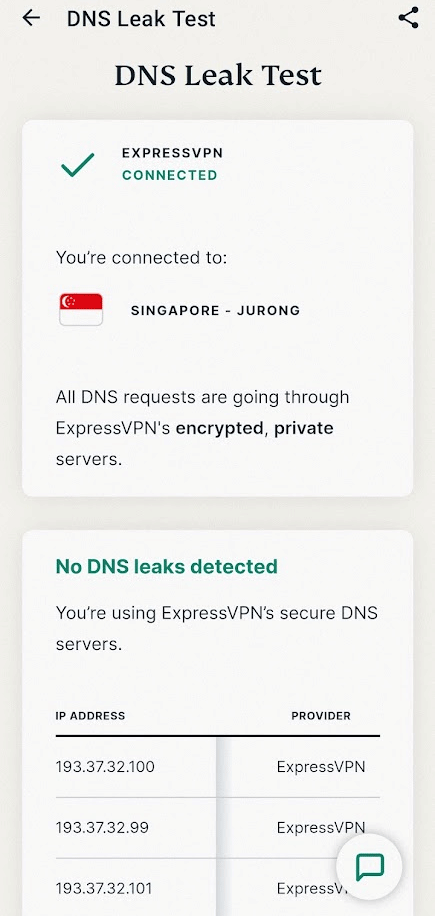 Move further down to find WebRTC Leak Test, which makes sure that your actual IP address is not shared by the browser with websites/servers when online interacting through WebRTC. A good VPN should hide your IPs from the websites visited online.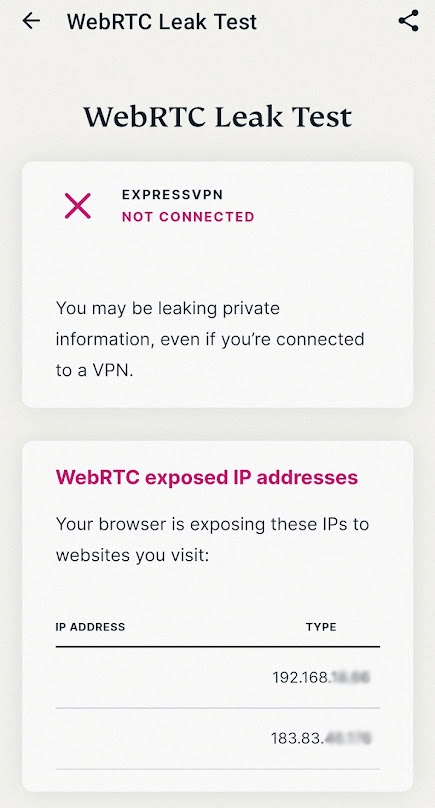 Last in the Privacy & Security tools is the password generator. Creating unique passwords for a gazillion login IDs is virtually impossible. Use the generator for generating complex passwords for all your services and keep the hackers guessing even with their sophisticated tools.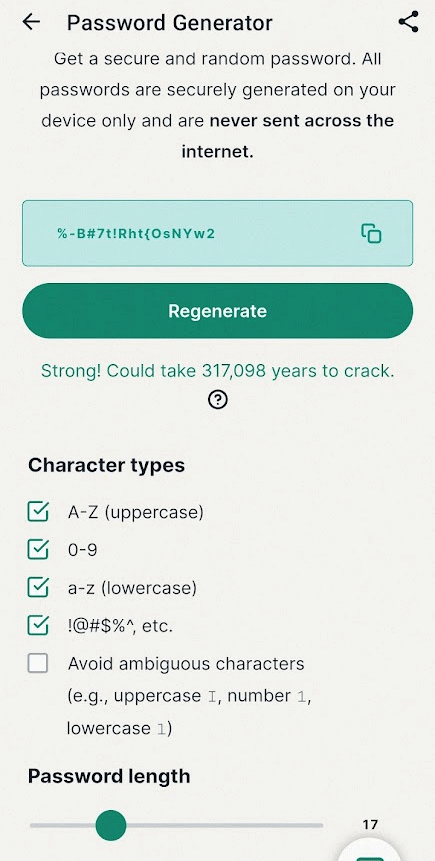 Settings
Now we head to the settings section, which has a few features up its sleeves. ExpressVPN offers four different VPN protocols on their smartphone app – Lightway UDP and TCP, OpenVPN UDP, and TCP. It is set as automatic, which is the ideal way to have it unless you have experience.
The first setting in the VPN Settings section is the Auto-connect lets users configure for automatically switching on the VPN when connecting to a network that is not on the trusted list. The other auto-connect is for when the mobile boots up; it will be connected to the VPN by default.
Split Tunneling is available where you can route or block certain app traffic through the VPN servers.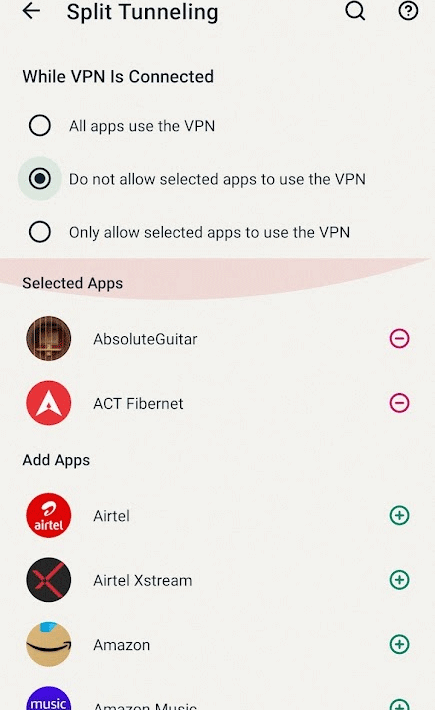 The last thing worth discussing is the Shortcuts feature. Turn on your VPN and get one-tap access to your go-to apps websites. There is no need to manually search for them from the home screen or browser to access them.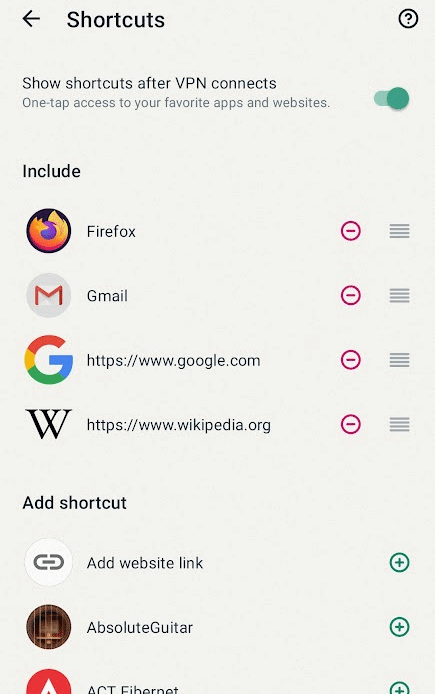 1.2 Desktop App
Let us jump on the desktop train and have a closer look at what ExpressVPN has to offer here. The app is available for Windows, macOS, Linux distros, and Chrome OS. Here we look at the Windows app, which gives an ordinary look at launch.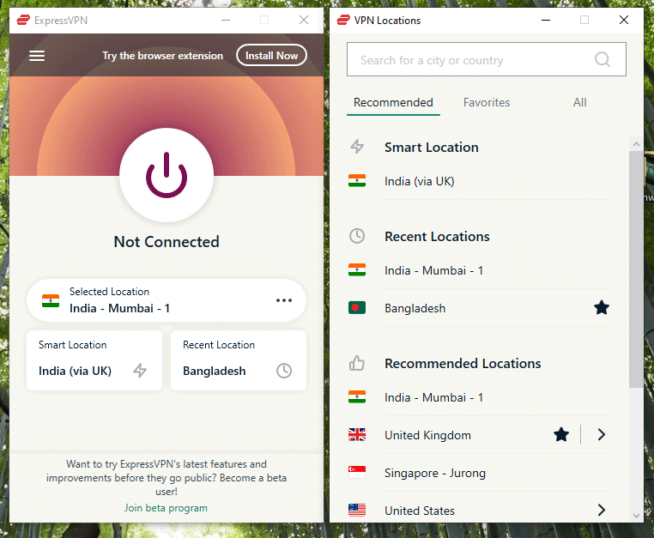 The user interface is nothing extraordinary, to be perfectly candid. Through their no-nonsense approach towards utility and easy-to-use philosophy that does as advertised, it makes it up for the lost ground. And the general usage is the same as the smartphone app, minus the security assistant. Click on the IO button for connection/disconnection. The button is followed by a location box, which you can click to open a separate VPN locations window. A separate window feels out of place, where its competitors such as Cyberghost, NordVPN, and even TunnelBear offer a unified interface, providing everything under one umbrella.
Search for a city or country using the search box. Click on the right arrow next to the country name for accessing city-based servers. There is an option to mark a specific country or city server as a favorite by pressing the star button next to the location. You can find the favorite servers in the separate section, but that's is all it can do.
Like the smartphone app, there are the privacy and security tools – IP address, DNS leak test, and WebRTC leak test. They are accessible under the Help & Support from the hamburger menu.
Speed
Can you go far by counting the number of features and their specialty when the critical aspect is sub-par? We are talking business here with the VPN server speeds. It is a crucial component in a customer's decision-making. Anonymity, security, and good speeds go hand in hand with a good VPN service.
Our computer configuration, in a nutshell, should tell you speed tests won't be a bottleneck from our end.
| | |
| --- | --- |
| Internet Speed | 500 Mbps Downstream, 450 Mbps Upstream – Wired |
| LAN Chipset | Realtek® RTL8111HN Gigabit LAN |
| Processor | AMD Ryzen 5 5600x |
| Browser | Mozilla Firefox and Google Chrome |
The tests will be conducted using speedtest.net, selecting a default server by itself. ExpressVPN is serving globally, with servers in over 94 countries; it is only fitting to test speeds for 7 different locations situated in various parts across the world. We conducted three tests spread across distinct times of the day and concluded an average speed for each server location.
| | |
| --- | --- |
| City | Speed |
| India (Host region) | 475 Mbps (Down), 301Mbps (Up) |
| Germany | 358 Mbps (Down), 186 Mbps (Up) |
| USA | 274 Mbps (Down), 299 Mbps (Up) |
| France | 381 Mbps (Down), 312 Mbps (Up) |
| United Kingdom | 379 Mbps (Down), 415 Mbps (Up) |
| Japan | 277 Mbps (Down), 204 Mbps (Up) |
| Australia | 170 Mbps (Down), 215 Mbps (Up) |
ExpressVPN did not disappoint in the speed department. There were zero instances where the speeds went through a downward spiral, even though the busy parts of the weekday.
1.3 Browser Extension
A lot of the VPN services offer their browser extension as a supporting app to their primary desktop app. That is not the case with ExpressVPN, where the browser addon can take the lead, and you would not need the desktop app open at all. It can protect not only the browser traffic but the entire device. Connect to a VPN server and use it across all the apps browsers.
Remember that the desktop app needs to be installed on the computer to use the browser extension.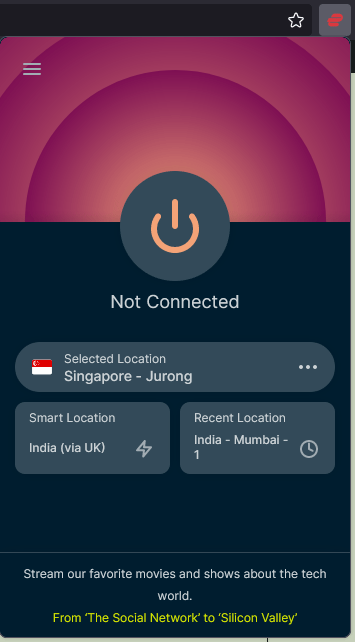 Here the user interface shares its philosophy with the mobile app. You cannot mark any server as a favorite, and only recent, smart location connections are visible. The only usable setting is the connect on browser launch, which connects to a VPN when the web browser is launched. Along with that, we can set a keyboard shortcut to open the VPN extension without reaching for it in the toolbar menu.
1.4 Customer Support
The VPN service can be the best globally, but it is imperative to hit snags or run into specific problems. For those reasons, you need dependable customer support to take you to the other side. ExpressVPN excels in this department, providing prompt support over Live chat. When not in a hurry, use email support, which takes up to 24 hours but has an excellent ticket-based system with reliable follow-through.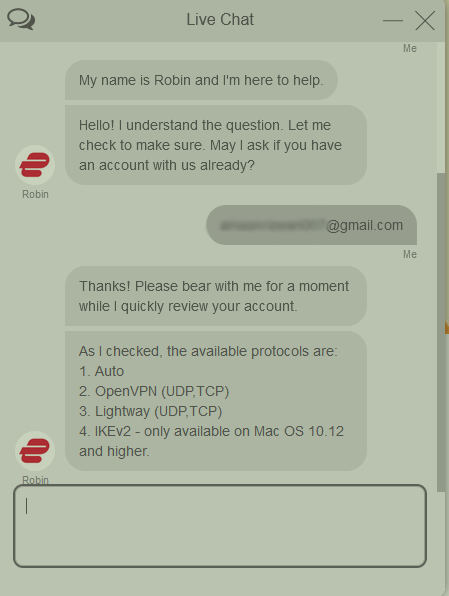 For accessing the live chat on the apps and extension, you will be redirected to the website. You will need to share your email ID with the customer support agent. Even when logged into the My Account on the ExpressVPN website, customer support will require your registered email to gather account information.
1.5 VPN Protocols
ExpressVPN offers Lightway(UDP and TCP), OpenVPN(UDP and TCP), L2TP, and IKEv2. The VPN protocol combination varies depending upon the platform you are using. It is generally set to automatic and works fine without tinkering.
Not often do you see a VPN service creating its protocol? Lightway is built from the ground up, taking the good pieces from various protocols, and also, the core codebase has been open-sourced and available on Github.
It is also independently audited by Cure53, with a published report.
Everyone is free to audit it. Meanwhile, on the security front, Lightway uses the wolfSSL, backed by the established cryptographic library.
1.6 Encryption
Like any good VPN service, ExpressVPN takes encryption seriously. All the traffic is encrypted with AES-256, which is also used by the U.S. government and a plethora of security experts around the world. Bundle it with Lightway, and most of your security worries can take a backseat.
The Lightway protocol connects over D/TLS 1.2, based on TLS, instead of the usual HTTPS over TLS, for providing enhanced protection from DDoS and Man in middle attacks.
1.7 No DNS leak – Test
DNS is like a phonebook for your computer to connect with a particular website. A phonebook contains the IP address for all the website addresses you put in the web browser.
When DNS converts your entered website URL into an IP address, it takes your IP address, location, and other relevant information. There is a risk of it landing in the wrong hands during transmission.
To check if there is a DNS leak using ExpressVPN, we have conducted an extended DNS leak test for four geographically diverse server locations. The company also offers an in-built DNS leak tester that fits well, but it is better to stick with the regular procedure followed around here to standardize the comparisons.
Test 1: Default (Without VPN)
We conducted a default DNS test without the VPN connection. You can see our default IP address, location, and ISP details. In a nutshell, there is a DNS leak here.

Test 2: With VPN – United States of America
The first test here is using a server from New York, USA. There were multiple IP addresses involved, but they concealed our actual information. Hence, there was NO DNS LEAK here.

Test 3: With VPN – United Kingdom
Moving towards Europe with the second test, using a server from London, United Kingdom. Our details were protected and concealed in the test. Hence, there was NO DNS LEAK here.

Test 4: With VPN – Germany
Here is the third test in central Europe, using a server from Frankfurt, Germany. There was no leakage or exposition of the actual details. Therefore, NO DNS LEAK is found here.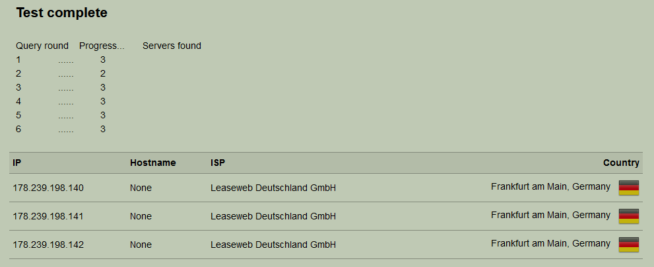 Test 5: With VPN – South Africa
The last DNS leak test is conducted in the African subcontinent, featuring a VPN server from Johannesburg, South Africa. Like the rest of the tests above, there is no details leakage here. All in all, NO DNS LEAK is found.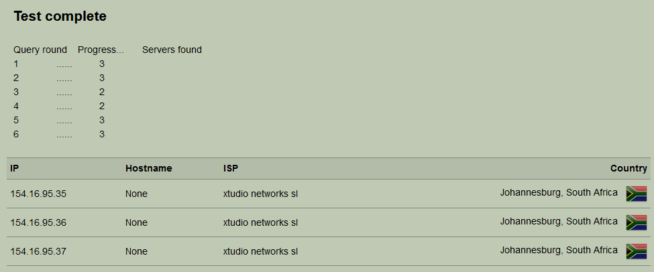 IP Address
Location
ISP
DNS Leak

49.207.xx.xxx

(Without VPN)

Delhi, India
ACT Fibernet
YES
154.6.22.18
New York, United States
Expo Limited
NO
212.30.60.39
London, United Kingdom
Cogent Communications
NO
178.239.198.140
Frankfurt, Germany
Leaseweb Deutschland GmbH
NO
154.16.95.35
Johannesburg, South Africa
studio networks sl
NO
How to Read the DNS Leak Result?
The easiest way to read the DNS leak result is by comparing the default test 1 with others. If any of the information matches, then there is a leak, and in other cases, it is not a DNS leak.
2. What We Did not like about ExpressVPN
2.1 Desktop App – Speed Test
The desktop app also offers a speed test feature which can be accessed from the hamburger icon at the top-left of the home screen. By default, the recommended locations option is selected. You can change it to your preferred region.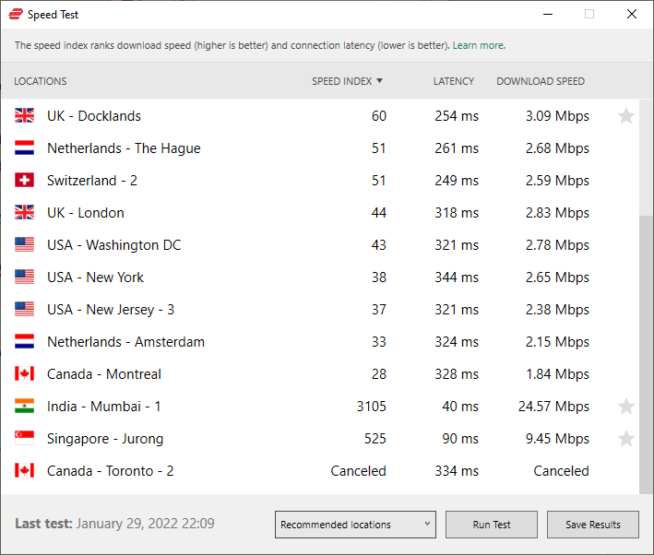 This is where it goes downhill here. The results are entirely off and nowhere near the actual speed we experienced in our thorough speed test, which we covered separately.
To confirm that our methodology of speeds was shared with what ExpressVPN conveys, we decided to have a little chat with customer care. Their explanation for the contrast in speed is because of the testing server.
On the one hand, VPN services offer capable taskbar right-click menus, minimizing the need for opening the app. Then there is ExpressVPN, where the taskbar menu is underwhelming, to put it politely. You can disconnect from a connected server.
Along with that, you have the option to connect to recently used locations. That's about it; there is no option for favorite servers or smart locations. This pretty much defeats the purpose of having a favorite server option, which is limited to the app's VPN location menu.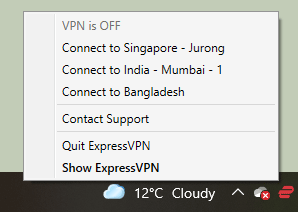 2.3 No Favorite Option on Smartphone
Liked a server location and want to use it particularly consistently? You will not find the option to mark it as a favorite on the ExpressVPN app. Sure the smart location has the potential it feels like a missed opportunity where the competitors are offering a lot of the options in the department.
2.4 Expensive
ExpressVPN's monthly plan costs $12.95/month when subscribed on a per month basis. When you subscribe to an annual plan, the price comes down to $8.32/month. But that's about it here as there is no option of a 2-year subscription to save more on the service.
The pricing is almost twice what other industry leaders such as Cyberghost, PureVPN, and TunnelBear have to offer. Granted, your service is excellent, but it cannot be coupled with inconsistent pricing, which may drive many prospective customers away.
Not providing a free trial without a credit card is not a great move, as many users are looking to take it for a test drive before making a purchase decision.
3. ExpressVPN FAQ
Does ExpressvVPN Work in China? Yes. ExpressVPN is one of the few strong VPNs that bypass the Great Wall of China. While China has the most repressive policies on online censorship, ExpressVPN has more than 2,000 servers operating in the free countries neighboring China. So, you will be able to access all the censored and geo-blocked content online.
Does ExpressVPN keep logs? With carefully engineered apps and servers, ExpressVPN categorically eliminates all and any sensitive information. ExpressVPN doesn't log (and the company promises never to log) IP addresses –whether VPN or source, browsing history, traffic destination, metadata, and DNS queries. It does keep activity or connection logs. Note, however, that ExpressVPN will collect some information about the apps and the app-versions you activate successfully, the dates (rather than times) you are connected to the VPN, your choice of VPN server location, and the total amount of data, in MBs, that you transfer daily. These details will not, however, allow ExpressVPN or other individuals to match your online network activity and behavior. The collection of these details by ExpressVPN is wholly aimed to aid in troubleshooting, for the provision of technical support, and for the ExpressVPN engineers to find and fix any network issues.
How much does ExpressVPN cost? ExpressVPN comes with three standard subscription packages. There is a monthly $12.95 plan for users looking for one-month plans. There also is a six-month plan which allows users to pay $9.99 monthly. You could, however, save a little more if you subscribe to the annual plan that costs $8.32 monthly. The best bit is that each of these subscription plans comes with a 30-day money-back guarantee, which lowers your financial risk.
Is ExpressVPN legal? VPNs are not considered illegal in most parts of the world, and you don't have to worry about legality – surfing the internet through a different IP is legal. The illegal bit of using a VPN comes when you use the service to promote or engage in child pornography, account/ email hacking, theft, fraud, or spreading viruses, among other forbidden activities. In countries like Russia, Turkey, China, and Iraq, the use of VPNs is, however, illegal.
Does ExpressVPN work for Netflix? Yes. ExpressVPN boasts fast and throttle-free access for streaming Netflix. ExpressVPN counters all the blocking maneuvers set by Netflix. All you have to do is to choose the US server location that features the highest speed index – this is after you sign up for ExpressVPN. Once you select the server location, log in to your Netflix account. You might, however, encounter a streaming error. If that happens, you should contact ExpressVPN's customer support team for help.
Is ExpressVPN good for Torrenting? Yes. It allows P2P downloads, among them torrents from any of their servers. This means that the VPN service will preserve your anonymity and hide your IP address. The best bit is that it doesn't come with a limit on your download speeds since it lacks a bandwidth cap. While torrenting is not illegal, there have been major crackdowns in the past few years because torrenting results in the download of copyrighted content. ExpressVPN also allows P2P file sharing.
Does ExpressVPN work with Hulu? Yes.
Does ExpressVPN work on FireStick? Yes. But, it will not work with the First-generation FireStick. You have to use the new versions of the software for compatibility.
Does ExpressVPN block ads? Yes. It employs the same technology used in protocols like OpenVPN, AES 256-bit encryption, and Secure Sockets Layer (SSL) to block ads and pop-ups.
Does ExpressVPN work on Apple TV? Yes.
Does ExpressVPN work with Amazon Prime? Yes.
Does ExpressVPN support port forwarding? Yes. It sends OpenVPN through port 443, by default.
Does ExpressVPN have DNS leak protection? Yes. ExpressVPN prevents DNS leaks with its fast DNS servers, it doesn't keep your activity or the connection logs, and the traffic between your device and the DNS server has end-to-end 256-bit encryption.
Does ExpressVPN work in UAE? Yes. ExpressVPN is one of the most popular VPNs in the UAE, despite UAE's strictness on access to the internet and internet services. The government has blocked access to gambling, dating, gaming, as well as VoIP software and apps like Skype and WhatsApp, and this is where ExpressVPN comes in – it will hide your IP from the government.
I'm very interested in hearing about your experience with ExpressVPN. Don't hesitate to leave an ExpressVPN review in the comment section!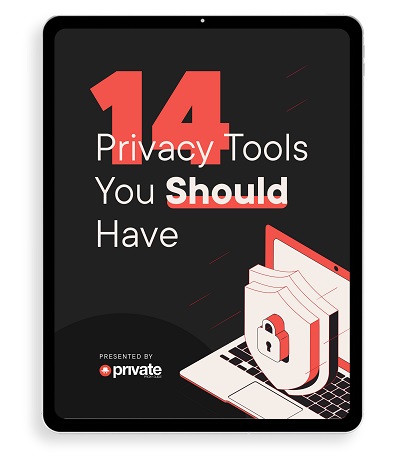 Learn how to stay safe online in this free 34-page eBook.