ExpressVPN is one of the most recommended VPN services on Youtube and VPN-review sites. We can understand why. ExpressVPN offers their app for most platforms. They are quite fast, support the best and the most reliable encryption. Find out more in this updated ExpressVPN review below.
Also, ExpressVPN offers a lot of server locations around the globe, unlimited speeds and bandwidth, good amount of security protocol options, no logs, and simultaneous connection up to 5 devices. The customer support works around the clock in the form of live chat. ExpressVPN also provides a referral program and a 30-days money back guarantee. You can use ExpressVPN to unblock Netflix and BBC iPlayer.
It is also worth to mention that ExpressVPN is among the top choices for the best VPN for torrenting and Netflix in 2020. Don't forget to find out who's the winner between NordVPN and ExpressVPN in our big comparison between these VPN giants. It is worth mentioning that there are plenty of ExpressVPN reviews on Reddit and Quora, and most of them are positive. There is also another great professional ExpressVPN review on CNET that's worth reading. ExpressVPN currently has a TrustPilot Score of 4,7 which is excellent.
A brief overview of ExpressVPN:
| | |
| --- | --- |
| Jurisdiction and head office location | The British Virgin Islands. |
| Simultaneous connections | 5 |
| Supported VPN protocols | OpenVPN, IPSec/L2TP, PPTP. |
| Logs policy | Does not store any activity or connection logs |
| Price | $8.32-$12.95 per month |
| Money-back guarantee | 30 days |
| Customer support | Email & live chat |
| Works with Netflix? | Yes |
| Allows torrenting? | Yes |
Where is ExpressVPN based?
As a company, ExpressVPN is under the jurisdiction of the British Virgin Islands. Being a part of the United Kingdom, these islands are an independent country, caring about their own legal system and law control. The country is very well known for financial secrecy and privacy protection. The British Virgin Islands can even be compared to such a cradle of protection and security as Switzerland. What does this mean for you as a common user?
Despite the state officially is a part of the United Kingdom, it will protect you and keep all your secrets much better. Their managers and engineers will never give your data to a third-party and to the government of the other countries. It's like you are sitting in a shelter.
The company also protects your privacy. They position themselves as those who first care about the anonymity and privacy of any user. The network is built and used in a way not to know what you are doing on the internet using their service. Your protection is absolutely anonymous and secure. ExpressVPN explains that they want each user to understand what they collect, don't collect, how they collect and store the personal data.
They never collect and store your DNS queries, IP addresses, search requests, traffic and browsing history. The only thing they collect is information on how to improve their service for you. Can we believe them? For example, ExpressVPN's server was seized and confiscated in Turkey. Why? Because they didn't agree to give any customer information to the authorities. Taking into consideration the fact of British Virgin Islands' jurisdiction and reliable privacy protection, ExpressVPN is a great solution for those who care about anonymity, privacy, and security. This is good to see that it looks like a pretty decent privacy policy.
---
How much does ExpressVPN cost?
The procedure of registration is very simple. First, enter your email and choose a plan that works for you. There's a one month plan for $12.95 a month, or 12 months plan for $100 — that is $8.32 a month, and the 6 months plan for $60 — that is $9.99 a month. With the 1 month plan and the 6-months plan there's a 30-day money back guarantee, but with the 12-month plan, there's a 45-day money back guarantee. ExpressVPN is considered as one of the most expensive providers at $12.95 per month. Most VPN providers are about $7-10 a month.
Next, choose the most suitable method of payment. You can choose credit cards such as — Visa, Mastercard, American Express, as well as others, PayPal, and other regional payment systems. You can even choose Bitcoin for anonymous payment. But if you prefer any other cryptocurrencies, keep in mind that they will not be available as a payment option.
Once you've subscribed, it's time to secure your account. ExpressVPN gives you an automated password but you can create your own. Once you get your email and validated the password, you'll be taken to a page where you can start the setup. You will get an activation code to activate and connect a new device.
For our ExpressVPN review, we signed up for the 1-month plan. The best things about ExpressVPN is how easy it is to start using their app. Basically, all you have to do is to copy the code from the page and start downloading a program.
Click on the download and see how the setup goes. Once you've downloaded their program, you should install it. Click on the .exe file. After installing the app, launch it and paste the code copied from your account dashboard, and click OK.
In a few seconds, the app and account will be activated. You don't even have to remember your password, login or anything like that — that is a great benefit.
---
ExpressVPN Features
---
How does ExpressVPN work?
ExpressVPN provides a very convenient and nice looking application for any of your favorite devices. You can get and install an app for the following operating system and devices: Windows, Android, iPhone, Mac, iOS, iPad, Linux, Blackberry, Wi-Fi routers; browser extensions for Chrome, Firefox, and Safari; consoles: Xbox, PlayStation, Amazon Fire TV, and Apple TV.
Downloading an app is simple as one-two-three: buy the ExpressVPN subscription, visit the setup page, and download and install ExpressVPN. Moreover, in your account dashboard, you will find the instructions on how to install an app for any OS or device.
An application is really quick and easy to use and has a nice design. ExpressVPN works perfectly even on old computers with an outdated operating system. The same goes for mobile devices. Let's take a look at the interface. At the very center of the window, there is a big button to turn the VPN on and off.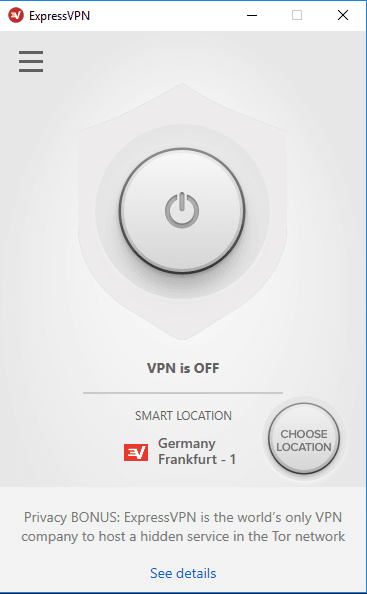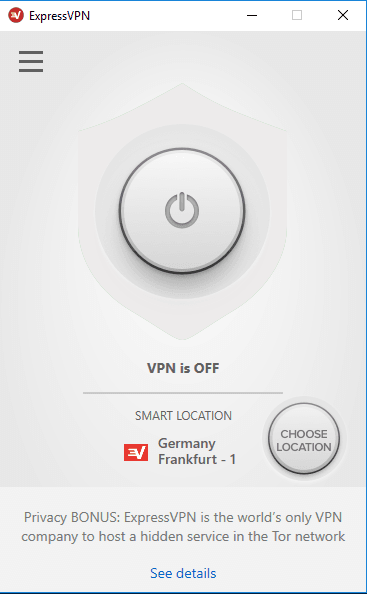 Below you will find the button to change location. The list of all of them is grouped by continents.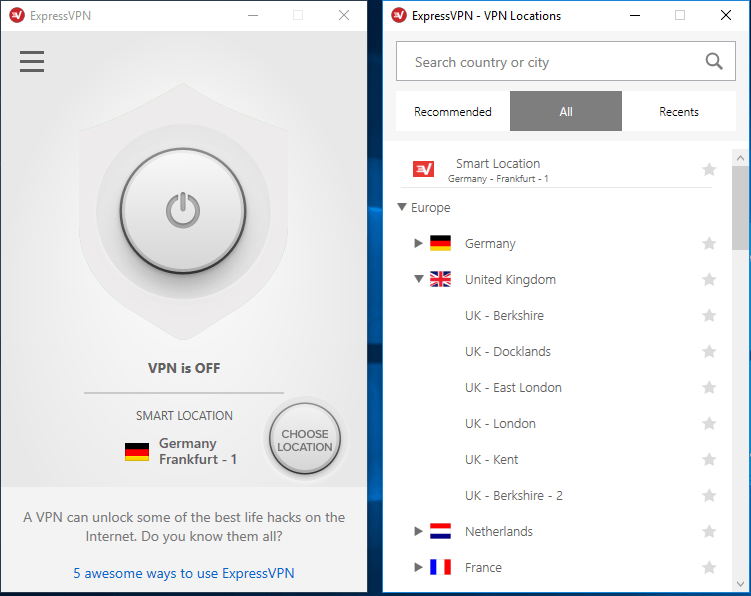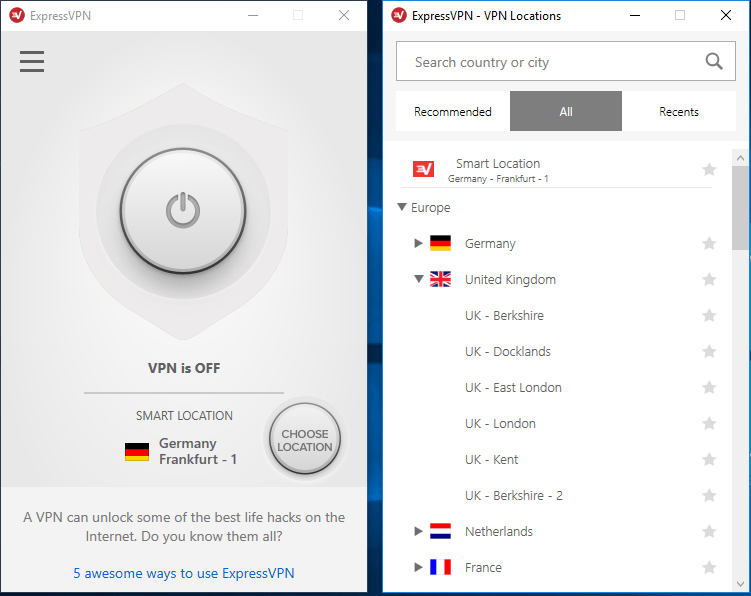 When you click or tap the menu button, you will find the following tabs: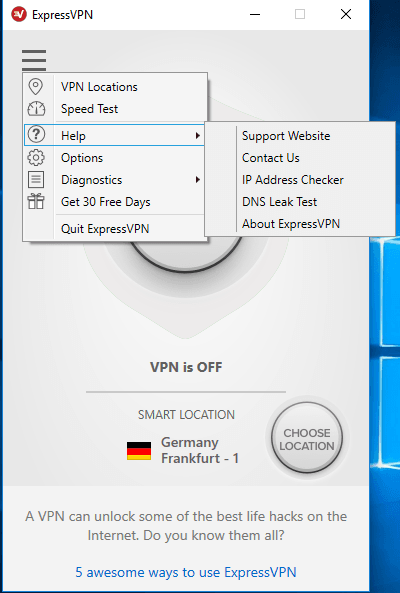 Most importantly, the appearance and interface are the same for most operating systems and devices. When you download them from your download page, in some cases you will not even have to enter your login and password.
---
ExpressVPN Server Locations
ExpressVPN offers 148 VPN locations around the globe to connect to. They are grouped by continents: Europe, Americas, Asia Pacific, and Africa, Middle East & India. You can choose the location from the list, or even type a country or city. Keep in mind, that not all servers support all security protocols. On the official website, you can find detailed information about how each server supports the security standards.
---
Is ExpressVPN Safe?
It's good to see the ExpressVPN is giving you control of your protocol options. You can choose between the following protocols:
UDP — OpenVPN — best combination of speed and security, but unavailable on some networks.
TCP — OpenVPN — supports almost all the networks, but may be slower than UDP.
L2TP — IPSec — L2TP over IPSec with a pre-shared key. Only a subset of VPN locations may be available.
PPTP — the least secure protocol, should be used only for specific reasons. Only a subset of VPN locations may be available.
SSTP — runs over TCP port 443 and work on any network. Only a subset of VPN locations may be available.
By default, the app chooses the protocol automatically. We recommend not to change this setting.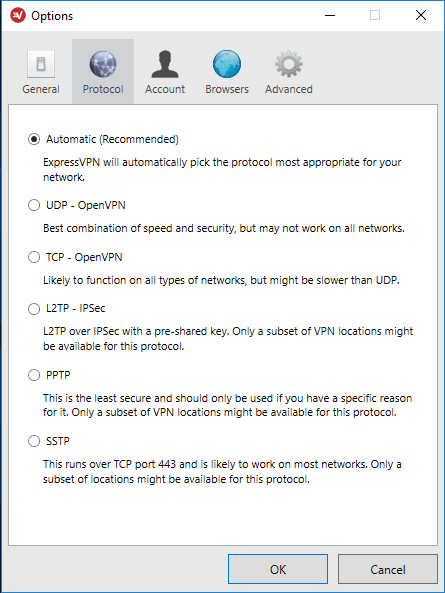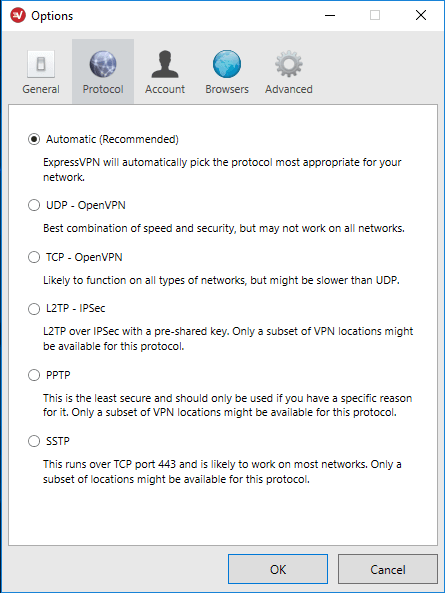 For encryption, ExpressVPN uses AES-256 cipher with the RSA-4096 handshake and SHA-512 HMAC hash authentication. We can surely say, that it is the most secure and reliable combination. It's absolutely impossible to break your connection while using ExpressVPN.
---
ExpressVPN Speed Test & DNS-Leak Test
First of all, we would like to inform, that we performed the test is physically located in Ukraine.
Find out more about how to check your VPN connection in this article.
First, we will find out our IP address and run a quick speed test to see the speed. This one is not through ExpressVPN.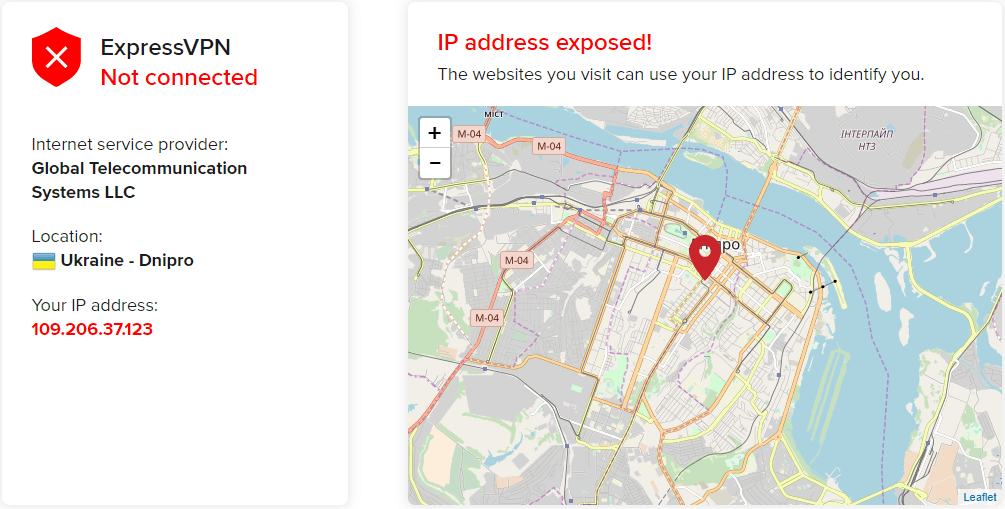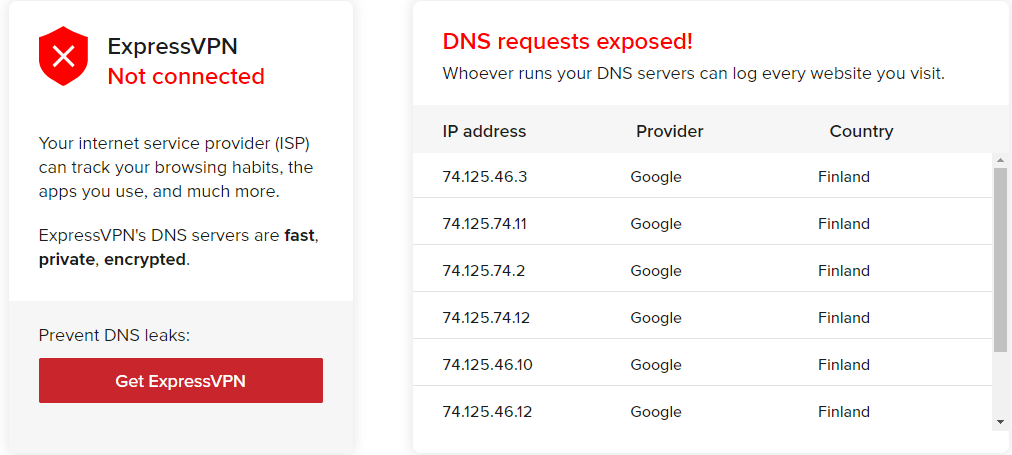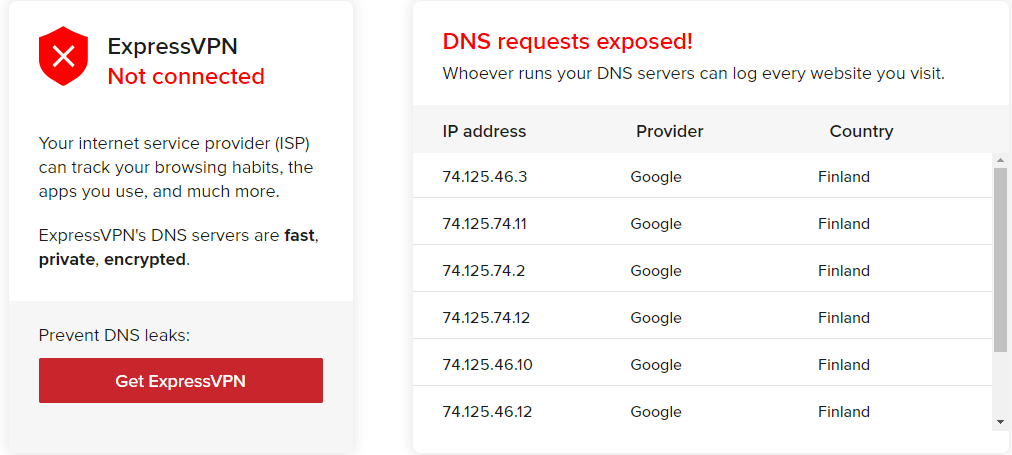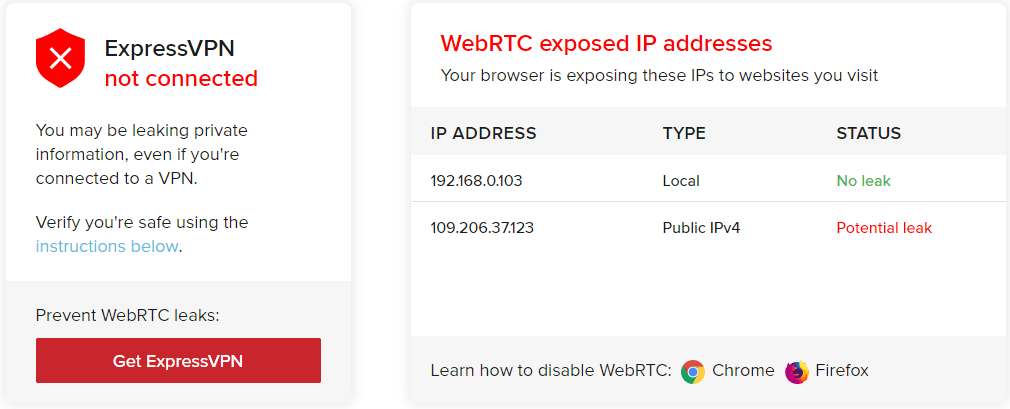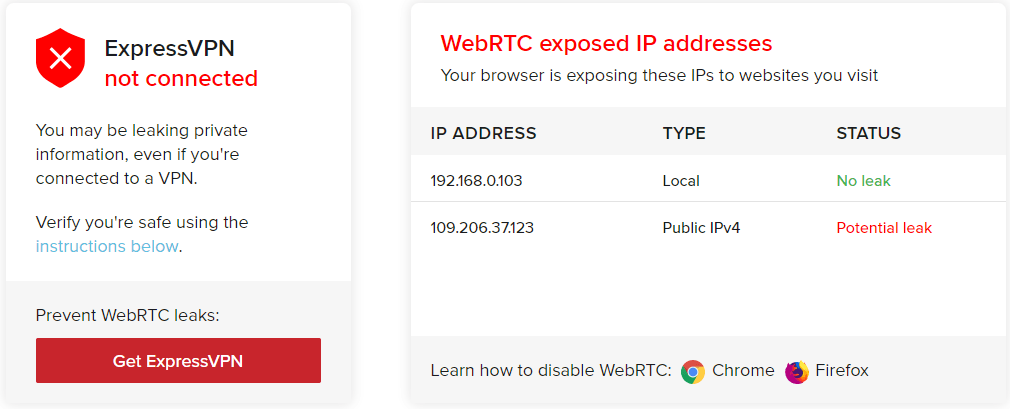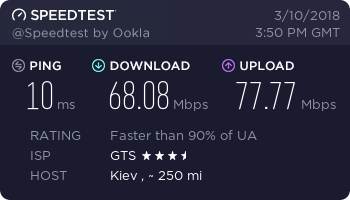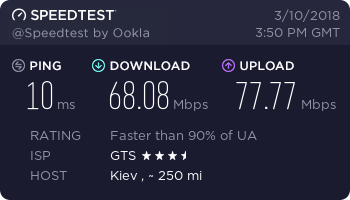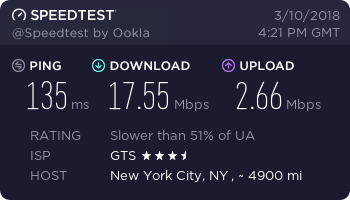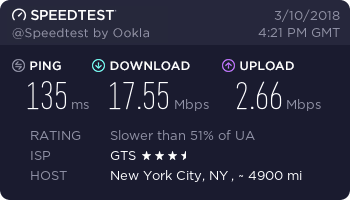 And, of course, the speed results you'll see depends on your internet provider. Now let's connect to some servers and check our IP address. We can search by a country or city by typing, or you can even choose from your favorite. But it will be easier to just click and choose the location. We are connecting — VPN is on. Here is what we check our IP address. Also, we are going to check if our VPN connection is really secure. With the IP test, you can see it's well hidden. It's located in the city you choose the server and there are no leaks. You are completely secured.
It works, the connection is fast and secure. No DNS-leaks were detected. Now let's take the speed test. Express is considered the fastest VPN. We are going to check it out.
The results are pretty good even though they are not as good as without a VPN. Therefore, they're still decent and will allow you to watch streaming without buffering.
---
Does ExpressVPN work with Netflix, BBC iPlayer and Torrents?
Many VPN providers block access to torrents (that's why we also have a list of alternative torrent sites) or extremely limits their connection speed, but ExpressVPN allows you to download files without any speed limits. In most cases, your speed will not be reduced and you won't have to wait for days to get the file.
Now let's try to access some geo-blocked content. We will try the BBC iPlayer, CBC Watch and Netflix. As the test was physically performed in Ukraine, we can access the BBC iPlayer from there, but cannot watch its content as it is not available outside the UK. We connect to the server in London and try again. Now it works. The same about the Canadian CBC.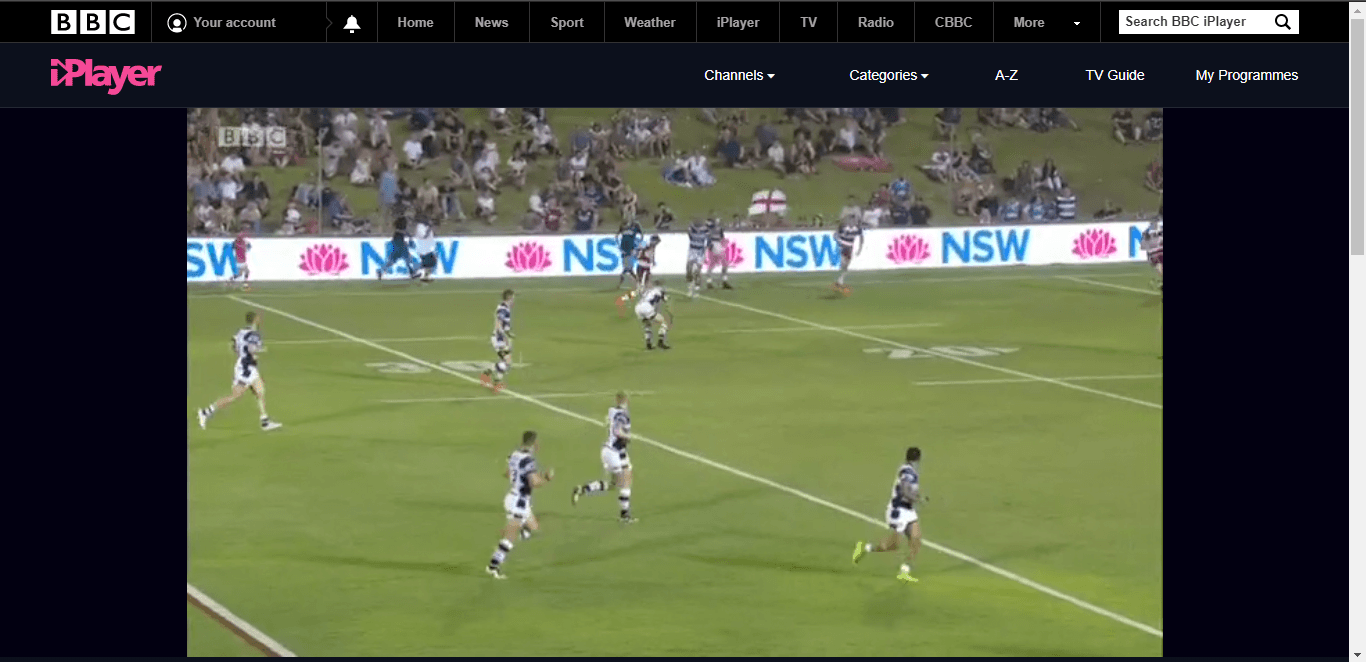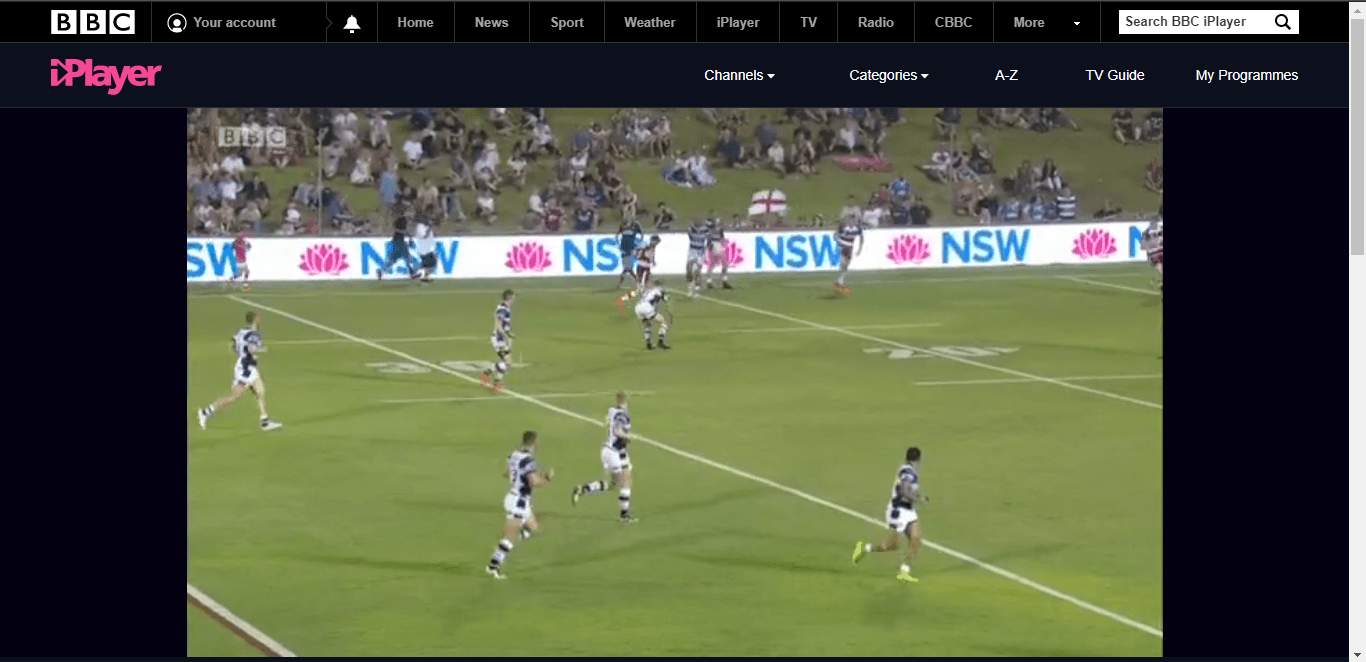 But things are getting worse while using Netflix. They actively block any access through VPN. But ExpressVPN is among those few providers who work with Netflix. As we are in Ukraine, we only have access to the Ukrainian Netflix catalog. We will connect to the American server (Americas — United States — Washington DC) and check whether we can get access to the entire Netflix catalog.
As you can see, it's available.
---
ExpressVPN Website Availability in Censored Areas
As a part of censorship, in some countries, the authorities block access to VPN provider websites. ExpressVPN offers to visit a .onion Tor web address. Use the Tor browser and visit http://expressobutiolem.onion/. This is the darknet mirror of the site.
---
ExpressVPN Support
The information on the website says that they have the best customer support ever. It's available through live chat and email. We're going to test the speed of ExpressVPN support. You can contact support directly via the app. It's easy and practical. Let's ask them how to find a movie on the American Netflix catalog being outside the US. We got an answer very fast. They advised using a different location. Several tests demonstrated that live chat is not available all the time, so keep that in mind.
---
How to cancel your ExpressVPN subscription
Unsubscribing is fast. Just click the link, fill in a few fields and wait for the money refund. Usually, it takes about one week.
---
ExpressVPN FAQ
---
ExpressVPN Pros and Cons
Pros:
Apps for almost all possible devices and platforms.
Highest connection speed.
Greatest security and protection.
Decent privacy policy.
30-days money back guarantee.
Split tunneling on computers and routers.
Works perfectly with geo-blocked services like Netflix or BBC iPlayer.
Round-the-clock chat support.
Own secure DNS servers.
148 locations in 94 countries.
DNS leak and WebRTC protection
Cons:
I'm very interested in hearing about your experience with ExpressVPN. Don't hesitate to leave an ExpressVPN review in the comment section!