After a long day at work or college, you get home, fix yourself dinner, and tune into Netflix to watch a show whose trailer you saw earlier during the day. But that show is not available on the leading OTT platform. As it turns out, it is not available in your region's Netflix, owing to licensing issues.
The problem is more prominent than many can imagine. With the combination of a VPN and Netflix, you can watch shows offered by the platform in different regions of the world without any restrictions. This guarantees you get more value for money but also has access to a wider variety of content.
1. Best VPNs for Netflix in a nutshell
2. Checklist – VPN for Netflix
Things to keep in mind while selecting the best VPN for Netflix.
Devices
Make sure that there are enough devices covered so that you don't have to de-register a device before logging into another one. A good thumb rule has five devices at least on a plan.
Desired Countries
Every country has some exclusive content to offer on Netflix, which is available in the respective region. Few VPN services emphasize heavily on the US, UK Netflix libraries by providing the greatest number of servers for the region. Look for the VPN, which offers servers from diverse locations across the world.
Security
High-grade encryption of the servers, along with an effective kill switch, is a bare minimum. Also, make sure that there are no DNS leaks of any kind, which may expose your activity to a third party.
Apps and Supported Devices
Every VPN provider covers the essential smartphone and few other devices with their app compatibility. The big question is, will it support your devices? What if you are using a Nintendo Switch and want to VPN on it. You have to ensure an app is available or at least router support for the network-wide cover.
Bandwidth limit
Streaming content on Netflix requires a considerable amount of bandwidth. You cannot use a plan with a few GBs per month to watch videos online. Before choosing a VPN, access your monthly usage on Netflix and then select accordingly.
Speed
Constant connection speed with minimal or no drops is required for seamless Netflix streaming. Anything above 50 Mbps should be a good deal, with particular emphasis on the consistency of the offered speed.
Shared IPs
Netflix is on a banning spree of VPN IPs. Some VPN services offer private dedicated IPs that are comparatively safer from a shadow ban. Cheaper services offer shared IPs that have some risks involved.
3. Best VPN for Netflix May 2023
Don't worry; you don't have to frantically search for the best VPN for Netflix. We have compiled a list of five of the best VPNs that will unlock regionally locked content.
3.1 NordVPN – Best Overall Netflix VPN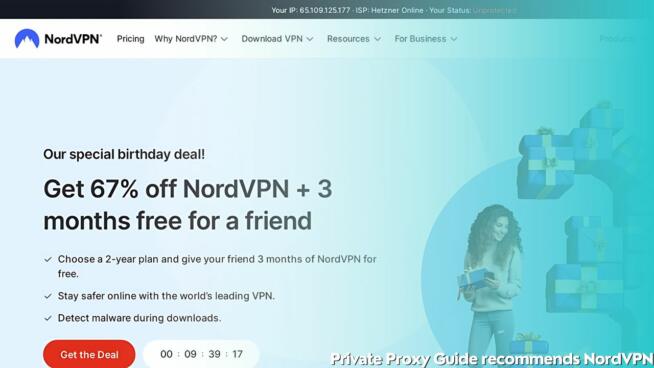 Best for OTTS: Netflix, Hulu, Prime Videos
Maximum Devices: 6
Based in: Panama
Number of Netflix Libraries Unlocked: 16
NordVPN is a heavily marketed VPN that you will find in the hands of virtually all the leading technology influencers. They offer a 30-day money-back guarantee if you want to try it. There is no free plan available, and you will be charged for the month if you subscribe to a plan.
To use the VPN, you will need to log into the NordVPN account created within a few seconds. Alternatively, the login via Google account also works well. Another orthodox way to get in is through a secret 6-digit code that must be entered on the login page.
Pros
Unlocks 16 Netflix libraries
Over 5,000 servers across 59 countries to choose from
Special support for Netflix users
Double VPN via Split Tunneling
Dedicated private static IP address
Kill switch to monitor protection and prevent any online accident vulnerabilities
Encryption anonymity masked by The Onion Router
Cons
No free trial plan which does not bill the user
Torrents supported on few servers alone
Lag in the interface a few occasions
Not all the servers offer consistent speed at all times.
VPN Protocols
These are the protocols that define a set rule to be followed for the data transmission between your computer and the VPN server. The most used and reliable protocols are OpenVPN, IPsec, Wireguard, SSTP, amongst others.
NordVPN uses OpenVPN, NordLynx, and IPSec/IKEv2 protocols, meaning you get the choice between the three. The recently launched NordLynx by the company is built around the Wireguard framework and principles.
You have the option to change the protocols on the desktop and mobile clients. The browser extension misses out on this.
Server Location
With over 5,000 servers across 60 countries, you will not run out of VPN servers anytime soon. As a matter of fact, when you are unsure about which server is ideal for the usage, head to their server recommendation page. Fill in the activity and your location for finding the best server recommendations.
Security and Privacy
Relying on the robust 256-bit AES encryption for the data, NordVPN has the no-log policy for keeping your privacy on a pedestal. They go one step further to protect your conversations with customer support by encrypting them with PGP keys (Pretty Good Privacy).
Multi-Factor Authentication
Database breaches and phishing attacks are pretty common these days. Just because your login credentials got leaked doesn't mean it should compromise your VPN account.
Add an extra layer of security that requires you to enter a 6-digit encrypted code after putting in ID and password through a third-party authenticator. You can get started with free ones such as Google Authenticator, Authy, amongst others. Setting it up is easy; just install the authenticator on your phone, scan the QR code that appears on the setup page. It can only be set up from the website by going to the settings.
Speeds
The speed comes into play when you have high-speed Internet. Users with slower speeds wouldn't notice a difference between the VPN and their default connection unless their speed is over 100 Mbps. We often encountered slow servers, which means there is no automatic mechanism for selecting the fastest available server.
| | |
| --- | --- |
| Region | Speed |
| North America | 105 Mbps |
| Europe | 120 Mbps |
| Asia | 119 Mbps |
Desktop App
Swerving into the desktop, the app shows promise. There are no hidden features that need time investment of any kind. For logging in, you will be directed to the login page in the browser.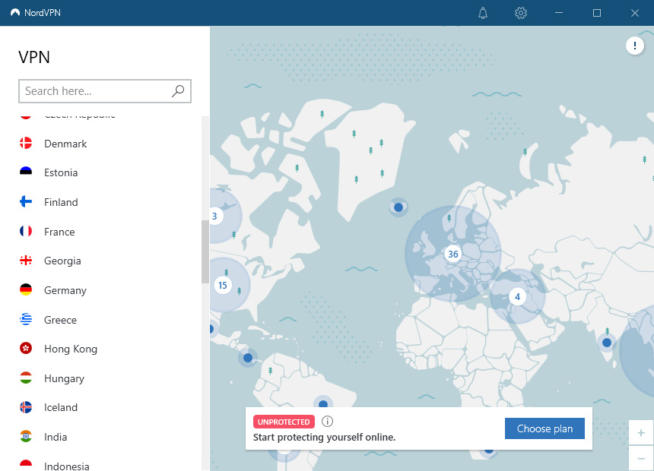 On the homepage, we have the world map with pinpoints in the countries with the NordVPN servers. You can also search for them from the list on the left sidebar.
One notable feature is the auto-connect on WIFI which lets you decide whether to connect using a VPN on Wi-Fi. You can add a list of trusted Wi-Fi networks that will not prompt for a VPN connection. This comes in handy when you are traveling a lot and need to connect to untrusted Wi-Fi networks. Once you are home, automatically connect to the default Internet without using the VPN.
The taskbar shortcut saves time, and you can connect to a VPN instantly without opening the desktop client. Use the slider button for enabling the VPN with the last chosen server.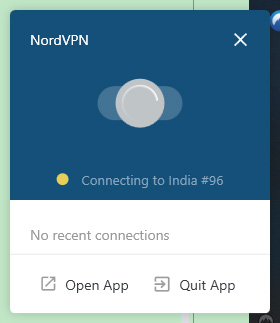 Moving to its downside, there are some issues on the backend. We disabled the automatic startup, and ever since then, the background NordVPN is not starting up, effectively making the desktop client is broken and unusable.
Mobile App
Unlike desktop clients, the mobile app offers different features: DNS, split-tunneling, and protocol selection. We miss out on the trusted Wi-Fi networks, which would have made it an allrounder VPN application. Carrying our smartphones around and using Wi-Fi networks often exposes us to various network-related risks.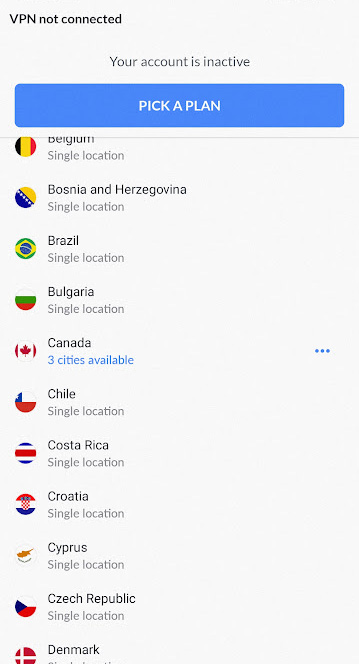 For setting up the Multi-factor authentication, users need to visit NordVPN's web portal. In a nutshell, all the basic configurations happen via the web version.
Browser Extension
Simplify things further down with a browser extension—no need to install any desktop client or visit a website. Install the browser on Chrome or Firefox from their official listing.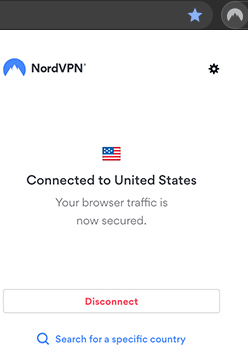 Choose the server of your choice with a click and enable a VPN right away. It works across all the tabs on the browser. In the features department, there is an in-built Adblock that blocks all the ads on the web pages. It feels like a work-in-progress and disappoints right now.
Pricing
There is a single plan which is $11.95/month with all the features. You can save considerably by going with the annual plan that costs $4.92/month. The pricing goes further down as you commit to a plan with a longer duration.
3.2 ExpressVPN – Fastest Netflix VPN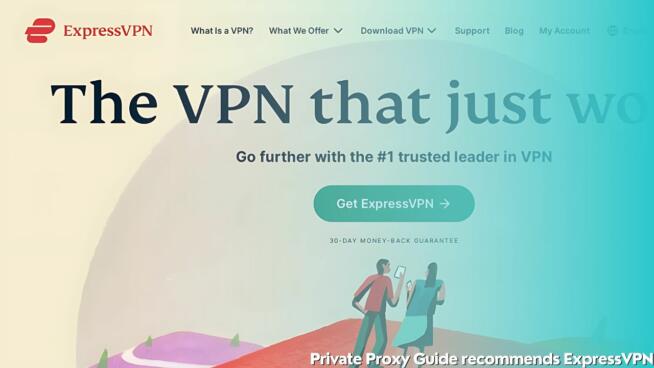 Best for OTTS: Netflix, Hulu, Disney+
Maximum Devices: 5
Based in: British Virgin Islands
Number of Netflix Libraries Unlocked: 20+
With its massive global outreach, ExpressVPN is always on the edge of the seat for providing unfettered access to content from around the world. Stream Netflix content from around the world without any geo-block restrictions. The VPN service offers servers from over 140 locations across 95 countries of the world.
They offer apps for all major devices across different platforms. Ranging from smartphones, TVs to video game consoles, amongst others. And as for the free trial, there is none. We get the classic 30-day money-back guarantee when you subscribe to a plan.
Pros
Apps for all major platforms and devices
Diverse split tunneling
Dedicated kill-switch for different activities, apps
Government grade encryption
Up to 5 simultaneous connections
Easy router level configuration
Independently audited servers
Cons
Costlier than the competitors
Occasional drop in connection
Lack of Multihop connections
The mobile app is not available in many regions
VPN Protocols
ExpressVPN offers a total of five different options in VPN protocols – OpenVPN UDP and TCP, L2TP/IPSec, PPTP, IKEv2, WireGuard, STPP, and the service's very own Lightway.
The new entrant is designed for modern Internet users with its seamless connection changes when the user is on the move. With OpenVPN, you can switch between UDP and TCP while noting that the latter is marginally slower.
Go blindly with either Lightway, OpenVPN, IKEv2 without a second thought. Rest requires prior experience and knowledge for realizing the potential.
Server Location
ExpressVPN offers over 300 servers from 94 countries spanning 140 plus locations. Check out the server list from here.
Security
All the servers are protected by the robust AES-256-GCM encryption and the HMAC authentication for protection during transmission. Furthermore, ExpressVPN uses a symmetric encryption scheme for encrypted key exchange.
Privacy
Similar to Surfshark, ExpressVPN is also based in the British Virgin Islands, away from the clutches of data retention laws. It is coupled with a strict no-logs policy, which independent auditors regularly check to ensure integrity.
Speeds
For all your 4K Netflix streams, you need unfettered and seamless, consistent speeds. Buffering can ruin the whole mood after a long day of work. Thankfully the ExpressVPN does not disappoint here on our 200 Mbps Internet connection.
| | |
| --- | --- |
| Region | Speed |
| North America | 188 Mbps |
| Europe | 179 Mbps |
| Asia | 181.5 Mbps |
Desktop App
The desktop app is available for Windows, Linux, and macOS. The Linux and macOS version don't have split tunneling yet. Furthermore, GUI is not available on the distro, relying solely on the command line.
After launching the app, the login procedure is a little different. All you need is your registered email, which will send a code to your inbox upon filling. Fill that, forgetting it.
Alternatively, you can rely on the 20-digit alpha-numeric code to enter straight into the app. The code needs to be set beforehand in the setup phase for it to work.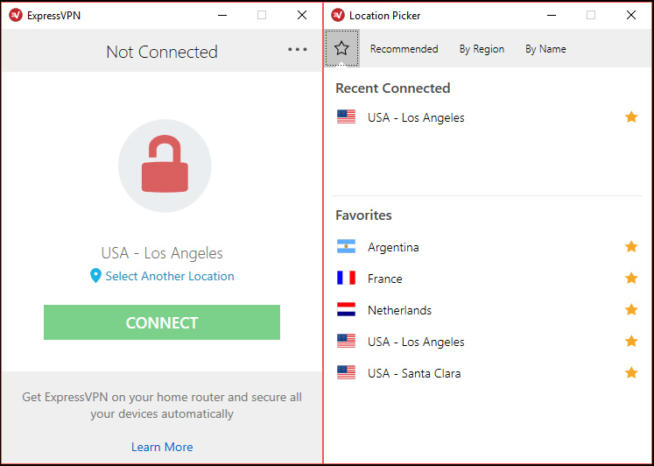 App Shortcuts
Once inside, you have a list of the recommended servers based on your location. Click on the IO button to connect to the fastest available server. And below the server location, you have a dashboard for keeping the apps and websites you frequent. They will open directly using the VPN server from the dashboard itself. The dashboard can be customized according to your liking.
Speed Test
A dedicated speed test option is available on this VPN as well. Head to the Speed Test option by accessing the hamburger icon located on the top-left corner. Run the test after disconnecting from the VPN sessions and find the speeds of different servers.
Mobile App
The mobile app promptly impresses, at least on Android. We miss the Split-tunneling and kill-switch on the iOS version, which is not a surprise. The majority of VPN apps on the Apple platform are lagging in this area because of few backend restrictions. Fortunately, the Lightway protocol is available for iPhones after a prolonged beta phase.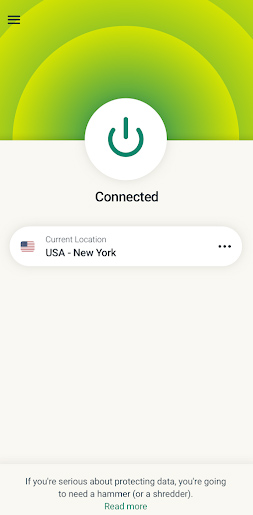 Widget
A notification bar widget keeps you updated on what's happening on the VPN. You can connect/disconnect, change location, and check the VPN status without opening the app.
Browser Extension
Make room for the browser extension, as it delivers a packed performance with extra features. The extension is available across Chrome, Firefox, and Edge. Talking about the capabilities, it not only protects the browser activities but the entire computer once enabled.
You can control the desktop application from the browser extension and all its settings. Apart from that, it can be configured to auto-connect on browser launch. Call the extension anytime using the keyboard shortcut, which needs to be set up as well.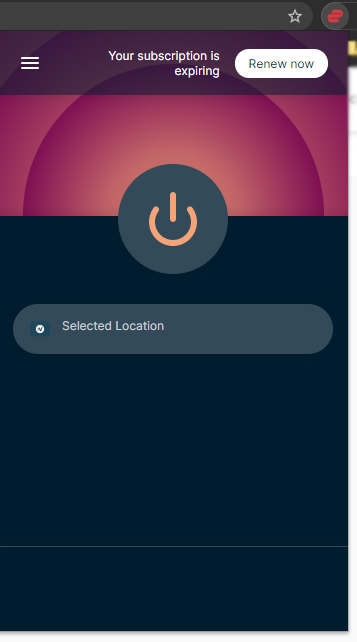 Swerving into the privacy section, you can spoof your location and also force HTTPS everywhere, irrespective of the availability.
Pricing
Pricing is similar to Surfshark for a single month; it starts at $12.95. They have an annual plan which is $8.32/month. You can pay via Bitcoin and PayPal as well amongst a wide range of options.
3.3 CyberGhost – Safe VPN for Netflix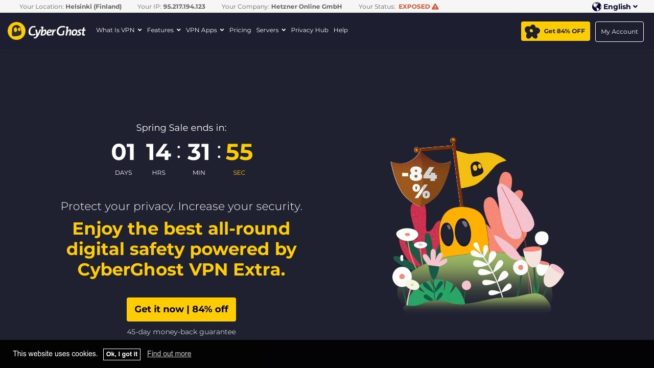 Best for OTTS: Netflix, Showtime, Prime Videos
Maximum Devices: 7
Based in: Romania
Number of Netflix Libraries Unlocked: 6
Imagine having a VPN that not only supports unblocking geo-restricted Netflix (and other OTTs) content but doubles as a torrent downloading facilitator. As of now, they offer Netflix libraries of UK, US, Japan, Italy, France, and Germany.
Many of their 7000 plus servers are optimized for P2P and torrenting without any restrictions. On the other hand, many VPNs discourage going full-on rogue with torrent downloads. Unlike the other leading VPN providers, there is a 1-day trial that you can activate while registering through the app. You can subscribe to a plan and rely on the 14 to 45-day money-back policy (depending on subscription) for an easy way out if things go south.
And as for registration, you will need to create an account with the service, which will be essential for using their services.
Pros
Exclusively optimized server profiles with different usages
Over 7,000 servers in 91 countries across the world
Exceptional support for OTT platforms, especially Netflix and Hulu
Up to 7 simultaneous connections
Optimized servers for P2P handling (Torrents)
Split tunnel and kill-switch to ensure maximum protection
An extensive money-back guarantee period allows users to make a uniform decision
Cons
No notification for connection and disconnection on the desktop client
No third-party security audit
Limited payment options
Difficult to set up the preset configurations
VPN Protocols
Like we discussed earlier, VPN protocols are pretty important. They fundamentally define how your data will be transmitted securely over the Internet. CyberGhost offers three leading protocols – OpenVPN, IKEv2, and the industry hot, Wireguard, which has been a part of the VPN chatters all around. You can go ahead with Wireguard, being amongst the faster protocols available.
Server Location
CyberGhost is going all out when it comes to expanding its VPN server arsenal. In less than two years, they have gone from 3000 to over 7000 servers, spanning 91 different countries. Headquartered in Romania, they are out of 14 of Europe's jurisdictions. You can head to the VPN locator and check out optimized servers for different OTTS, such as Netflix, Hulu, Prime, etc.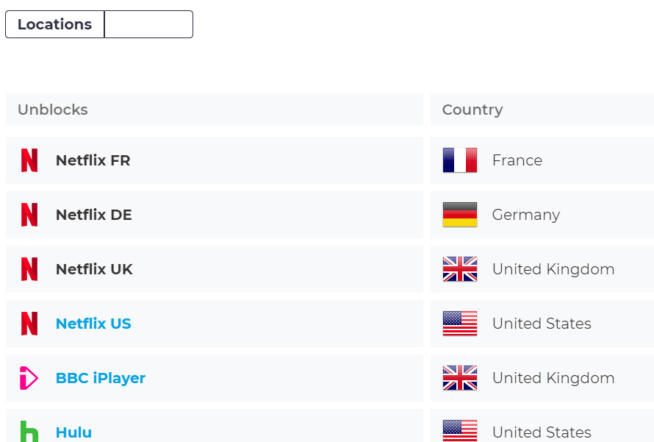 Security
Beginning with the reliable AES-256-CBC encryption for the data, CyberGhost takes it a step forward with its security policy. On top of that, the company follows the service-wide no-log policy.
And as for the authentication, it is processed with the SHA-256 cryptogenic layer. When compared to other providers, it's somewhat dated encryption as many provide the SHA-512. Rest be assured that the cryptogenic is secure and reliable enough to use.
Privacy
The company was initially headquartered in Germany but later shifted to Romania, with no data retention laws. It is also a country that is not a part of the 14 Eyes Alliance. This indeed emphasizes the no-logs policy as the CyberGhost is not legally obligated to maintain any data.
Furthermore, while your data during payments and subscription is not on VPN, it is hidden behind a random anonymous ID.
There is one thing that does raise eyebrows in their privacy policy "We may disclose your Personal Data to any member of our group of companies," which will be in accordance with their privacy policy. We asked customer support for clarification, and they assure us that none of it will be shared, sold, or rented to a third party.
Speeds
CyberGhost fares average on the speed ratings. With our fiber-based broadband having a speed of 200 Mbps, the VPN provider was satisfactory. This includes occasional slowing down of the random servers we chose. The remote servers in the 8000-10,000 miles range provide a 20% lesser speed with higher pings.
| | |
| --- | --- |
| Region | Speed |
| North America | 98 Mbps |
| Europe | 105 Mbps |
| Asia | 95 Mbps |
Desktop App
The desktop app feels well placed, with the user interface aiding with the sleek flow. The first-time prompt will ask for your login credentials. All the VPNs are listed in the All server section, along with the distance from your location. You can search for a server in a specific country from the search bar given at the top.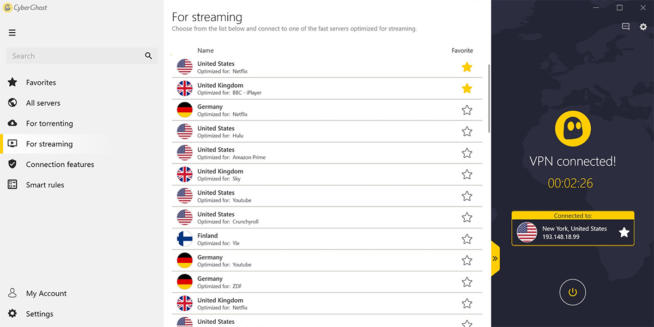 On the other hand, when you head to specific profiles, such as gaming, streaming, you get the option of particular cities instead of other countries. Head to the streaming section, and you will see servers with accompanying information regarding the OTT service that is optimized for.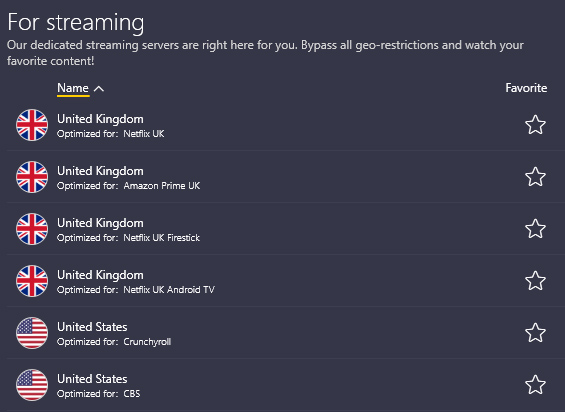 Talking about the shortcuts, the taskbar button looks somewhat dated. You will need to right-click on the icon, head to the VPN option, and click on connect. It will automatically connect you to the nearest and best-performing server.

Mobile App
App on the smartphone is as easy as it can get. Tap on the on-off button for connecting the best available VPN server. Move an inch down and head to the connect to option for selecting the server according to your usage profile. The servers are categorized by countries, streaming, and favorites which give you the required performance.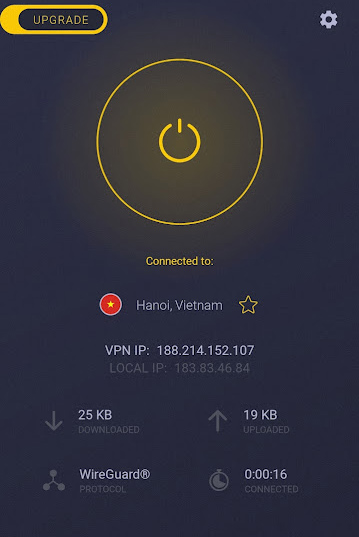 Adblock
Being far from perfect, it underperformed and does not block all the ads, pop-ups. It is disabled by default for obvious reasons, but you can try it through the settings.
App Split Tunnel
By default, the VPN will work on all the apps. You can change that by allowing VPN on the selected apps. This can enable the custom rules. You can select the apps whose network will be covered by the VPN. This model also includes an option to allow new apps to be covered from the point forward.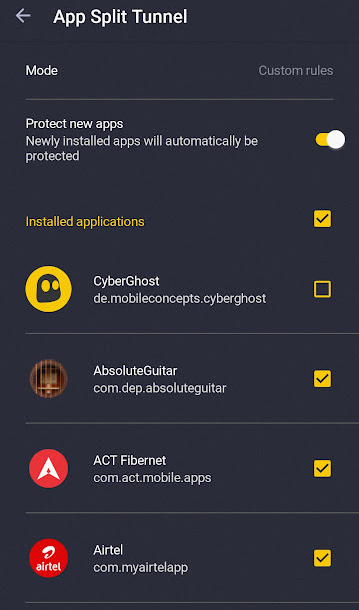 Browser Extension
Unlike NordVPN, the CyberGhost VPN's browser extension does one job and without fail. Offering four servers with reduced speed for free is enough to get by. On the other hand, subscribed users will get the promised speeds. Choose a server location, slide the button, and you are ready to surf.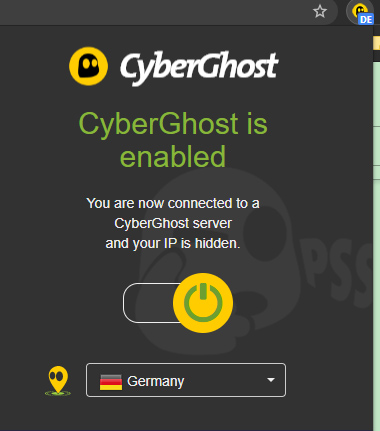 The extensions are available for Firefox, Chrome, and Edge across major operating systems.
CyberGhost Private Browser
The folks at CyberGhost are not stopping at anything. With an in-built VPN add-on, which you cannot remove, a dedicated browser has everything under the umbrella. Being based on Chromium (Same as Chrome's codebase), you can add any of the Chrome extensions. Feel at home even when going private with this web browser. The user browser chrome flags and experiments are enabled by default.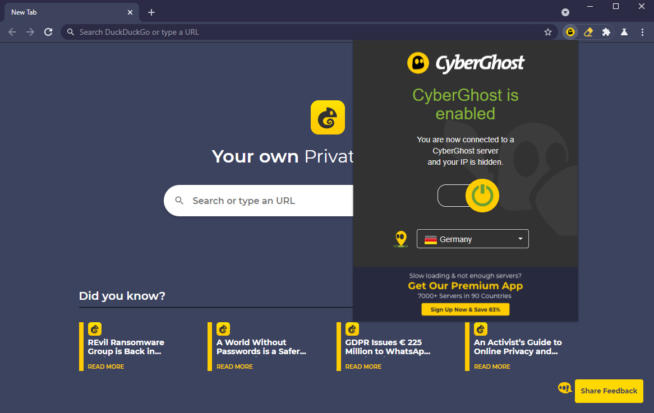 Pricing
There is a single plan which starts at $12.99/month when taken monthly. Semi-annually helps you save and will cost you $6.90/month. Their two-year plan is the cheapest, which is $2.25/month for the first two years.
3.4 Surfshark VPN – Best Budget VPN for Netflix

Best for OTTS: Netflix, Hulu, Sling TV
Maximum Devices: Unlimited
Based in: British Virgin Islands
Number of Netflix Libraries Unlocked: 30+
Surfshark triumphs above all by offering a massive 30 plus Netflix libraries. You will never run out of content to watch with the gigantic combined collection across these many libraries. On top of that, this doesn't often happen when a VPN service offers an unlimited number of active devices and simultaneous connections. NordVPN offers 6, CyberGhost VPN provides 7, Express VPN maxes out at 5, and PureVPN allows up to 10 devices. Backed by the unlimited bandwidth, there is no cap on the number of devices that can be connected simultaneously on Surfshark.
You can create an account from apps on all supported platforms but Windows. We created an account through the smartphone app. After that, you can log into the desktop app as well.
Pros
Support for Shadowshocks
Multihop connection
In-built antivirus on the apps for all platforms
Unlimited number of devices and connections simultaneously
Camouflage mode for hiding the VPN-style activity
NoBorder mode for countries with stricter censorship, such as China, Israel, etc.
Dedicated AdBlock and tracker blocker
Cons
No dedicated IPs for users
No split-tunneling on iOS app
Dodgy P2P traffic behavior
Underwhelming customer support
VPN Protocols
Apart from the regular trio – IKEv2, WireGuard, and Open, we have Shadowshocks. It takes on stiffer censorship, such as the likes of The Great Firewall by China. Shadowshocks is much more than a VPN protocol, an encryption protocol per se. Since Netflix is blocked in China, Crimea, and Syria, you can use advanced proxy encryption to access the OTT platform. Made specifically for bypassing censorship in China, its implementation has spread to many Internet verticals.
Surfshark suggests using the secret weapon only when the other three fail on different counts.
Server Location
Surfshark offers over 3200 servers from 64 countries. You can check for a server in your location from here. All of them support TCP and UDP Internet protocols, along with a private DNS.
Security
VPN servers are covered by the AES-256-CGM, relying on the Galois/Counter mode for symmetric-key cryptographic block ciphers.
Combine it with the advanced Shadowshocks, and you have yourself a socks5 powered proxy-like VPN protocol that provides a safe passage for bypassing censorship of all kinds.
Privacy
Based out of the British Virgin Islands, where even the GDPR is not enforced. Just like other VPNs, Surfsharks also offer a strict no-logs policy for their data. Coupling the approach with RAM-only servers means no data is ever left in storage. Everything is wiped off once the servers are turned off.
Camouflage Mode (Obfuscation)
Some regions, countries block VPN ports following their censorship laws. Does that mean the VPN will be ineffective? That would be a YES in a typical case. But with Camouflage mode, Surfshark hides your Internet activity patterns appearing as a regular Internet connection. The mode automatically runs on the OpenVPN – UDP Protocols, which you can change from the settings.
Speeds
This is where Surfshark shines. They make up for their lesser servers compared to industry biggies by offering better speeds. On 5 out of the 18 occasions, there was a spike in ping that settled over 5-10 minutes. The connection speed at our end is 200 Mbps.
| | |
| --- | --- |
| Region | Speed |
| North America | 142 |
| Europe | 141 Mbps |
| Asia | 138 Mbps |
Bypasser
On Surfshark, the whitelist is known as the bypasser. It lets you add websites, apps that will not work through a VPN server. On the mobile, it is under the Whitelister section, while in the browser, you can simply enable the option to add URLs.
Desktop App
To be perfectly candid, Surfshark's desktop app felt a little overwhelming on the first try. You spend a good 5-7 minutes, and then it grows on the user immediately. The app exudes usability and accessibility with the proper setup.
There is a giant search bar at the top that can keep you on top of everything. Search favorites, server locations, status IPS, and the famed Multihops, which we will get to in a moment.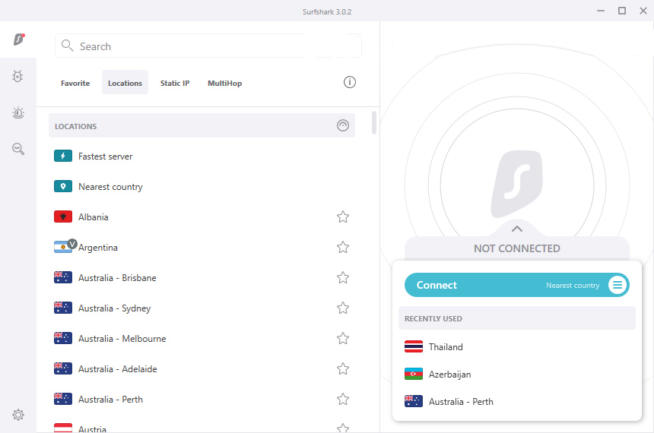 The taskbar shortcut has great quick-access personalization for the dashboard. You can add options such as Kill-Switch, Auto-connect, recent servers, etc., to the dashboard. We choose Kill-Switch and Auto-connect for our needs.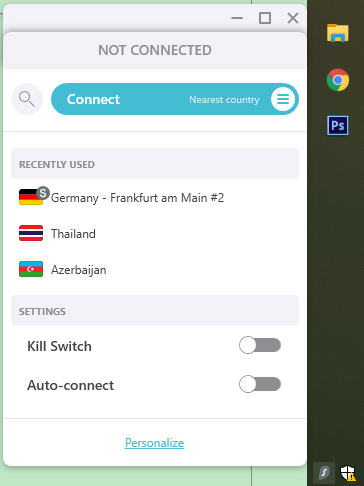 Antivirus
Available for Windows and Android (coming to macOS soon), Surfshark bundles up an antivirus on the app. It works in real-time to protect against viruses, malware, and privacy-intrusive apps that do things without the user's permission (take screenshots, send sensitive information, etc.).
Speed Test
Check the speeds of different VPN servers from your PC through the desktop app, and the feature is only available on the Windows app. Before proceeding with the test, make sure to disable the VPN. The higher download and upload speeds signify a better VPN user experience.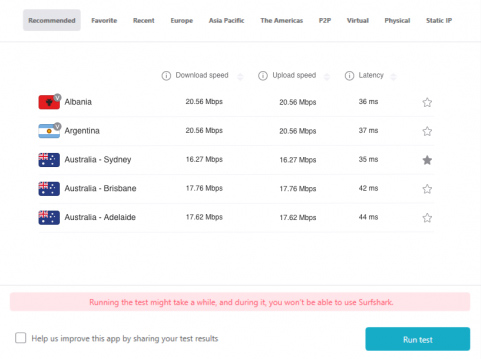 MultiHop
A VPN is a good measure of security while the world wide web. Double it, and you have yourself the Multihop. With this, you can connect to the Internet via two different VPN servers, adding an extra layer of security. This feature is not available on the smartphone.
For instance, if you are located in Canada, use a Canadian server located somewhere in the country, followed by one in Germany. This way, your exact location is virtually incomprehensible on the Internet.
Mobile App
As soon as you open the app after logging in, you are greeted by a How to Connect tutorial above the connect button. Tap on it, and you will be apprised with the general working of the application.
On the first attempt to connect, it will ask whether to connect to the fastest server, nearest, or the preferred location. Take your time to set up or leave as it is, selected as the fastest by default. And when you change your mind, you can always go back and set it according to your liking.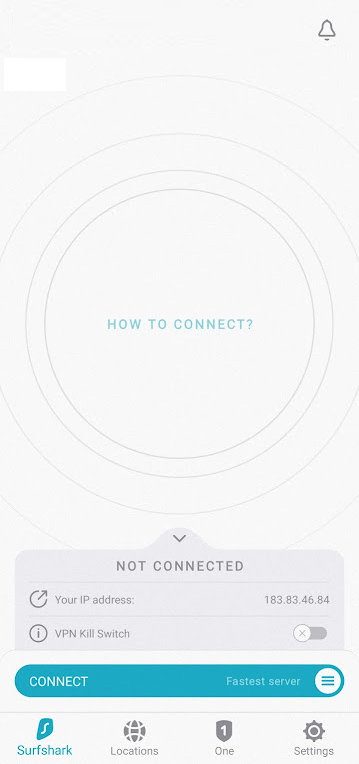 GPS Location Spoofing
Don't leave anything to chance and go hiding all the way. Match your GPS's location with the VPN server, and the next time a site app detects your whereabouts, it will feed on the server's location.
ClearWeb
Block all your ads, web trackers, and malware from ever affecting your smartphone. In our week-long testing, the adblocking worked sporadically with occasional slip-ups. You can rely on it as a first defense after setting a DNS-level measure.
Browser Extension
Surfshark has a pretty capable browser extension, available for Chrome and Firefox. Access sites like Netflix, Reddit subs, and others are blocked using a browser extension in certain regions. Log in, and you are ready to use the full-fledged VPN service. The MultiHop feature is also available on the extension. Other features include CleanWeb, WebRTC, and bypasser.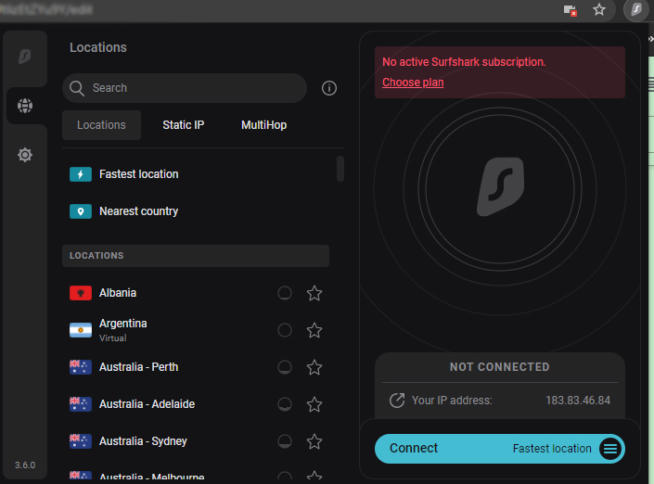 Pricing
As always, subscribing to a month-long plan is the favorite, setting you back by $12.95. Go for a longer duration of 6 months, and it will cost you $6.49/month. The two-year plan is the cheapest at $2.49/month, which can be subscribed again after the plan is over.
3.5 PureVPN – Netflix VPN With Many Locations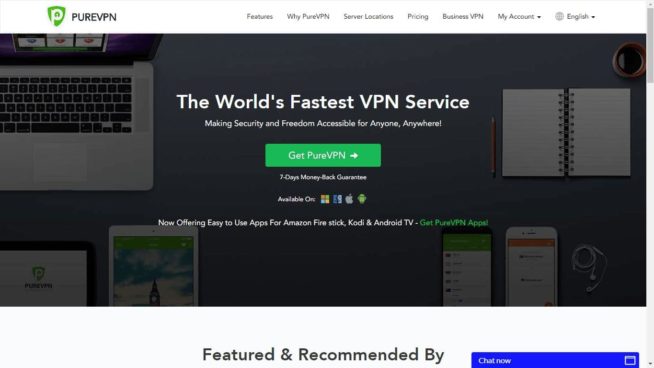 Best for OTTS: Netflix, Hulu, Disney+, Discovery Plus
Maximum Devices: 10
Based in: Hong Kong
Number of Netflix Libraries Unlocked: 7
Take advantage of one of the few which are a part of KPMG always-on audit, PureVPN. They offer over 6500 servers located in 140 countries, which is by far the most amongst the industry leaders. There is no free trial, but you can try the $0.99 for a week plan that offers all the premium features.
Backed by the odd 31-day money-back guarantee, use the P2P friendly with unlimited bandwidth for your Internet needs. Create an account on the website for using the apps on different devices.
Pros
VPN Hotspot
Addons such as Firewall
Effective inbuilt ad blocker
Port forwarding for P2P
Unlimited Server Switching
Up to 10 devices
Robust encryption layer
Cons
Underwhelming customer support
Blemished record of privacy
Additional fee required for some features
Slower speeds on many servers
VPN Protocols
Fundamentally, five major VPN protocols are offered to the customers – L2TP, IPsec, IKEv2, OpenVPN UDP and TCP, SoftEther.
Ideally, IPSec offers stable and all-around performance in all the domains, including streaming OTTs. You can also give OpenVPN UDP a try for faster speeds but don't expect drastic improvement over IPsec. If you are unsure of which protocol to use, let the automatic option decide it for you.
Server Location
Over 6500 servers in 140 different countries. The most in Europe, followed by North America, South America, Asia, and Africa, amongst other 180 plus locations. Check out the complete server list from here.
Security
PureVPN relies on AES-256 symmetric encryption on all its servers. Once you connect to a VPN, the AES-based encryption is applied by default using the available protocol.
Privacy
The VPN service was in hot waters for its ambiguous privacy policy, storing some of the user's personal information. They provided access to the FBI in catching a cyberstalker. After a court case, they made the necessary changes in the policy and added the no-logs policy.
Now they are regularly audited by the Big 4 and independent firms to augment their integrity in the privacy domain.
Speeds
We tested the speeds across major regions using our 200 Mbps fiber-based wired broadband. The surfing speeds were better than Surfshark, NordVPN, to say the least. However, the download speeds were below the expectations, with room for improvement. Streaming Netflix and other OTTs wouldn't be an issue as it requires 25 Mbps for the highest rated 4K content on the platform.
| | |
| --- | --- |
| Region | Speed |
| North America | 88 Mbps |
| Europe | 94 Mbps |
| Asia | 78 Mbps |
Desktop App
Before the overhaul, the app appeared to be pretty cluttered. Now the user interface has received the much-needed upgrade. Now support tickets can also be raised from the client itself. You can launch the app and get connected to the best available server.
Launch the default browser when you connect to the VPN server. Both NAT and NAT modes can be selected from the network settings.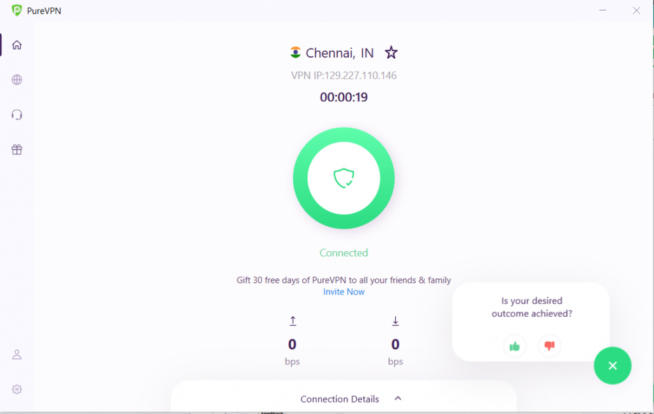 Modes
Depending on the use case, PureVPN has different modes for enhancing the overall performance and experience. Each mode has a different set of protocols, encryption, and parameters.
Streaming: As the name suggests, best for streaming videos online, especially Netflix, Hulu, etc. Security is comparatively lower while performance parameters are maxed out.
Internet Freedom and Security/Privacy: Ideal for regions with strict Internet censorship laws to rely on this mode for maximum privacy and security with average speeds.
File-Sharing: Choose this mode when you want to share files anonymously over the Internet. The security is comparatively lower, but the security meters are on point.
Remote Access Server/Dedicated IP: When you are an individual or business looking to access restricted geo markets, with the combination of dedicated IPs.
Ping Test
A test is used for measuring the response time of the servers to your computer. This is primarily used by gamers who rely on low ping for better online multiplayer gaming. Measure the ping from the desktop app itself and find the servers which offer the lowest amongst them.
Mobile App
The mobile app is barebones when compared to the desktop client. If you have multiple subscriptions, a prompt for selecting one of them will appear on the screen. Features-wise there is nothing except split-tunneling, which is a necessity on a smartphone.
We get options between three VPN protocols on mobile, while it is set to automatic by default. There is one thing worth noting is the raise a ticket feature, which helps ask for help from customer support.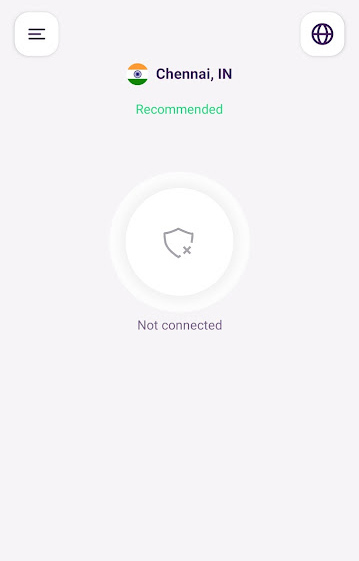 The Android app misses out on the "VPN on-demand" feature available for iOS users. It essentially lets predefined websites and apps that will connect through VPN irrespective of the connection status on the PureVPN app.
Browser Extension
The first impression was far from impressive. For some reason, it did not work at all on Chrome, and a blank page appeared when we tried to access the extension. On the other hand, there were no issues with Firefox and Edge. After a round of troubleshooting, we finally got the extension working.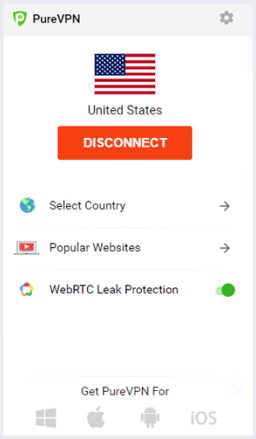 In terms of servers, we get 30 countries to choose from, with an option to automatically open your favorite site once connected. For instance, if you have set it to Netflix, the website will open up in a new tab once you connect to a VPN.
Pricing
You can grab a single month for $10.95, whereas the annual plan will make your pocket lighter by $3.74/month. Check out the two-year plan for a cheaper deal.
| | |
| --- | --- |
| VPN Providers | Netflix Libraries |
| NordVPN | US, UK, Canada, Germany, France, Italy, Japan, Australia, Netherlands, Spain, India, Brazil, South Korea, Finland, Poland, Turkey |
| ExpressVPN | US, UK-Docklands, Canada, Netherlands, Italy, Germany, Netherlands, Australia, South Korea, Turkey, Singapore, Japan, Argentina, Finland, Mexico, Thailand, Taiwan, Malaysia, Romania, Czech Republic, Hungary, Ireland, France, Poland, Israel, Chile, Colombia, Greece, Hong Kong, Switzerland, South Africa |
| CyberGhost VPN | US, UK, Germany, France, Italy, Japan |
| Surfshark | US, UK, Canada, France, India, Italy, Germany, Netherlands, Australia, South Korea, Turkey, Singapore, Japan, Poland, Israel, Chile, Colombia, Greece, Hong Kong, Switzerland, Argentina, Finland, Mexico, Thailand, Taiwan, Malaysia, Romania, Czech Republic, Hungary, Ireland |
| PureVPN | US, UK, Australia, Canada, Japan, France, Germany |
4. Netflix VPN FAQ
Why do I need a VPN for Netflix?
Netflix has a wide variety of content from different regions of the world. Owing to distribution rights, not all the content is available in your region, which is why you need a VPN that provides you access to content that is geo-restricted to a particular region.
Is there a penalty for using a VPN with Netflix?
For years, users have been taking advantage of the best VPNs to watch Netflix content from around the world. There seemed to be no problem or issue whatsoever. Recently, Netflix has decided to tighten the noose and has started banning accounts and IPs associated with VPN.
According to Netflix's terms and conditions, using a VPN for accessing their content in other regions is not allowed and may result in a ban of the account.
Are there recommended speeds for streaming Netflix?
Yes, there actually is. There are official recommendations by Netflix themselves. A minimum broadband speed of 1.5 Mbps is required for Netflix to function properly, show menus amongst other things. And 0.5 Mbps would be the bare minimum to browse the library.
| | |
| --- | --- |
| Stream Quality | Speed |
| Standard Definition (SD) | 3 Mbps |
| High Definition (HD) | 5 Mbps |
| 4K/Ultra HD (UHD) | 25 Mbps |
Which country has the biggest Netflix library?
As of January 2022, Ireland tops the list with 6,379 titles, while the second spot is with Malaysia with 6361 titles. They are closely followed by Indonesia, Japan, and the Philippines. Meanwhile, the US Netflix library clocks at over 5800 titles.
How to Bypass Netflix Proxy Errors?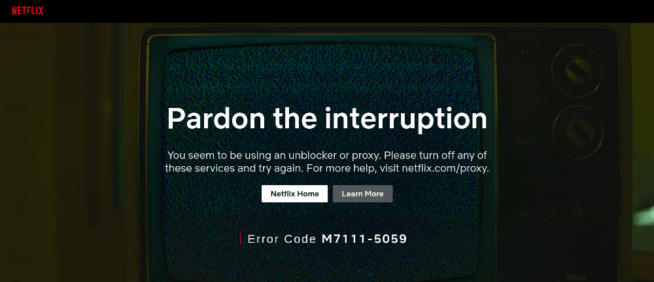 Sometimes the "you seem to be using an unblocker or proxy. Please turn off any of these services and try again." error comes popup when using a proxy to watch Netflix shows of other regions. The problem with proxies is that most of them provide IPs shared by many users from across the world. Eventually, this makes it easy to identify the group of VPN users.
The easiest solution to this is using a VPN with a dedicated private IP assigned to you. And for the DNS filtering by Netflix, most of the good VPNs route their web traffic through the SmartDNS for keeping things uniform, leaving nothing behind. This is an effective way to circumvent the checks in place.
Can we use SmartDNS for watching Netflix?
What SmartDNS does is that it hides your real DNS server with IP and pretends to send it from a server in the location of your choice. For instance, if you want to access Netflix US content while based in the UK, the SmartDNS will send your traffic to a server in the US before routing it to you. This way, Netflix thinks that a residential IP of the US is requesting for the website.
Over the course of the last couple of years, the SmartDNS has stopped working for many Netflix regions. You can still access Netflix US to an extent, but the library is limited.
What to do if your Netflix VPN isn't working?
The first thing to do is turn it off and on again to be sure. After that, try these remedies to get it working again.
Connect to a different server in the same region. The server may have been shut down or blacklisted by Netflix.
Clear your browser's cache and cookies. Sometimes the browser data gets corrupted when cluttered, or the system partition doesn't have the required space.
Get a Dedicated IP that belongs only to you. This is generally available on most of the good VPNs. If that is not the case with yours, then get one on a priority basis.
Disable your security software which sometimes may hinder a VPN connection.
Change the DNS if it's not automatically changed to the one provided by the VPN. If the DNS is in place, then make sure to clear the DNS cache from the device.
How do I watch Netflix on devices that don't support VPN apps?
Not every device can get a VPN app to go with it. Generally, this may stop a TV, video game console, or even a Kindle from not using a VPN. You can use a VPN directly by installing it on the Wi-Fi/Internet router.
Some pre-configured routers have VPN clients installed. On others, you can manually type in your VPN credentials, along with other relevant server parameters. This way, VPN works on all the devices using the router without installing any app.
How different in experience is accessing Netflix from its native application from the website?
There is a fundamental difference in stream quality when streaming from the Netflix website. Except for Safari and Edge, all other browsers stream up to 720p only. You can set it to the highest quality from settings, but the quality will be capped at 720p. There are a few extensions and scripts to bypass it, but they rarely work like advertised.
On the other hand, the native application offers all the features with the highest possible stream quality.
Can I use a free VPN for watching Netflix?
There's a famous proverb, "There is no free dinner." Free VPNs are good to get you started, but there is no guarantee of privacy and security. While you surf for free, your activities and information are often passed on to advertisers in exchange for revenues. They provide you a free service and, in exchange, rely on the revenues through various means for keeping it viable.
Do I need a Netflix US account watching the US content?
As of now, you don't need a US account. Connect to a VPN server based in the US and then access your Netflix account. You will have access to the entire library of Netflix US.
How much speed is needed on the VPN for watching Netflix?
Netflix has a highly optimized streaming system, making it work on the slowest of networks. The official recommendations suggest having at least 1.5 Mbps of download speed for a low-quality stream. Standard definition warrants 3 Mbps, High definition requires 5 Mbps, And when you go 4K, 25 Mbps is the way to go. In all cases, a minimum of 0.5 Mbps is needed for Netflix to function properly. The DNS we mentioned above provide an average download speed of 50 Mbps, which will ensure that your streams are buffer-less.
Is MultiHop recommended for Netflix?
Multihop lets you connect to a VPN for connecting to another VPN based in the same or different regions. Using Multihop for streaming shows and movies on Netflix is not worth the effort. Unless your region has a strict policy against content on Netflix, there is practically no need to use two VPNs together.
Which VPN protocol is suitable for Netflix streaming?
OpenVPN, WireGuard, and Lightguard are pretty reliable protocols used by the majority of the leading VPNs. You don't need to worry about it as they are set automatically. Change the protocols only when there are performance issues on the currently set parameters.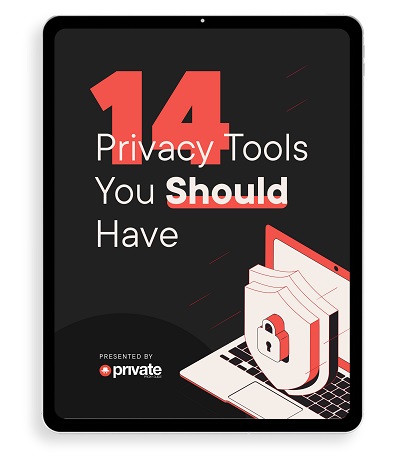 Learn how to stay safe online in this free 34-page eBook.