Depending on how you use your TikTok account and the tasks you perform, there are some activities that can get tedious and boring. You may also find that these activities have a repetitive element to them. Some examples of these tasks are liking posts, writing comments, following accounts, etc. This is where TikTok bots come in.
Bear in mind that many of these tasks are required to grow your TikTok audience. After all, people need to see and appreciate you to care, don't they? It's very important for any TikTok bot you use to come across as humanlike as possible. If the bot's behavior isn't natural, then it may bring your account under scrutiny rather than grow it. Once your account is perceived to be a bot account, things can begin to go downhill very quickly. So, which bots can be useful assets to your TikTok account? This is a review of six of the best TikTok bots in the game.
Please note that I have also included two services selling likes at the bottom of this list. It's not traditional bots, but you might be interested in it anyway. The safest way to grow your TikTok account is to use a growth service and that's why it's listed as #4 here.
1. Best TikTok bots in 2021
Here is my list of the best TikTok bots in 2021:
Best "Pure" TikTok bot.
Pricing: from $49.99/month
Jeffrey is a TikTok bot in the traditional sense. There's a guarantee provided, which states that your TikTok follower growth can be expected to grow by the thousands every month. Of course, no effort is required on your end. This bot service prides itself on its ability to grant you more followers in interesting ways.
According to the Jeffrey website, the entire workflow can be broken down into a three-step process that can take your account from zero to hero almost overnight. The process is:
Account connection – This is where you link your TikTok account to the Jeffrey service.
Follower optimization – The idea is to increase your follower count without making much change to the number of people who you are following. However, since people are more likely to follow you if you follow them first, Jeffrey does just that. Once a few days have passed, Jeffrey unfollows any followed accounts. This gets you new followers and leaves your follower count unchanged at the end.
Watch the growth – All you do at this point is to sit back and enjoy the increase in followers.
Jeffrey uses information that you provide about your target audience, so the followers you gain aren't random. This means that when it's done, the people seeing you are likely to care enough to stay.
Pros
Free three-day trial
Simple process
Secure workflow
Easy to use
Premium support
Affordable cost
Cons
No account manager means self-configuration is necessary
Only one price tier
Pricing: from $15/month
Instamber is known for its prowess in growing Instagram followers. However, that's not the only purpose that it serves. The site also has a dedicated TikTok bot that is useful to those who want to grow their TikTok audiences. This service uses a strategy that involves liking, following, and unfollowing to increase the number of followers and likes on a TikTok account. Of course, it's a chore to do such a task manually. Therefore, the bot's automation abilities can be leveraged to achieve the desired result.
Like Jeffrey, the Instamber workflow is a simple three-step process. These steps are:
Register for an Instamber account and link it to your TikTok profile.
Define the points of interest to be used in the profile improvement strategy. This usually consists of defining your target audience. The categories used to establish this include gender, username, language filters, and even hashtags.
Use the growth monitor to watch your progress.
Though Instamber relies on bot automation, it is done in a non-aggressive manner. While things could be done more aggressively for faster results, that may lead to falling outside the lines of the terms of service, which can create problems for you.
Pros
Affordable price
Safe and secure
Uses targeted marketing to ensure that followers are relevant
Detailed strategy customization
Growth report feature
Cons
Support is only done via e-mail
Low-maintenance
1.3 AutoTokker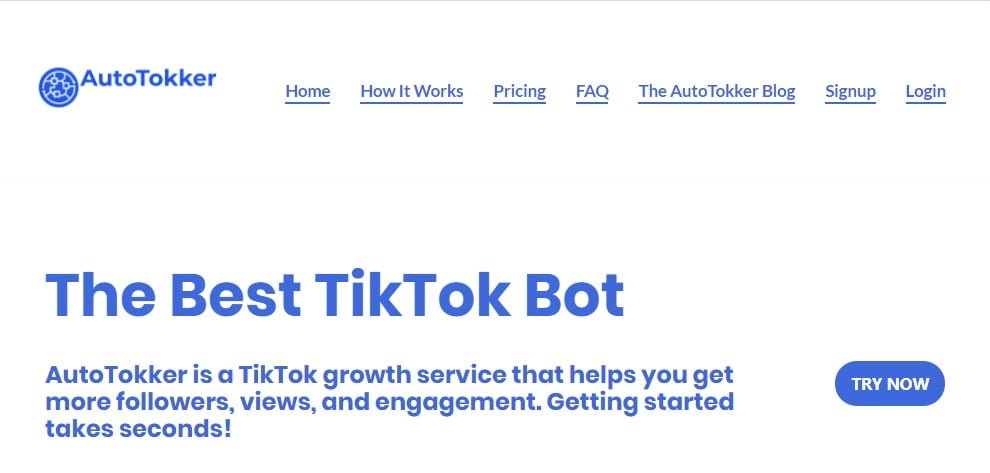 Pricing: from $44.99/month
AutoTokker lives up to a high standard, as it states that it is the best TikTok bot available. Though the service uses a bot, the engagement process is not purely artificial. This is because this is one of those services that cares about the niche and target market requirements of its client.
Like other bots above, AutoTokker uses the follow/unfollow formula, which means that you can gain a massive number of followers without needing to increase your own follower count. With such an approach, you can rest assured that the followers you get are real. Based on the site's metrics, you can expect anywhere between 20 and 100 followers daily, which adds up over time. AutoTokker requires you to select three target accounts, which gives an idea of your target market.
Of course, the service runs 24/7, which means that your growth is continuous. Additionally, it's not so aggressive as to cross the lines of TikTok's terms of service. The trick is to stay within the confines of the number of safe actions. There is a very intuitive report feature that AutoTokker has too, which means that you can always monitor your performance at will.
Pros
Safe and secure
Easy to use
Reporting feature
Targeted growth workflow
24/7 support
Cons
Pricey compared to other options
Single price tier
Safe TikTok growth service.
Pricing: from $15/week.
TokUpgrade is one of many services that can get eyes on your account. As the website implies, the objective is to target and get you real followers who have a genuine interest in the content that you are offering. The idea is to create an organic experience that ends with massive growth for your account. There are many of TikTok's current influencers who have TokUpgrade to thank for their big break. It is also one of the most recommended TikTok bots on Reddit and Quora.
Though the TokUpgrade has a track record for growing audiences, it prides itself on the fact that there are no bots involved in the workflow. The process used is one that is purely organic. The idea is to create an individual experience for every client, and so, you are assigned an account manager upon signup. This person then reaches out to you to understand what you want to achieve with your channel.
Additionally, the account manager tries to gain an understanding of who your target audience is. By doing this, TokUpgrade can create and execute a growth plan that is akin to targeted marketing. After all, if the growth plan isn't relevant to your target audience, how would it help your account? The information that TokUpgrade collects on your target audience is standard stuff. This includes details such as the location and age group that the audience falls under. Additionally, you are required to indicate the industry and niche that your account falls under.
The TokUpgrade website indicates that the workflow stands on four pillars, which are:
Targeted followers
No bots
Automated Growth
Safe and Secure
TokUpgrade works around the clock to find people within your target audience. The reason for the organic approach is to stay as far away as possible from a TikTok guideline violation.
Pros
Security is a priority
Targeted and organic growth
Easy to get started with
24-hour service
Affordable
Cons
Organic growth means that a follower increase guarantee cannot be made
There are only two pricing tiers
1.5 Media Mister
Pricing: from $2 for 1000 views
Media Mister is a comprehensive bot service that helps people to grow accounts across various social media and entertainment platforms. Of course, TikTok is one of the main sites that the service is provided for. This bot service is an enhancement tool that is geared towards growing your account, as opposed to targeting a niche. The idea is to give you social credibility in the realm of TikTok, so your account can remain relevant amidst a sea of competition.
By providing you with thousands of likes and comments, Media Mister improves the number of eyes that see your account. Remember that search results factor account popularity into the picture. Watch your audience grow, as real people see and get invested in your content thereafter. You can think of it as a kick-starter. Note that while the service is automated, the followers are real TikTok account owners.
Pros
72-hour turnaround time
30-day money-back guarantee
Support team available to handle your issues and queries
Affordable pricing
Straightforward process
Can be used for other platforms apart from TikTok
Cons
Site design can feel crowded
Audience growth is not done based on a niche or target audience
1.6 FollowersUp
Pricing: from $3 for 1000 views
Like Media Mister, FollowersUp offers you the ability to grow your accounts on various services by increasing your popularity metrics. In the context of TikTok, you can choose to boost your TikTok account in the areas of likes, views, shares, and fans. Note that payments for these areas are separate.
The process of getting started is very simple. First, you need to provide some information about your target audience and niche. While Media Mister may be a bit more random, FollowersUp works based on the niche that you want to appeal to. The service is quite fast, as most growth plans are completed within 24 – 48 hours. The only exception is the shares option. If you purchase shares, the turnaround time is usually within a week, which is still remarkable.
FollowersUp is a 24/7 service, which probably explains how the service provider can achieve its massive goals in such a short space of time. This simply means you get a stronger TikTok presence even faster. The retention rate is a standout feature of the service. With many services, retention doesn't last. However, you can rest assured that the fan base you get from this service is one that sticks.
Pros
Can be used for various accounts on social media and entertainment platforms
Affordable packages
Sustainable growth
Comprehensive customer support
Secure workflow
Cons
Orders aren't always delivered on time
2. FAQ
This section covers some of the most frequently asked questions where TikTok bots are concerned.
1. Who needs a TikTok bot?
A TikTok bot is for anyone who wants a large increase in followers. This is especially true when those followers fall within a specific niche or target market. In the current landscape of TikTok, it's hard to grow your audience without a bot, as there are many popular channels that people are focused on.
2. Can a TikTok account be banned for bot use?
It is possible for your TikTok account to be banned if the terms of service are violated. The clause that many bots violate is the number of safe actions an account can perform in a day. A flag is raised whenever this number is exceeded, and that's where things go downhill for bot users. You should ensure that whatever bot service you use respects and stays within the allotted limit.
3. What are common TikTok bot features?
The most important thing is a mechanism to grow your audience. Most bots achieve this using a follow/unfollow process. Doing so allows your audience to grow without changing the number of people you follow. TikTok has a 20% – 50% follow back rate, so it's a feasible strategy. Additional features include commenting and liking people's content. There are also other features that are less common, but these all depend on which service you choose to go with.
3. Conclusion
TikTok bots are great tools to promote engagement, which leads to an increase in your number of followers. There are numerous services that can be used for automation tasks to boost your account. Some of these use purely organic methods, while others use bots in the backend. Whatever the case may be, ensure that the service you choose has the tools you need for success.
We are sorry that this post was not useful for you!
Let us improve this post!
Tell us how we can improve this post?