Instagram is the social media where everyone is at. With over 500 million daily users, your business and brand page must interact actively with the audience to reach more people.
As the Instagram algorithm keeps changing, it is nearly impossible to grow your page and gain followers. You can't afford to spend all your time on the page because other aspects of the business require your attention.
Getting outside help through Instagram growth services can take a load off your shoulder.
They can help grow your numbers while you can focus on other essential things. Here we take a closer look at the best services to grow your Instagram page:
Verdict
There is no one Instagram growth service which might be ideal for you. You must try different services to see which are compatible with your Instagram page.
You can start with Social Boost and Social Sensei, which offer reliable growth services without burning a hole in your pocket. Few offer a money-back guarantee, which helps try out services before committing to a long-term plan.
1. Best Instagram Growth Services in December 2023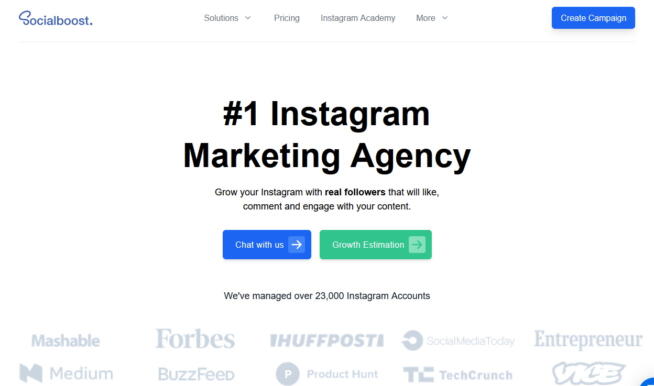 Social Boost is amongst the finest Instagram growth service around. They have a team of hand-picked professionals individually trained with the latest social media strategies.
Pros
Define the target audience and let your dedicated Instagram growth manager engage with accounts matching the criteria by follows and targetted likes.
Monthly content coaching sessions to produce better quality content that attracts attention and pushes itself to virality.
Access advanced monthly reports of the growth and a plan for the near future for proceeding forward.
Latest growth strategies that follow the Instagram TOS and do not put your account(s) at risk.
Consult the support team at any time of the day. Social Boost offers 24×7 chat support hosted by trained staff.
Cons
The growth campaigns take time to start as they gather the resources.
No free trial is available to try it out.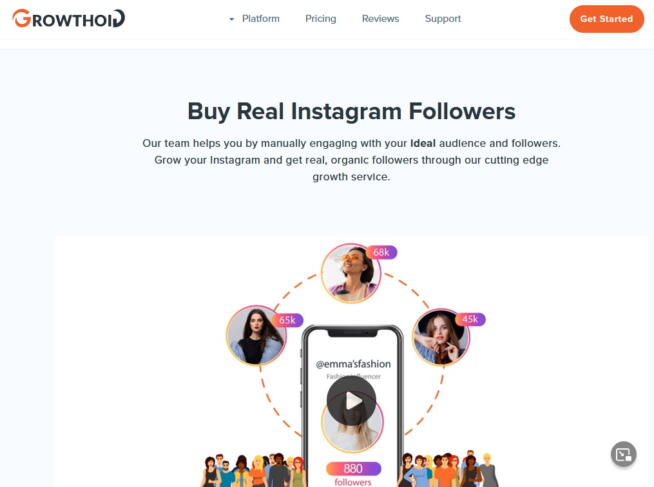 Tired of mundane profiles connecting with your account just because they share similar interests or are living in a particular location? Growthoid puts you in the driver's seat and asks you for a list of accounts that interest you. They take it from there, targeting such people to grow your Instagram.
Pros
Target the kinds of accounts you want, not some data-driven users who don't convert but just look good in numbers.
Access a list of highly engaging accounts that follow back and help grow your Instagram page.
Blacklist accounts that you don't want to follow because they are direct competitors of your business.
Get detailed insights of your story viewers about their location, mutual accounts following, and recent likes.
Deployment within 24 hours of subscribing to the service, thus providing faster results.
Cons
No live chat support on the basic plan.
There is a queue during festivals which takes time in onboarding orientation.
Pricing
Like Flock Social, there are two plans here, standard and premium. The first one will cost you $49/month with user targeting and auto blacklist. Subscribe to the premium plan for $99/month and get a dedicated growth team assigned to you.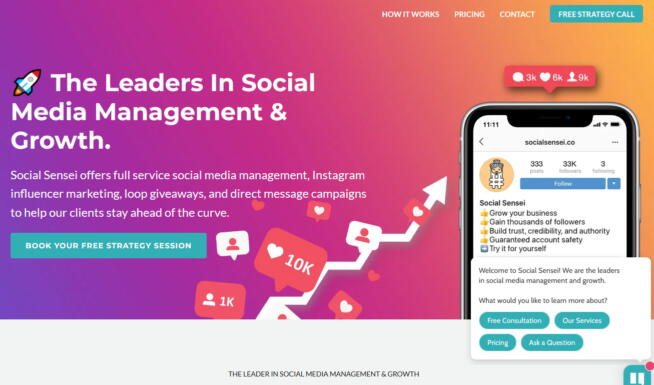 Beginning with a straightforward Instagram growth service, we have Social Sensei. They have tie-ups with leading social media influencers who help generate a real following by directing the fans through various methods. You can also avail of supplementing services for aiding social media management to focus on the business's creative and other aspects.
Pros
Attracts real followers by conducting loop giveaways where the users can enter a contest by following certain accounts.
Get your message delivered directly to thousands of followers of particular celebrities of your choosing. They get tailored and targeted text delivered for driving your campaigns.
Get access to collaborate with real celebrities having millions of followers. Drive your campaign by promotion through their accounts.
You have a dedicated account manager for handling your social media accounts and the accompanying campaigns. Let them handle all the workload while you can focus on the product/service and the creative aspects.
Customize content with your in-house editor and optimize it for maximum conversions.
Cons
You have to reveal a lot of information to get an actionable strategy, which can be a privacy risk.
There are no refunds allowed on the service. You can get a free extension for reaching the targets but no way to get your money back.
Pricing
There have three packs, with the SILVER 5K pack at $499, which includes a growth between 4000-5000 followers. The second plan is GOLD 10K, with promises of up to 10,000 followers. The top-tier plan is $2500+ for pairing with real celebrity influencers to design and deliver campaigns.
Their basic plan starts at $59/month with the starter features. Go with the premium plan for $99/month and get everything on the basic plus analytical reports and account management. Social Boost's top-tier plan will set you back by $249 monthly and has professional account management, advanced target optimization, and like sequences.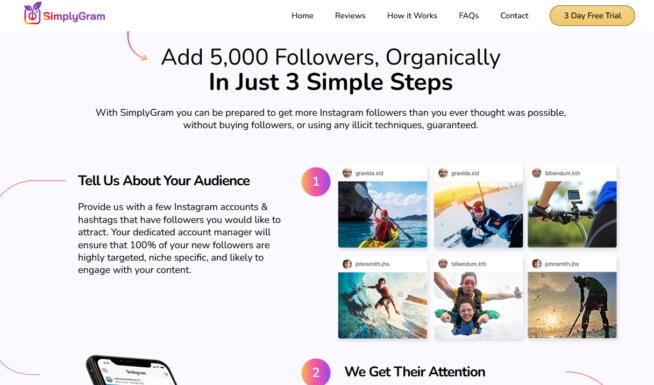 Simplygram has partnered with several publications to market itself. You will find them in leading online publications. They onboard a limited number of customers every week. You can try their 3-day free trial, post which you will be charged for the selected plan.
Pros
They promise realistic follower goals of 5,000 monthly instead of throwing big numbers.
Instagram TOS compliant practice followed by manually managing several accounts. There is virtually no risk to your account.
No questions asked 30-day money-back guarantee is there for customers who are unsatisfied with the results. This comes on top of the three-day trial.
Affordable plans for users on a budget who are not looking to splurge on social media growth. They can opt for lower-tier plans and gradually upgrade with better conversions.
Advanced analysis tool for researching competitors and understanding the niche. It helps in optimizing the target audience and tailoring engagement.
Cons
No collaboration with real influencer celebrities, which has the potential for explosive growth in less time.
Lack of supplementary services such as content designing, dedicated account manager, and content planning for posting.
Pricing
Their economic plan starts at $69/week, sending traffic from three dozen managed accounts. The second plan is $99/week, designed for serious users who want accelerated growth with traffic potential through eighty managed accounts. The top tier Pro plan is $499/week which goes all out and boosts Instagram by targeting users following common celebrities.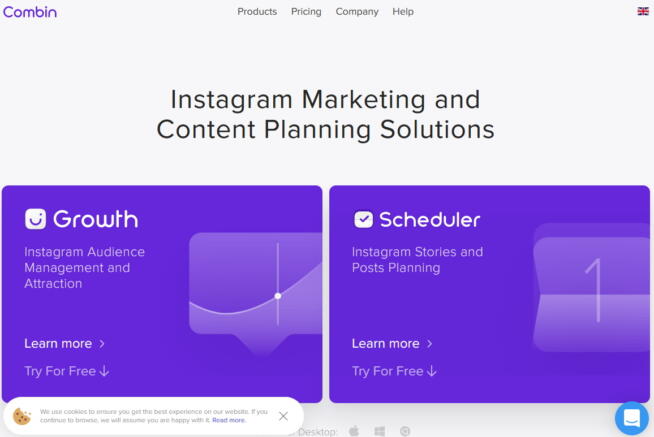 Combin can be the right choice if you manage multiple people for a talent management company. Grow multiple Instagram accounts together without using any automation tool through a single computer.
Pros
Extensive Instagram marketing tool to organically grow followers and engagement. Stay on top of your account and see all the metrics in real-time.
Simultaneously manage up to 15 Instagram accounts and grow them by creating an engaging community that interacts with each other.
Advance Instagram search that can filter specific account's likes, followings, hashtags, and more.
Get notified of who doesn't follow back your account and instantly unfollow them.
Find out profiles who don't engage with your account and analyze their recent activities to see if they are worth following.
Cons
The unfollow feature does not work when the server is down. There is no way to know when it is in maintenance.
You need to keep the software running for the process to happen. Close it down, and the statistics and tools stop working.
Pricing
You can get started for free with 1 Instagram account. Then comes the premium tier with the personal plan, which starts at $15/mo. and allows unlimited simultaneous searches along with user and engagement management features. The topmost plan is $30/mo. with everything in a personal plan, along with more accounts to manage.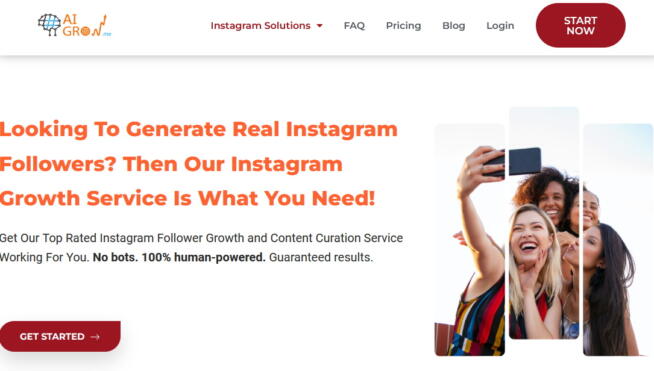 Unlike its name, you get access to a team of social media experts who manage accounts on your behalf. They have expertise in travel, lifestyle, fashion, fitness, and music, amongst other niches.
Pros
Get your Instagram page audited and analyze how it compares against thousands of leading pages in terms of engagement, likes, and followers.
Let AiGrow take care of your content curation needs and schedule it for the best results.
Access a network of over 2,00,000 active influencers and increase brand visibility.
Conduct large-scale giveaways to drive in followers and help build a community in the gradual process.
Monitor growth from a centralized dashboard and see how the metrics changed in a specific period.
Cons
Not ideal for beginners as the user interface can confuse some people.
The speed of the dashboard and tools is slower.
Pricing
The lowest plan starts at $45/month with a dedicated growth team. Go a plan higher, and we have a $129/month plan where we get everything in lower tiers, plus premium Instagram scheduling and remote management tools. The topmost plan is $699 a month and collaborates with top influencers of different niches. You also get access to the content creation team.
We have another Instagram growth service that offers an organic increase in likes, follows, and engagement. Tree Frog Social is managed by a team of real people who recruit new members monthly to cater to growing demand.
Pros
The company has a strong portfolio of working with leading global brands, including NFL, Sony, Hot 97, etc.
Monthly content coaching sessions to produce better quality content that attracts attention and pushes itself to virality.
Micro-plans for catering to small businesses and influencers.
A dedicated concierge for navigating you through the process.
Up to 4,500 accounts are targeted every month, with an average of 150 every day.
Cons
Lack of proper customer support.
No detailed reports on monthly progress apart from the likes and follower count.
Pricing
The basic plan here is $29.99 per month with access to 3000 accounts. Get an additional 600 accounts on their second plan of $54.99 monthly with periodic account evaluation. Their top plan costs $74.99 per month, with up to 4,500 accounts reached per month. Personalized targeting assistance is also provided in this plan.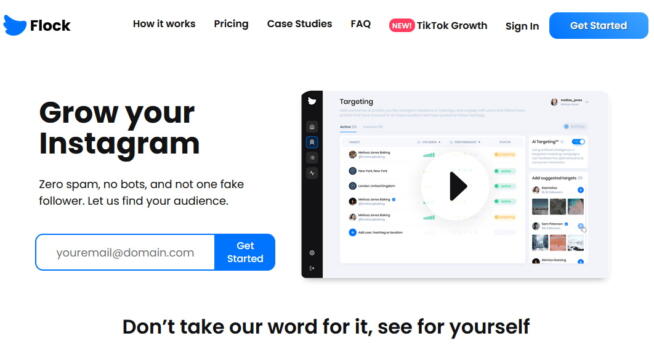 Flock Social might be the only thing you need when you are looking to outsource Instagram engagement and growth. Add your accounts, select a plan and let the service take it from there.
Pros
No special tools need to be installed on your devices to grow your Instagram account.
User-friendly and intuitive dashboard with trending hashtags updated every few hours, keeping you on top of the latest happenings.
Create niche-specific campaigns to increase organic growth in a short span.
Quick adaptation to changing Instagram policies regarding using external services.
Real engagement is based on Instagram growth by interaction with users sharing similar interests and geo-location.
Cons
The main server goes down at times without any prior notification.
Guarantees a number of followers every month, which sounds suspicious
Pricing
They have two plans which are available on an annual basis. First is a basic plan for $49/month with access to advanced analytics and insights dashboard, along with the Instagram tools. The second plan is for business owners, priced at $79/month with a dedicated account manager.
Featured on sites like Forber, Entrepreneur, and Marketwatch, Amplufuencer is making all the right noises. It begins by consulting with you to better understand your needs and goals. Then they create a detailed roadmap that will be followed moving forward.
Pros
Get a research-backed report on the profitability of existing followers and the potential accounts that should be engaged.
Monthly audit of the accounts that help in removing inactive users who are not active on Instagram
IFTT integrated posting for accurate publishing content on pre-planned times with the best results.
Get custom graphics and designs for posting on the account created by the content team.
Specialists teams for brands and individuals for better conversions.
Cons
Very expensive for the followers promised.
No live chat support for the first two tiers of subscriptions.
Pricing
Ampfluencer offers three different plans. The growth plan is priced at $249/month with an average growth of 250 followers and email support. The Growth x2 plan costs $349/month, with an average of 500 followers, and comes with customized reports and priority support. The top tier plan is for $1499.month with everything in the lower plans, along with optional social media posts and captions, which cost extra.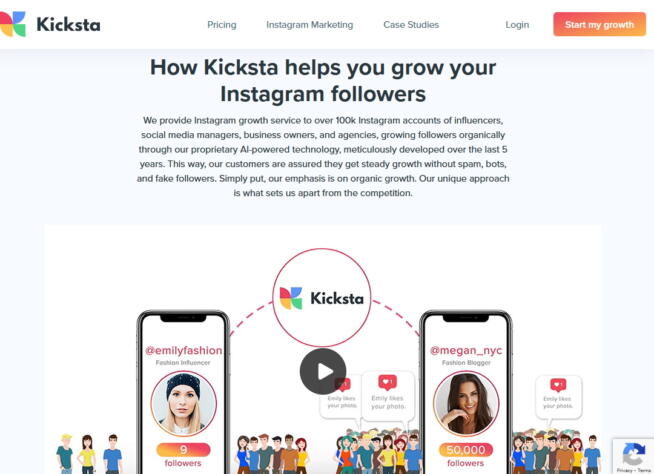 Wrapping up the article with Kicksta, which relies on AI technology for driving their research about the users and how to engage them. You can create an account and take it for a test drive with their 14-day money-back guarantee.
Pros
Advanced and targeting users through AI-powered tools by understanding their likes, followers, and followings to create an activity pattern.
No Instagram login is needed for growing the account on the top-tier plan
Diversified audience from around the world and helped in geo-targeting users on a local level.
Set up to 40 different Instagram targets to achieve monthly metrics, engagements, posts, etc.
Full-fledged onboarding course to understand the service in detail and how to get the most out of it.
Cons
Limited customer support on lower plans.
No free trial is offered on any of the plans.
Pricing
The most basic plan from Kicksta starts at $49/month, including courses, online targeting, and basic support. The next plan is premium, which costs $99/month and includes VIP email support and a blacklisting feature. The highest plan is for $218/month with everything in the other plans plus onboarding video sessions, and no Instagram login is needed for growing your audience.
2. FAQ
2.1 How to Select an Instagram Growth Service Provider?
You must consider the below-listed points to find the best Instagram Growth Service Provider:
Stay clear of promised growth
You might come across several Growth Services that persuade you to purchase Instagram followers for quick fame—while the offer is tempting, run far away from them as these followers are mostly bots. Remember, genuine growth services cannot predict the exact growth of followers you will witness in a period, and those doing so are probably scamming Instagram users.
Organic growth services are the way to go!
As inferred, look for growth services that emphasize on organic growth of your Insta account instead of promising you thousands of new followers in a short period. They will maintain complete transparency in explaining their organic growth procedure and give honest feedback on your account. 
Robust Customer Support Service
Credible growth services are always more than ready to provide required customer assistance whenever the customer needs help in case of uncertainty.
Genuineness
Before signing up for their services, do all the possible research about the background to ensure they will deliver what they promise and are not willing to cheat you by making false promises.
2.2 Are Instagram growth services reliable?
Turning to organic services to grow your Instagram account is unquestionably reliable. It saves you plenty of time and effort and allows you to concentrate on other aspects of your business. Their skilled team will employ the organic growth methodology to grow your Instagram account which gets discovered by the masses. The expert growth services are completely reliable and will holistically work on many aspects of your account, such as manually interacting with new users, liking their posts, sending direct messages (DMs), running promotions, and even producing top-notch content and uploading them at the appropriate times.
2.3 What are the Instagram Growth Strategies To Use Alongside Your Growth Service?
You may be wondering which efforts I can put in conjunction with growth services to see visible growth in your Instagram followers. Using the proper tactics can ensure the steady growth of Instagram account over time.
Publish Educative and Entertaining Content
Posting high-quality material is crucial for quickly expanding your account. Depending on your Instagram account, it is recommended to regularly publish the right blend of Educative and Entertaining content to keep your followers engaged.
Stay Relevant
Relevancy is the key to ensuring your followers get what they are looking for. Avoid straying away from your niche, as it is the fastest way to lose old followers who quickly press the unfollow button on seeing irrelevant content in their feed.
Be consistent
Consistency is an essential in gaining new followers and syncing with Instagram's algorithm. Nothing turns down potential followers more than finding a new account of their interest and discovering an inconsistency in creating new content. Depending on your daily routine, you should post at least once or twice a day.
Go with the Trend
Instagram has several exciting features, such as Instagram stories, IGTV, reels, and regular profile posts. Make sure you regularly create content in these styles because Instagram uses them as bait to discover new followers for your account. And finally, harness the power of Instagram influencers. These are groups of people on Instagram with similar interests and values, so you can find like-minded people and collaborate with them.
2.4 How does an Instagram growth service work?
We need to understand that not all Instagram services work in the same fashion. They craft their strategy based on years of experience to deliver the promised- increase in followers and engagement rate on your account.
Do not confuse these services as a place to merely purchase followers and gain overnight popularity to impress your fan base. These companies use organic approaches permitted by Instagram to improve your account's credibility, which, in turn, attracts new followers.
All reliable Instagram growth services follow the natural growth strategy to organically boost the customer's Instagram account. Unlike Instagram automation methods, growing your Instagram following naturally eliminates the need to purchase fake followers, utilize prohibited tactics, or use bots in any form. It just takes knowledge, effort, and time to get real people to follow your brand on Instagram.
The road to gaining new followers this way may be difficult, but using manual Instagram growth practices and a dedicated Instagram account manager will gradually take your Instagram account to new heights where you can achieve your goals. 
Instagram growth services mostly apply this strategy for brands who wish to earn a loyal followers base that can convert into customers in the future. Using the manual growth strategy, brands witness growth in sales, better brand awareness, and an accelerated traffic rate to their website. The effects of this strategy last long term and do not get your account suspended or banned.
2.5 How To Find If Someone Has False Followers?
There are several ways to figure out if someone has genuinely earned a massive Instagram following or has purchased fake Instagram followers: 
There as several social media statistics tools that inform whether an Instagram account has got a sudden surge of Instagram followers. If true, it means they have purchased automated followers.
Check the likes on their Instagram posts and see if they do justice to the number of followers. Considering the 1% conversion rate, an average of 10,000 followers on an account means 100 likes on a post. So if an Instagram account has 50,000 followers, but the likes per post are not more than 100, it indicates fake followers.
Randomly visit the accounts of their followers and see their followers list, posts, profile picture, and bio. The profile will be abandoned and will justify botted account.
2.6 Are Instagram Growth Services Safe?
When searching the Internet for Instagram growth services, you will come across many of them, but not everyone is safe. Only a handful are trustworthy, and you can easily differentiate between them. You should ensure that their strategies comply with Instagram's terms of service. For instance, using an automated growth service on Instagram is against the terms of use. Secondly, companies that paint a good picture to skyrocket your Instagram growth and promise guaranteed instant results should be avoided at all costs. Go for the growth services that put in expertise, time, and energy, to manually growth your Instagram account and promise long-term results.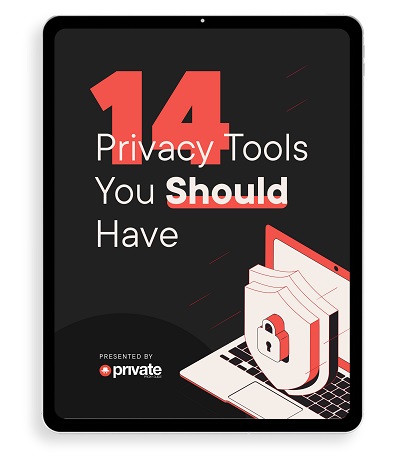 Learn how to stay safe online in this free 34-page eBook.