When it comes to backing up their data, many Mac OS users think, first of all, about the Time Machine.
This is a built-in tool that allows the user to backup information and perform this action regularly. However, it is not a perfect instrument. Relying only on it can have disastrous consequences for you. Every Mac OS user must think about additional steps to protect their important data. Let's review some alternative solutions for backing up data for this operating system.
Could you tell us about your experience of cloud backup services for mac in the comment section?
List of the best cloud backup services for Mac in 2023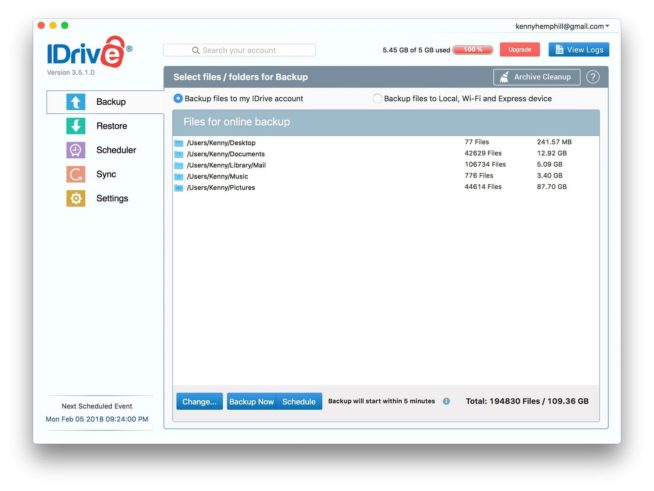 Pricing: 5 GB for free, $69.50 for 2 TB, $99.50 for 5 TB.
IDrive is a powerful cloud backup service to save all your important files and restore them at any time. You can use an unlimited number of devices with one account so you can protect all your computers without additional expenses. It is a useful feature if you are going to protect the devices of each family member or use it in a company. Maybe it is not as user-friendly as some other competitors, but it offers a solid solution and reliable uptime. Due to limited cloud storage, you will have to select the folders to back up manually.
It is quite boring the first time you do it, but then the application works smoothly and does not disturb you much. A great option is that IDrive does not have any default folders — you are able to choose any from your Mac computer. The application is highly customizable — you are able to configure the backup schedule. In addition, you are able to use the app to back up the files on the local driver, without uploading them to remote servers. Moreover, you can use it without the schedule. In that case, the application will update the backup files within 15 minutes from when you changed them the last time. IDrive provides the 256-bit AES encryption protocol and allows using the personal encryption key. This makes the service very reliable, secure and protected.
Read our full review of IDrive.
Pros
Very easy to set up and use.
No device limitations — you can use any number of them.
Integration to Finder.
Easy syncing of files and folders.
Affordable prices.
Disk images back up.
Saves several versions of files.
Bulk restores and uploads.
Cons
Not the best performance.
No unlimited storage plans.
Keeps limited versions of files.
Only email two-factor authentication
---
Pricing: Standard — $49.99 one-time purchase, Advanced — $49.99 per year, Premium — $99.99 per year.
Acronis True Image allows Mac users to take advantage of advanced data security features to protect sensitive information from natural disasters, theft or damage to their computer while maintaining a complete system image in a secure remote storage. By combining best-in-class local backup on pluggable storage media, users can be sure that the complete system image, including all applications, files, settings, and bookmarks, will be reliably protected. Acronis True Image's simple and intuitive graphical interface allows users to backup and restore, using saved data, easier than ever. With desktop and mobile applications, including iOS and Android support, data backups can be accessed and restored anywhere, anytime, for any computer.
Main features of Acronis True Image
Full and incremental backup of the system on local storage media and in the Acronis Cloud — double protection for the entire system in case the local copy is damaged, lost or stolen.
Backup data, individual files, and folders — both in the cloud and in the local storage.
Incremental cloud recovery — fast recovery of the entire system, without the need for local storage.
The Try & Decide feature allows you to create secure, controlled, and temporary workspaces on your computer without the need to install special virtualization software. You can safely install new software, visit suspicious sites, and open questionable files.
Secure Cloud Storage — users can upload their most important data and have access to it from anywhere in the world.
Acronis Active Protection. An extortioner is a malicious program that encrypts files and asks you to pay for decryption. Acronis Active Protection prevents unauthorized modification of files by ransomware in local and cloud storage.
Certified backups. Acronis Notary with Blockchain technology ensures that the saved file remains unchanged since the backup is created.
Acronis Asign offers fast and reliable certification of files using an electronic The authenticity of the files is guaranteed unchanged with publicly checked entries in the Blockchain registry.
Increased safety and convenience of work. Strong encryption for mobile backups and Facebook data, restore content to your Facebook account, view mobile content and more.
Pros
Intuitive user-friendly interface.
Great upload speed and overall performance.
Backup to the cloud and local drives.
Backup and restore the selected folders or the full disk image.
Access to files from anywhere.
Blockchain-based data verification.
Cons
Expensive plans.
No password protection for shared files.
---
Pricing: $5 per month, $50 per year, $95 for 2 years. You have to pay for every computer connected.
Backblaze is considered to be the best by many specialists. It definitely provides a great user experience and a feature-rich and highly customizable application for Mac and other devices. The best feature that makes it different from any other competitor is the unlimited cloud backup storage. You will never think about what files to backup and which folder to sync.
You can easily store the whole operating system with all the user files. In addition, Backblaze configures the backup copies automatically — you do not have to do it manually. Moreover, the unlimited storage includes external data drives. Backblaze provides the highest level of protection and security. Before being transferred to the remote server, the files are protected by the AES 128-bit encryption. The transferred files are protected with TLS which is considered untraceable. If you have any questions about using this service, you can get informative technical support that is available via email, online live chat or rich knowledge database.
Don't forget to read our complete Backblaze review.
Pros
Unlimited backup storage.
Very easy to set up and use.
Powerful security features.
Ability to find a stolen device.
Ability to restore the data via the mailed
Very affordable price.
Cons
No integration to Finder.
No automatic upload from mobile devices.
No free pricing plans.
---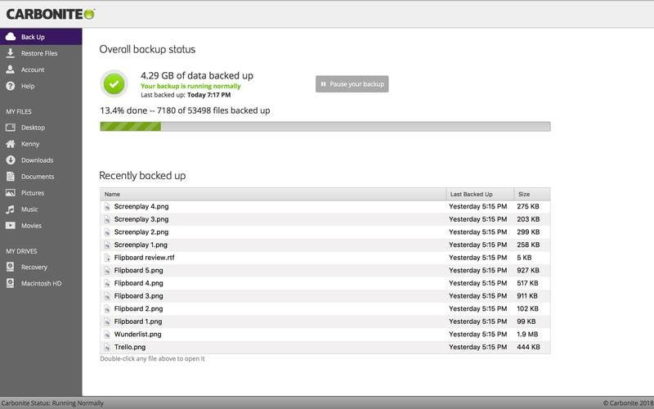 Pricing: one computer from $6/month, multiple computers from $24/month, computers + servers from $50/month.
Carbonite is a powerful backup tool that works in automatic mode. Once you set up and configure the app, it will not disturb you. You will be able to restore the backup files automatically, without the need of manual manipulations. The service is very secure and protected. It uses the 128-bit AES and TLS encryption which switches to AES 256-bit while using the personal encryption keys.
Pros
Unlimited online storage for Mac users.
Integration into Finder.
Continuous backup feature.
Easy installation.
Affordable prices.
Reliable protection and security.
Cons
Slow online interface.
No external drives or videos pick up in the basic
No free tariff plans.
Desktop client does not provide the file tree feature.
No collaboration and sharing features.
---
What is an ideal backup strategy?
The ideal backup strategy must consist of not less than two separate schedules, one of which must use a remote drive. So, if like most users, you backup your data using Time Machine, think about using an additional alternative tool to save the copies to another drive.
The most obvious solution is a special backup application. Be prepared to pay for it, as a good product cannot be completely free. How do these apps work? Some of them just create clones of the hard drive and save them somewhere. Other products regularly take system snapshots. Another category allows synchronizing the folders on your computer with a remote drive or computer. You can configure the schedule to avoid data loss and simplify the restoring process. And of course, there are online services. They provide their drives for you to store your backup data. They regularly upload the backup files of your system and keep them for a certain amount of time, usually from several days to several weeks.
After the first copy, the application uploads only the changed files in order to save you time and connection bandwidth. You are also able to configure the maximum bandwidth the application can use. This is a very useful feature especially when you do not have a very fast internet connection.
---
Why should you use online backup services?
Online backups are very user-friendly but they raise many privacy concerns. Thus, the choice of service and uploading your data to it is extremely important.
Pros:
Professional infrastructure offers the best possible protection against data loss.
With increasing data volumes, storage can be quickly expanded.
No binding to the device or place: offers safety even if the device is lost or if there is a fire in the house.
Cons:
You must trust the service — a certain skepticism is especially necessary regarding some American providers.
The speed and efficiency largely depend on the available internet connection speed.
Monthly expenses and difficulties in changing the provider in case of further price increases.
---
Cloud backup is stunningly comfortable
We cannot say that the concerns of many users about uploading their data to other servers are groundless, especially if the servers are located in the US or elsewhere and it is not clear who has or can access them. In addition, effective work with cloud storage is possible only with a fast connection to the Internet and download speeds of at least 5 Mbit per second, something that is still impossible in many places.
On the other hand, how tempting is the idea of transferring the concerns about storing files to professional computer centers, being able to access this information from anywhere in the world and conveniently share it with others? This dilemma has two ways of being solved: either you find a provider promising maximum confidentiality (and paying for their services), or you encrypt your data yourself before uploading it to the cloud.
---
When will the cloud backup be the most efficient tool?
Hard drive failure
Any drive (HDD, SSD, flash drive) can fail at the most important moment. Recently, the traditional hard drives have begun to fail more and more often. We will not be discussing the reasons for the failure of the HDDs in this article — just keep in mind that if your Mac is quite old, it can fail at any moment. In recent years, Apple has been using only SSD drives but there is no guarantee that these will not fail as well. The same applies to flash drives and any storage media. Many Mac users have old HDDs and DVDs that have been working perfectly for many years and, at the same time, there are HDDs and DVDs that have failed very soon. Nothing is perfect.
Viruses
Another reason why you may lose your data is due to viruses — they can delete or encrypt your files without the possibility of recovery. A lot of people think that the Mac OS is completely protected from viruses. However, there are a lot of situations when it becomes the target of perpetrators. And, although lately cyber-attacks are more aimed at various organizations, the computers of ordinary users are also under threat.
User errors
Very often, files are lost as a result of user errors: accidental deletion of files, formatting of a disk or flash drive, errors in copying files, namely the incorrect use of the cut/paste function and much more. Because of these errors, both the source and backup files may be affected.
Failure of the file system
One of the reasons for losing files can be file system errors. As a result, the data on such a disk becomes not readable — the system simply does not see it.
Loss/deletion of a data partition
Sometimes, as a result of disk partition management programs, you can lose entire disk partitions. This can occur either due to errors during partition conversion or due to user errors, for example, when deleting the wrong partition.
---
The right choice of cloud backup service
Many users still confuse cloud backup services and cloud storage services. Yes, they are quite similar as you are able to store your files using a provider's resources.
Of course, you can use the traditional cloud storages to save your important data manually but in this article, we refer to the professional automatic solutions. What should you remember when choosing the best backup provider? For everyone, the most important question is the price and security.
Remember that a good product cannot be provided for free. If the company offers great conditions and does not charge the users, most probably they have some confidentiality issues. For example, they can have the right to use your content for their purposes. Are you ready to share your data with everyone? We are pretty sure you are not, especially when you have important and secret information. In some cases, these conditions are valid not only for a free package with limited capabilities but also for professional products with enhanced functionality. This issue is actual when it comes to American companies. The situation is absolutely different with German providers, who are obliged to comply with the basic law on information protection and indicate the importance of encryption.
So, in cloud services with servers located outside the EU, only non-essential files should be stored in clear form — for example, downloaded programs and videos, photos of landscapes and buildings. Snapshots of people and truly confidential documentation should be uploaded to such storage only within a folder encrypted with Boxcryptor. A certain exception can be made for the Backblaze service, which at least offers a kind of end-to-end encryption — however, in this case, you will have to trust the provider that when accessing the web interface, the passwords for encryption and decryption are not saved.
Storage capacity and convenient synchronization software
Every good backup service must provide a convenient synchronization software for your Mac computer and configure the folders for backup, from which the new or modified files will be immediately uploaded to the cloud storage.
These solutions are great for the first stage (real-time protection) and can complement the third stage (catastrophe protection), so you do not need to make full back-ups often. But since even cloud services sometimes do not work or are unavailable (for example, during long-term problems with connecting to the Internet), in no case should you refuse to regularly back up to local hard drives.
Cloud storage clients also allow you to synchronize information across multiple devices. Depending on the size of the online disk, such synchronization can cost about $10-$15 per month for one or two terabytes. The Backblaze service has no restrictions on the volume which by default loads the entire contents of all internal and external drives connected to the computer.
---
Conclusion
We reviewed the best four cloud backup services available for Mac users. They provide great security features, are pretty customizable, and are available for affordable prices. We are sure you will find a great solution for your needs.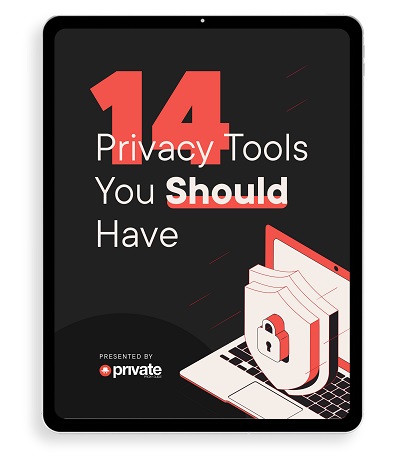 Learn how to stay safe online in this free 34-page eBook.