Here's a (not so) fun fact: gaming isn't cheap. Yes, that's right.
We're not talking about colorful puzzle games that you can play on your smartphone. We're talking about games that are meant to involve you for real – ones that have excellent graphics, immersive story modes, as well as fully-working multiplayer modes (we're looking at you, Red Dead Redemption 2). To start gaming properly, not only will you need either a console or a gaming PC, but you'll also have to pay for a good monitor or TV, headphones, controller, and all the games you want to play. All of that can cost a pretty penny and set you back hundreds at best.
So, should you drop your dream of becoming the next Ninja or PewDiePie? Not necessarily. Actually, the solution might be just a few clicks away. Enter cloud gaming. Cloud gaming technology is the new kid in the gaming block – one that promises to deliver a premium gaming experience without you having to break the bank. Interested in the new tech? Stick around, as in this article, we'll go over the best cloud gaming services available today.
1. What is cloud gaming?
Simply put, a cloud gaming service is like Netflix, but for video games.
Cloud gaming refers to playing video games remotely from the cloud. When you subscribe to a cloud gaming service, you're basically renting a remote server that's equipped with the necessary hardware to run games smoothly. When you launch a game, a video stream of that game is sent to your computer. In other words, the virtual machine takes care of the heavy lifting while you game away. Seems awesome, huh? Remember Black Mirror: Bandersnatch? Well, you can think of cloud gaming as a more involved version of it.
For example, when you press the spacebar, you send an input to jump. The input is then sent to the virtual machine or remote computer, which updates the game accordingly. The video stream you're watching updates simultaneously, which makes the whole thing feel like you're playing the game on your own machine. The process may seem a bit long, but that's only on paper, as the whole thing happens in a matter of milliseconds in practice.
If the cloud gaming service can keep the latency low, the input log becomes imperceptible. According to John Carmack, the CTO of Oculus VR, as long as the total latency threshold is below 20 milliseconds, the relative delays in parts of the visual or audio fields are generally imperceptible, and the cloud gaming experience should feel like it's happening locally.
The best part about cloud gaming is that you can play pretty much any game you want even on a standard PC. No need to spend hundreds building a gaming computer or buying a console just to play a couple of games that you like. No overheating, no excessive power usage. The future is here, folks!
There's one (obvious) catch here, which is that you need a fast, stable internet connection to receive all the feedback and data from your cloud gaming server. If your connection drops, the video game will show more compression artifacts. Still, paying for a good internet package is still more affordable than handling all the hardware and software yourself.
Other than that, cloud gaming is a dream come true for gamers, pros, and beginners alike. So, how do you proceed? It's simple, you'll simply have to install an app on your device. Once you run it, it'll lead you to a library of available games. You can play whatever you want whenever you want as long as your subscription is active. One question remains: which are the best cloud gaming services available today? Read on, and you'll find out soon enough!
2. Best cloud gaming services in 2023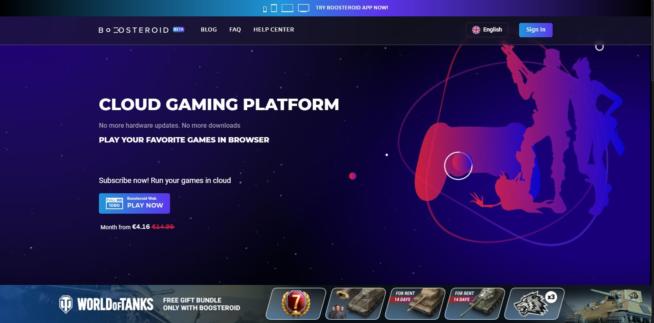 Website: Boosteroid.com
Although a new name in the industry, Boosteroid has taken the world of cloud gaming by storm, and for good reason.
Boosteroid is based in Romania, and it has servers across multiple European countries, including Spain, the UK, Ukraine, and Italy. That makes it the best option for European users.
Regarding compatibility, Boosteroid can be used on a plethora of Operating Systems, including Windows, macOS, Linux, Android, and iOS. Of course, as is the case with other cloud gaming platforms, there is no need to install the game before playing.
When using Boosteroid with a desktop device, you can play your favorite titles directly from the browser. On mobile, however, you'll have to download the Boosteroid app. It's worth noting that there's a separate app for smart TVs.
As for the selection of games, Boosteroid offers a wide catalog of over 500 releases from the biggest gaming platforms out there, including Steam, Epic, Battle.net, Riot Games, Origin, and Rockstar Games. Just remember that not everything offered by those platforms is available on Boosteroid, so make sure the titles you intend to play are available before signing up. For example, at the time of writing, Microsoft games, such as Minecraft and Flight Simulator, aren't included in the platform's selection.
Now, in terms of prices, Boosteroid's pricing structure isn't complicated. There's one subscription that costs €9.89 per month. The one-year subscription costs €49.89 as one payment, which amounts to €4.16 per month. Unfortunately, Boosteroid doesn't offer a free trial, so, before signing up, make sure that:
One, the titles you intend to play are available.
And, two, your internet connection is fast enough. According to their website, you need an internet connection of at least 15 Mbps to get a smooth gaming experience. With a stable connection, you can easily play in 1080p at 60fps.
Overall, Boosteroid is worth a look. It's reasonably priced, and it offers a decent selection of AAA games. As long as you have a decent internet connection, you should have an enjoyable gaming experience on the platform, especially if you live in Europe.
Pros
No need to install an app on desktop
Affordable price
Wide selection of AAA games
Several servers across Europe
Cons
The infrastructure outside of Europe isn't that great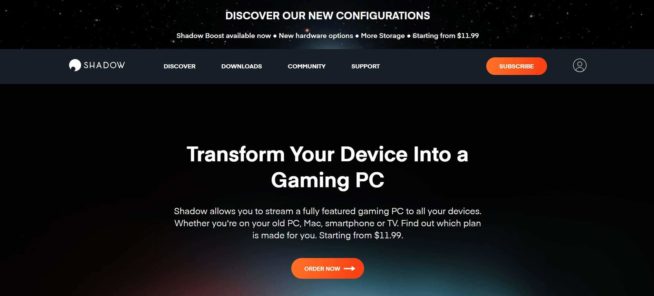 Website: shadow.tech
Shadow is a cloud gaming platform that's set to launch in April 2020. Using Shadow, you'll be able to import your games and progress from most digital delivery platforms, such as Steam, Origin, Epic, Battle.net, and Uplay. With Shadow, you'll be able to use a high-end remote computer for pretty much anything you can't do using your regular pc, not just gaming.
Blade's cloud gaming service has three membership levels:
Boost, which costs $14.99 for 256 GB of storage, 12 GB of RAM, a GTX 1080 graphics card, and a 3.4 GHz quadcore CPU. Activations start April 2020.
Ultra, which costs $29.99 for 512 GB of storage, 16 GB of RAM, an RTX 2080 graphics card, and a 4 GHz quadcore CPU. This plan will be available starting in Summer 2020.
Infinite, which costs $49.99 for 1 TB of storage, 32 GB of RAM, a TITAN RTX graphics card, and a 4 GHz hexacore CPU. This plan will be available starting in Summer 2020.
Yes, Shadow is indeed expensive compared to the rest of the cloud gaming services on our list. Shadow's client will be available for Windows, macOS, Android, and Linux. Only the latter is still under development at the time of writing.
Pros
Excellent performance
Powerful virtual computers
You can import your own games and progress
Cons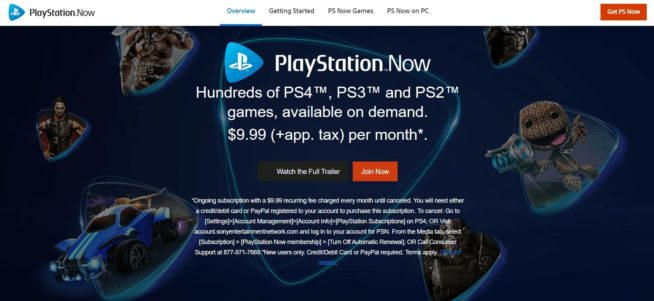 Website: www.playstation.com
PlayStation Now holds the first spot on our list of the best cloud gaming services for one simple reason: you don't need to purchase the games individually to play them.
This cloud gaming service costs $9.99 per month and allows you to play hundreds of PS4, PS3, and PS2 games on-demand. The library currently contains over 800 titles and it's growing every day. Games like Uncharted: The Lost Legacy, The Last of Us, and Horizon Zero Dawn are all available at no extra cost. What else could you possibly ask for? We guarantee that you'll be spoiled for choice!
The catch here is that you need a DualShock 4 controller, which makes total sense, considering that you'll be playing PlayStation games. So, all you have to do is connect your DualShock controller via USB, install the PlayStation Now app on your Windows computer, and enjoy any PS game you've always wanted to try! If all of that sounds good to be true, you can take PlayStation Now for a spin at no cost by grabbing the free trial.
Pros
Over 800 titles are available right away
You don't have to buy games individually
No need to wait for downloads or updates
There's trophy support for those who enjoy hunting
Cons
You don't own the games, so they could be removed at short notice
You need a DualShock 4 controller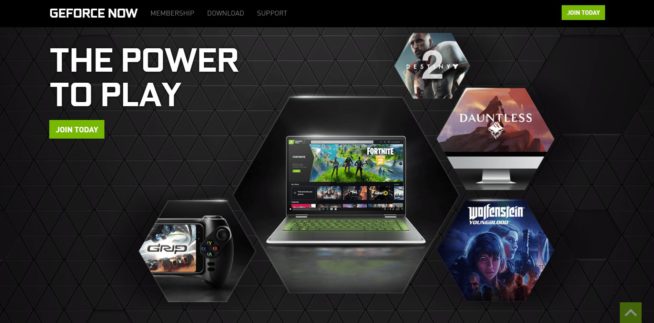 Website: www.nvidia.com/en-us/geforce-now/
Created by Nvidia, the giant graphics chip designer, GeForce Now is a cloud gaming service that works on Windows, macOS, SHIELD TV, and Android devices. Talk about compatibility!
Unlike PlayStation Now, GeForce Now allows you to access your existing library of video games on different digital delivery platforms, such as Steam and Origin. That works as both an advantage and a disadvantage for the service. On the one hand, you'll have to pay for any game you want to play. On the other hand, you'll be able to keep all of your games if you decide to end your subscription.
GeForce Now is only available in Europe and North America, and it offers two membership levels: Free, which costs nothing, and Founders, which costs $5/month. The first grants users standard access over one-hour sessions, whereas the latter includes priority server access, extended sessions, as well as RTX, which is an enhanced graphical option. At the time of writing, the Founders subscription is sold out, but you can set up an account to get notified when the membership is available again.
Pros
1080p60 video with no noticeable input lag (if you have a stable internet connection)
Can run pretty much any game on any standard device
Automatic updates
Cons
Available only in North America and Europe
The game library is relatively small compared to PlayStation now
Website: store.google.com/product/stadia
Google Stadia is the reason many people discovered cloud gaming back in 2019. When it was launched in November last year, many beginner gamers with no access to great gaming hardware rejoiced as the service promised impressive features like 4K streaming at 60FPS and two free games a month for subscribers.
Google Stadia costs $129 and includes a Chromecast Ultra, a wireless controller, and three months of Pro membership. Once the introductory period is over, a $9.99/month subscription kicks in. Sure, it's pricier than other services on our list, but the results certainly warrant such a high cost. One major advantage of the Chromecast Ultra is that you can stream games directly on your TV. Keep in mind that it's not a console, but rather your connection to Google Stadia's servers. -Of course, you can also play games on PCs and Android devices, which makes this service quite flexible in terms of hardware.
Thanks to the great tech behind it, Google Stadia grants high-end gaming and perfect streaming on speeds over 40Mbps. On the flip side, users have reported that the initial setup can be frustrating. Furthermore, Google has a habit of abandoning projects quickly. Add that to the fact that Google Stadia's library is modest and limited, and the sustainability of this cloud gaming service becomes questionable.
Pros
Minimal lag/latency and seamless streaming on speeds over 40Mbps
4K HDR for Pro subscribers
Transitions from mobile to PC
Cons
The game library is currently modest at best
The features included in the Pro membership are a bit confusing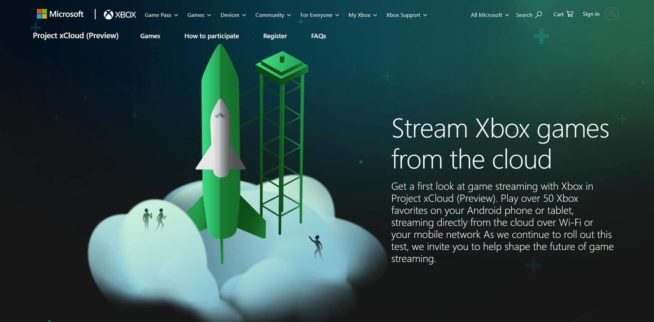 Website: www.xbox.com/en-us/xbox-game-streaming/project-xcloud
Project xCloud is a cloud gaming service developed by the tech giant Microsoft, and it's designed to stream Xbox games to Android Phones and Tablets.
Mobile gamers, rejoice, as no PC or console gamer will dare make fun of you anymore! All you need to start using Project xCloud is a Bluetooth Xbox One controller, and you'll be able to play any of the games included in the library that contains over 50 titles. If you don't want to use Bluetooth, you can get an optional gaming clip, which is also available for connecting your Android phone to the controller. Project xCloud requires 5Ghz Wi-Fi or 10Mbps mobile internet, and it's still in preview mode. The cloud gaming service is set to launch later this year, but you can still sign up and try the preview if you get accepted.
Pros
Brings the best of Xbox gaming to your Android smartphone or tablet
Cons
You need a Bluetooth Xbox One controller
Only available for Android devices
Website: vortex.gg
Vortex is an excellent option for cloud gaming, but it's a bit lacking compared to other services that stream PC games.
The company has three membership levels:
Basic, which costs $9.99/month for 50 hours and grants access to 76 games.
Pro, which costs $19.99/month for 80 hours and grants access to 176 games.
Ultra, which costs $29.99/month for 140 hours and grants access to 176 games.
To use Vortex, you'll need an Android, Windows 10, or macOS device along with a 10Mbps domestic internet and a 5Ghz Wi-Fi router or 4G/LTE mobile internet. Although Vortex is a good option for anyone who wants to get into cloud gaming, it's mainly suitable for those who are just starting out, as it's still a bit limited.
Pros
Easy to set up and use
Available for a wide range of devices
Has most of the mainstream games people care about
Cons
The game library is limited
The performance isn't the best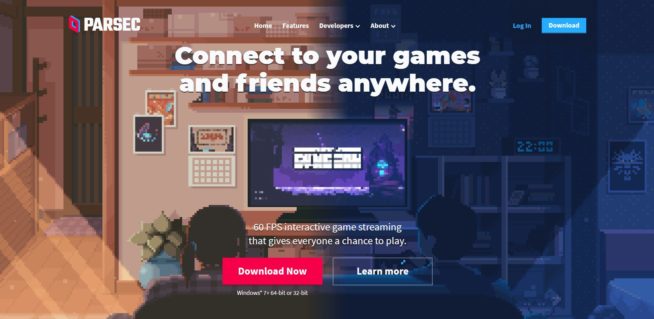 Website: parsecgaming.com
Parsec is a bit different than other cloud gaming services, as it's much more openly technical about how it works. That said, the average non-techy user can still make use of what Parsec has to offer, especially that it's known for simplicity, accessibility, and low-latency performance.
What's special about Parsec is that it offers peer-to-peer networking, which means that you can play with your friends even if a game doesn't offer a multiplayer mode. As for the pricing, you only pay for the hours you play, and the servers cost $0.50 to $0.80 an hour. Note that Parsec isn't ranked this low on our list because it's bad, but because the other cloud gaming services are great and easier to use.
Pros
Works on Windows, Android, Raspberry Pi3, and some Linux distributions
ou can connect and play with your friends
Decent performance
Cons
A bit complicated compared to other cloud gaming services
Only some mainstream games are available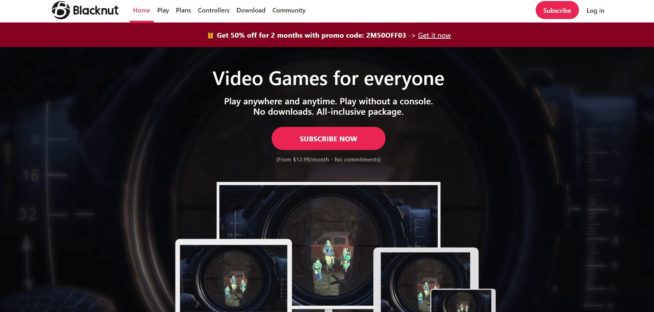 Website: www.blacknut.com
If you're looking for a family-focused gaming experience without having to spend money on costly hardware, then Blacknut is all you need.
Blacknut offers users the possibility of playing simultaneously on up to four screens, including a kid's mode, which only shows games rated E10+ and below. This service has two subscriptions to choose from: Premium, which costs $12.99/month, and Family, which costs $19.99 and offers multiple accounts and parental control. Blacknut works on Windows, macOS, Android, Linux, as well as Amazon Fire TV.
Pros
Works on up to four screens simultaneously
Parental control is available
Affordable subscriptions
Cons
The game selection is a bit limited
3. Free cloud gaming services
It's only natural to wonder if you can get the full cloud gaming experience for free since the whole concept has been created to reduce gaming costs and make it accessible to the masses. Well, the answer is "it depends". Most cloud gaming services have a free trial, which is technically free, but it would only be available for a limited period of time.
Other cloud gaming services have a free tier, which is the case for GeForce Now, but such plans are usually limited in terms of features. Parsec is pretty cheap, and you only pay for the hours you play, but it's a bit challenging to install, set up, and maintain, and its game library isn't that impressive. Sure, if you dig around, you may find some free cloud gaming services, but be careful, as some may be very sketchy.
4. Verdict
There you have them, the best cloud gaming services available today. So, which one should you choose? Well, this is another question for which the answer is "it depends". On what? On what kind of games you want to play, and whether you want to pay for the games to own them for good or not. If you want to try PlayStation games, PlayStation Now is your best option. If Xbox titles entice you, then Project xCloud might be just up your alley. If you believe in the PC master race, GeForce Now or Google Stadia is all you need, though the latter may be harder to set up.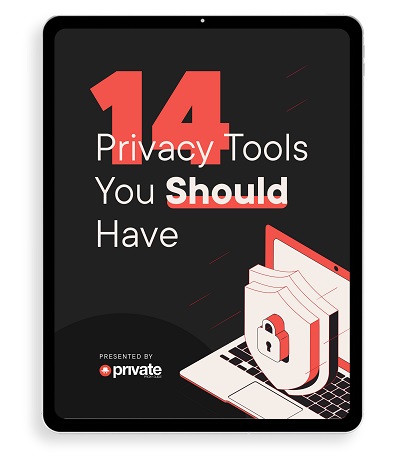 Learn how to stay safe online in this free 34-page eBook.