Quick summary: I have put together a list of the best Instagram bots for followers that still work and growth services with pros and cons. I recommend Inflact as the best Instagram bot. If you are looking for a good social media marketing agency, then I think you should give Social Boost a try.
1. Best Instagram bots in 2023
Here is my list of the best Instagram bots in 2023:
1.1 Inflact – Current best Instagram bot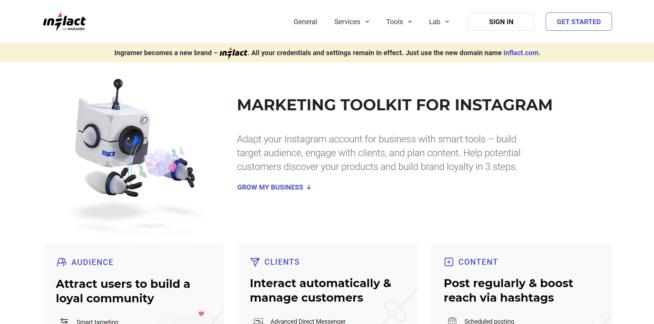 Inflact is another fairly straightforward Instagram automation service. It will like, follow and comment on other user's posts. Naturally, the client may select hashtags the bot can track, and the ones it can avoid.
The bot can also handle the client's own posting schedule, and even message people. In addition, the bot may also provide analytics on the client's accounts. They've now added an opportunity to send auto Direct Messages through their service. The maximum number of messages that can be sent each day is 100. It means that each hour Inflact can send about 12-14 messages.
They can be sent to all users or to each new, like welcome ones. Another update is an opportunity to check the Direct inbox and send answers through Inflact. The second update is a Schedule Posting. Before it was possible to plan photo posting only and now it's possible to schedule a video, add carousels (up to 10 pictures) and even stories.
Speaking of which, the service can offer its three tiers of payment for 1, 2, 3, 5, and 10 accounts. The 1 account limit plans seem to be the most expensive, so the 2-week plan costs €19 (about $22), the 1-month plan is €24 ($28) at a 35% discount, and 3 months are €57 ($67) at a 50% discount.
In contrast, the 10 account limit plans are €9, €12, and €28. The 3-month plan even comes with a personal manager, who will make sure the client's account stays on track. Of course, there's also a 3-day free trial.
Pros
Scheduled posts
Targeting hashtags
Liking, following, commenting, messaging
Analytics
The personal manager handles the bot at the 3-month tier
Cons
Pretty expensive for what it is – though it does get more cost-effective with multiple accounts
Use the promo codes below:
Get 12% off on the Direct Messages Module by using promo code – "DMPRIVATEPROXYGUIDE".
Get 15% off on the Hashtag Generator module by using promo code – "HGPRIVATEPROXYGUIDE".
1.2 Followadder – Affordable Instagram bot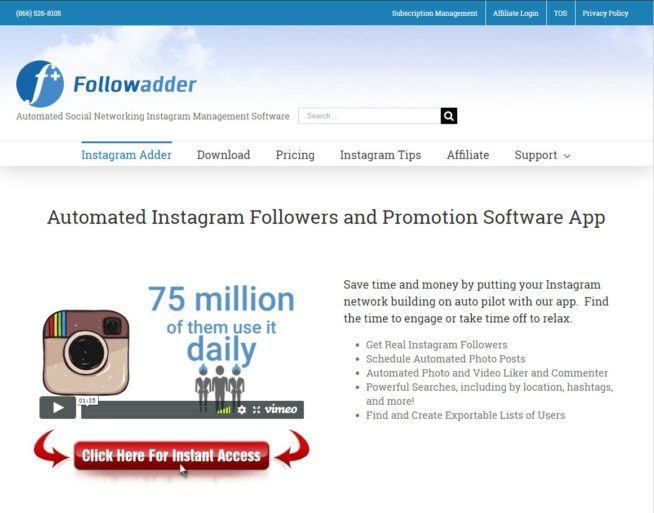 FollowAdder is definitely the most well-known Instagram automation service out there. In our opinion, this company earned its excellent reputation – allow us to explain why.
All in all, FollowAdder is a very reliable automation service that does everything an Instagram bot should do. We can use it to schedule posts, as well as like and comment on other accounts' content. In addition, FollowAdder can also host giveaways from the client's account to increase engagement.
Of course, business owners may be a bit reluctant to leave their brand in the hands of a piece of software. After all, as I've mentioned, mistakes have happened in the past, and bots don't have the discerning of a human. However, FollowAdder has proved itself competent. Even though the bot takes over a brand's account, the business will still have the final say and complete control over the automation service. Basically, FollowAdder will help you gain real and engaged followers within a certain demographic, thereby helping your business grow. They have five service tiers, all of which allow users six months' access to all features, as well as free support and software updates.
The Starter tier costs $8.33 per month and gives the software control over one account. The other tiers are $12.50 monthly for 3 accounts, $19.17 for 5, $31.33 for 10, and $70.83 for 25 profiles. And, there's even a 7-day refund period – so clients can be sure that they're getting what they paid for.
Read my FollowAdder review
Pros
Post scheduling
Liking and commenting on relevant posts
Following users with common interests, also automatically unfollowing
Managing multiple accounts
Directing traffic towards your website
Very safe and reliable
Runs on Windows, Mac, and even Linux
Cons
Get 20% off your purchase by using the FollowAdder discount coupon – "PRIVATEPROXYGUIDE"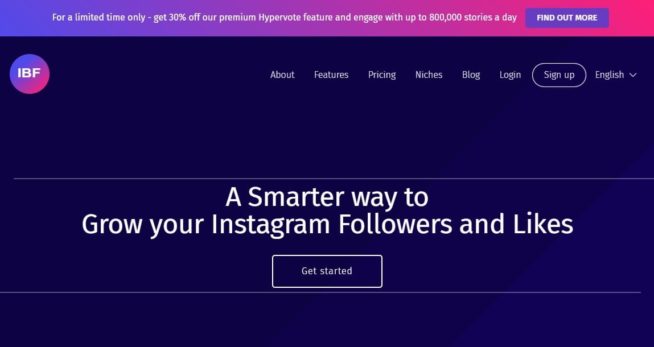 If you're looking for something that will help you manage your Instagram account, then Instagrambotfollower.com might be right for you.
Shortened to IBF, this tool can help you post to all of your accounts, ensuring that the content is the same. You can also automatically post stories, videos, photos, and albums. Plus, you can even schedule posts so that they pop up throughout the day instead of all at once.
With IBF, you can automate everything to do with your Instagram account. Plus, it works well if you have multiple versions. That way, everything looks similar, and you don't have to worry about missing a post here or there. Now, it is possible to pay for items directly through Instagram. However, you need a payment gateway, and you'll get one with IBF. This means more convenience for your customers and the ability for you to make the sale right on the social media page.
Of course, emojis make the world go round. Customers and followers are going to use these icons to express themselves. If your account doesn't accept that or they show up strangely, it will make people upset. You won't have to worry about it when you use IBF. Plus, it is mobile responsive, so it will work on your smartphone and other devices. This means you can check things on the go or while you're at the office taking a quick break.
Instagram Bot Follower can help you grow your followers with its many features. These include direct messaging, auto repost, auto comment, auto like, and auto follow/unfollow.
Pros
Automate many Instagram processes
Schedule posts for a later time/date
Compatible with emojis
Auto-post your content
Cons
All features not included in all price points
No advanced editing features
Limited storage
With a three-day trial period, you can decide for yourself if this is the right tool for your needs. I think it could work well, depending on what you require and how much you want to pay for it.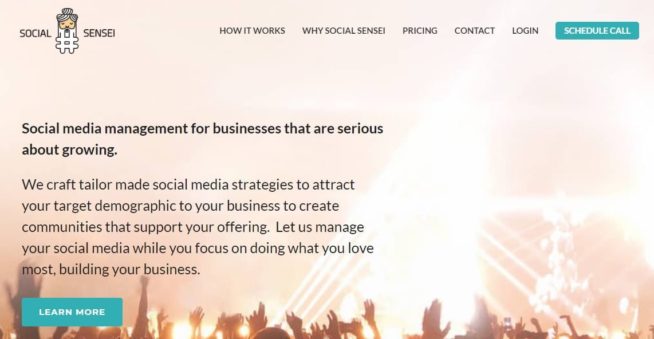 Those who want a well-established Instagram growth service are sure to like Social Sensei. It's been around for over 12 years and focuses on online promotion. It is basically a social media agency. Primarily, it works with any size account to help companies grow their business and get noticed by more people. You'll find a variety of packages and price points, as well.
One thing that sets this company apart from other options is that it doesn't sell fake followers. You'll only get real followers that care about the post and your product. It works by targeting the traffic that comes to your Instagram account. With organic growth, you'll build a following, gain brand awareness, and convert followers into leads.
Services can include gaining more Instagram views, likes, and followers. There are three packages. The basic version allows you to buy followers which will be done organically and safely. They also offer a money-back guarantee. If you're not satisfied with things after 10 days, you can receive your money back.
You'll also find that you get a five-day trial, which is ample time to learn how the tool works and start seeing results. Don't be surprised to find that it is quite easy to use. While you can find tutorials and have access to support, you may not need it. However, it will take some time to set up; the professionals will help you set it up for a one-time fee, which is required.
Pros
Straightforward and easy to use
Excellent support
Money-back guarantee
Great features
Cons
Gets expensive
Requires a set-up fee
Hard to choose between the plans
I do think that Social Sensi is a valuable service for companies and influencers that want to increase followers, visibility, and engagement on Instagram. You are likely to notice growth while using Social Sensei, though it does take time.
1.5 Nitreo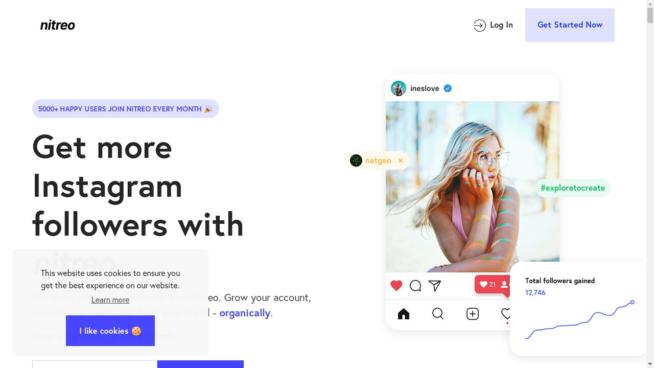 Nitreo is an award-winning service that many digital marketers around the world use. It is simple and easy to use, giving the users time to focus on what matters most. All you need to do to get started is added your Instagram handle, hashtags associated with your page, and other pages that you like.
The algorithm then automictically calculates who should be contacted and in what way. It engages with your audience and likes, comments, and shares on your behalf. It saves you a bunch of time and is perfect for people who manage many social media pages. Nitreo comes in two packages, the essential and speed. Both are great value for money and help you to get noticed on Instagram. The essential package sells actual results for $49 a month, giving you fast organic growth and limited support. If speed is what you need, this package is going to cost $79 per month, which is only $2.63 per day.
You receive priority support, the ability to target whoever you like, and the fastest real organic growth out there. With over 70,000 users, you know you can trust this service. If you are an agency, it offers special pricing, so get in touch with the success team to see how they can help you.
Pros:
Affordable and reliable
Excellent for agencies or social media managers
Cost the same amount as a cup of coffee to use each day
Automatic AI system that interacts for you
Cons:
The essential package has limited support
People who have smaller accounts might not benefit as much from this service
1.6 Social Captain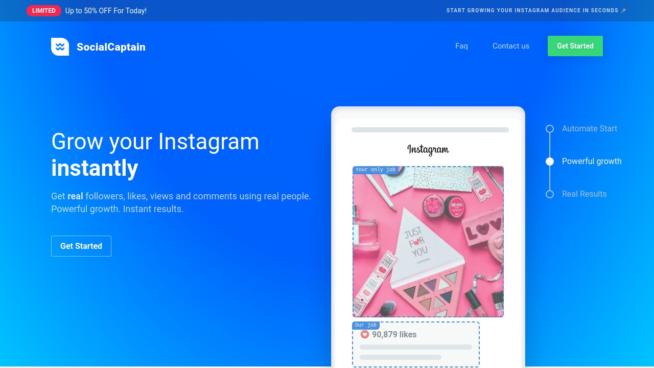 Social Captain looks like a standard run-of-the-mill Instagram bot. The website is currently running a 50% special on its services. It claims to provide users with instant likes, views, or follows on Instagram. You need to select what service you require and the amount of engagement you need.
Social Captain is a script that you can run on your Instagram account to get more followers. You set specific parameters in the dashboard, and SocialCaptain automatically begins to work for you. You can choose everything from the target hashtags or audience to the speed at which you want it to perform. You can also turn on things like automatic commenting and smart tagging. It's easy to create an account with just your name, email, and password, and you also get a 24-hour free trial, so you don't have to worry about spending anything to try it. Socia lCaptain connects to your Instagram account, you get a quick tutorial on how to use it, and that's it.
The system then calculates a price for you that can be paid either by PayPal or a credit card. Once payment is complete, your Instagram account starts to receive new real followers who like, follow, and share your content. In just a few clicks, you are going to increase your marketing efforts and get instant satisfaction from Social Captain.
The highly complex AI algorithm makes sure to link users interested in topics that surround your page. Replenishment of your account happens every 24 hours or when the system detects a drop in followers. If you have any questions or wish to stop the influx of new followers, Social Captain is just one email away. Since each new follower is a genuine person, Social Captain cannot remove them from your Instagram page. If you wish to do this, you need to block individuals from your page to remove them.
Pros:
Instant delivery of genuine real followers
Cost-effective solution
Perfect for anyone who is starting a business on Instagram
Cons:
You need to block followers if you don't want them on your page
Could lead to you getting a ban on Instagram if followers are delivered too quickly
1.7 Kicksta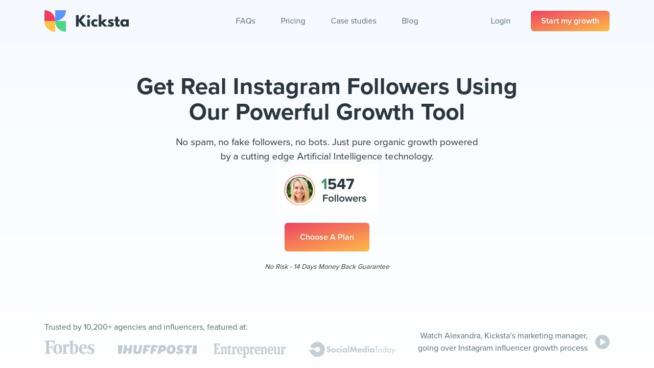 People who are looking to grow their Instagram page have known and trusted Kicksta for many years. This service is a favorite among people looking for a simple tool with a ton of built-in features. The dashboard is easy to use, and everything is accessible under different tabs making it intuitive to use.
On the company's website, you can find many case studies from users who have purchased this service. There are two different packages available on Kicksta. The standard one goes for $49 per user per month. It offers moderate growth, video onboarding, and 10 targets per month.
There is are significant differences between the standard and premium, so let's mention some so you are up to speed. When you choose the premium option, you receive maximum growth, 40 targets per month, VIP email support, Live Chat Support, and advanced targeting. The premium package typically goes for $149 but is currently on special on the site for $99 a month. As you can see, there is a substantial difference between the standard and premium packages. So, depending on the person using the service, you need to decide which one suits you best.
They also offer a 14-day money-back guarantee if you don't see any results within the first two weeks of using the service.
Pros:
Currently on sale
The premium package is excellent value for money
Live customer support
Cons:
The standard package doesn't offer much
1.8 Social Meep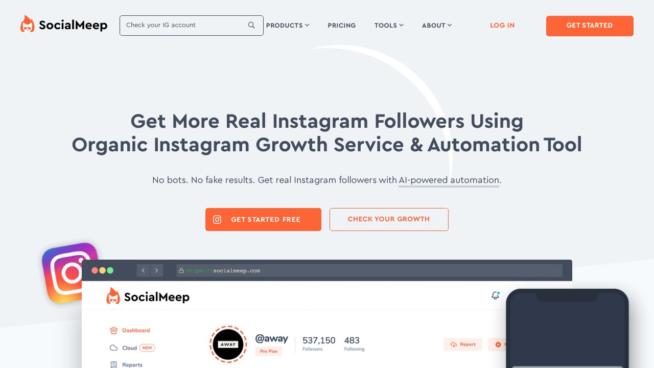 Social Meep is a new company that claims to increase your followers on Instagram without bots. The company says that it uses organic AI automation and has an excellent support team behind them.
A few packages it has available can suit anyone looking to grow their account for business purposes. Its basic plan is $49 a month and is ideal for anyone looking to get started. You are provided with fast organic growth and real-time analytics so that you can focus on what matters most: your content creation.
There is also a pro package for $99, which is the most popular for people who already have a following and want to attract more customers. The pro package offers premium support and access to the Social Meep Cloud, a service you can use to store information regarding your campaign.
All packages come with a 14-day money-back guarantee. That is how confident the company is in its services. The company has an additional service that can be added to any monthly contract. The service is called Social Meep Experts, and it's an on-demand team that helps to manage your Instagram growth.
Experts include human account monitoring, weekly reports, help to build a content strategy, and even business insights. This additional service costs $300 per month and can be incredibly beneficial for someone with a large following on Instagram.
Pros:
14-day money-back guarantee
Easy to understand information regarding the growth of your page
The pro package comes with 24/7 support
Cons:
A little pricey for most users
No support is included in the basic package
1.9 Ektor.io (Head Copilot)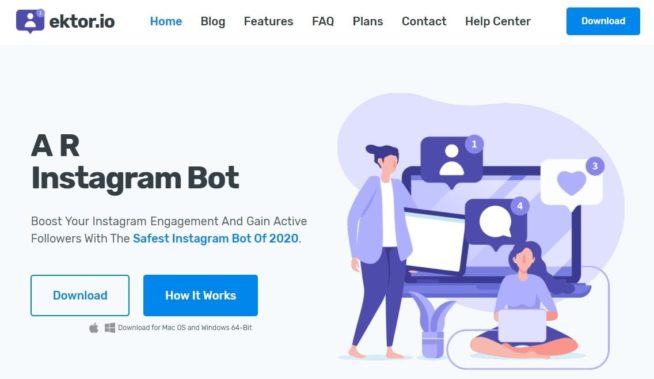 Head Copilot, also known as Ektor.io, is powered by artificial intelligence. This desktop software uses A.I. and facial recognition to identify faces in your posts. It can tell which users are more likely to interact with you and engage with them.
Of course, it is designed to work when you aren't. Therefore, it will work like a human all day and all night, picking up followers. However, it's also undetectable. Its automation services emulate the latest versions of Instagram on mobile and computers, so you don't see any notifications about compromised accounts.
With Ektor.io, you have growth and undetectability. You can auto-like, auto-follow/unfollow, target by hashtag, auto-comment, target accounts, and get facial recognition. Plus, it features a new mass story view and an anti-blocking system.
There are currently two plans available. The lower price doesn't feature submissions, free updates, and the mass story viewer while the more expensive option does.
Regardless of the price plan you choose, you will get up to 500 likes each day, and 150 follow/unfollow each day. You can also make 300 comments and have 5,000 mass story views per day. This is quite a lot when you compare it to other bots.
Pros
Mac and Windows friendly
Two-factor authentication
Auto-like
Auto-follow/unfollow
Facial recognition
Cons
No option for multiple accounts
Beta testing for smart unfollowing; might not work
Only available for desktop (no mobile app)
While this is a new company, I do think it has potential. However, there might be a few issues with the newer features, such as the smart unfollowing option. With the 14-day refund guarantee, you can make sure that it will work for you and your needs. I recommend that you give it a try if you want something that won't get you banned from Instagram and won't fill your account with fake followers.
1.10 Instelite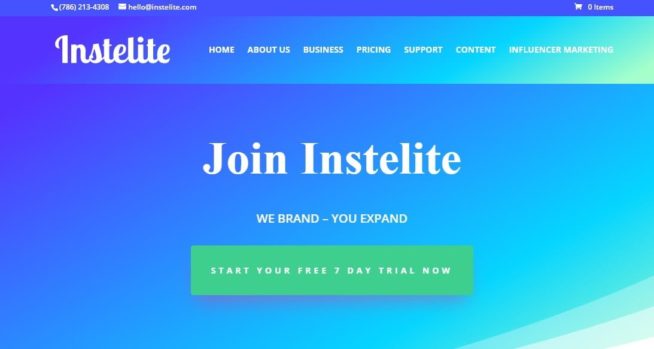 If you're looking for help with your Instagram account, Instelite is an excellent choice. It will do all of the engaging for you. Plus, it can update your target audience to ensure that followers really care about your product or service.
In a sense, it frees up time because you don't have to search for people interested in your industry, engage with them, and then wait for them to follow or engage back. The bot does this all for you!
This tool is designed to do a lot of things to help grow your account. For example, it will automatically like posts, create customized DMs, target accounts and locations, follow/unfollow, and add hashtags. These are just some of the many features.
One issue people find with bots is that they get 'action blocked' popups, meaning the social media platform recognized that you were using a bot. You won't have this issue with Instelite. Plus, it is completely safe to use. While you do need to give the company your login information, it is secure.
It works by getting people's attention. In a sense, it will interact with others. They will get excited about a new like or comment, so they are more interested in interacting with you. Through all that, they might follow you and/or buy something. On top of everything else, it uses standard targets that are appropriate for Instagram, such as locations, hashtags, and user names.
Pros
Achieve results
Fully managed
Influencer focus
Assigned growth assistant
Live chat support
Transparency about terms
Safe and secure payments
Multiple options for gaining new followers
Cons
Influencer focus ONLY
Only works for Instagram
Can be pricey
Those who want fast results are sure to like Instelite. It also has many testimonials from happy clients. When you sign up, you'll work with a specific growth specialist. That means more personalized service. However, it is designed to be used by influencers, so it might not work if you are a business owner.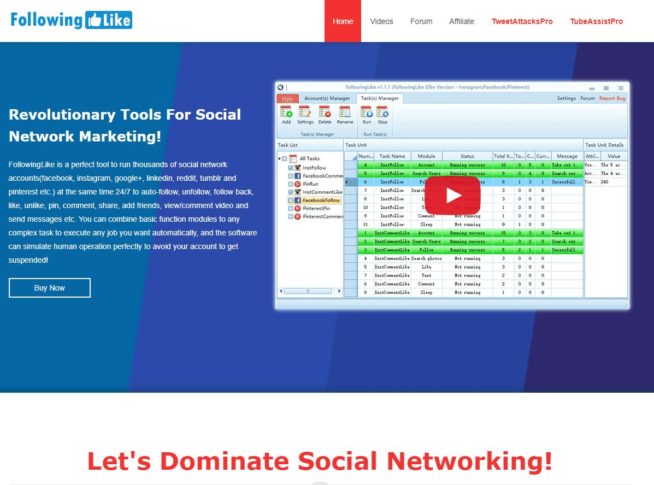 FollowingLike claims to be one of the best Instagram bots on the market. It's fairly simple to use, and can also handle any task you throw at it. The bot can schedule posts, like, unlike, comment, or even message people with interests relevant to the client's brand.
Essentially, FollowingLike will try to mimic human behavior – but then, that can be said for the previous service as well. This feature is very important in a bot since some services have been shut down for overtly spamming their followers' timelines. In order to avoid detection, the bot also uses the proxy rotate method, so clients needn't worry about the service's IP footprint.
FollowingLike is available for Facebook, Instagram, Google+, LinkedIn, Pinterest, Reddit, and even Tumblr. If a business owner is in need of a bot service that operates across multiple platforms, they may even use the service's Ultimate Edition, which gives them access to all platform-specific features. Of course, the Ultimate Edition is significantly more expensive than single-platform versions of the software.
For one Instagram account, clients can pay the one-time fee of $79, and $113 for five profiles. There are several options for unlimited account services, so clients may pay a one-time fee of $194. On the other hand, they might also pay $136 per year, or $7 for 3 days, then $148 yearly. The fourth option is paying $100 monthly.
Pros
Post scheduling
Liking, unliking, commenting, messaging
Follow and unfollow automation, search users who don't follow back
Simulates human behavior
Proxy rotate method
Cons
Somewhat pricey and it doesn't have a trial period
Must download software
1.12 Boostgram
For businesses that like to have some options before settling on a growth service, there are many more bots to choose from. Boostgram, for example, is an excellent service – and there are no downloads necessary. Clients have full control over the automation service, which includes not only post scheduling and automatic liking and following but also audience targeting.
The bot can target accounts by gender or location – which should be useful for gender-specific businesses. Once we connect our Instagram profile to the service, we only need to enter our preferences and let the program do its thing. This service also offers 24/7 customer support, and it can even be accessed through mobile. Users may try the automation service out for a 3-day period, or they may jump right into the $31 per account weekly payment plan.
Pros
Post scheduling
Automatic liking, following and unfollowing
Targeting hashtags
Gender and location targeting
No downloads necessary
Cons
It may get a bit pricey
Payment plan not visible until we register for the service
Clients must request to have the bot service ended personally, via email
1.13 Instazood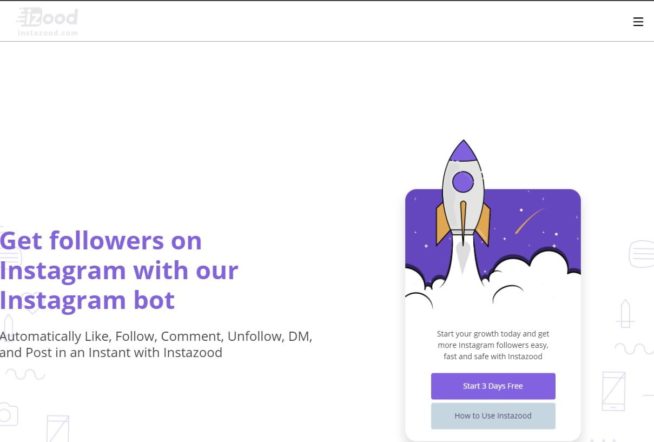 Now, Instazood is a bit tricky. On the one hand, it can schedule posts, manage comments and message accounts just fine. It offers customer support, automates posts and can be set to like and follow posts and users who use certain hashtags or live in a certain area. These are all great features, and the service is supposedly also safe and mobile-friendly, with no downloads required. In fact, it'll even allow users to actually buy likes and views.
The one gripe I have about this service is that it's somewhat complicated to use. Actually, some of these bots do tend to be a bit messy, and frankly, ugly. Fortunately, Instazood at least has an attractive UI. Clients can employ this service on a monthly basis, and the cost depends on the services they choose. So, for a simple follow/unfollow, like and comment automation bot, the service is only $10 per month.
For their Comment Tracker, which will mark comments as important, delete and reply to them, users pay another $10. The post scheduler is also $10 monthly. Instazood's Direct Messaging services are available for $15 monthly. This allows the bot to welcome new followers, and message followers and non-followers alike, for 80-120 messages per day. In addition, clients can purchase 100 likes for $1, and 100 video views for 50 cents. All of these services have a 3-day trial period.
Pros
Post scheduling, liking, following
Comment manager
Direct messaging automation
Targeting hashtags and locations
No downloads
Cons
Users must manually register hashtags using confusing algorithms
Not all of the features are included in one payment plan
1.14 Instavast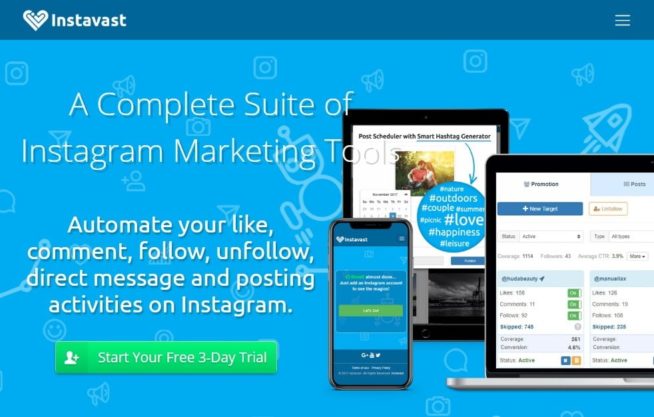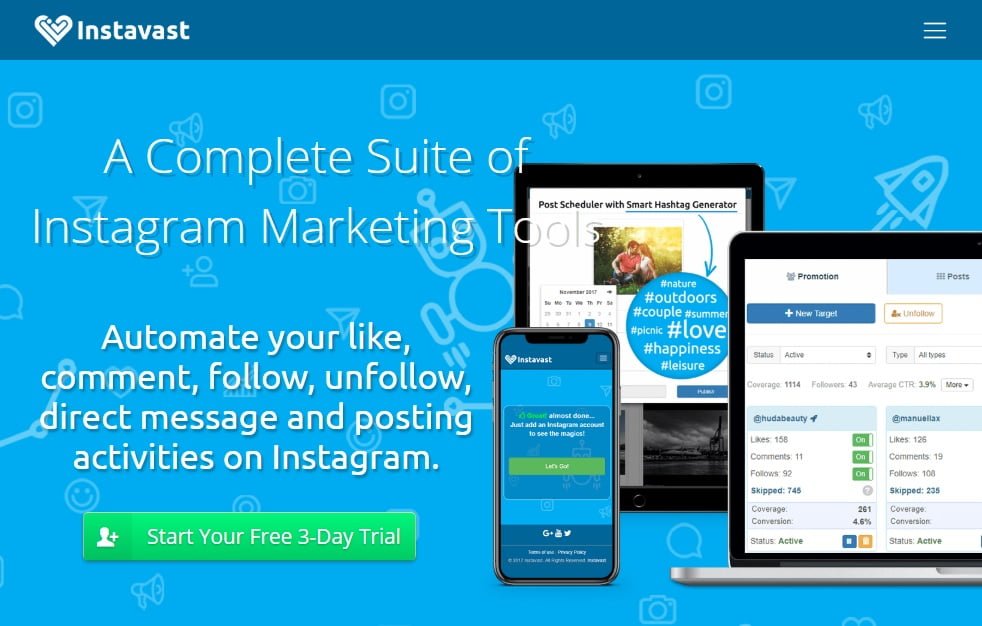 Instavast is another one of those Instagram bot services which make sure to at least simulate human activity. It even goes as far as to use a proxy, in order to hide its digital footprint from clients' accounts. Aside from that, they also offer all of the regular features, like post scheduling, liking, following, and targeted outreach. Users can set which hashtags the bot should seek out, and which it should steer clear of, as well.
This bot also presents the client's accounts' analytics, which is greatly helpful in deciding the next marketing step. And, it can handle infinite accounts in one subscription. All that, and users don't even need to download anything! The service also offers message and comment managers, and clients can even buy likes and views. There's a 3-day trial for all four services, which are all $10 per account, monthly.
Their Instagram Bot is actually only one of the four services. It performs all of the usual tasks, such as scheduling posts, liking, following, commenting, and even viewing stories. It can also manage multiple accounts. The other services on offer add DM automation, comment management, and advanced scheduling options.
Pros
Post scheduling, liking, following
Targeting hashtags and locations
DM and comment managers
Advanced scheduling
Uses proxies to protect clients' accounts
Cons
Post scheduler can't post videos
A bit confusing to use at first
1.15 Robolike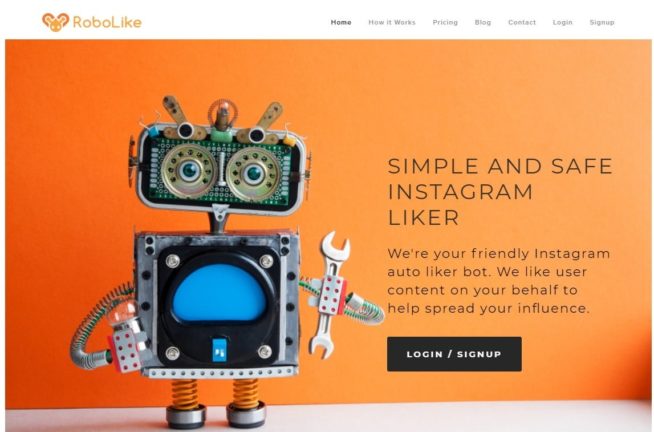 This Instagram automation service knows the basics – and sticks to them. Robolike will post whenever the user tells it, and it can like about 80 posts per hour. After the client sets the hashtags for the bot to sort through, it will do so.
The service basically relies on the people who check who's liking their posts and follow them back. So, Robolike will draw users to the client's Instagram page, where they'll hopefully find something worth following. The service only has one monthly plan which costs $7.77, though interested parties may receive a 3-day trial. The company also offers discounts for businesses that need to manage more than 10 accounts. However, business owners must contact the service directly in order to get more information on that discount.
Pros
Schedules posts within certain times
Targets multiple hashtags
Automatically likes 80 posts per hour
More affordable than many other services
Cons
As far as I can see – this bot can only like posts
If the bot can only perform one task, the almost $8 fee may actually be pricey
1.16 Instajool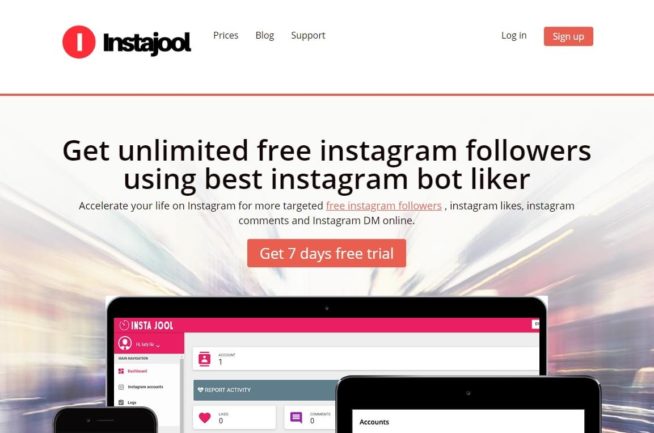 Instajool is a comprehensive automation service that likes, follows, and comments according to preset hashtags and locations. It can also message users and should be pretty easy to use.
The bot makes sure to stay under the Instagram posting limits in order to maintain human activity levels. There are no download requirements, which is great as well. Additionally, Instajool's 24-hour customer service is always ready to answer users' questions. While the two available payment plans both allow users access to the full assortment of the bot's features, the Basic plan can only manage 10 accounts, while the Advanced one can handle up to 100.
The Basic plan is only $6 per month, while the advanced is $10. Finally, both plans have a 7-day free trial period, so clients can try the service before they make a commitment.
Pros
Very precise post scheduling
Liking, following
Targets hashtags and locations
Manages multiple accounts
Pretty safe and affordable
Cons
Fairly basic, no special features to make it a must-try
1.17 SocialSteeze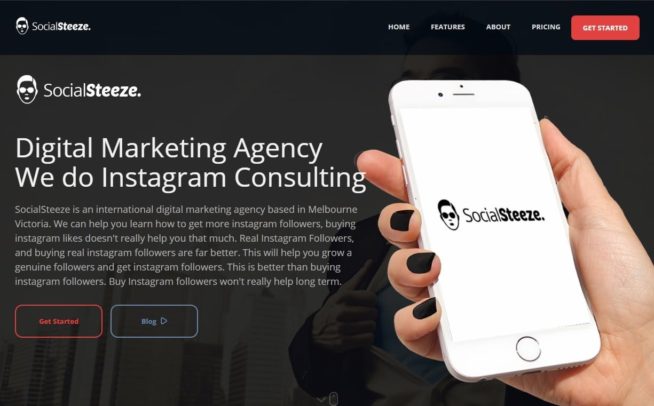 Unlike the other growth services on our list, SocialSteeze earned its spot by being an actual Instagram marketing company. The team at SocialSteeze will work with business owners to create and execute a social media strategy.
Since they're a genuine branding company, their prices are a bit inflated compared to the other services I mentioned. However, having a professional team on our side is well worth it. The Regular tier is $39 monthly, and it includes marketing consultations, branding, and setting business goals. The Pro tier offers the same benefits at $99 per month, so I imagine it does offer some more business-specific features. There's also a 5-week program that costs $27 weekly, and a Business Consultation plan for $200 per week. In addition to all of these monthly and weekly plans, there are also two one-time payment services.
Their Design&Branding package will create completely new company branding, including logos and other graphic designs for a one-time payment of $800. Finally, business owners can get payment API integrations on their Instagram accounts for upwards of $2.500.
Pros
The professional marketing team at the client's disposal
Creating a brand's social media strategy
Designing and branding from scratch
Cons
Not a bot, though a fresh look can't hurt a company's Instagram numbers
Can be incredibly expensive
1.18 LikeSocial (It's gone)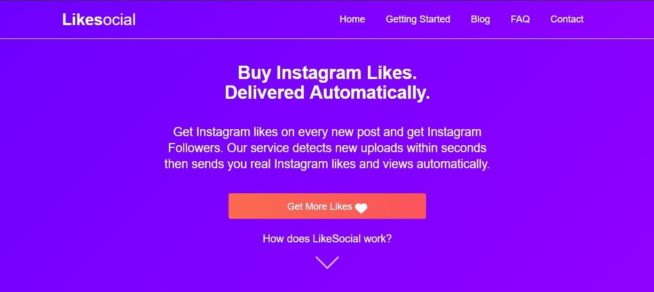 LikeSocial is another service that's less of an account manager and more of a "pay for likes" service. Only, a client could also pay for video views and followers, as well.
Many people and businesses shy away from services like these. However, I'm about to explain why they can benefit a company's Instagram account. Namely, an increase in this kind of engagement can make sure that a company's content is seen by more people. Posts that get many likes are more likely to be featured on the Explore page, as well.
There are different prices for likes, views, and followers, so let's check those out. Getting 50 likes (per post, I assume) requires a weekly fee of $10. An account would receive 100 likes for $14, 250 likes for $23, 500 for $34, and one and two thousand for $59 and $99 per week. The views come in 5 payment plans, for 100, 250, 500, 1.000, and 2.000, ranging from $7 to $49 per week. And finally, LikeSocial's clients will receive 100 followers for $34 monthly, 500 for $56, 1.000 for $98, 5.000 for $168 and 10.000 for $298.
The best part is that businesses can even employ this type of service on top of an automation service. And, this service is ideal for those who are concerned about giving away control of their Instagram account but still want to achieve growth. LikeSocial doesn't require an account's password in order to work.
Pros
More followers and engagement on an Instagram profile will draw a real audience in and make the content seen
Fairly straight-forward features and payment plans
No need to give away an account's password
Cons
Not a real bot
It may get very expensive
1.19 InstaQ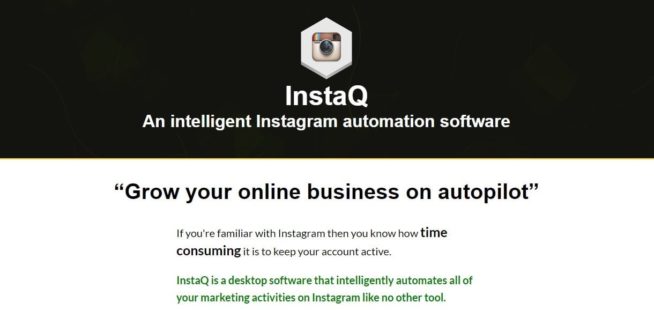 This automation service can do all of the basic tasks users would need. It can like and comment on posts within a niche, and follow and unfollow users.
InstaQ can also send scripted direct messages to an account's followers, and even welcome new ones. In addition, it can post images from a client's site and RSS feeds. It's also pretty secure, as it can use proxy servers to avoid leaving a digital footprint. The user interface isn't very impressive, but it'll do the job. InstaQ offers its premium service plan for unlimited accounts with all of the features, and for a monthly fee of $27, or a one-time payment of $134.
Purchasing the software, which is available for Windows, Mac, and Linux will give users a lifetime license. Both payment plans have a 14-day money-back guarantee. Also, interested parties may try out the service before fully committing to it, though the features would be reduced to post scheduling, liking, and following.
Pros
Post scheduling, liking, following/unfollowing
Sourcing photos from other sites
Proxy protection
Cons
Users must download software
A bit basic and unattractive UI
1.20 Instaswell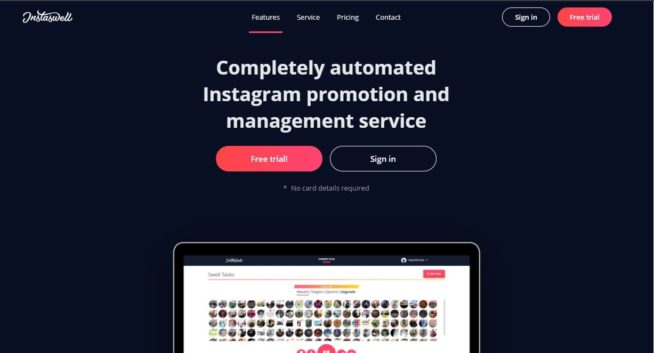 Instaswell can like and comment on posts with certain hashtags and follow/unfollow users who post about things of interest. It can also maintain the client's following-follower ratio by automatically unfollowing users after it passes a certain number.
The service also offers an anti-spam filter as well as a "No Repeats" feature, so the bot doesn't like or follow posts or users it previously followed. The bot can avoid users who use certain words or hashtags as well. However, the service can't schedule posts, and clients may not customize the following and unfollowing automation.
There are four service tiers. Accounts can get 50 likes and follows daily for free, or they can get 500 of each for $10 monthly. In addition, for $15 per month, an account may like 1.000 posts daily, and follow and unfollow 500 accounts daily. For $20 per month, the bot will like 1.000 posts, and follow and unfollow 1.000 people daily.
Pros
Affordable
Likes, follows and unfollows
No Repeats feature and Anti-Spam are a nice touch
Cons
No post scheduling
Customization could be better
1.21 Instambler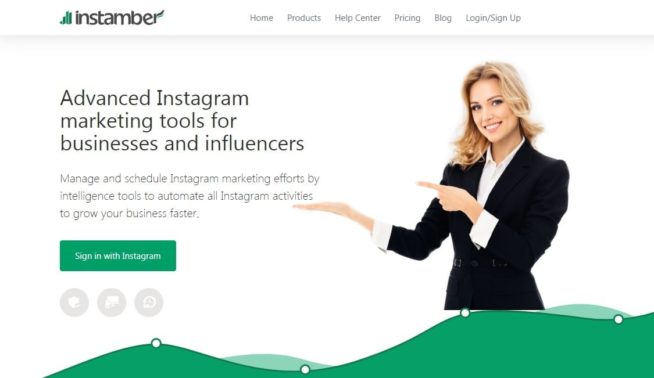 Instambler is an Instagram bot that can help you grow how many followers you have while saving you some time. However, you may be wondering what services are available and whether you should use it to improve your Instagram account.
The services provided include a post manager, bot, auto direct messaging, and comment manager. You'll find that this tool targets your preferred audience using locations, hashtags, competitor pages, and more. Plus, it will also engage with your audience by liking their posts, sending out direct messages, commenting on posts, and following them. Of course, you can do this all yourself, so do you need Instambler?
I can't give you a direct answer because it is based on how much time you have available. You can perform all of the actions that Instambler will provide, but the amount of times you can do it depends on many factors. Plus, you can't do it all at once; you need to space it out throughout your day. Having an automation tool saves you time and ensures that you observe Instagram rules.
The post manager allows you to upload videos and photos, scheduling them for when you can't post them yourself. You'll also be able to manage your comments with the comment manager. This also allows you to delete any unwanted comments or reply to them. Its auto-direct message feature ensures that you can send multiple direct messages to followers. Send out product launches and other helpful information. You can also provide discounts to help generate interest.
Pros
Automatically like comments
24/7 support
Low price
Comprehensive help desk
Cons
No access to analytics
Lack of smartphone application
No advanced editing tool for photos
Though there are a few issues I noticed with Instambler, I feel that this is an excellent tool to help you manage your accounts and automate activities on this social media platform.
22. ViralRace
With ViralRace, you can easily buy Instagram followers to boost your brand and improve the influence that your account has. This bot is highly reviewed, and it works really fast to get followers on your Instagram account. What makes ViralRace so special is that it only connects your account with high-quality followers, and the bot is known for its high retention rate. The more followers you have, the more influential your account will be, and when these followers engage with your account, that's even better. You can start small, by buying only 100 followers, or you can just right in with as many as 10,000 followers. The sky is the limit with ViralRace.
23. YoViral
YoViral is an Instagram bot that gives you automatic likes in a matter of minutes. Once you sign up with YoViral, all you have to do is start uploading. Once you do, the YoViral system will pick up on that, and the likes will come quickly. The likes that you will get from using this bot are from real accounts and you can have unlimited posts. The bot also has a feature that it calls "dynamic likes," which makes it look like all of your likes have come in organically by adding up to 10% more likes than it usually does. You can cancel at any time and there is a money-back guarantee, so YoViral might be a good one to try if you are looking for a new bot.
24. BigBangram
One of the most popular Instagram bots is BigBangram, and this program claims to do the job of six Instagram services in one package. With BigBangram, you can manage your comments, your likes, and your DMs, in addition to automatically following and unfollowing other accounts. Many people also like that BigBangram allows you to schedule your content, which is something that many other bots don't do. The perfect Instagram account owner for BigBangram is one who wants to grow their accounts fast, but also in a safe way. It also offers automatic direct messages, likes, unlikes, follows, unfollows, and even comments. Additionally, the bot claims that you will gain 40 to 50 followers a day. What could be better than that?
25. Firing Table
Firing Table is a bit different than other Instagram bots out there. Instead of automatically bringing a ton of followers for your account, in this case, it helps you grow your account in an organic way. That means that it takes a little longer, and it is a bit more expensive, but you definitely will get high-quality, targeted followers for your account. The bot works 24/7, too, so you are always gaining potential followers, plus you can choose what type of accounts to target. Once you do that, Firing Table does all the work for you, boosting your account into Instagram greatness.
26. Gold Nitro
Gold Nitro is an Instagram bot that helps to fully automate the process of following and liking people via your Instagram account. In fact, it can like and follow 100s of posts a day on your behalf. Once you like a post, you are now on the account owner's "likes and follows" list. The idea is that they will get curious, check out your profile, and ultimately like and follow your account. The nice thing is that these new likes are not random. Gold Nitro allows you to specifically target a niche. So, technically, your account already has something in common with the new accounts, which makes it even more likely that they will follow you. Finally, you can control how Gold Nitro works by turning things like follow/unfollow off and on as you wish.
27. MegaFollow
MegaFollow is an Instagram bot that touts itself as a self-service growth tool. Basically, it helps you grow your Instagram account, whether it is your personal or business account. When you choose to sign up with MegaFollow, you won't have to spend hours upon hours commenting, liking, or following other Instagram accounts. Instead, this bot automates all of this, which helps you to bring in more followers. This is a pretty highly reviewed bot, and users report bringing in hundreds, and sometimes thousands, of followers. This sounds great, but this doesn't come cheap. This bot is a bit more expensive than others, but it is worth a look if you want more followers.
28. Combin
Combin is an Instagram bot that was designed for small or medium businesses that want to improve the way their account works. It helps to attract a targeted audience to your Instagram account, and it will save you a ton of time. You can determine which audiences are right for you to target, locate new influencers, and even engage with your followers right from the Combin tool. You can also schedule new posts, which helps to keep your account safe, and you can also do mass liking, commenting, following, and unfollowing. There is a free version of Combin, too, so you can try it out before you buy, and since it's only $10 a month, it's not even a huge investment for the full version.
29. Social Hype
SocialHype claims to be the #1 Instagram marketing platform out there. The company says that its users get 100 to 200% more engagement on their accounts, and that's usually just in the first month that they sign up with the bot. The results that you go for can be fully customized, and it is also affordable when you compare it to other bots. On average, SocialHype gains from 10 to 150 organic followers every day, and these followers have been targeted because they are likely to keep following you long after the first contact. It is safe, you can schedule posts, use it on multiple accounts, and even create custom campaigns to boost your Instagram account to the stars.
30. Instamber
Instamber is an Instagram bot that allows you to like, follow, comment, and unfollow all automatically. This can lead to hundreds, if not thousands, of new followers over the days and weeks. What makes this bot stand out from others is that it also allows you to attract people in a certain geographic area, which isn't a common feature to find. Additionally, it allows you to send bulk DMs, manage your comments with ease, and make sure your account is safe. You can also use Intamber to schedule future posts, and since you can use it on multiple accounts, if you have more than one Instagram profile, this could be a perfect bot for you.
31. Popamatic
Popamatic was designed for business, and it can help to boost the performance of your Instagram account. The main function of this bot is to get more followers by bringing in more engagement to your Instagram account. This bot doesn't give fake likes, and it helps you to find the targets that you want to start liking, following, and commenting on. You get monthly reports when you use Popamatic, and the support that you get from the team is great. It also complies with the terms of service that Instagram has, so you know that your account is safe. There is a free trial available, too, so you can try it out before you buy.
31. Instabow
Instabow is an Instagram bot service that allows you to plan and create your posts without spending all of the time that most people do. Instead, you can do this all automatically by using Instabow. You can schedule your posts, add hashtags, mentions, captions, and more, and you can do it all in a matter of minutes. The company has different pricing plans, so you can find the right one for you. There is also a three-day trial period, so you can try it out before you spend any money. Depending on what account you choose, there are different options, so check them out before you pick one over the other, as you might be missing out on some cool features.
33. Social Sensational
Social Sensational is Instagram automation software that allows you to grow and enhance your account in a natural way. It uses an advanced targeted approach to do this by fully managing the way your account interacts with your followers. To use this bot, all you have to do is select from one of the affordable plans, and then within 24 hours, your campaign will begin to run. Each customer of Social Sensational can work with an account manager who can help you set it up and monitor it. You also get reports showing progress, which is an awesome feature that most other bots don't have.
34. SocialMortal
SocialMortal is a management and growth service for your Instagram account that is actually run by real people, not bots. All you have to do is tell them about the audience you are targeting, and then SocialMortal starts to work. You will get real followers, a high level of growth, and your account will remain compliant with Instagram's terms of service. The company has a money-back guarantee, and it doesn't give you any fake followers. It targets the users you want, gives you growth reports to prove it, and you will work with a dedicated account manager, which takes your account to the next level.
35. Influuu
Influuu is an automated Instagram bot that brings followers and likes to your account. The company offers a three-day trial, for only $1 and you can even target specific influencers. Some of the features that you will find with a basic account with Influuu include the ability to message new followers, target up to 10 hashtags and 10 accounts, and you can also automate your comments and likes. Though you can only manage one account with the basic package, other packages allow you to add up to five accounts and target up to 50 hashtags and accounts. All of the followers you get from Influu are real, and you always remain in control of your Instagram account.
36. Upleap
Upleap is an Instagram bot that comes with a three-day trial, and an easy to create an account. Once you do, you will describe your account, and then supply some hashtags that you are looking to target. This helps the account managers set up your account to focus on the right Instagram users, and in the meantime, you can also block any hashtags that you might want to ignore. You can also choose up to 10 Instagram accounts that are similar to yours, which Upleap will use to target followers. Finally, you can also find followers based on specific locations.
37. Social Runner
Social Runner is another Instagram bot that focuses on customers that want to improve their presence on the social media site. This bot offers similar features to most of the other bots out there including automated likes, follower and hashtag targeting, the targeting of competitors, and even bringing in real followers to your account. The company also guarantees free email support and lifetime updates. People report that they have gotten thousands of new followers by using SocialRunner, and in addition to liking and following accounts automatically, you can also target specific countries and areas with this bot.
38. GramFlare
GramFlare is an automated bot that brings in mass likes and followers before you know it. The company offers a three-day trial period, and it offers most of the same features that other bots have. One thing that makes GramFlare stand out, though, is safety, and it has a great focus on ensuring its methods stay within Instagram's terms of service. Another feature that you get with GramFlare is that it allows you to send an automated DM to any new followers, which you can fully customize. Additionally, you can schedule posts, is very safe, has no hidden pricing, and the company works hard to preserve the reputation of your account.
39. Popamatic
Popamatic is a little bit different. It's not a bot like most of the programs out there. Instead, for less than $40 a month, you get access to an assistant who can help you to develop and grow your Instagram account. Basically, Popamatic has the same type of function as an Instagram bot, but someone is actually managing it for you. This allows you to target locations, usernames, and hashtags, and you can also filter your audience by likes, comments, media type/age, and followers. It is safe to use on Instagram, and it complies with the site's terms of service, so you don't have to worry about any of those headaches.
40. InstaMacro
InstaMacro is a type of Instagram software that helps you improve the performance of your account by focusing on views, followers, and likes. The software will automatically like other accounts and uses bots to detect when new photos and videos are posted. There are several different package options, from a single day to a full month of service. This software was created by people who wanted their Instagram accounts to work, so you know that it can work for you, too. It's simple, affordable, and best of all, you don't have to do anything to start getting the likes and followers you deserve.
Hashtags For Likes is a different tool that you can use to get more Instagram likes and followers. Basically, it works by helping you to determine which hashtags you should use to boost your Instagram account's performance. However, once the program gives you the hashtags, you have to actually insert them into your posts yourself. This can be a bit time-consuming, of course, so this might not be for everyone looking to boost their Instagram account. Though you can see a lot of improvement by using Hashtags For Likes, you have to have the time to do it. This is not an automated system.
42. FanBump
FanBump is a newer service that helps you to manage your Instagram account, and it helps you do it in an organic way. The process that FanBump uses is a simple one. All you have to do is sign up, and then you will get in contact with a manager, who will, on your behalf, work on improving your account. The company uses advanced targeting, and it ultimately finds followers who are sure to be interested in your account. Since your account is managed by a professional, you can count on good results. Though the company is certainly known for working well, it is also well-known for its customer service and interaction that you just don't find with other similar companies.
43. Instato
Instato is an automation tool for Instagram that allows you to boost your Instagram account by automatically bringing in new followers. You can use Instato to do everything from check specific locations, schedule posts, monitor specific hashtags, and much more. This bot also allows you to reply to any comments that are posted on your posts, and since it's all automated, you just have to tweak your settings to get engagement. You can test Instato before you buy it, you can manage multiple accounts, and it is very straightforward and easy to use. Just keep in mind that you might have to keep changing your settings to ensure that it works well over time.
44. Firestrike
If you use your Instagram account to make money, you certainly want to take a look at Firestrike. This is a company that knows how important it is to bring high-quality followers to its customers, and the experts that work for Firestrike understands that big brands are looking for influencers with good engagement and a large number of followers. So, instead of blindly pulling random followers in, when you use Firestrike, you will only get followers that are active, engaging, and like what your Instagram account is all about. This ensures that they stick around for the long-term and that they share your posts with their friends.
45 AutoGram Bot
You can grow your Instagram account on autopilot by using AutoGramBot. This bot will fully automate your Instagram account by doing things like following, liking, commenting, unfollowing and messaging. On top of that, you can schedule your posts with ease. This bot is fully automated, so you don't have to waste your precious time doing all of this, and you get great engagement from your followers. Additionally, the AutoGramBot software is very easy to use, and it is easy to set up, so within only a few minutes, you can get your account going and pulling in more followers, those who will stick around and make your account better than ever before.
46. Kenji
Kenji is another Instagram bot that helps you to improve the way your Instagram account performs. Getting started with Kenji is easy. It has basic bot features including location and hashtag targeting, along with analytics, assuming you sign up for a package that offers this. There is also a free trial available, so you can check out how your account will perform before you pay. You just have to tell the bot what you want to target, and then it will do the work for you automatically. It happens quickly, and you will probably be quite surprised by the results that Kenji can bring.
47. Sara Agency
Sara Agency claims that you will save "heaps of time" by automating all of your Instagram accounts. When you sign up for a Sara Agency account, the service will take care of all of your following, commenting, and even unfollowing. You can promote your account with specific hashtags, and then the bot even takes cues from your competitors to see what works for them. This bot also has very specific follower targeting, and it helps you to engage with your audience on Instagram. All of this is done from the Sara Agency dashboard, and you will know what your account is safe thanks to the company's safety guarantee.
48. Instaboom
This Instagram marketing company claims that it is an Instagram marketing company that targets followers in an organic way. The bot can help you raise your follower count through a number of methods including targeting specific locations or genders. According to Instaboom, it says that it can bring between 2000 and 4000 new followers to your Instagram account each month, and it does this by using artificial intelligence on a daily basis. The bot also helps to improve your entire Instagram marketing plan and get the best results each day. It pays attention to things like algorithms, too, so your marketing will always be on the cutting edge.
49. WorkMacro
Another option for automated Instagram bots is Workmacro. This bot allows you to easily target the perfect audience, and you will never get random or fake followers. The company has put in a lot of research to find the best way to bring in followers, and this will show when you start to see your follower count rise. Workmacro also has features like muting other followers on your home feed so that you can actively engage with those that count. You can set it and forget it with Workmacro, and you won't ever have to worry about wasting time liking and unliking…following and unfollowing…because Workmacro will do it for you.
50. Stim Social
Stim Social is a basic Instagram marketing bot that works by attempting to bring more organic engagement to your account. The company claims that it will also bring more new customers to your business through Instagram. According to the Stim Social website, both influencers and businesses can use the tool to grow their account and attract new followers…by the thousands. The goal is, once these followers are there, they must stick around and engage with you. Furthermore, the company claims that it can drive more traffic to your Instagram bio and make your account more profitable and popular. With more than 10,000 clients, Stim Social must be doing something right!
3. Instagram bots to avoid
There are other Instagram Bots that users should avoid buying because they've been shut down by Instagram as they violated her API terms.
They include;
Instazood.com – allows users to use packages that suit them at an affordable price but hashtags must be manually registered with different algorithms that are confusing to users.
Instaswell – Its "managing" and "no repeats" features helps users to be organized while using any of their packages with a guaranteed good result.
However, users cannot customize default parameters like auto-follow, unfollow, and like with a blacklist or whitelist to further maximize their experience.
Followliker – This has been around for quite some time on the market, and it's popular with some nice features and functions. It is fast and multi-threaded and can run lots of accounts simultaneously. You only get to pay a one-time fee and they'll give you a lifetime update for that. If you just have one account and not looking for a lot of functions, you'll be fine with this.
Instagress Alternative – This is quite affordable and has additional auto comment and auto geotagging features, but users of this software must use it on a web browser only.
Other Instagram Bots that have been shut down by Instagram include Archie, Mass Planner, Fan Harvest, and Influx Social.
4. Why do people use Instagram bots?
The aim of many businesses, influencers, and brands is to continuously grow their audience as well as set up more business engagement. It is no hidden secret that on Instagram, people follow you when you follow them too or engage with you when you engage with them. This is an obvious, tedious assignment if one has to be involved in such a task daily on Instagram.
Thus, Instagram Bots became a safe haven to use as it automated the act of likes, comments, and following for people while they got their hands and time on other duties. Just imagine checking your profile once a day and notice that you now have thousands of new followers or engagements. It certainly leaves you with a feeling of excitement and the urge to have more.
5. Pros and cons associated with using bots for Instagram
One major benefit that users of Instagram Bots enjoy is that what could have taken them most hours of the day to do can be done in seconds using Instagram Bots. This enhances your online presence and business visibility in a fast-paced community as we have today. Another advantage is the low cost you enjoy while using such services.
In contrast, Instagram Bots can ruin the reputation of a company in a matter of seconds just as it helps it.
Research has shown that individual users and companies had to deal with embarrassing situations that Instabot led them into when it put up comments that contradict or negate their ideas and values owing to its lack of contextual sensitivity. A classic example of this hard knock is a case of an individual who wanted to endorse any post on #friendship but ended up burning his fingers when his Instabot gave a thumb-up emoji comment on the death of a friend.
You can imagine the level of embarrassment. Instabots are not designed to decipher contexts like this nor help you resolve such a situation and so any attempt to explain this automated system that you set up will only earn a lack of trust by your followers and on your brand.
Other disadvantages include:
The possibility of targeting the wrong market.
Might end up liking inappropriate pictures that do not represent you.
The fact that it can only respond or target a post if it has a hashtag, location, or specific words.
6. How can businesses choose the right Instagram growth service for their brand?
I've already explained what an Instagram growth service can and can't provide at the start of this article. Now, we'll answer some common concerns business owners might have while choosing the right service for their brand.
Business owners may ask themselves:
Are bots safe?
Will their brand get scammed?
Do automated growth services and bots actually work?
What if a bot interacts with an inappropriate post?
So let's deal with the most commonly asked question first: are Instagram bots safe?
Well, the fact is, some aren't. That's why I've done my best to put some of the most reliable ones on this list – starting with Inflact. Still, many people use added precautions like proxies to "stay under the radar," so to speak. There is also a risk of getting your account banned or shadowbanned.
But, what if we fall for a scam?
Again, since I've taken the time to list some of the most secure bots, that shouldn't happen. Then, we might also wonder if they actually work. And, according to research, the answer to that is yes. Bots take a huge load off of business owners' hands, freeing up their time to deal with more important things. Even bought likes and followers will work, because people are more likely to like and follow established accounts. Taking the time to use these services correctly will definitely increase engagement, whether they're used for personal or professional gains.
Finally, what should a company do if a bot unknowingly likes an inappropriate post, like in the example of the bot that liked a post for a deceased friend because it was looking for the "friendship" hashtag? Unfortunately, there's no easy answer to this question. We might try to apologize, and explain the situation, i.e. admit we employ a bot service. Otherwise, we might limit our reliance on a bot in the first place.
7. The ultimate checklist to grow your Instagram following
Fortunately, there are many ways to manage Instagram accounts, aside from employing bot services. After all, we must keep in mind that these services won't actually make content for us.
So, here's a step-by-step checklist to growing an Instagram account, with or without a growth service.
Have a creative bio and link to something relevant to your brand.
Engage and like other people's content. Naturally, this is where bots can be of assistance. But, if we're doing this part manually, we ought to stick to our niche. Indiscriminate liking is to be reserved for personal accounts.
Upload high-quality content. If possible, all of the content on a company account should stick to a visual theme. This is how you can perform your own branding and design, without the help of a marketing team.
Schedule posts at regular intervals. People like to know that a company's account is curated. Even if a company doesn't use a bot service, they can still have a polished presentation by posting at certain intervals.
Make sure to keep your captions short and sweet, using only necessary hashtags.
Also, make use of Instagram Stories, since many people only check those. You can even host Q&As or giveaways to boost engagement.
A company could also encourage followers to post with a certain hashtag. However, getting them to do this will be tricky. When in doubt, be creative.
Track your engagement and traffic. It's always good to have some kind of analytics when you're building a company brand.
Finally, find collaborators and influencers. Today, companies need all the help they can get to get their message across. So, why not engage with popular users and ask them to collaborate. A brand could even pick out some of their more popular followers, and make it a contest.
8. How Instagram bots and automation tools can help
Instagram bots have changed the way we manage Instagram accounts when it comes to likes and following others, but what should we look out for?
No doubt, Instagram is a huge platform for marketing and as of today, it has well over 800 million users worldwide. With just an active profile, whether it's a personal or company's brand, Instagram has become an effective social media platform that can help any company or business shape and market its brand identity.
This is achieved as the number of people who follow or identifies with your business increases, thereby giving the company's product or service global exposure.
Actions such as posting, liking, commenting, following, unfollowing, adding hashtags, and location tags, making it easy for entrepreneurs to analyze the visibility of their business, brand, product, or service on Instagram.
However, maintaining such a high level of business engagement on the platform requires constant timely updates on your profile which could be time-consuming and demanding if you do not want to lose your followers.
To this end, Instagram Bots was designed to help maintain this high level of engagement and presence.
NOTE: If you plan to use FollowAdder or FollowingLike with multiple accounts for Instagram botting, then you need a reliable proxy service. I suggest SSL Private Proxy or preferably Smartproxy for this task because they have been proven reliable and have specialized packages for Instagram.
Instagram bots make actions such as liking, commenting, and following other accounts look very easy through automation.
Instagram users have to be involved in these actions on a daily basis which is time-consuming, but all that can be automatically done for you using Instagram Bots as long as you set parameters like specific hashtags or accounts to target. For example, a business within the fashion industry can set up Instabot to follow, like, or comment on posts that carry hashtags categorized under fashion like #fashion, #instastyle, etc.
Once these Instabots are set up and allowed to run for a period, it saves serious business time on users, is easy to use, and helps businesses to grow at an affordable rate which is not more than $20-50 per month.
I have listed some of the best Instagram bots for likes and followers currently available, but there are others that you should avoid.
9. Final Word
The fact is that Instagram automation should not be used to do the work you can do. It is better if you use it to discover more about your business niche especially by using its hashtag settings and scheduling features that can save the time spent on the posting. However, there is a need for users to give their profile a consistent visual update, schedule time to like and comment on posts manually instead of using automated services. Your brand will reach the target audience, your authenticity will be trusted, and your account better secured this way.
But if you must use Instagram automation, opinion polls and ratings suggest that the best result will come from using Inflact. It customizes who you can follow, is easy to use, and allows advance scheduling for your activities.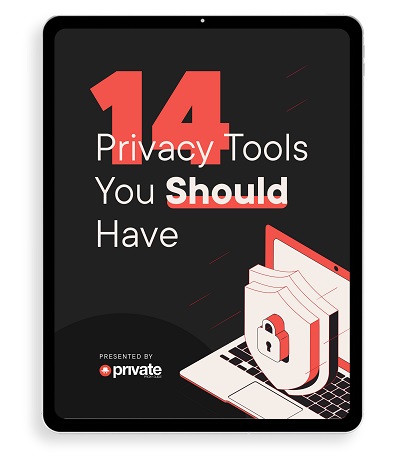 Learn how to stay safe online in this free 34-page eBook.