If you're looking to enrich your cybersecurity suite, antivirus and VPNs are perhaps your best options. A VPN is great at protecting you from online spying and letting you browse the web privately. Conversely, an antivirus will block all malware and virus threats, making it a crucial part of this bond. Perhaps, you should aim to use both of them and that would be an ideal scenario – end of the story.
However, what if you don't have enough money to pay for two separate subscriptions? Well, in that case, you can try out some of the best Antivirus solutions that come with a VPN. That way, you kill two flies with one hit and you can enjoy all the benefits of both tools, which results in the highest possible level of online security.
Today, we're examining the best antivirus with VPN and we give you 7 of them, because, let's be honest – we're all spoilt for choice.
1. Best Antivirus With a VPN 2023
So, with our short introduction out of the way, let's delve deeper into our list. Oh, and don't forget to stick right after because there's more to learn about using an antivirus with a VPN and vice versa.
Our top 7 picks for today include: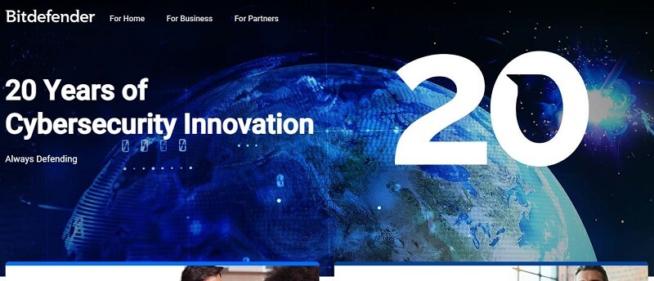 | | |
| --- | --- |
| Cheapest Deal (VPN + AV) | $34.06/year |
| Supported Platforms | Windows, macOS, iOS, Android |
| VPN Bandwidth Limit | 200MB (Unlimited for Bitdefender Premium Security) |
| VPN Simultaneous Connections | Up to 10 (Bitdefender Premium Security) |
Bitdefender has been around since 2001 and is one of the oldest cybersecurity companies. What makes Bitdefender so special? Well, I would say its features and reliability. From my experience, this is the most reliable antivirus software and comes with some impressive statistics.
For instance, its virus/malware detection percentages are some of the best in the business. Moreover, Bitdefender does a great job at updating its software. So, not only do you get state-of-the-art protection but also daily updates to keep new threats out of the way.
While not the cheapest solution by any stretch of the imagination, it offers a free plan. I mean, a free antivirus plan that, unfortunately, is severely cut down and doesn't offer VPN functionality. Speaking of which, let's talk about its VPN.
If you go for its Premium Security plan, which is the most expensive, you get unlimited VPN traffic. However, Bitdefender's cheaper plans include the VPN as well, although, with a bandwidth limit of just 200 MB daily. If you ask me, that could've been 0 MB – makes almost no difference.
In the Premium Security plan, Bitdefender VPN is actually really good. It's easy to use, offers substantial speeds, and has bank-grade encryption. Even better, I like that you can buy only Bitdefender VPN separately.
And in that scenario, it's very cheap, yet, you get all the bells and whistles that you would expect from a premium Virtual Private Network. All in all, this is the best antivirus with a VPN overall, so if you're looking for one, I suggest you start right here.
Pros
Great antivirus
Free antivirus plan
Military-grade encryption
Affordable prices
Cons
Very limited free antivirus plan
Only 200 MB of daily bandwidth with a free VPN
| | |
| --- | --- |
| Cheapest Deal (VPN + AV) | $49.99/year |
| Supported Platforms | Windows, macOS, iOS, Android |
| VPN Bandwidth Limit | Unlimited |
| VPN Simultaneous Connections | Up to 10 (Unlimited for Norton 360 Ultimate Plus) |
Much like Bitdefender, Norton spent quite a lot of time on the ever-growing cybersecurity market. While a lot more expensive than Bitdefender, you still get a lot for the money. Its malware and virus detection rates are good and depending on the plan you go for, a VPN will be included as well.
For example, its basic AntiVirus Plus plan doesn't come with a VPN. However, should you buy an expensive-priced Ultimate Plus Plan, a VPN will greet you with arms wide open. And shelling out more than $200, you get unlimited bandwidth, 10 simultaneous connections, solid speeds, and a plethora of security features.
In conjunction with its reliable antivirus, Norton will keep you safe and secure online. Furthermore, the service lets you buy Norton VPN as a standalone product. To be honest, it's not very cheap, but if you don't need an antivirus and other stuff, it can be a viable option.
Just keep in mind that this VPN is inferior to Bitdefender. It's not great for torrenting, doesn't work with Netflix, and its privacy policy is a bit shady. Therefore, Bitdefender is still a better pick of the litter.
Pros
Feature-rich antivirus
Good malware and virus detection rates
Fast speeds on the VPN
10 simultaneous connections
Cons
Questionable logging policy
Expensive prices for the Ultimate Plus Plan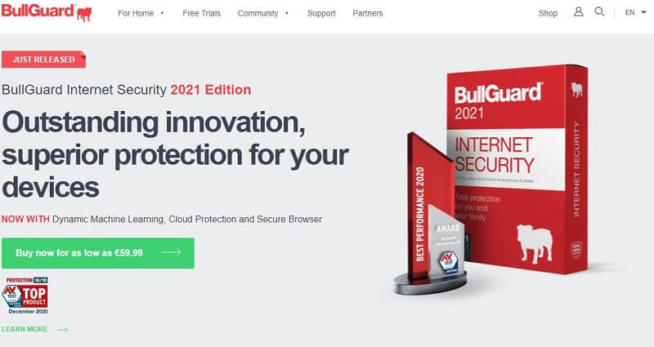 | | |
| --- | --- |
| Cheapest Deal (VPN + AV) | $127.98/year |
| Supported Platforms | Windows, macOS, Android |
| VPN Bandwidth Limit | Unlimited |
| VPN Simultaneous Connections | Up to 6 |
Bullguard is a Danish cybersecurity company known for award-winning online security solutions. Up until recently, its antivirus and other security tools were the primary focus of this company. But, with the introduction of Bullguard VPN, things started to shift.
You see, Bullguard offers its antivirus separately from a VPN. So, if you're looking for an antivirus with a VPN, that's not the thing here. Arguably, its antivirus is really good and easy to use, but the real deal is the VPN that comes at very cheap prices.
This VPN alone is better than that of Norton or Bitdefender. It's faster, has more servers, works with Netflix, and offers a zero-logging policy. Furthermore, we must mention its solid device support and an excellent mobile app for iOS and Android.
Needless to say, Bullguard will have all the fancy features at your hand's reach. There's 256-bit encryption, 6 simultaneous connections, and even P2P servers for downloading torrents. It's just that the VPN isn't included even in the most expensive plan that makes Bullguard VPN not the cheapest combination.
So, if you're looking for an antivirus that comes with a VPN out of the box, Bullguard isn't the happiest solution. And if you're more interested in a VPN, buying ExpressVPN is much smarter, given its cheaper price and better overall performance.
Pros
Easy-to-use antivirus
Affordable pricing
Fast speeds
P2P servers
Cons
VPN only offered separately from antivirus
Slightly more expensive VPN subscription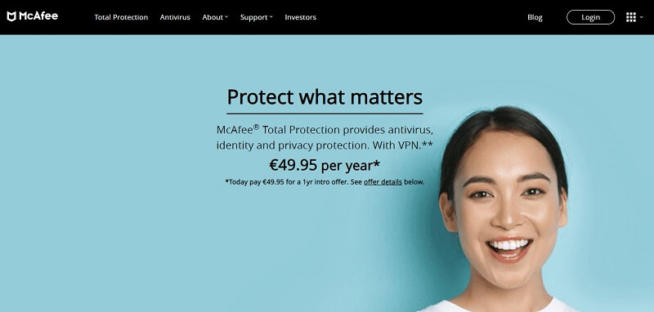 | | |
| --- | --- |
| Cheapest Deal (VPN + AV) | $29.99/year |
| Supported Platforms | Windows, macOS, iOS, Android |
| VPN Bandwidth Limit | Unlimited |
| VPN Simultaneous Connections | Up to 10 (Unlimited for the Ultimate plan) |
After John McAfee's alleged death, the world of cybersecurity lost another important expert. However, McAfee as a company still exists and is perhaps among the best antivirus programs on the market. Even better, it offers a built-in VPN in all of its plans, which is always welcome.
McAfee antivirus is known for its lightweight nature. It doesn't slow down your device, yet, manages to clear out all the annoyances on the internet. You know – those viruses, malware, and whatnot. Accompanied by features like performance optimization, password manager, and McAfee Shredder, a VPN is surely a sight for sore eyes.
McAfee VPN isn't the best out there, let me be honest. However, you'll be hard-pressed to find a cheaper antivirus with a VPN that, at least, keeps you secure online. This VPN can be used on up to 10 devices with one subscription, and while not very fast, you still get a lot for the money.
Some of the features include 256-bit AES encryption, OpenVPN support, and apps for macOS, Android, Windows, and iOS. Moreover, McAfee VPN has a no-logs policy and easy-to-use apps. Sadly, it won't work with Netflix, and for torrenting, there are much better solutions.
And if you think that you don't need an antivirus, you can get McAfee VPN only. That way, you save quite a lot of money and you get to enjoy all the features of this VPN – wonderful!
Pros
Lightweight antivirus that doesn't slow down your device
Useful McAfee Shredder
Support for OpenVPN
Cheap prices
Cons
VPN doesn't work with Netflix
Slower speeds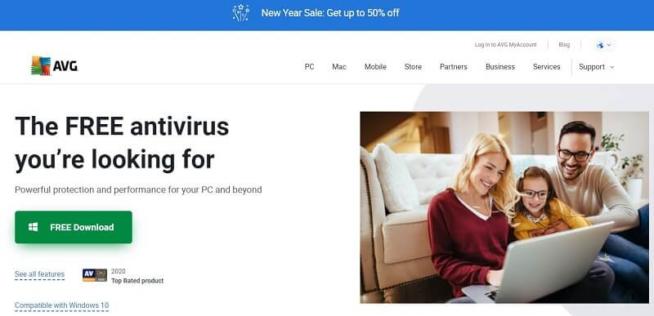 | | |
| --- | --- |
| Cheapest Deal (VPN + AV) | $59.88/year |
| Supported Platforms | Windows, macOS, Android |
| VPN Bandwidth Limit | Unlimited |
| VPN Simultaneous Connections | Up to 10 |
Budget-oriented users will surely want to know more about AVG. AVG is one of those companies offering a quality free antivirus, albeit, with not many features. What about the paid version, though? Well, in that case, you not only get an amazing antivirus but also an unlimited VPN!
Should you decide to buy the AVG Ultimate package, you get everything I mentioned, plus AVG TuneUp, which drastically improves your device's performance. As an antivirus, AVG isn't going to blow you away, at least not when compared to Bitdefender or Norton.
But, if you factor in a VPN, you get a whole lot more. For example, this VPN's applications look phenomenal on all devices. Furthermore, they all come with 256-bit AES encryption and there's an automatic kill switch for further preserving your online privacy.
Although AVG isn't heavy on logging, its highlight is perhaps a 10-device license you get for the price. Using OpenVPN as a default protocol, AVG is surely as secure as Alcatraz, but bear in mind that it's just that. So, you can forget about streaming or fast downloading, as, sadly, its speeds are disappointing.
We also need to mention the possibility of buying a VPN separately. So, if you think that AVG is a poor antivirus, its VPN might overturn these thoughts. However, we think that AVG is best utilized as a full package where you get all security features – as the developer intended.
Pros
Offers a free antivirus
Reliable VPN kill switch
10 simultaneous connections
Cons
Very slow speeds
Poor streaming and torrenting capabilities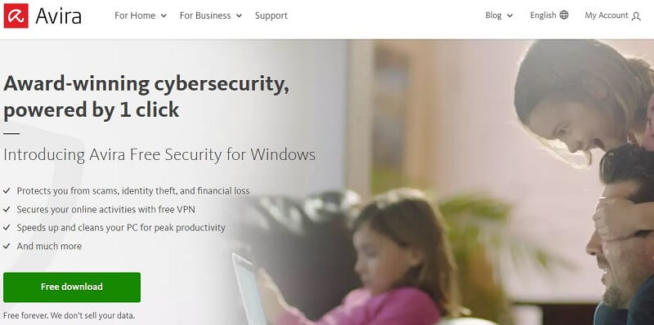 | | |
| --- | --- |
| Cheapest Deal (VPN + AV) | $99.99/year |
| Supported Platforms | Windows, macOS, iOS, Android |
| VPN Bandwidth Limit | Unlimited |
| VPN Simultaneous Connections | Unlimited |
For many, Avira Antivirus is the best solution for online security. And, to a certain extent, we agree as well – to a certain extent. This antivirus surely packs a punch and is great at detecting even the most dangerous viruses and malware.
Also, if you buy Avira, you get a boatload of useful features. Some of them include a so-called Shredder, real-time virus/malware/spyware protection, and a reliable password manager. Besides, this software has excellent unwanted software detection percentages and is up there with the likes of McAfee or Kaspersky.
As for the VPN, there are many options for consideration. There's a very limited free Avira VPN, paid VPN with unlimited bandwidth, and the ability to get it as a part of a package. For example, Avira Prime includes antivirus protection AND a VPN and is the best option that Avira offers.
This VPN comes with unlimited simultaneous connections, a reliable kill switch, IP/DNS leak protection, and apps for all major platforms. Moreover, the VPN sports more than 1,400 servers in 37 countries, which is, you'll agree, quite impressive.
Avira VPN isn't great for streaming or torrenting. But, on the flip side, it offers necessities like 24/7 support, a somewhat no-logging policy, and decent security. As a VPN only, Avira isn't known for the cheapest prices.
However, if you get it in the Avira Prime package, you get the best antivirus with a VPN for the price – at least one of the best.
Pros
Lots of features for the price
Reliable and frequently updated antivirus
Unlimited simultaneous connections
More than 1,400 servers
Cons
Expensive pricing
Not the best performance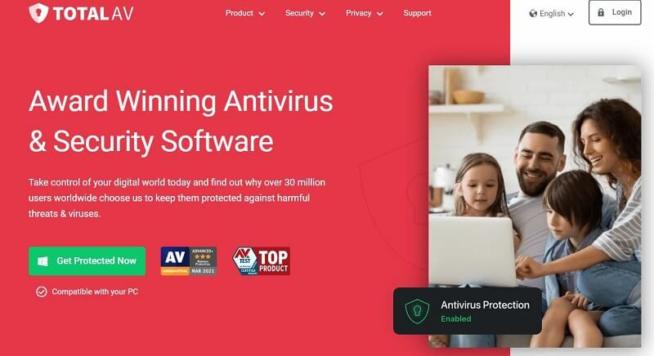 | | |
| --- | --- |
| Cheapest Deal (VPN + AV) | $39/year |
| Supported Platforms | Windows, macOS, iOS, Android |
| VPN Bandwidth Limit | Unlimited |
| VPN Simultaneous Connections | Up to 6 ( for the Total Security plan) |
The last best antivirus with a VPN is TotalAV. Its name says everything – it aims for total protection of your device and if you pay enough money, you indeed get what you pay for. Unlike many antiviruses on the list, TotalAV VPN cannot be bought separately, if that's what bothers you.
But, today, we're interested in using an antivirus with a VPN included. In that case, TotalAV offers its VPN as a part of more expensive Internet Security and Total Security Plans that will cost you way over $100 a year.
However, it's good to know that TotalAV is a decent antivirus for the price. It includes apps for mobile devices too but also features like PUA protection, disk cleaner, real-time protection, and zero-day cloud scanning.
Its VPN isn't the best and that is why it's so far on the list. Sure, it's really secure, offering 256-bit encryption and IP/DNS leak protection. On the flip side, there are just 70+ servers to choose from and they're not particularly fast.
This makes it a poor choice for streaming, let alone torrenting that's quite bandwidth-hungry. We must mention its solid OpenVPN support but also unlimited bandwidth that comes as a standard. Unfortunately, though, it has no kill switch, which makes its security a bit flimsy.
Overall, TotalAV antivirus is good, with its VPN being below the other picks on the list. If you have lower expectations, TotalAV will serve you just fine. And if your standards are a bit higher, just scroll up the list – these choices will satisfy your needs better.
Pros
Relatively affordable and reliable antivirus
Applications for mobile devices
OpenVPN support
Cons
No kill switch
Just 70+ VPN servers
No ability to buy VPN separately
Slow speeds
2. How to Choose the Best Antivirus With a VPN?
Even after reading our list of the best antivirus with a VPN, your thoughts might be all over the place. How the hell am I supposed to pick one according to my needs?!
Don't worry. There are several factors to look out for that will make your life a lot easier. Here's what to look for in your next VPN-flavored antivirus:
2.1 (Security) Features
If you're looking for an antivirus with a VPN, chances are that you have security in mind. You don't want it simply because it's sunny outside. Or maybe you do – I don't know. Whatever the case, you want your antivirus and your VPN to be feature-rich.
Your antivirus should have real-time protection and other advanced features. Furthermore, a VPN should have 256-bit encryption, OpenVPN support, a kill switch, and at least IPv6 and DNS leak protection. We also must mention no-logging practices.
Let's face it. Pretty much every antivirus company stores some logs. This is necessary to be able to detect unwanted software within your device. But, when it comes to VPNs, heavy logging is what we want to avoid.
Therefore, it's always better to get an antivirus known for minimal logging practices and, if possible, one in a privacy-friendly jurisdiction. In simple terms, you want as many security features as possible, all while not handing out your personal info to your chosen provider.
2.2 Reliability
What is a good VPN or antivirus without reliability? You can have all the features in the world, but if they don't work, you can kick them into the water. For this case, both antivirus and VPN need to display great reliability.
Antivirus' real-time protection should do its job flawlessly and your VPN should keep you private all the time. Our choices will all display these characteristics, and thanks to frequent updates, your online security won't get compromised.
That's why Bitdefender tops our list.
2.3 Number of Servers
This one is pretty simple. Nobody wants a VPN with 30 or 40 servers. That many servers even you can create and maintain… almost. If you need a VPN for streaming, you should look for a service with at least 1,000 servers in as many countries as possible.
That way, you can unblock geo-blocked websites from all around the world and enjoy streaming on Netflix or BBC iPlayer.
2.4 Antivirus Software Quality
As said, both components of this suite should be top-notch. You may need one more than the other, but if you're paying for both, you should get at least something for your money.
The best antivirus, in this case, is Bitdefender, with the highest detection percentage. However, you can also check out McAfee or Norton Antivirus, as both of them offer many features that you will find useful.
2.5 Speeds and Bandwidth
This factor applies to VPNs. I hate slow VPNs. And if they happen to limit my bandwidth, I can just say 'bye, bye!' to them. Free VPNs are guilty of this and that's why we suggest paying for antivirus, in which case, you'll get an unlimited VPN.
By doing so, you get much better speeds and no bandwidth caps. Thankfully, the top picks on our list will fulfill these criteria and you can be sure that no limits will be imposed.
2.6 Device Support
Companies like Norton, Avira, and Bitdefender all develop their apps for different platforms. Employing protection on just one device is pointless when you use at least 2 of them to access the internet. So, your antivirus VPN should support at least Android and iOS phones, and to that, we can also add macOS.
And before you ask, yes, all of these choices offer you this commodity! In fact, most of them offer several simultaneous connections on a single subscription.
2.7 Pricing
Pricing matters, unless you're Bill Gates or Warren Buffet. If you're on a tight budget, getting the most out of your money is going to be your priority. For example, AVG is a really decent budget antivirus with a VPN and will satisfy your needs.
More expensive prices can be found on Norton and Bullguard, which makes them not so wallet-friendly. So, before shelling out your hard-earned money, make sure you compare the prices first.
3. Antivirus + VPN FAQ
3.1 Antivirus vs VPN – What Is Better?
What's the difference between a VPN and antivirus? And what is better?
The difference is actually quite big. Antivirus protects you from unwanted software by scanning your device periodically. It works in the background and informs you of potentially malicious software that you can remove or quarantine.
A VPN, on the other hand, lets you change your IP address and encrypt your connection. By doing that, you make your connection untraceable by your ISP or the government, which grants you an almost anonymous status online.
In simple terms, antivirus protects your device and a VPN protects your personal data and online identity. These are two different things and both tools are great at what they do, so it's impossible to tell which one is better.
A perfect solution is to merge them. This way, you not only conceal your browsing adventures but you also leave no backdoor for hackers, malware, and viruses.
3.2 Free Antivirus With a VPN – Should I Use One?
No, you shouldn't use one. That's because free antivirus and VPNs come half-baked with limited features. An antivirus might lack real-time protection and your VPN might come with a small bandwidth cap.
Usually, we're talking about 500 MB of daily or even monthly data, which is ridiculous. Not to mention that, if you use a product for free, YOU are a product. This means that your antivirus or VPN provider will sometimes collect and sell your personal info to be able to earn money.
This, as you can guess, isn't a very pleasant revelation for many people.
3.3 Can a VPN Protect Me From Viruses?
No, it can't. If you use only a VPN, viruses and malware can still attack your device and the VPN will not be able to detect them.
In that case, the only choice is to use antivirus software that will delete or quarantine the potential threats.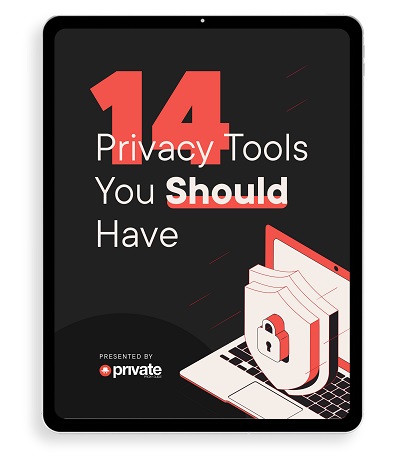 Learn how to stay safe online in this free 34-page eBook.