There are more than 1.5 million mSpy (www.mspy.com) users in more than 200 countries around the world. Does this mean that the product really works?
In this mSpy review, we will show why the platform is so good and how to use it on your device.
If you are worried that cybercriminals are abusing your child's trust or if you suspect that your business partner is doing something illegal during business hours, you can solve these problems by tracking their mobile phones.
Currently, there are a large number of different cellphone monitoring programs on the market.
They all differ in a variety of supported features and pricing policies, making it pretty hard for a beginner to make the right choice.
In mSpy reviews on Reddit, CNET, and Quora, most people are positive about this app. We'll see if this holds true. mSpy has a TrustPilot Score of 4,2 which is great.
mSpy review verdict
mSpy is a great service to monitor Android and iOS devices. That is a great tool if you want to check on your child or employees in your company. However, do not forget to obtain permission to use it, otherwise, it is illegal.
1. How does mSpy work?
With the mobile app, you can easily track all activities on smartphones, tablets, and PCs. For example, make sure your employees don't waste working time, meet competitors, or monitor the school study and the safety of your children.
To start, just install the mobile app on your Android or iOS device and get a subscription to access the gadget control panel.
It works in the following way. You install the app on the target device. mSpy invisibly monitors almost all the incoming and outgoing data, from messages and calls to visited websites and installed apps.
Once installed, you can hide the app icon. This way, no one will know about the software installation. Immediately after installation, mSpy starts working in the background, transmitting all the information from the phone to your control panel.
mSpy uses an internet connection to send information. Thus, make sure that the primary target or selected device is connected to the internet and the mobile plan has enough traffic included.
The information will be transmitted no matter where the monitored device is located. The application regularly sends the collected information to the server — you can view it in the control panel on the mSpy website.
This dashboard also allows you to control the device's functions. For example, you can remotely reset the device or block individual programs.
To avoid draining the battery, you can set intervals at which a program will send certain types of data. Also, to save traffic, mSpy allows you to choose which networks to use when sending specific data.
For example, you can allow sending videos only over Wi-Fi. Regarding supported mobile devices, the maximum control is available for rooted Android or jailbroken iOS devices.
This is primarily for monitoring some specific data of various third-party apps. However, there are many other mSpy options that are also available for devices without root or that have been jailbroken.
The application is ideal for parental monitoring but, if necessary, it can also be used to monitor subordinates.
1.1 Compatible devices
mSpy supports both popular mobile devices. Your device must meet the following requirements:
Android 4 and higher — some advanced features are available only on rooted devices.
iOS 7 to 8.4, 9.0-9.1 with the jailbreak. If the device is not jailbroken, it will use the iCloud storage to transfer data and works on any work any device with iOS 7 and higher.
If the device is not very outdated, it will not freeze —the application does not significantly impact the performance. To access an online dashboard on the official website, you will need any device with a modern web browser.
2. mSpy features
2.1 Site management
The program shows what web resources your children visit and what they add to the bookmarks. It can also notify you when your child is accessing pages with certain keywords.
You can block selected sites, but only for certain browsers. Also, if the child installs a browser that is not supported by mSpy, you can block the entire browser (root or jailbreak is required).
2.2 Calls, SMS, and chat control
The call log is displayed in the control center with information about the time and duration of calls. You can block all incoming calls or only from specific numbers.
In addition, mSpy displays the history of messaging via SMS, and the messages remain in the control center even if the user deletes them from the device.
Plus, you can read the chats from many messaging applications such as WhatsApp, Facebook Messenger, Viber, Telegram, Hangouts, Skype and others.
However, you can access them only if the device firmware has been rooted or jailbroken. The only exception is WhatsApp — you can read these messages from any device.
2.3 Geoposition tracking
mSpy is able to monitor the user's positioning and mark his or her routes on a virtual map in the control center. You can specify forbidden zones and will be notified if a child enters any of them.
You can also specify security zones, so the application will inform you if the user leaves the selected areas. When can this feature be useful? If you live in a crime-ridden area, it is wise to mark safe zones on the map.
For example, a safe zone can be your child's route to school. If the child leaves this area, you will be immediately notified by a special message.
2.4 Keyboard replacement and keyword notifications
By installing mSpy instead of the default keyboard, you can view the history of the data entered. This way, you will know all passwords, logins and other information that the user types in different programs and visited sites.
mSpy can also monitor the keywords that the user types himself or receives from other people and report some of them through the control panel. To do this, you must select the right words in the control center.
2.5 Monitoring multiple devices
With one mSpy subscription, you can only monitor one device at a time, but you can change the tracked gadget as many times as you like. Let's say you monitor an iPhone X for a few days and then switch to a Samsung Galaxy S10.
However, if you need to monitor two gadgets at the same time, you will need to select the appropriate tariff plan, and if you need to monitor more than two devices, it is reasonable to use a special Family Kit offer.
2.6 Limiting the use of applications
There are now many different useful applications, as well as a large number of fraudulent programs which can badly affect your child. At the same time, mSpy is able to view the entire list of installed software and block the launch of any of them.
2.7 Viewing multimedia files
Modern phones made taking and sharing photos and videos much easier. However, this feature has great potential for illegal use. So, with mSpy, you can view all media files taken on the monitored device as well as those downloaded to it.
In addition, there is the possibility to obtain data about the time and date of each download, which is very useful to prevent problems such as cyberbullying and sexual harassment of young children.
2.8 Internet activity monitoring
With the mSpy software module installed on your child's phone, you can check all the Internet activity on the device, including opening bookmarks and pages, connection to Wi-Fi networks with viewing all outgoing and incoming traffic, and so on.
There is an option to additionally filter online content, as well as block access to websites on a specific schedule.
2.9 Access to contact list and calendar
You are able to view detailed information about the list of contacts saved on the target phone, as well as about all action plans saved in the calendar.
This gives you the ability to control all of your child's planned activities, along with detailed information about the meeting details.
2.10 Limit communication through the Tinder app
Tinder is one of the most popular dating services for intimate relationships, which takes into account the location of partners and their interests, so for teenagers, it is better to restrict access to this platform and other similar resources using mSpy.
2.11 Remote management
Among other things, mSpy is equipped with a remote device management module. With this option, you can control your phone from anywhere, even if it was lost or accidentally left somewhere.
Let's imagine the following situation: you left your phone at home or lost it, and it contains important sensitive data that third parties should never access.
With mSpy, you can easily lock your device, so even if someone finds your gadget, they won't be able to access it. You also have the option of simply remotely erasing all important information from a lost device, thus maintaining your privacy.
Plus, the mSpy dashboard will display the current connection to a specific cellular operator's station or to a Wi-Fi access point. You can save this data in CSV or XLS files.
2.12 Some specific features
In addition to the standard features, there are some specific ones that make mSpy better than competitors:
No jailbreak is required. mSpy is one of the first to offer monitoring software that does not require an iOS device to go through the jailbreaking process.
There is even no need to install any software on your iPhone or iPad. This technology works with your iCloud account, and all logs will be available in the control panel.
Update settings.
Exclusive customer service — mSpy is always there to help you with any problems or questions. Support is available 24 hours a day, 7 days a week. You can contact the mSpy team by phone, chat, and email.
3. Is using mSpy legal?
This is a very important question. You should make sure everything is legal before using this software. mSpy can be legally used for the following purposes:
You can use mSpy as a solution to control your younger children while traveling or during everyday life.
You can install mSpy to track your company's employee devices, but make sure they are aware of the monitoring. Get written consent from them, otherwise, you may face serious legal problems.
You install this software on your personal device.
Before installing this application on any device, warn the owner about it, unless it is your child, and then, as needed, consult an experienced lawyer for advice on the legality of the actions taken.
In addition, you should pay attention to the fact that the developers of the software are not responsible for its use and do not give legal advice.
4. How to install and set up mSpy on your device
To start using mSpy on your device, you should create an account and get a subscription. In order to do that, take the following steps.
Open the official website and click on the green Try Now button in the header. Next, enter your valid email address. Pay attention when typing it, as it is required to confirm the account activation. Do not forget to accept the Terms of Use and Privacy Policy.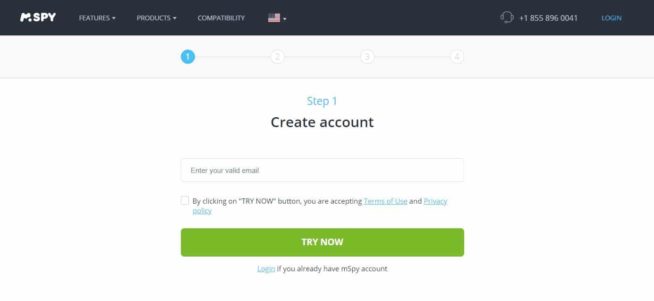 Select your target device. You can choose between Android and iOS, or decide later if you are not sure at the moment.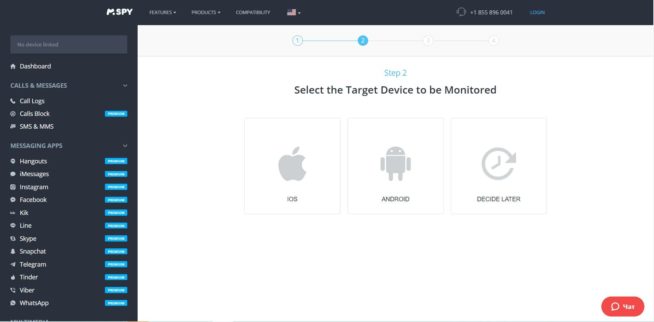 Select a pricing plan between the two available ones, Basic and Premium. The Premium plan is available for 1 month, 3 months or a year, while the Basic plan is available only for one month. Also, the Basic plan is a bit limited in available features.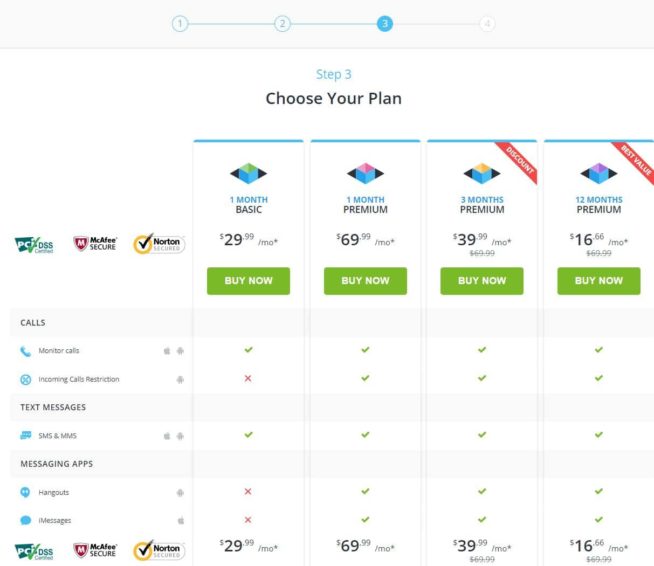 Complete the payment using the convenient payment provider. The company accepts a huge variety of payment methods including bank cards, wire transfers, check and a lot of regional and international payment systems.
Keep in mind that available methods differ from country to country.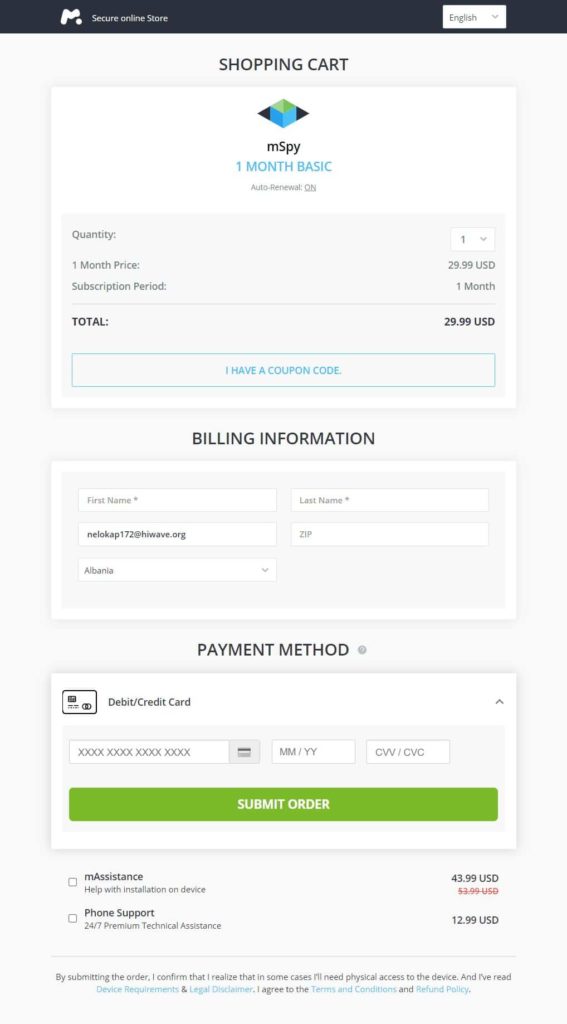 After the purchase is complete, you will receive a welcome email with all the login credentials to access your personal dashboard. When creating the account, we didn't select the target device during the registration process so we saw the following start screen: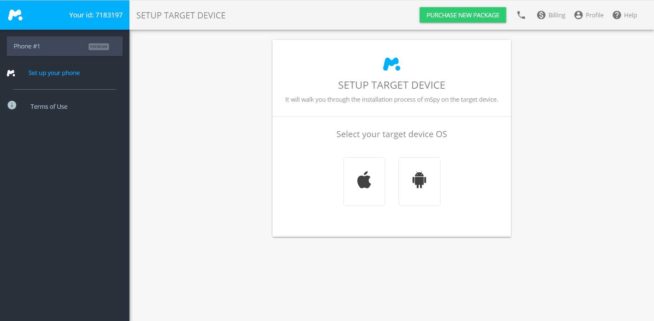 You are able to purchase a new package, contact support, check your billing, change the profile details, as well as open the help section.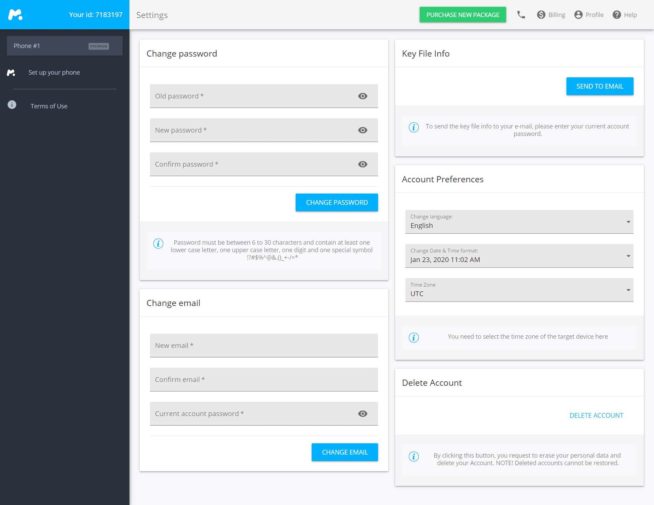 To start using the service in full, you have to set up the target device. We tested the application on an Android device. For iPhones or iPads the process will be a bit different.
First, go to Setup your phone section where you will see the registration code. Next, give a name to the target device and select the person's age.

Select the phone brand from the list. We selected Xiaomi. Next, prepare your target device. Each brand has its own features and firmware, so the system will provide the information for your specific device.
Usually, it includes security scanning and activating the installation from unknown sources.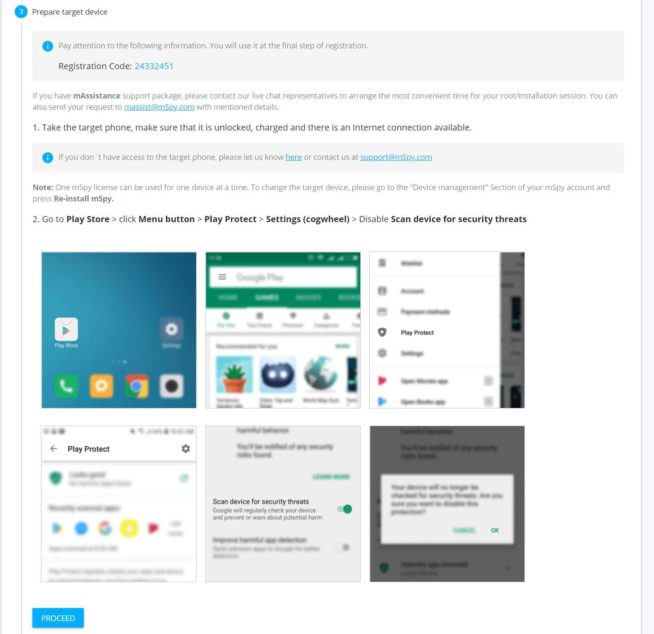 Download the application. You will have to enter the provided link in the mobile browser and save the apk-file on your device.
Install the app, open it, accept the license agreement, activate the additional features if necessary, hide the icon if necessary, and insert the registration code.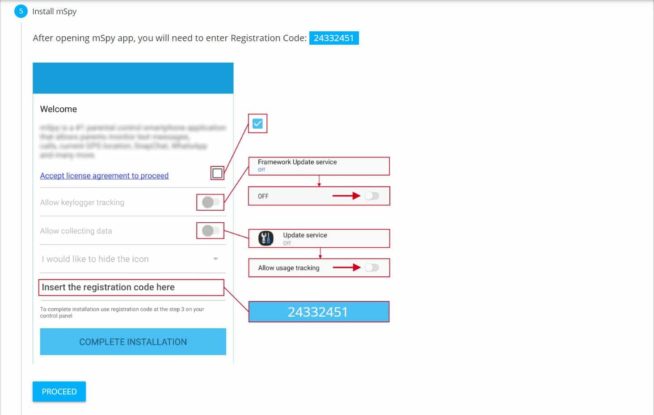 Finish the installation according to the given instructions.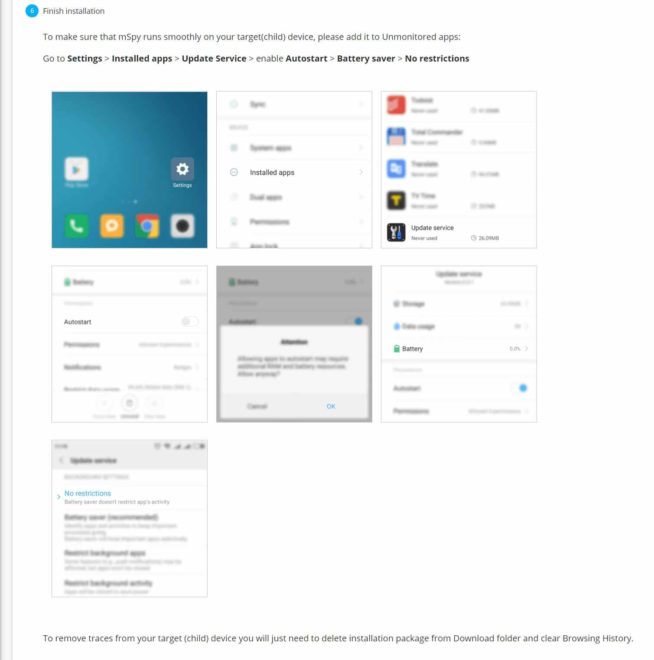 If you did everything correctly, the dashboard will display all the basic information about the target device.
On the home screen, there is information about the account, the battery level, the network the device is connected to, the activity of the target device, most calling contacts, most messaging contacts, and most visited websites.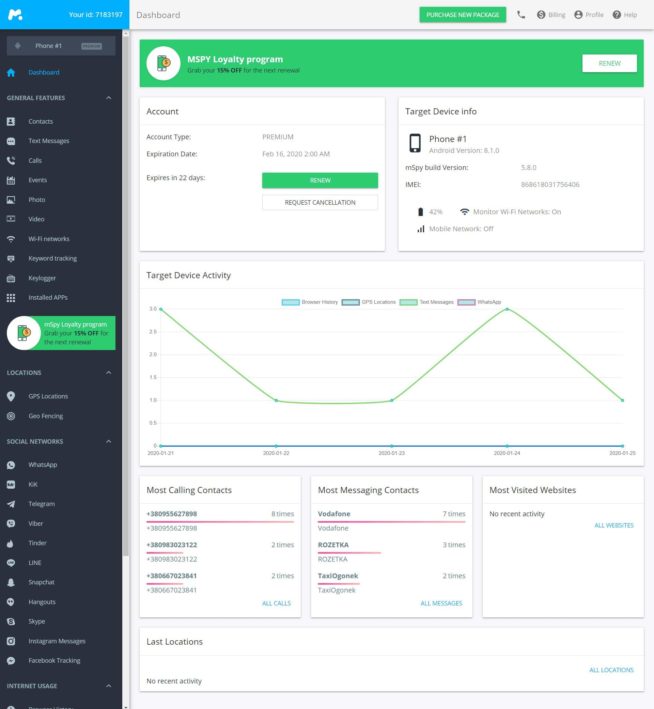 To get more details, open the respective section in the left sidebar. There, you will be able to review the data on each type of content and specific application.
For example, you are able to manage the allowed and restricted locations by adding or deleting them.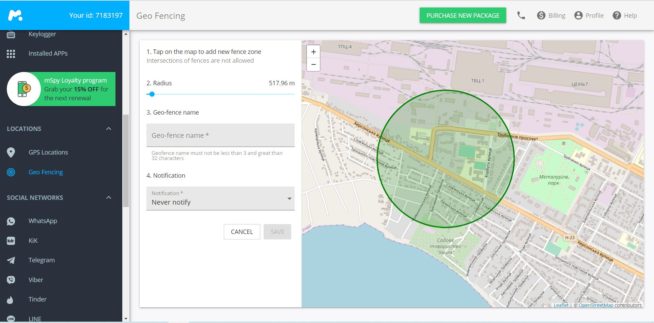 If for any reason the device is not available, you will see the notification and the instruction on how to reactivate it.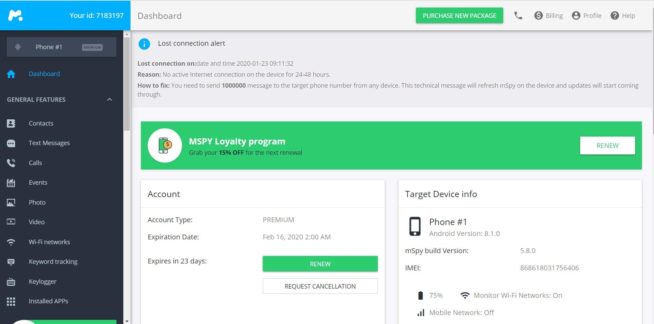 5. mSpy technical support
The support is available via email, online chat, on the phone or as a part of mAssistance with provided advanced VIP support including using Team Viewer.
The availability depends on the plan and is not always free. For free, you get basic assistance via email and online chat, while phone support and mAssistance are available for an additional fee.
We tested the online chat support and asked whether you get notified if the app is deleted on the target device. We received an informative answer in less than 3 minutes.
So, if you have any issues, you will be provided assistance at any time of the day. Also, there is a dedicated page with basic information that includes a lot of instructions on how to use the service on different devices.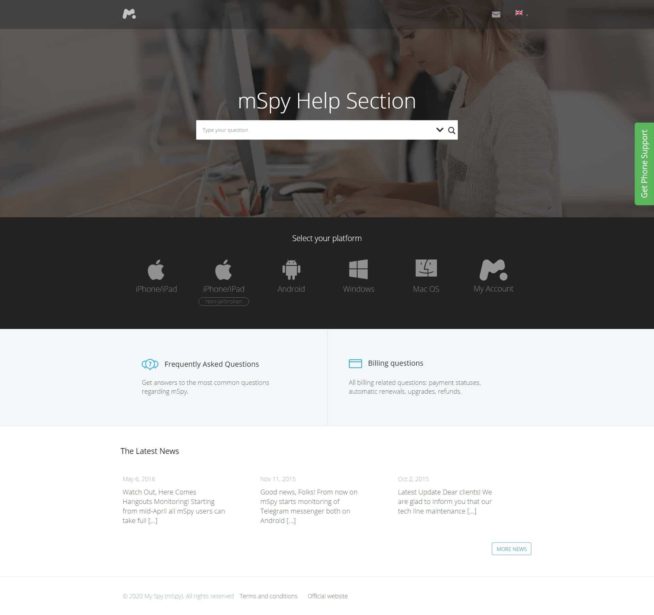 6. mSpy refund
If you do not like how the service works, you are able to request a refund within 10 days after the purchase. You just need to click on the respective button on the personal dashboard and you will be refunded in a day or two.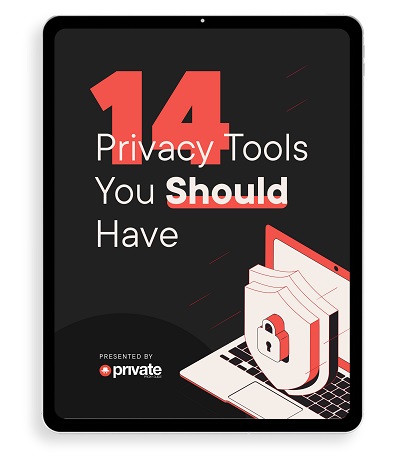 Learn how to stay safe online in this free 34-page eBook.